Winter is a season that doesn't treat all parts of the world equally. In some places temperatures can drop to below freezing for long spells and snow makes a regular annual appearance while others bask in almost perpetual sunshine. If you live in one of the latter, it's not surprising you're hankering after a magical snow-laden experience and want to find out which are the best cities to visit in winter.
Sunshine is great, but so is snow and even the lightest coating of frozen H²O can turn somewhere ordinary into a sparkling white wonderland. The following cities aren't ordinary ones by any means, but the most beautiful cities in winter imaginable. When you want an unforgettable wintery experience, these are the ones you should be planning to visit.
1. Reykjavik, Iceland
Reykjavik is an ideal wintertime destination if you're into adventure travel and want to hike or snowmobile over the glaciers or go in search of ice caves. You don't need to have an adventurous spirit to make the most of a winter visit to Reykjavik though. There are plenty of more laid back things to do, not just in Reykjavik, but in Iceland too.
In Reykjavik you can go up to the observation deck of the Hallgrimskirkja, the city's cathedral that's outstanding for both its height and unusual architecture, or take photos of spurting geysers before stripping off and lounging in the steaming thermal waters of the Blue Lagoon.
It's not only snowy landscapes that make Reykjavik the best city to visit in Iceland in the winter, but the presence of that celestial aura, the aurora borealis, that takes this city to the next level and that's something everyone should see at least once in their lifetime.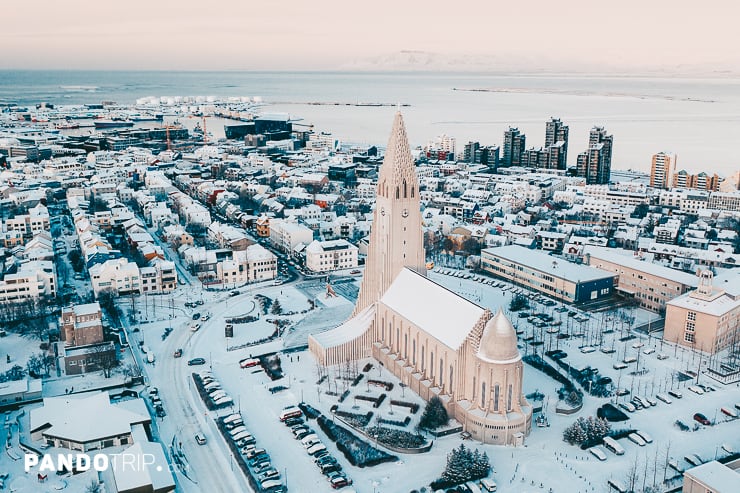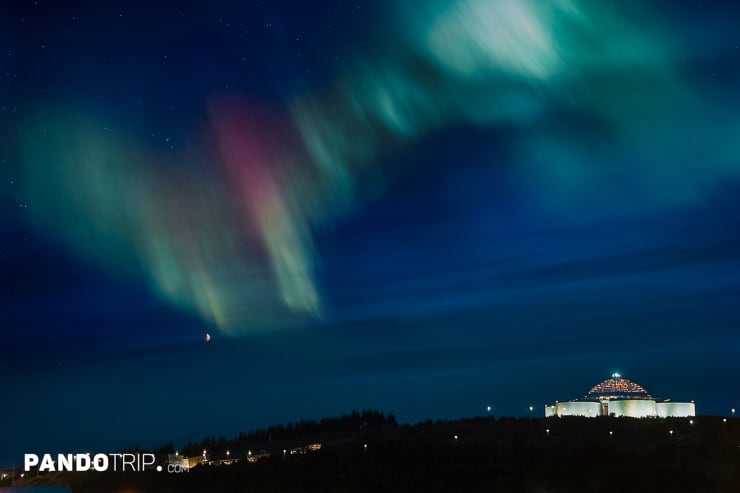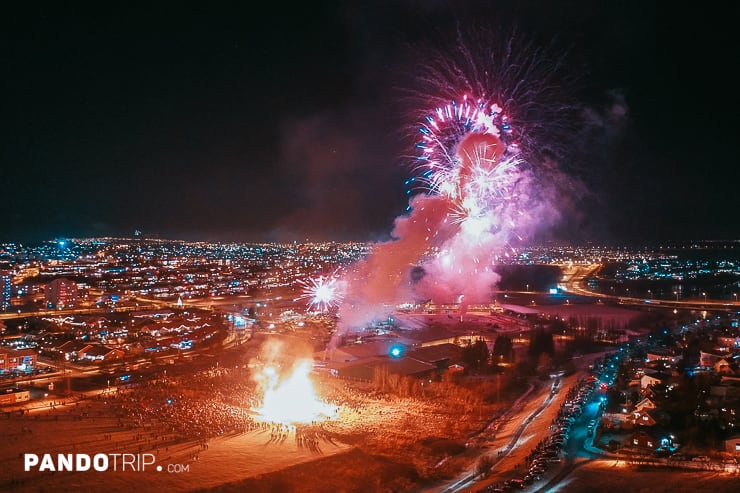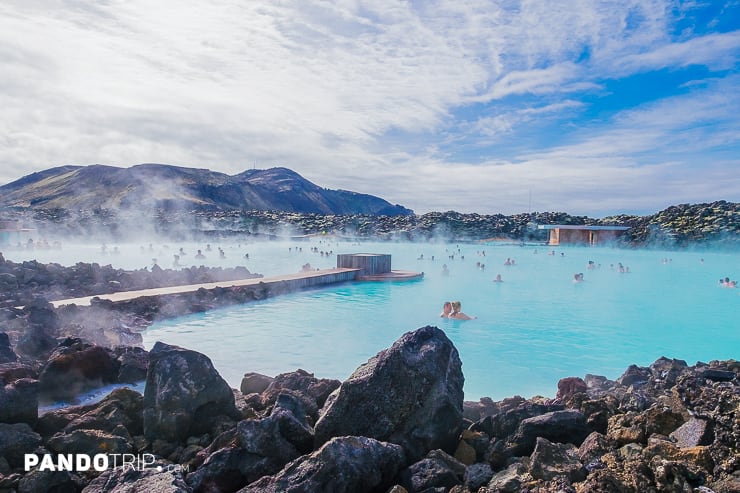 2. New York City, USA
New York certainly doesn't go into hibernation when it's cold and that makes it one of the best cities in the US to visit in winter. The constant buzz of New York is enough to keep you warm even if the wind chill factor drops to below zero.
Enjoy a stroll through snow-covered Central Park or Bryant Park then go skating at one of the seasonal ice rinks either in Central Park or at the Rockefeller Center. If it's just a bit too chilly for you, you can always slip in a visit to the Museum of Modern Art or the New York Hall of Science to help thaw you out.
New York really comes into its own during the festive season and in a big way. Not only does New York have one of the best Christmas trees worldwide, it also has one of the best New Year fireworks shows ever. If you want to see New York at its most spectacular then pack your winter woolies and head there in late December.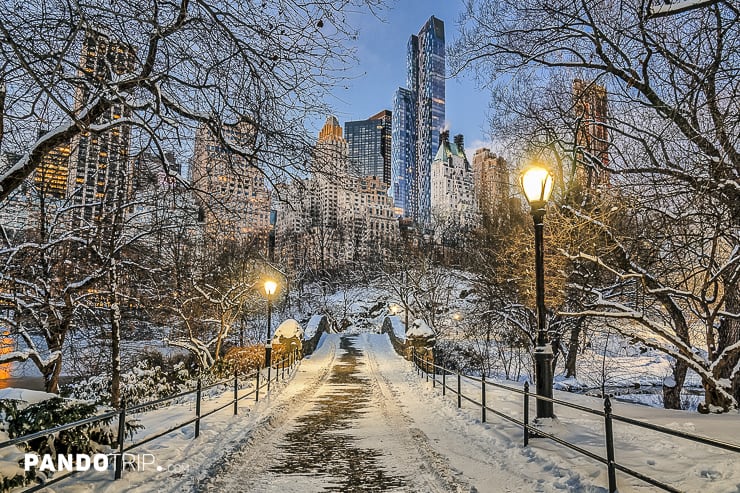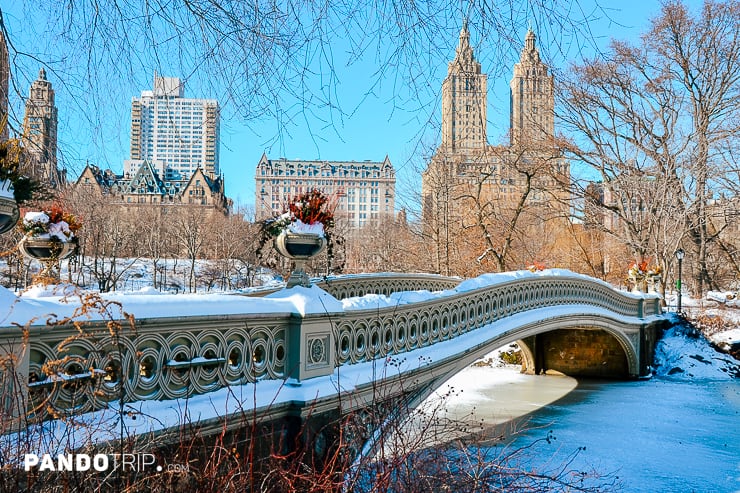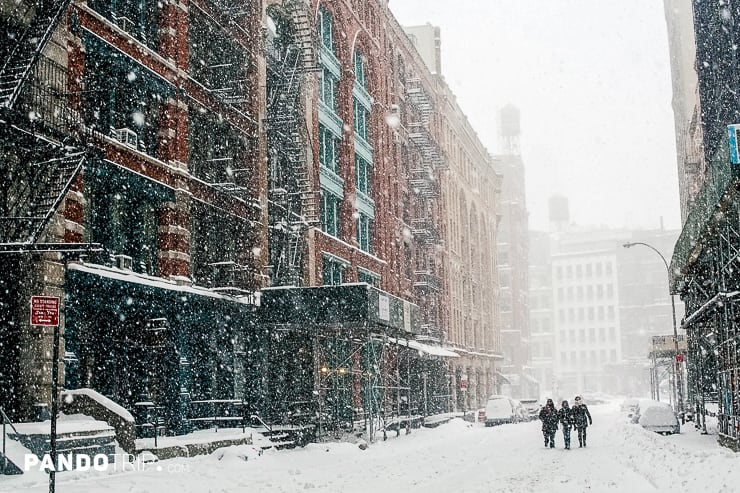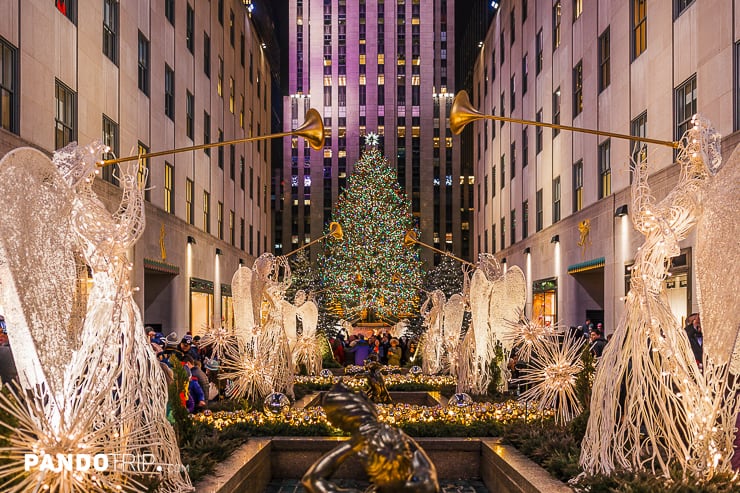 3. Tromsø, Norway
New York isn't the only city that goes all out to make the Christmas celebrations special. One of the best European cities to visit in winter and one that knows how to elevate the December festivities to an almost surreal level is Tromsø in Norway.
Tromsø is known as Norway's Christmas city and not just because when it snows it looks like the proverbial scene you see on the front of seasonal greetings cards. This Norwegian city pulls out all the stops to make Christmas amazing and they start by putting up the illuminations at the end of November when it's dark for almost twenty-four hours a day.
That lack of natural light during the daytime in Tromsø in winter means you'll get a chance to see the spectacle of the Northern Lights at its best too. Team that with fantastic Christmas markets, dog or reindeer sledding, skiing, skating rinks and hearty traditional food and you'll have a Christmas like no other you've ever had before.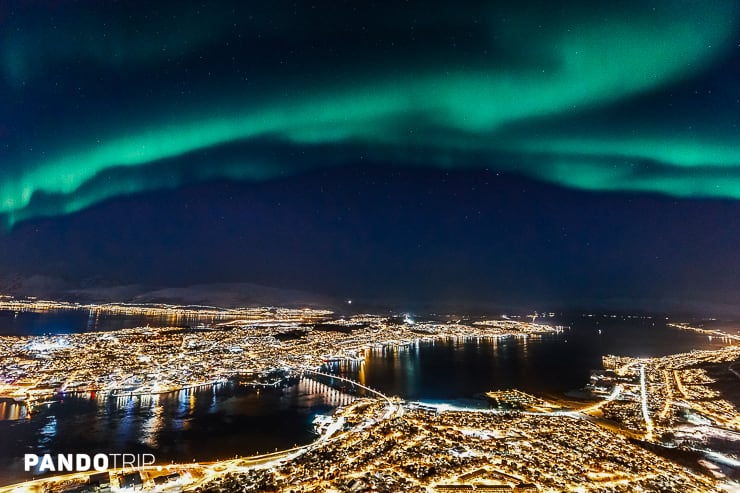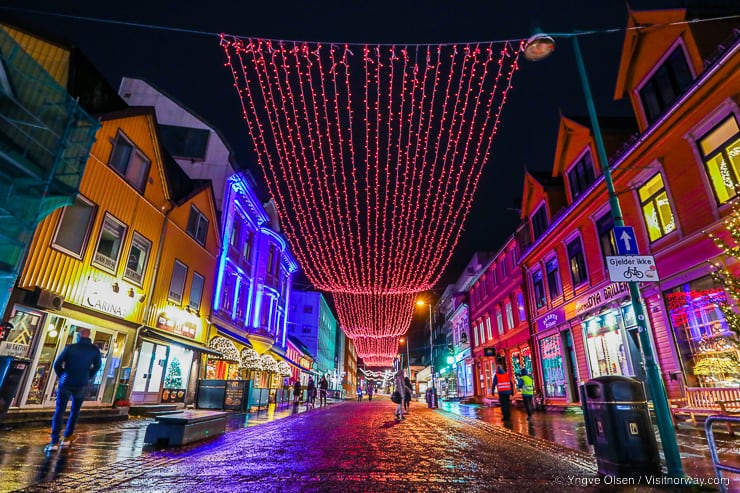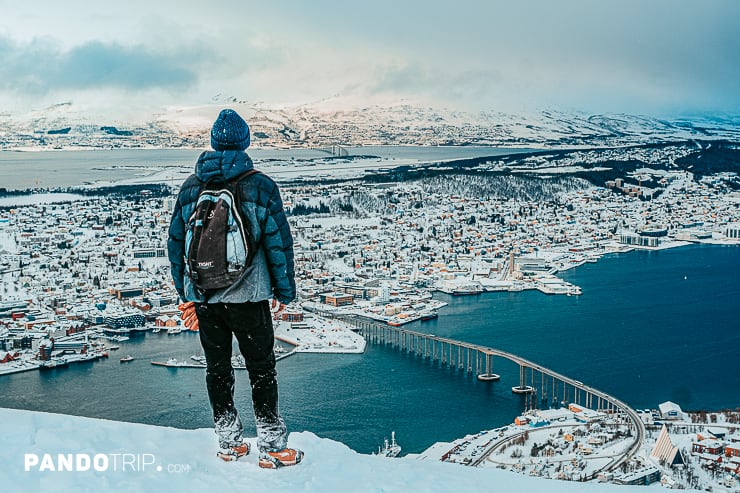 4. Tokyo, Japan
If asked which was the best city to visit in Japan in winter, without a doubt, most travelers would answer Tokyo. There are lots of things to do in Japan in winter, but the activities in and around Tokyo are truthfully second to none.
One thing you have to do if you go to Tokyo in winter is visit an onsen. Getting in and out may make you shiver, but being submerged in the warm waters of a thermal spring when it's surrounded by a snowy landscape is an unbelievable experience. You'll feel just like the Japanese macaques in the Jigokudani National Park and have the photos to prove it.
For those who want to make the most of the slopes or try a sport like snowboarding for the first time, the Yuzawa Ski Resorts, all twelve of them, are north of Tokyo and within a reasonable traveling distance. There they light up the mountains with fireworks shows and illuminations as part of the annual winter festival and that's a sight that's worth seeing even if you're not into skiing.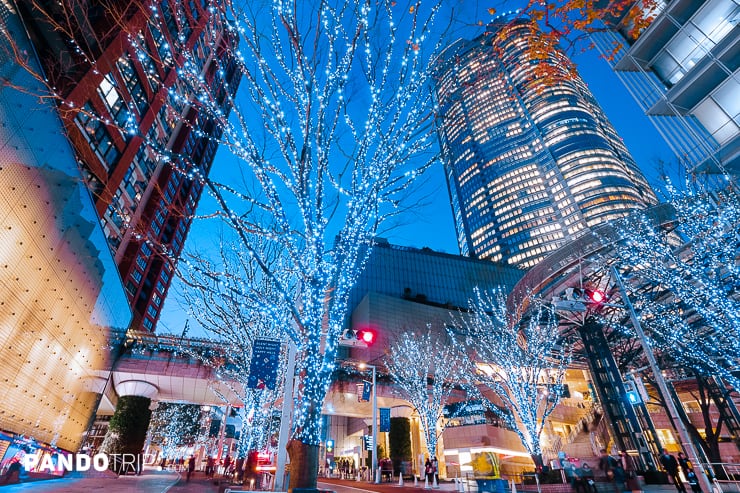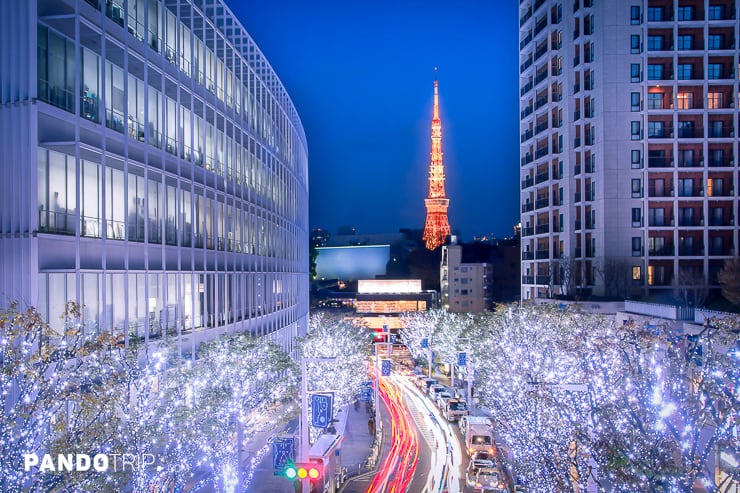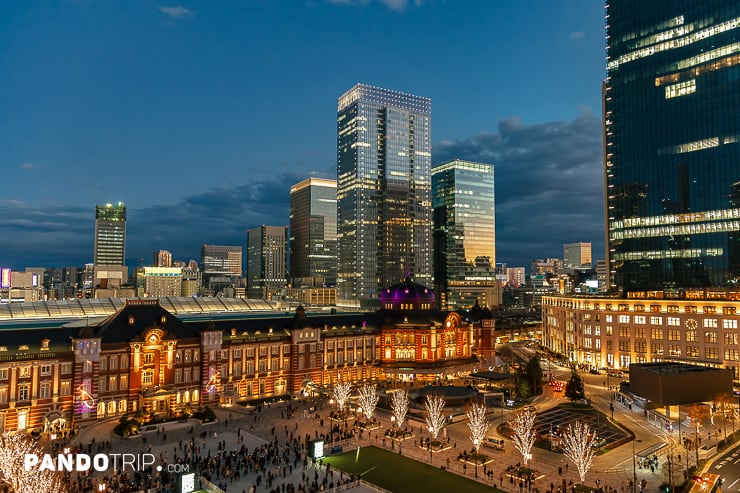 5. Vienna, Austria
Vienna is one of the best cities to visit in Austria in winter because it's not just all about winter sports activities, although they do some of those on quite a grand scale, in Vienna you can indulge in some culture too.
The Vienna State Opera is one of the best opera houses in the world and it's where many of the world's top operatic stars go to exercise their vocal chords. As well as performances of well-known operas composed by Strauss and Puccini, to name just two, there's ballet and recitals by the city's philharmonic orchestra throughout the winter season.
While sitting in the stalls at the opera may be cozy, there's no way you can be in Vienna in winter and not get your skates on. The Viennese Ice Dream is an extraordinary ice world set up in the city's Rathauspark that covers over nine-thousand square meters. There are several big rinks plus winding, ice-covered pathways to skate on. It's amazing during the day, but even more special by night when the illuminations turn it into a winter wonderland. If you don't skate you can watch the action from the Sky Rink observation platform. That's a pretty magical experience too.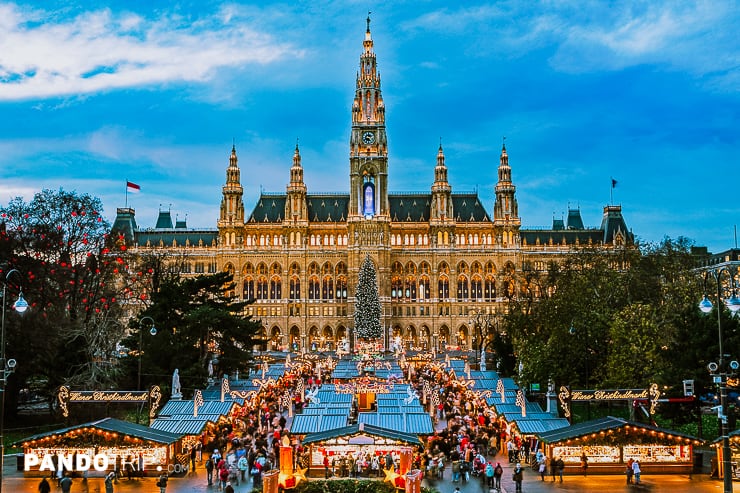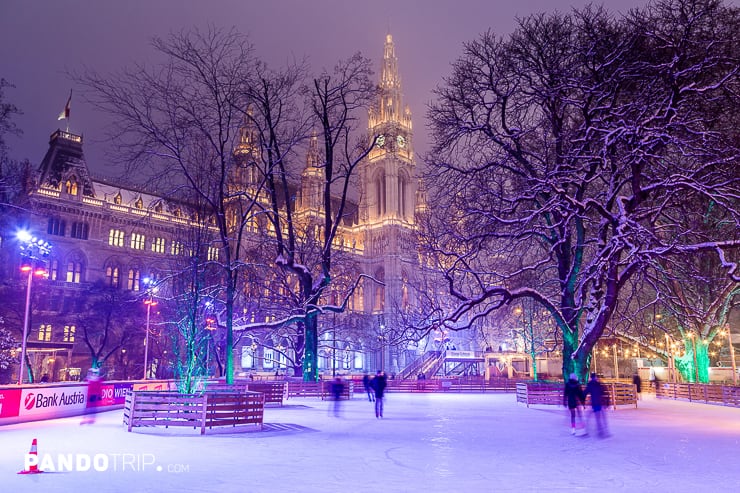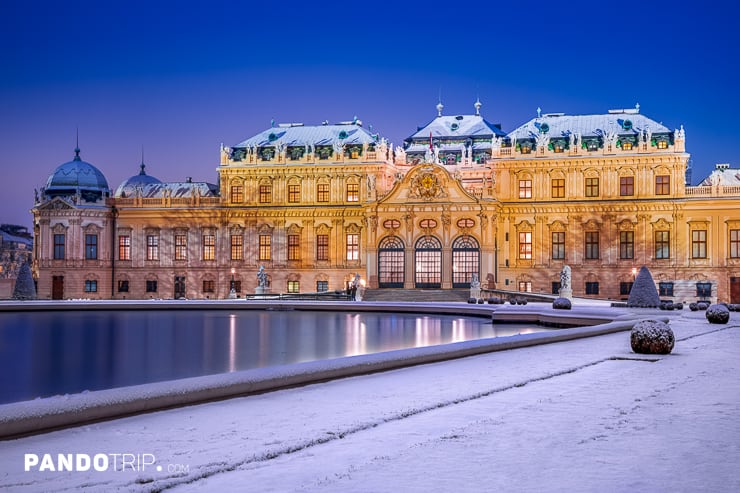 6. Quebec, Canada
If you're a dedicated party animal, one of the best cities to visit in Canada in winter is Quebec. Winter is when the Quebec Winter Carnival is held and that's a carnival like no other carnival you've ever been to before.
The ten-day-long event is held at the beginning of February every year and is a fantastic way of making winter more fun. At the Quebec Winter Carnival you can take a stimulating snow bath, visit the carnival mascot's castle, slip down ice slides, watch the parades, and walk the snow sculpture route. They're just a few of the hundreds of things to do at the carnival so you'll be so busy you won't even have to think about keeping warm.
When you visit Quebec in winter there's one part of the city you shouldn't miss exploring and that's the Rue de Petit-Champlain. This characterful street looks even better with a coating of snow. You may need to hold on tight to the handrail if you decide to climb to the top of the centuries old Breakneck Stairs to check out the views of Old Quebec if it's icy. When you get back down in one piece, you can celebrate your achievement with a steaming mug of hot chocolate at one of the many cafes on the street.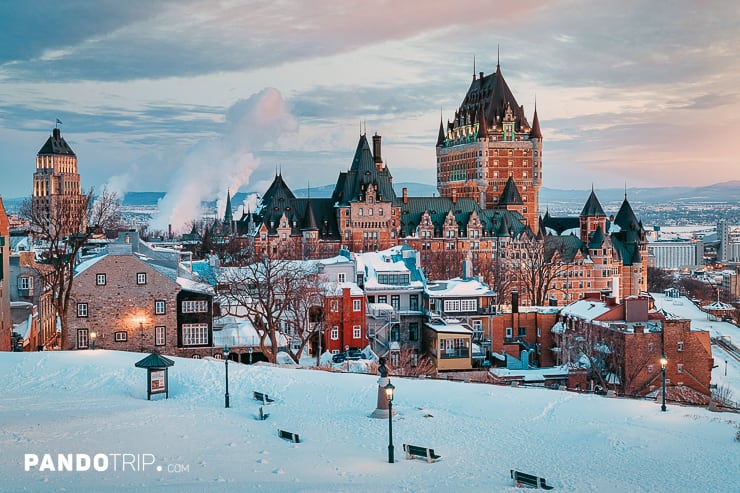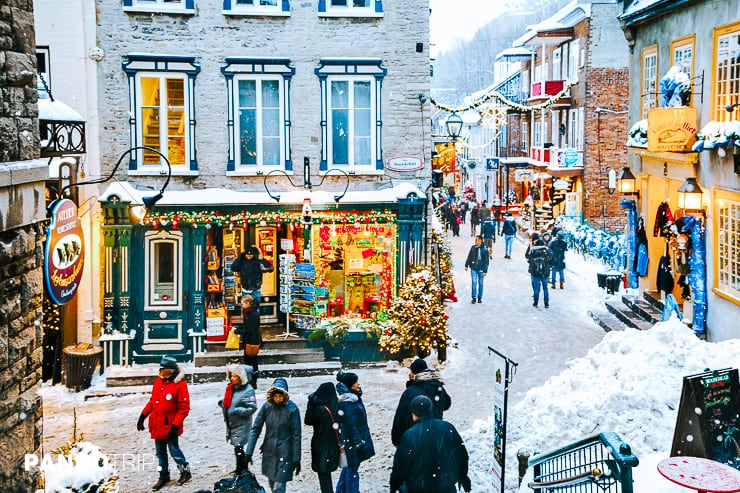 7. Amsterdam, Netherlands
Forget waiting for the fields of tulips to bloom in spring and go to Amsterdam in winter. It's just as beautiful, if not more so. The streets of Amsterdam are illuminated from the beginning of December, not for Christmas, but for the Amsterdam Light Festival.
During the fifty-day long Amsterdam Light Festival there are incredible light sculptures created by specialist artists everywhere you turn in the city center. The enormous creations adorn sidewalks, bridges, buildings and some even stretch across canals. Amsterdam is very Instagramable, but even more so when the light festival is taking place.
If the temperatures drop enough and the canals freeze over then you'll be able to skate along them. It does depend on how cold it gets and how much it rains though. If the weather doesn't play fair you can always head to one of the rinks like the Jaap Edenbaan in the Watergraafsmeer neighborhood to get some time on the ice.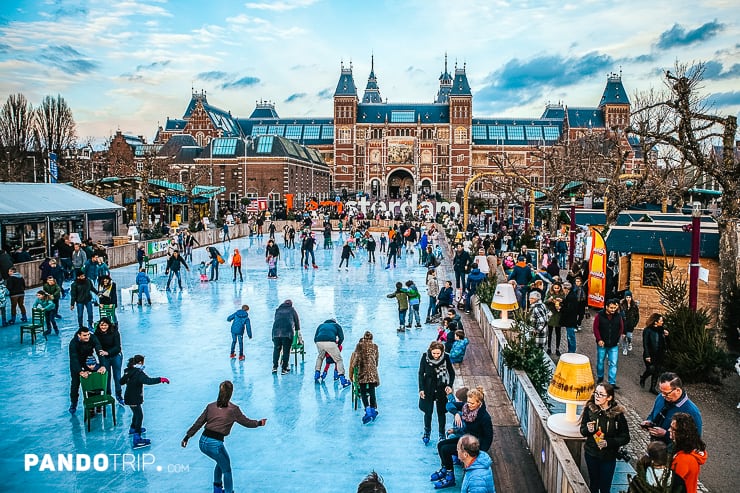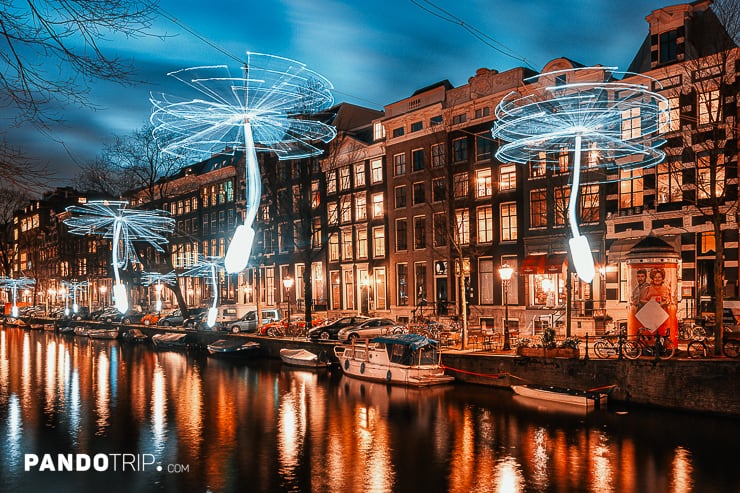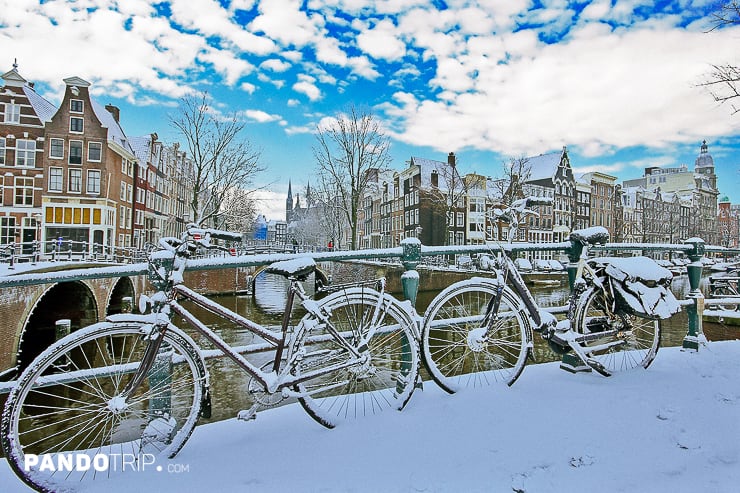 8. Prague, Czech Republic
Prague is without a doubt one of the most beautiful cities to visit in Europe in the winter. Its amazing architecture is attractive all year, but that attractiveness magnifies tenfold when covered with snow and it becomes a Gothic winter wonderland.
Prague in winter is a photographer's dream location. Focus your lens on the arches of the medieval Charles Bridge reflected in the Vltava River and you'll get a poster-worthy shot you'll be rightfully proud of.
Find a high spot in the city from where you can look down onto the snow-covered rooftops and you'll feel as if you've been transported to a fantasy fairyland especially if you can see Prague Castle from where you are.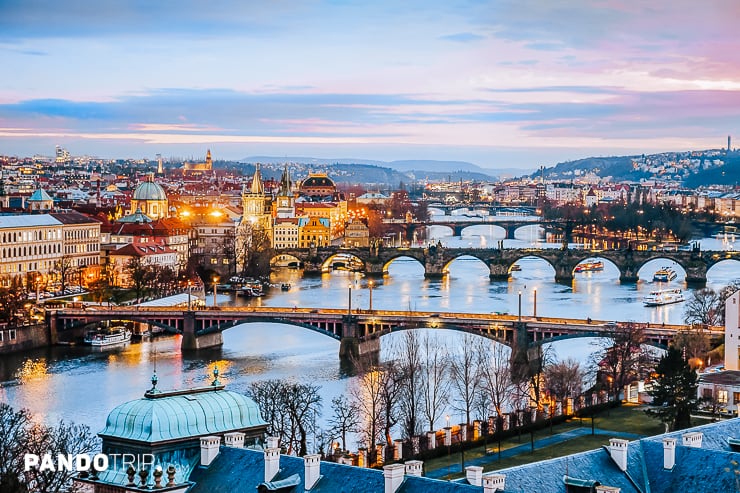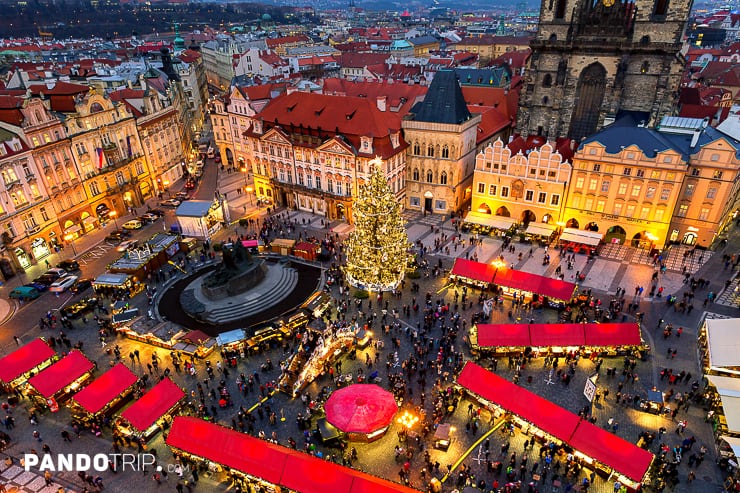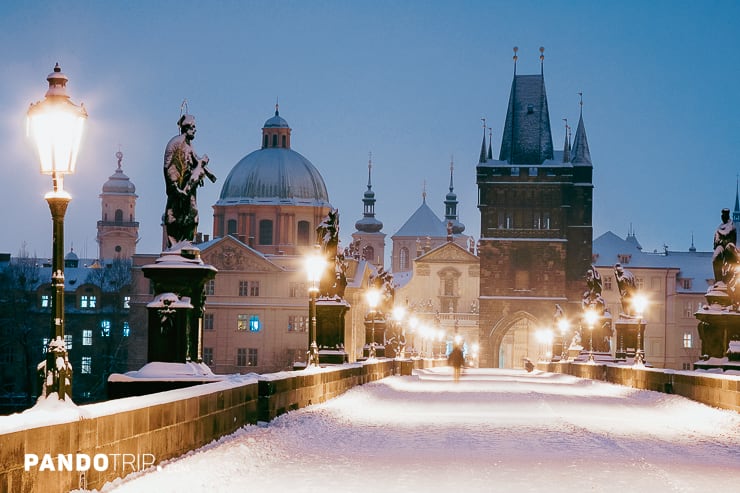 9. Edinburgh, Scotland
Many people consider visiting Edinburgh to experience the Scottish New Year. That's understandable, Hogmany is great, there's no denying that, but there's more things to do in Edinburgh in winter than bring in the new year.
Taking a hike up Calton Hill to see views of the city when it's covered with a blanket of white, trekking around the streets checking out the city's Harry Potter connection, taking a tour of Edinburgh Castle and going on a whiskey tasting experience are all things that will definitely keep you occupied. Make sure to take time to sit down and tuck into a plate of haggis, neeps and tatties though. Eating the traditional Scottish dish is like having personal central heating as it warms you from the inside out.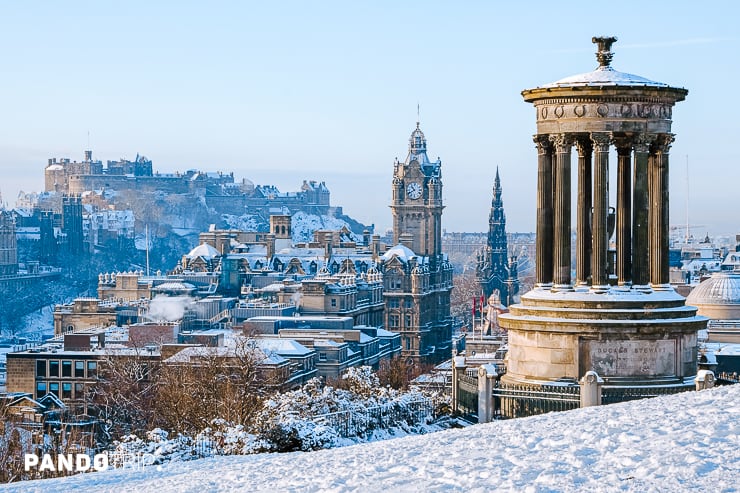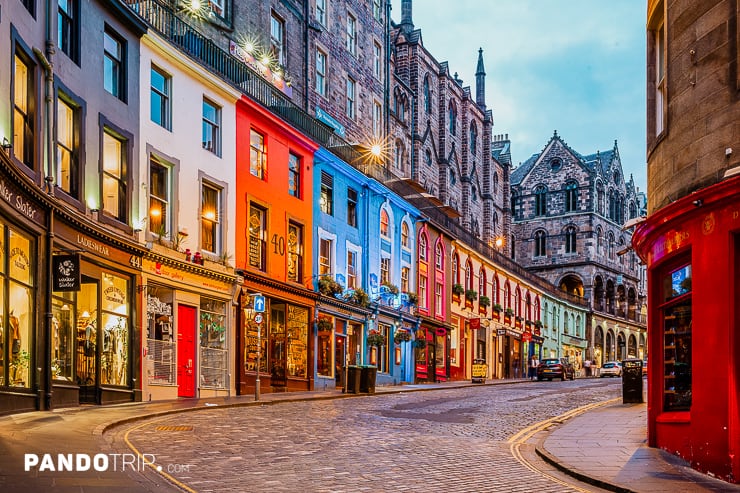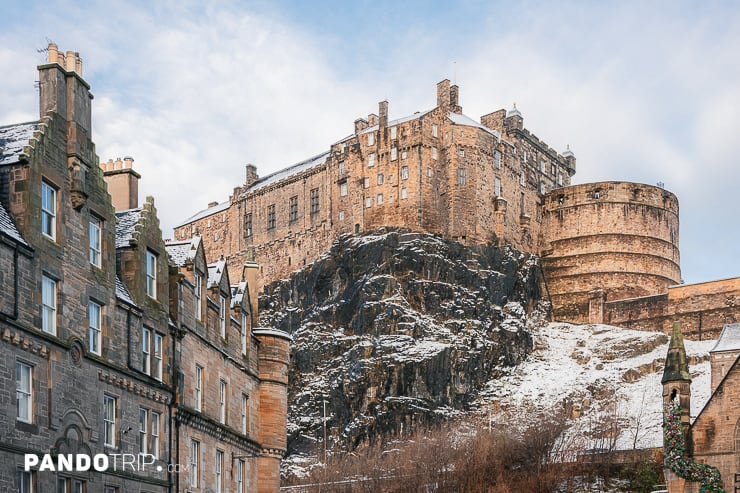 10. Paris, France
One of the best reasons to visit Paris in winter is because there are less tourists than the rest of the year. That's a bonus when you want to get that all important selfie standing in front of the Eiffel Tower or don't want to spend an hour or more queuing to get into the Louvre.
Snow in Paris can never be guaranteed, but in all honesty, Paris doesn't need snow to make it look more beautiful. It's a beautiful enough city without any added adornment from the climate. If it rains and you want to get off the streets you'll be spoiled for choice between the world-class museums and art galleries you can go to.
In truth, there's enough rainy day activities in Paris to keep you going for a month so don't let the unpredictable French weather deter you from visiting Paris in winter. You'll have a fantastic time no matter whether it rains, snows or, if you're fortunate, the sun decides to shine.