To experience winter in all its splendor you really need to go somewhere where the towns and villages, and the landscapes that surround them, wear a cloak of white for weeks on end. There are snowy villages in many countries around the world that fit that description, but there are some that, for various reasons, are just that little bit more outstanding than the others.
You don't need to be a winter sports enthusiast to spend time in a place where the roofs of the houses, the streets and the hillsides are glistening with a pristine white covering of snow. It's magical just being in that kind of environment, but even if you haven't done anything like sledding, tobogganing, snowshoeing, ice skating or skiing, it'll be hard to resist giving one or more of them a go once you're there. They're all part of enjoying winter to the max even if you do end up face down in a snow drift.
Where Are The Most Idyllic Snowy Villages And Towns?
The following villages and towns are all extra special in the winter months. It would be easy to say they're idyllic snowy villages and leave it at that, but there's much more to them than snow. Keep reading and you'll discover why they're the best towns and villages to visit in winter. Once you're in the know, you'll be able to start planning where you want to go and be certain you've picked the right place for your winter escapade.
1. Hallstatt, Salzkammergut, Austria
If you've ever dreamt of waking up and opening the bedroom curtains to see the most amazing alpine scenery ever then you should go to Hallstatt. Hallstatt is a village in central Austria around 70 kilometers south of Salzburg. It occupies a small peninsula on the picturesque shoreline of Lake Hallstatt and is backed by the impressive peak of the Dachstein massif as well as several other imposing mountains.
Not only is Hallstatt topographically and architecturally stunning enough to be voted a UNESCO World Heritage Site, it also has some interesting subterranean treasures too. Hallstatt was historically a salt mining village and you can now visit the underground mines as well as some recently discovered archeological remains dating back to early Roman times. Ride the funicular railway up the mountainside to the mine then, before you go below ground, take a short hike through the forest to the Skywalk, a viewing platform with beyond sensational views of the lake and the Alps.
As well as being world renowned for its snowy scenery, Hallstatt is a popular center for winter sports like cross country skiing, snowshoeing and snowboarding. Hallstatt has, and quite rightfully too, been dubbed the best winter village in Europe and it really does fully deserve the honor.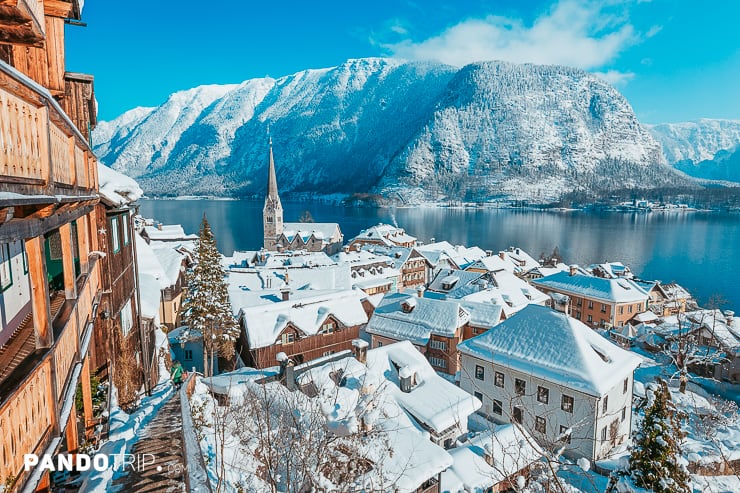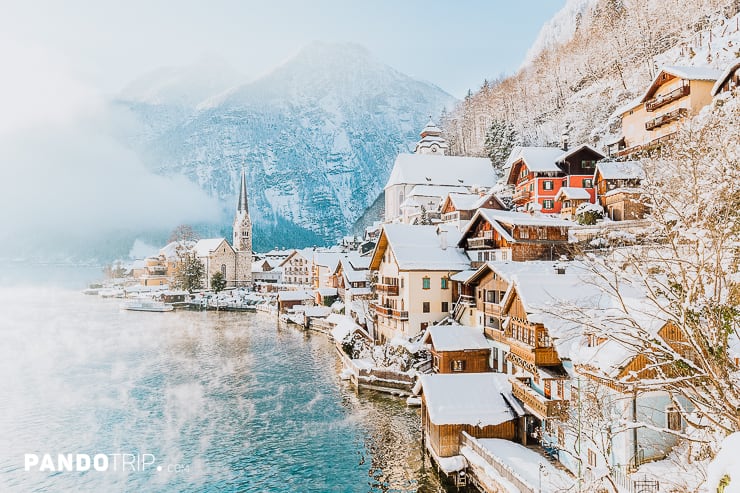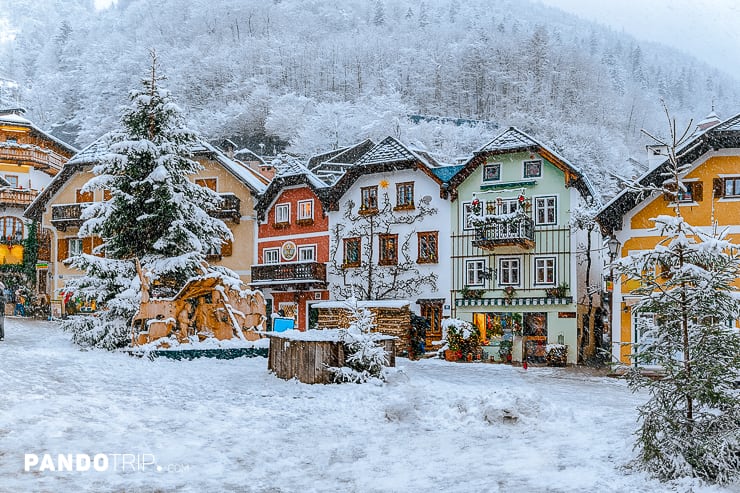 2. Ogimachi, Shirakawa-go Villages, Japan
One of the best things to do in winter in Japan is visit the Shirakawa-go villages. Ogimachi is the largest of the three villages and the one that contains the most examples of the two and a half centuries old gasshō-zukuri, a traditional type of farmhouse with steeply sloping roofs.
Ogimachi is located in a remote valley in western Japan at an altitude of approximately five-hundred meters where snowfalls of one to two meters are not uncommon. Ogimachi is beautiful at any time of the year, but once the houses are decked with snow its beauty is transformed a hundred fold.
If you're looking for a winter destination that's non-stop partying, Ogimachi isn't it. Here you'll have a tranquil stay where you can enjoy bathing in the warm waters of an onsen spa surrounded by snow-covered mountains. The most exciting event to happen in winter in Ogimachi occurs every Sunday night throughout January and February when the village is illuminated for two hours turning it into a surreal winter wonderland.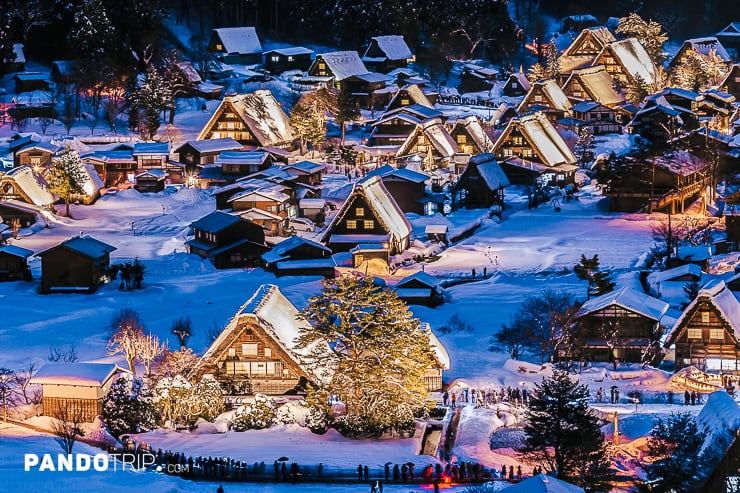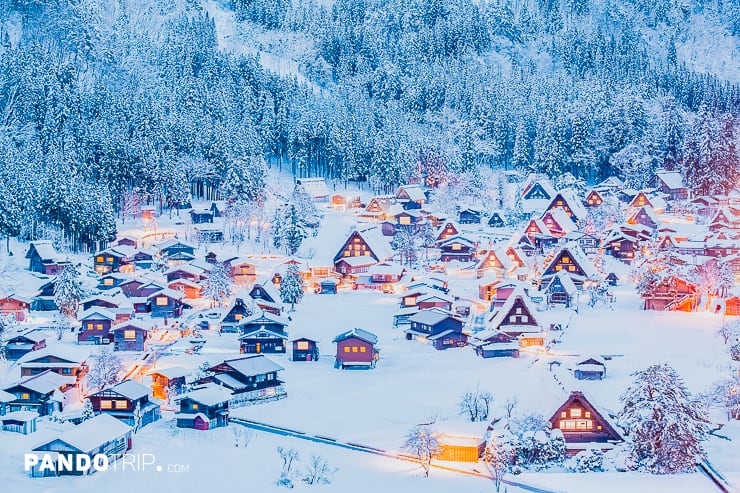 3. Zermatt, Switzerland
Zermatt in southern Switzerland is where you should go if you want to have a stylish apres-ski experience. Zermatt is one of the best towns in Switzerland in winter because this ski resort has it all including incredible views of the iconic Matterhorn.
You'll be breathing in crisp, clean mountain air if you stay in Zermatt as no cars are permitted on its narrow streets. Getting from A to B here is done on electrically powered public transport, bicycle or on foot.
In winter there are over three-hundred and fifty kilometers of skiing trails opened around Zermatt for public use so there's something for every level of skier. There's also the Olympic standard Snowpark Zermatt for snowboarders too. For those who prefer ice to snow you can hike the fantastic Matterhorn Glacier Trail.
When the days are over then the nights begin and you'll be spoilt for choice between all the first-class restaurants and trendy bars there are in Zermatt. If you want to enjoy great nightlife on your winter trip, put Zermatt at the top of your must-visit list.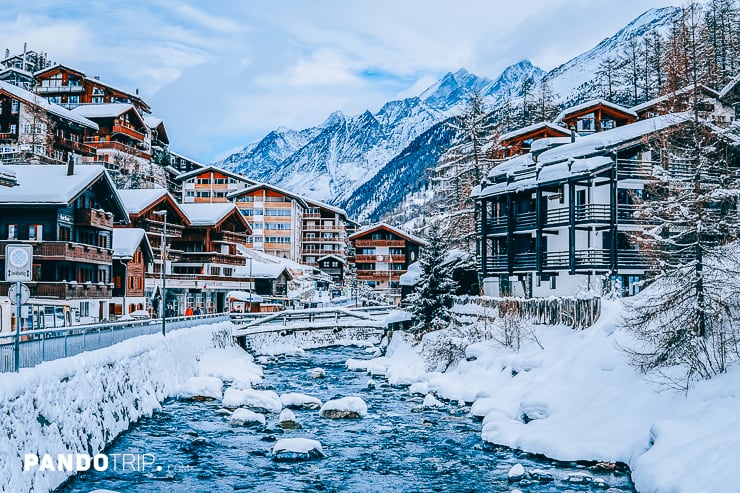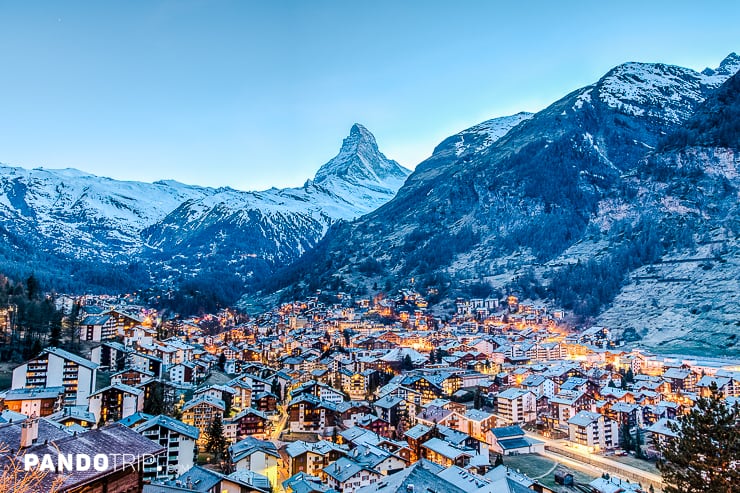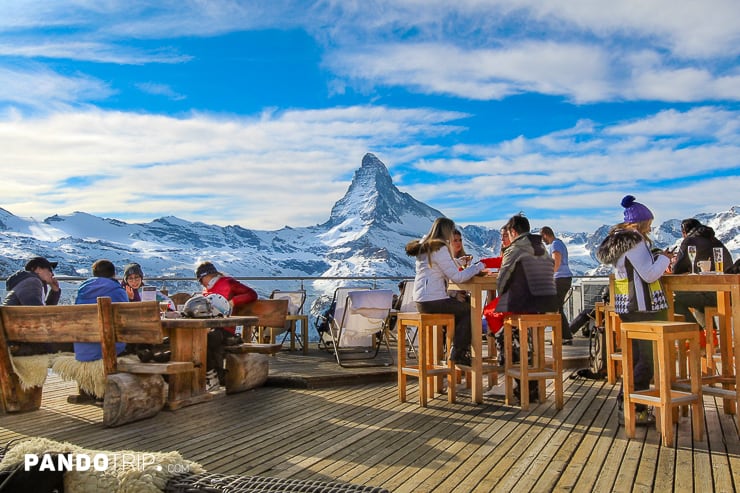 4. Banff, Alberta, Canada
Canada is well-known for making the most of its long winters and Banff is one town that really knows how to take winter fun to the next level. Banff is in the Banff National Park in the northern region of the country and surrounded not just by the craggy peaks of the Rocky Mountains, but by the mountainous and forested terrains of three other national parks too. Think mountain scenery on steroids and you might be halfway to imagining how amazing the landscapes around Banff are.
It isn't just the surrounding landscapes that make Banff special. Banff's main street is a characterful wonder in its own right in the winter months. During the festive season when the Christmas illuminations are switched on, Banff's main street turns into a greetings card-style scene in which the rugged, snow-covered presence of Mount Rundle dominates the town.
Take your winter trip to Banff and you'll be able to do everything from soaking in hot springs to skiing in one of the three nearby resorts and even go dog sledding across frozen plains. That's not all you can do in Banff in winter either. You can ice skate on nearby Lake Louise when it freezes over, take photographs standing on the Glacier Skywalk or take a wintertime drive along the Icefield Parkway where you'll see turquoise colored glacial lakes and, unless they're frozen, waterfalls.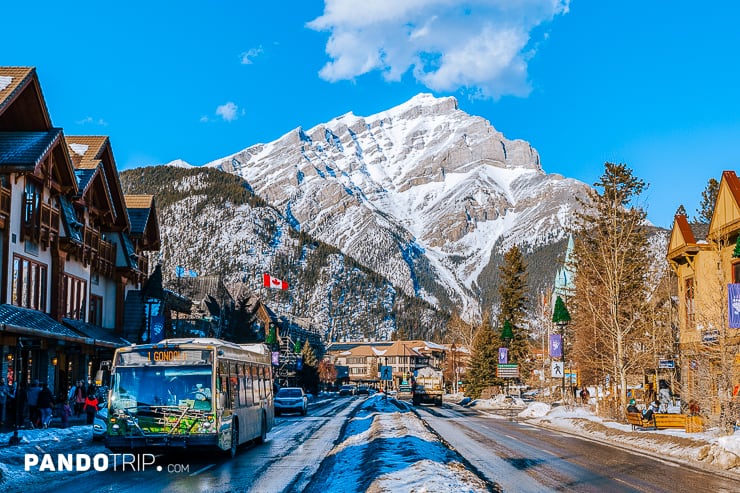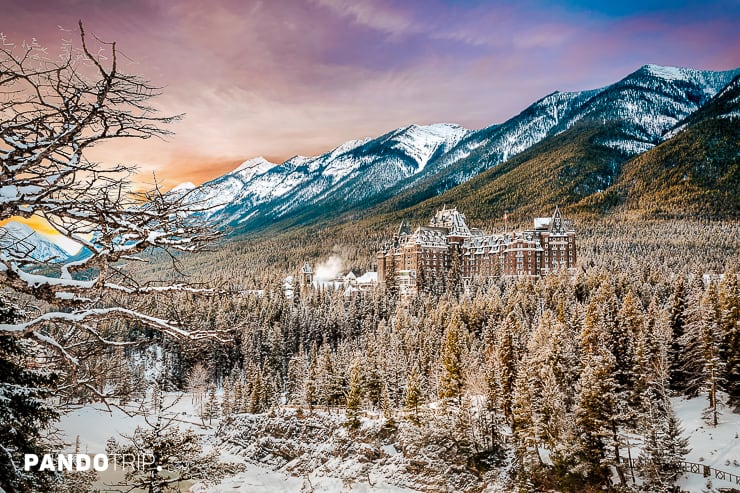 5. Chamonix, France
Chamonix is a ski resort town in the southeastern region of France, close to the country's borders with Italy and Switzerland, that nestles at the base of one of the highest mountains in Europe, Mont Blanc. Skiing is more than a winter sport here, it's a way of life and has been since before Chamonix hosted the first Winter Olympics almost a century ago.
There are five different ski stations in Chamonix and all have views of Mont Blanc from their slopes, but skiing isn't the only activity you can participate in here. Stay in Chamonix and you'll have the opportunity to go snowboarding, ice climbing, paragliding or snowshoeing along mountainside trails and that's not all. Above Chamonix in a deep valley north of Mont Blanc is where the country's largest glacier, Mer de Glace, is to be found. To get to see the glacier you can take a scenic train ride through the French Alps which leaves you in Montenvers. Make the experience even more special by hiking along the path to the Mer de Glace ice cave. It's not the easiest of hikes as there are almost six hundred steps to negotiate, but the effort is totally worth it.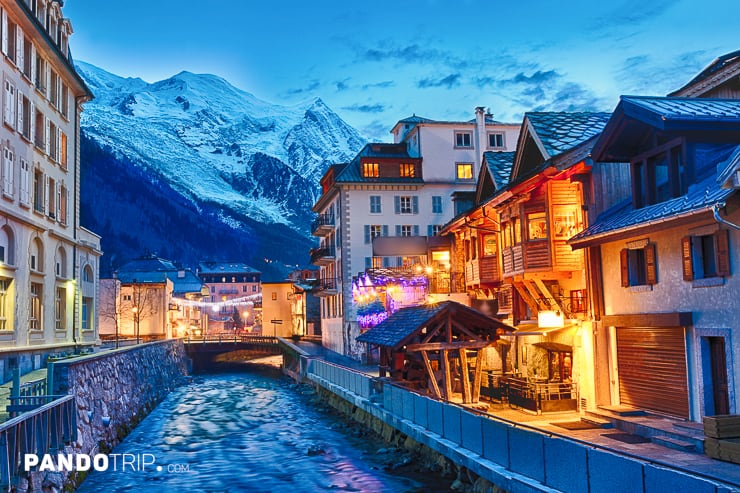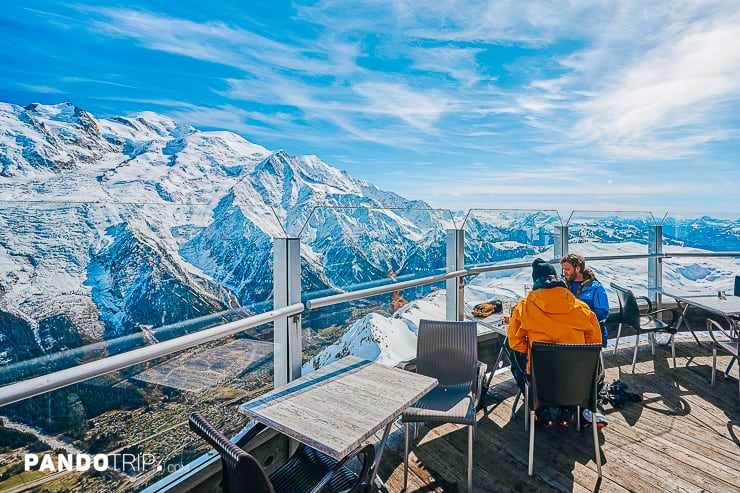 6. Hamnøy, Lofoten Islands, Norway
Taking a vacation in one of the best snowy villages in the world doesn't have to be all about winter sports. Hamnøy is a colorful and very picturesque fishing village on the island of Moskenes that is the perfect location for photographing wintery landscapes, for seeing the Northern Lights and for spotting wildlife like elk and eagles.
Hamnøy isn't the easiest of places to get to, but don't let that put you off going. Avoid December if you want to take photos of anything other than the Aurora Borealis as during December the island experiences Polar Nights which means almost twenty-four hour darkness. The lack of light pollution in this remote village does mean the phenomena of the aurora is especially spectacular.
If you go to Hamnøy when there's daylight, there's another natural spectacular you won't want to miss snapping photographs of and that's the Moskstraumen. The Moskstraumen is a series of unusual coastal whirlpools in the sea south of Hamnøy. The best, and safest, way to see them is to hike to the top of Lofotodden Hill in the Lofotodden National Park or fly over them in a small plane.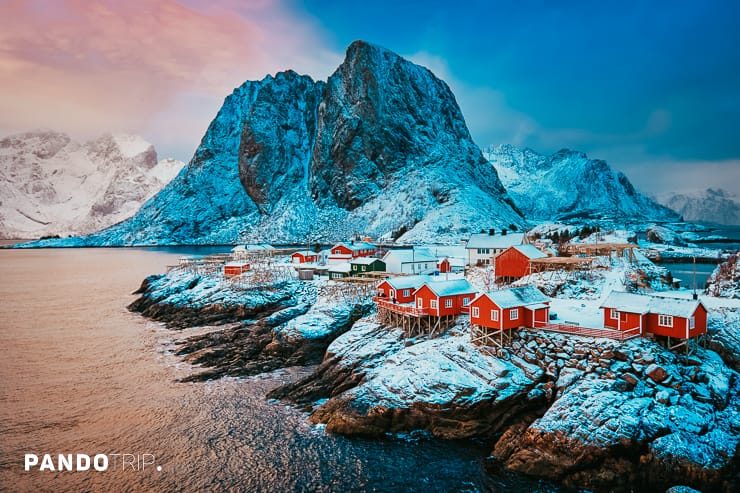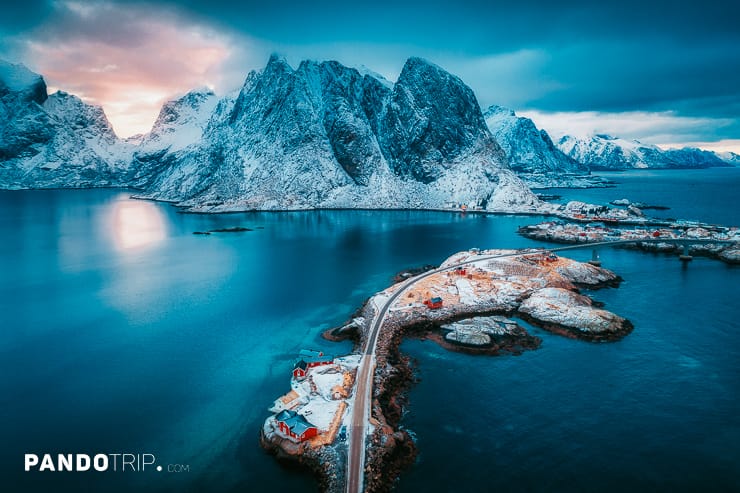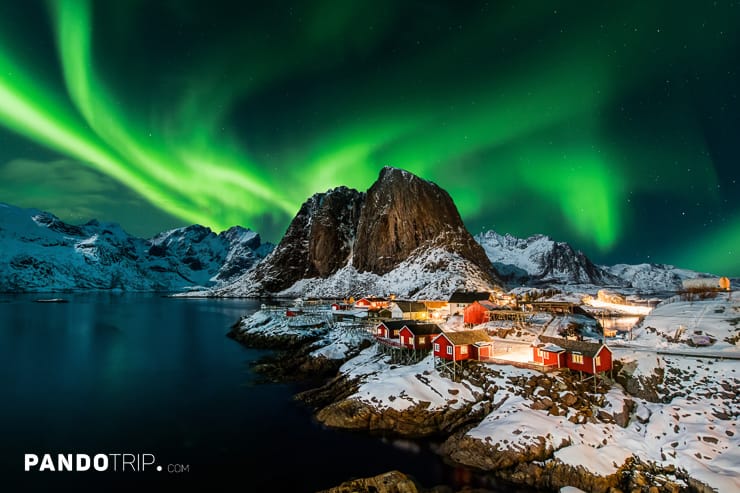 7. Leavenworth, Washington
When you live in the US you don't need to travel as far as Europe to go Nordic skiing or experience winter in a Bavarian setting. All you have to do is go to Leavenworth in the state of Washington. The multi-colored timber-clad houses of Leavenworth look as though they've been transported intact straight from a mountain village in the Alps even though they haven't.
Add to the picture the soaring snow-covered peak of Tumwater Mountain that overlooks the village and it's hard to imagine it could get any prettier, but it does. From Thanksgiving all the way through to mid-February Leavenworth becomes the Village of Lights when it's illuminated with hundreds of thousands of lights. Being in Leavenworth when the illuminations are on is like having Christmas every day. The atmosphere is magical.
Leavenworth and the surrounding area is lucky enough to be blessed with heavy snowfalls so places like the Lake Wenatchee State Park are great for snowmobiling, snowshoeing, cross country skiing and sledding. In the evening there's a dinner of hearty Bavarian food at one of the village's restaurants to look forward to. In all honesty, wintertime doesn't get much better than it does in Leavenworth.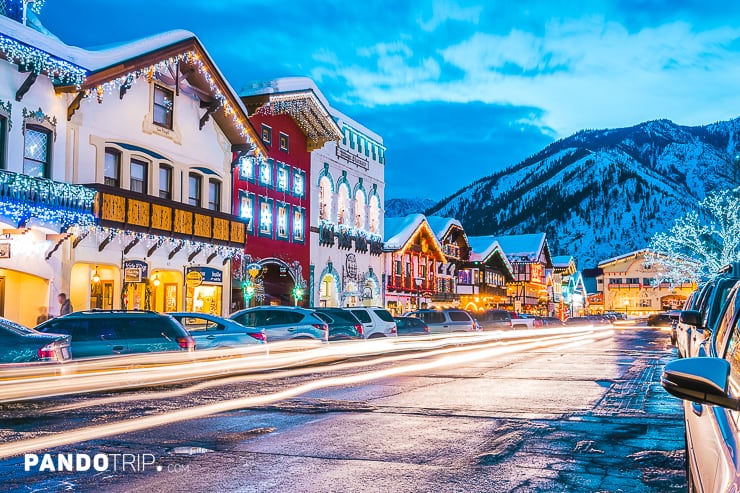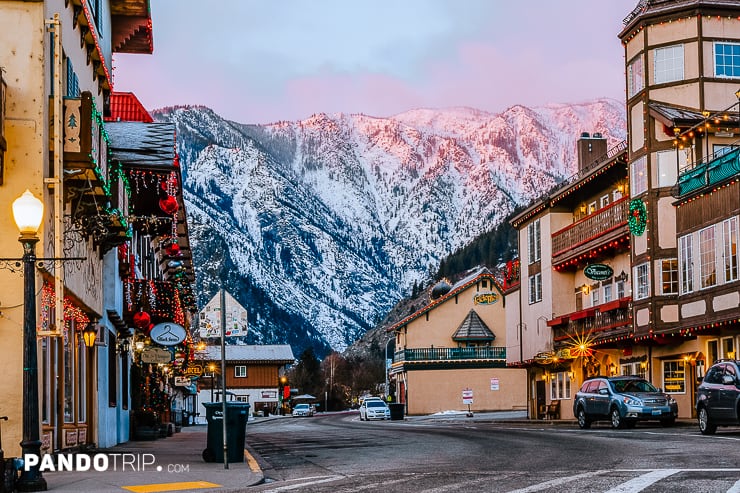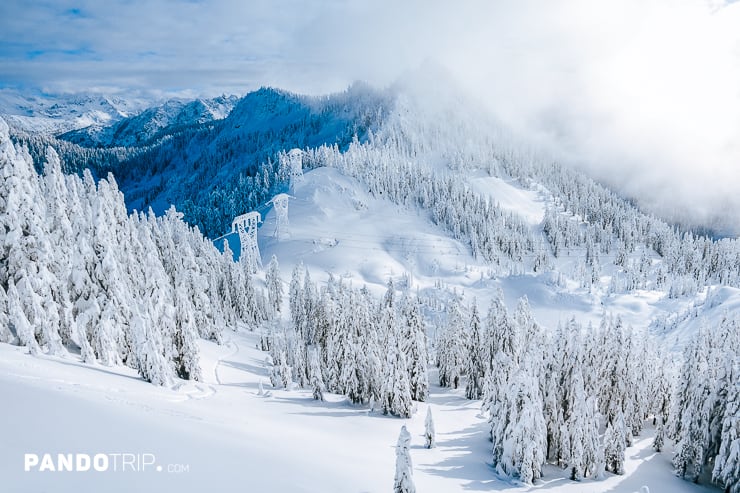 8. Jokkmokk, Sweden
Jokkmokk is a village in Swedish Lapland where the majority of visitors go to learn about and experience the culture of the Sami people. Jokkmokk occupies a remote location, north of the Arctic Circle, at the base of the Scandinavian Mountains and is one of the coldest places in Sweden in winter.
While Jokkmakk doesn't experience true polar nights, the lack of light pollution in the area makes it a superb location to see the Aurora Borealis. The main annual event in Jokkmokk is the Jokkmokk Winter Market which takes place at the beginning of February. It's not just a market, but a celebration of the Sami culture where the Sami people wear their traditional dress, there are coveted Sami-crafted goods on sale,food stalls and live music.
Jokkmokk is the perfect place to go dog sledding, cross country skiing through the pine forests or visit a reindeer farm. If you're an animal lover you won't want to miss taking an expedition into the Sarek National Park to look for moose. The moose in Sarek are reputed to be the biggest in Europe and until you see one for yourself, you won't believe just how huge they are.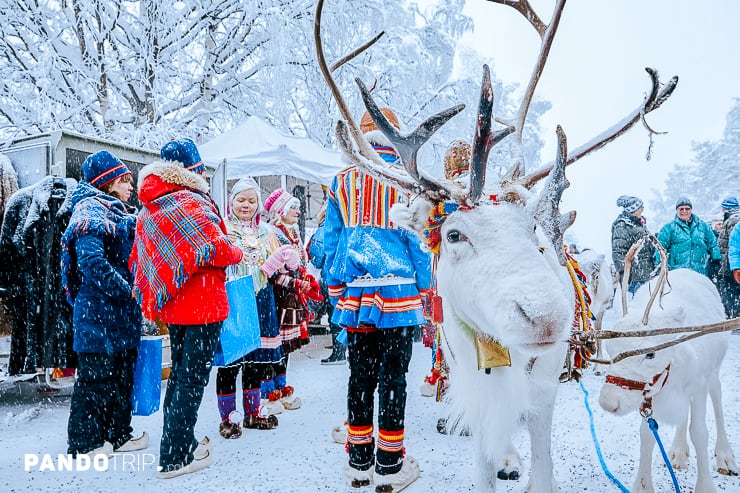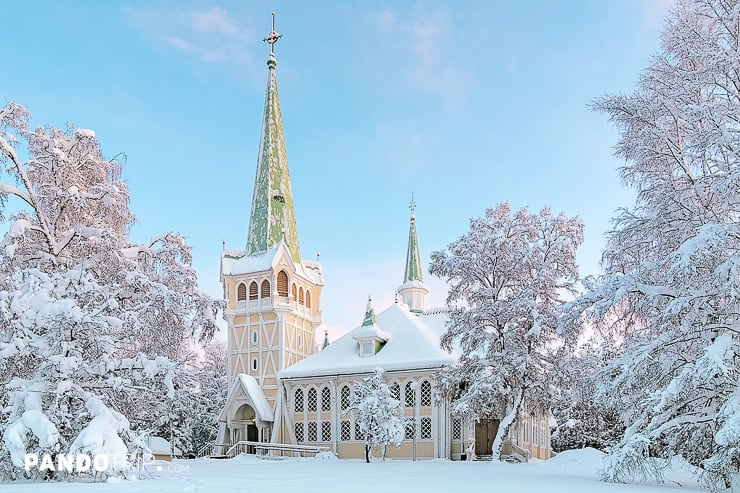 9. Ramsau, Bavaria, Germany
If you want a true Bavarian winter experience you need to go to Ramsau. Ramsau is a quaint and incredibly scenic village in the Berchtesgadener Land district of southeastern Bavaria. It's surrounded by the Bavarian Alps, the most outstanding of which is the craggy Watzmann Mountain, which is nothing less than picture perfect when capped with snow.
Stunning mountain scenery isn't the only attractive feature of this beautiful Bavarian village. Take a winter hike here and you'll be hiking past two amazing lakes, the turquoise colored Lake Hintersee and Lake Konigssee, through the forested hills of the Berchtesgaden National Park or along the Wimbachklamm Gorge where there are numerous waterfalls.
Even after you've hiked all the best trails in Ramsau you'll find the days are not hard to fill. There are several ski resorts nearby where you can get out on the slopes. If you don't ski, you'll still be well occupied taking photographs of the village's St Sebastian Church and the mountainscapes around it. You'll get amazing shots whether you take them during the day or try your hand at capturing the night sky in all its starry glory.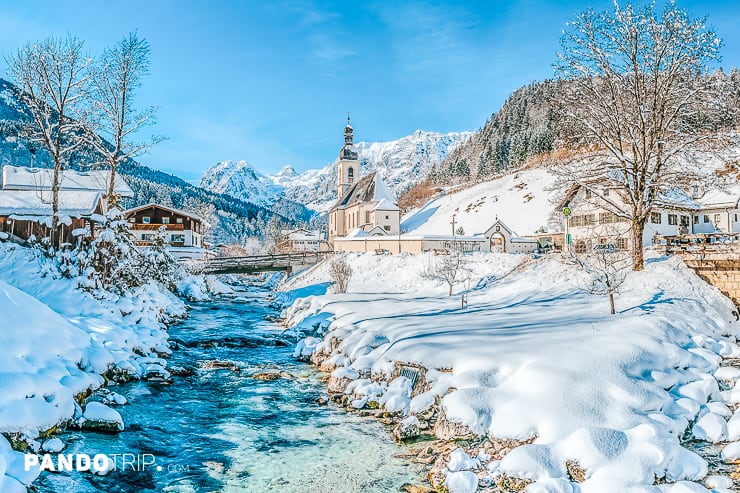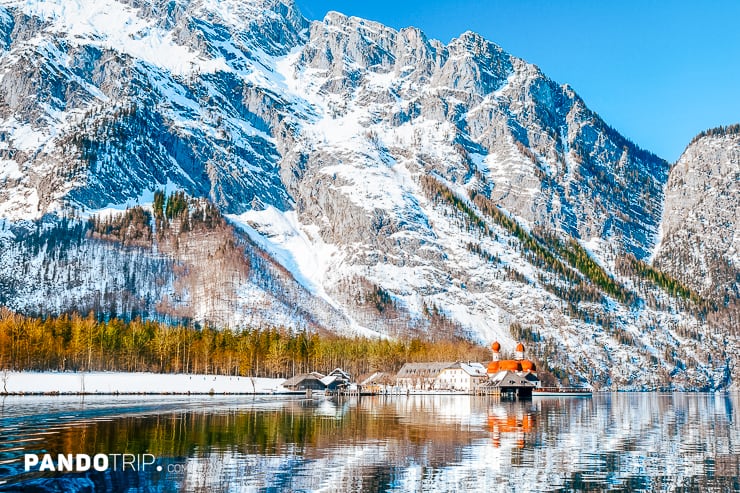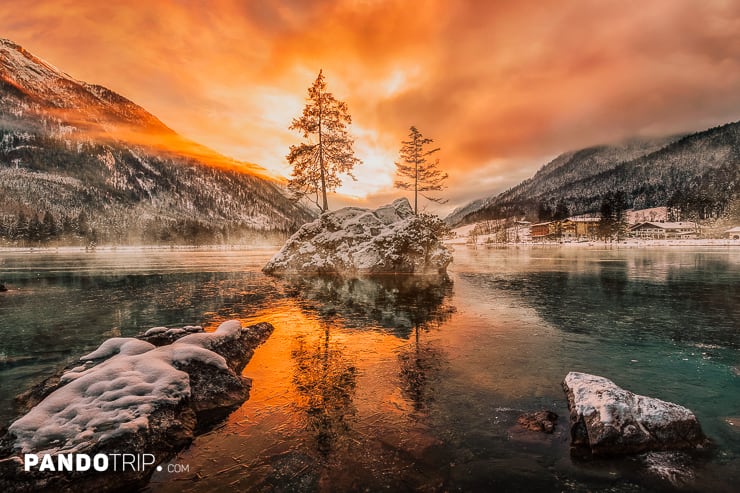 10. Cortina d'Ampezzo, Dolomites, Italy
Cortina d'Ampezzo is a town in the Italian Dolomites that is a must-visit for any skiing fanatic. It's also an ideal place to go if you're a novice and want to learn to ski or snowboard as there's an abundance of ski schools and almost as many instructors on the slopes as skiers.
Cortina d'Ampezzo is located within a mountainous area known as the Dolomiti Superski which, as well as being the largest ski center in the world, is a UNESCO World Heritage Site. With fifteen ski resorts nearby it's not surprising that Cortina d'Ampezzo played host to the Winter Olympics back in 1956 and in conjunction with Milan, will do so again in 2026.
This is the town to go to when you want to max out on winter sports during the day, whether you prefer skiing, sledding, tobogganing, climbing or hiking, then go out in the early evening and enjoy the ultra-fashionable apres ski nightlife.