When you want to make Christmas truly special then you need to get out of your comfort zone and do something different. Plan to go somewhere like Norway where there's snow on the ground and the Aurora Borealis lighting up the sky with its own Christmas light show. It'll take your Christmas celebration to a whole new level that's ten times better than any you've ever had before.
If you're wondering exactly where to spend Christmas in Norway, wonder no more. There's only one place to go and that's Tromsø. Tromsø is Norway's Christmas city and there's no doubt that even Santa Claus himself would happily give Tromsø his Christmas stamp of approval. What makes Christmas in Tromsø so special? Read on to find out.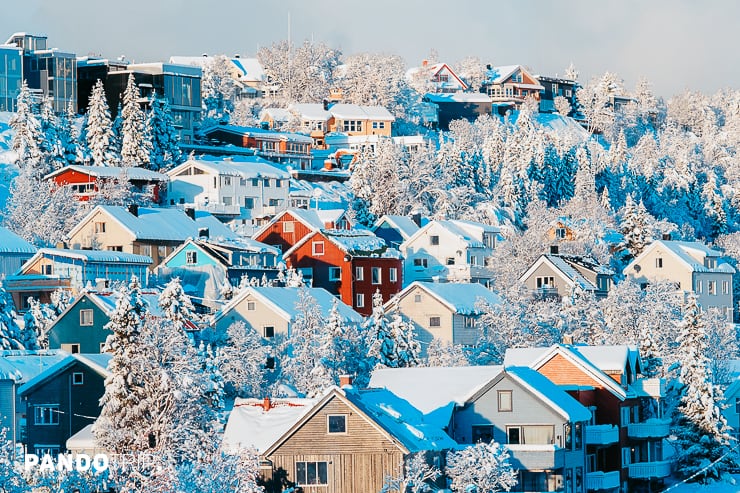 Where Is Tromsø?
Tromsø is the largest Norwegian city north of the Arctic Circle. The city itself spreads across part of the mainland, but its heart is on the island of Tromsøya. Access to the city center is via one of two amazing feats of engineering, the Tromsø Bridge or the Tromsøysund Tunnel, and there's where you need to be to make the most of Christmas in Tromsø.
When Is Christmas In Tromsø
They start Christmas early in Tromsø and there's a good reason for that. By the end of November, daylight has been reduced to around an hour a day so the Christmas illuminations help to keep those living in the almost constant darkness a little more cheerful than what they otherwise might be.
The main Christmas celebrations in Tromsø begin on the 23rd of December with something they call Little Christmas Eve. It's a time when families start to get together and many businesses close earlier than usual. It's a good idea to make the most of the late night closing on the 22nd if you want to do some last minute shopping as there's very little open after that.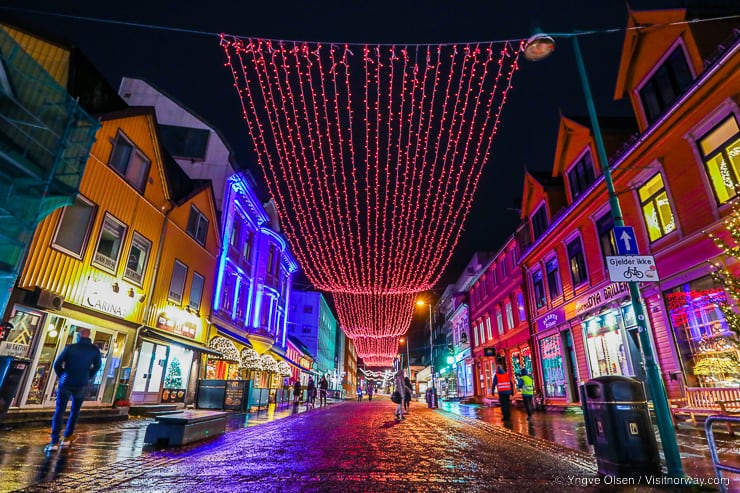 The evening of the 24th, Christmas Eve night is when Norwegians have their main Christmas celebration. The stores and the majority of other businesses close by four in the afternoon so people have time to get home and prepare for the festivities.
The 25th of December is a day for staying home and enjoying the company of family and friends as well as recuperating from the excesses of the night before. Don't think you'll be left feeling abandoned if you're staying in a hotel though. There are some restaurants that stay open throughout the holiday and hotels always make sure their guests have a great time.
Tromsø stays quiet on the 26th of December too or at least it does until nighttime. After three days spent with their families, the folks of Tromsø are ready to let their hair down. On the night of the 26th, the city bursts into life with parties at almost every single bar, restaurant and club. What better way is there to finish off the Christmas celebration than that?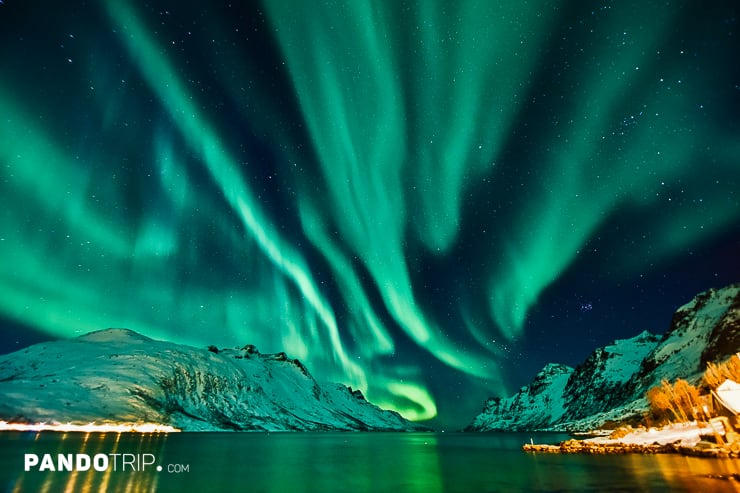 Shopping And Christmas Markets In Tromsø
Shopping in Tromsø starts to feel festive from around mid-November when Christmas markets spring up all over the city. The city's main square, Stortorget, hosts the largest one. It's also the most atmospheric as that's where the city's huge Christmas tree and annual ice statue are put on display from the 1st of December.
Christmas markets are important events for the local artisans who hope to sell their handcrafted goods and continue through right up until New Year's Eve. The quality of the goods they offer is exceptional and you'll come across things like handtooled bags made from reindeer leather, glassware and chunky knitwear perfect for the chilly weather.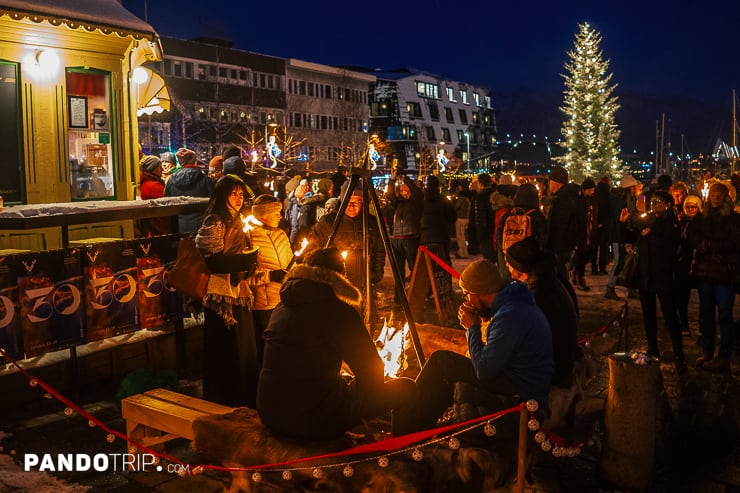 If you miss the Christmas markets or can't find what you're looking for, you can still purchase locally made, unique handicrafts in the city's Polaria Shop. Double check you're buying Norwegian though as they also stock goods from other Nordic Countries.
Other good places to check out for original products are Galleri Nord in the Radisson Blu Hotel which offers photographs, paintings and gifts and Husfliden, an independent retailer stocking beautiful handcrafted scarves, sweaters, blankets and an endless range of giftware.
Food At Christmas In Tromsø
There are some Norwegian Christmas foods and drinks you'll want to try and others that may make you think twice. These are some of the more popular:
Ribbe – roasted pork rib with crispy skin served with pickled cabbage
Pinnekjøtt – salted mutton rib served with mashed potatoes and vegetables
Lutefisk – white fish cured in lye which is cooked in the oven
Smalahove – (only for the brave) a whole boiled sheep's head served with mashed swede and washed down with aquavit
Aquavit – an almost tasteless digestive liqueur made from potatoes
Gløgg – wine mulled with ginger, cinnamon, cloves and orange
Varm sjokolade – hot chocolate usually topped with whipped cream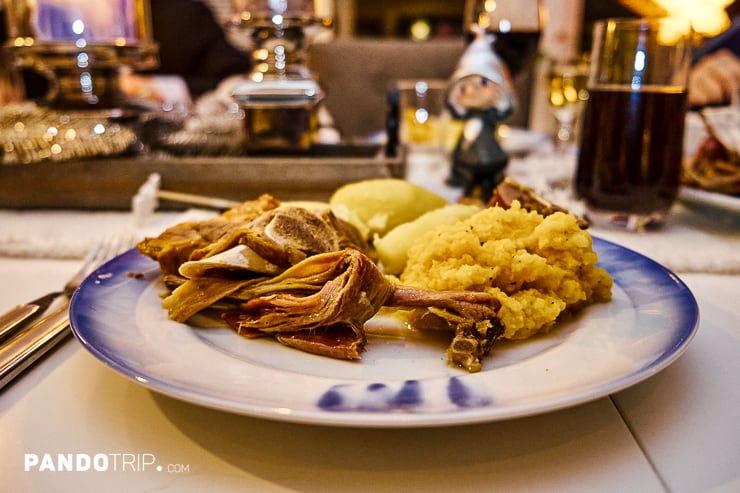 Where To Eat Christmas Dinner In Tromsø
Unless you're lucky and make friends soon after you arrive in Tromsø who invite you to their home for Christmas dinner then you'll need to find somewhere to eat. Quite a few places close from Christmas Eve right through to the 26th, but there are some that will be only too happy to welcome you.
If you want a very Christmassy Christmas dinner then check out the Christmas buffet at the Kitchen and Table at the Hotel Clarion The Edge. They serve their buffet for non-residents from six in the evening until ten on both the 24th and the 25th of December.
Other restaurants that usually stay open during the festivities are:
Charley's at Radisson Blu
Grand Restaurant
Hard Rock Cafe
Nyt Tromsø
Roast Restaurant at Scandic Ishavshotel
Yonas Pizzeria
Who is open and who is closed plus their hours of business can change from year to year, but you can find an updated list of restaurants open in Tromsø at Christmas here.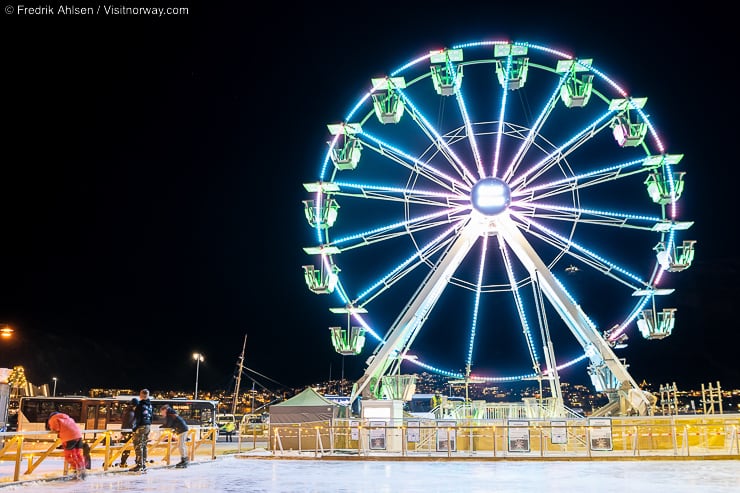 Northern Lights In Tromsø
The perpetual darkness of what is known as the Polar Nights in Tromsø does have its advantages, especially during the Northern Lights season. Tromsø is one of the best places to see the Aurora Borealis, but that said nature can be unpredictable and you can never guarantee if they're going to appear.
When you don't want to waste too much of your time standing in the frigid air searching the skies for elusive lights, check out the light forecast and you'll discover the optimum times to head outside. While you can see the lights from some of the city's rooftop bars, light pollution means you won't get the full effect. The best places to go to to see the northern lights in Tromsø are:
Mount Storsteinen – Ride the cable car, Fjellheisen, up to the top
Telegrafbukta – a park thirty minutes from the city center
If you want to go out of the city to see the lights without any light pollution at all then the best way to do that is to go on an organized Northern Lights Tour.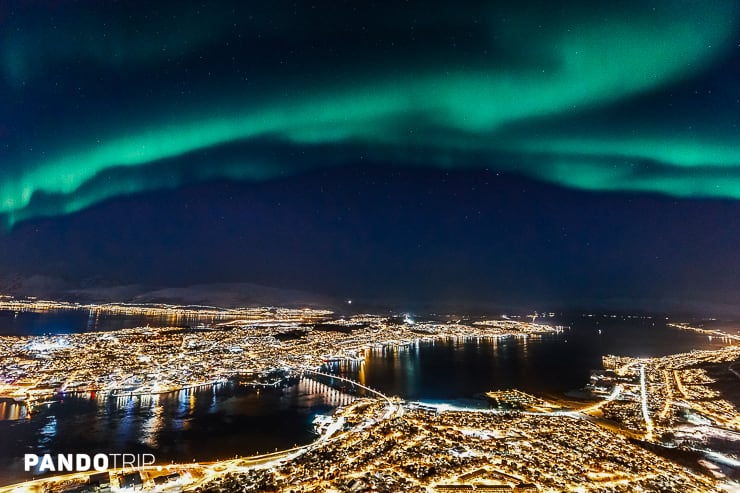 Things To Do In Tromsø At Christmas
The below freezing temperatures and heavy snowfalls don't just make for a more Christmassy atmosphere in Tromsø. Forget staying warm and snug wrapped up in blankets in your hotel room sipping on mulled wine, this is the time of the year to go out and enjoy all sorts of exciting winter sports and Christmas-related activities.
Get the best view of the city – The Fjellheisen, Tromsø's cable car, is located in the part of the city that's on the mainland. Jump aboard the cable car gondola in Tromsdalen and in four minutes it'll whisk you to the summit of Mount Storsteinen from where the views of Tromsø can only be described as magnificent.
Go ice skating – There's really nothing more Christmassy than donning a pair of ice skates and whirling round an outdoor ice rink. You don't need to hope that Prestvannet Lake freezes over either, although that is a regular skating spot, as there's a large rink set up next to Tromsø harbor. From there you can see the Arctic Cathedral across the water and the gondola of the cable car as it climbs the mountain.
Attend A Christmas Concert – Music can be more moving at Christmastime and even more so when it's performed in somewhere as beautiful as Tromsø's Arctic Cathedral. Every year there's a series of concerts and choral presentations performed in the cathedral beginning from the start of December and continuing right through to the end of the month. You can check the schedule here.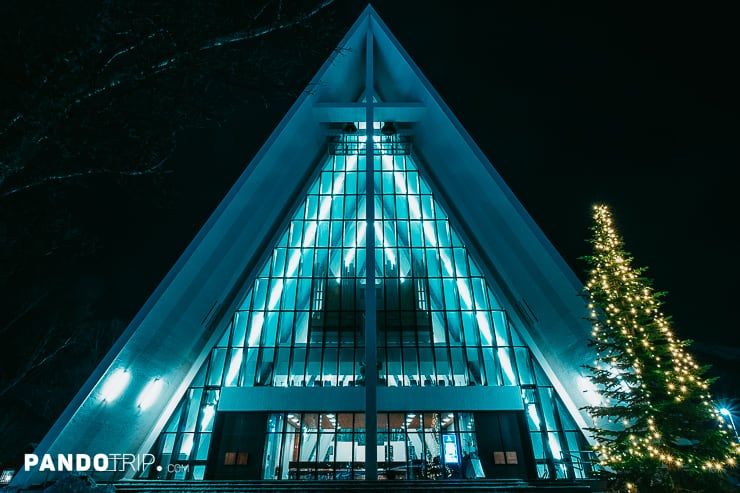 Have A Drink In Magic Ice Tromsø – You'll need to dress up warm to have a drink in the Magic Ice Tromsø. In this bar that's constructed completely from blocks of ice you can sip from glasses made from ice while appreciating the bar's ice sculptures.
Visit The Tromsø Ice Dome – The Tromsø ice domes are located outside of the city in Tamok Valley which is around a ninety-five kilometer drive from Tromsø. Going here gives you the opportunity to see Norway's wintery countryside at its best and while you're there you can go snowmobiling, dog sledding, meet some reindeer, watch a movie in the ice cinema and have a meal in the ice restaurant. As long as you're not averse to ice, you can also stay overnight in a suite at the ice hotel.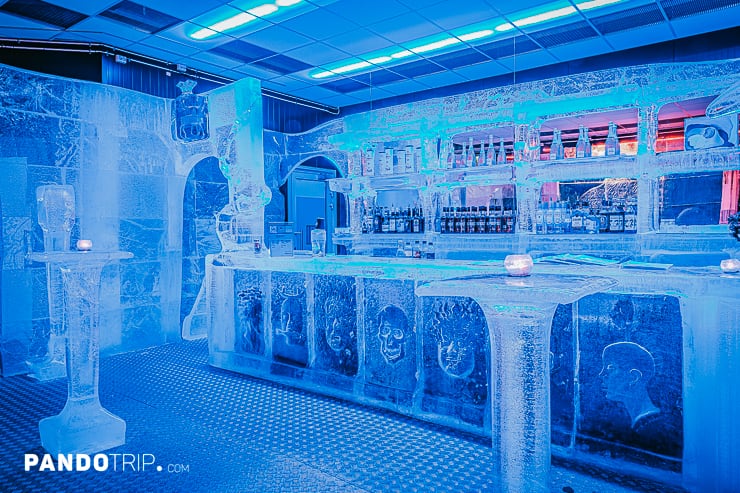 Take A Trip Out Of The City
When most things are closed at Christmas is a good time to take a trip out of Tromsø and all of the following tours operate during the festive season. What can you do? Any of the following:-
Reindeer Sledding – Taking a ride on a sled pulled by reindeer through the snow-covered landscapes outside of Tromsø is about as Christmassy as it gets. Go during the day and you'll get to feed the reindeer and learn something about the Sami culture. Go at night and you could see the northern lights as well.
Dog Sledding – While reindeer sledding is quite a tranquil experience, you'll find dog sledding is the opposite. The dogs may be smaller, but they are fast so the ride is more exhilarating and you'll get to learn how to mush a team of huskies too. Now that's exciting.
Whale Watching – November to January is the best time to see whales off the coast of Tromsø so being there in December is ideal. The sailings are on electrically powered catamarans and you'll be on the water for between seven to nine hours as it takes a while to get to the feeding grounds of the humpback and orcas.
Tip: Don't leave booking your tours out of Tromsø to the last minute. They're all really popular at Christmastime and get fully booked quite early.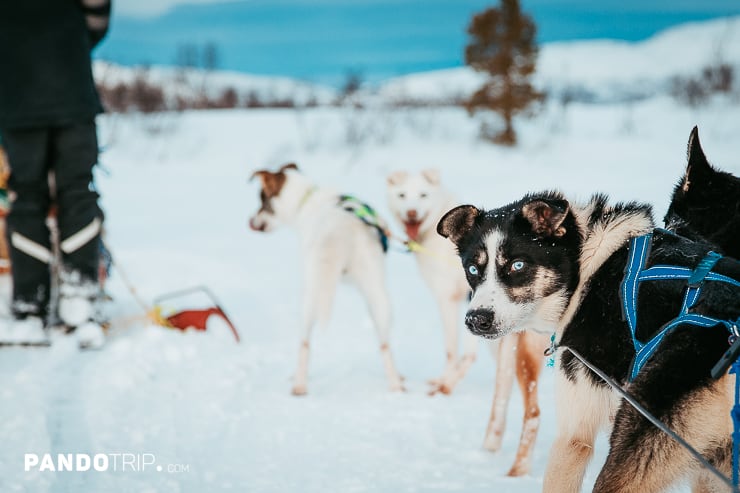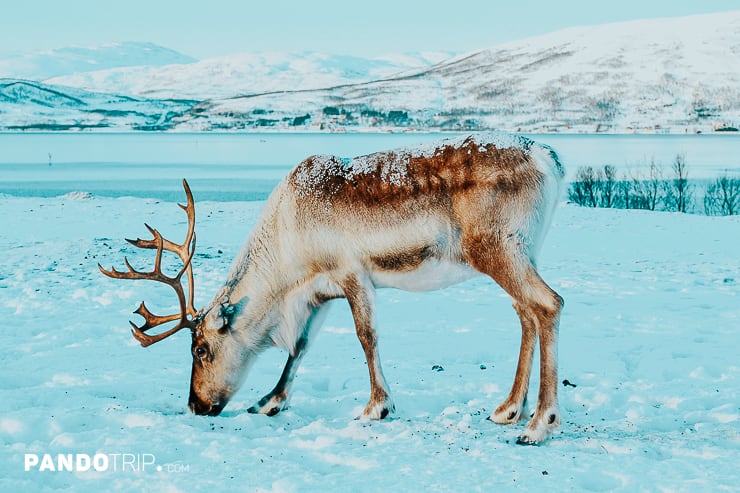 Weather In Tromsø At Christmas
While you can never truly guarantee it's going to snow at Christmas in Tromsø, it's a pretty sure bet as the city is renowned for its heavy snowfalls. Most years there's snow on the ground in Tromsø from November through to around April when the thaw sets in. Average temperatures in Tromsø range between -2ºC to -4ºC, but it can get colder so make sure you take adequate clothing with you.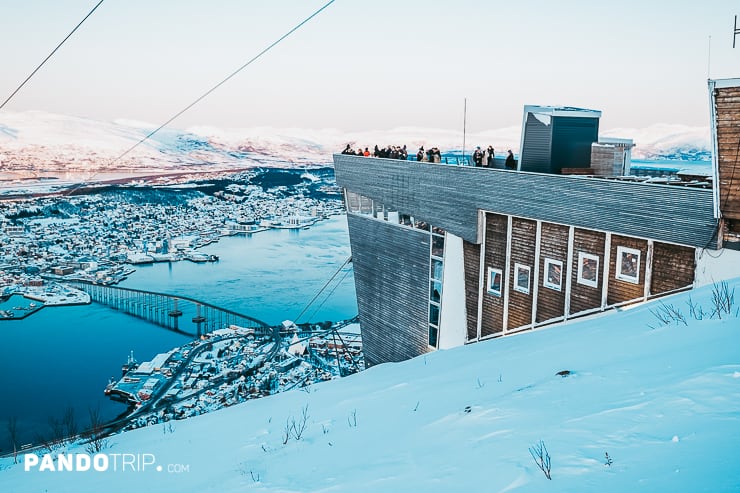 Where To Stay In Tromsø At Christmas
Where you stay in Tromsø at Christmas can make all the difference to your experience there. The following three hotels are renowned for their Christmas hospitality so don't miss taking a look at them.
Radisson Blu Tromsø – The Radisson Blu Tromsø is right on Tromsø harbor so you won't have far to go to be in the thick of the city's Christmas celebrations. You'll have views from your room of the Arctic Cathedral across Tromsø Sound and be where there's a restaurant and bar open throughout the Christmas period. The hotel also has lots of other facilities including a gym and sauna room.
Clarion Collection Hotels – The Clarion Collection Hotel chain has three city center hotels in Tromsø. One, The Edge, has a rooftop terrace and Sky Bar from where you can watch the northern lights. The Aurora Hotel has a sauna and a rooftop hot tub for when you want to soak while staring at the stars. The Hotel With is three stars so a little easier on your budget than the first two.
Smarthotel Tromsø – There's no denying that not just Tromsø, but Norway in general, is not the most economical of places to stay. If you're looking for reasonably priced accommodation that's still central to everything then the Smarthotel Tromsø totally fits the bill. It's the ideal place to stay if you're traveling solo or are a digital nomad as each room has a work desk. There's no on-site restaurant, but stay here and you'll be just a few minutes walk from where you can get a Christmas dinner in Tromsø and you'll feel good because you won't have splashed out a fortune for your stay.