The capital of Scotland, Edinburgh, is bursting at the seams with historic character and while its Old Town is a UNESCO World Heritage Site, this university city has a thoroughly modern outlook. Founded sometime back in the 7th century, Edinburgh has become world famous, not just for its medieval architecture, but for its annual festivals, many of which were first celebrated hundreds of years ago.
While Scotland is well renowned for its pretty much year-round inclement weather that doesn't mean that Edinburgh goes into hibernation during the winter. There are just as many things to do in Edinburgh in winter as there are the rest of the year. Winter, unless there's a festival happening, is one of the best times to visit Edinburgh too as you won't have to jostle your way through quite so many of the four million visitors the city receives every year.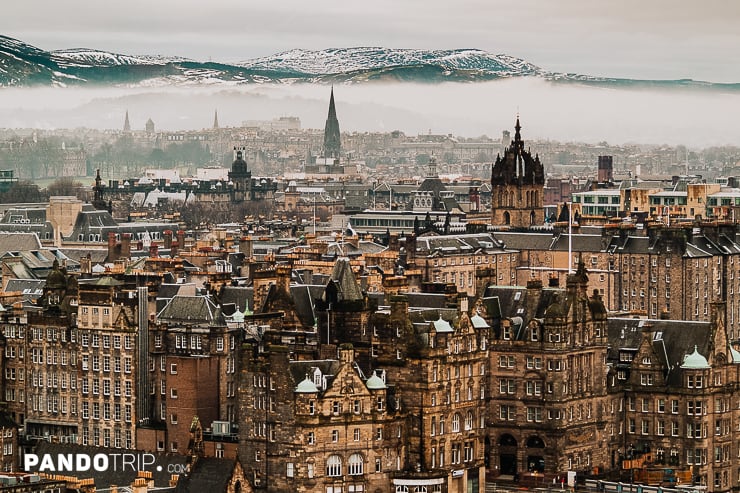 How Cold Does Edinburgh Get in Winter?
Unless climate changes suddenly get a stronger hold of the city, you can forget wandering around the streets of Edinburgh in shorts and a short-sleeved shirt in winter. From October through to March the average temperatures in Edinburgh can generally be described as frigid. Although that said there are rare occasions, once or twice a decade, when the sun does come out, but don't worry, you won't need to rush to the nearest store to buy some sunscreen.
Average Winter Temperatures In Edinburgh
| | | |
| --- | --- | --- |
| Month | High | Low |
| October | 56ºF (14ºC) | 44ºF (7ºC) |
| November | 50ºF (10ºC) | 38ºF (4ºC) |
| December | 45ºF (7ºC) | 35ºF (2ºC) |
| January | 45ºF (7ºC) | 35ºF (2ºC) |
| February | 46ºF (8ºC) | 35ºF (2ºC) |
| March | 50ºF (10ºC) | 37ºF (3ºC) |
Tip: If you're going to Edinburgh in winter pack an umbrella because it's bound to rain at some time during your stay. Scotland isn't so green for nothing. During December you should be prepared for it to start getting dark from four in the afternoon too, but that's great as it makes it even more Christmassy when the illuminations go on mid-afternoon.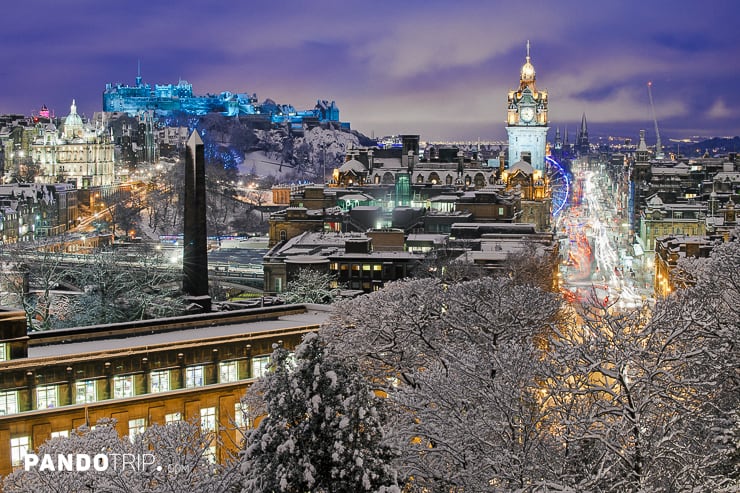 Things to Do in Edinburgh in Winter
Edinburgh is one city you're not going to get bored in when you're visiting it. In winter you can visit Edinburgh Castle, hike up to Arthur's Seat without breaking into a sweat, discover the city's Harry Potter connection or browse some of the city's many museums. Yes, it might be chilly, but what better excuse is there for slipping in a warming Scotch whiskey tasting session than that?
1. Visit Edinburgh Castle
Edinburgh's most prominent point is the plug of an extinct volcano known as Castle Rock on top of which sits the formidable fortress, Edinburgh Castle.
Edinburgh Castle has a somewhat ominous appearance and a history to match. While it has been a royal residence and has been used for military purposes, it's also served as a prison. Head up to the castle ramparts, and as long as it's not a foggy winter's day, you'll get to see amazing views of Edinburgh spread out below.
Some of the things not to miss seeing in Edinburgh Castle are:
The Great Hall – The Great Hall in the castle's Crown Square is a room that really brings the term medieval to life. From its immense fireplace to its intricately beamed ceiling to the suits of armor and weaponry that adorn the walls, it is pure 16th century and has to be seen to be believed.
The Royal Palace – The Royal Palace, also in Crown Square, may look like just an old stone building on the outside, but inside it takes grandeur to the next level. The palace is full of incredible treasures ranging from paintings of Scottish royals to a priceless collection of glittering crown jewels.
The War Prisons – Underneath Crown Square are a series of vaults that were used to house prisoners in the 18th and early 19th century. Go down into the vaults and you'll have an eye-opening experience that will make you glad you live in the 21st century.Tip: Visiting Edinburgh Castle is something that most visitors to the city do. That means there can often be queues to get in. If you don't feel like shivering in line you can buy your ticket online and get a fast track entry with a guided tour thrown in.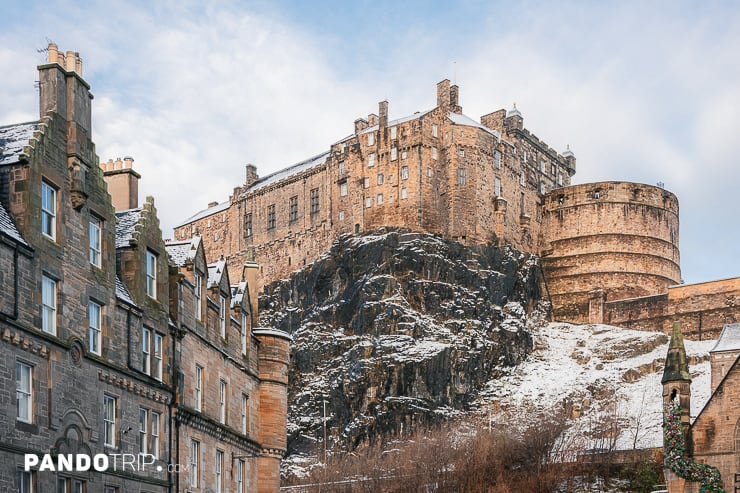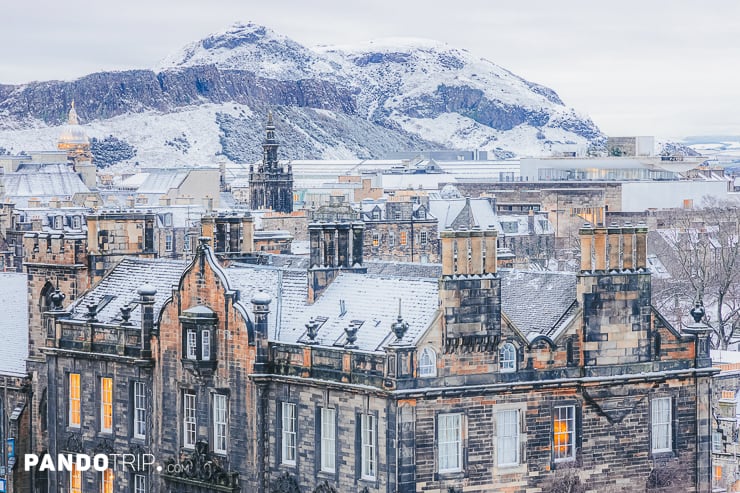 2. See Edinburgh from Calton Hill or Arthur's Seat
One way to keep warm and get some exercise when you're in Edinburgh is to trek up one or two of the city's seven hills. The ones that will reward you with the best views when you reach the top are Calton Hill and Arthur's Seat.
Calton Hill – You don't need to go outside of the city limits to climb up Calton Hill. Start your walk from the eastern end of Princes Street and you'll be wandering through the winding, tree-lined pathways of Regent Gardens in around twenty minutes. If you can, take a thermos of soup or coffee, find a bench and sip away at something warming while taking in the panoramic views.
Arthur's Seat – Arthur's Seat will take you a little longer than Calton Hill to accomplish and cross off your must-do list. This Edinburgh hill, at two-hundred and fifty one meters tall, is the highest point in the city's Holyrood Park. The park is around a fifteen minute walk from the Royal Mile in the city center. The hill is a little steep, but the views of the city and castle along the way will take your breath away far more than the climb will.Tip: If you have some energy left after climbing Arthur's Seat, take an hour or two to explore the six-hundred acre park. It contains an interesting two-thousand year old hill fort, a 15th century medieval chapel, the Salisbury Crags cliffs and a loch with lots of birdlife.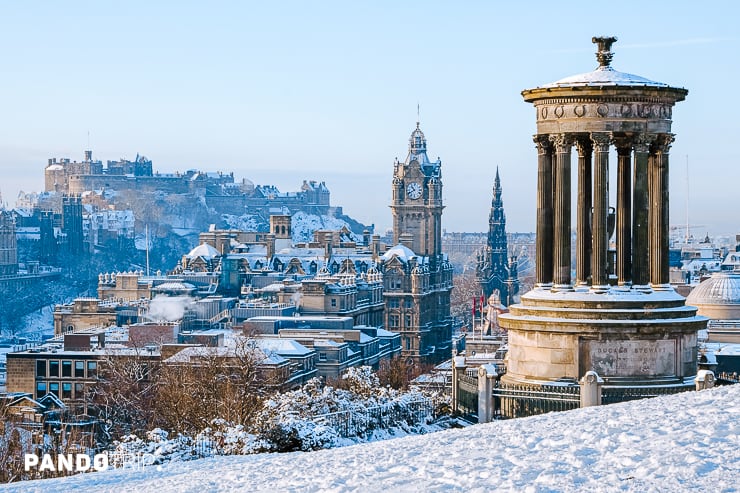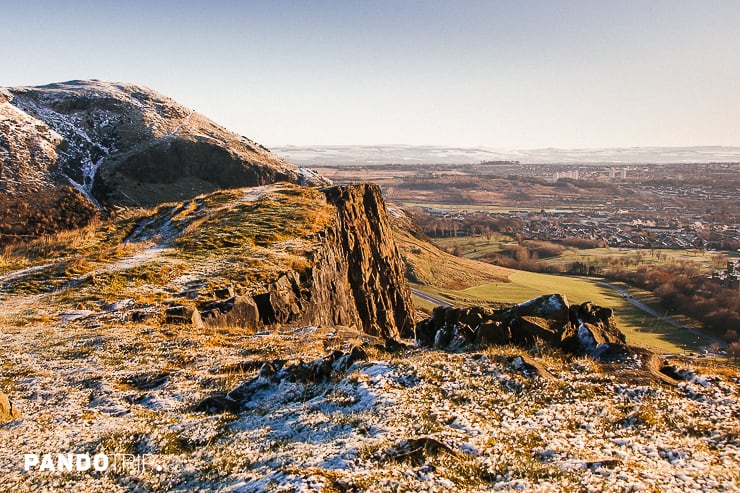 3. Celebrate Hogmanay – The Scottish New Year
While you will need to be in Edinburgh on the 31st of December to celebrate Hogmanay, it's a Scottish party you really shouldn't miss. Planning for the Hogmanay festivities starts as soon as the previous one is over and you'll need to plan in advance too if you're going to be in Edinburgh for the New Year.
The central focus of Edinbrugh's Hogmanay is the castle beneath which the street party is an almost neverending revelry of live music, DJ's and torchlit processions. They almost pale into insignificance when the annual midnight fireworks display starts. Edinburgh's New Year fireworks display is one of the best fireworks shows in the world so don't imbibe too much too early or you may miss the spectacular.
Tip: Hogmanay is one of the city's most popular events and attended by around thirty-thousand partygoers. Book your accommodation well in advance or you could find yourself without a bed once the celebration is over.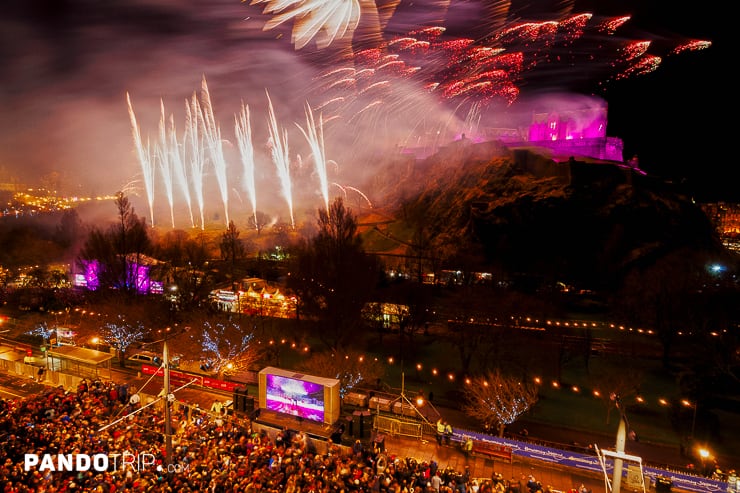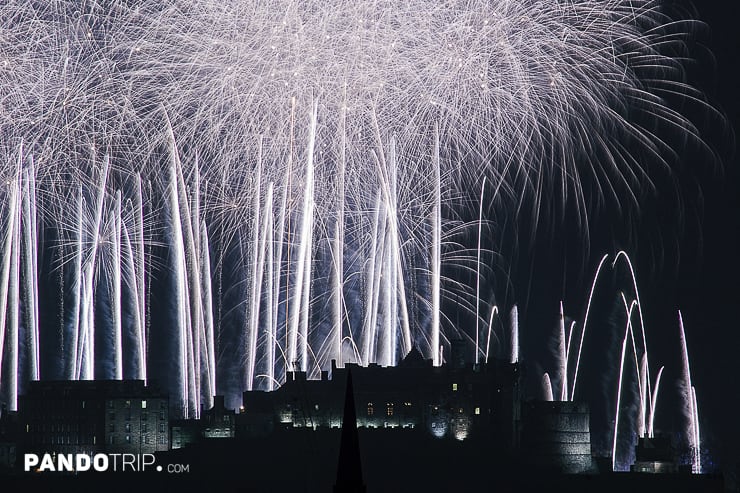 4. Try Traditional Scottish Winter Food
There's nothing like a hot meal when there's a nip in the air and you've been out sightseeing in Edinburgh. Traditional Scottish winter dishes are designed to be satisfying and they can certainly help to combat the chill. If you're in Edinburgh for Burn's Night, the annual festival dedicated to the legendary Scots poet, you'll probably be enticed to try one, if not both, of the following which are often served at Burn's Night suppers:-
Haggis – Read a list of the ingredients that go into making a haggis and you might find it offputting, but in reality, haggis is a tasty, although somewhat stodgy dish. Haggis is made from a combination of minced sheep's heart, liver and lungs mixed with oatmeal and onions which are cooked in a sheep's stomach. The thought of it may make you shudder, but give it a try served with mashed potatoes and turnips, neeps as they're called in Scotland, and you may well be surprised to discover you actually like it.
Cullen skink – If you really can't face haggis without retching at the thought of what's in it, try a bowl of Cullen skink instead. Cullen skink is a chowder-like soup made from smoked haddock, onions and potatoes. It's definitely a lot easier to tackle than haggis and just as appetite satisfying.
Where are the best places to try haggis and Cullen skink in Edinburgh?
The Arcade Bar Haggis and Whiskey House on Cockburn Street and the Whiski Bar and Restaurant on the High Street serve some of the best of both you'll find anywhere in the city.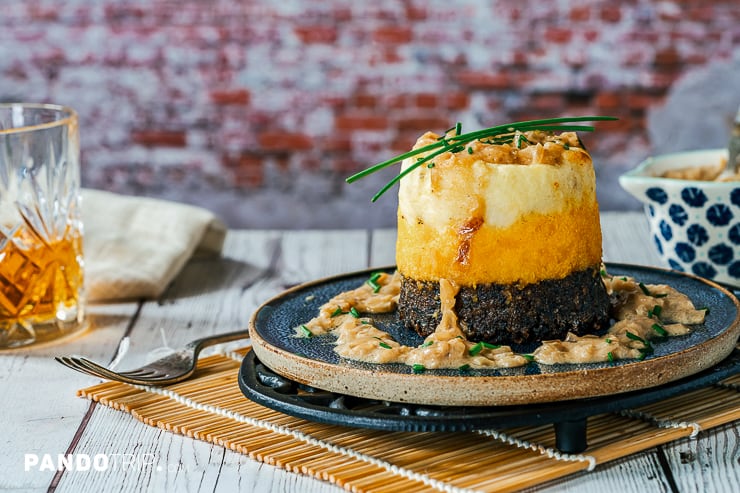 5. Discover Edinburgh's Connection to Harry Potter
J.K. Rowling, the author of the Harry Potter fantasy novels, lived in Edinburgh during the time she wrote the early books and you can visit places in the city that inspired her as well as places she frequented while there.
The Elephant House Cafe – The Elephant House is a writer-friendly cafeteria on Marshall Street that has been frequented, not just by J.K. Rowling, but by authors such as Ian Rankin and many more. Sadly, after suffering fire damage, the cafe is temporarily closed, but you can still get a selfie standing in front of it. Reopening dates will be posted on the official website at some time in the future.
Greyfriars Kirkyard – Cemeteries can be inspiring places and Greyfriars Kirkyard on Candlemaker Row in the city's Old Town is said to be where J.K. Rowling found some of the names for her famous characters.
Victoria Street – Take a wander down Victoria Street in the Old Town and you may well feel as if you're wandering down Diagon Alley from the stories. It's not the only place in Edinburgh that will give you a sense of Potterish deja vu either. There are many more places in the city that have a Potter connection. If you're worried about not finding some of them you should consider taking a Harry Potter-oriented guided tour.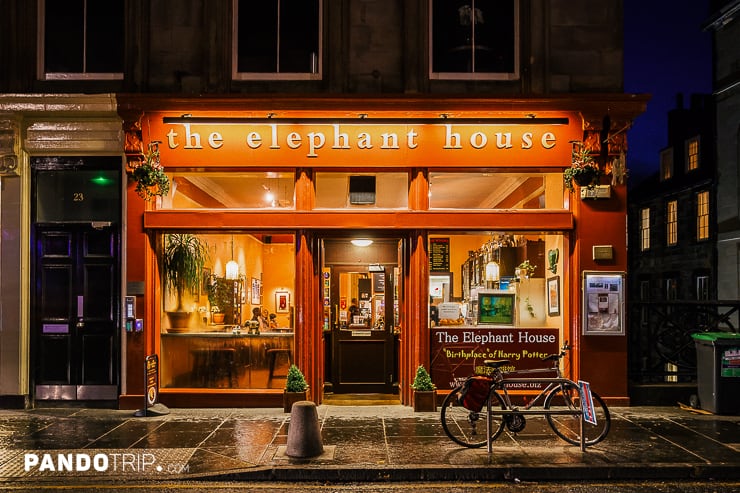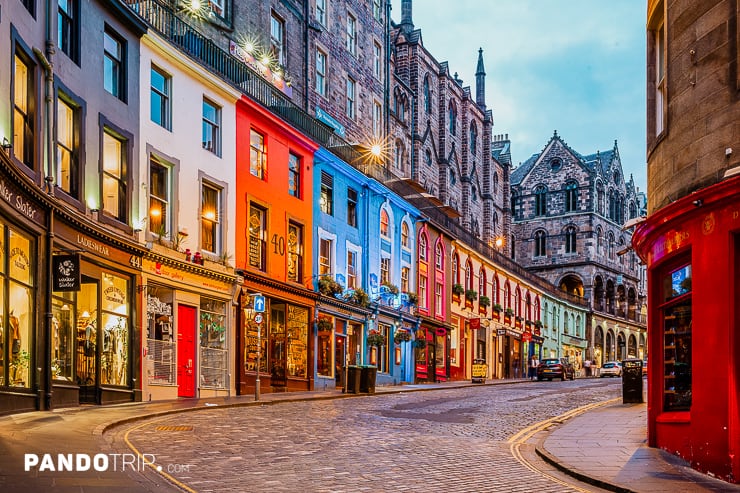 6. Royal Botanic Gardens
Just because the flowers won't be in full bloom, the Royal Botanic Gardens is not somewhere you should shun when visiting Edinburgh in winter. The gardens are just as attractive in the colder months as they are in the warmer ones.
While you may feel inclined to head straight for the Palm House or the warmth of the other glasshouses where the exotic plants are, don't, especially if you're a photographer. Get there for when the gardens open at ten and you may be lucky enough to capture shots of the bushes and plants rimmed with a late morning frost, the woodlands dripping dew or the Chinese hillside adorned with icicles. Your photos will look even better if you take them in black and white.
The gardens don't escape Christmas adornment either and when the festive season gets underway the gardens are transformed into a magical wonderland of light. For the rest of the year it's nature that does the adorning and the seasonal changes are incredibly beautiful even when they're covered with a wintery sprinkling of snow.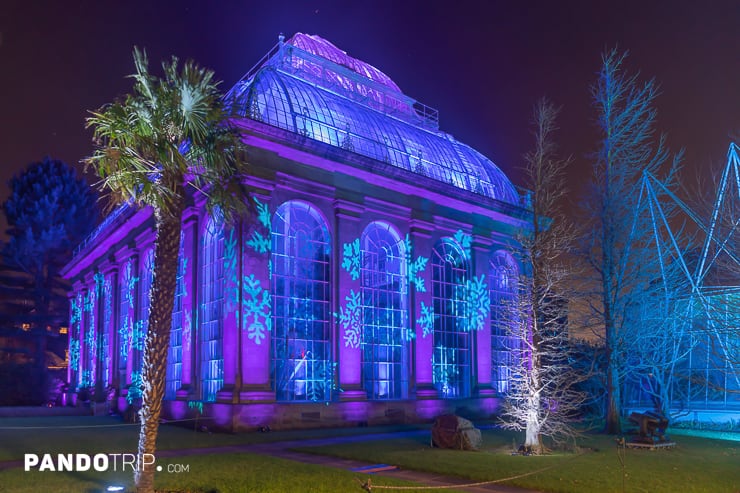 7. Visit the National Museum of Scotland
If you wake up to rain pattering against your room window when you're in Edinburgh, you'll need an activity that's going to keep you warm and dry. The National Museum of Scotland is the ideal place to go on a damp day and the added bonus is, admission is free.
The museum houses numerous permanent collections and also hosts lots of diverse temporary ones that are as different as Dr Who is to Queen Victoria. One of the most popular exhibits at the museum is a sheep called Dolly. The fleecy, taxidermied ruminant was the result of scientific experimentation and the first creature to be cloned from a single cell.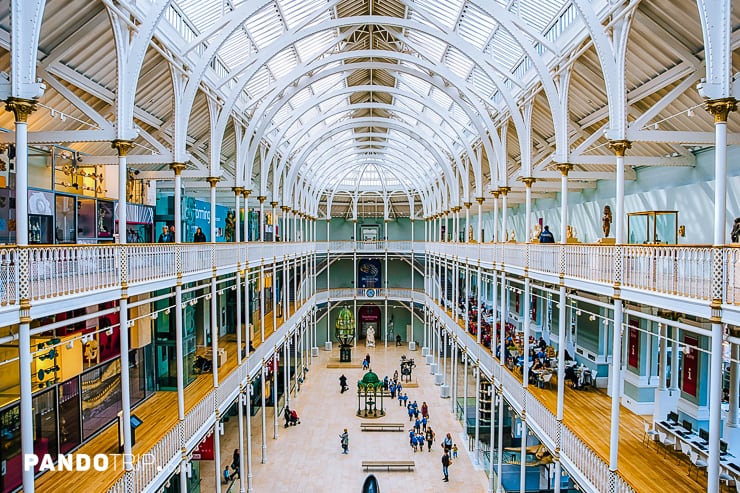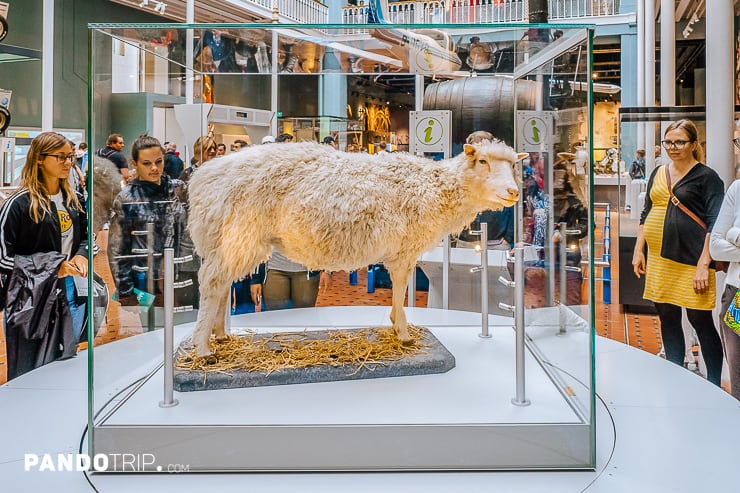 8. Go to Edinburgh Zoo
Not everyone is adverse to cold weather and if there's any creatures that enjoy it then it has to be the penguins in Edinburgh Zoo. The penguins at the zoo thrive in what is the biggest outdoor penguin pool in Europe and they even have floating icebergs to slide down.
Edinburgh Zoo, as well as providing a habitat for rockhoppers, gentoos and a thousand other animals, is home to the only pandas in captivity in the UK. The two pandas, which are part of a conservation program, will be heading back to their homeland of China at the end of 2023 so get there sooner rather than later if you want to see them.
There's lots of special events happening at the zoo throughout the year too, even during the winter months. While the animal enclosures aren't adorned with Christmas decorations other parts of the zoo are and there's even a Santa's grotto for the young ones.
When you don't want to waste half of your day standing in line to get your entrance ticket, make an online reservation. If you want to be a zoo keeper for the day and help feed the animals you can, but you'll need to book well in advance as places are very limited.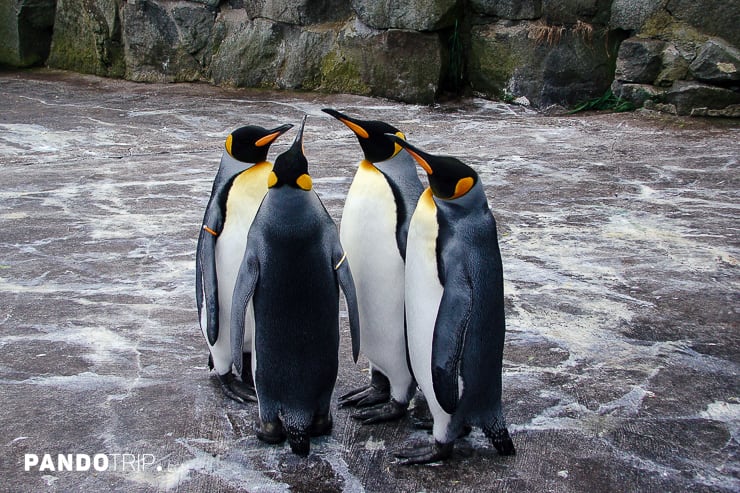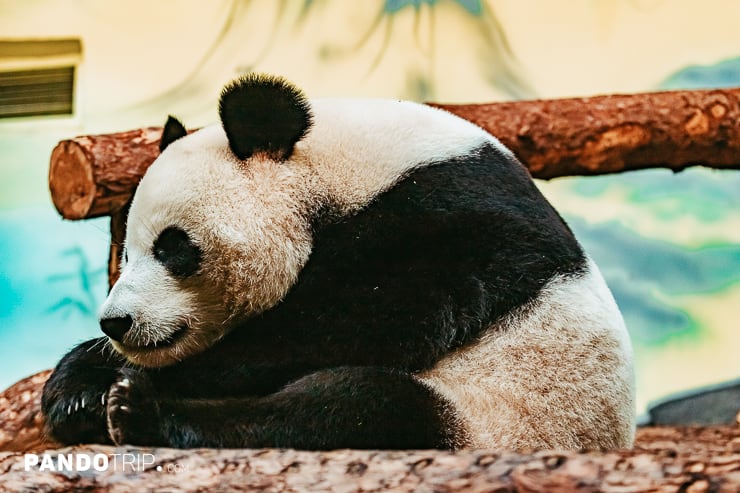 9. Camera Obscura & World of Illusions
Another rainy day thing to do in Edinburgh in winter is to visit the Camera Obscura. While the five floors of illusions housed in the Outlook Tower on the Royal Mile may well leave you totally mind-boggled, you'll have great fun.
What is there to do in the Camera Obscura? You can take a live tour of Edinburgh in a dark room with images created by camera lenses, lose yourself among the optical illusions and hands-on exhibits of the Magic Gallery and Bewilderworld then, when you're ready to return to reality, head up to the rooftop terrace to take in the sky high views of Edinburgh Castle and the rest of the city.
Tip: This is a very popular wintertime attraction so prebook the date and time of your visit to guarantee your entry. Wait to get your ticket until you're at the door and you could be disappointed.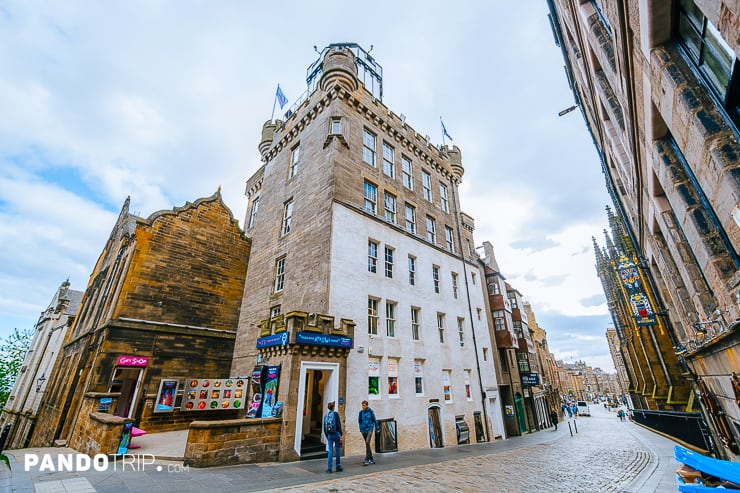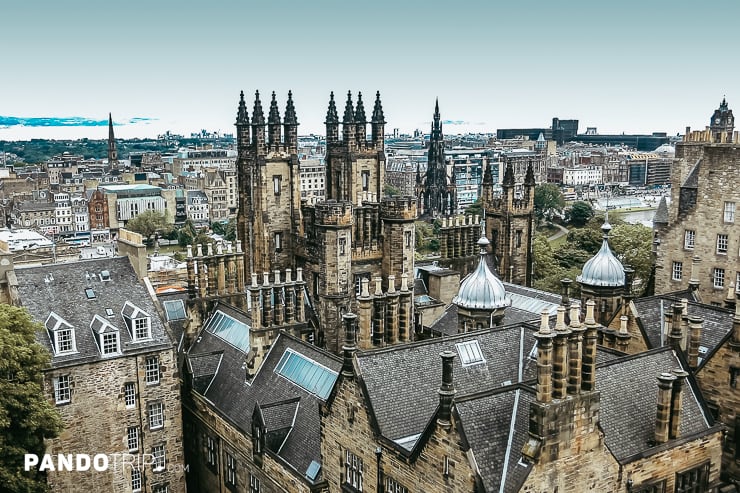 10. Go Whiskey Tasting
One thing that is inexorably linked with Scotland is the distilled spirit called whiskey. While the Scots may not have invented it, they've been producing some of the best in the world since way back in the 15th century.
There are several first-class distilleries with tasting rooms in Edinburgh where you can go to try a tipple of Scotland's national drink. If you want to fully immerse yourself in the world of whiskey though you should go to the Scotch Whiskey Experience located next to the cathedral in the Old Town.
At the Scotch Whiskey Experience you'll learn all there is to know about whiskey, how it's made and aged and get to sample several different ones. You can continue your tasting experience in the attraction's bar where there are around four-hundred and fifty different whiskeys to choose from. They serve some amazing Scottish tapas too so there's no need to drink on an empty stomach.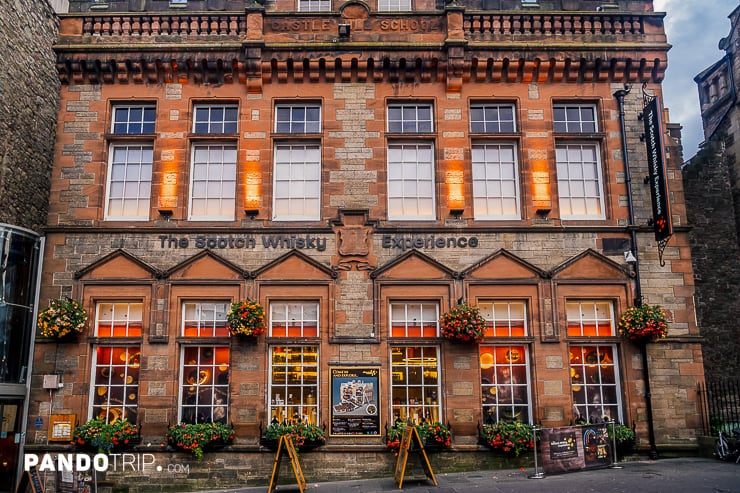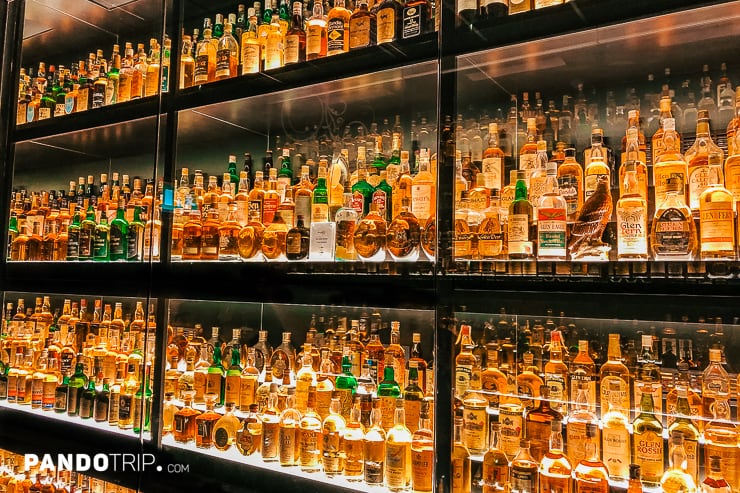 11. Go Shopping
The Scots are known for their shrewdness where monetary matters are concerned so you can expect to pick up a bargain or two if you go shopping in Edinburgh. The main shopping street in Edinburgh is Princes Street which is where all the main retailers are located. If you want to search for souvenirs then try the stores on the Royal Mile and you'll find what you're looking for.
Malls are few and far between, but there's one, St James Quarter, in St James Square which is big enough to keep you shopping in store after store for an entire day. If that's not enough to fulfill your retail needs then check out Ocean Terminal on Ocean Drive in the port area or the Fort Kinnaird shopping mall which is a twenty minute cab or bus ride from the city center.
Christmas shopping in Edinburgh is an absolute delight. Not only are the streets illuminated, but there are some amazing Christmas markets to go to. The festive markets held in East Princes Street Gardens and St Andrew Square will take your Christmass shopping to the next level so don't miss them if you're in Edinburgh in December. If you're as shrewd as a Scot though you'll want to wait to go shopping in Edinburgh until after Christmas which is when the annual January sales begin. That's the time to bag a real bargain.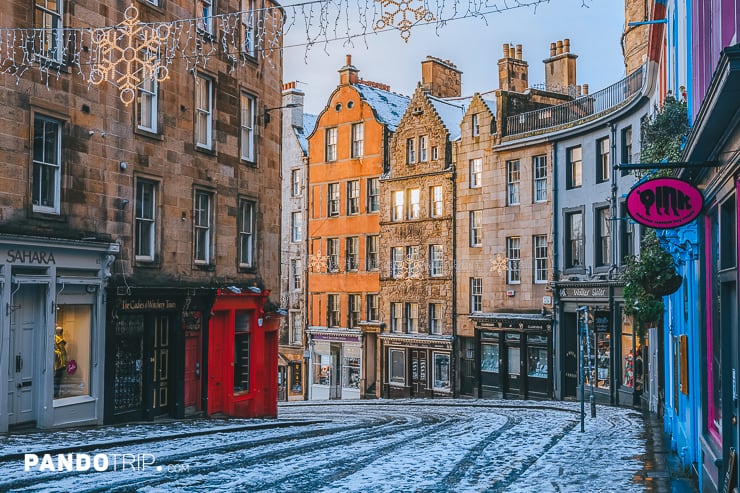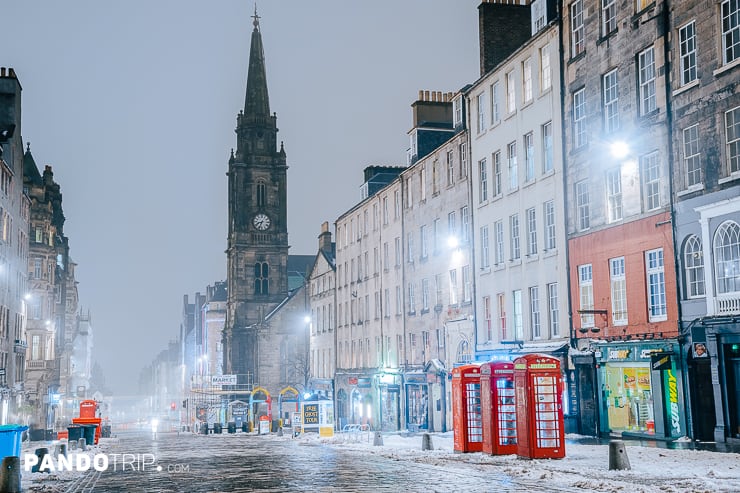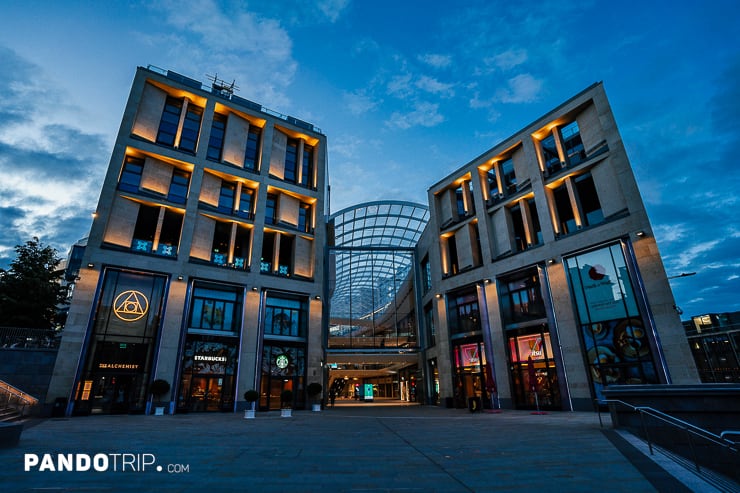 Best Day Trips from Edinburgh
While Edinburgh is a fascinating city where there's plenty to do in winter, there are also other places nearby that are worth a visit too. When you're in Scotland can you honestly skip going to Loch Ness to try and catch a glimpse of its elusive monster or going to take a look at the scenic Highlands for yourself rather than see them duplicated on a postcard? Of course not, so start planning which one of these day trips from Edinburgh you're going to do when you're there.
Loch Ness, Glencoe and the Scottish Highlands
It might be tempting to hire a car and take a self-drive tour of central Scotland, it's not the best way of doing it though. For one you won't be able to take your eyes off the road if you're driving and two, the winter road conditions can be tricky to deal with when you're not used to them.
Leave the driving to a professional and go on a full-day coach tour that will take you from Edinburgh west through the stunning landscapes of the Trossachs National Park on to Glencoe then north to Loch Ness. Yes, it's a twelve hour day so you'll need to wake up at the crack of dawn, but the effort will pay dividends so it's totally worth it.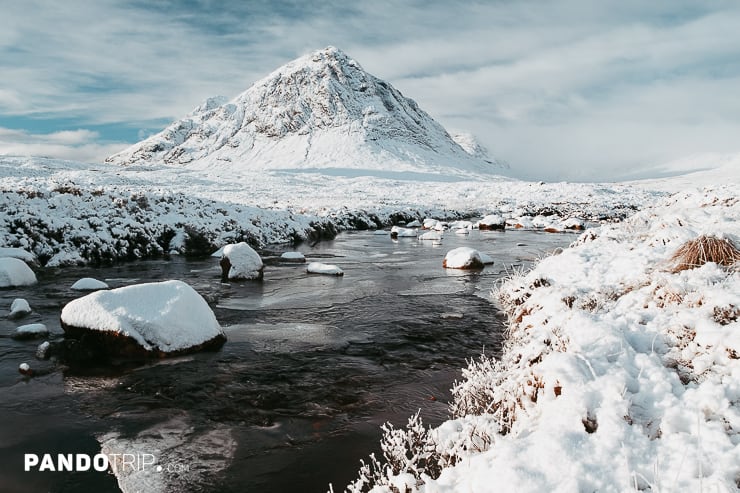 Go to Glasgow
Glasgow and Edinburgh are both Scottish cities, but they are completely different from one another. You can jump aboard a train in Edinburgh that will take you to Glasgow and although it will cross the width of Scotland, it'll only take around an hour to get there.
There's a lot to see in Glasgow so plan what you want to do before you go. It'll save you wandering around the streets not knowing where to go next. Some of the best sights in Glasgow center are:
The Lighthouse – A city center tower with a rooftop observation deck.
The Glasgow Science Center – A state-of-the-art hands-on science museum.
The Glasgow Necropolis – A spooky Victorian era cemetery
Buchanan Street – A top spot for shopping and restaurants
The Clydeside Distillery – A place for whiskey tasting with riverside views
The Scottish Football Museum – For soccer fans
There's many more things to do in Glasgow apart from those, but there's only so much you can cram into a day trip so choose what suits your interests and you'll have a great day.
Discover St Andrews
St Andrews isn't just a must-visit for golfers. While you won't be basking on the extensive beaches of this town in northeastern Scotland, you can take a winter walk along them. It has a lot more to offer than sandy strolls too, especially if you like historic buildings or rather, what's left of them.
In St Andrews you can explore the ruins of St Andrews Cathedral and St Andrews Castle, browse the exhibits in the University Museum, check out the marine species in the St Andrews Aquarium and wander through the botanical gardens. If you decide to try your hand at a round of golf unless you have a great handicap, be prepared to struggle as all seven golf courses in St Andrews are world class and definitely well above par.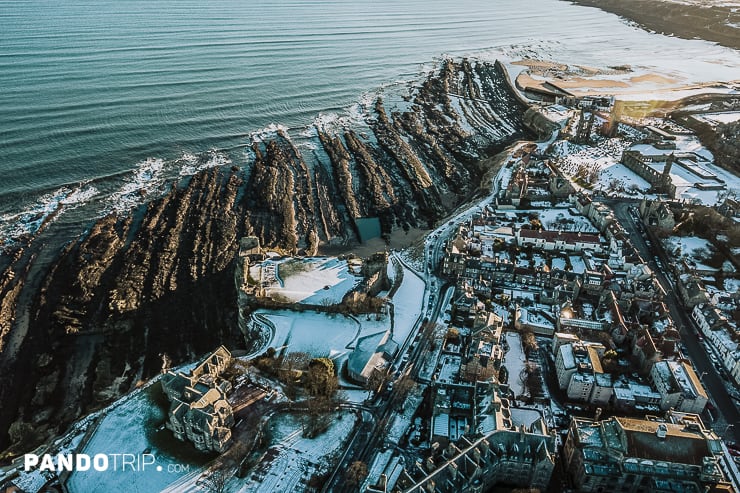 Best Hotels for a Winter Stay in Edinburgh
One of the best things about hotels in Edinburgh is that there's something to suit every budget. Whatever your preferred type of accommodation is, from a shared room in a hostel to a five star deluxe suite, you'll find something to suit. Don't forget though that Edinburgh receives over four million visitors a year so reserve your hotel early or you could end up sleeping on a bench in Holyrood Park.
Motel One Edinburgh-Royal
This is the hotel to stay at when you want everything on the doorstep, but don't want to pay through the nose for the convenience. Motel One Edinburgh-Royal is in the Old Town and close to both the train station, the castle and the Royal Mile. The rooms are smartly furnished and have all the amenities you could ask for so stay here and you'll have bagged yourself your first Scottish bargain.
Location: Market Street, 18-21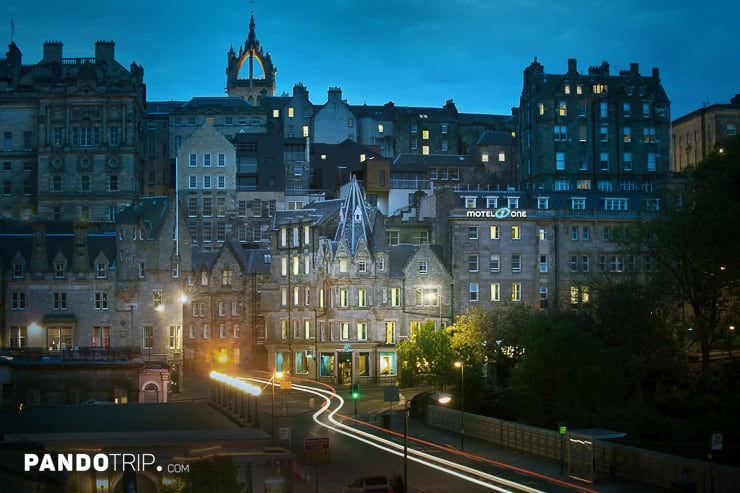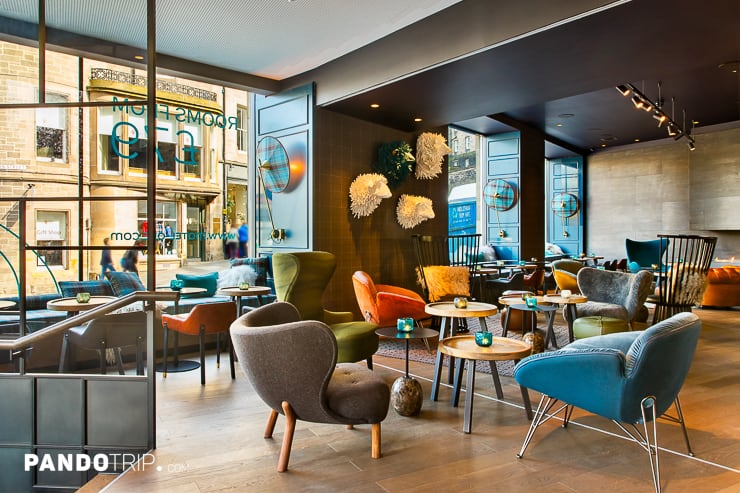 Tigerlily
Tigerlily is a super trendy boutique hotel that really has it all. As well as hip décor and great amenities including a fireplace in your room, this hotel has a classy cocktail bar, an on-site restaurant and a nightclub on the premises. Stay at Tigerlily and you can forget about the weather spoiling your night out as you don't even need to go out of the building to have a fantastic time. If you want to stay somewhere that'll get your Instagram account zinging with likes, this is definitely the one.
Location: George Street, 125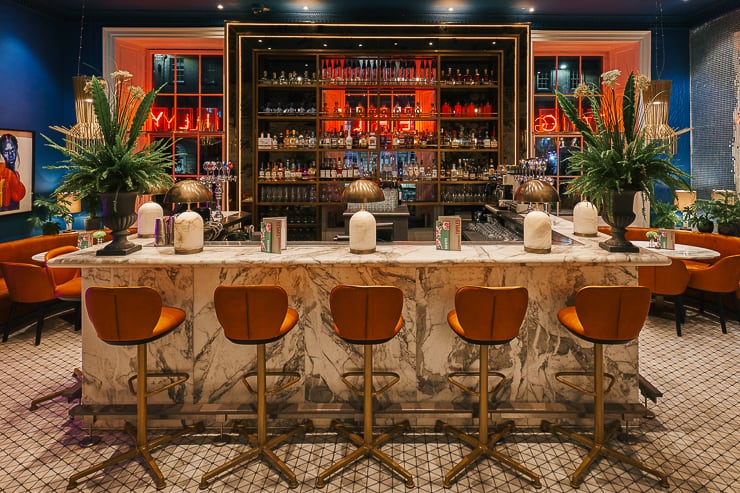 The Balmoral Hotel
Treat yourself like royalty with a stay at the Balmoral Hotel. It looks like a palace both inside and out. Book yourself the J.K. Rowling suite and you'll be sleeping in the rooms where the author finished the chapters of her last Potter book. Although it may cost a little, okay a lot, more than some hotels, stay at the Balmoral and you'll have all of the main sights within a short walking distance and a view of Edinburgh Castle from your window.
Location: Princes Street, 1