The Christmas tree is a well-known symbol of this holiday. Every year cities around the world create magical displays in the main town squares.
Although a Christian-based tradition dating back to the 16th century. Anyone from all walks of life can enjoy the splendor of a Christmas tree.
Tall and elegant pine, fir, or spruce trees draped to the hilt with shining lights, and sparkling ornaments bring joy to all who see them. Even the shape and smell awaken your inner holiday spirit.
Of course, each tree in every destination is unique in beauty and charm. So, let's tour the most beautiful Christmas trees in the world.
1. Rockefeller Center Christmas Tree, New York, USA
We begin with the most famous Christmas tree in the world.
The iconic Rockefeller Center Christmas tree is a tradition that began in December 1931, when the world felt the effects of The Great Depression.
A group of construction workers in New York gathered what little finance they had and purchased a 20-foot high (6 meters) fir tree to stand in the Rockefeller Center. This selfless act brought hope and optimism to many.
Located in the Rockefeller Center Plaza, thousands of new yorkers and tourists flock here to be part of this continued holiday spirit tradition.
One of the best things to do is ice skating underneath the tree and the Prometheus statue. Furthermore, there is spectacular shopping and several restaurants.
Alongside a lighting ceremony not to be missed, the tree is usually lit from late November till early January. For more information, click this link.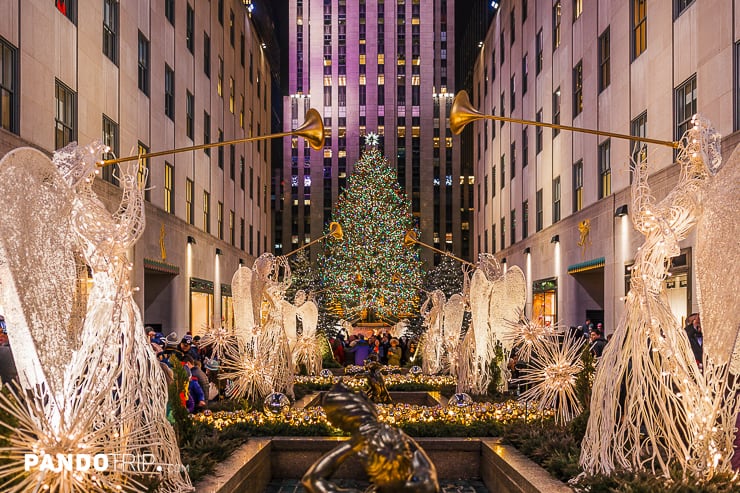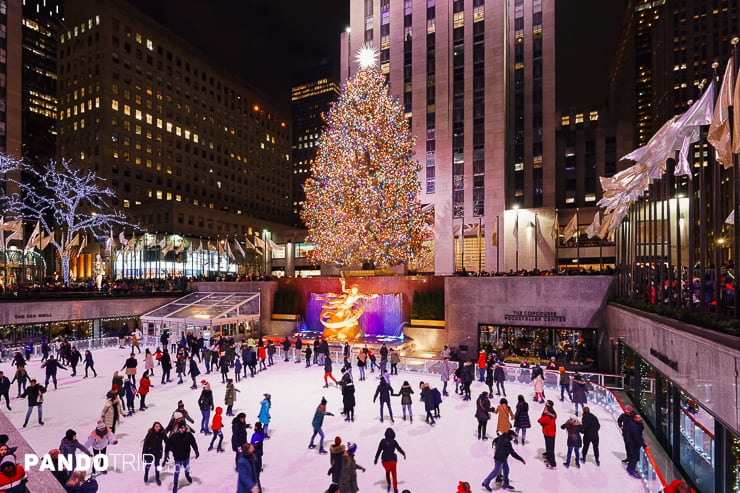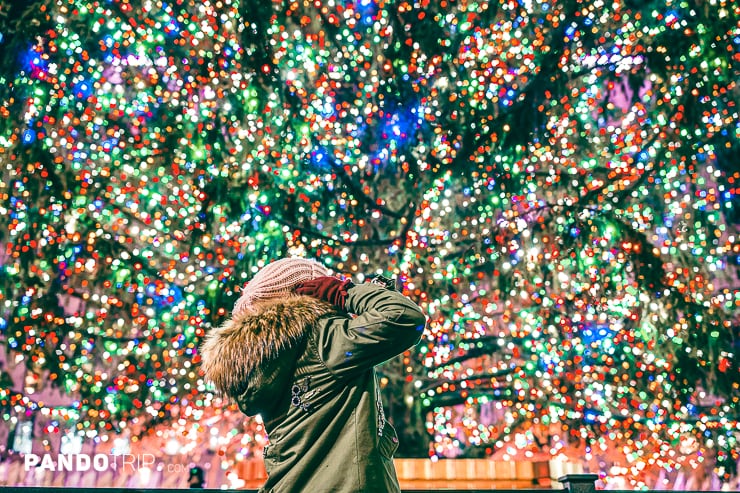 2. Cathedral Square Christmas Tree, Vilnius, Lithuania
The Cathedral Square of Vilnius is where you will find the most unique Christmas tree. Every year a different theme is chosen, and it is magnificent.
Vilnius is not shy to experiment with bold and extravagant designs, making each tree an unforgettable experience.
Typically, the tree stands lit from early December till early January. During this time, many festivities occur in and around the Square.
One of the best things to do is visit Christmas Town. This Christmas Wonderland of seasonal treats and handmade gifts is ideal for meeting family and friends while you shop. Of course, there is something for everyone this holiday season. Visit the official Christmas in Vilnius website to find out more.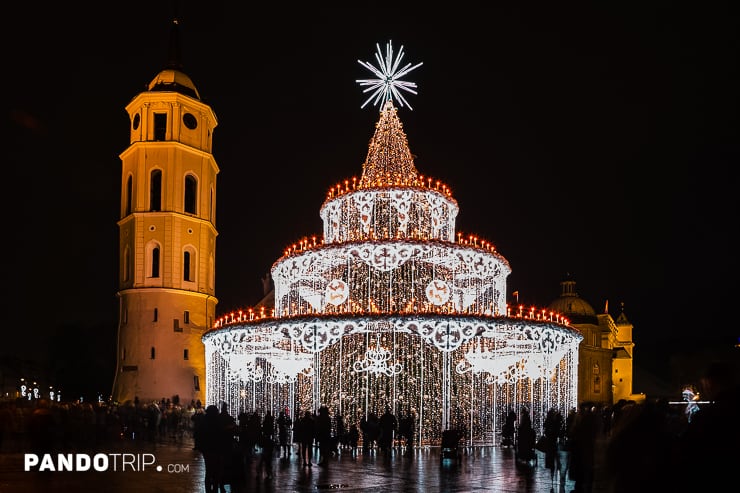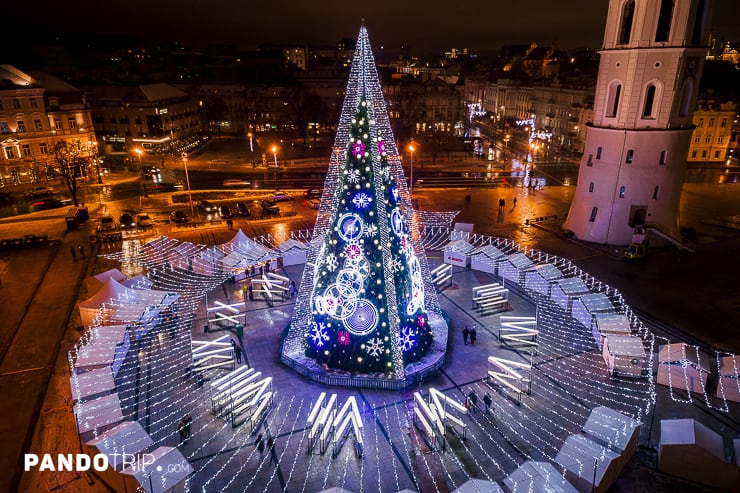 3. Galeries Lafayette Christmas Tree, Paris, France
We all love a story around Christmas time.
Since 1976, the Galeries Lafayette Christmas tree has delighted young and old with an enchanting tale. The surrounding window displays complete the story in a complementary and beautiful way.
Each year, a renowned novelist and an accomplished illustrator bring the center of the dome alive with their incredible art. The tree's theme aligns with the story, creating a magical experience.
Every 30 minutes, the tree lights go out for a sound and light show like no other. The show usually runs from mid-November until late December.
Conveniently positioned in the centuries-old department store, Galeries Lafayette, you can complete your shopping and enjoy a meal before heading home filled with hope and prosperity. To find out more, click here.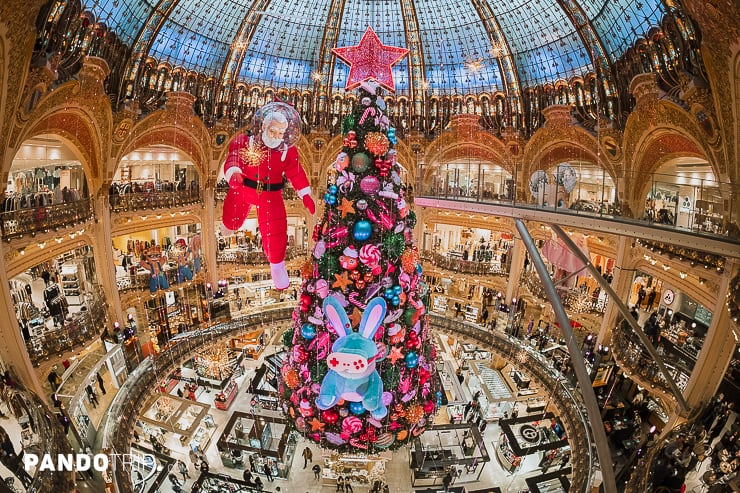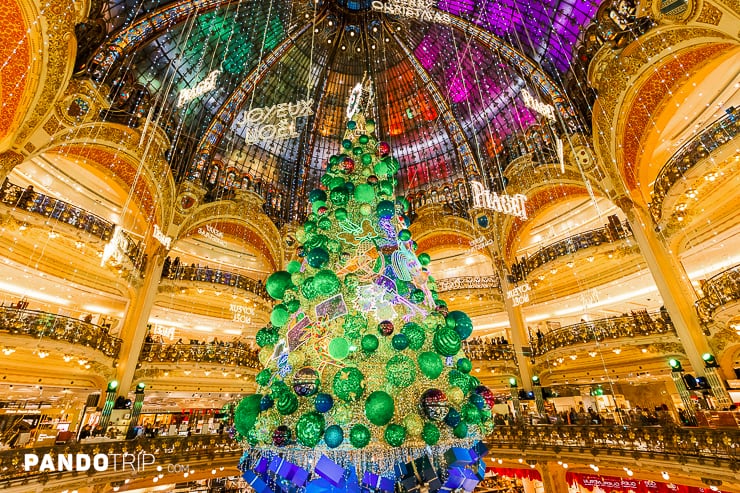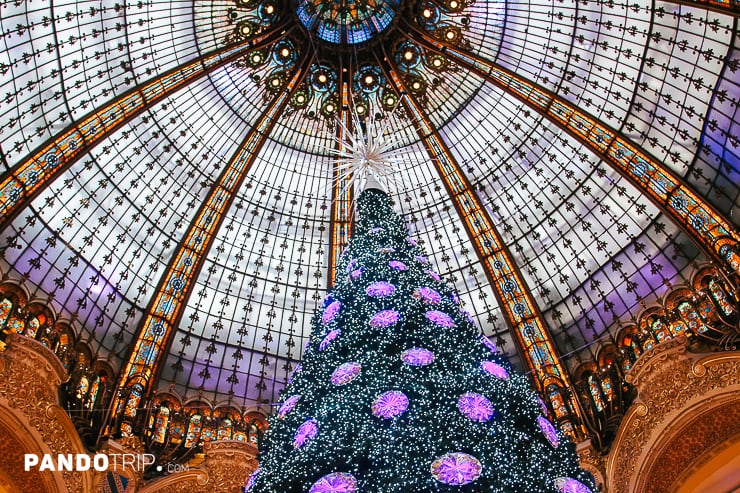 4. Cologne Cathedral Christmas Tree, Germany
The origin of Christmas trees stems from Germany. In the 16th century, devout Christians brought decorated trees into their homes. To this day, this tradition continues and is a strong symbol for Christians over this holiday worldwide.
The main Christmas tree of Cologne is located at the foot of the impressive Cologne Cathedral. It is decorated with over a thousand baubles and countless stars. Beneath the tree is a beautiful tent fitted with thousands of LED lights. A stage is constructed under this electronically lit sky where you can view traditional holiday concerts.
The area is famous for its spectacular Christmas market. It's one of the best Christmas markets in Germany.
This enthralling Christmas experience typically runs from late November until late December. There are so many attractions to visit; you may need to come a few times. For more information, click this link.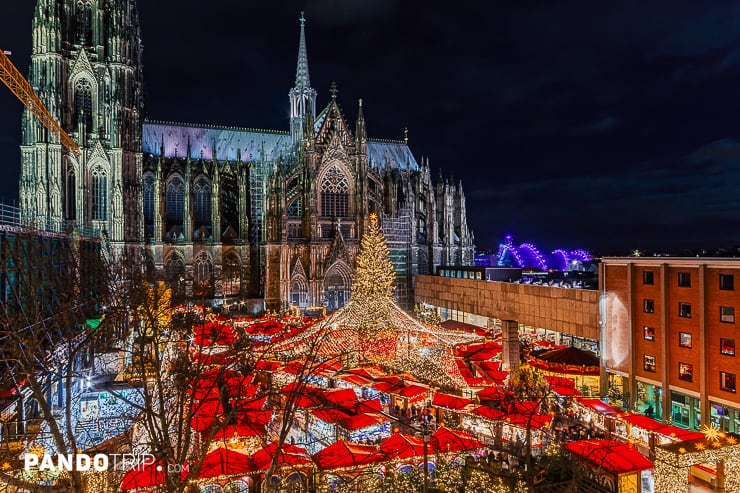 5. Mount Ingino Christmas Tree, Gubio, Italy
The Mount Ingino Christmas tree brings a unique and special message every year. Located on the slopes of Mount Ingino in Gubio, it is not an "actual" tree but rather an LED light installation shaped like a Christmas tree.
In 1981, the people of Gubio wanted to celebrate Christmas differently. They designed and created the tree up the mountain to symbolize a journey through history, culture, and devotion. The housed remains of their beloved Patron, Ubaldo being the final destination.
Alongside this innovative and extraordinary Christmas tree is the "Adopt a light" initiative. A wonderful opportunity to dedicate a light to a loved one or something that holds meaning for you. The proceeds go towards partial electrical costs of the tree.
Usually, the tree is lit from early December until early January. Certainly, one of the most unique Christmas trees. Click here to find out more about this magical Christmas experience.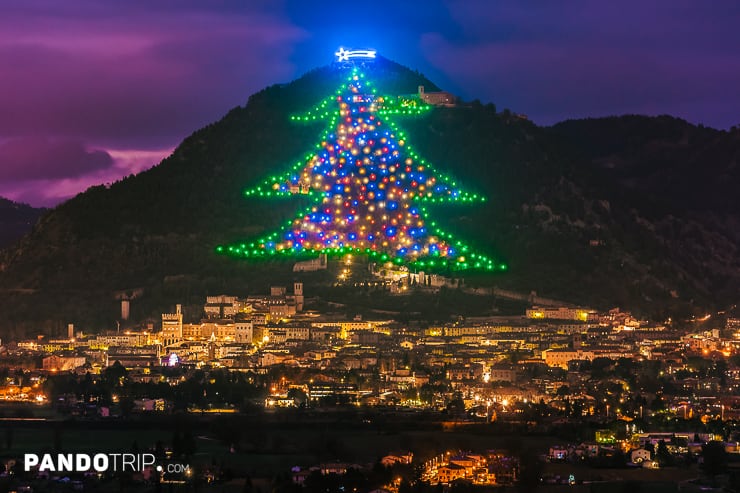 6. New Taipei City Plaza Christmas Tree, Taiwan
Christmasland is a spectacular event in New Taipei City in Taiwan. Every year in December the New Taipei City Plaza in the Banqiao district is alive with festive and colorful art installations.
The New Taipei City Plaza is also home to the tallest Christmas tree in Taiwan. Every year, the tree's theme varies, and the organizers meticulously carry the theme through all of Christmas Land.
There are plenty of organized activities and entertainment for everyone to enjoy. The tree and Christmasland typically shine brightly from mid-November until early January.
This stunning Christmas display may come as a surprise given that Taiwan does not officially celebrate Christmas. Only about 5% of people in Taiwan are Christians and Christmas is not a national holiday there.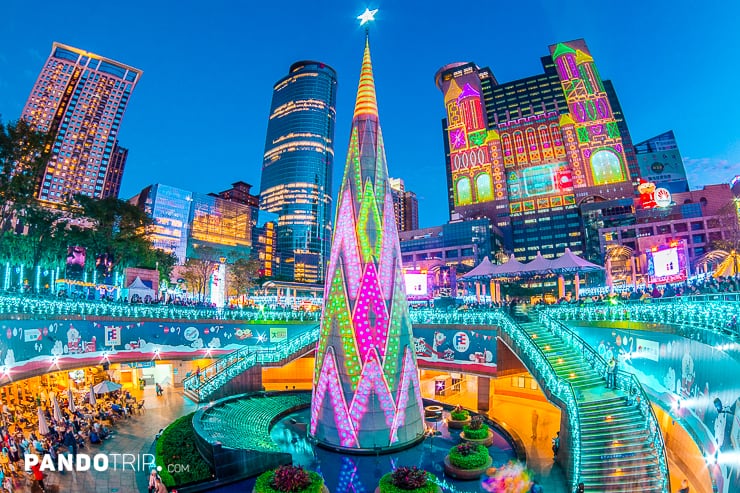 7. Old Town Square Christmas Tree, Prague, Czech Republic
You can not miss this magnificent Christmas tree in the heart of Prague's Old Town Square. The Square is one of the oldest and most beautiful in the world. So, having these surroundings as the Christmas tree's backdrop makes the tree even more spectacular.
It's not only location and decorations (which vary every year) that make the Prague Christmas Tree stand out. The process of selecting the tree is very interesting. It is an annual tradition to select a tree from a different region of the Czech Republic. And none of contesting trees are from a public forest, all of the are from private gardens.
One of the best things to do in Prague during December is trying local traditional Christmas food. There is everything from roasted chestnuts to Czech grilled sausages.
Usually, the tree is lit, and all festivities run from late November until early January. For more information, click here.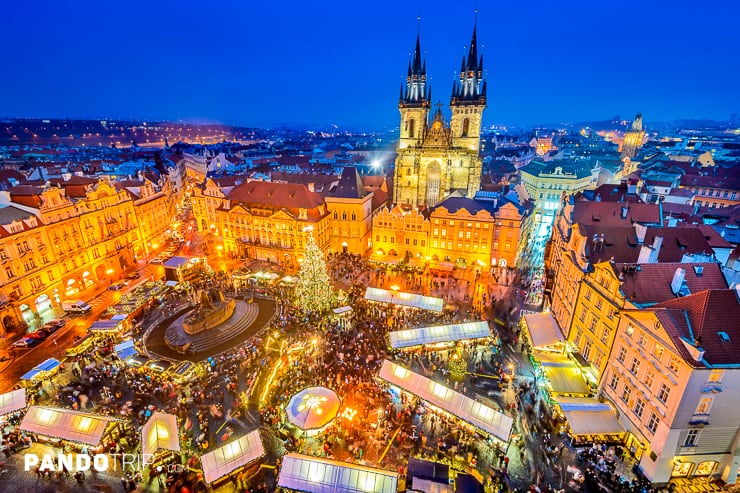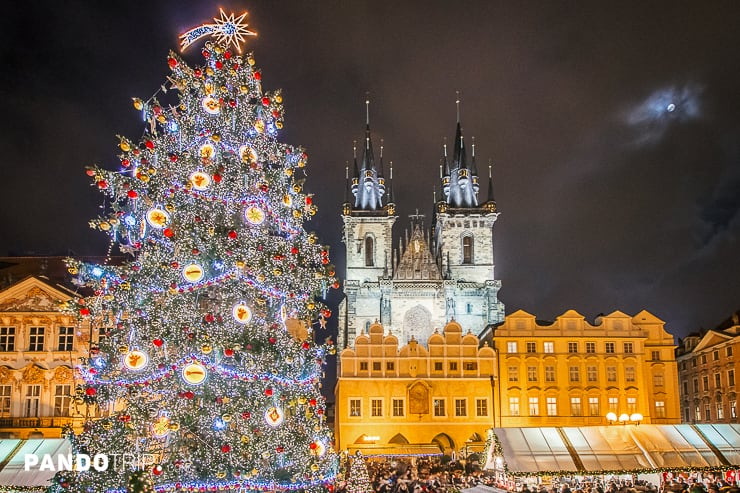 8. Capitol Christmas Tree, Washington, USA
On the 24th of December 1913, the first community Christmas occurred at the Capitol in Washington D.C. Thousands of people flocked to the West Front lawn in awe of the beautiful Christmas tree adorned with red, white, and blue electric bulbs.
Sadly, due to a lack of funds, the tradition ended in 1915. Then, in the 1960s, this historic event encouraging "Peace on earth and goodwill to men" resumed.
Every year, the tree is selected from a different national forest and adorned with colorful baubles, making it one of the most colorful Christmas trees in the world.
The lighting ceremony usually occurs in late November, and the tree remains lit until early January. Find out more by clicking here.
9. Trafalgar Square Christmas Tree, London
Trafalgar Square is a lasting symbol and key landmark in London. Therefore, it is the ideal location to construct an elegant and royal Trafalgar Square Christmas tree.
Every year, Norway gifts London with a tree. This long-standing tradition began in the 1940s to reinstall the Christmas cheer and bring joy to all after World War II.
Thousands of locals and tourists travel to Trafalgar Square to see the tree over the festive season. Conveniently located in central London, you can do all your Christmas shopping and enjoy a delicious meal. One of the best things to do is partake in or listen to Carol Singing.
The lighting ceremony of one of the world's prettiest Christmas trees commonly occurs at the beginning of December, and the Christmas spirit continues until early January. For more information, click here.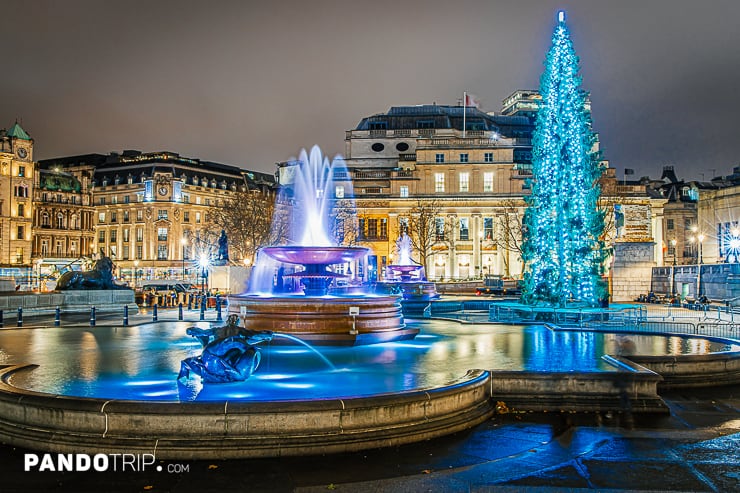 10. St. Stephen's Basilica Christmas Tree, Budapest, Hungary
St. Stephen's Basilica is one of the biggest churches in Budapest. The beautiful St. Stephen's Basilica Christmas tree is in the Square in front of the Basilica.
Every year, the theme and decorations vary. However, you can expect a striking and original tree.
In and around the Square, you can shop till you drop at one of the best Christmas Markets in Europe. Then, partake in ice skating under a shimmering canopy of lights. There is something for everyone to delight and enthrall.
The festivities usually begin in mid-November and end at the beginning of January. To find out more, click here.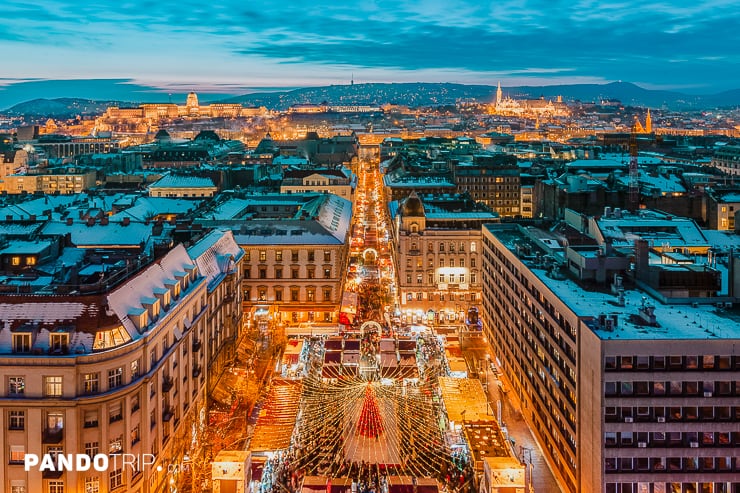 Honorable Mentions
Floating Christmas Tree, Rio de Janeiro, Brazil
The Floating Christmas tree should be one of the most unique Christmas trees in the world.
Located at Lago Rodrigo de Frietas, in the South Zone of Rio, and constructed on a mini-floating island decorated with millions of lights. It was first built in 1996 and sporadically after that.
Unfortunately, the tree has been absent for three years, because of pandemic and lack of funding. Yet, it has been labeled the largest floating Christmas tree in the world by the Guinness Book of World Records.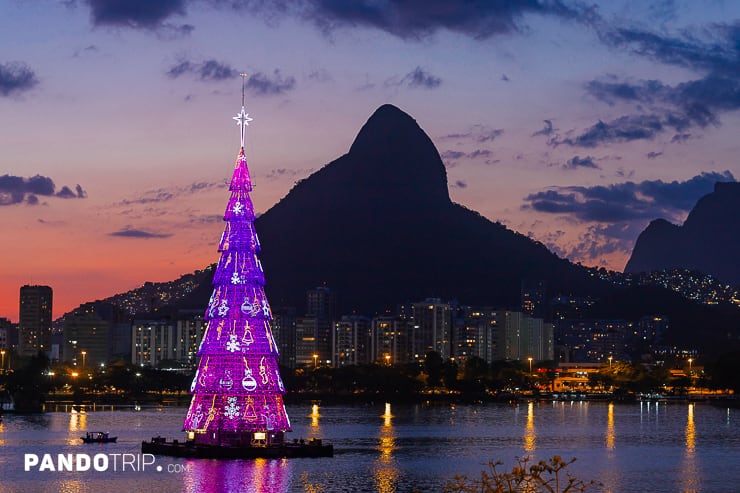 Zócalo Square Christmas Tree, Mexico City, Mexico
This tall, elegant layered tree shines brightly in Zocalo Square. Festivities around Christmas include ice skating and a light and music show.
Zocalo Square is the main center for cultural events. So, building the Christmas tree attracts several locals and tourists. Regrettably, the tree is not always on display.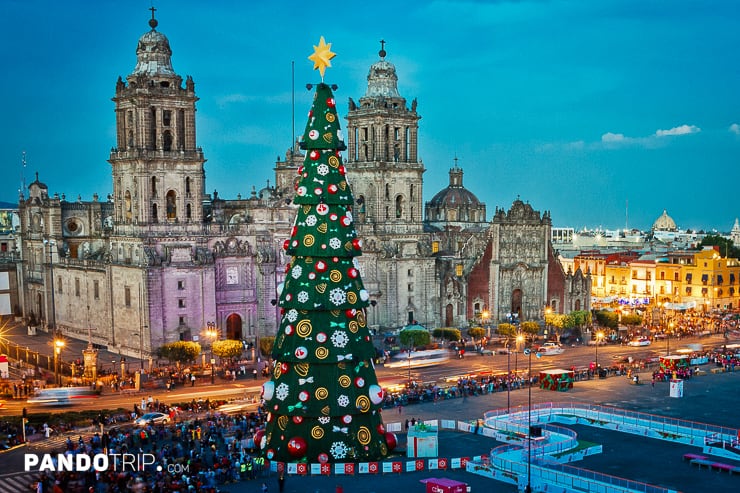 The Rathaus Christmas Tree, Vienna, Austria
The Rathaus Christmas tree, or "The Tree of Friendship," stands in front of the Rathaus City Hall.
Every year, a different province supplies the tree, resulting in a charming and exquisite Christmas tree that brings peace and prosperity to all who see it. The tradition started in 1959 and has continued ever since.