Embark on a remarkable journey as we unveil the enchanting beauty and allure of the underwater world. These captivating underwater places, teeming with life and wonder, invite you to discover their hidden treasures. From vibrant coral reefs to mysterious shipwrecks, let your curiosity and passion for exploration guide you through the mesmerizing realm of underwater places to visit.
In creating this list, our aim was to provide a diverse range of experiences for all levels of adventurers, not just professional divers. We've featured breathtaking coral reefs in Australia, mysterious underwater museums in Mexico, and crystal-clear springs in Florida, ensuring that each destination offers a unique and unforgettable experience. Our selection even includes an extraordinary underwater hotel in Zanzibar and an awe-inspiring underwater waterfall in Mauritius, showcasing the incredible diversity of the underwater world. Whether you're an avid diver, a snorkeling enthusiast, or simply an admirer of aquatic wonders, our list of the 10 best underwater places is sure to captivate and inspire you.
1. Great Barrier Reef, Australia
As one of the most incredible natural wonders of Australia, the Great Barrier Reef is a must-visit for anyone seeking to explore the wonders of the underwater world. Stretching over 1,400 miles along the Queensland coast, it's the largest coral reef system on Earth, boasting a staggering variety of marine life and vibrant coral formations.
For an unforgettable snorkeling experience, head to the Outer Reef, where you'll find pristine coral gardens and exceptional visibility. Agincourt Reef, Ribbon Reefs, and Opal Reef are particularly popular spots, teeming with colorful fish, turtles, and even the occasional shark.
Diving enthusiasts shouldn't miss the world-famous Cod Hole, located near Ribbon Reefs. This site is home to a friendly group of massive potato cod, which often approach divers for a closer look. The SS Yongala shipwreck, off the coast of Townsville, is another must-visit for experienced divers. The century-old wreck is now an artificial reef, attracting a vast array of marine species.
Whether snorkeling or diving, the Great Barrier Reef offers a truly unparalleled underwater adventure, showcasing the breathtaking beauty of Australia's marine world.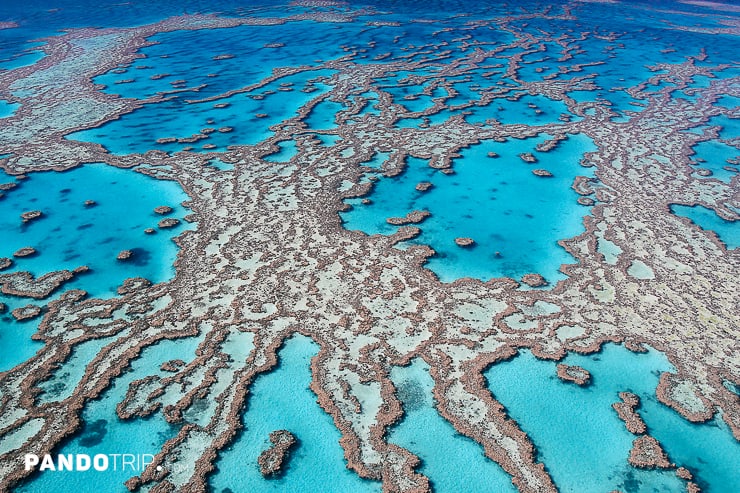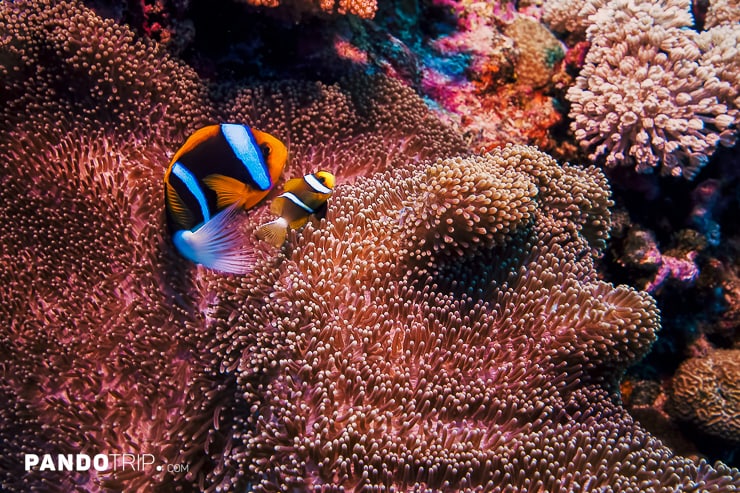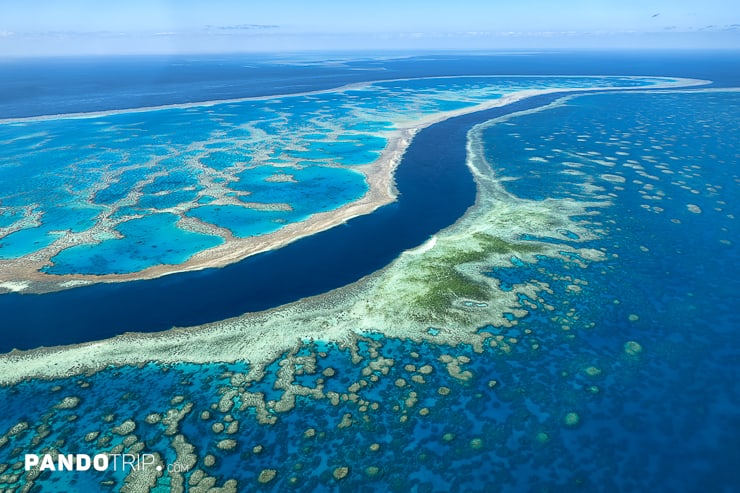 2. Underwater Museum of Art, Cancun, Mexico
Cancun, Mexico, is home to the fascinating Underwater Museum of Art, also known as MUSA. This extraordinary underwater gallery, founded in 2009, combines art and conservation efforts, promoting coral growth and providing a safe habitat for marine life. More than 500 life-sized sculptures, created by several artists, are submerged in the crystal-clear waters of the Mexican Caribbean.
The sculptures, made from environmentally friendly materials, are designed to encourage the growth of coral and other marine organisms. Visitors can explore this captivating underwater exhibit by snorkeling, diving, or embarking on a glass-bottom boat tour. The museum is divided into two galleries: Salon Manchones, ideal for scuba diving, and Salon Nizuc, perfect for snorkeling and glass-bottom boat excursions.
A visit to the Underwater Museum of Art in Cancun provides an unforgettable experience, merging the beauty of art with the wonders of the underwater world. This innovative project offers a unique way to appreciate marine life while raising awareness about the importance of preserving our oceans and coral reefs.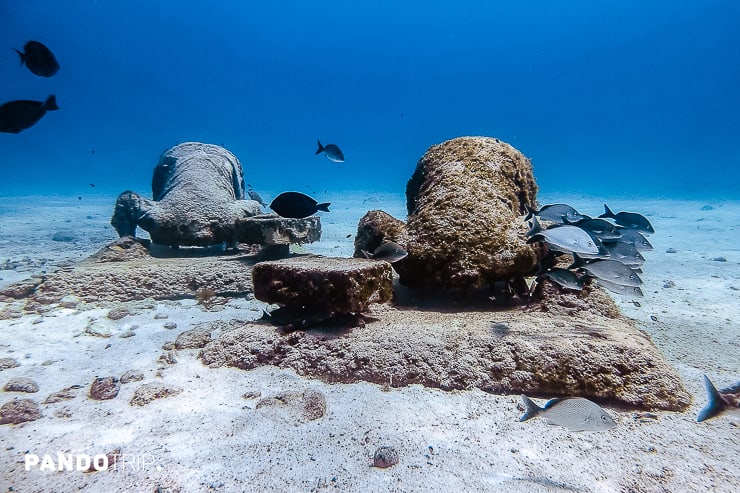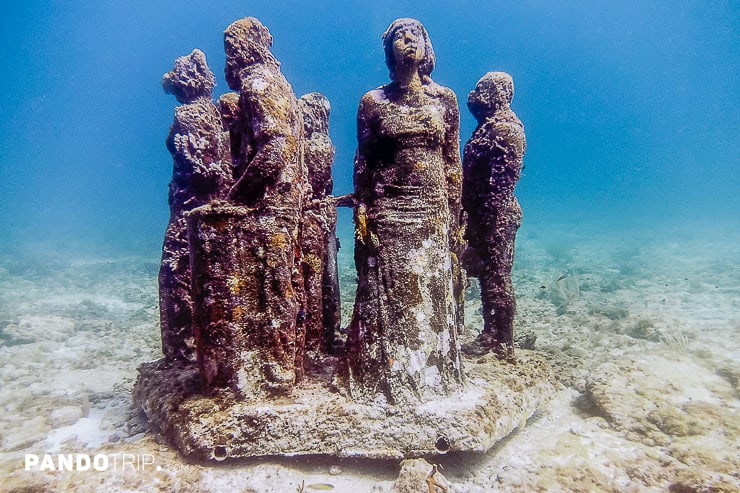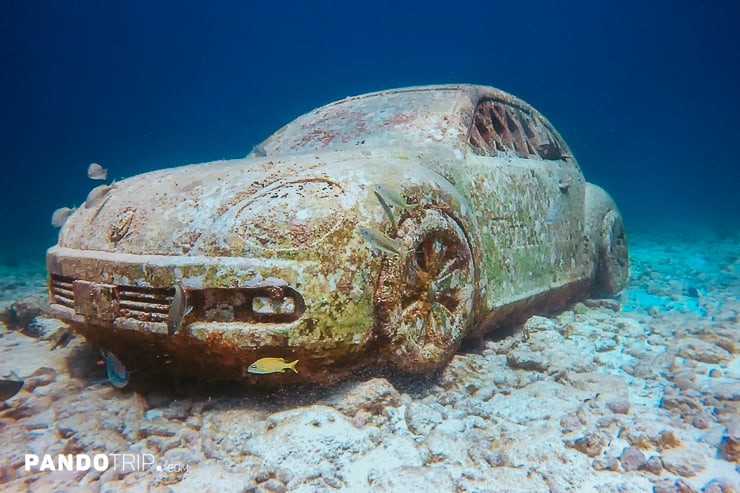 3. The Great Blue Hole, Belize
One of the most famous dive sites in the world, the Great Blue Hole in Belize is an awe-inspiring underwater destination that should be on every explorer's list. This massive, submarine sinkhole is located off the coast of Belize, within the Lighthouse Reef atoll. Measuring over 980 feet in diameter and 410 feet deep, it's one of the largest sinkholes of its kind, surrounded by crystal-clear waters and vibrant coral reefs.
A UNESCO World Heritage site, the Great Blue Hole offers divers a unique and thrilling experience. Descending into its depths, you'll discover striking stalactite formations and encounter various marine species, including Caribbean reef sharks and the occasional hammerhead shark.
For those who prefer snorkeling, the surrounding coral reefs are teeming with colorful fish, sea turtles, and other fascinating marine life. Whether diving into the depths of the Blue Hole or snorkeling around its perimeter, this underwater wonder is truly unforgettable.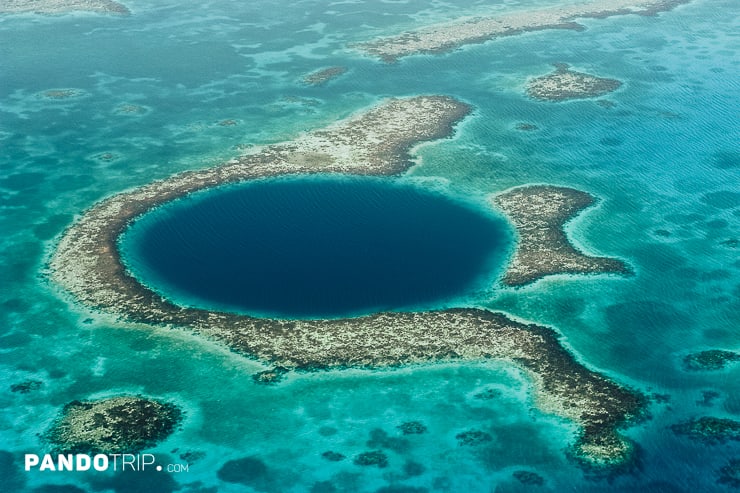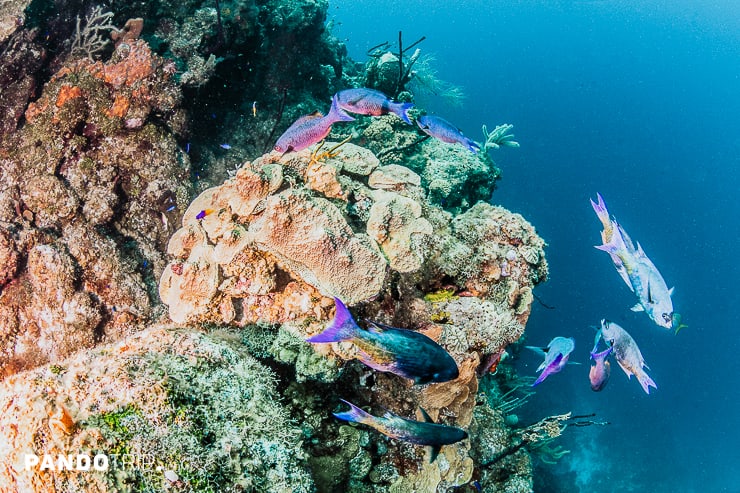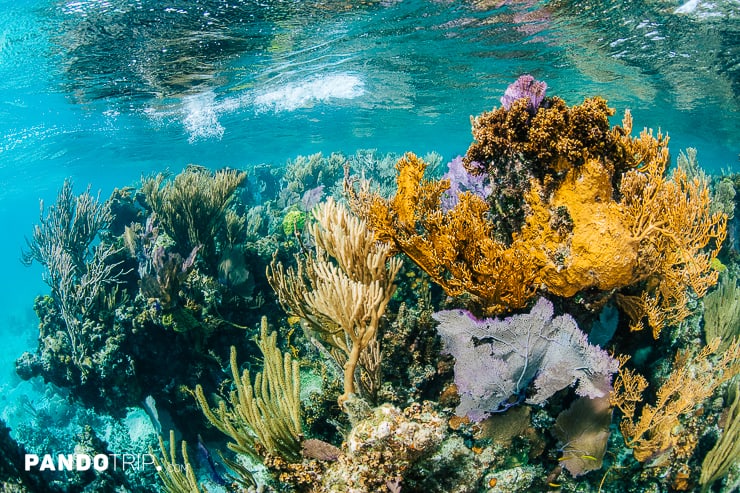 4. Tangalooma Wrecks, Moreton Island, Australia
A true wonder of the underwater world, Tangalooma Wrecks is found off Moreton Island, Australia. This unique site is a collection of 15 vessels, purposefully sunk in 1963 to create a breakwater. Over time, they've transformed into a thriving marine ecosystem, home to a diverse range of species.
The crystal-clear waters surrounding the wrecks make visibility excellent for divers and snorkelers alike. As you navigate the sunken vessels, you'll marvel at the corals and sponges that now cover their structures. The wrecks attract a plethora of marine life, from colorful fish and turtles to majestic dolphins.
Snorkeling and scuba diving are popular ways to explore Tangalooma Wrecks, with options available for all skill levels. This underwater adventure promises an unforgettable experience as you delve into the beauty and history of these fascinating underwater relics.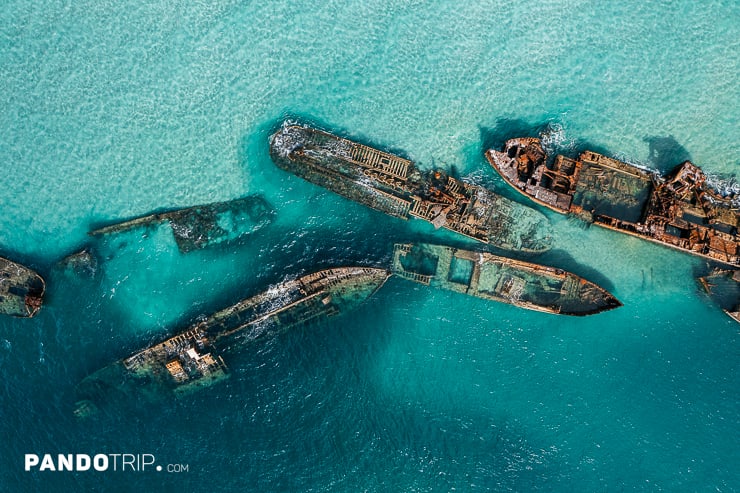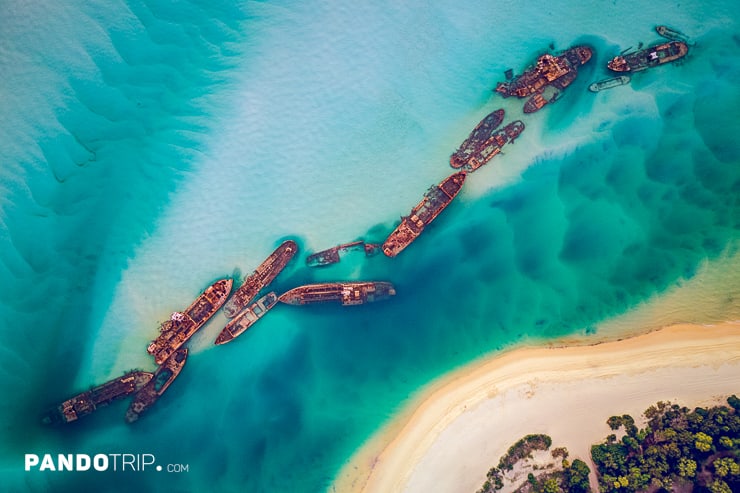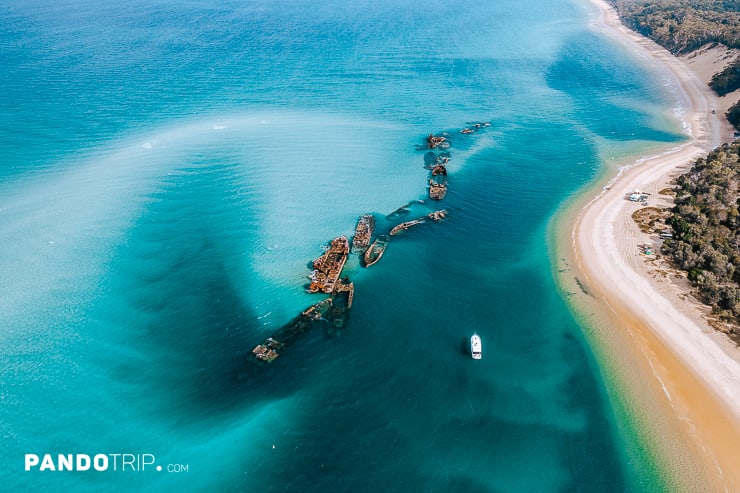 5. Ithaa Undersea Restaurant, Maldives
One of the most unusual dining experiences in the world, Ithaa Undersea Restaurant is a must-visit destination for underwater enthusiasts. Located at the Conrad Maldives Rangali Island resort, this remarkable place was the world's first underwater restaurant, providing guests with a truly unique and unforgettable dining experience.
Submerged 16 feet beneath the Indian Ocean's surface, Ithaa offers diners panoramic, 180-degree views of the vibrant coral reef and surrounding marine life. The transparent acrylic walls and roof allow guests to marvel at the breathtaking underwater world while enjoying a luxurious meal.
While not a traditional underwater site for exploration, Ithaa Undersea Restaurant provides an exclusive opportunity to appreciate the beauty of the Maldives' marine life without donning a wetsuit or snorkel. With its innovative design and exquisite cuisine, Ithaa has become a symbol of the wonders that the underwater world can offer, taking dining to new depths.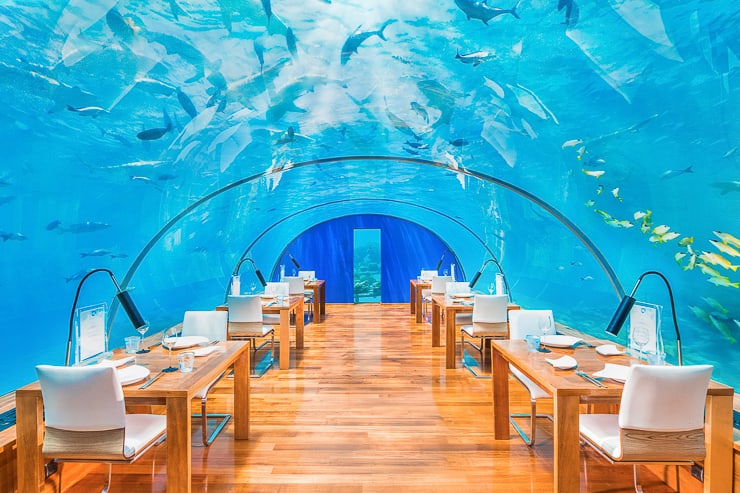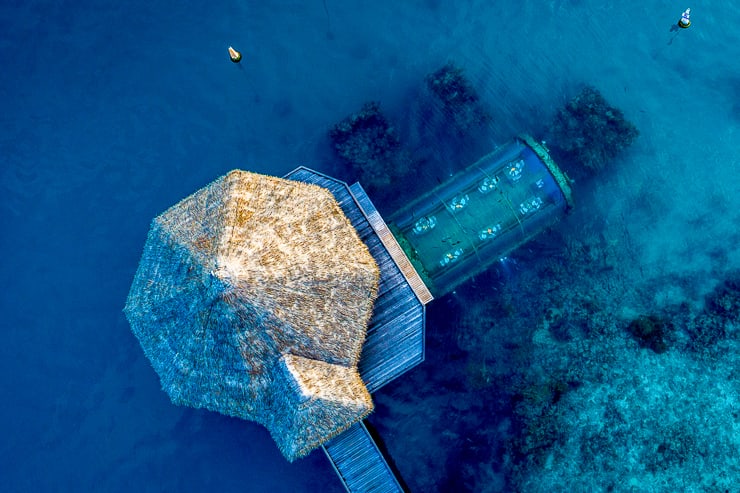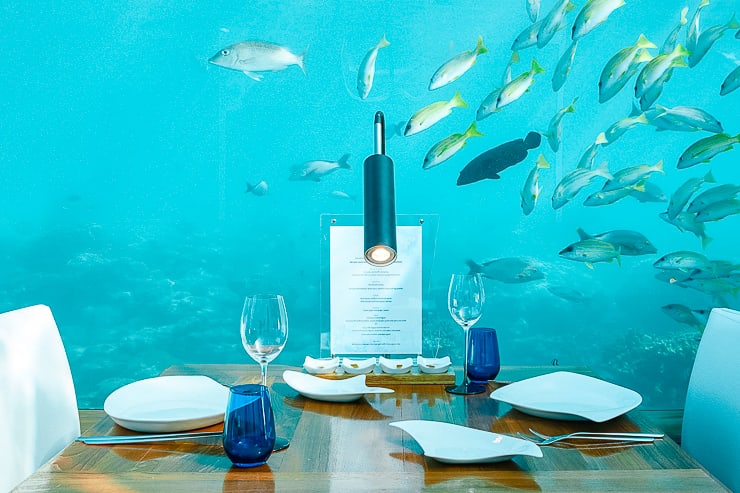 6. Cenote Dos Ojos, Quintana Roo, Mexico
Cenote Dos Ojos in Quintana Roo, Mexico, provides a captivating and unique experience for those looking to explore submerged wonders. This natural gem is part of the extensive Sistema Dos Ojos cave system and offers thrilling adventures for both snorkelers and divers.
The cenote's name, Dos Ojos, translates to "Two Eyes" in Spanish, referring to the two circular entrances connected by a network of caverns. The crystal-clear waters allow for exceptional visibility, revealing the mesmerizing beauty of the limestone formations beneath the surface.
Guided tours are available for snorkelers to navigate the well-lit caverns and marvel at the striking stalactites and stalagmites. Divers, on the other hand, can delve deeper into the hidden chambers of this fascinating world.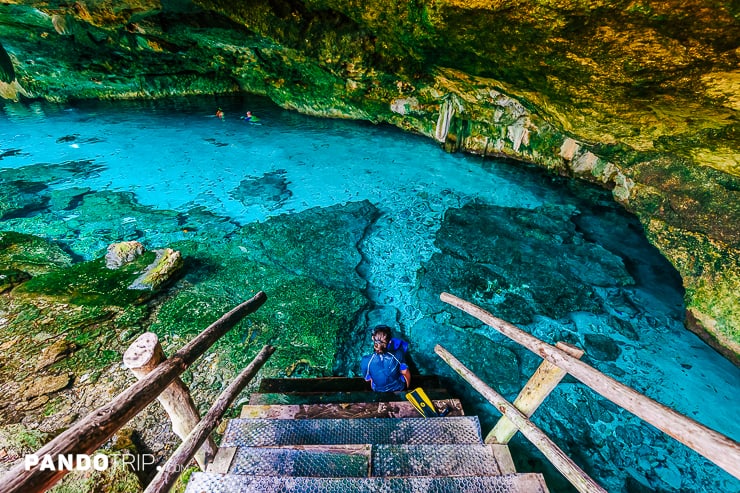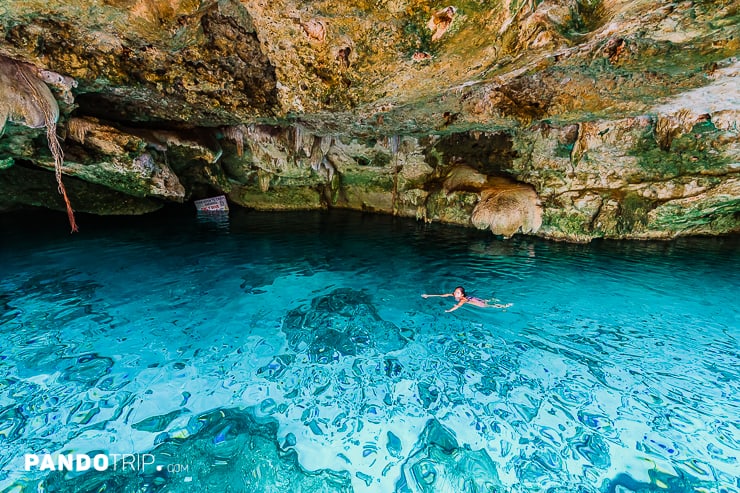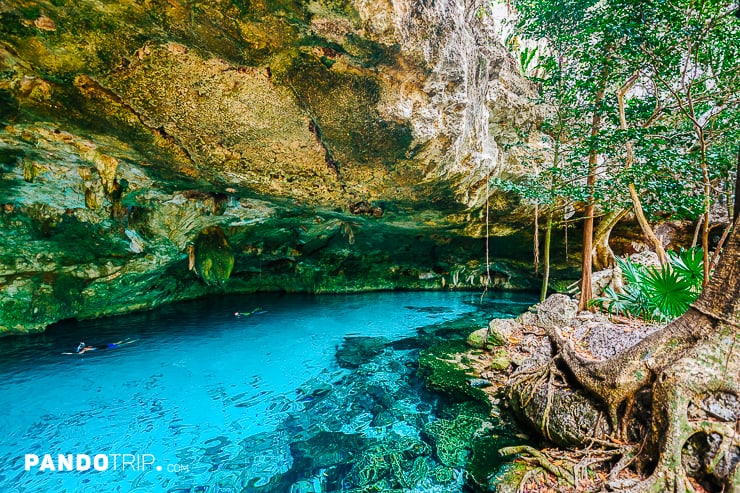 7. Fathom Five National Marine Park, Ontario, Canada
Fathom Five National Marine Park, situated near Tobermory, Ontario, is home to an astonishing array of shipwrecks. Found in the Georgian Bay area of Lake Huron, which is considered the 'shipwreck capital of Canada', the park contains more than 20 shipwrecks accessible for visitors to explore.
The most popular shipwreck in the park is the Sweepstakes, a 19th-century schooner. Resting in shallow water, it offers an excellent opportunity for snorkelers to observe its remarkably well-preserved structure. Divers can also get a closer look at the fascinating details of this historical vessel.
Another interesting spot within the park is "The Tugs", a dive site that features the wreckage of four small steam tugs (Alice G., Robert K., John & Alex, and one unidentified tug). These wrecks are close together, providing a diverse and intriguing diving experience. The clear waters of Georgian Bay ensure excellent visibility, allowing divers to appreciate the wrecks and the surrounding aquatic life.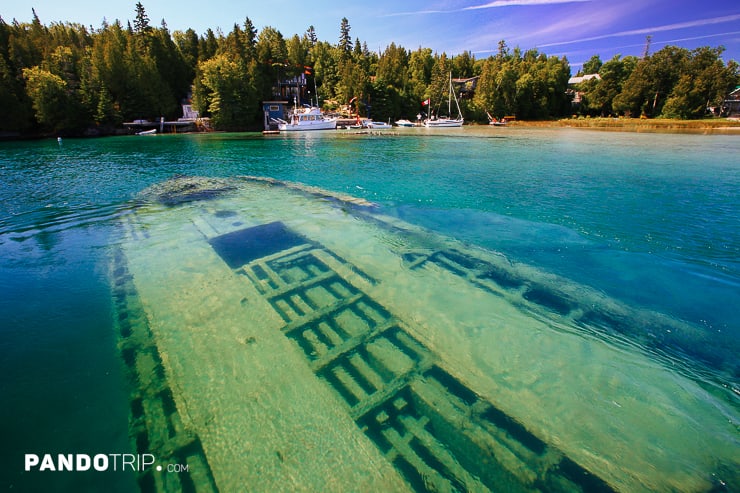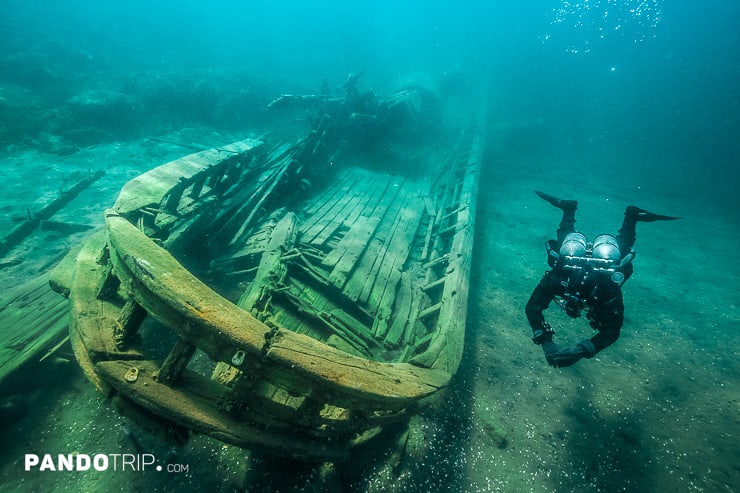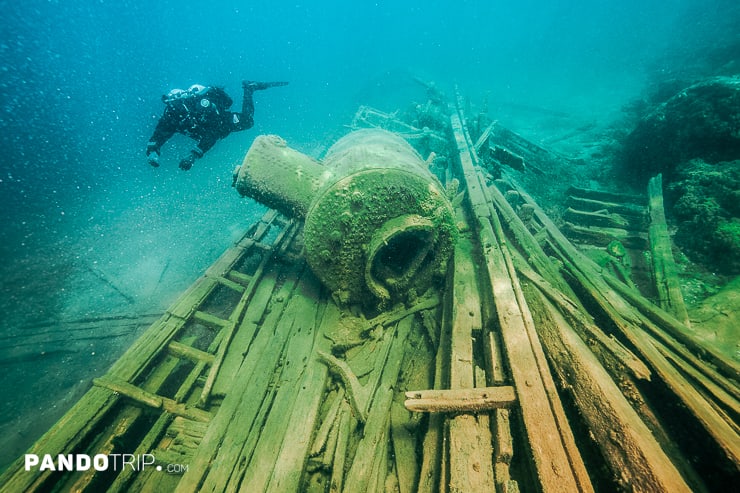 8. Underwater Waterfall, Mauritius
Off the coast of Le Morne, on Mauritius' southwest side, lies a remarkable optical illusion known as the Underwater Waterfall. Ocean currents, sand, and silt interact, creating the appearance of water cascading down into the depths. However, this spectacle isn't an actual waterfall but a product of underwater currents.
To truly appreciate this unique vista, a helicopter ride is necessary, as it offers a bird's-eye view of the stunning phenomenon. Several tours are available, giving visitors the opportunity to witness the captivating sight from the sky. The vibrant colors of the surrounding Indian Ocean further enhance the beauty of this one-of-a-kind experience.
While it's not possible to see the illusion from the water's surface, exploring the area by boat still provides a chance to appreciate the island's gorgeous coastal scenery. The underwater waterfall isn't dangerous, so curious adventurers may venture out beyond the coral reef, although the illusion won't be visible.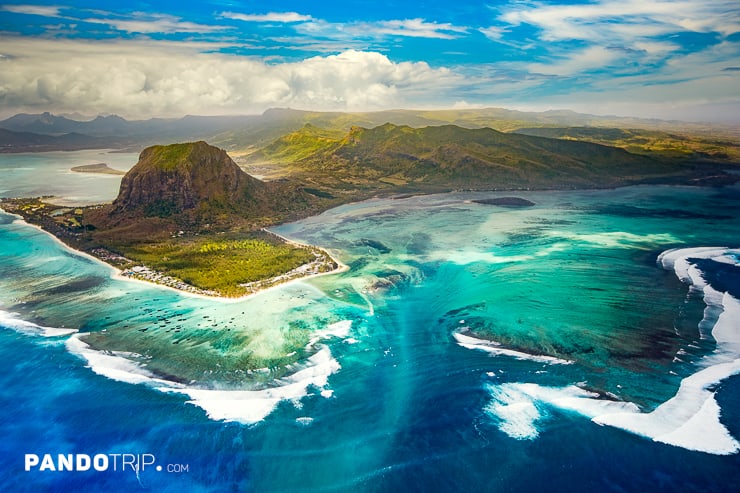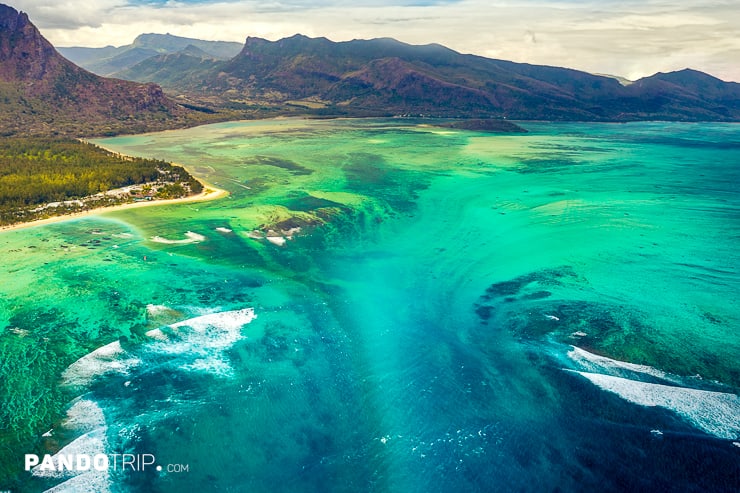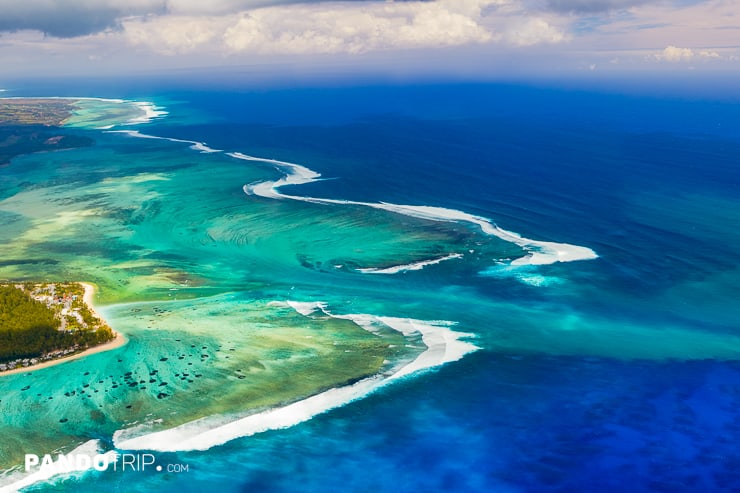 9. The Underwater Room, Manta Resort, Zanzibar
The Underwater Room at Manta Resort on Pemba Island, Zanzibar, offers a truly unique and immersive experience in the world of underwater exploration. This innovative, private floating structure features a submerged bedroom with 360-degree windows, providing guests with an unparalleled view of the Indian Ocean's vibrant marine life.
During the day, visitors can enjoy the sun and sea on the room's roof deck or take a dip in the ocean to snorkel or dive, encountering the colorful fish, corals, and other aquatic species that call this region home. As night falls, the underwater room's windows reveal the nocturnal activities of the marine life, illuminated by strategically placed lights.
While the Underwater Room isn't a typical underwater site to explore, it presents a rare opportunity to immerse oneself in the underwater world without the need for diving or snorkeling. Staying in this extraordinary room is a once-in-a-lifetime experience, allowing guests to fully appreciate the wonders of the ocean from the comfort of their own bed.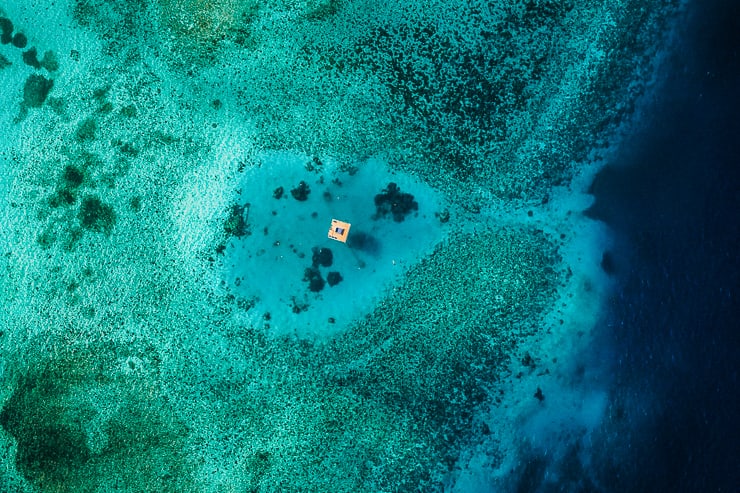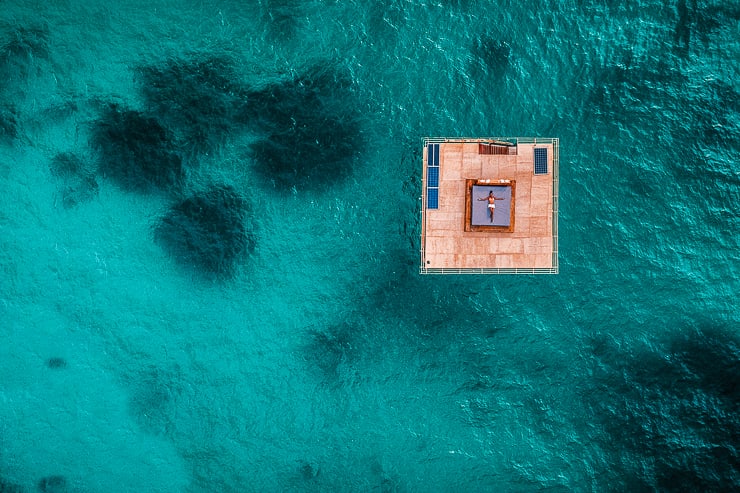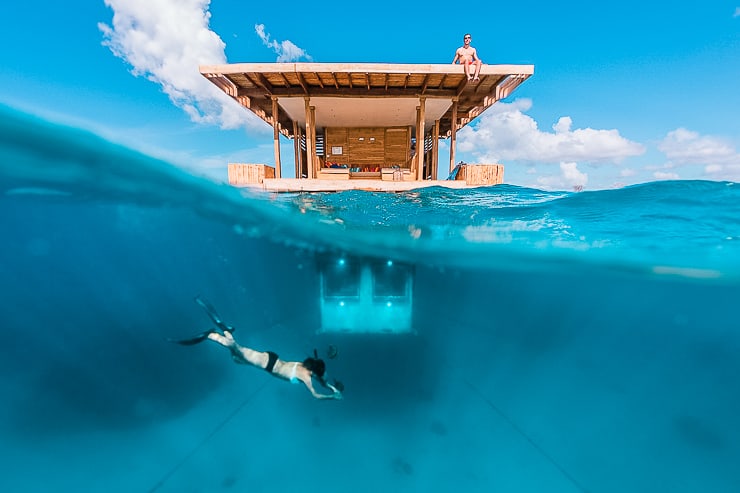 10. Ginnie Springs, Florida
Ginnie Springs, located near High Springs, Florida, is a treasure trove for underwater enthusiasts. Boasting crystal-clear waters, this freshwater spring system attracts divers and snorkelers from all over the world. Its exceptional water clarity, lush aquatic vegetation, and diverse fish population make it an idyllic underwater oasis.
This natural wonder features a network of submerged caves and caverns, offering thrilling exploration opportunities for divers of varying skill levels. Snorkelers, too, can appreciate the beauty of Ginnie Springs by simply floating along the water's surface, observing the bustling marine life below.
While diving in the main spring, Ginnie, visitors can also explore other springs nearby, such as Devil's Eye, Devil's Ear, and Little Devil Spring. Each offers a unique underwater experience, showcasing the stunning underwater landscape of Florida's springs.