Australia may not be the largest country in the world, that title belongs to Russia, but it's one that covers well over seven and a half million square kilometers. There are incredible natural attractions in Australia that almost defy description and if you wanted to see them all on one trip, you'd need to be in possession of a six month tourist visa to be able to do it.
While great surfing action is undeniably one of the big lures that draws travelers to Australia, there's more to the country than mammoth-sized reef breaks. Understandably, kangaroos, koalas, wallabies and emus are always high on people's lists of Australian natural sights they're hoping to catch a glimpse of. But in all fairness, once you've seen one, you'll probably be ready to see something a little more exciting.
Spread throughout the immense area that Australia covers are some of the most distinctive natural wonders existing in the continent of Oceania. Unless you're on an extended vacation, no, you won't get to see them all, but knowing which are the most famous natural landmarks in Australia, and where they are, will help when it comes to planning your time in this amazing country.
1. The Great Barrier Reef
It would be impossible for an article about natural wonders in Australia not to begin with what is, quite possibly, the most amazing of all and that's the Great Barrier Reef.
The Great Barrier Reef lies between fifteen and one-hundred and fifty kilometers offshore of Queensland on Australia's northeast coast and is a living phenomenon that's so large it can be seen clearly from space.
In its entirety, the coral reef system, which consists of almost three thousand smaller reefs, stretches for over two thousand kilometers. While much of the reef, the nine hundred or so islands associated with it and the many ecosystems existing in this area of the Coral Sea are now protected by the Great Barrier Reef marine Park, there are parts that you can visit and without it costing you the earth.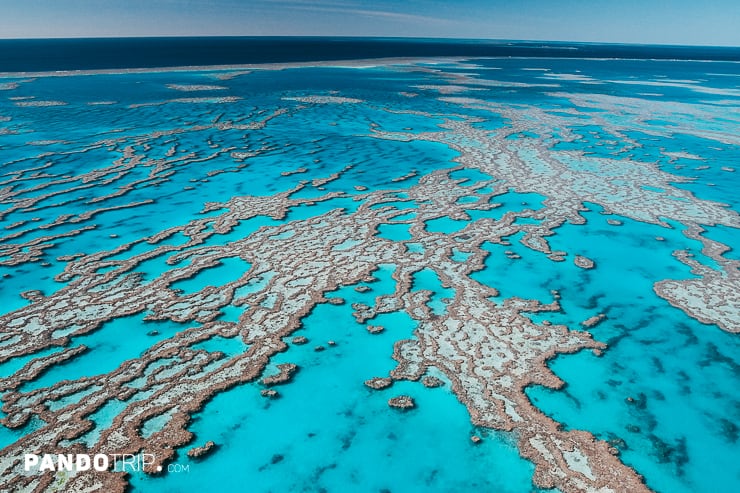 Ways To Experience The Great Barrier Reef
By Boat – To properly get up close to the Great Barrier Reef then you'll need to take one of the licensed boat cruises that operate in the area. From a boat you'll be able to go diving, snorkeling or view the hundreds of species of marine life through a glass-bottom.
For a closer look you can take the regular ferry service or a private boat from Cardwell or Lucinda that will leave you at the start of the Thorsborne Trail on Hinchinbrook Island. Before doing that, you'll need to apply for a special permit as visitors to the uninhabited island are limited to forty a day. Once there you can either hike the thirty-two kilometer long trail or, if you have the equipment, go kayaking along the coast.
By Air – Flying over the Great Barrier Reef in a seaplane is the only way to mentally grasp the vastness of this UNESCO World Heritage Site. If you want more time to discover the beauty of the reef, you can catch a flight from Sydney, Melbourne, Brisbane or Cairns to Airlie Beach.
From Airlie Beach you can transfer to either Hamilton Island or Daydream Island, both of which are islands in the Whitsunday Islands archipelago, stay for a few days and make the most of the tours leaving from there to the reef.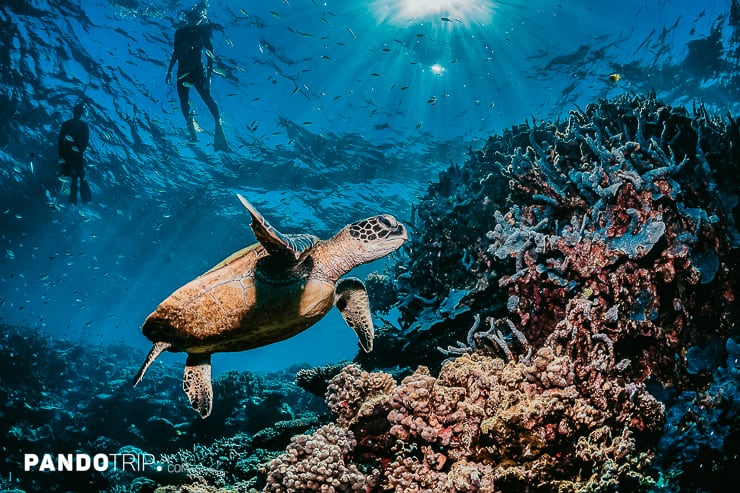 Best Time To Visit The Great Barrier Reef
The best time to visit the Great Barrier Reef is between May and October, especially if you're planning on snorkeling. At this time of the year the water is still comfortably warm and you'll have less chance of encountering the stingers that usually float in from November onwards. Time your visit right and as well as seeing the reef you'll be able to enjoy some of the fantastic events, like the Airlie Beach Music Festival, that take place in the area every year.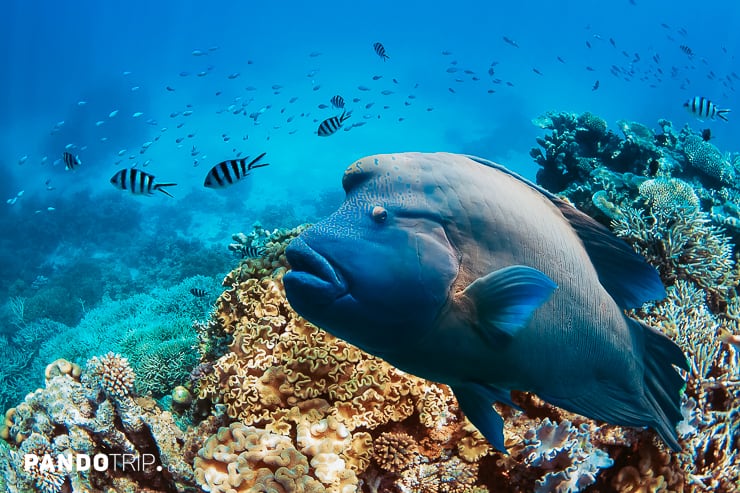 2. Uluru
It's often difficult to believe the planet we live on is as old as it is. One testimony to earth's lengthy existence is the red sandstone protrusion in central Australia known as Uluru or Ayers Rock. The inselberg is one of Australia's most famous landmarks and is a mini-mountain that scientists have aged at around five-hundred and fifty million years – give or take twenty million years or so.
While Uluru may look like an arid rock formation devoid of life, it is in fact the complete opposite. The rock and the surrounding area supports an abundance of life including four-hundred plant species, birds, mammals, reptiles and quite surprisingly, amphibians.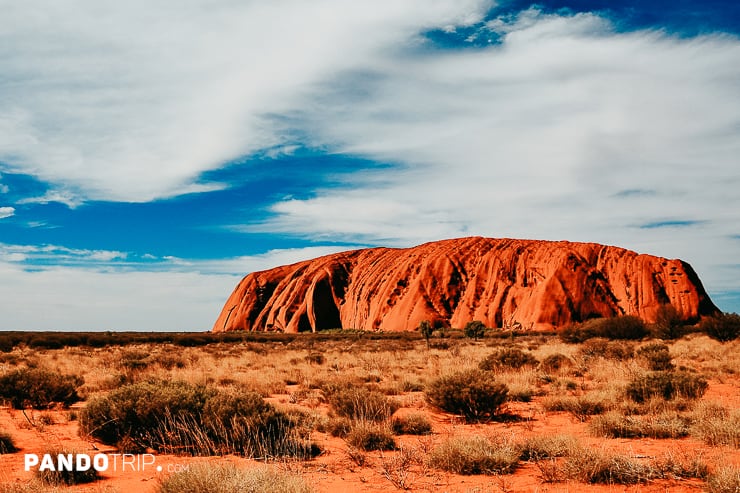 Best Ways To Experience Uluru
To get to the Uluru-Kata Tjuta National Park you can fly into Yulara Airport from several major cities including Adelaide, Sydney, Brisbane and Darwin. The drive from Yulara Airport to the park takes around twenty-five minutes. You can also make an extended visit if you choose to stay nearby at the Ayers Rock Resort.
Once you're there you'll find the best way to see the rock and connect with its spirituality is by hiking some of the trails around it. The premium time to do it is at sunrise or sunset and you'll have an even more magical experience.
Best Time To Visit Uluru
Uluru is in an area which experiences a desert climate with five discernable seasons. August and September are the comparative springtime months when the flowers are in full bloom. April and May are still relatively cool, but as the colder weather creeps in you're unlikely to see many reptiles as they'll be going into hibernation. Avoid December as it's way too hot for walking around.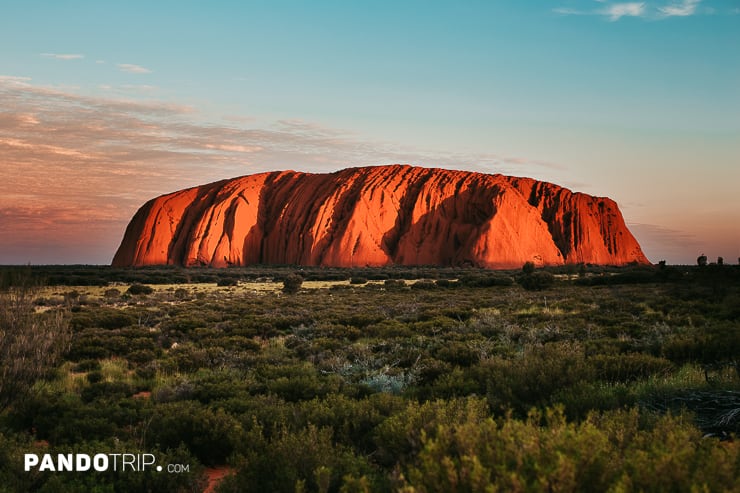 3. Lake Hillier
There are only a very few places in the world where you can see a body of water as unusual as Lake Hillier. Lake Hillier is one of less than thirty pink-watered lakes in the world. It's not the easiest of natural attractions in Australia to get to see as it's located on Middle Island off the southwest coast.
The saline lake's pink color is generated by microorganisms in the water. Historically the lake was used to produce salt, but as it was an unviable project, the industry is no longer practiced. Although the salt content of the pink lake is on a par with that of the Dead Sea, Lake Hillier hasn't been converted into a health resort and remains just the way nature intended.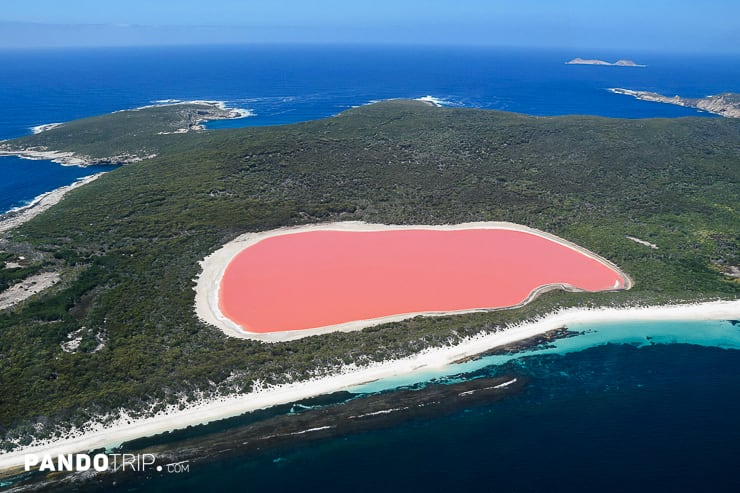 Ways To Experience Lake Hillier
By Air – Small aircraft fly from the town of Esperance out to Middle Island, circle Lake Hillier without landing then return back to the airport. The view of the lake from the air is spectacular and definitely worth the cramped one hour and forty minute flight.
By Sea – You can take a private or group sailing to Middle Island from the Duke of Orleans Bay. Once you arrive at Lake Hillier, you'll have an hour and a half to enjoy its incredible beauty before having to return. Private cruises can be arranged at any time, but group sailings only depart when there are enough bookings. Check with the company, Esperance Island Cruises, in advance to see if they have dates available that are suitable for you.
Best Time To Visit Lake Hillier
You can visit Lake Hillier at any time of the year and no matter what month you choose to go, it'll look as good and as pink as ever.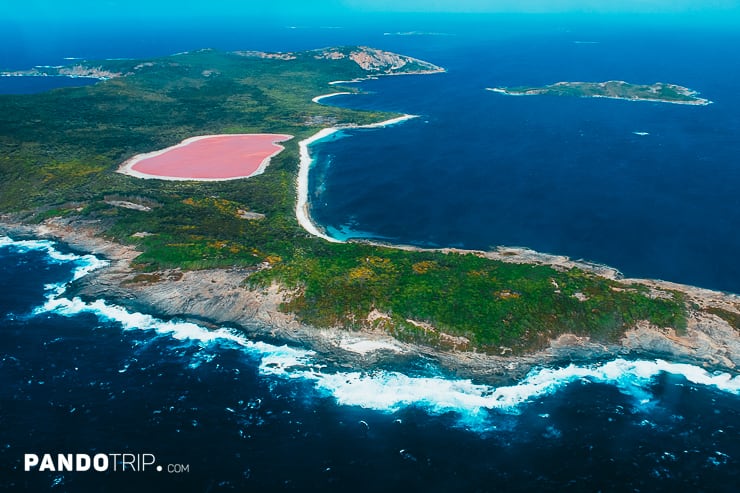 4. Twelve Apostles
While you can't compare the offshore limestone stacks between Princetown and Port Campbell on Australia's south coast with the islands of Phang Nga Bay, they're still an impressive sight. Once part of the mainland, the stacks were formed by the abrasive action of the wind and the sea as they wore away the cliffs.
Now part of the Port Campbell Marine Park, the stacks have morphed over thousands of years from caves to rock arches until they've eventually become what you can see today. For a really magical experience, it's best to view the monoliths at sunset when the white stone changes color to display the rainbow hues of the sky.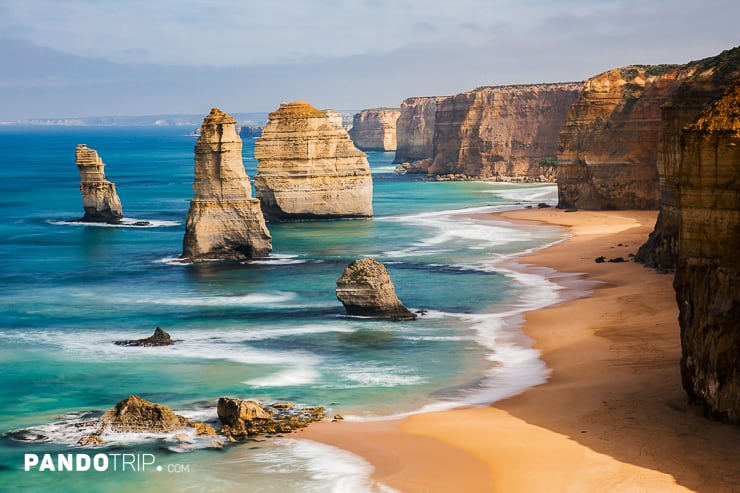 Ways To Experience The Twelve Apostles
By Car – Driving the Great Ocean Road is one of the best road trips you can take in Australia. Leave Melbourne heading in the direction of Geelong and you'll be able to join this amazingly scenic route when you reach Torquay. It'll take around four hours of driving until you reach the Twelve Apostles. If you want to make it a round trip then take the Princess Highway, an inland route, back to Melbourne.
By Air – To get a different, and more thrilling, look at the Twelve Apostles consider taking a helicopter tour over the stacks. You'll find the heliport for Twelve Apostles Helicopters near the visitor center. The flights operate throughout the day, but are a popular activity so pre-book yours before you arrive.
Best Time To Visit The Twelve Apostles
You can visit this famous Australian landmark at any time of the year, but whenever you go, don't expect it to be a solitary experience. The busiest time is close to sunset as everyone wants to capture their souvenir photo as the sun goes down so if you don't like crowds that's the time to avoid
5. Whitehaven Beach
Imagine the perfect, unspoilt beach and your mind will probably conjure up an image that looks something like Whitehaven Beach, but not so impressive. Whitehaven Beach is a pristine white silica beach that stretches for seven kilometers along the southeast coast of Whitsunday Island and is, as far as beaches go, absolute perfection. It's so perfect, it was named the best beach in the world by Tripadvisor in 2021.
Desert island-like escapes don't get much better than they do at Whitehaven Beach. Here you can swim,dive, snorkel, kayak or hike the inland trails through the forest to the hilltop observation point.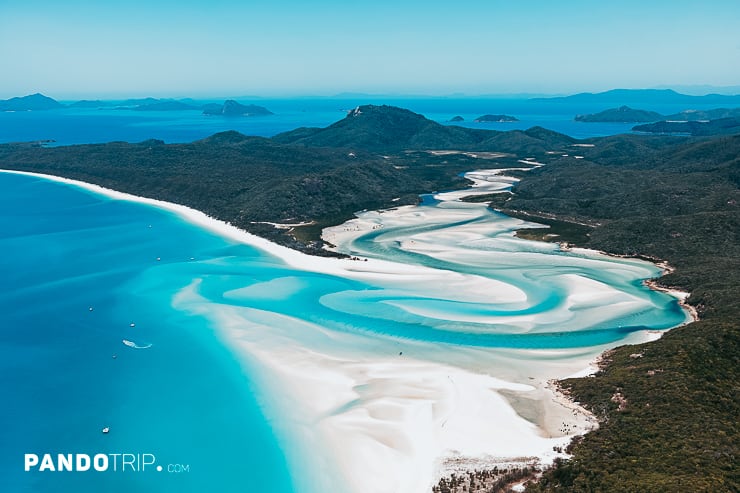 Ways To Experience Whitehaven Beach
Camping – If you want to stay longer and explore the beach to the max, you can camp out at a bush campground at the southern end of the beach. The campground is managed by the Whitsunday Island National Parks rangers and places are limited, there's only ten campsites, so book yours in advance via the park website if you want to stay over.
By Boat – Even if you can't get a campsite at Whitehaven Beach you can still go to see it by taking a day cruise to Whitsunday Island from Airlie Beach, Shute Harbour and Hamilton Island. There are group tours and private charters available and if you have sailing skills, boats you can captain yourself.
Best Time To Visit Whitehaven Beach
You can visit Whitehaven Beach at any time of the year. Whitsunday Island has a relatively stable year-round climate although springtime, and particularly September, are classed as the optimum months. June to August are great too if you want to see the migrating humpback whales. If you're hoping to go swimming and snorkeling, skip May to November as that's stinger season when the box jellyfish and the smaller, but just as poisonous, irukandji are present in the water.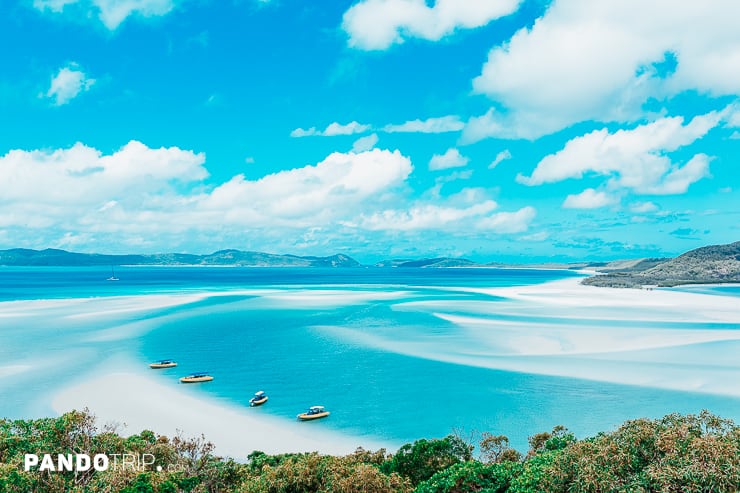 6. Wallaman Falls
With a height of three-hundred and five meters, Wallaman Falls is Australia's tallest, constantly flowing, single cascade waterfall. The falls, in the Girringun National Park in Queensland, drops down into a pool and is one of the most spectacular natural attractions in Australia.
The park lies within an area known as the Wet Tropics World Heritage Area which is a zone protected for its unique biodiversity and is the habitat of several threatened species of plants, animals and invertebrates.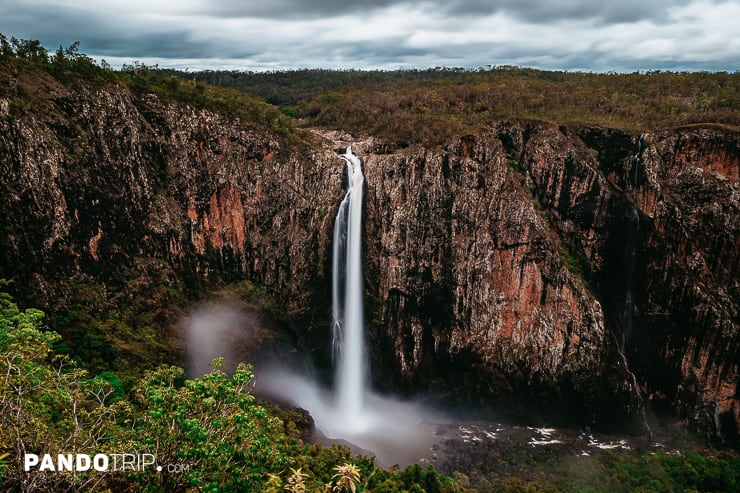 Ways To Experience Wallaman Falls
On Foot – It may be a protected area and inaccessible by vehicle, but it's still one you can explore on foot. The short, but rewarding Banggurru Trail, heads out of the campground and leads to the base of the falls where you can swim.
To get to a higher vantage point try the longer, and slightly more difficult, Djyinda Trail which leads to a viewpoint overlooking the falls. Be aware that during the wet season some trails may be closed due to slippery conditions. You can check for trail closures on the park website.
If you want to pitch a tent at the campground, you'll need to apply for a permit before arriving.
NB: The Wallaman Falls are located in the Wallaman area of the Girringun National Park which is a fifty-one kilometer drive from the town of Ingham.
Best Time To Visit Wallaman Falls
While the Wallaman Falls flows all year round the flow is stronger during the wet season which is from November through to April. However, if you're planning on swimming, the wet season is not the optimum time to go as the cascade can be too strong and make the experience dangerous.
To make the experience of seeing the falls as fantastic as possible try to go in the mornings between eight and midday. Go late afternoon and the sun will have disappeared behind the cliff rather than be shining on the falls.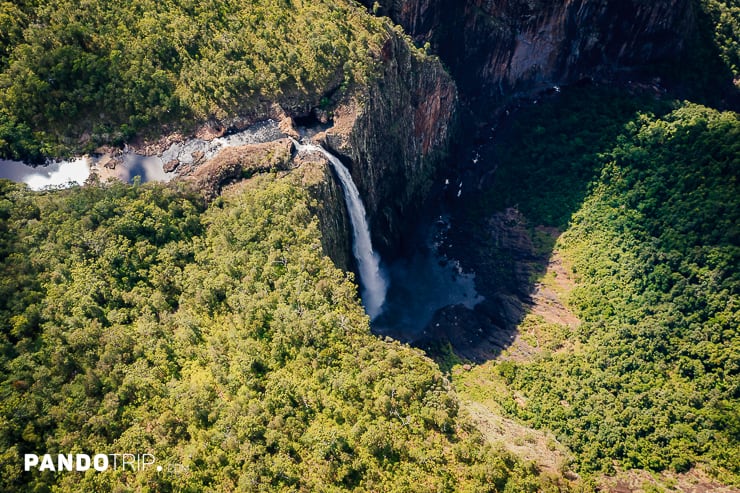 7. The Pinnacles
The Pinnacles form one of Australia's most unusual landscapes. It's an area so surreal it's otherworldly and looks more like it belongs on the planet Mars than it does on planet Earth. The gatherings of spiky weathered limestone monoliths are believed to be in the region of twenty-five to thirty thousand years old.
Located in a desert area of the Nambung National Park, two hundred miles north of Perth, in Western Australia, you can get there either by self-driving or by joining an organized tour. Several companies, including Autopia Tours and Adams Pinnacle Tours, operate coach tours from Perth to The Pinnacles.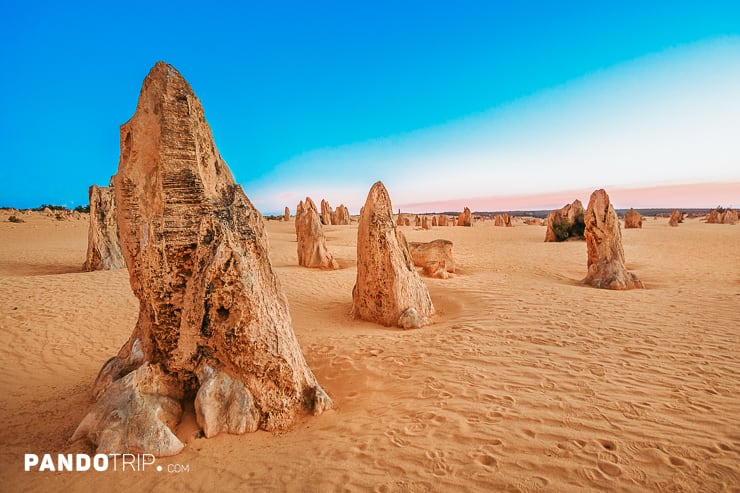 Ways To Experience The Pinnacles
On Wheels – You can drive or cycle on a four and a half kilometer long driving trail which winds its way through stones.
On Foot – To be able to get up close to the limestone formations you'll need to walk among them and you can do that on the one and a half kilometer long Desert View Walk trail.
Best Time To Visit The Pinnacles
The Nambung National Park is open to visitors all year round. Whenever you go you will need a valid park pass or pay an entrance fee per vehicle or per person depending on how many people you go with.
Because of the lack of light pollution, the park is the perfect place to observe the night sky, especially the Milky Way, but nighttime visitors are expected to leave the park by nine o'clock at the latest.
8. Kakadu National Park
Kakadu National Park is twenty-thousand square kilometers of protected Aboriginal land that has a heritage listing because of its natural and cultural importance. The park encompasses some magnificent landscapes and is the habitat of numerous indigenous species of flora and fauna.
A three hour drive east of Darwin, Kakadu National Park is somewhere you can explore Australian terrains in all their natural glory as they have remained untouched by modern society. Here there are opportunities for remote hiking, fishing, boating and birdwatching.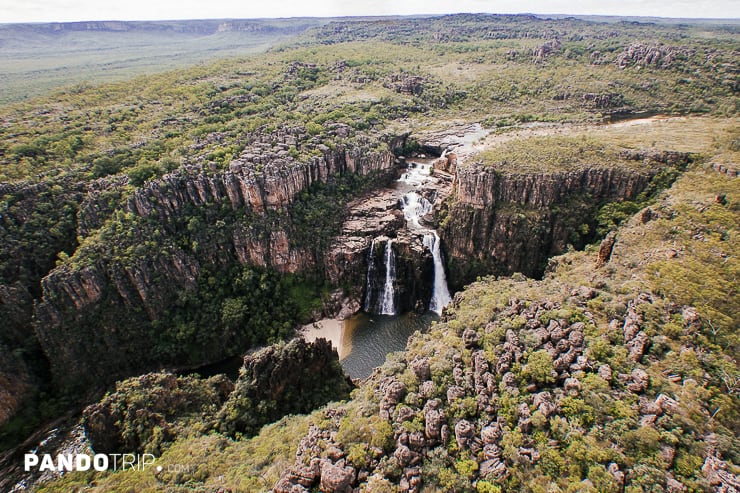 Best Ways To Experience Kakadu National Park
By Boat – Part of the Kakadu National Park consists of extensive wetlands known as Yellow Water. Yellow Water Billabong operates boat tours through the wetlands where you'll be able to see crocodiles, buffalo, wild horses and plenty of birds.
On Foot – There are endless different walks you can take through the landscapes of Kakadu, but one of the best is the hike through the monsoon forest to the Jim Jim plunge pool which is surrounded by two-hundred meter high cliffs. If you don't want to go it alone, you can join a guided tour.
By Air – Helicopters and light aircraft tours operate all year, but the most spectacular time to fly over Kakadu is during the tropical summer season when the waterfalls are in full flow.
Best Time To Visit Kakadu National Park
The most comfortable time of the year to explore the park on foot is between June and August which is classed as the dry season. It's cooler and less likely to rain. September and October is the best time for wildlife viewing.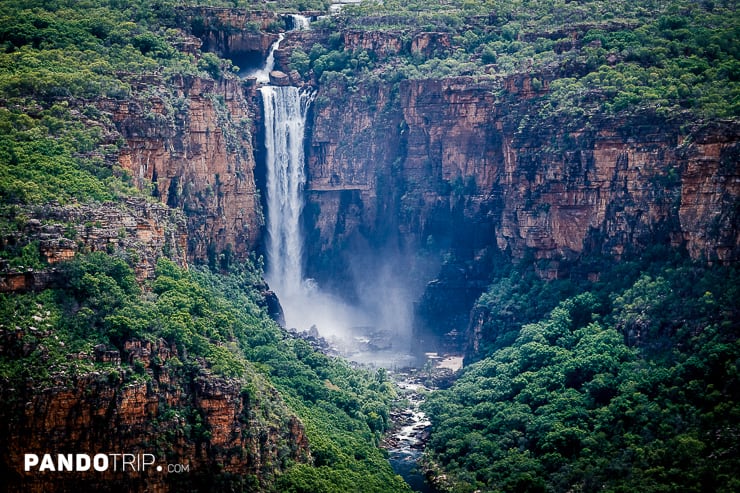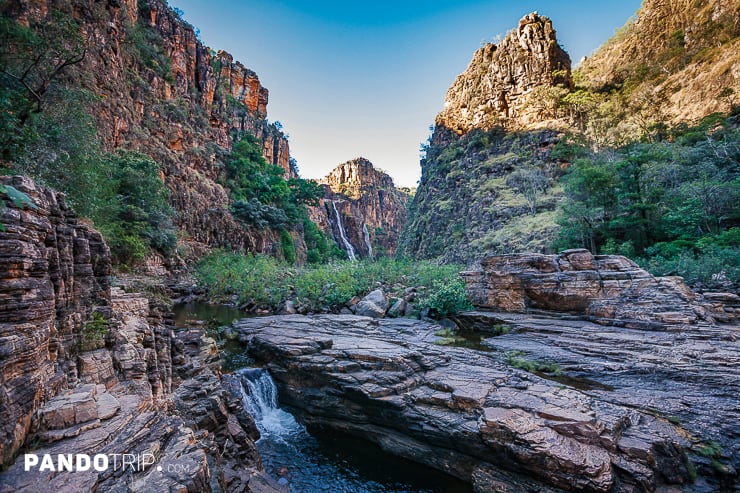 9. Daintree Rainforest
On the Queensland coast, north of Cairns, is the oldest rainforest in existence. The Daintree Rainforest covers an area of one thousand, two-hundred square kilometers and is believed to be in the region of a hundred and thirty-five million years old.
The rainforest contains multiple different ecosystems that are the habitats for many indigenous species of flora and fauna. It does, in fact, have one of the greatest bio-diversities of anywhere in the world so visiting it will be an experience you can't have anywhere else.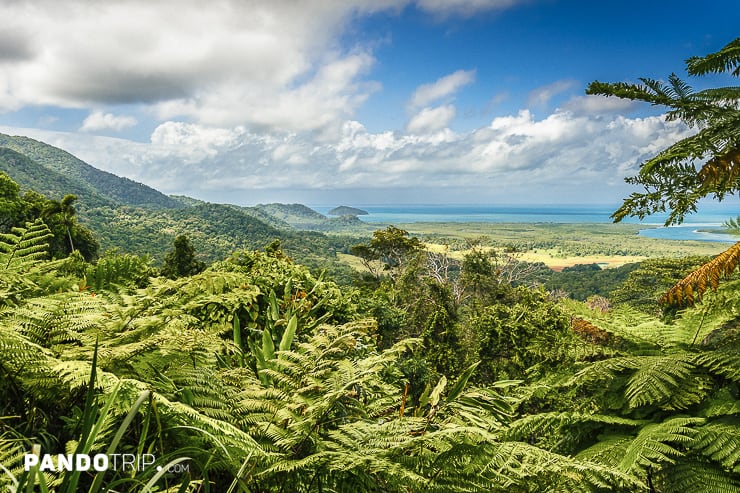 Ways To Experience Daintree Rainforest
By Boat – You can experience the rainforest by taking a cruise down the Daintree River. The eco-certified cruises set out from the Daintree River Center, north of Port Douglas, and sail for sixty or ninety minutes.
On Foot – There are two or four hour wilderness tours of the forest available that are led by a local guide. You can also join tours from the Daintree Rainforest Visitor Center where there is an aerial walkway, a canopy tower and the chance of spotting some of Australia's unusual cassowary birds.
Best Time To Visit The Daintree Rainforest
May through to September is when the climate is more agreeable. It's cooler, drier and the usually high humidity is a lot lower and temperatures don't tend to rise above 26ºC.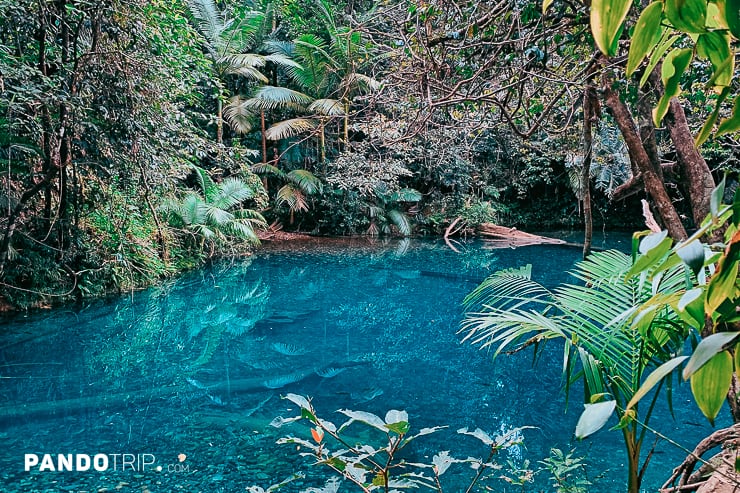 10. Kangaroo Island
While Kangaroo Island off the south coast of Australia is home to around four thousand people, it's an unspoilt and wild environment that's also a wildlife refuge. This is one of the best places in Australia to go to see animals like kangaroos and koalas as well as seals and sea lions.
Kangaroo Island is also the perfect spot for participating in all sorts of outdoor activities in a natural environment. Here you can swim, snorkel, surf, kayak, hike, go caving and even try your hand at quad-biking or sandboarding.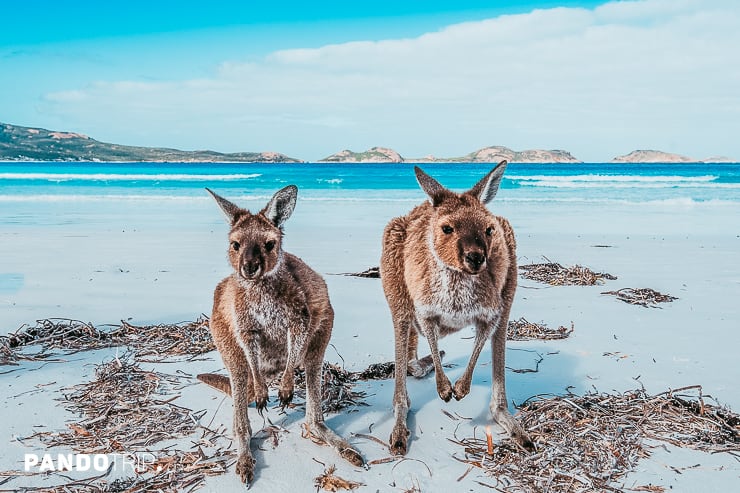 Best Ways To Experience Kangaroo Island
Kangaroo Island is around thirteen kilometers off the coast from Adelaide and accessible by sea and air.
By Boat – Regular crossings from the mainland to Kangaroo Island are operated by KI Connect and Sealink. The average sailing time is forty-five minutes.
By Air – You can take a flight from Adelaide Airport to Kangaroo Island with QantasLink. The flight takes about half an hour.
By Car – Kangaroo Island is included on a driving route known as the Southern Ocean Drive. The suggested nine-hundred kilometer route takes in a large portion of the coast of South Australia. To arrive on the island you will need to make the crossing on the car ferry. If you don't want to make such a long road trip, you can fly in and get a rental car when you're there.
Best Time To Visit Kangaroo Island
Kangaroo Island is at its scenic best during the springtime months of September, October and November. You can avoid the visiting crowds by going in June, July or August.