Crystal clear water is indeed one of the greatest natural wonders. You can find ponds filled with turquoise fresh liquid not only in the most luxurious resorts but in lakes and even snowy landscapes. See our list, that features some unexpected sites.
10. Jiuzhaigou Valley, Sichuan, China
It is one of the most incredible natural reserves in the world, the unspoilt nature in the park makes it a popular tourist destination. Five-Color Pond has the clearest water here, uncovering versatile underwater life.
Why go there?
There are various lakes and waterfalls, as well as sundry forests and natural wonders.
When to go there?
Each season is very different, but beautiful – even winter.
9. Peyto Lake, the Rocky Mountains, Canada
Found in Banff National Park the turquoise lake is fed by a glacier. Situated in a valley, the lake is surrounded by three high peaks and features a wonderful panorama. The radiant colour is prevalent in summer when melting glacial brings rock flour into the lake.
Why go there?
The lake is easily accessed from the Icefields Parkway. It features great views, hiking and boating activities.
When to go there?
In summer.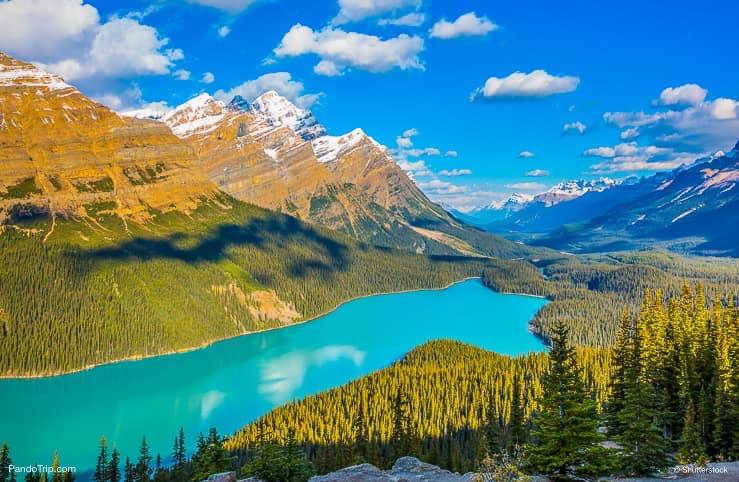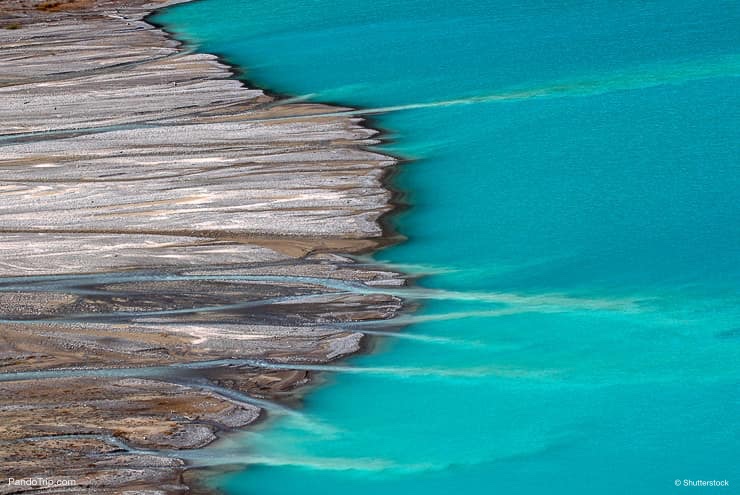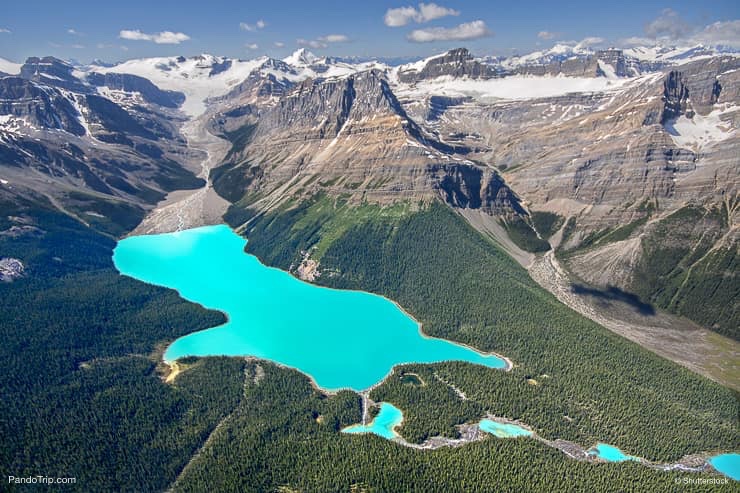 8. The Blue River, Greenland
The Blue River is one of the greatest places to kayak and explore the Arctic beauty. Each year the river has a different shape, but it is always stunning. Nature here is unspoilt and with no infrastructures, therefore making a trip here challenging, but adventurous.
When to go there?
Tours are open from August. Summers are intense, with fewer tourists, but more mosquitoes. The cold and dry winter (December-April) is the most popular season for tourists.
How to get there?
By plane from Canada, Denmark or Iceland. By ship from the USA, Canada, Europe. In Greenland visitors travel by planes and ships.
7. Anse Source d'Argent, La Digue Island, Seychelles
This is probably the most iconic beach, illustrating heavenly nature of Seychelles. The beach features a long strip of white soft sand, clear warm water and pleasant climate all year round. Moreover, the big granite boulders, scattered on the beach, form exciting coves and caves.
How to get there?
By ferry from the Seychelles International Airport on Mahé island.
Read more: Anse Source d'Argent – the Iconic Beach in Seychelles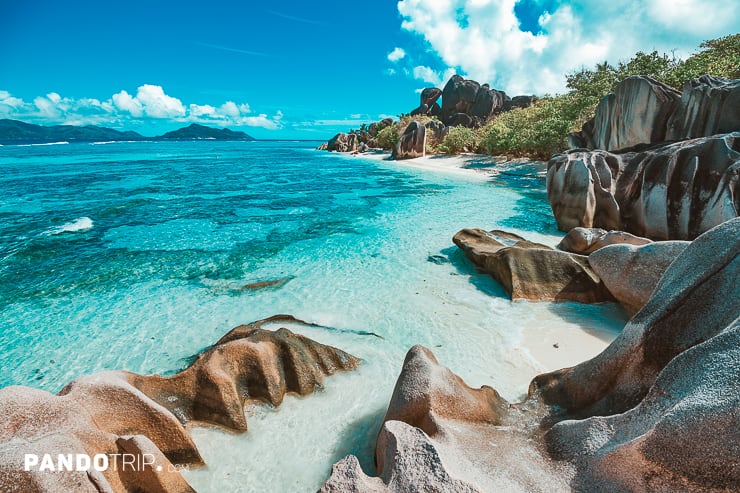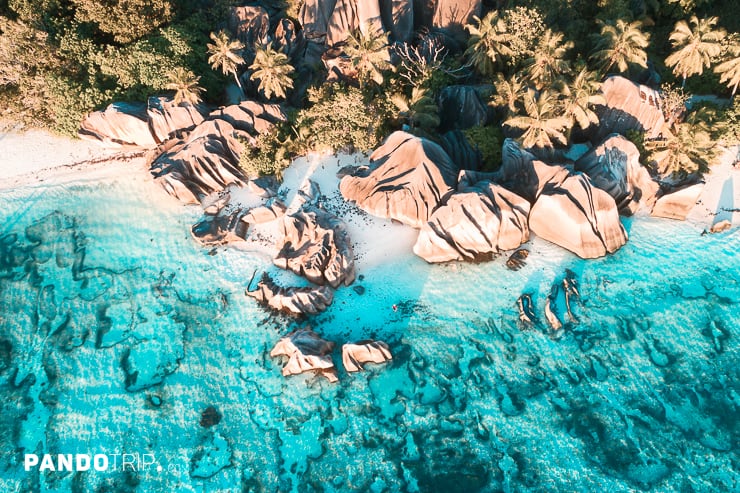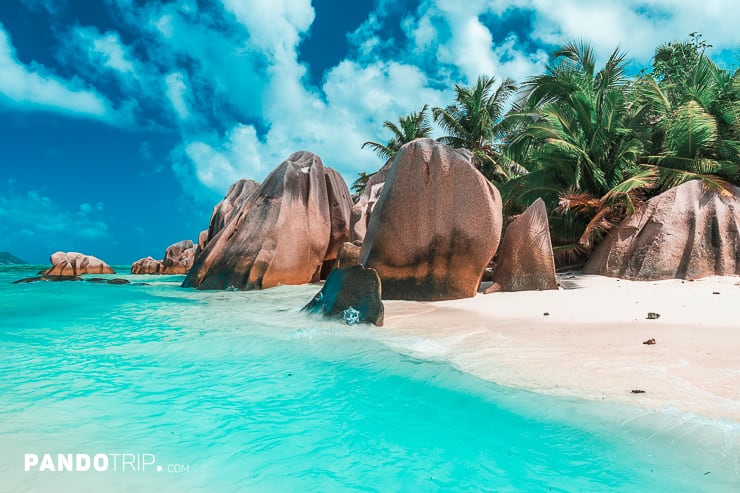 6. The Blue Lake, South Island, New Zealand
It is said to be the clearest lake in the world. It is almost as clear as distilled water and is considered sacred to Māori. Although it is not allowed to swim in the lake, there are plenty of activities to do here: from hiking in the park, fishing to camping.
When to go there?
All year round.
Read more: The Clearest Lake in the World Found in Nelson
5. Lençóis Maranhenses National Park, Maranhão, Brazil
Sand dunes, often accompanied by lagoons, define the landscape. A sandy scenery is not a desert, though. But it definitely looks like one, therefore, the lagoons add up to the uniqueness of the park. Water is crystal clear, warm and perfect for swimming.
Why go there?
This is a true natural wonder, worth seeing.
When to go there?
The best time to visit the lagoons is from July to September. Later a lot of water evaporates.
4. Menorca, Spain
The tiny island in the Mediterranean Sea is often called a Balearic Jewel: it has 120 amazing beaches! It is certainly one of the most exciting spots from the Balearic Islands group. Besides swimming in the crystal clear water, canoeing and kayaking are other popular activities.
Why go there?
Numerous beaches and warm clear water, various activities.
When to go there?
From May to October.
3. Sardinia, Italy
Being the second largest island in the Mediterranean Sea, Sardinia has a very long coast and clearest waters around. Numerous rare species live here, making diving a unique experience. Warm Mediterranean water is suitable for swimming for the most part of the year.
Why go there?
A wonderful holiday destination, clear and warm water, great diving sites.
When to go there?
All year round. Weather is the warmest from May to November.
2. Maldives
One of the most desirable holiday destinations on Earth. White sandy beaches, crystal clear water and numerous resorts define the heavenly islands. The water here is definitely part of the architecture: you can stay at the water villas, some of which even have transparent floors so that you could admire marine life.
Why go there?
Great nature, pleasant weather all year round, world-quality service.
Read more: Top 10 Resorts in Maldives
1. Whitehaven Beach, Queensland, Australia
One of the most famous Australian beaches is definitely a dream holiday destination. It stretches 7 km along Whitsunday Island and is considered to be the cleanest beach in Queensland. Sand is made of 98% pure silica, which doesn't keep heat, so it is always pleasant and cool to walk onto.
Why go there?
One of the most amazing beaches in the world.
How to get there?
By plane get to Hamilton Island and Proserpine. Get around the Whitsunday Islands by boat or bus.