Let's face it, Livraria Lello is a place of legend. With its breathtaking architecture, stunning stained glass, and that legendary spiral staircase, it's no wonder this bookstore draws crowds from around the globe. But don't let the hype fool you. Livraria Lello isn't just a pretty face. This bookstore is packed to the brim with amazing books, incredible stationery, and more literary goodness than you can shake a quill at. So come along with us as we explore every nook and cranny of Livraria Lello and show you what makes it the perfect destination for bookworms, art lovers, and history buffs alike.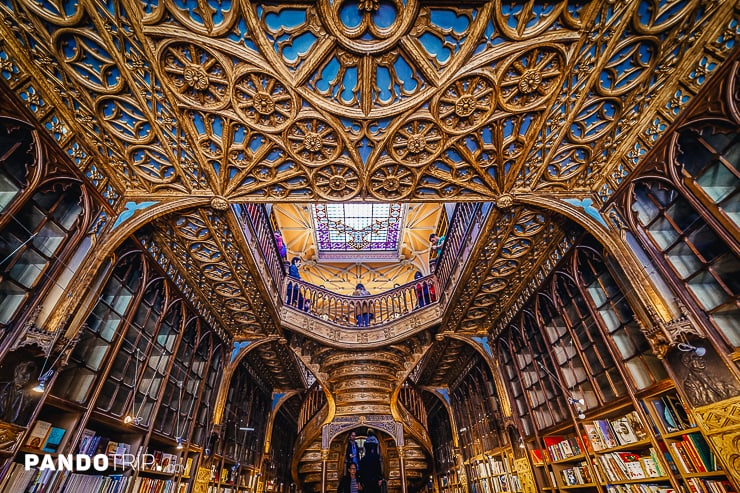 Livraria Lello Entrance Fee and Skip-the-Line Tickets
Let's be real – walking into Livraria Lello is like entering a magical bookish paradise. But gone are the days when you could simply waltz in and bask in its literary glory. Nowadays, there's an entrance fee to control the number of visitors. And let's be honest – we're not surprised. Who wouldn't want to see this architectural masterpiece in person?
But don't fret! There are several different ticket options available:
If you're looking to save some bucks, the Regular Ticket is your best bet. It's only €5 if purchased online and can be redeemed with any book purchase at Livraria Lello. If you're the spontaneous type and decide to show up at the door, the ticket costs €6. And if you're travelling with a little one under 3, they can enter for free, but don't forget to add a ticket voucher to your cart when booking online.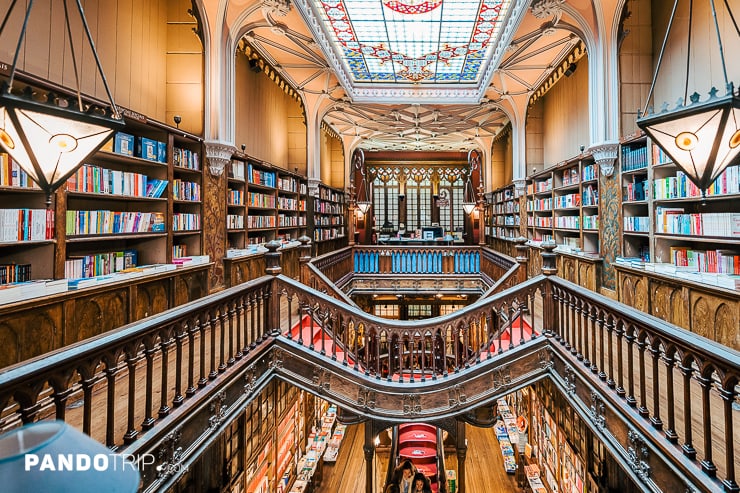 Now, if you're anything like us, the thought of waiting in a long line to get into a bookstore is a mood killer. And that's where the Skip-the-Line Ticket comes in. For a little extra cash (€15.90-€17.90), you can skip the queue and get priority entrance to the bookstore ahead of everyone else. Plus, this ticket includes the purchase of a book, which is marked on your voucher. It's like killing two birds with one stone! The book options are pretty sweet, too – think Romeo and Juliet, The Art of War, Los Lusíadas, and The Jungle Book.
But if you're looking for a more in-depth experience, you might want to consider taking a guided tour. While it's a bit pricier, it grants you immediate access to Livraria Lello and also takes you on a tour of other famous sights in Porto. There are plenty of tours to choose from, but our personal recommendation is a 3-hour walking tour that you can find here.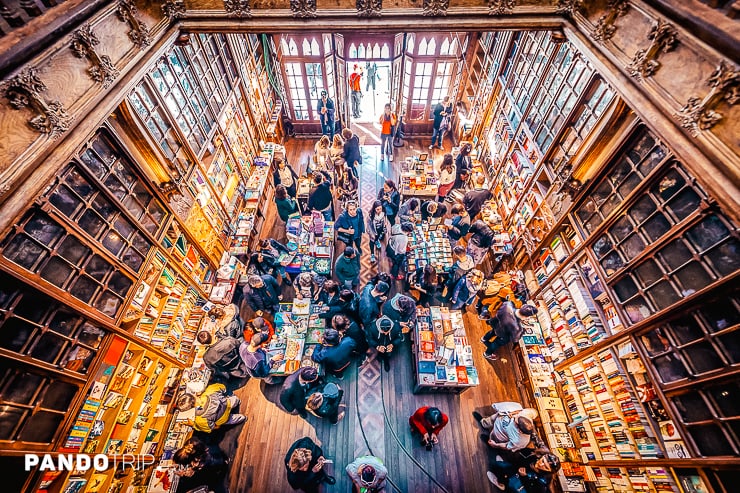 Livraria Lello Opening Hours and Best Time to Visit
Okay, now that we've got the ticket situation sorted, let's talk about the best time to visit. Livraria Lello is open every day from 9:30 AM to 7:00 PM, but it can get pretty crowded during peak hours. If you're not a fan of crowds (who is?), we suggest arriving 30 minutes before Livraria Lello officially opens. And if you can swing it, try visiting during the off-season (spring, autumn, or winter) when crowds are thinner.
How to Get to Livraria Lello
Let's talk about getting to Livraria Lello! It's smack-dab in the middle of Porto's historical center, at Rua das Carmelitas 144. And the best part? It's a hop, skip, and a jump away from other popular tourist spots, like the Clérigos Tower, São Bento Station, and Porto Cathedral. In other words, you can easily tick off a few boxes on your sightseeing list without breaking a sweat.
But, you might be wondering, "how do I get there without getting lost or spending a ton on transportation?" Fear not, my friend! Getting to Livraria Lello is a piece of cake, even if you're relying on public transportation. The closest metro station is São Bento, and you can access it via Line D (Yellow). And if you're a fan of city buses, you're in luck because the bookstore is served by various city bus lines. The closest station is Cordoaria, so you can easily make your way to Livraria Lello from any part of the city.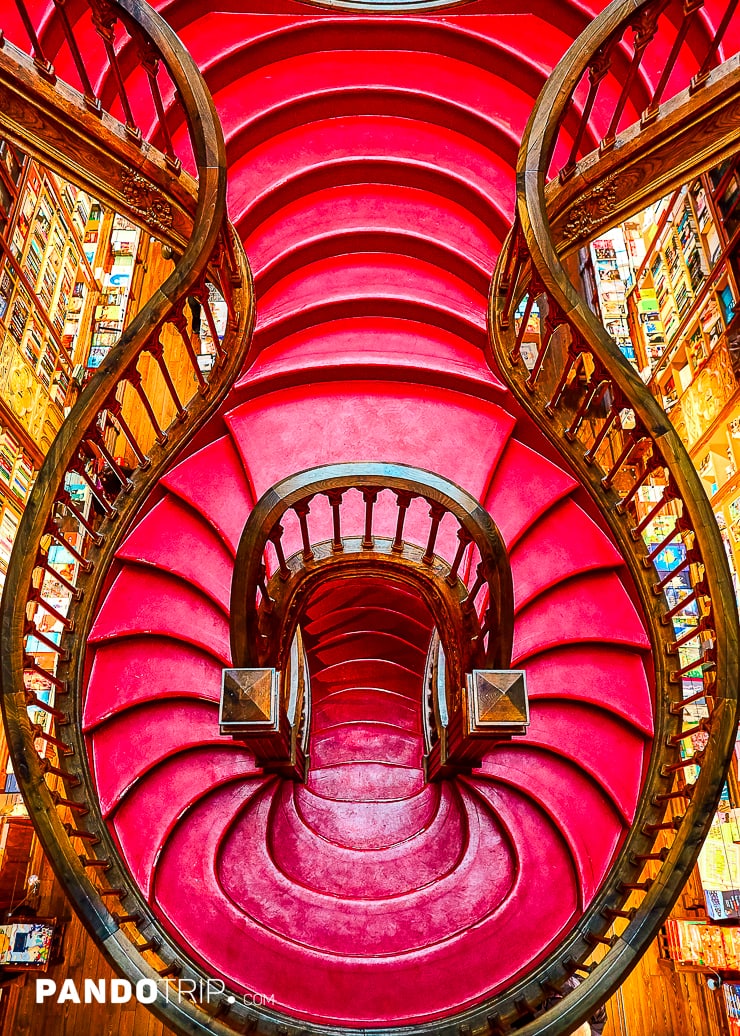 Harry Potter Bookstore in Porto?
Let's talk about Harry Potter and Livraria Lello! For years, people have been whispering that the bookstore was the inspiration for J.K. Rowling's wizarding world, with some even claiming she was a regular. But in 2020, Rowling hopped on Twitter to set the record straight: she had never even heard of Livraria Lello, let alone visited it. Ouch, that's got to sting.
For instance, I never visited this bookshop in Oporto. Never even knew of its existence! It's beautiful and I wish I *had* visited it, but it has nothing to do with Hogwarts! pic.twitter.com/f83rxBeeyY

— J.K. Rowling (@jk_rowling) May 21, 2020
But don't fret, my dear muggle! Just because Livraria Lello may not have a direct connection to the Boy Who Lived doesn't mean it's not worth a visit. After all, Rowling herself has a special connection to Porto. She spent some time writing in The Majestic Café on Rua Santa Catarina and called it one of the most beautiful cafes she's ever written in. So, if you're a Harry Potter fan and want to channel your inner witch or wizard, The Majestic Café is the perfect place to start.
And if you're still itching for more Potter-related fun, we recommend taking the Harry Potter Guided Walking Tour. Not only will you visit The Majestic Café, but you'll also hit up other locations that may have inspired parts of the story. Plus, you can indulge in the sweet Portuguese Horcrux and let your imagination run wild. So, grab your wand (or just your sense of adventure) and explore the magic of Porto!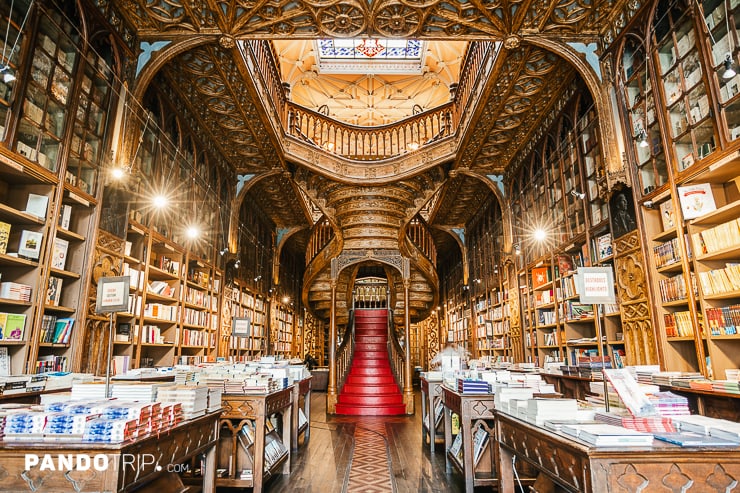 Architecture and Design of Livraria Lello
Alright, let's get to the good stuff: the architecture and design of Livraria Lello! This place is a true masterpiece, showcasing a one-of-a-kind blend of Neo-Gothic and Art Nouveau styles. It's so impressive that it's officially recognized as a "Monument of Public Interest" in Portuguese architecture. No big deal.
As soon as you approach the entrance, you'll be awestruck by the eye-catching central arch that leads into the building, surrounded by decorative windows and painted figures representing "Art" and "Science." The facade is also decorated with squares, pinnacles, and shapes painted in vivid colors that pop against the white paint. It's like something out of a fairytale, but better because it's real!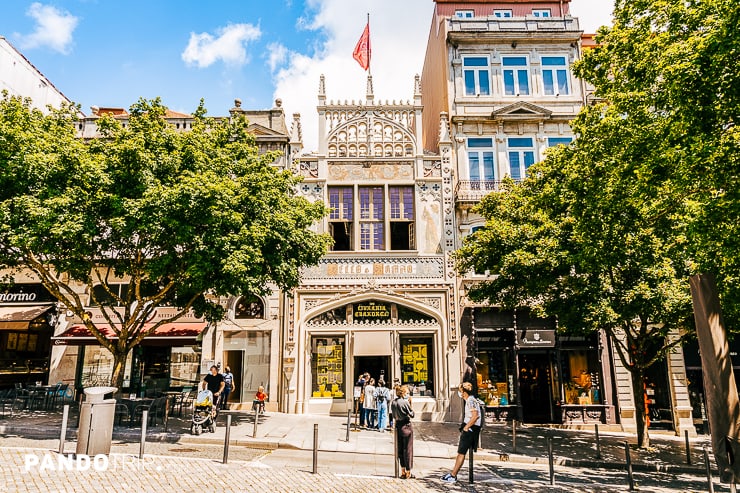 Once inside, you'll be wowed by the opulent interior, designed by Xavier Esteves. The two floors boast several standout features, but the most photographed spot in the store is the magnificent staircase. This thing is a work of art, with sweeping curves and ornate details. In fact, it's often considered one of the most beautiful staircases in the world. How's that for fancy?
But that's not all, my friend. You'll also be blown away by the huge 8×3.5 meter (26 ft × 11 ft) stained glass window. Its vibrant and colorful design is a true masterpiece, and in the center, you'll find the store's motto "Vecus in Labour" meaning "Dignity in Work." And if you're not already feeling fancy, the interior is also adorned with intricate wooden paneling and carved wooden bookcases, creating a warm and inviting atmosphere that's perfect for browsing books.
So, whether you're a lifelong book lover or simply appreciate beautiful design, a visit to Livraria Lello is sure to be an experience you won't forget. Just don't be surprised if you leave feeling like royalty.
The History of Livraria Lello
Livraria Lello is a bookstore in Porto that has been around for over a century, making it one of the oldest bookshops in the city. Here's a brief history of this place:
Late 1800s: The Lello brothers, António and José, decide to start a book publishing and sales business, probably because they wanted to bring some excitement to the world.
1906: Livraria Lello & Irmão officially opens its doors to the public, introducing the world to its eclectic collection of books and stationery. The interior is designed by Xavier Esteves, an architect with a flair for the dramatic.
1920s-1950s: Livraria Lello becomes the place to be in Porto, hosting cultural events like lectures and poetry readings, and attracting intellectuals, artists, and other members of the cultural elite. People flock to the store to indulge in their literary passions and to be seen with the cool crowd.
1991: J.K. Rowling comes to Porto to teach English following her mother's passing. She lives there for two years, gets married, has a daughter, and writes the first three chapters of the famous "Harry Potter and the Philosopher's Stone" book.
1997: "Harry Potter and the Philosopher's Stone" is published, sending the world into a magical frenzy.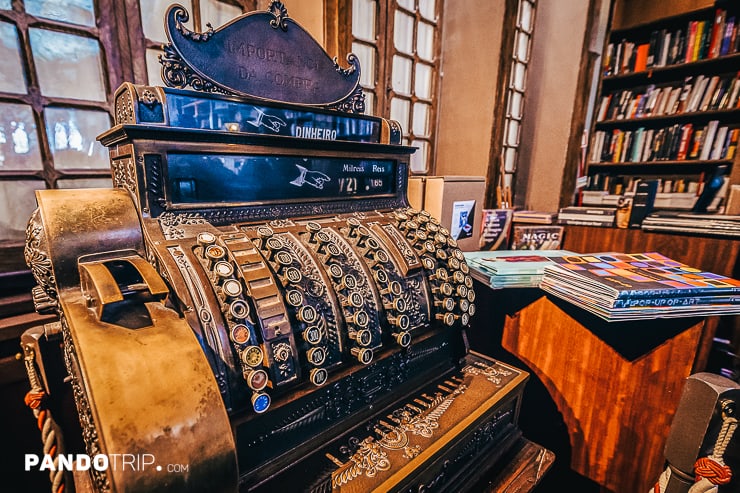 Early 2000s: Livraria Lello starts getting more and more attention from tourists, who are drawn to its association with the Harry Potter books. The store becomes a mecca for fans of the series, who come from all over the world to take selfies with the staircase and imagine themselves walking in the shoes of their favorite wizards.
2006: Livraria Lello celebrates its 100th anniversary, a huge milestone for any business, let alone a bookstore.
2013: Livraria Lello receives official recognition as a monument of public interest by the General Directorate of Cultural Heritage, solidifying its place in history.
2015: The store introduces an admission fee to help manage the high volume of visitors and maintain the historic building. Despite the fee, Livraria Lello remains one of the most popular tourist destinations in Porto, with people willing to pay to experience its magic.
Late 2010s: Livraria Lello undergoes a comprehensive restoration to preserve and restore the historic building, ensuring that it will be around for generations to come.
2020: J.K. Rowling tweets that she has never visited Livraria Lello bookshop and never knew of its existence, but thinks it's beautiful.