Located in Upper Bavaria, just an hour away from Munich, Sylvenstein Lake (or Sylvenstein Dam) is one of the most exciting sites in the Isar Valley. Even in Bavaria, which has so many beautiful lakes, Sylvenstein Lake can not be overlooked. It resembles one of those famous Canadian lakes surrounded by mountains.
Why go there?
There are lots of things to do throughout the year. For example, you can go hiking, swimming, take photographs or go mountain biking. Another great lake, Walchensee, is just a few kilometers away, so you can easily visit both in one day. What's more, one of the most beautiful castles in Germany, Neuschwanstein Castle, is less than two hours drive from Sylvenstein Lake.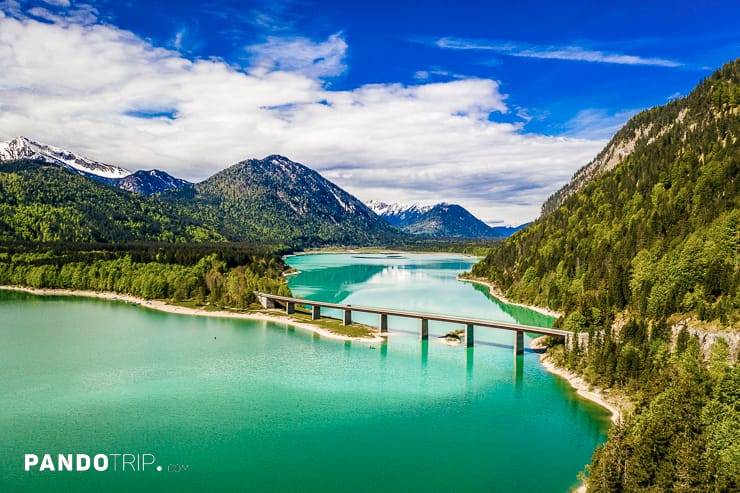 History of Sylvenstein Lake
It's hard to believe, but Sylvenstein Lake is a man-made lake. Even harder to believe, is that it was done not for aesthetic reasons. Built in 1954-1959, the dam helps to protect the area from flooding. Managing the level of water is extremely important in spring when snow from the surrounding mountains starts melting. In addition to its "protection services", the lake also produces hydropower.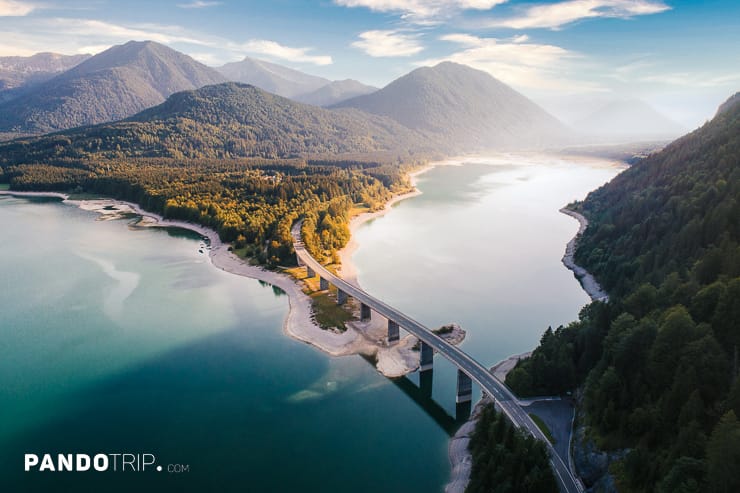 Things to do at Sylvenstein Lake
The remarkable area provides a variety of activities for everyone.
Hiking or Walking. Karwendel mountains around the lake provide plenty of hiking options. It doesn't matter if you're a novice or expert hiker, you can find a trail that suits your level. Check out this link to find possible routes around Sylvenstein lake. If hiking is not your cup of tea, you still can appreciate the beauty of the scenery. Just stroll around the lake and enjoy the panorama of the Karwendel Mountains.
Take Photos. The area is one of the most photogenic in Germany. You can take amazing images from almost every angle. To capture the entire beauty of the lake use a drone or climb up the mountains a little bit.
Take a Swim. Swimming is possible in Sylvenstein Lake, but as it is located 750 meters above sea level the water can be chilly. However, during a hot summer, it could be a very refreshing experience.
Mountain biking. The area is also popular among mountain bikers and there are many MTB trails. Check out this link for more information.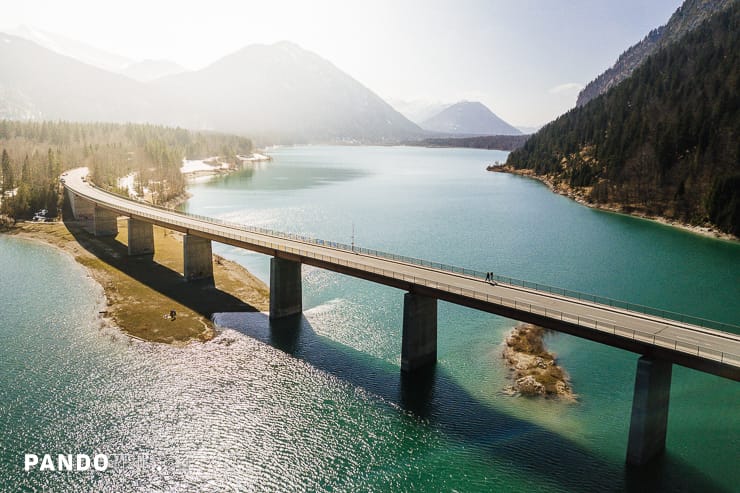 Best time to visit Sylvenstein Lake
There's no best time to visit Sylvenstein Lake, as different seasons offer different experiences. When it's cold, the frozen lake with snow-covered mountains behind will make you want to sing Michael Buble's "Winter Wonderland". The changing colors of the leaves paint the entire area in red, yellow and brown during the fall, and in summer, feast your eyes on the turquoise water and greenery around.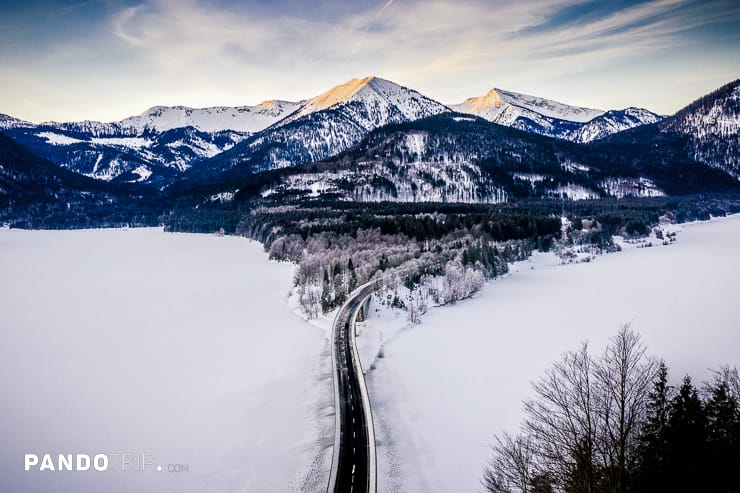 Places to stay near Sylvenstein Lake?
If you are considering staying overnight at Sylvenstein Lake, you have a couple of options. Located just 200 meters from the lake, Jäger Von Fall Hotel is a great choice. The hotel offers a sauna, a garden and a terrace for guests, so it's a nice place to relax after hiking around the lake.
Another option is Gasthaus Faller Hof am Sylvensteinsee Bed & Breakfast. It's cheaper, but also has a nice garden and a terrace.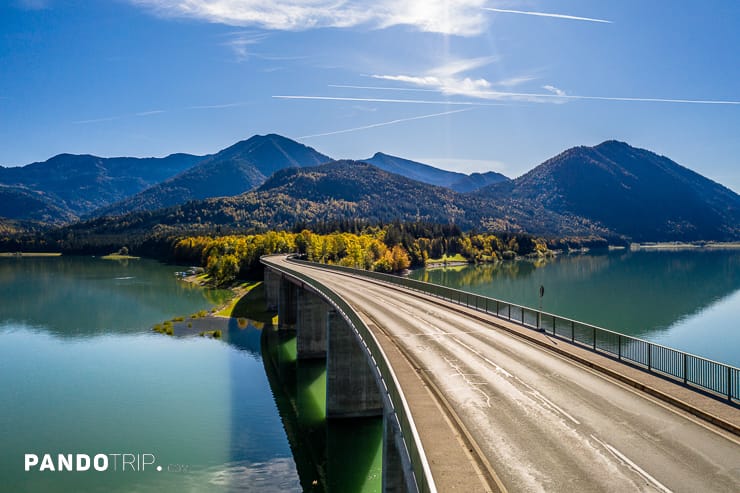 How to get there?
The best way to visit Sylvenstein Lake is by car or motorbike. The windy mountain roads make it a popular destination for bikers. I would recommend taking the German Alpine Road, which is the most beautiful and oldest tourist route in Germany.
Coordinates for your GPS device: 47.579349866110235,11.544034883355451 and here is a link to the map of Sylvenstein Lake