The larger, more well-known cities in Italy such as Rome, Milan and Venice are often the ones travelers plan to visit first.That's understandable as they're well publicized and full of interesting unique sites that attract tourists in their millions.
Don't venture any further than the big cities though and you'll be missing out on discovering what is the true essence of Italy. That essence can only be found in the smaller towns and villages where life goes on at a completely different pace.
Whether you're staying in the north or south of the country, take a drive or bus ride along the coast and you'll discover characterful Italian fishing villages. They are places where you'll come across fishermen sitting on the harborfront mending their nets or selling the catch of the day to the locals as they have done for centuries.
Venture inland and you'll find sleepy Italian mountain towns with such peaceful atmospheres it really does seem as if time can stand still. That peace, even in quaint Italian villages and towns, doesn't last for long. The illusion is usually shattered by the tolling of a church bell or the barking of a street dog as it wakes from its afternoon siesta to chase a cat across the village plaza.
Where Are The Prettiest Towns and Villages in Italy?
No matter what part of Italy you travel to there'll be a small town or village not too far away that will be worth taking time out to explore. Detailed below are some of the best towns and villages in Italy that you won't want to miss if you're staying anywhere near them. There's also a map where you can check out the exact location of all the places that have been handpicked and listed here for you.
1. Positano, Amalfi Coast
Population – 3,950
Positano is a coastal village around sixty miles south of Naples that occupies a sheltered bay backed by mountains. In Positano pastel colored houses cover the steep hillsides in tiers adding a touch of manmade beauty to that created by nature's hand.
The only way to explore the winding streets of this village on the Amalfi coast is on foot, but it will test your calf muscles. Once you've climbed up to the Church of Santa Maria Asunta to take in the spectacular views of the Gulf of Salerno, have a stroll along the shingle beach and treat yourself to a plate of seafood in a waterfront restaurant.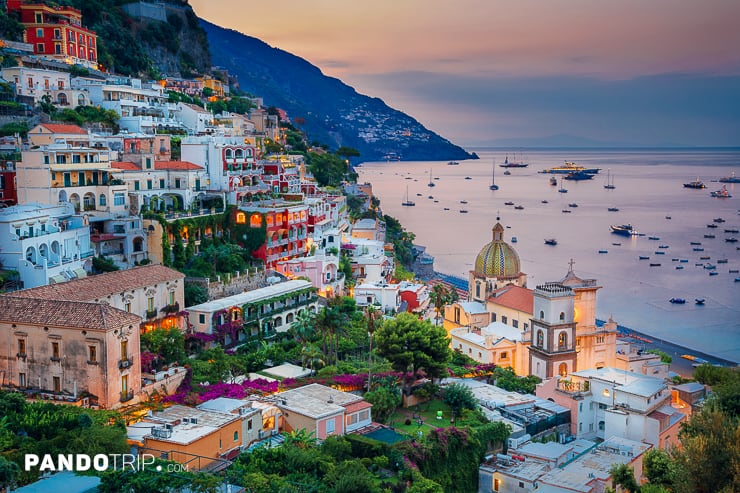 2. Riomaggiore, Cinque Terre
Population – 1, 540
Riomaggiore is located on Italy's northwest coast midway between the cities of Genoa and Pisa and is one of the cluster of five medieval Italian villages that make up the UNESCO World Heritage Site, Cinque Terre. The houses of Riomaggiore are built on the sheer cliff sides overlooking a miniscule bay where the local fisherman anchor their boats. It's a picturesque setting that's been in existence since the 13th century.
If you're not planning on hiking the Via dell'Amore, the coastal path which connects Riomaggiore to neighboring Manarola, don't miss heading down the village main street, finding a sidewalk terrace and trying some of the locally produced Riomaggiore wine.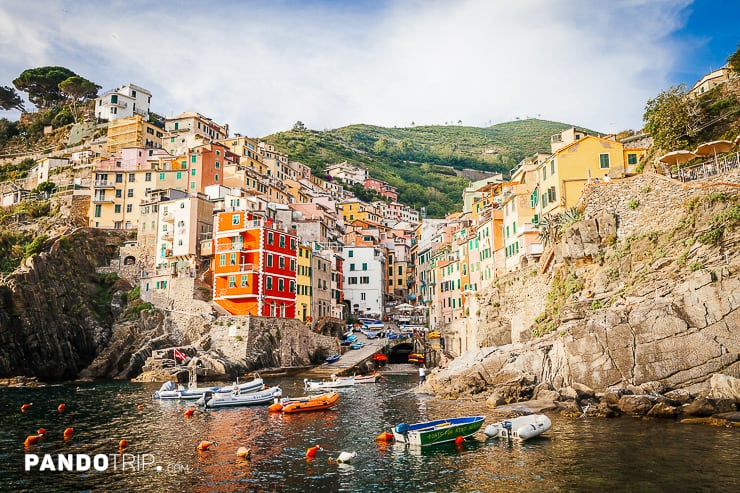 3. Polignano a Mare, Puglia
Population – 18,000
Polignano a Mare is one of the small towns in Italy by the sea that's as much a must-visit for historians as it is for beach lovers. Polignano a Mare is in the Puglia region between the port cities of Bari and Brindisi on the country's southeast coast.
Polignano a Mare's outstanding features are the stunning white cliffs of the Ponte dei Lapilli cove, its sheltered white pebble beach, its Roman era viaduct and the nearby Benadictine monastery, San Vito Abbey with its belltower dating from the 16th century.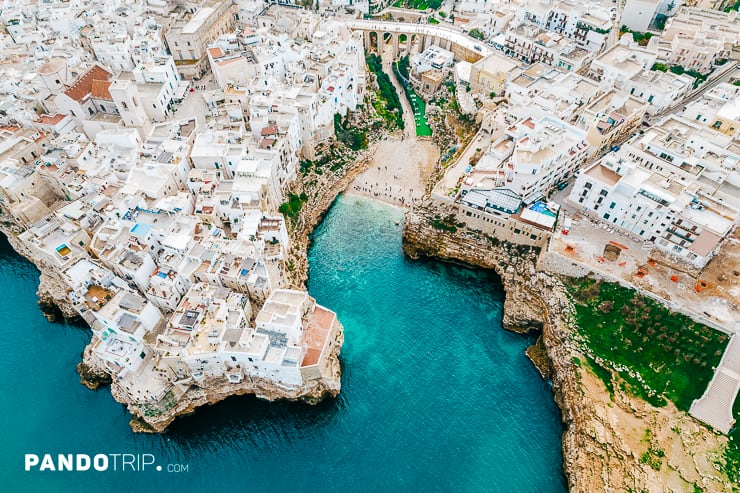 4. Orta San Giulio, Piedmont
Population – 1,260
High up in the northern Piedmont region of Italy, Orta San Guilio is as close to the Swiss border as it is to Milan. Almost an island, but not quite, this Italian mountain town is built on a peninsula which juts out into Lake Orta. A more scenic place would be hard to find.
Orta San Guilio is a peaceful spot favored by artists and writers for its natural beauty and tranquility. A popular activity here is taking the boat from the waterfront town square across the lake to the even more picturesque island of San Giulio where there's a historic basilica. If you're looking for creative inspiration, you'll find it here.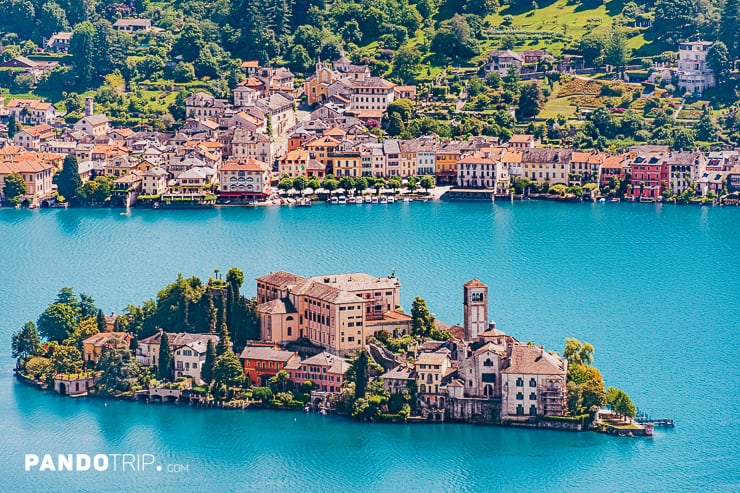 5. Bellagio, Lake Como
Population – 3,820
Bellagio is a mountain town in Italy around an hour and a half's drive north of Milan with a real wow factor. Why? Bellagio occupies part of the southern shore of Lake Como so is fronted by a superb stretch of water and backed by incredible alpine scenery that is, for want of better words, absolutely breathtaking.
Bellagio is also renowned for its elegant architecture, and cobbled streets lined with cafeterias, restaurants and boutiques. It may be something of a tourist trap but what tourist doesn't mind being entrapped by a town as beautiful and captivating as Bellagio is?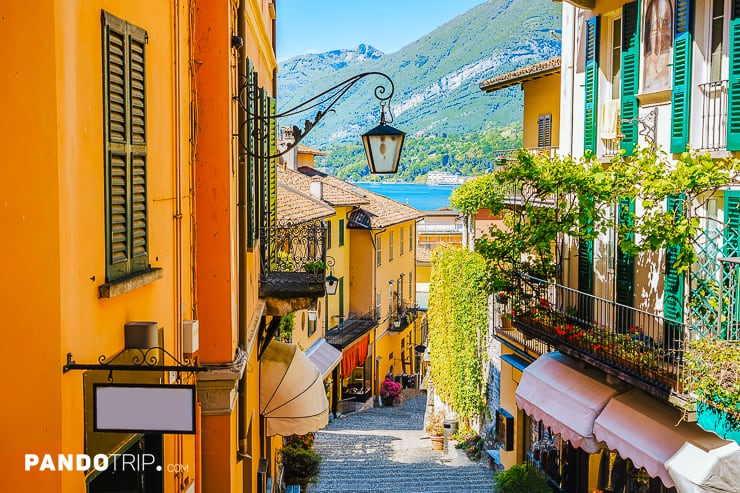 6. Spello, Umbria
Population – 8,580
Spello is a medieval mountain town in Italy with all the attributes of a proverbial time capsule. Located at the base of Mount Subasio, not far from the better known town of Assisi in central Italy, Spello is around two hours drive north of the Italian capital, Rome.
Set out to explore Spello and you'll discover a town that hasn't superficially changed for centuries. Wander the streets and you'll be walking past houses built from locally quarried stone decked with colorful plants in terracotta pots, you'll encounter Roman ruins from the first century BC and come across more churches with elaborate frescoes than a town of this size probably really needs.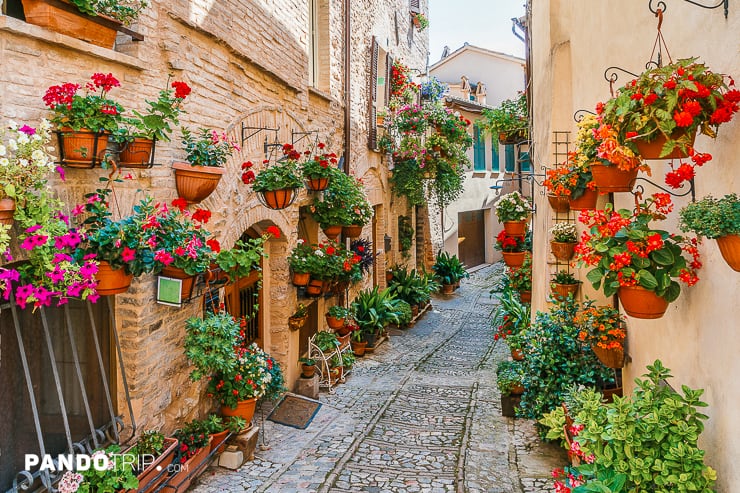 7. Limone sul Garda, Lake Garda
Population – 1,165
If you're seeking to find an Italian out-of-this-world paradise, look no further than Limone sul Garda. Limone may translate to lemon in English, but there's nothing of the bitter fruit about this stunning location on the northwest shore of Lake Garda.
Limone sul Garda is a little piece of heaven that dropped down to occupy a space on earth and basically acquired its acidic name because it's a great spot for growing citrus trees. It's also an ideal place for outdoor activities like cycling, hiking and just chilling on the beach.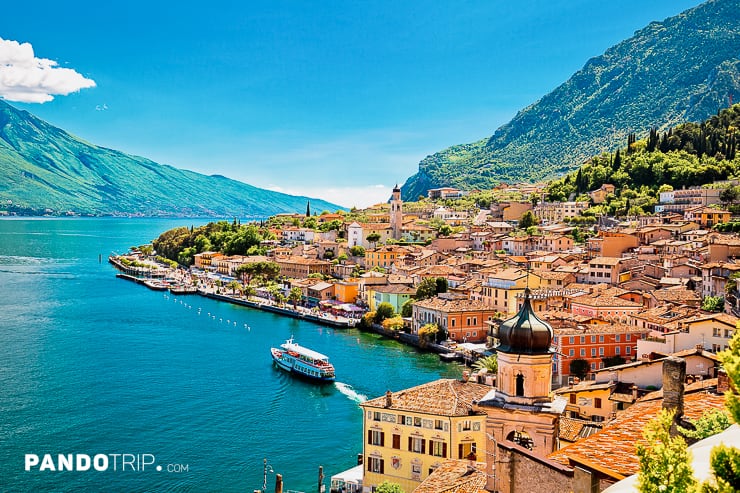 8. Tropea, Calabria
Population – 6,360
Tropea is a medieval town located almost on the very tip of Italy's boot-shaped southwest coast. It's an Italian town that stands out from the others because everything apart from the sea, the cliffs, the beaches and the houses, are all outstandingly white.
The historic center of Tropea sits high up on a craggy limestone hill peppered with caves and overlooks the crystal waters of the Gulf of Saint Euphemia. It's a part of Italy that's become known as the Coast of the Gods and not without good reason. Tropea was also recently awarded the accolade of prettiest village in Italy so is a definite must visit when you're in the vicinity.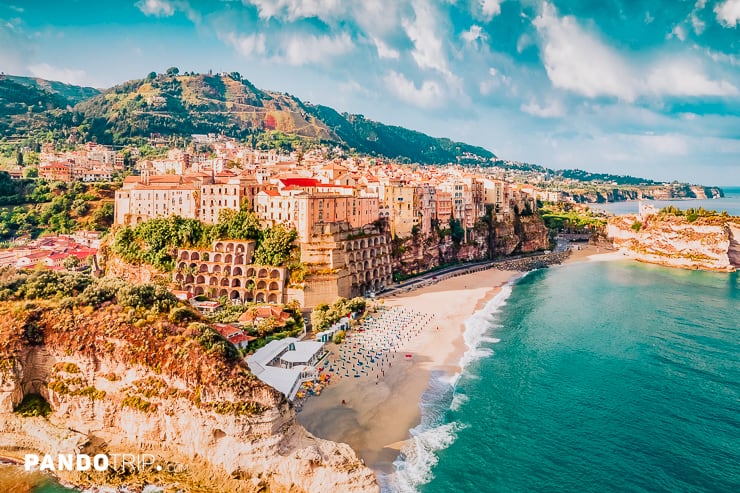 9. Manarola, Cinque Terre
Population – 350
Manarola is the second smallest village in the group that makes up the UNESCO World Heritage Site of Cinque Terre. While it may lack size and population, less than four hundred people live there on a permanent basis, it's certainly not lacking in eye appeal.
Built on the side of a cliff that backs a small bay, Manarola is connected by coastal trails to both Riomaggiore and Corniglia. It would be nigh on impossible to be there without taking time to hike to both. Stop in between to enjoy a lunch of fresh fish at a restaurant in the piazza or go for a refreshing swim in the bay. The water is deep and perfect for free diving.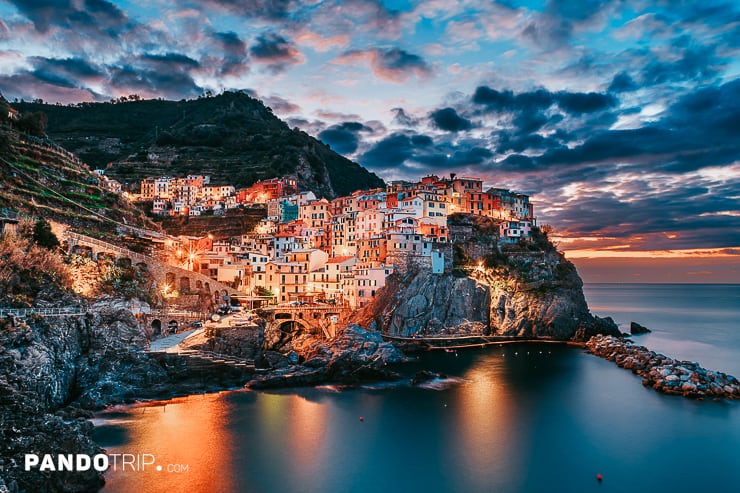 10. Alberobello, Apulia
Population – 10,730
When you want to see something completely different from scenic, cliffside coastal villages you need to visit the Italian mountain town of Alberobello. Alberobello is in the Apulia region of the country which lies inland between the cities of Bari and Brindisi and is famous for its unusual houses.
While there are a few square houses in Alberobello, the majority are circular and topped with conical-shaped thatched roofs. Originally built as temporary homes for agricultural workers, the trulli have now become a permanent fixture of the Apulian landscape and are a designated UNESCO World Heritage Site.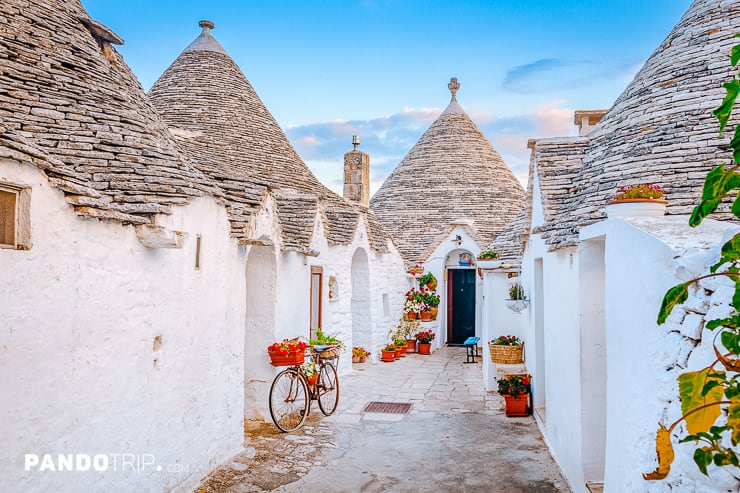 11. Montefalco, Umbria
Population – 5,625
Montefalco is an Italian mountain town around a hundred and fifty kilometers north of Rome that has become renowned for its wine culture and pristinely maintained historic buildings. Set out to explore Montefalco and you'll come across buildings like the 13th century Palazzo Comunale that look so new they could have been built yesterday.
Wine has been an integral part of Montefalco's culture since medieval times and it's here they produce wine from Sagrantino grapes, a native variety almost unique to the Umbria region of Italy. Montefalco is a must visit for all wine connoisseurs as is hiking or cycling the Sagrantino wine route through the vineyards and olive groves. Do that and you'll discover the real Italy.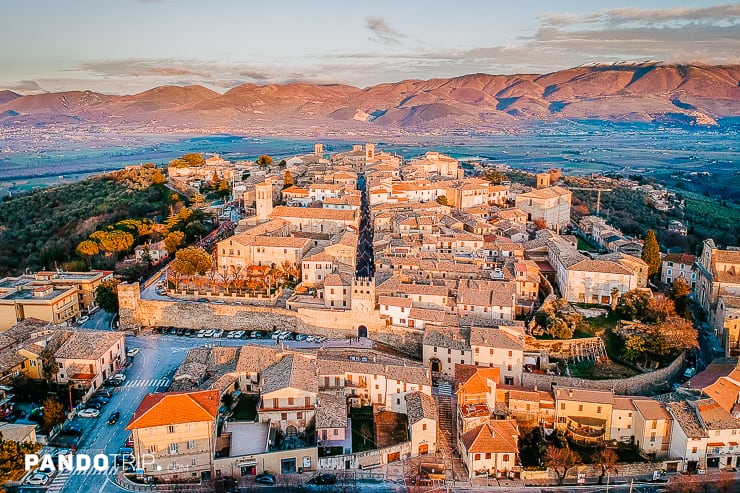 12. Chioggia, Veneta
Population – 49,750
Imagine Venice in miniature and you could be imagining Chioggia, a coastal town around fifty kilometers south of the famous City of Canals. Chioggia is located on an island completely surrounded by the Lagoon of Venice and intersected by several canals.
Cross over the causeway that connects Chioggia to the mainland and you'll be in a town that's retained all of its Italian charm. Wander down the main street, the Corso Garibaldi then head for the harbor. There you can eat fresh fish on a waterfront where there are more fishing boats bobbing at anchor than gondolas waiting to take tourists for a ride.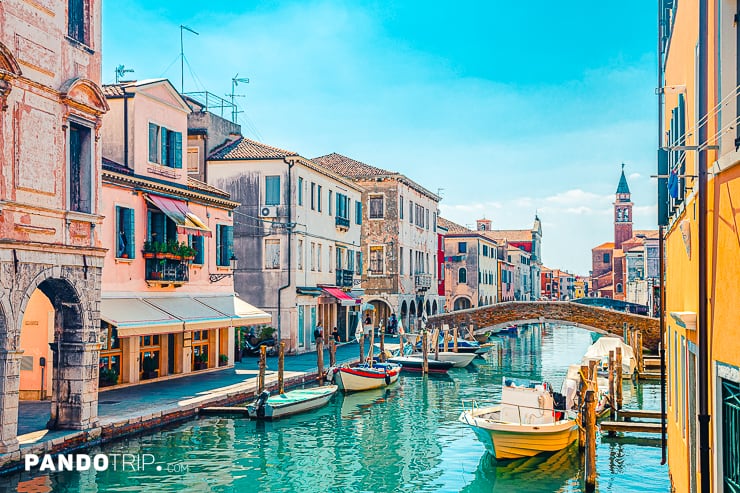 13. Monteriggioni, Tuscany
Population – 9,600
Monteriggioni is a medieval town in the Tuscany region of the country, about sixty kilometers south of Florence, and one that isn't just visited by avid historians. After the town was featured in Assassin's Creed II and Assassin's Creed Brotherhood fans of the games head there too to see the digital become reality.
Built by the Sienese as a fortification during the 13th century war against Florence, Monteriggioni sits on a hilltop and is totally encapsulated by a high stone wall. Very little has changed there over the centuries and the houses built by the Tuscan nobles still line the streets and piazzas. See aerial photographs of Monteriggioni and you'll begin to realize just how well conserved this medieval Italian town really is. When you do, you'll begin to wonder why it isn't a UNESCO World Heritage Site.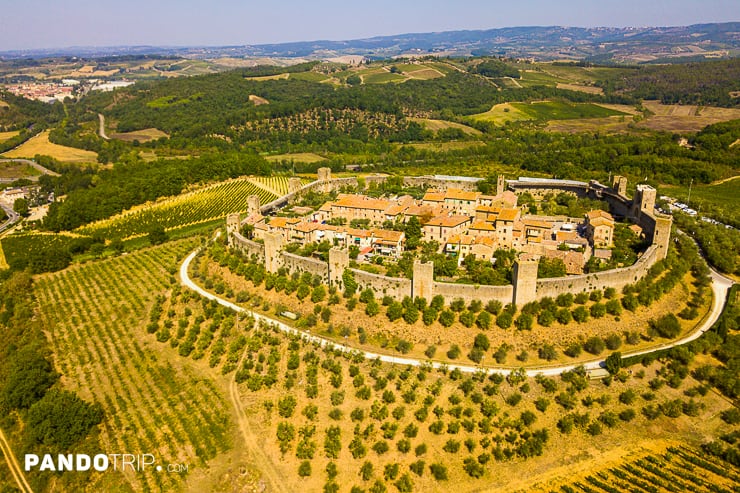 14. Vernazza, Cinque Terre
Population – 1000
Vernazza is probably the most outstanding of the five villages that make up Cinque Terre. In Vernazza the colorful houses are stacked tight against the cliffs that encircle the sheltered bay at their base and overlooked by the, somewhat gloomy, tower of the Doria Castle ruins.
Vernazza is a village that's been in existence, in one form or another, since the late 11th century. That existence has often been precarious. In bygone days, the village suffered raids from pirates, and in modern times, extensive damage from landslides. So far, it's still holding strong, but make sure you go to see it as you never know what looming catastrophe might finally cause its demise.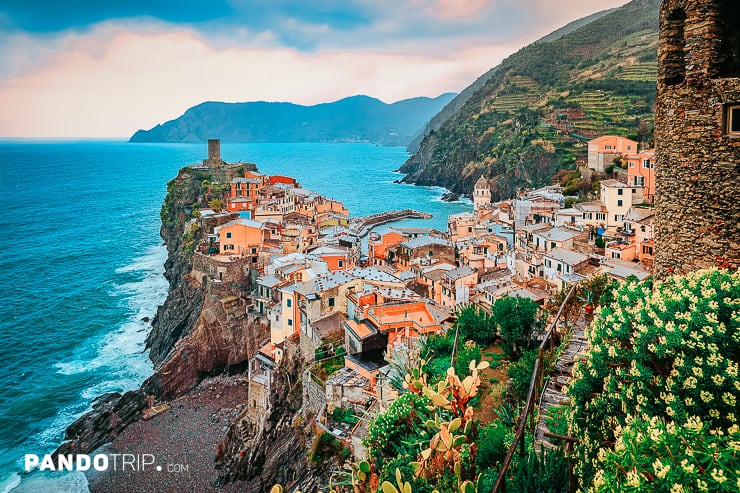 15. Portofino, Italian Riviera
Population – 425
Portofino is a picture-postcard-perfect fishing village on the Italian Riviera and if you're staying in nearby Genoa, a place you won't want to miss visiting. The village curves around a small bay and is fronted by a sandy beach lapped by the gentle waves of the Ligurian Sea.
While this may be an Italian fishing village, it's not just blue and white fishing boats that get moored here. Portofino attracts the wealthy and is a popular anchoring point for those who love to sail the Mediterranean in a class of boat called super-yachts. It's an unusual contrast, but one that's worth going out of your way to see.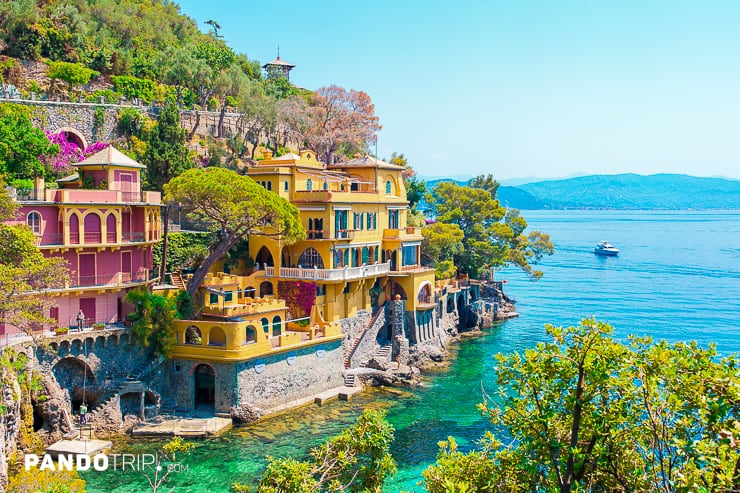 16. St Magdalena, Dolomites
Population – 370
St Magdalena is a remote mountain village in Italy that's tucked away at an altitude of over one-thousand three hundred meters in the South Tyrol in the north of the country. Closer to the Austrian border than it is to Venice, St Magdalena is situated in the Val di Funes and surrounded by some of the most dramatic scenery in Italy.
The craggy peaks of the Dolomite Mountains rise up behind St Magdalena like the spires of a Gothic cathedral. If Antoni Gaudi had needed natural inspiration for the Sagrada Familia, he would have found it here. For hiking in pollution free air during the spring and summer or for cross-country skiing in winter, it's unbeatable.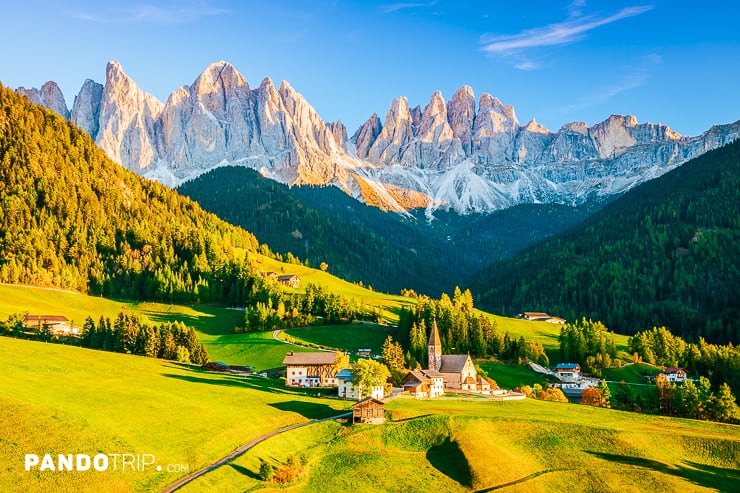 17. Atrani, Amalfi Coast
Population – 860
Atrani is one of the towns on the Amalfi coast of Italy that still, pretty much, remains undiscovered by mass tourism. An hour's drive south of Naples, sea-facing and backed by stunning white limestone cliffs, Atrani is a true gem of a place that's overloaded with character.
From the Piazza Umberto, the town square, to the seafront and beach, Atrani is one hundred percent Italian. Here you can soak yourself in an Italian seaside resort atmosphere that has nothing to do with international travelers. These days that's a rare thing so make the most of it.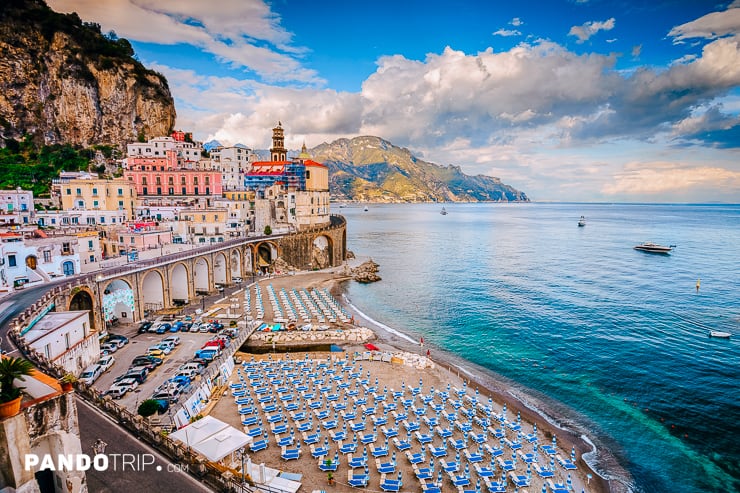 18. Erice, Sicily
Population – 28,000
Mountain towns in Italy don't get much more medieval than Erice on the island of Sicily. Erice has spread out like a cloak around the side of Mount Erice and is overlooked by the forbidding Castle Venere.
While lower parts of the town are more modern, Erice's historic nucleus,where stone buildings line dark, and narrow cobbled streets, is pretty much as it was back in the 12th century. Don't skip heading up to the heights of the castle walls to look out over the Sicilian countryside from the Erice viewpoint. You'll feel just like a knight of old did when watching for approaching marauders.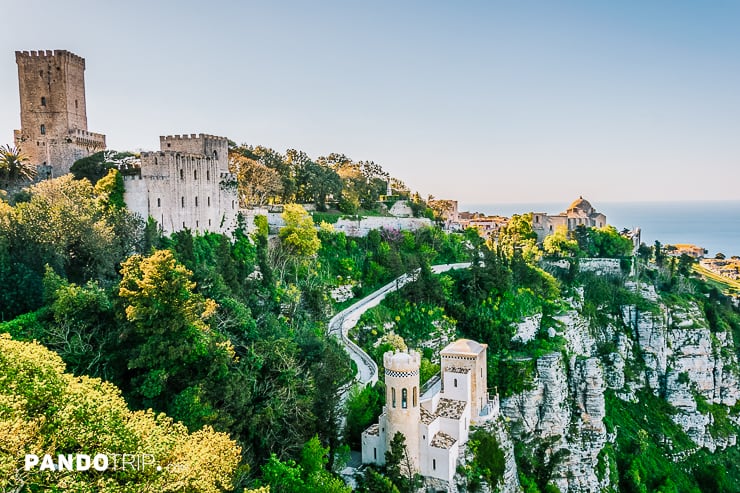 19. Castelmezzano, Basilicata
Population – 790
Castelmezzano is another medieval hillside village that was built on a vantage point to serve as a fortress against attack. Today, it's a quieter and more peaceful place adorning the Italian countryside and one that can rightfully lay claim to being one of the prettiest villages in Italy.
Castelmezzano occupies a relatively remote location in the Valley of Basento below the stark gray peaks of the Dolomiti Lucane Mountains. The closest city is Bari which is a hundred and fifty kilometers to the east. It's the perfect place to escape to when you want to combine sightseeing with some exciting hiking.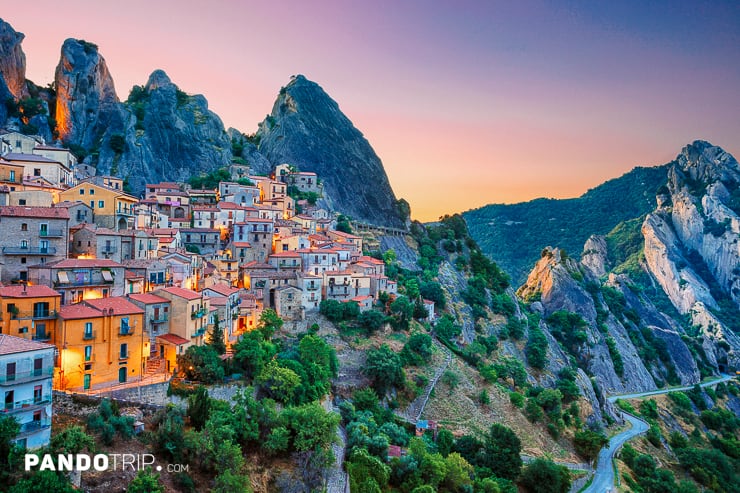 20. Pitigliano, Tuscany
Population – 3,795
Pitigliano is an imposing town built on top of a volcanic butte that rises over three-hundred meters above the Tuscany landscape. Originally inhabited by an ancient civilisation known as the Etruscans, then by the Romans, Pitigliano is rich in history.
Pitigliano has historically been known as Little Jerusalem, not because of any physical resemblance to the holy city, but because this town was a refuge for Jewish people both in the 16th century and the 20th. One of the town's main points of interest is the Jewish ghetto and synagogue which date from the earlier era of persecution.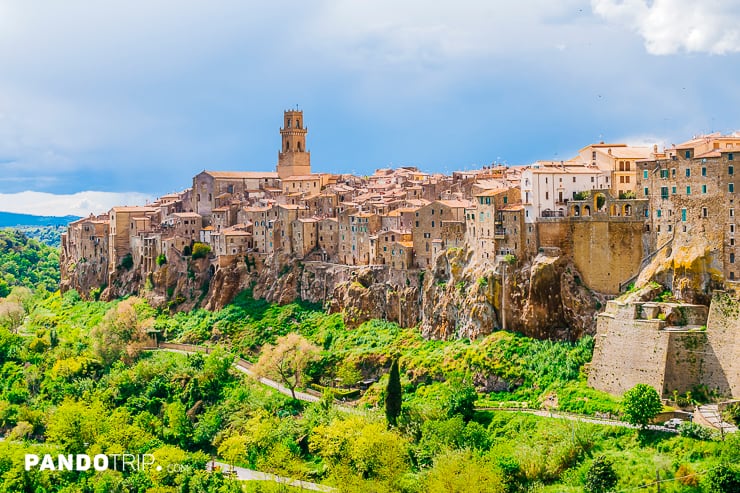 21. Cefalù, Sicily
Population – 14,300
Cefalù, on the island of Sicily, is a town that clings to the coastal cliffs like a barnacle to a ship's hull. This town is dominated, not by its twin-turreted Norman cathedral, but by the immense buttress of rock which rises behind it. It's impressive to say the least.
The buttress is known as the Promontory of Hercules and on top of it is a 9th century BC temple dedicated to the goddess, Diana. Of interest in the town itself are the stone steps leading to an ancient wash house which the womenfolk of Cefalù have used for centuries to do the family laundry.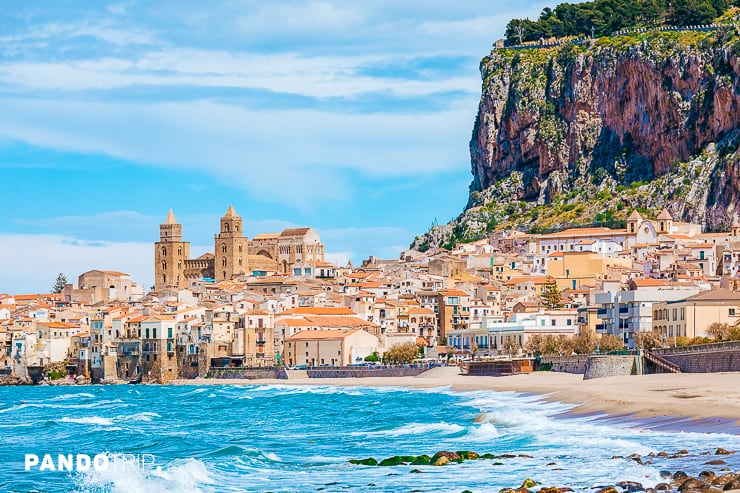 22. Bosa, Sardinia
Population – 7,900
Bosa on the Italian island of Sardinia has to be one of the most colorful towns in all of Italy. There's not one house there that's not daubed in an eye-catching hue that seems to get brighter the sunnier it is.
Bosa is located on Sardinia's northwest coast around two hours drive north from the island's capital, Cagliari and occupies terrains on both banks of the River Temo. Bosa's main attractions are its historic district full of winding streets, the 12th century Malaspina Castle and the Malvasia wine produced from the vineyards around the town.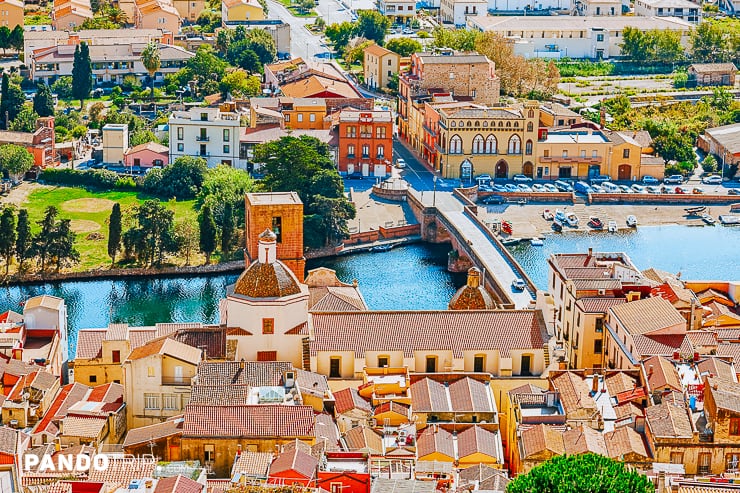 23. Sorano, Tuscany
Population – 3,380
Ask a child to sketch a medieval mountain town and they'd probably come up with something that looked like Sorano. Sorano is a town where the gray, square-shaped stone houses rise tier upon tier against the hillside. It may not be the prettiest medieval town in Italy, but it is an interesting one.
Sorano is in many ways similar to Pitigliano and has a history that dates back to the time of the Etruscans. Of architectural interest here are the two gates,the Porta di Sopra and the Porta dei Merli, that grant access to the historic center, and the Orsini Fortress which houses a museum.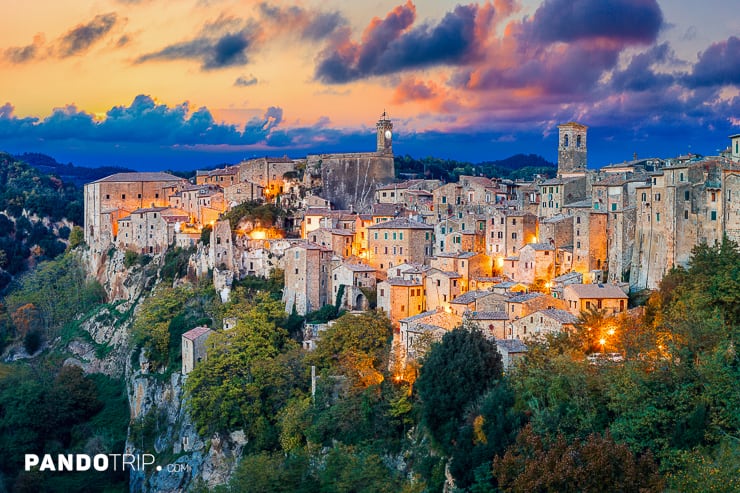 24. Varenna, Lake Como
Population – 800
Varenna is a mountain town in Italy in one of the most idyllic settings imaginable. Located on the eastern shoreline of Lake Como in the very north of the country, Varenna is closer to the Swiss border than it is to Milan, the nearest large Italian city.
With Lake Como in front and the peaks of the alps rising behind it, Varenna easily surpasses any scenic description in existence. If you can manage to tear yourself away from the lakefront, a hike up to the Castello di Vezio will prove to be rewarding.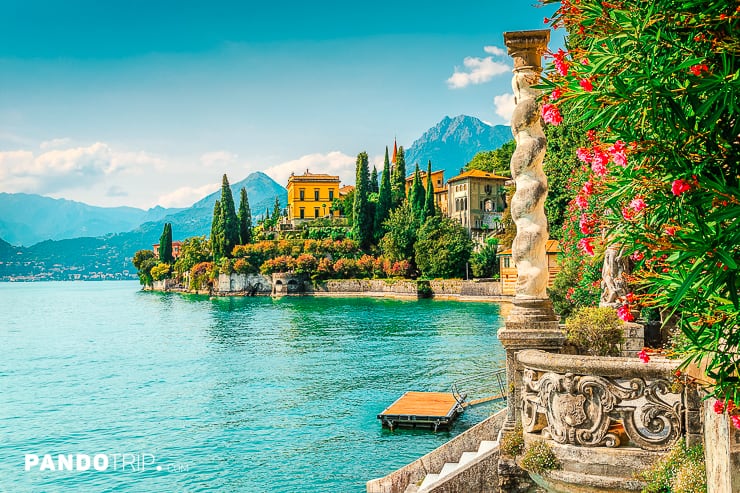 25. Gallipoli, Apulia
Population – 31,850
Gallipoli is a large coastal town in the south of Italy that occupies part of the mainland and an island just offshore which can be accessed via a 16th century-built bridge.The island area is where the town's historic district is located. Explore there and you'll find an immense 14th century fortress and a huge 17th century Baroque cathedral. Even if you speak fluent Italian, you might not understand everything that's said here as it's one of the few places which continue to use a Greek-derived dialect known as Griko.