Are you ready to hear about a natural wonder that will leave you dazzled? Look no further than White Sands National Park in southern New Mexico, home to the largest gypsum dune field in the world, stretching over 275 square miles (710 square kilometers).
The White Sand Desert is an extraordinary sight that you won't forget anytime soon. The fine gypsum sand sparkles in the sun, creating a stunning contrast against the bright blue sky. It's almost as if you're walking on a massive bed of diamonds that's been spread out over the ground.
The gypsum desert is a rare natural wonder because gypsum is a special type of sand. It's not like the sand you find at the beach, which is typically formed from minerals like quartz or feldspar. Instead, gypsum is typically found in sedimentary rock formations and is made from evaporated water containing dissolved gypsum. That's why the gypsum dunes in White Sands National Park are such a unique and rare natural wonder.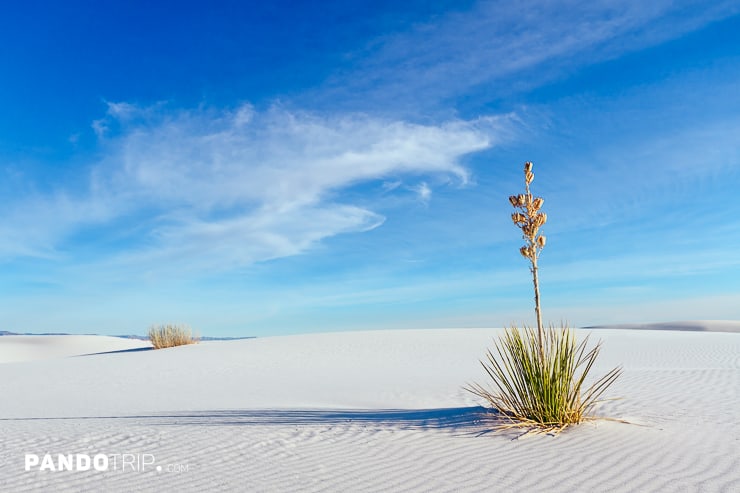 The Formation of the Gypsum Dunes
The white desert in White Sands National Park was created over a long period of time. Around 250 million years ago, a shallow sea left behind a soft mineral called gypsum. Over time, the layers of gypsum were uplifted into a dome-shaped mountain, but eventually, the mountain collapsed due to erosion. The gypsum then broke down into small pieces that were carried by streams and formed into dunes by strong winds. Today, these dunes are constantly moving and changing shape due to the wind, creating a constantly evolving landscape that is both beautiful and fascinating to observe.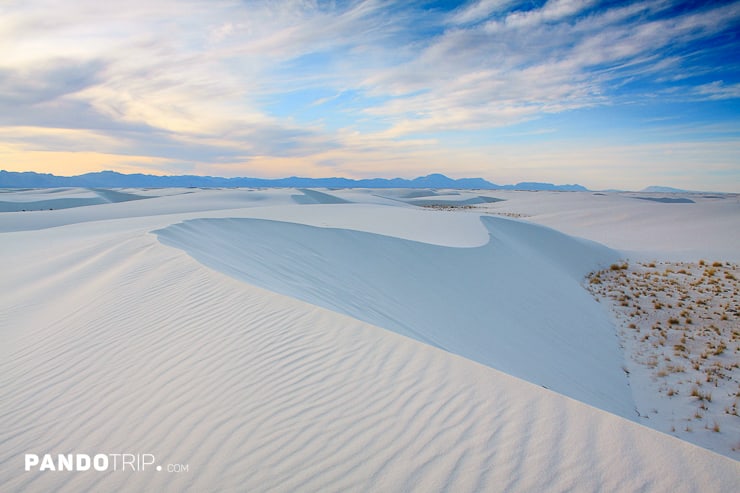 White Sand, Soldiers and Bombs
One of the most interesting things about White Sands National Park is that it's entirely surrounded by the White Sands Missile Range, which is one of the largest military installations in the United States. It's like a giant sandbox for the army, but instead of building sandcastles, they shoot missiles.
And have you ever heard about the atomic bomb? You know, that massive weapon that's always threatening to destroy the world in movies? Well, the the first-ever detonation of an atomic bomb took place at Trinity Site in White Sands Missile Range, only 60 miles north of White Sands National Park. You can actually visit the birthplace of the atomic bomb, but keep in mind that it's still located within an active missile test site. That's why visits to the site are only permitted twice a year, in April and October. For more information about visiting Trinity Site, click this link.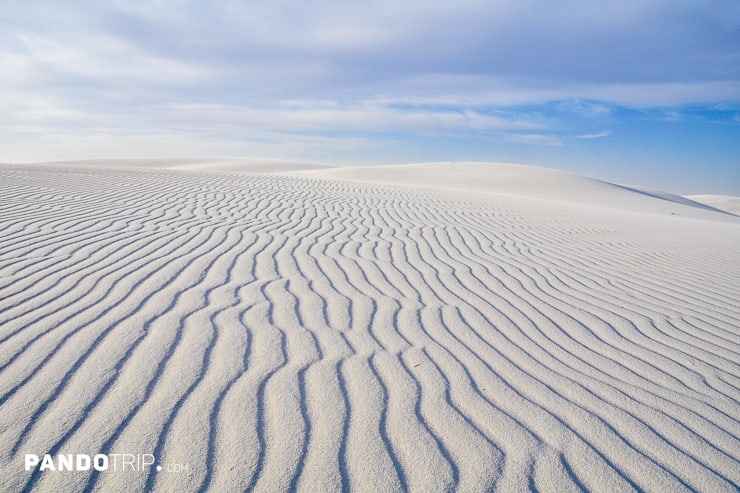 Visiting White Sands National Park
Are you ready to visit the White Sands National Park? Of course, you are! But first things first, let's talk about how to get there.
White Sands National Park is located in the Tularosa Basin between the Sacramento and San Andres Mountains of southern New Mexico. If you're coming from out of town, the closest major airport is in El Paso, Texas. Once you're there, the only way to get to White Sands NP is by car. So buckle up, baby, and let's go!
Before you hit the road, check out the park's opening hours. The park is open every day of the year except for Christmas, but the hours of operation vary throughout the year. Don't stress, though – just head to this link to check the exact times: https://www.nps.gov/whsa/planyourvisit/hours.htm
When you arrive at the park, you'll need to pay an entrance fee. It's $25 per vehicle or $20 per motorcycle, which is valid for seven consecutive days. And if you're rolling solo, it's $15 per person. You can also use The National Parks and Federal Lands Annual Pass if you have one.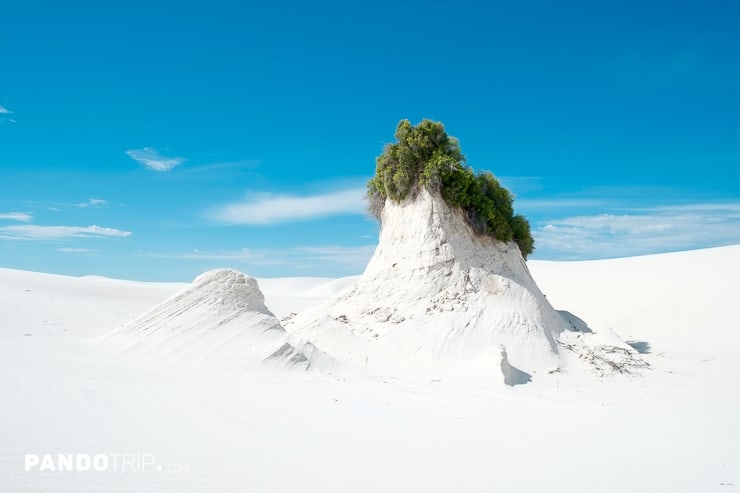 Things to do in White Sands National Park
Once you're inside the park, there are plenty of things to see and do. Here are some of our top picks that are sure to tickle your fancy:
Drive the Dunes Drive loop. Take an 16-mile (26km) round-trip drive that'll make you feel like you're in a car commercial. The road leads from the visitor center into the heart of the white desert. It's the only road in and out of the park, so there's no need to worry about getting lost. The best part? You don't even have to break a sweat by hiking.
Hike The Trails Through The Dunes. If you're up for a little bit of exercise, you're in for a treat. The park has five trails that'll take you through the gorgeous White Sands landscape. There are easy trails, difficult trails, and everything in between. Check out this link for a description of all the trails and choose the one(s) that will give you the biggest bang for your buck: https://www.nps.gov/whsa/planyourvisit/trails.htm. And who knows? You might just spot a coyote, a jackrabbit, or even a rare white lizard!
Go Sledding On The Dunes. Yes, you heard that right – sledding on sand. It might sound like an oxymoron, but trust us, it's a blast. You don't even have to wait for winter. The "sand" at White Sands National Park is actually gypsum, and it's as soft as fresh snow. Sand sledding is the most popular activity in the park, and it's the perfect way to relive your childhood memories. Bring your sled or buy one for $15 at the park's visitor center and have a thrilling ride down the dunes.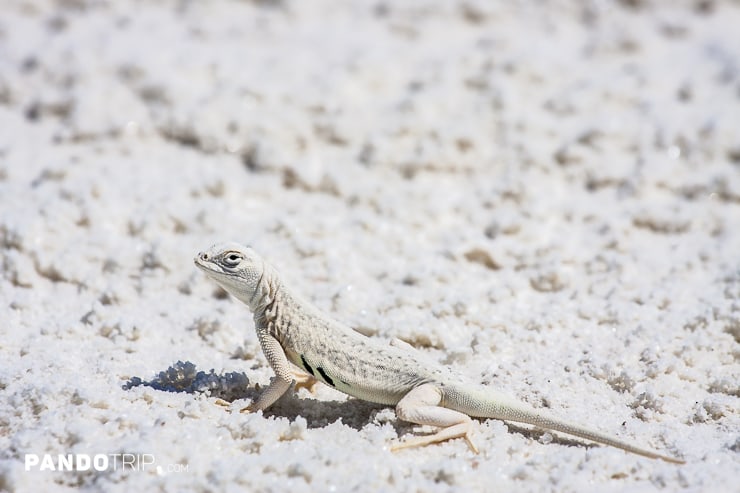 Have a Picnic. We know you're going to work up an appetite from all that hiking and sledding. So, take a breather and enjoy a picnic surrounded by white sand, feeling like you're in a scene from Aladdin. White Sands Park has three designated public picnic areas scattered throughout the park, with tables available on a first-come, first-served basis. But don't worry, there are plenty of tables to go around.
Take a photo of the dunes. Forget about Instagram filters; the natural beauty of White Sands National Park is all you need. Whether you're a seasoned pro or just starting, the dunes and mountains offer an endless supply of stunning photo opportunities. There's no one "iconic shot" location, so just go ahead and snap away.
Visit Lake Lucerno. Lake Lucero is often referred to as the birthplace of the dunes and it's located 15 ½ miles southwest from the visitor center. But there's a catch – you can only access it during ranger-led tours. It's like a super exclusive club that you can only get into once a month in January, February, March, April, November, and December. For more information about tickets, visit this link: https://www.nps.gov/whsa/planyourvisit/lake-lucero-tour.htm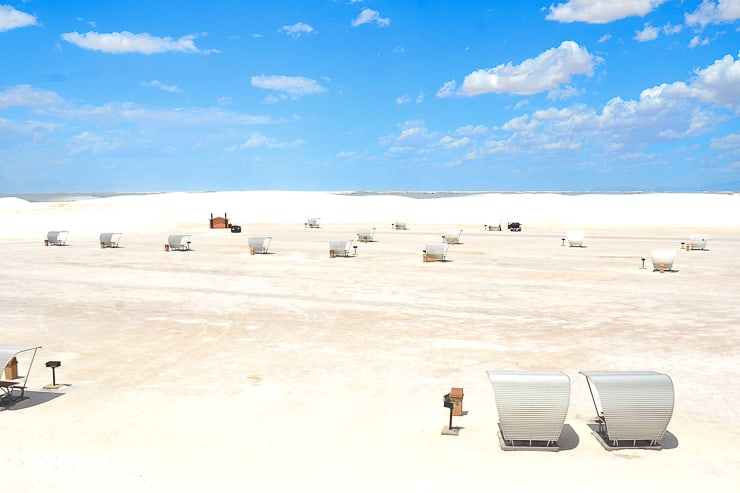 Best Time To Visit White Sands National Park
When's the best time to visit White Sands National Park? Honestly, anytime you can make it out there is a good time. But if you're looking for the optimal time to go, we recommend visiting between March and May. During this time, the temperatures hover around a pleasant 80 degrees Fahrenheit (27 degrees Celsius), and there's only about one rainy day per month, making it perfect hiking weather.
As for the best time of day to visit White Sands, the magic really happens in the evening hours leading up to sunset. During this time, the colors and textures of the landscapes all transform and create a truly special experience.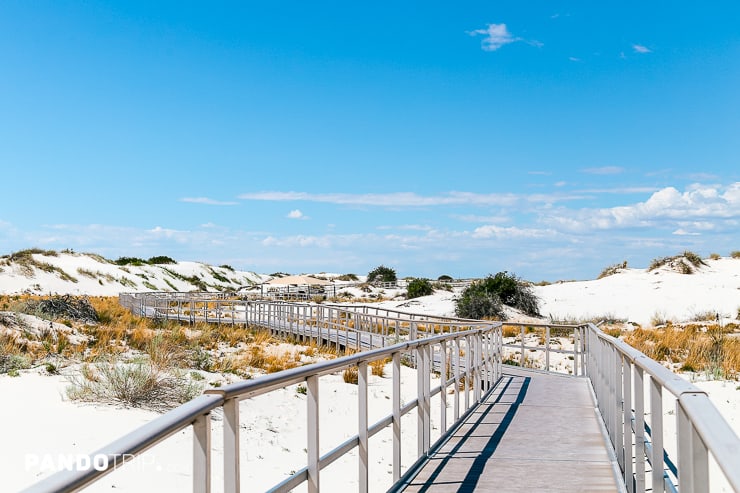 How Many Days to Spend in White Sands National Park
So, how much time should you budget for exploring the dunes? Well, for most people, a full day is enough to see and do everything. But if you're a photographer, plan to stick around for the latter half of the day when the colors start to change and the shadows deepen. The famously white sand will begin to reflect the color of the sky and it's like a whole new park.
Places To Stay In White Sands National Park
You can't sleep on the dunes (as tempting as that may be), so where can you stay? Unfortunately, there are no hotel or RV options within the park itself, but there are primitive camping sites available with a permit. But don't snooze on it because only 10 permits are available per day and it's first-come, first-serve. Check out the park's website for more deets on permits.
But if you're not a fan of camping it, no worries, the nearby city of Alamogordo has some options for you. We personally recommend Home2 Suites By Hilton Alamogordo because it's only a 20-minute drive away from the park and they've got an outdoor swimming pool, free WiFi, and air-conditioned rooms. Plus, who doesn't love a shared lounge for chillin'?