As winter loosens its icy grip, the world begins to awaken, and the magic of spring unfolds. This season of rebirth and renewal breathes new life into the landscape, as vibrant colors erupt and delicate blooms emerge. The air, filled with the sweet scent of blossoms, invites us to step outside and bask in the beauty of nature's grand reawakening. It's no wonder that springtime beckons travelers to explore and discover the world's most enchanting destinations during this captivating time of year.
In curating this list of the best spring destinations in the world, we focused on locations that offer truly unique experiences, especially during the spring season. This isn't a collection of places that are simply less crowded or more affordable during spring; instead, we've carefully handpicked destinations that shine their brightest during this time of renewal. With that in mind, prepare to be whisked away on a journey of discovery as we unveil the mesmerizing springtime wonders that await in these remarkable destinations across the globe.
1. Tokyo, Japan
Ah, springtime in Japan – a season that holds a special place in the hearts of locals and visitors alike. The country's love affair with cherry blossoms, or sakura, is so deeply ingrained in the culture that there's even a specific word for it: hanami. Hanami, which literally means "watching blossoms," is the cherished tradition of picnicking under a canopy of cherry blossoms, and it has captured the imagination of people around the world. There's no better place to immerse yourself in the hanami experience than the bustling city of Tokyo.
Tokyo offers a plethora of picturesque spots for cherry blossom viewing, but there are three locales that stand out as the best of the best. First up is the serene oasis of Shinjuku Gyoen, a sprawling park where the blending of traditional Japanese, French, and English garden styles creates a truly captivating setting. With over a thousand cherry trees on display, you'll be spoiled for choice when it comes to finding the perfect spot for your hanami celebration. Next, head to the trendy neighborhood of Nakameguro, where the Meguro River is lined with more than 800 cherry trees, their delicate petals mirrored in the gentle flow of the water. As the sun sets, the illuminated blossoms cast an ethereal glow, making for a magical evening stroll. Finally, don't miss Kitanomaru Park, nestled in the heart of the city, where you can wander through lush groves of cherry trees, their branches reaching out to touch the sky. History buffs will also appreciate the park's location, as it's surrounded by the majestic moat of the former Edo Castle.
When to go: Experiencing the cherry blossoms in Tokyo is all about timing, as the sakura season is fleeting, typically lasting just two weeks. The city's cherry blossoms usually begin to bloom around late March, reaching their peak in early April. However, exact dates can vary depending on factors like temperature and weather conditions. To help you plan your visit and maximize your chances of witnessing the splendid pink and white spectacle, the Japan Meteorological Corporation (JMC) offers a handy resource: their cherry blossom forecast website. With predictions for the current year's blossoms across Japan, the site is a valuable tool for any hanami enthusiast.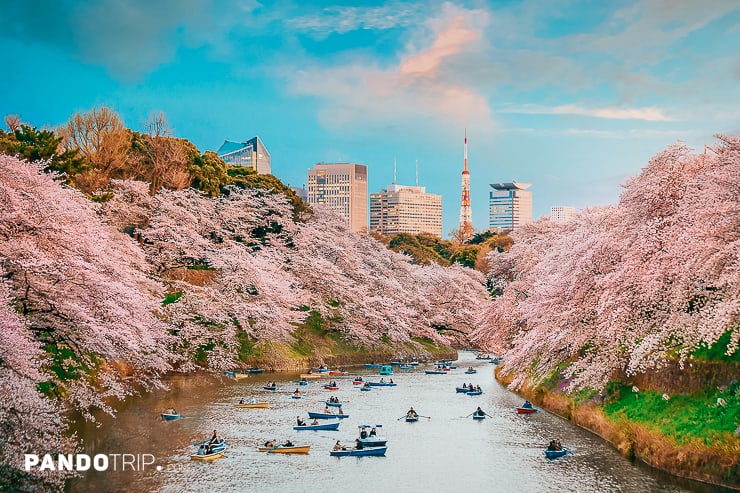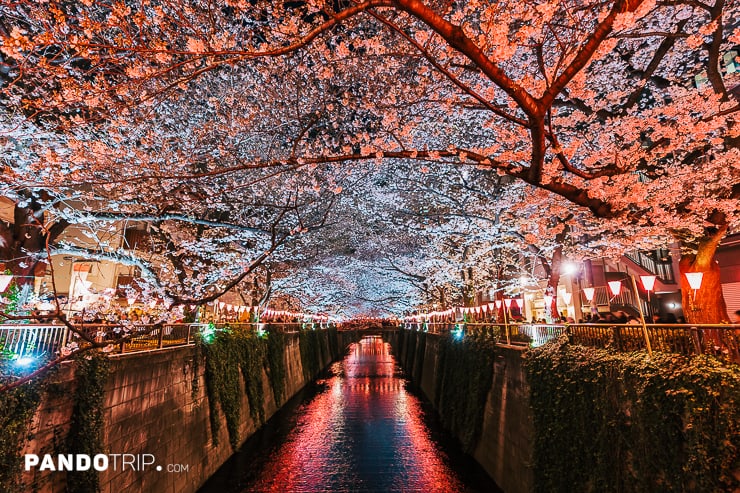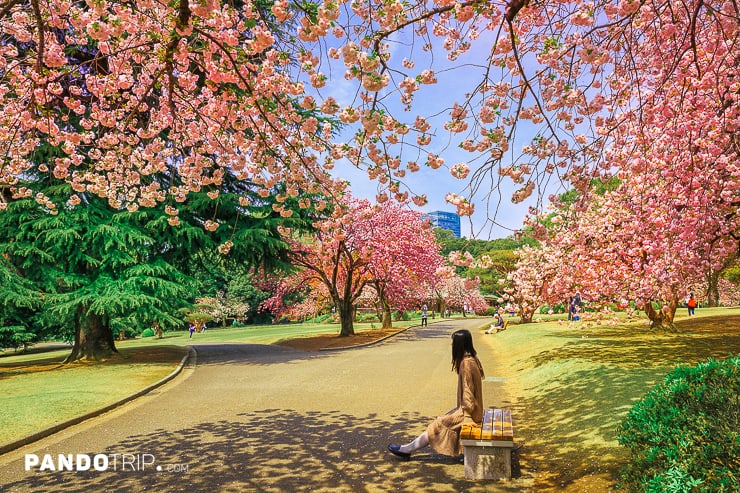 2. Keukenhof, Netherlands
When you think of the Netherlands, it's almost impossible not to envision fields upon fields of vibrant tulips swaying gently in the breeze. The country's rich history and deep connection with these iconic flowers has made them an integral part of Dutch identity, and every spring, visitors from around the globe flock to witness the magnificent spectacle of color that unfolds across the landscape.
Keukenhof, nestled in the charming town of Lisse and just a short trip from Amsterdam, is the ultimate tulip paradise. This extraordinary park, fondly known as the Garden of Europe, boasts an astonishing 7 million tulips, creating a sea of color that stretches as far as the eye can see. Each year, Keukenhof adopts a unique theme, with gardeners meticulously planting the bulbs by hand every autumn to form an intricate, all-new design. This labor of love takes around three months to complete, but the result is a breathtaking tableau that will leave you absolutely spellbound. So, if you're seeking an unforgettable springtime experience, be sure to add the mesmerizing world of Keukenhof to your must-visit list!
When to go: The park is open for a limited period each year, typically from late March to mid-May. Keep in mind that the exact dates can vary depending on the weather and blooming patterns. Before you embark on your tulip-filled adventure, it's a smart move to check Keukenhof's website for the most up-to-date information on the current year's bloom.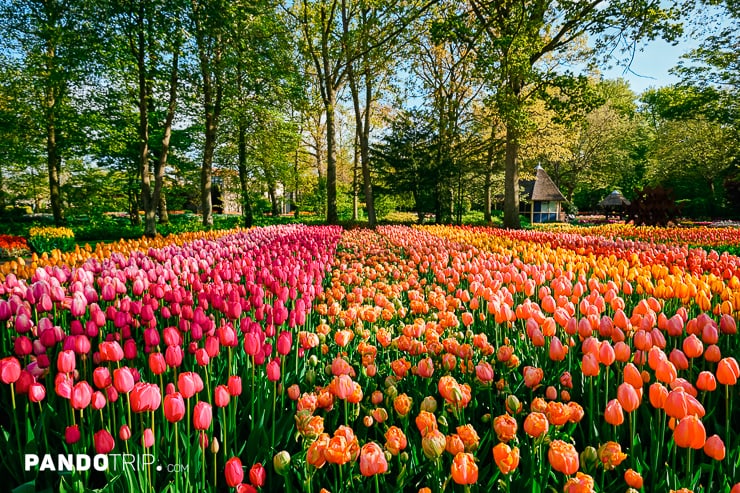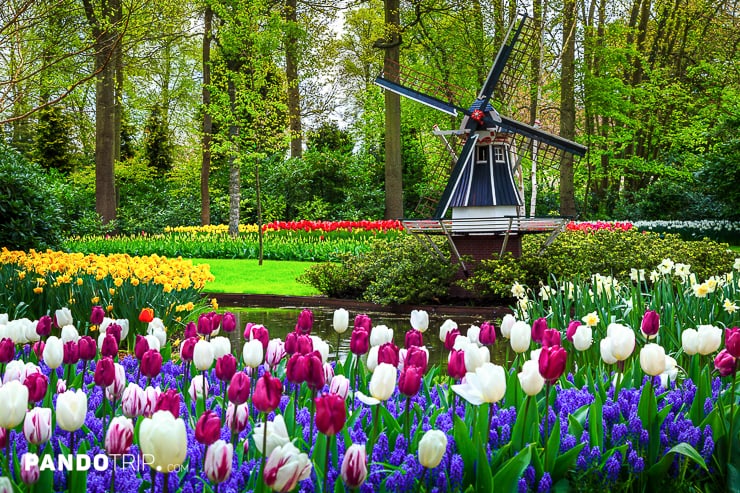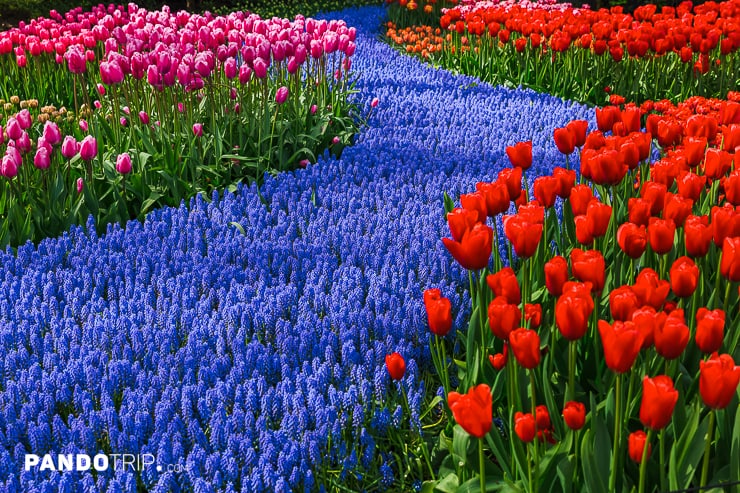 3. Washington DC, USA
The mayor of Tokyo probably didn't realize that his generous donation of 3,000 cherry trees to Washington DC back in 1912 would not only symbolize the blossoming friendship between the United States and Japan, but also give rise to one of the biggest and most beloved spring festivals in the US. Fast forward to today, and the annual National Cherry Blossom Festival has become a must-visit event for anyone seeking a magical springtime experience.
As you stroll along the Tidal Basin, prepare to be captivated by the delicate pink and white petals that create a dreamy, enchanting atmosphere throughout the city. Visitors and locals alike come together to celebrate this vibrant season, with a lively array of events like parades, concerts, and cultural performances that foster a sense of joy and unity. If you're looking for a spring destination that beautifully marries breathtaking floral displays, historical significance, and international camaraderie, then Washington DC's National Cherry Blossom Festival should definitely be on your radar.
When to go: If you're eager to catch the ethereal beauty of Washington DC's cherry blossoms, timing is key. The National Cherry Blossom Festival usually unfolds from mid-March to mid-April, with the bloom peak often gracing the city around the end of March. But, as we all know, Mother Nature loves to keep us on our toes, and the exact timing can vary each year.
Fear not, blossom enthusiasts! The festival's website has your back, with its nifty "Bloom Watch" feature ready to guide you. This handy tool keeps a close eye on the blossoms' progress, providing day-by-day updates on the blooming stages. By following the "Bloom Watch," you'll be able to time your visit to perfection and ensure you're in the heart of the action when the cherry blossoms are at their most dazzling.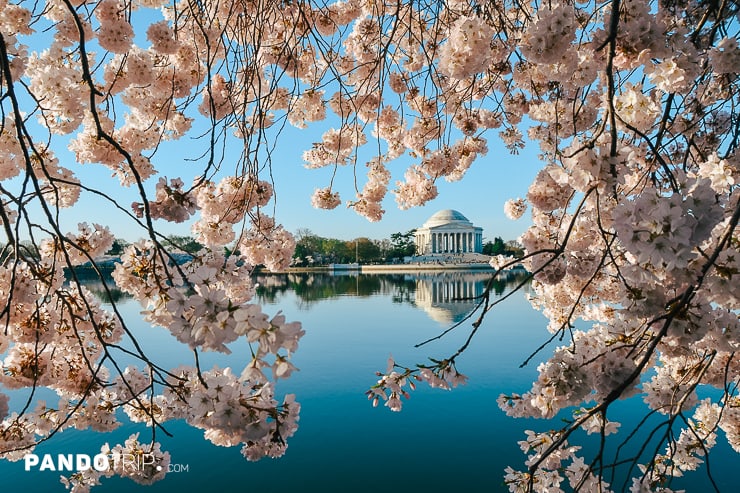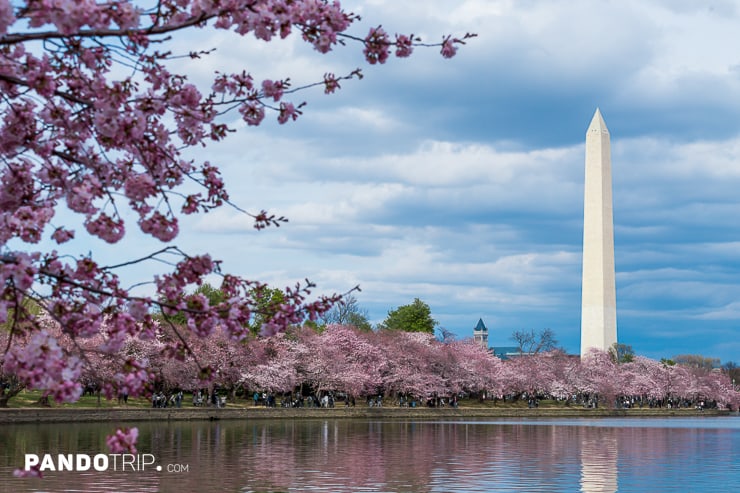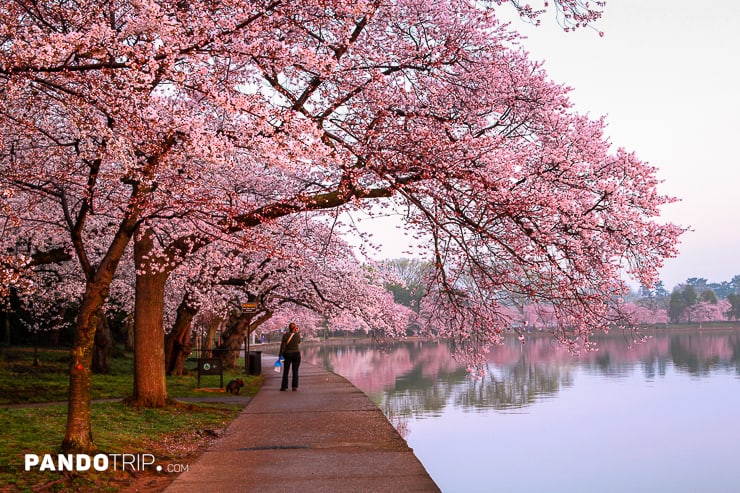 4. Hitachi Seaside Park, Japan
Imagine yourself strolling through a seemingly endless sea of blue as the warm spring breeze gently caresses your face. Welcome to Hitachi Seaside Park in Japan, where the annual flowering spring event transforms the park into a living canvas of vibrant colors. It's a sight that'll make you feel like you've been whisked away into a dreamy watercolor painting. And while the captivating nemophila might be the star of the show, creating a mesmerizing ocean of baby blue, it's not the only floral gem you'll find here.
As you meander through the park, you'll discover brilliant swathes of cheerful yellow daffodils dancing in the sunlight and be dazzled by the bold and beautiful tulips that seem to have their own personal spotlight. Each floral display adds another layer of wonder to this springtime extravaganza, making it the perfect escape for those looking to lose themselves in nature's artistry.
When to go: Timing is everything when it comes to experiencing the full splendor of Hitachi Seaside Park. To catch the hypnotizing nemophila in all their glory, plan your visit sometime between mid-April and early May when these delicate blue blossoms are at their peak. If it's the sunny smiles of daffodils you're after, aim for a visit from late March to mid-April, as they eagerly usher in the spring season. And for a dose of tulip magic, you'll want to drop by from mid- to late April when these vibrant stunners take center stage. To help you nail down the perfect time for your visit, the park's website provides updates on the blossom progression, as well as peak bloom times from previous years.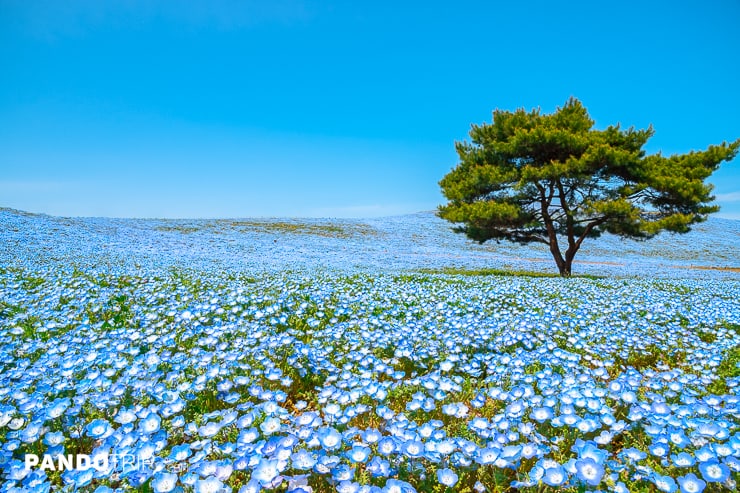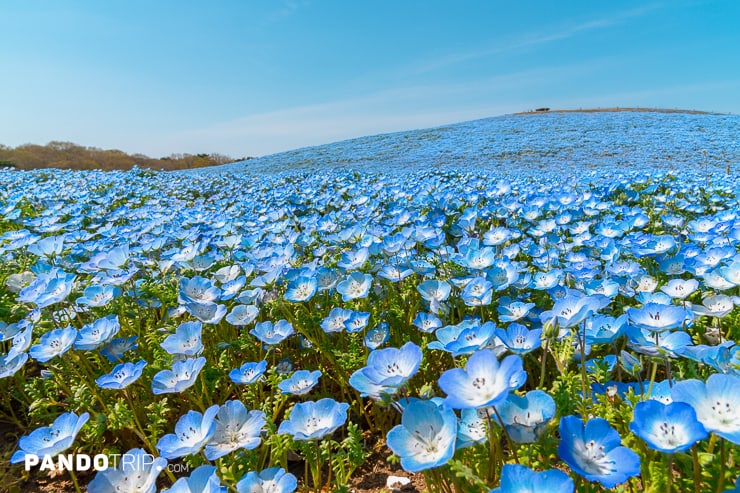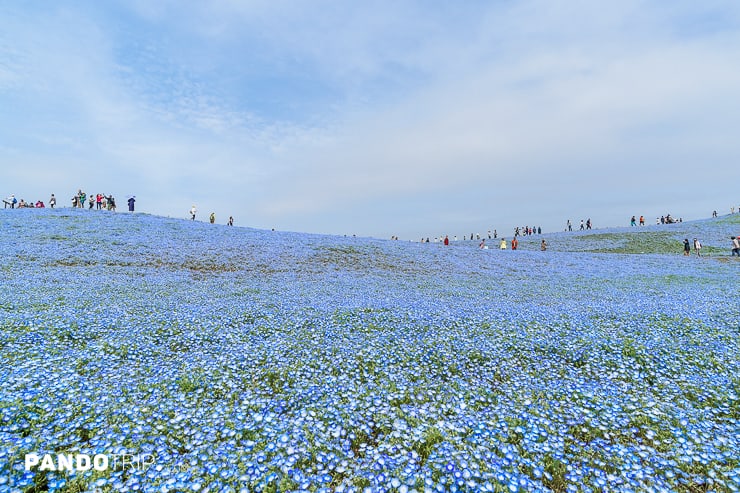 5. Seoul, South Korea
As spring unfurls its vibrant wings in Korea, the air fills with the sweet fragrance of forsythias, azaleas, and cherry blossoms. These delicate, colorful blooms are the heralds of the season, and Seoul offers an abundance of opportunities to witness them in all their glory. The city's landscape comes to life as splashes of yellow, pink, and white adorn the streets and parks, inviting locals and visitors alike to revel in the beauty of springtime.
For an unforgettable forsythia experience, look no further than Eungbongsan Mountain, where the hillsides are blanketed with these golden blossoms. If it's azaleas you seek, Wonmisan Mountain, located just a short distance from Seoul, offers a breathtaking display of these vibrant flowers. And when it comes to cherry blossoms, Seoul doesn't disappoint. Seokchon Lake Park and Namsan Seoul Tower are just two of the many spots where the city's cherry trees showcase their delicate pink blooms. Strolling through Seoul during spring is like wandering through a living work of art, with every turn revealing a new and captivating floral scene.
When to go: To fully immerse yourself in Seoul's springtime splendor, timing your visit is crucial. Forsythias and azaleas typically take center stage from mid-March to early April, with their vibrant hues painting the city in a dazzling array of colors. The highly anticipated sakura season follows closely, usually about a week later, when delicate cherry blossoms transform Seoul's streets and parks into a dreamy pink paradise.
Keep in mind that bloom times can vary from year to year, so it's a good idea to check the official forecast for flower blooming, which provides an estimated timeline for the blossoming of these springtime stars. Alternatively, you can visit the "Visit Korea" website, where they offer information on various spring events and the best locations to enjoy each type of bloom.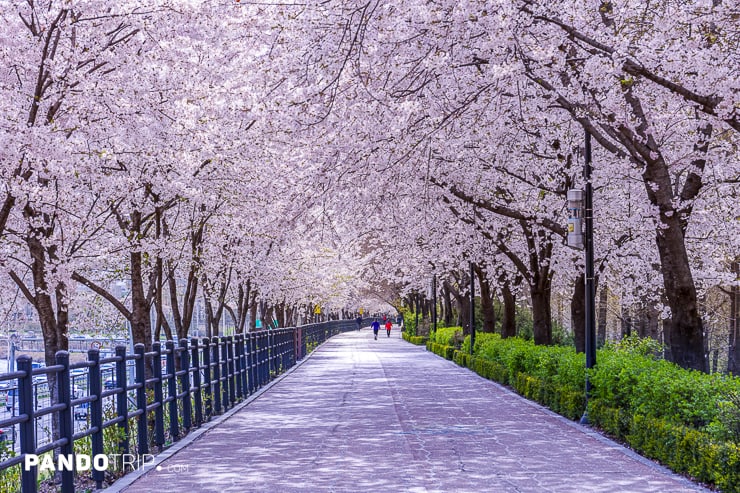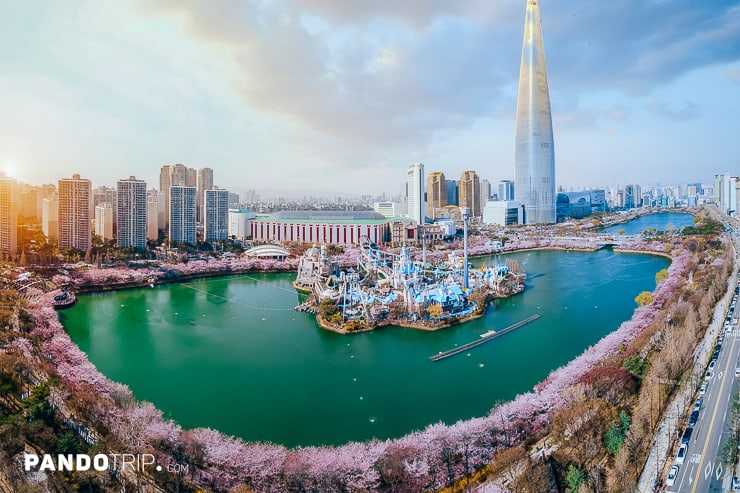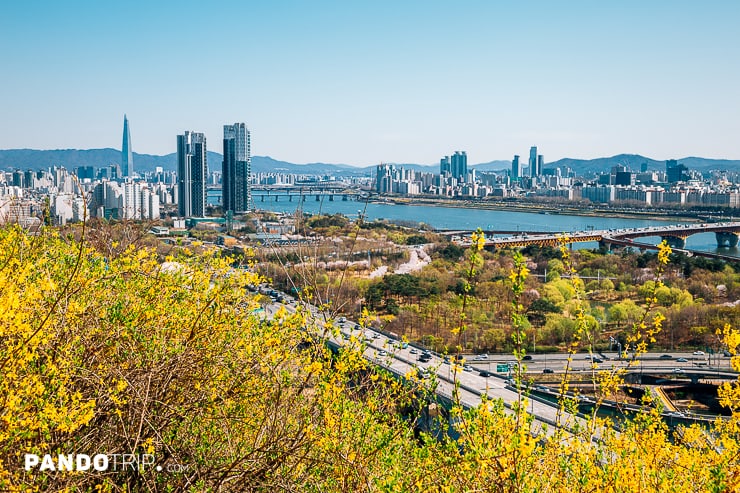 6. Castelluccio, Italy
Castelluccio di Norcia is a quaint village perched high atop a hill in Italy's Umbria region, boasting breathtaking views of the surrounding Sibillini Mountains. While the village itself is a sight to behold, the real magic happens every spring, when the vibrant natural phenomenon known as 'La Fiorita' takes center stage.
Envision a lush, vivid tapestry of colors unfolding right before your eyes, as millions of wildflowers bloom, painting the Piano Grande plateau in brilliant shades of red, yellow, and purple. 'La Fiorita' is like nature's own fireworks display, and it's a spectacle you won't soon forget. Just a heads up – Castelluccio faced significant damage from an earthquake in 2016, but its resilient spirit has seen it rise again, standing tall and welcoming visitors.
When to go: When planning your trip to Castelluccio, timing is everything if you want to witness the spectacular 'La Fiorita' in all its glory. The best period to visit this enchanting village and experience the full bloom of wildflowers is typically between late May and early July. During these months, the Piano Grande plateau becomes a living masterpiece, with vibrant colors stretching as far as the eye can see. Keep in mind that the exact timing of the bloom can vary slightly each year, depending on weather conditions and seasonal patterns.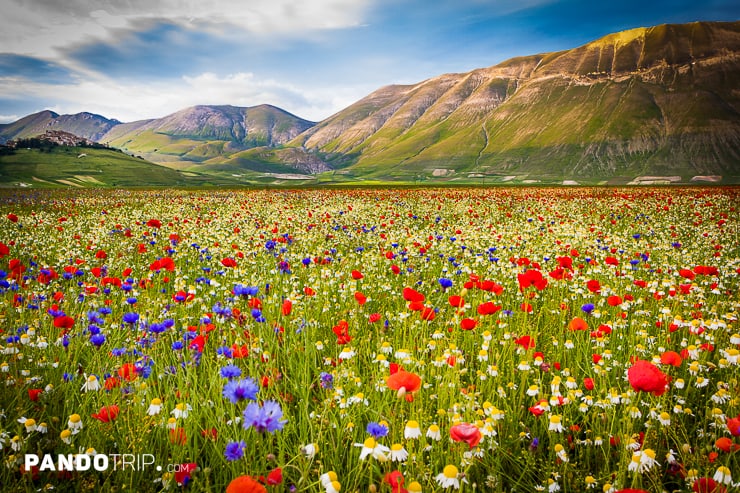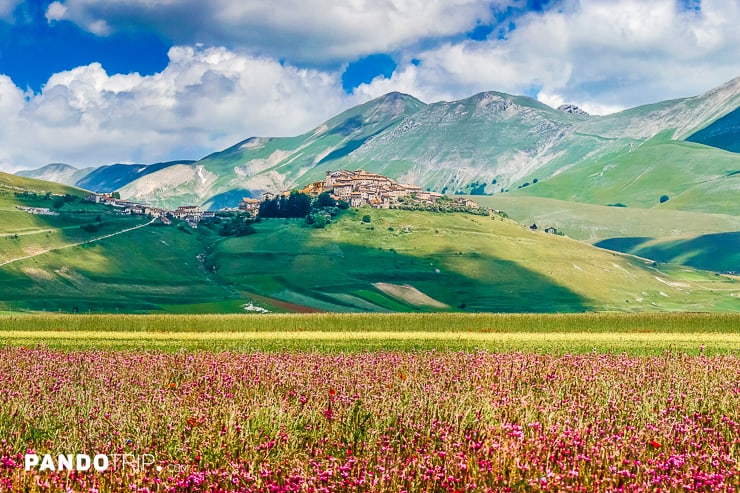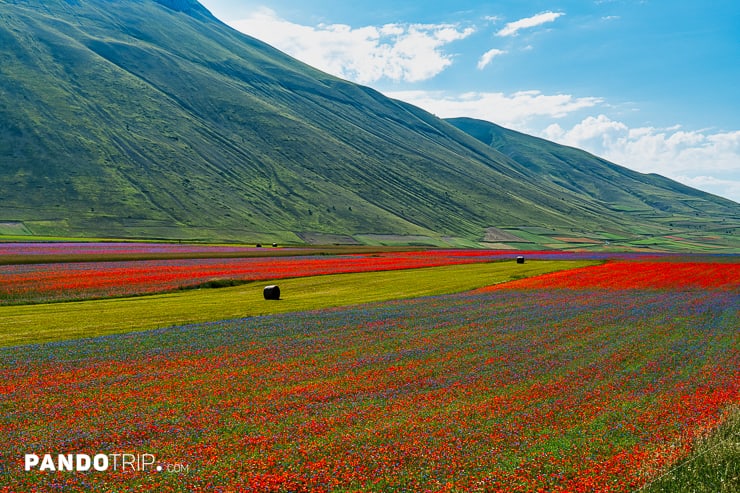 7. Skagit Valley, USA
A trip to Skagit Valley in Washington state is like stepping into a vibrant, living watercolor painting. As the warm embrace of spring wakes the earth from its winter slumber, this fertile pocket of land becomes awash with color. The Cascade Mountains stand tall around the valley, their snow-capped peaks drawing the eyes up from the dazzling display of blossoms below.
The Daffodil Festival sets the stage, transforming the valley into a golden ocean of swaying flowers, their bright faces grinning up at the sky. Here, you'll find yourself surrounded by a sea of yellow, as if the sun itself has kissed the ground. The air is filled with the sweet scent of daffodils, mingling with the hum of bees and laughter of visitors. But the show doesn't stop there. When the daffodil party winds down, the Tulip Festival bursts into life. Rows upon rows of vibrant tulips unfurl their petals, creating a kaleidoscope of colors that dance together in the gentle breeze. It's an experience that awakens the senses and leaves visitors with memories that are as vivid as the flowers themselves.
When to go: When planning your visit to Skagit Valley, timing is key to ensure you catch the floral festivities in all their glory. While the Daffodil Festival usually brightens up the landscape in March, followed by the Tulip Festival in April, it's crucial to remember that these natural wonders follow their own rhythm. To be in sync with the blossoms' grand appearance, it's smart to check the park's website for the most current information on bloom dates.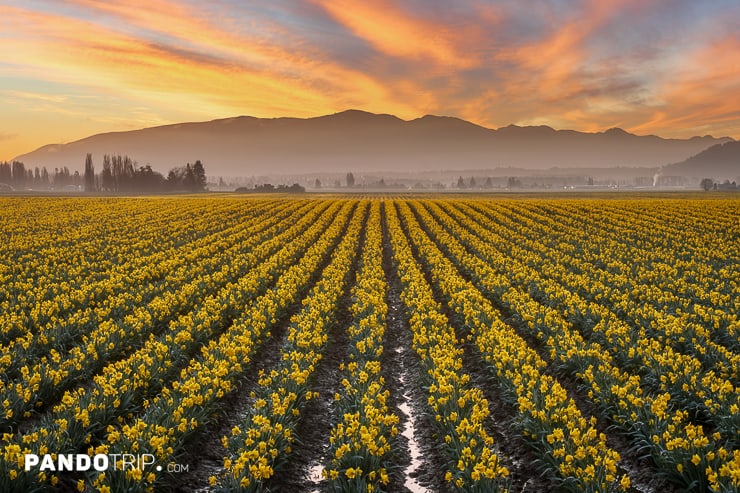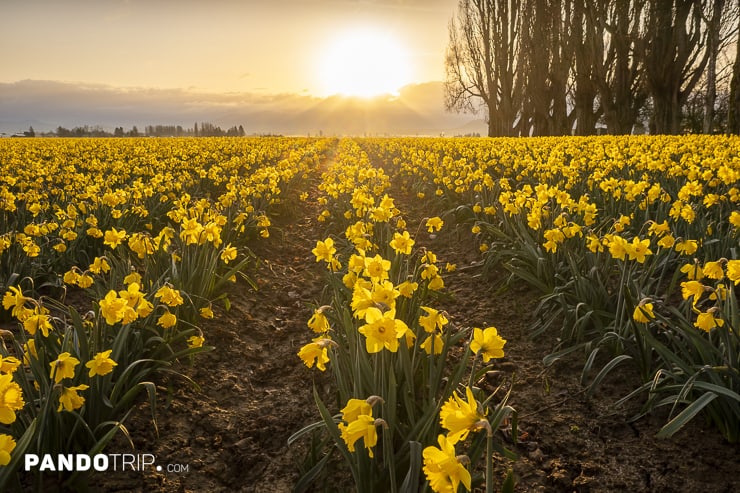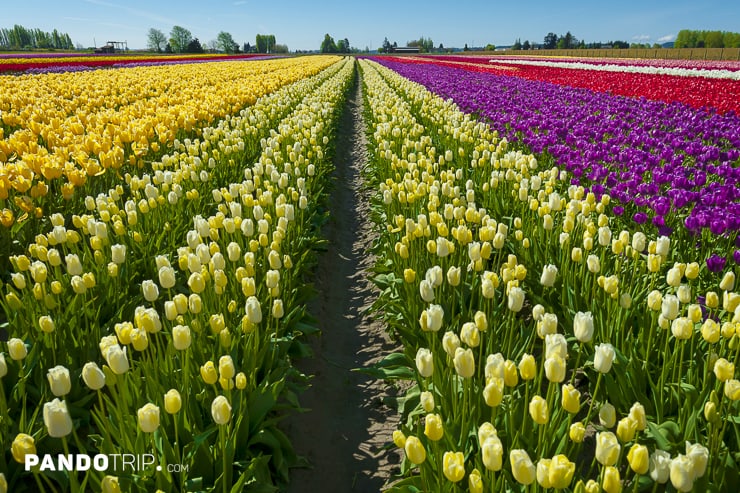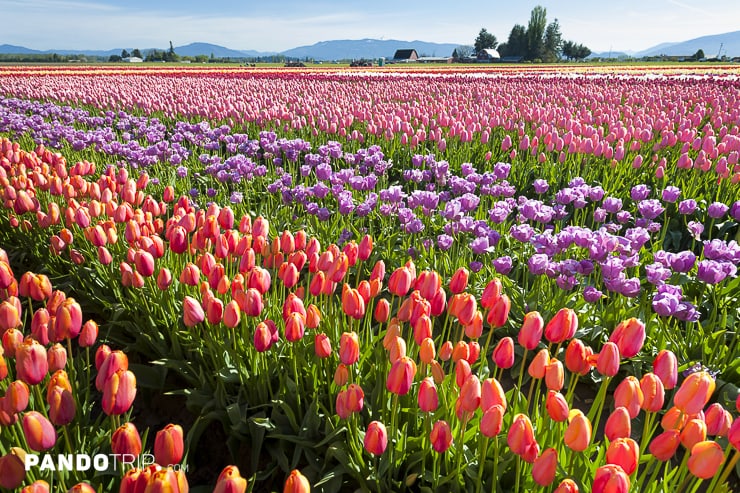 8. Hallerbos (Blue Forest), Belgium
Picture this: you're strolling through a dreamy forest where a sea of bluebells stretches out as far as the eye can see, with sunlight filtering through the fresh green leaves, creating a fairy tale-like atmosphere. Welcome to Hallerbos, affectionately known as "The Blue Forest," nestled just a stone's throw away from Brussels, Belgium. This enchanting forest, once a natural border of the Roman Empire, transforms into a mesmerizing blue wonderland every spring, as if a luxurious blue carpet has been rolled out for Mother Nature herself. As you meander through the vibrant blue hues of Hallerbos, you're not only stepping into a living fairy tale but also walking through a significant part of history that shaped the language barrier between Dutch-speaking Flanders and French-speaking Wallonia.
When to go: If you're thinking of planning a trip to witness the captivating beauty of Hallerbos, timing is everything. While the exact flowering period of the bluebells can vary slightly from year to year, you can generally expect the magic to unfold during the second half of April. However, to make sure you don't miss the prime moment, it's a great idea to check the official Hallerbos Forest website for the most up-to-date information on the bluebell bloom.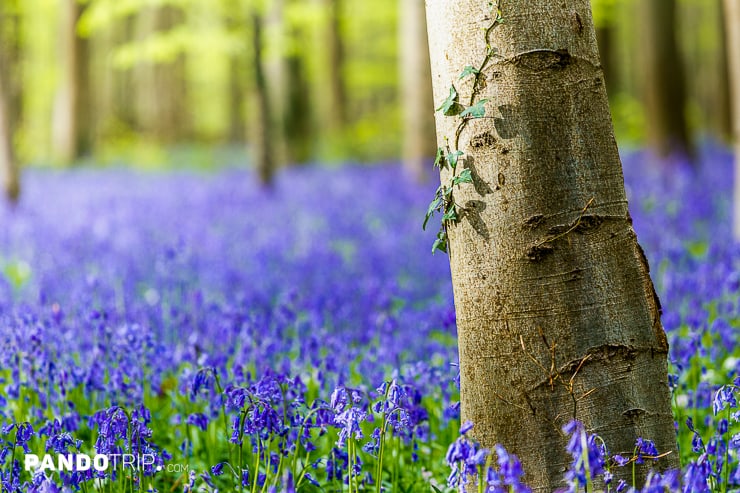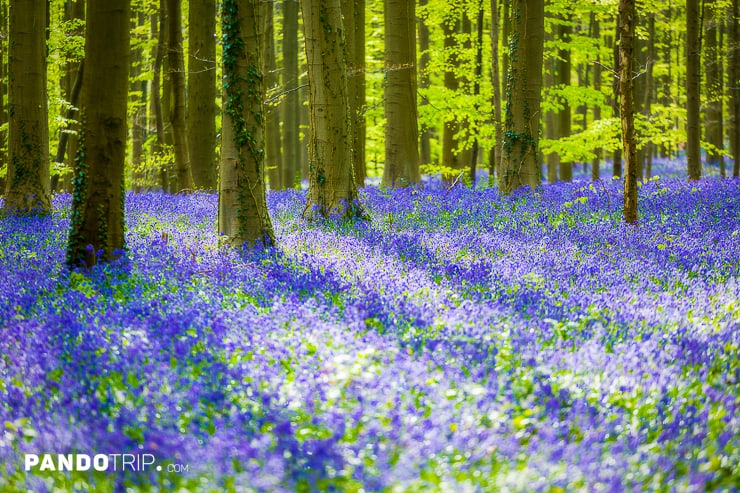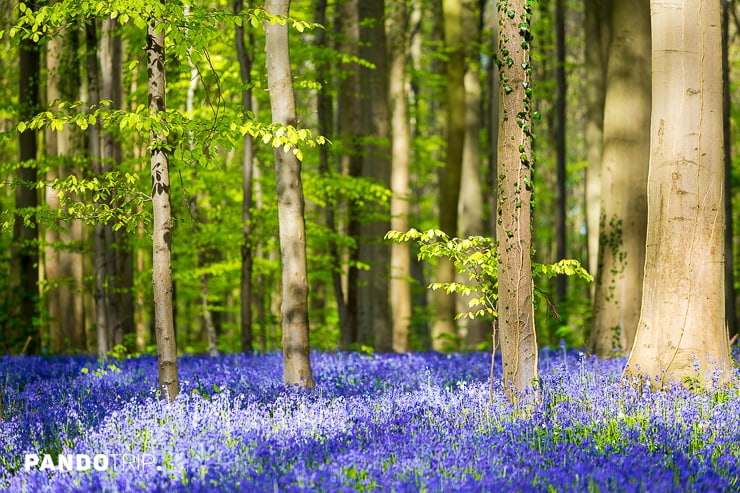 9. Jerte Valley, Spain
Let's transport you to a place where the hillsides appear to be draped in a snowy embrace, even though it's springtime. Spain's Jerte Valley is that very destination, where over two million cherry trees come to life, their white blossoms creating a stunning illusion of a winter wonderland. This breathtaking display attracts nature enthusiasts and photographers seeking to capture the ephemeral beauty of the valley.
As you explore this captivating landscape, you'll also have the opportunity to indulge in the vibrant cherry blossom festival that takes place during this magical time. Immerse yourself in the local culture as you enjoy music, gastronomic delights, and other festivities that showcase the region's rich heritage. If you're yearning for a spring adventure that brings together the allure of flowers and the charm of snow, Jerte Valley is just the ticket.
When to go: Planning a visit to Jerte Valley requires a bit of precision, as the stunning cherry blossom display only graces the hillsides for about two weeks each year. Typically, the end of March and the beginning of April mark the prime time to witness this floral extravaganza, but of course, Mother Nature has the final say, and the timing can vary depending on the weather. To ensure you don't miss out on this breathtaking experience, we recommend keeping a close eye on the festival's website for this year's specific dates.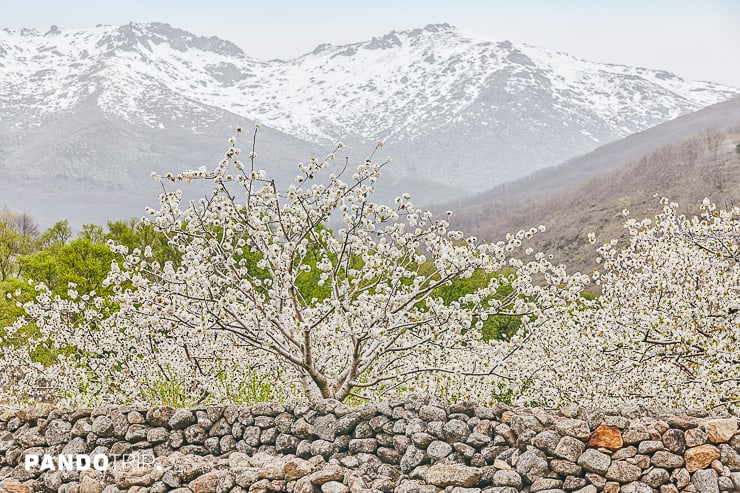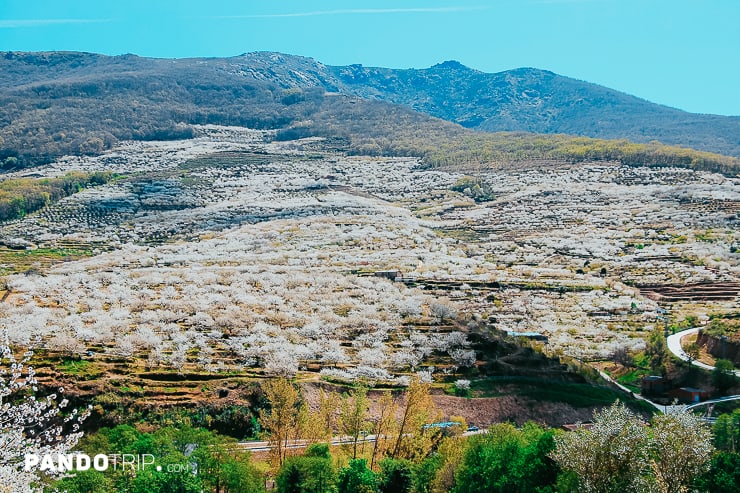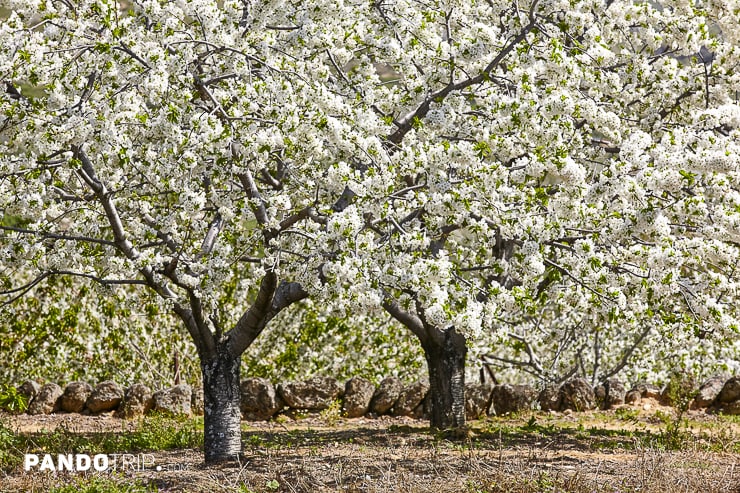 10. Bonn, Germany
As spring arrives in Bonn, Germany, the city transforms into a wonderland of cherry blossoms, casting a rosy hue over its streets and historic sites. Heerstrasse, famously known as Cherry Blossom Avenue, is a captivating sight to behold. Here, you can meander beneath a canopy of delicate pink petals, while dappled sunlight dances on the cobblestone paths. The enchanting fragrance of blossoms fills the air, and you'll find yourself immersed in a dreamlike world as petals create a soft pink carpet at your feet.
Of course, Bonn has more floral gems to offer beyond Heerstrasse. Head over to Breite Strasse, Maxstraße, and Bonner Münster, where the cherry blossoms continue to delight. The old town of Bonn boasts even more spots adorned with these delicate flowers, contributing to the city's irresistible charm during this magical season. As you explore, take a moment to appreciate the vibrant history of the city, mingle with the locals at a cozy café, and simply let yourself be captivated by the dazzling displays of nature's confetti.
When to go: It's difficult to pinpoint the precise moment when Bonn's cherry blossoms will burst into bloom, as their appearance can be influenced by various factors, such as temperature and rainfall. Generally, the middle of April is your best bet for catching these delicate flowers in their prime. Unlike Japan, where official cherry blossom forecasts are readily available, keeping tabs on the situation in Bonn might require a different approach.
One smart strategy is to monitor social media, particularly Instagram, where locals and visitors alike share their picturesque experiences in real-time. By following relevant hashtags or local accounts, you can get a sense of when the cherry blossoms have begun to emerge, helping you plan your visit accordingly.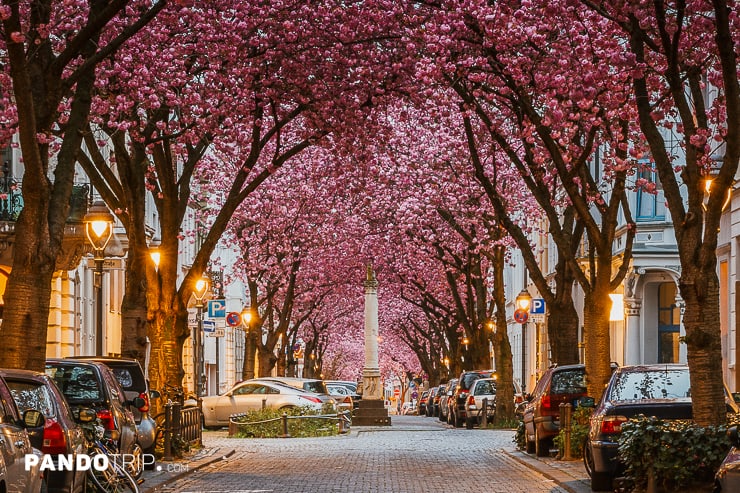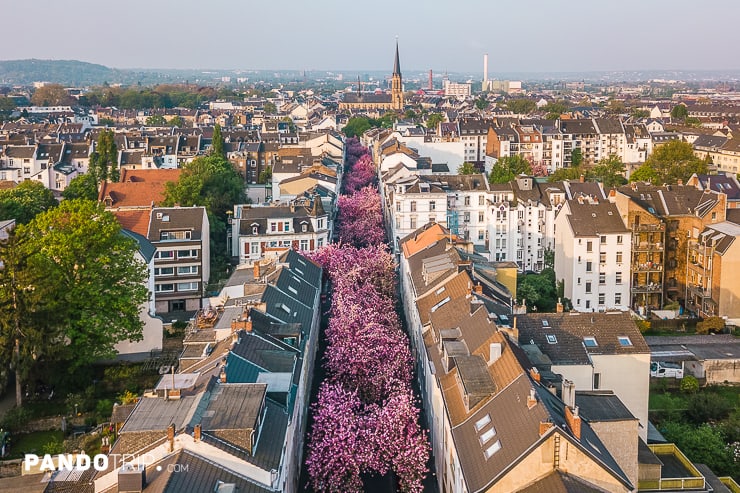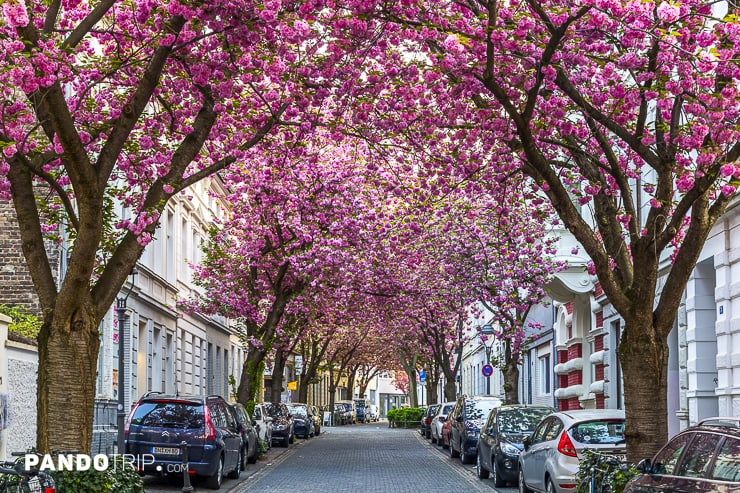 Bonus: Provence, France
If you happen to miss the springtime blooms but still yearn for that magical feeling of nature's awakening, we have a bonus destination for you. Lavender season in Provence is Europe's captivating counterpart to Japan's cherry blossom frenzy. As summer graces the region, endless rows of vibrant purple lavender stretch across the landscape, creating an idyllic, almost surreal setting that begs to be explored.
Nothing quite compares to the sensory delight of wandering through the French lavender fields, with the majestic Alps in the distance and the warmth of the sun caressing your skin. The Valensole Plateau, nestled in the heart of Provence, is the most popular spot to witness this floral spectacle. Here, the vast, fragrant fields stretch as far as the eye can see, offering countless opportunities to capture stunning photographs and create lifelong memories. So, if you're looking for an alternative to the classic springtime experience, Provence and its mesmerizing lavender fields may be just the ticket.
When to go: In general, summer is the lavender season in Provence, with the fields reaching full bloom from the last week of June to mid-August. However, the specific timing can vary depending on the altitude of the terrain and weather conditions during the preceding months.
The Plateau of Valensole, with its lower altitude, tends to see its lavender bloom earlier than other fields in the region. As a result, the best time to witness the captivating purple hues in Valensole typically falls between mid-June and the first week of July.