Italy is all about pizza, pasta and the Leaning Tower of Pisa, right? It goes without saying that Italian ice-cream is the best in the world and the wine, well, say no more. Considering all of those, it's easy enough to see why Italy is such a popular place to visit. You don't even need to be a connoisseur of fine food to appreciate its gastronomic offerings. Yes, Italian food tastes amazing, there's really no arguing with that, and the tower is one of the country's most famous landmarks, but what sets Italy apart as a country to visit are its incredible natural wonders.
From where its rugged alpine border connects with neighboring Switzerland to the tip of its boot-shaped coastline, Italy is one hundred and sixteen thousand square miles of awesome things to marvel at. Stunning rock formations, which could have been carved by the hands of the mythical Roman gods of old, rub shoulders with pristine mountain lakes and fiery volcanoes. Italy really is a natural wonder in itself which you just can't miss out on exploring. If you haven't already got a ticket to go, what are you waiting for?
Check out these ten natural wonders in Italy and before you can learn to say ciao, you'll have purchased your flight and be standing in the check-in queue at the airport.
10. Lago di Braies (Pragser Wildsee), South Tyrol, Italy
Nestled among the mountains of Italy's South Tyrol is Lago di Braies. This is a lake which is much more than just picture-perfect. Though admittedly, post a photo of Lago di Braies to Instagram and not only will you be the envy of all your followers, it'll probably get thousands of extra likes as well.
The alpine lake's waters are crystal clear and match the color of the blue skies above it. There are superb but relatively easy-going, hiking trails through the pine forests around the lake or for the more adventurous walker, the Alta Via 1 can also be accessed from Lago di Braies. Don't miss the tiny bays with secluded beaches along the lake's shoreline which are just waiting for you to discover.
Why Go? Lago di Braies, or Pragser Wildsee as it is also known, is a corner of Italy where all those magical environmental elements have come together to create something uniquely special. Mountains, lake, pine forests and beaches combine in a natural perfection which is just incomparable. It's such a beautiful place, once you're there, you'll probably want to stay for days. If that's the case, then check out the Hotel Lago di Braies, it's the only hotel there.
Map Location: Lago di Braies, Italy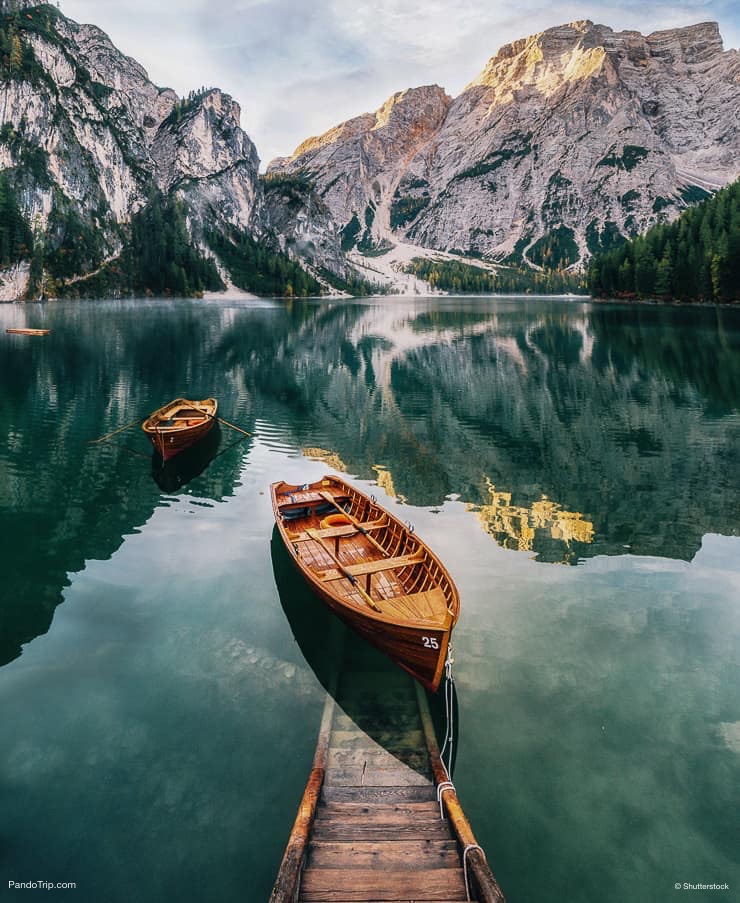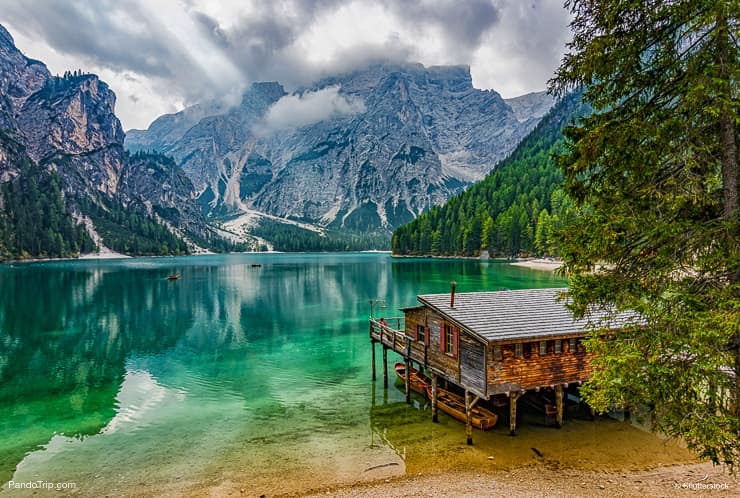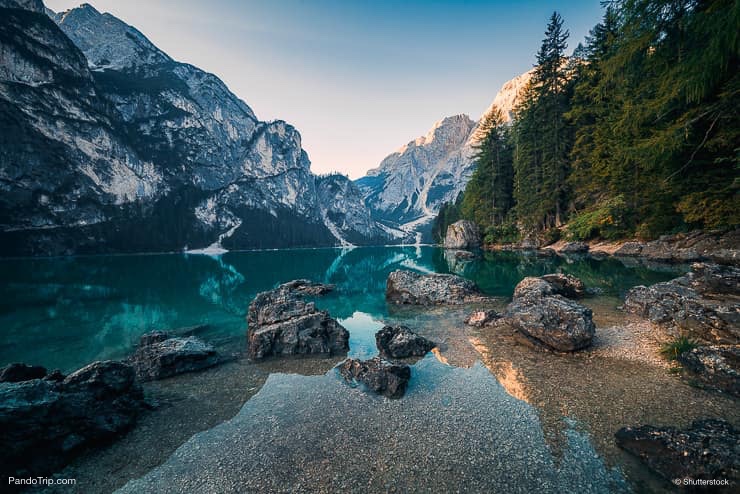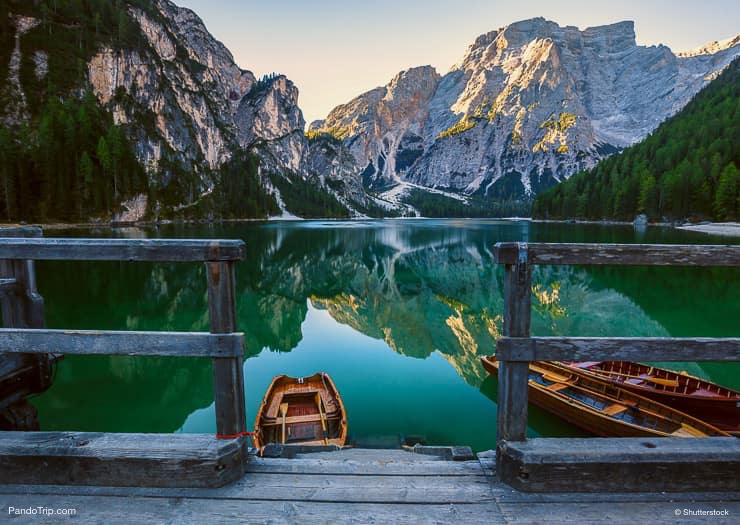 9. Scala dei Turchi (Staircase of the Turks), Sicily
Italy really does have more than its fair share of beautiful coastlines, but even they struggle to compete with the stunning Scala dei Turchi on the Italian island of Sicily. Reminiscent of icing on a cake, these cliffs rise above the sea in layer upon layer of sparkling white rock. Carved by the erosion of wind and sea, the marl rock formation is also referred to as the Staircase of the Turks.
Almost a natural amphitheater, it's the ideal place to have a chilled out picnic while waiting to watch the sunset over the stunning blue of the Mediterranean Sea. That's a sight which is so captivating; you'll probably want to see it every evening for a week. You won't have to carry your picnic basket too far if you stay at the Hotel Belvedere Scala dei Turchi. The rooms there are decorated in the same, restful on the eye, blue and white as the cliffs and the sea.
Why Go? The elements wait for no-one, and the abrasive action which formed the scala is a force to be reckoned with. It'll keep wearing away those beautiful cliffs until there's nothing left but dust as fine as talcum powder and it is a sight you just can't afford to miss. If the Belvedere is fully booked, check out the La Scogliera Turca, they've terraces with impressive sea views.
Map Location: Scala dei Turchi, Sicily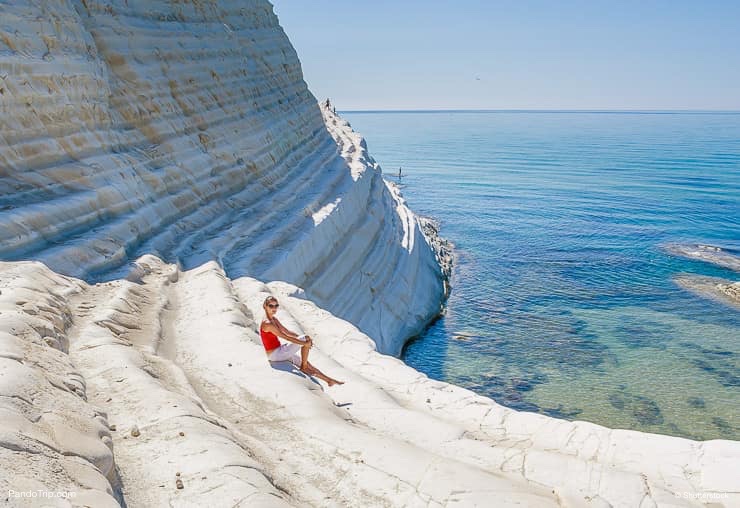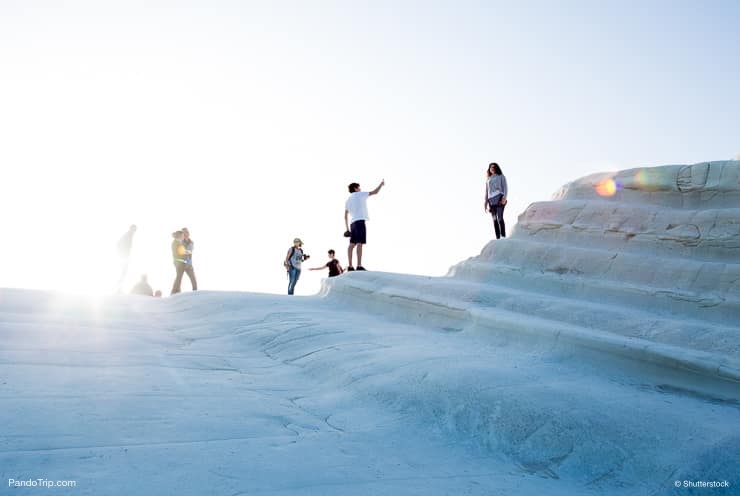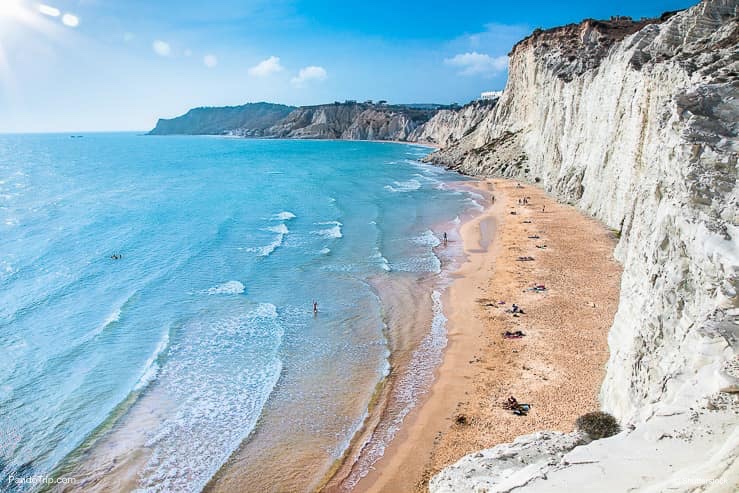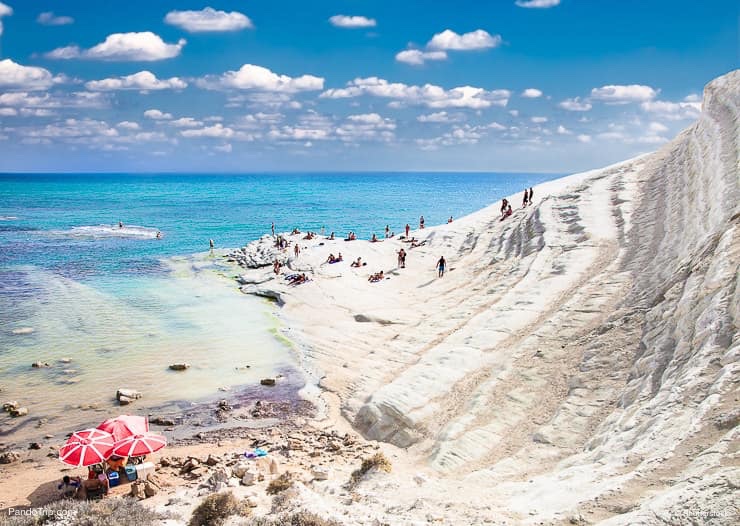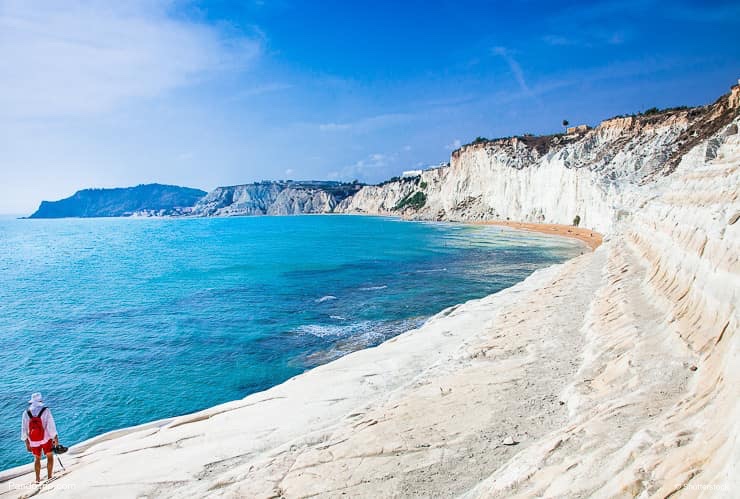 8. Gran Paradiso National Park, Graian Alps, Italy
The Gran Paradiso National Park is the place to go to explore Italy's natural beauty at its rugged best. The wild landscape of the park, which covers just under three hundred square miles, incorporates majestic mountains, lakes and some incredible fauna and flora endemic to the region. You'll have seen their pictures on the internet, yes, those cute, four-legged creatures which can scale practically vertical cliffs. The long-horned Alpine ibex, a very agile mountain goat which was once almost extinct, is now thriving in the park environment and here, you can go and see them for yourself rather than on the screen of your laptop or phone.
The Gran Paradiso National Park is also a hill walkers paradise with over three hundred miles of trails crisscrossing the park's valleys, or if you prefer some wintertime activity, there's skiing or snowshoeing to take the place of hiking when there's snow on the slopes.
Why Go? Apart from visiting to admire the area's natural beauty or hike the trails, it's impressive to see first hand how research and conservation can make an impact on the survival rate of a species. In the last seventy years, the ibex population has increased ten-fold. That's something everyone should witness first hand and take note of.
Map Location: Gran Paradiso National Park, Italy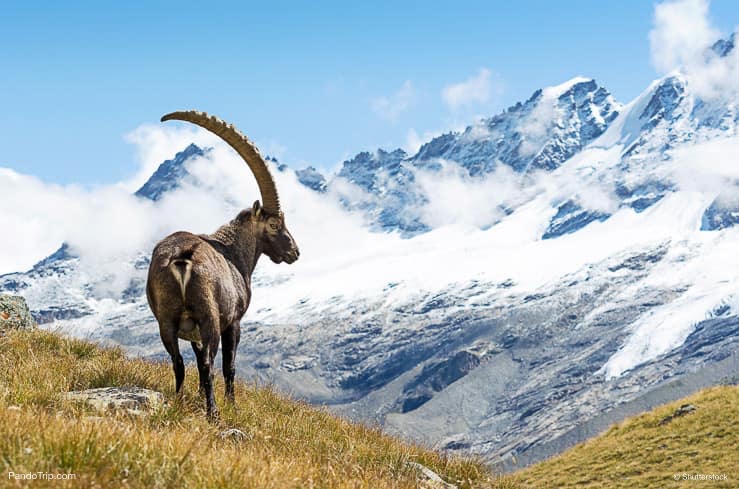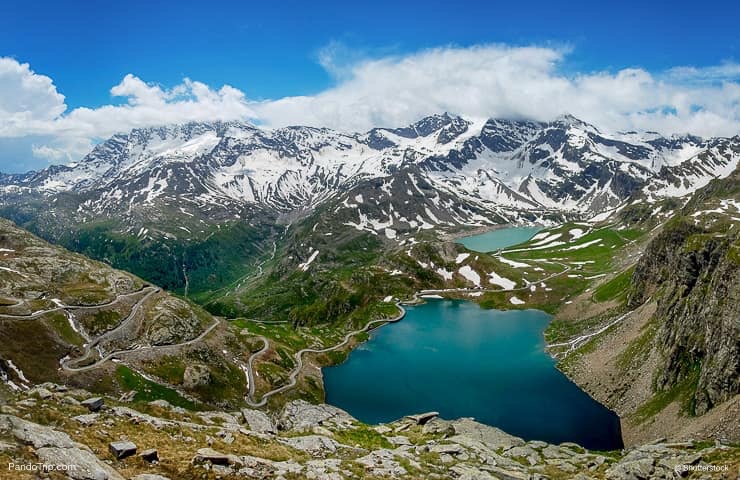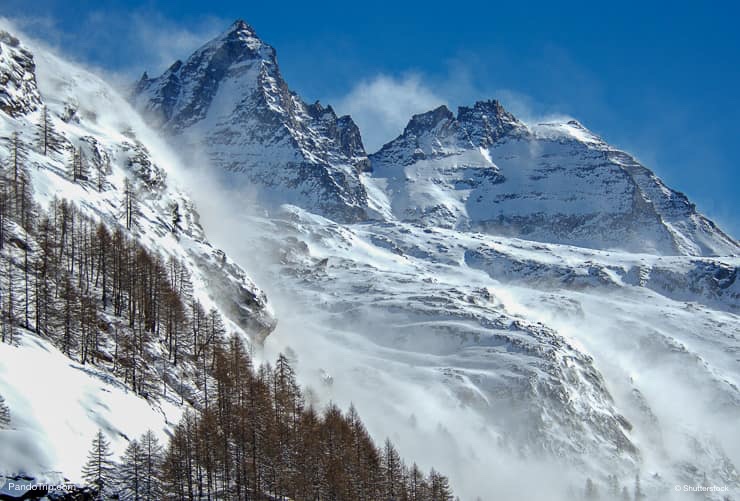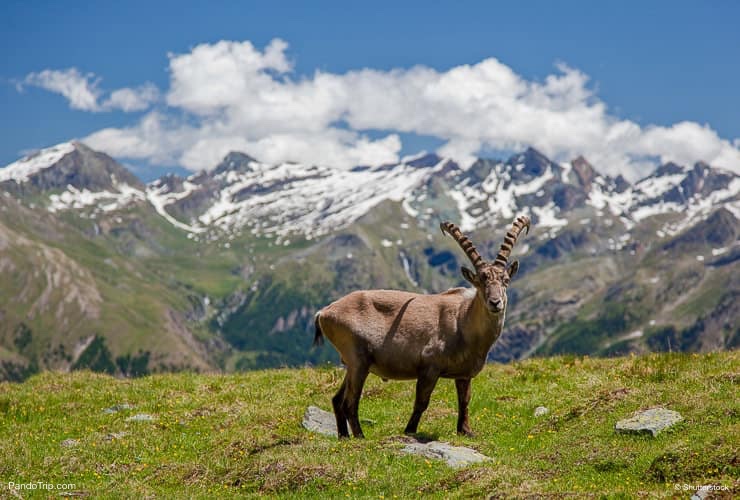 7. Grotta Azzurra (Blue Grotto), Capri, Italy
The Grotta Azzurra on the island of Capri is a sea cave in which, due to the unusual refraction of sunlight entering it, the water appears an incredible blue. To see it, you'll need to sail away from the coastline of Capri on a boat ride, then transfer to a small rowing boat. It's the only way to get inside as the entrance arch is pretty low, so low, in fact, you'll need to lay down to prevent banging your head.
Going into the Grotta Azzurra might just be what dying and going to heaven is like. Be prepared because one second you're in pitch darkness and the next you're in a world of celestial blue. The cave is about two hundred feet long, so while visits to this ethereal world are visually sensational, they are relatively short.
Why Go? It's not often you get to step foot, metaphorically at least, where two of the world's most renowned authors have been. If you're into history or literature, then going into the Grotta Azzurra will have added significance because you'll be going somewhere documented by Pliny The Elder twenty centuries previously and written about by Mark Twain in the nineteenth century. The experience will leave you lost for words.
Map Location: Grotta Azzurra, Capri, Italy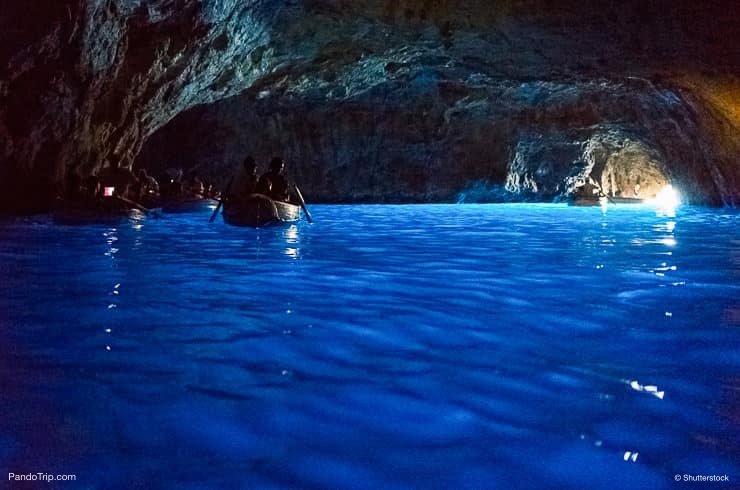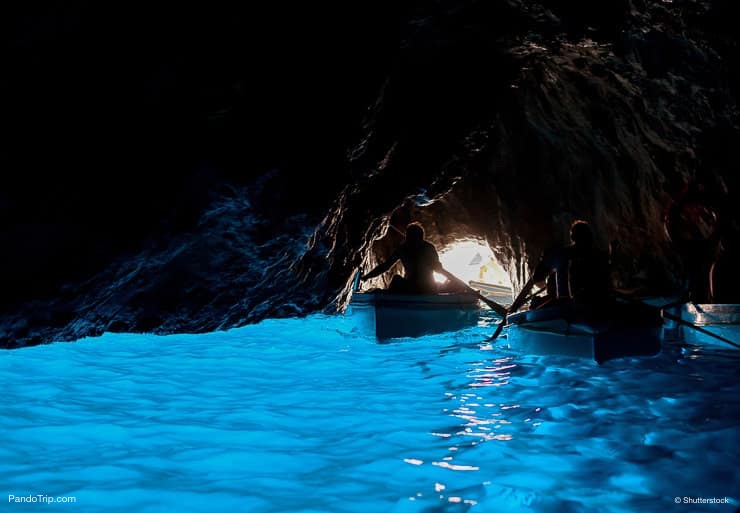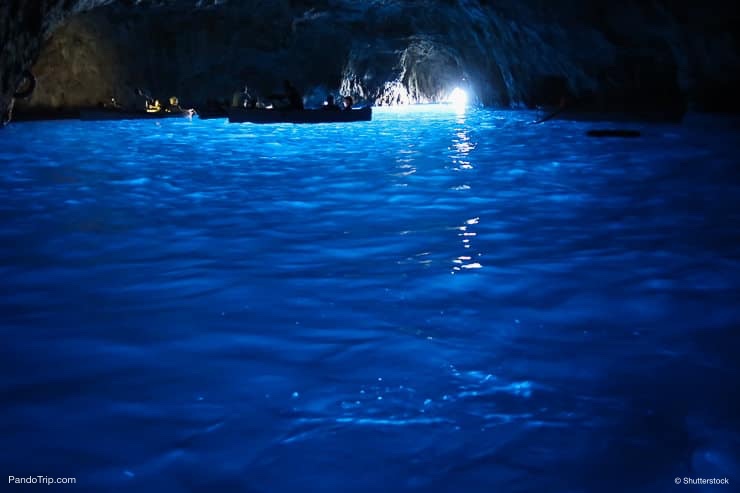 6. Lago di Garda, Northern Italy
Lago di Garda or Lake Garda, measuring thirty-two miles from shore to shore at its longest point and covering a surface area of one hundred and forty-three square miles, is the biggest freshwater lake in Italy. Its super clear waters are surrounded by stunning mountains, its hundred miles of shoreline decorated with picturesque towns, villages and pristine beaches, plus it's dotted with islands whose fascinating histories can be traced back to pirate times. The impressive combination of lake scenery, historical monuments, and the areas superb microclimate have made Lake Garda one of Italy's favorite places to take a chill out vacation.
Why Go? If you love being on, in or near the water, you can't skip visiting Lake Garda when you're in Italy. The lake's prevailing winds make it the perfect place for practicing sailing, surfing, windsurfing, and kitesurfing. If you like to pit your wits against some wily fish, bait your hook then cast it out, the lake is teeming with fish of all varieties. Before you know it, you'll have hooked something, and you may even end up taking a trout home for your dinner.
Map Location: Lago di Garda, Northern Italy
5. Cascate del Mulino, Saturnia, Italy
Vacations are meant to be therapeutic, and in Italy, that becomes literally true if you visit the Cascate del Mulino in the Italian town of Saturnia. There, an underground water source, which is heated geothermally, breaks through to the surface and the steaming, sulfur-impregnated water trickles gently down in graduating cascades to fill depressions in the rocks forming the pools of a natural spa. The waters, which maintain a steady 37ºC in the higher pools then cool as they run their course over the falls, are said to be beneficial to respiratory ailments as well as incredibly relaxing.
Why Go? Most spa treatments cost a fortune; the Cascate del Mulino is completely free. You can indulge to your heart's content, though it's recommended not to be immersed for longer than twenty minutes at a time. Don't expect any on-site facilities such as changing rooms or restrooms, there aren't any, and you need to go equipped with a towel and take some water shoes as the rocks can be slippery with algae. If that all sounds too rustic and you want to splurge on some luxury instead, the Hotel Terme di Saturnia has Roman baths, saunas, and a thermal spa.
Map Location: Cascate del Mulino, Saturnia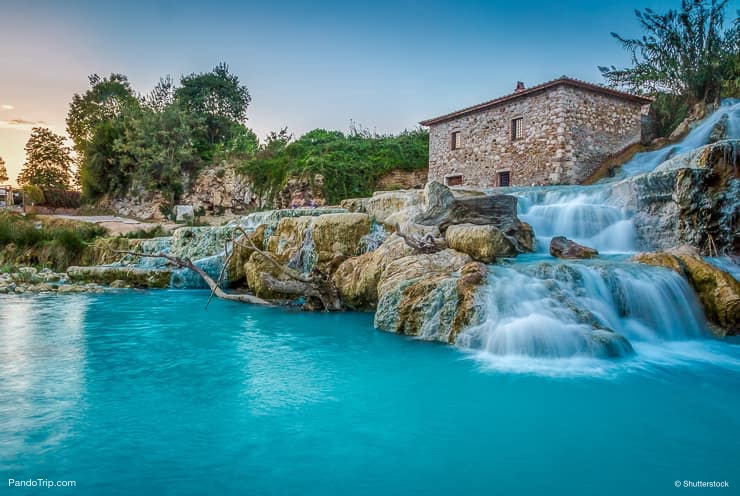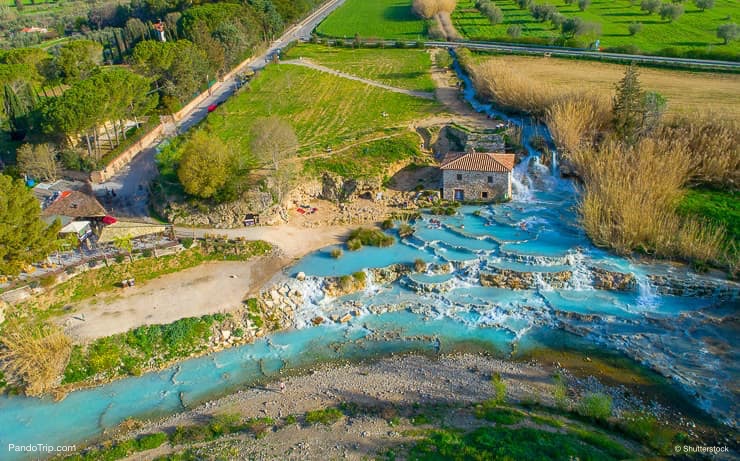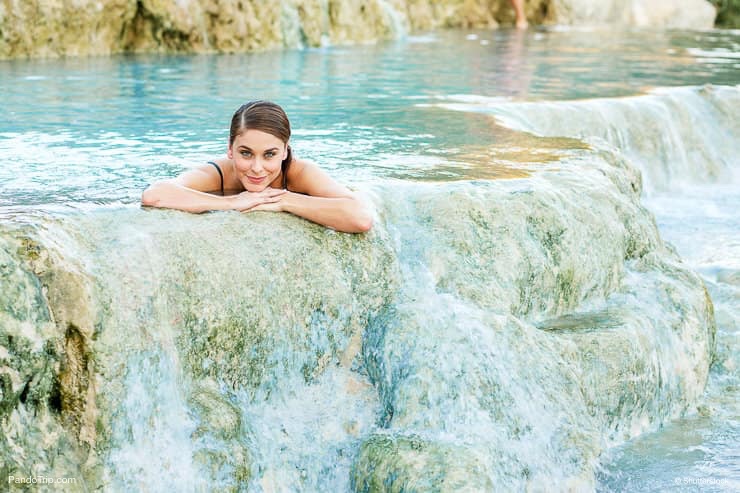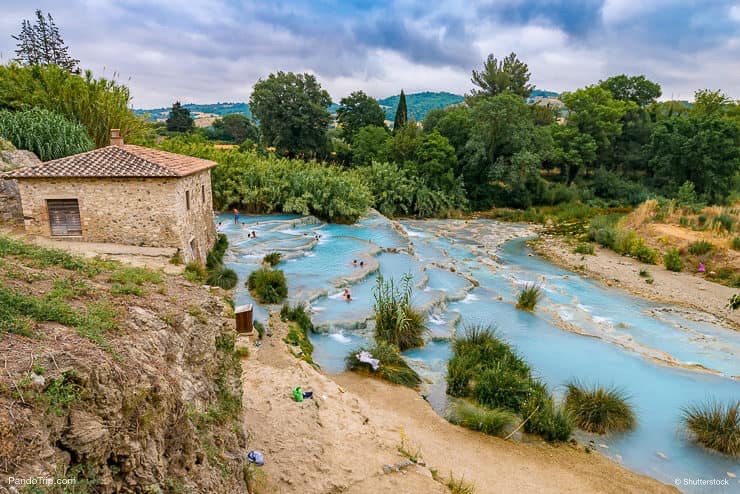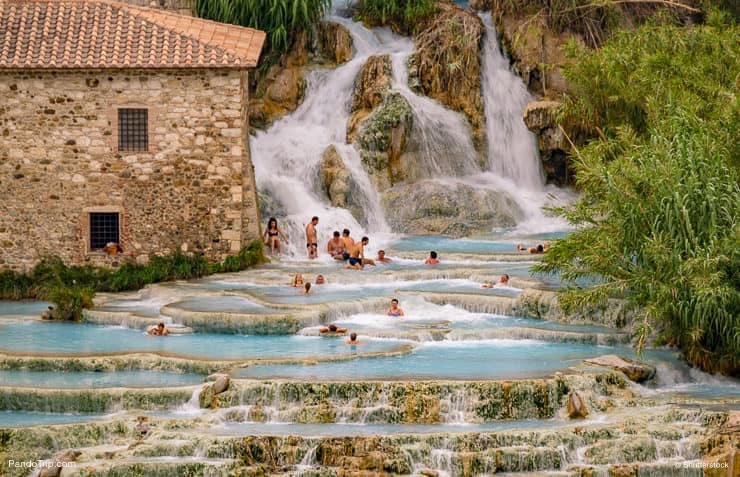 4. Mount Etna, Sicily
The island of Sicily is where Italy's most active volcano, Mount Etna is. Believe it, this volcano doesn't steam it smokes – constantly. Yes, it really is that hot even in winter, when the peak can be covered with snow, it carries on emitting a steady stream of dark and dramatic, venomous clouds. At almost eleven thousand feet high, it looms over the town of Catania and is the highest volcano anywhere in Europe. Its last major eruption was in 2017 and its been continuously grumbling ever since.
Why Go? Mount Etna is one of the most stunning volcanoes in the world, and even though it is active, you can ride up it in a cable car or explore it by jeep. Getting so close to a live volcano is a real adrenaline trip, and yes, there are some dangers involved, but it is an unforgettable experience. Go now before it completely blows its top and leaves Catania under a layer of lava and ash.
Map Location: Mount Etna, Sicily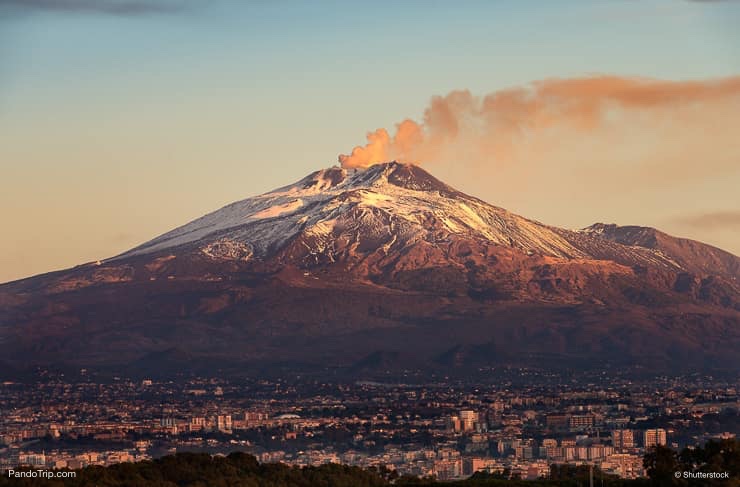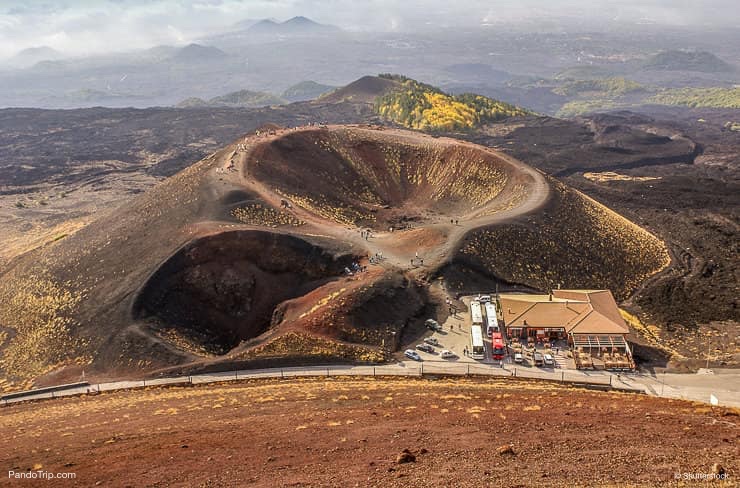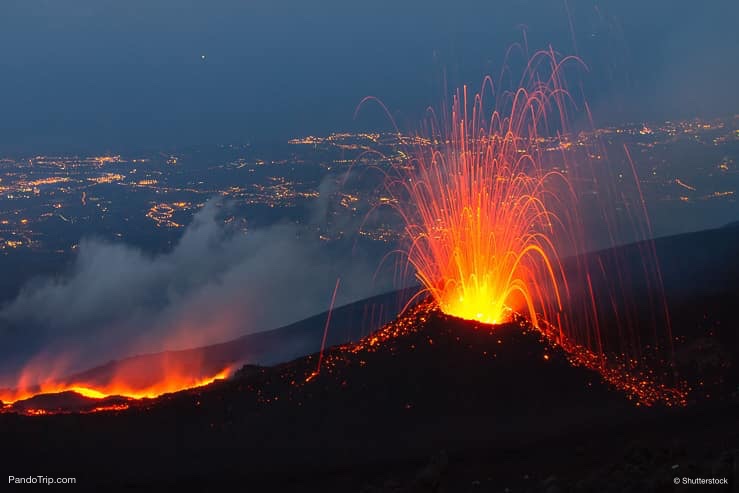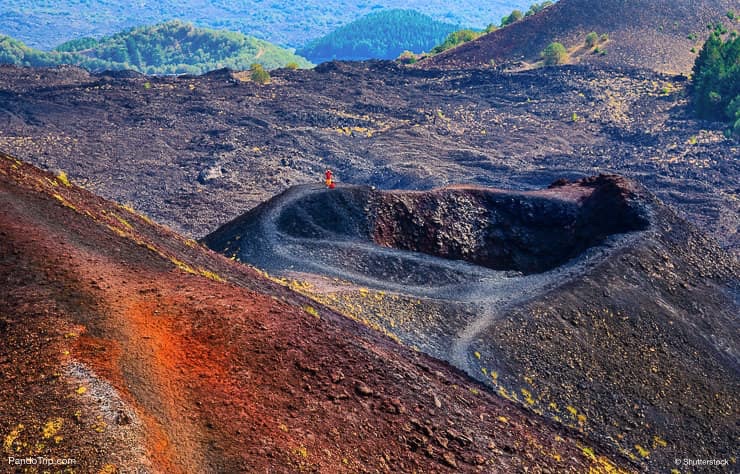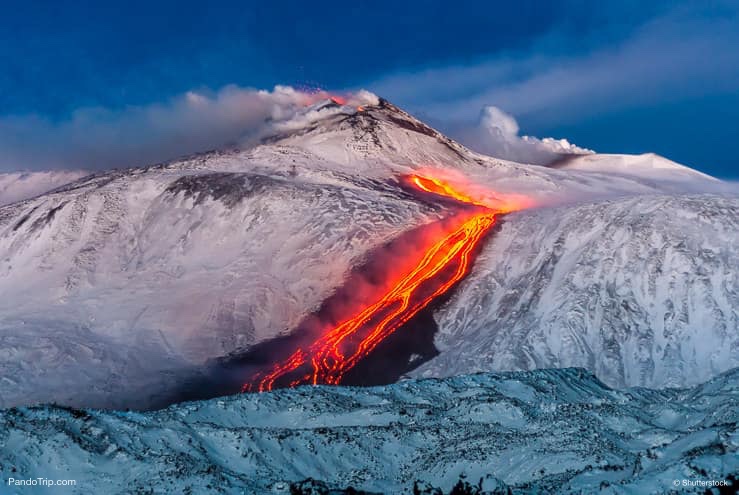 3. Arcipelago di La Maddalena (Maddalena Archipelago), Sardinia
As far as island paradises go, the Archipelago di La Maddalena ticks all the right boxes to classify as perfect. This group of over fifty islands and islets, in the Tyrrhenian Sea off the north-east coast of Sardinia, are so idyllic they take the definition of the word to a whole new level. Surrounded by incredibly clear, crystalline waters, the shorelines of the islands boast some of the most beautiful and pristine beaches in all of Italy.
Even though Isola Maddalena is the largest of the islands, if you could drag yourself off Spalmatore beach for long enough, you could probably walk the twelve miles of road which run around its coastline. If that sounds too strenuous, then ride the local bus to discover all the hidden bays and stunning beaches like Monte Rena. Caprera, the second largest island in the chain, not only has impeccable beaches like the ones at Due Mari, but is covered with pine forests which are great for hiking.
Why Go? If you've dreamt of navigating Utopia on a yacht and discovering a deserted beach, you'll have found it in the Arcipelago di La Maddalena. Just don't drop anchor by the Spiaggia Rosa, the famous pink beach on Isola Budelli, it's now a highly protected from all environmental threats, including beach flipflops, so get out your telescopic lens, take a photo from the deck of the boat and sail on by.
Map Location: Arcipelago di La Maddalena, Sardinia, Italy
2. Val d'Orcia, Tuscany, Italy
The Val d'Orcia, in the Tuscany region of Italy, is the rural heart of the country. To drive the Strada di Valoresi, a road lined either side with regimental cypress, from La Foce to Monticchiello is like driving through an agricultural time capsule. The road winds its way through the verdant, rolling hillsides of the valley. Covered with vineyards and olive groves, this scenic view has remained unchanged for centuries and will continue to be untouched by progress as it is now a UNESCO World Heritage Site.
Why Go? A road trip through the Val d'Orcia in the autumn is like driving through a living kaleidoscope. With the onset of the season, the foliage turns to an array of colors ranging from bronze to russet to mauve. It is an incredible sight which attracts artists and photographers from all over the world. Or is that just a good excuse for trying the regions fantastic wine and olive oil? Both are reason enough for a visit on their own.
Map Location: Val d'Orcia, Tuscany, Italy
1. The Dolomite Mountain Range, North-east Italy
Everyone and everything shows its age at some time. Italy's age is no more apparent than it is in the Dolomite Mountain Range. Formed of rock dating back to the Triassic age, yes, this part of Italy really was around a few hundred million years ago, but considering that fact, it's wearing well.
The entire area is a UNESCO World Heritage site and encompasses several stunning national parks including Dolomiti Bellunesi National Park and Dolomiti d'Ampezzo Natural Park. The highest mountain, of all the craggy peaks, is the Marmolada at the height of almost eleven thousand feet, but the most easily recognized are the three forbidding peaks of the Tre Cime de Lavaredo.
Why Go? The Dolomite Mountain Range is where you can get in touch with the real Italian great outdoors. Popular for hiking, there are some fantastic trails as well as incredible views from the observation points. And there's no denying, the range is a fashionable ski-resort in winter. The mountains passes of Passo Giau and Passo Sella, both with elevations of over two thousand feet, are great for cycling. You'll definitely get a distinct view of Italy as you pedal at altitude through the Dolomites.
Map Location: Dolomite Mountain Range, Italy