Have you been thinking of making a list of places to visit over the next few years? If you have, there's no way you should miss scheduling time to see some of the most famous landmarks in the world. Believe it. They're not famous for nothing.
While their names will no doubt be familiar, it won't be until you're actually standing in front of one of them that you'll be able to truly appreciate their jaw-dropping splendor. The awe-inspiring, monumental grandeur of these world-famous landmarks just has to be seen to be believed.
So get your pen out and start adding them to your travel bucket list.
10. Christ The Redeemer, Rio de Janeiro, Brazil
Even if you're not religious, you need to see the statue of Christ The Redeemer in Rio de Janeiro, Brazil. The immense structure is an incredible combination of artistic creativity and ingenious engineering. From on top of Mount Corcovado, the staggering 38-meter tall statue looms over the city below, arms outstretched in benediction. But it's not until you get up close, you'll realize just how big the statue is and you'll start to wonder how they ever got it up there in the first place. It is that colossal.
Reaching Those Dizzy Heights. Don't let the altitude of the statue put you off going to see it either. Although you can hike your way up, which will make you feel like a true explorer, there's also a tram which winds its way up Mount Corcovado through the forest and is far less strenuous on your legs. At the end of the tram line, you'll find a minibus waiting to take you on the final, vertigo-inspiring, leg of the journey.
When to go: The best time to go has to be when Rio de Janeiro's amazing carnival is in full swing. Yes, it's going to be busy. In fact, the streets will be packed, teeming with party-goers, loud music, and incredible parades. It is the world's biggest party and the electric atmosphere is one experience you really can't afford to miss. Never mind the tram or hiking up to the statue, once you've caught the rhythm of the music, you'll be samba dancing up the mountain.
Location on Map: Christ The Redeemer, Brazil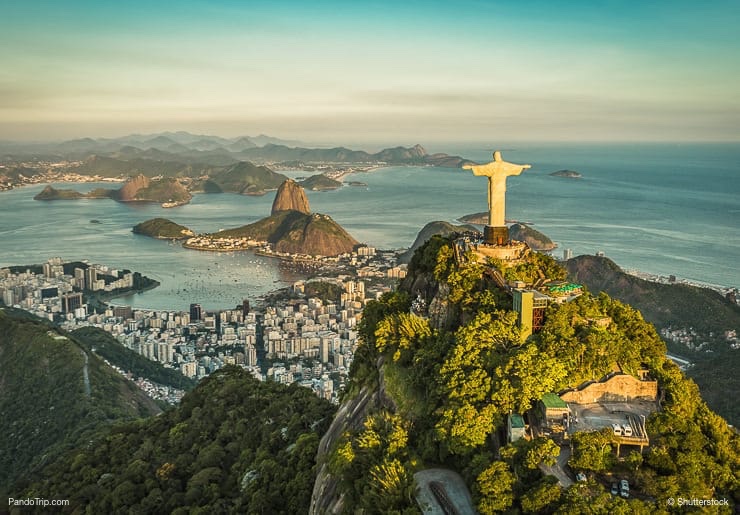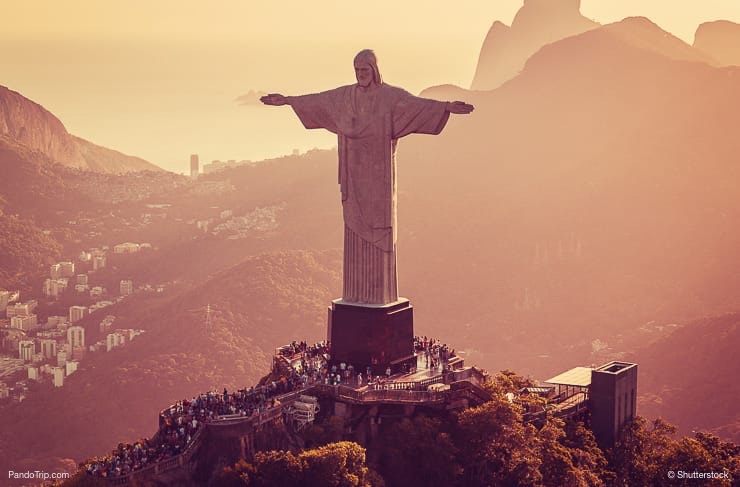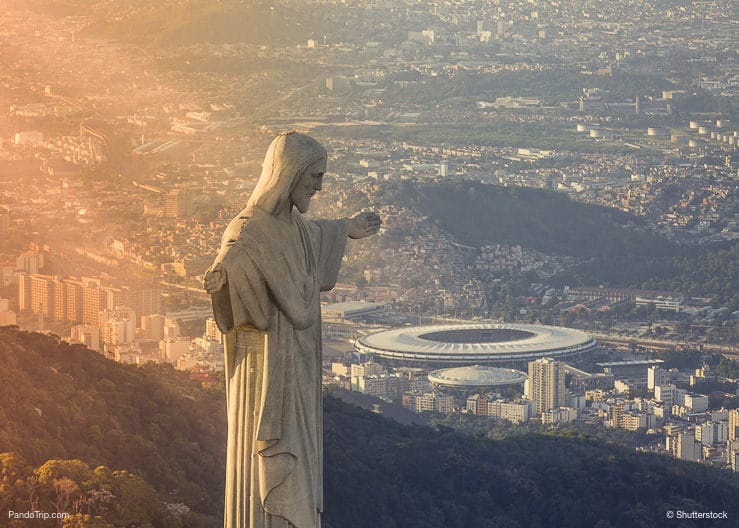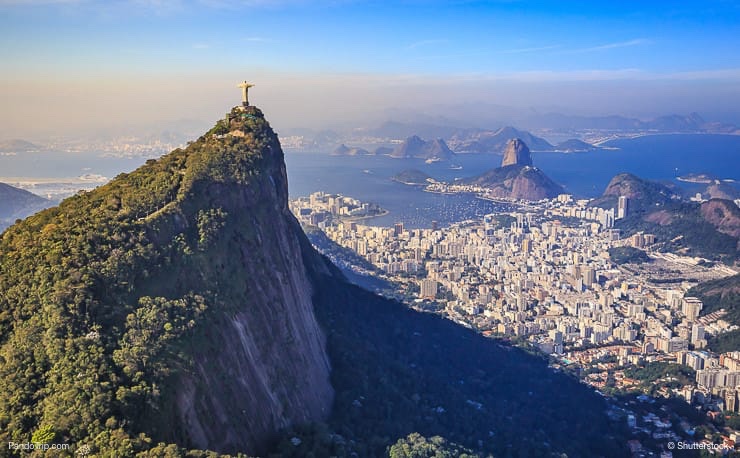 9. Mount Fuji, Honshu Island, Japan
If you want to return from a vacation, have something absolutely unbelievable to boast about, and have the photos to prove it, then you need to go to Japan. It's not often you get the chance to say you've climbed a country's highest mountain and telling your friends you reached the summit of Mount Fuji in Japan will leave them open-mouthed with disbelief. The good news is, although you do need to be fit, you don't need to be a mountaineer to achieve it.
Get A Volcanic Chill. While Japan's Mount Fuji may be a live volcano, don't be mistaken in thinking it'll be warm at the top. It's not. At just under four thousand meters above sea level, the air can be pretty chilly so you won't be climbing it in shorts and a t-shirt even in the summer months when the peak is bare of snow. All transportation stops at Station 5, no matter which of the four routes up you take, and you'll be on foot from there to the top. Don't think any routes are easier than the others, they'll all put your stamina and willpower to the test. But if three hundred thousand people a year can do it, so can you.
When to go: The official climbing season is in July and August while, if you don't mind the cold, there are still guided tours you can take up until mid-October or when Mount Fuji receives its first sprinkling of snow. Although climbing Mount Fuji has been likened to making a pilgrimage, any unusual experiences you have are more likely to be due to lack of oxygen at high altitude and overexertion than connections with religious deities. No, climbing Mount Fuji might not be easy, but nothing worth doing ever is.
Location on Map: Mount Fuji, Japan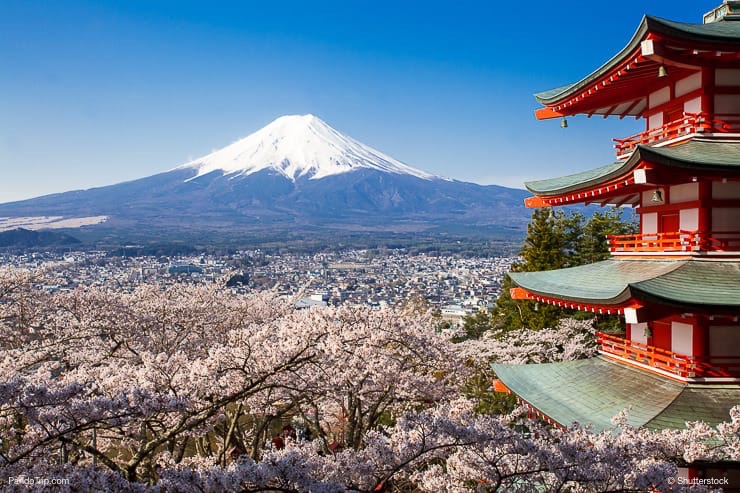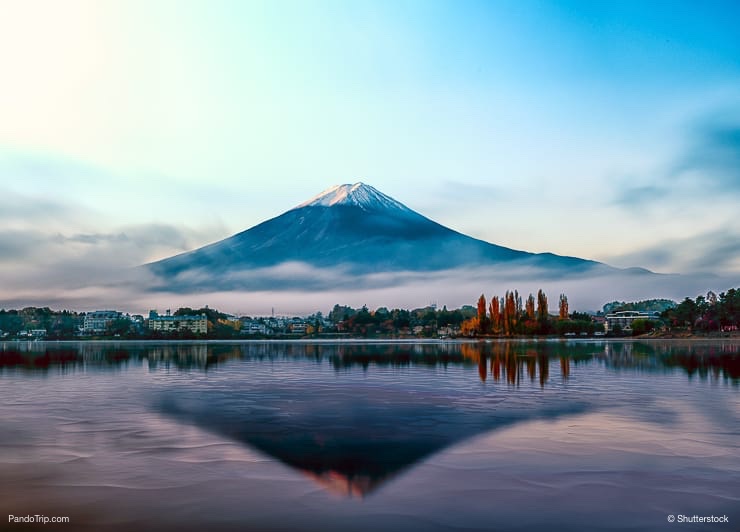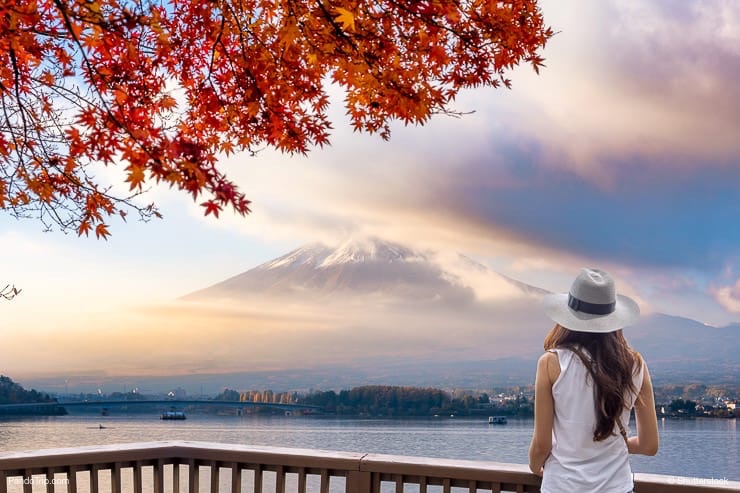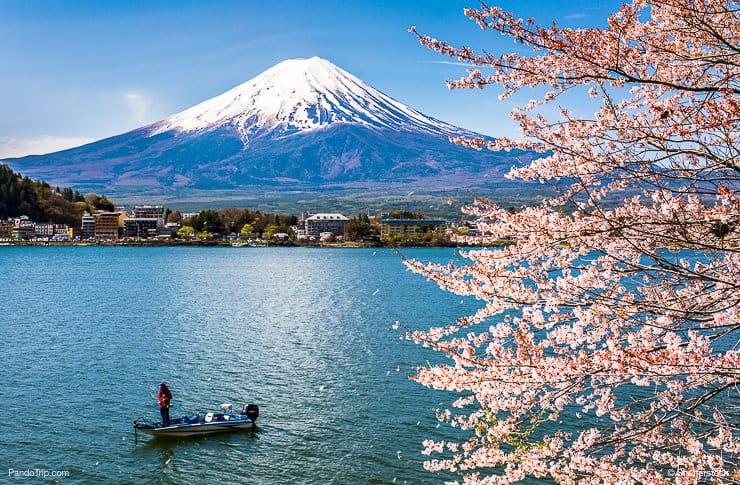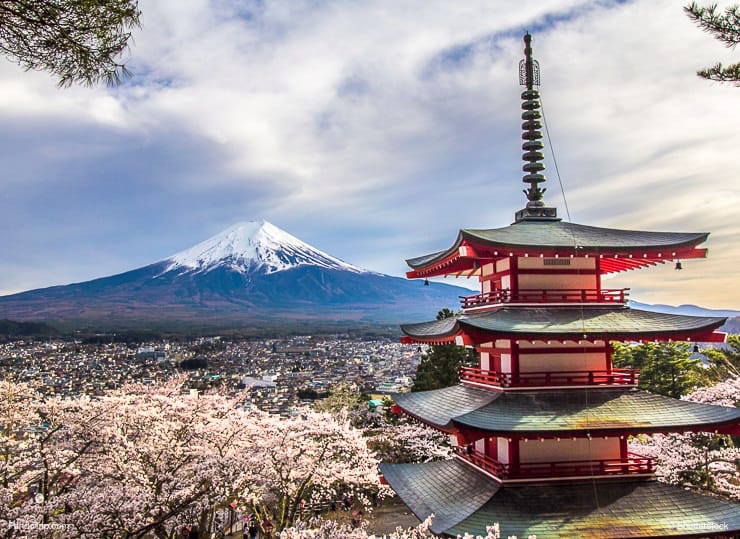 8. Golden Gate Bridge, San Francisco, USA
If strolling over a suspension bridge has never been on your list of things to do, maybe it's time it was. Take a step onto the Golden Gate Bridge in San Francisco and you'll suddenly understand just how Gulliver felt when he woke up in the land of the giants. The sheer magnitude of the metal structure, seemingly floating above the waters of the Golden Gate strait, is difficult to fully comprehend until you're actually standing on it.
Feel the Suspense. Crossing the Golden Gate Bridge on foot is no stroll in the park. At just under three kilometres long, it doesn't sound too strenuous an activity, but add the extra dimension of being almost three hundred metres up in the air and it starts to get interesting. Wind will whip at your hair and any conversation you might be thinking of having will be drowned out by traffic noise. But when you take in the views of San Francisco, from the middle of one of the world's most iconic constructions, you'll be really glad you did it.
When to go: Cross the Golden Gate Bridge any time from May to the end of August and you could be lucky enough to do some whale spotting without having to fork out any extra for a boat ride. If you're into spooky atmospheres walk the bridge in the early morning when the fog is rolling in, but make sure you wear something warm and waterproof or you'll end up a bit damp around the edges.
Website: www.goldengatebridge.org
Location on Map: Golden Gate Bridge, San Francisco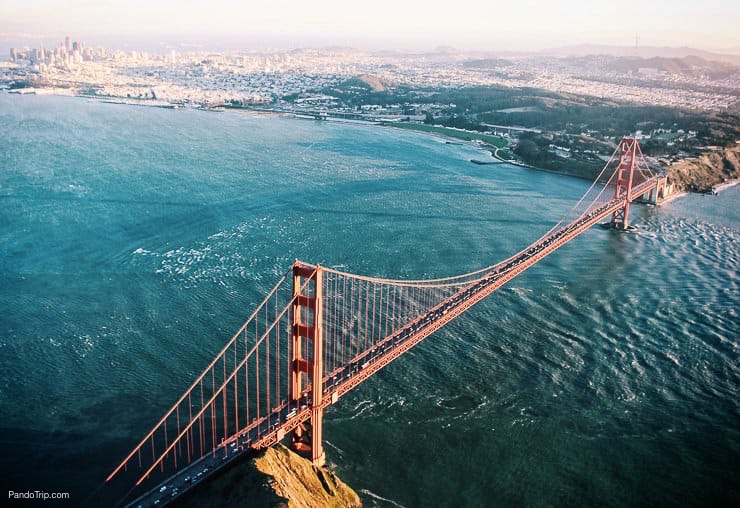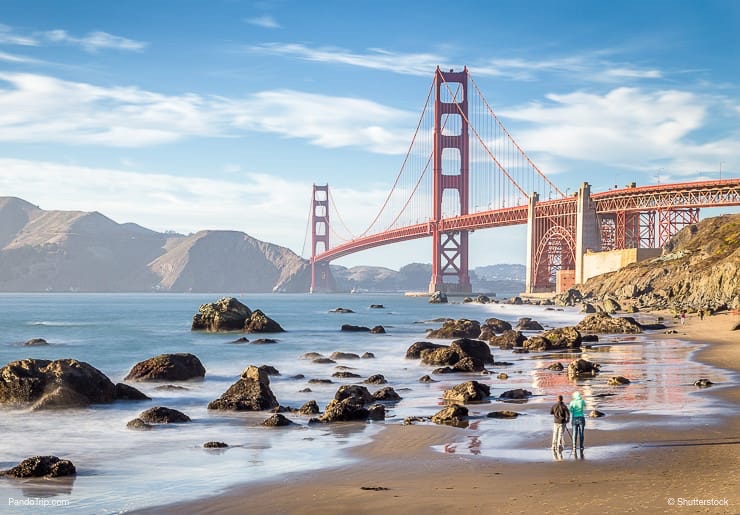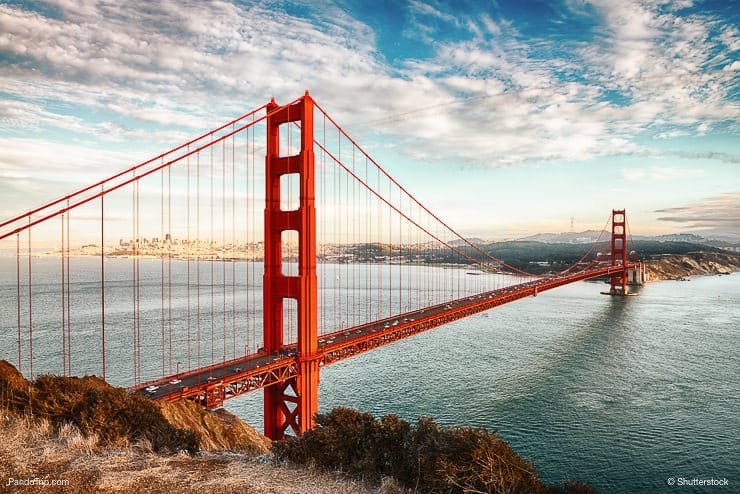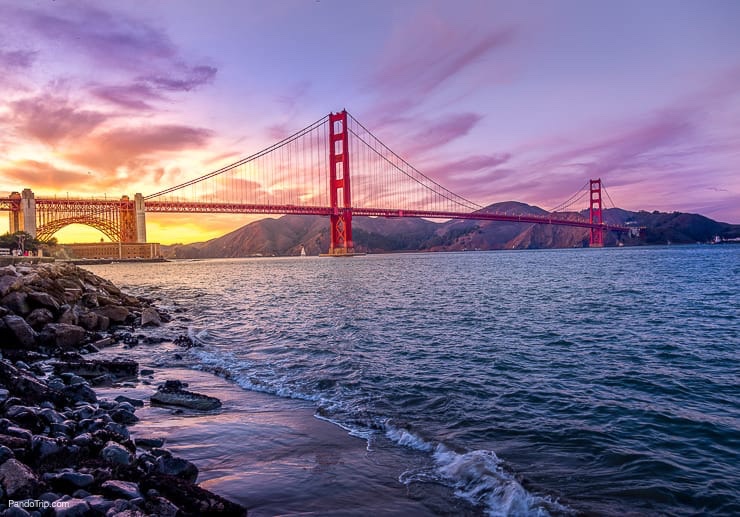 7. Sydney Opera House, Sydney, Australia
Do you like your architecture with an alien edge to it? If the answer is yes, then getting your photo taken in front of Sydney Opera House has to be a must do on your list. Perched on the edge of Sydney Harbour, on the outside, the Opera House appears like a giant spaceship folding back its protective shields. On the inside it's a multicultural combination of venues where, apart from listening to other-worldly operatic music, you can take in some seriously top-notch theatrical performances and live concerts.
When to go: There really is only two times of the year to visit the Sydney Opera House. The first, from the end of May to mid-June when the whole of Sydney, including the Opera House, is lit up brighter than the proverbial Christmas tree with stunning three dimensional laser lighting during the Vivid Sydney event. The second and absolutely unmissable time is New Year's Eve when the Opera House becomes the backdrop for one of the world's biggest fireworks displays. If you like to bring in the new year with a big bang, there really isn't any other place you should consider doing it than in Sydney.
Website: www.sydneyoperahouse.com
Location on Map: Sydney Opera House, Sydney, Australia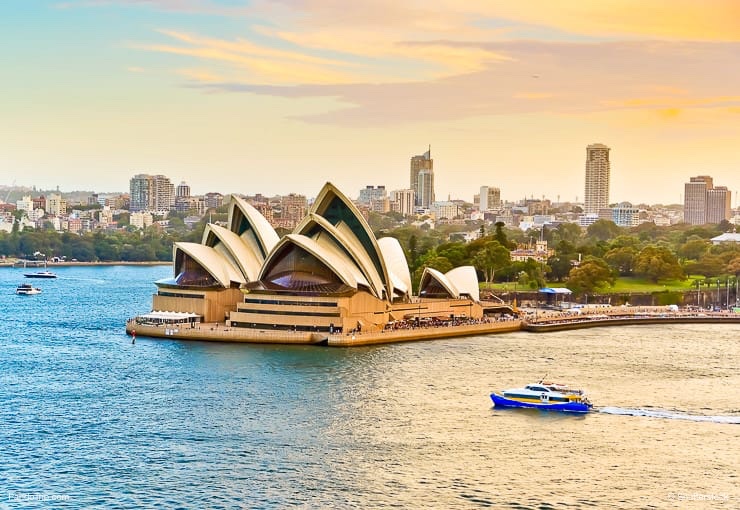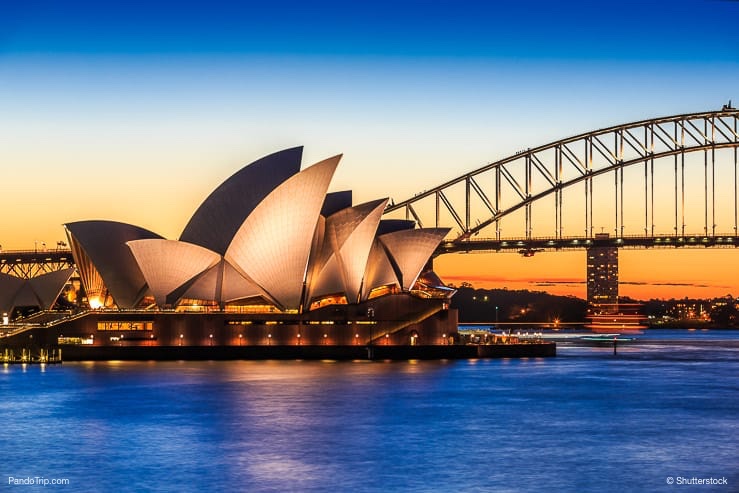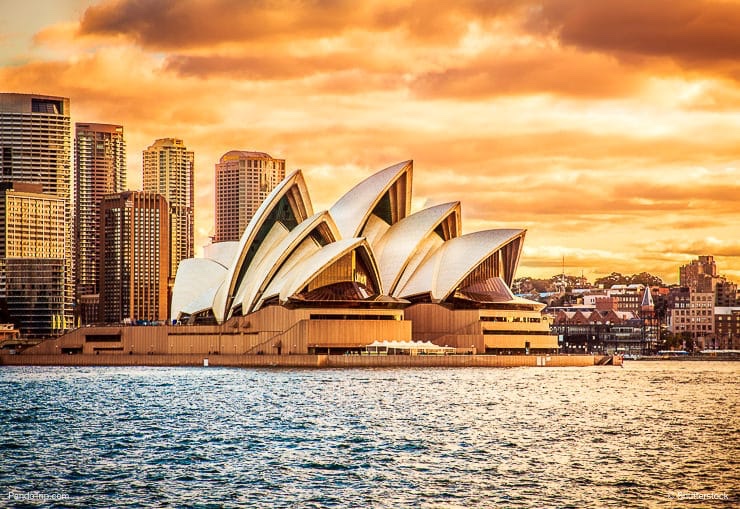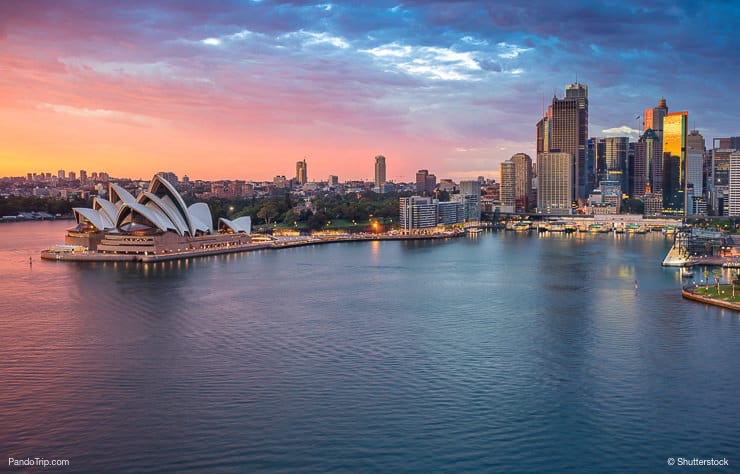 6. The Pyramids of Giza and The Sphinx, Egypt
If you've ever dreamt of becoming an archaeological treasure hunter, riding a camel through the desert and uncovering ancients artefacts, get your bags packed, grab a trowel and jump on a plane that's heading to Egypt. The Pyramids of Giza and the Sphinx await you.
Be Blown Away. You don't need to be a lover of either mythology or big cats to appreciate the enormity of the Pyramids of Giza and the Sphinx in Egypt. There is something completely timeless about these two famous Egyptian landmarks that defies explanation. Wrap the flapping lengths of a keffiyeh headdress around your face to stop the sting of the sand and as you stand next to the pyramids to ponder on the ingenuity of ancient civilisations, you'll be blown away by more than desert winds when you realise every step up is actually taller than you are.
When to go. Egypt is hot, hot, hot. So to be able to really enjoy viewing the pyramids of Giza and the Sphinx, choose a time when the temperatures will be a little cooler. Book your camel for any time between November and March and you'll be safe from the sizzling heat. If you're not averse to spells of thirty five or forty degrees Celsius, you could try the summer months from April to October but you could end up frying eggs on the stones of the Sphinx.
Location on Map: The Pyramids of Giza and the Sphinx, Egypt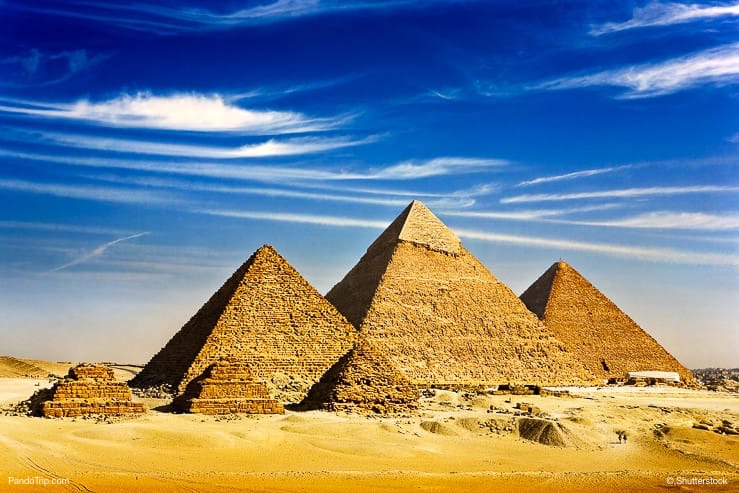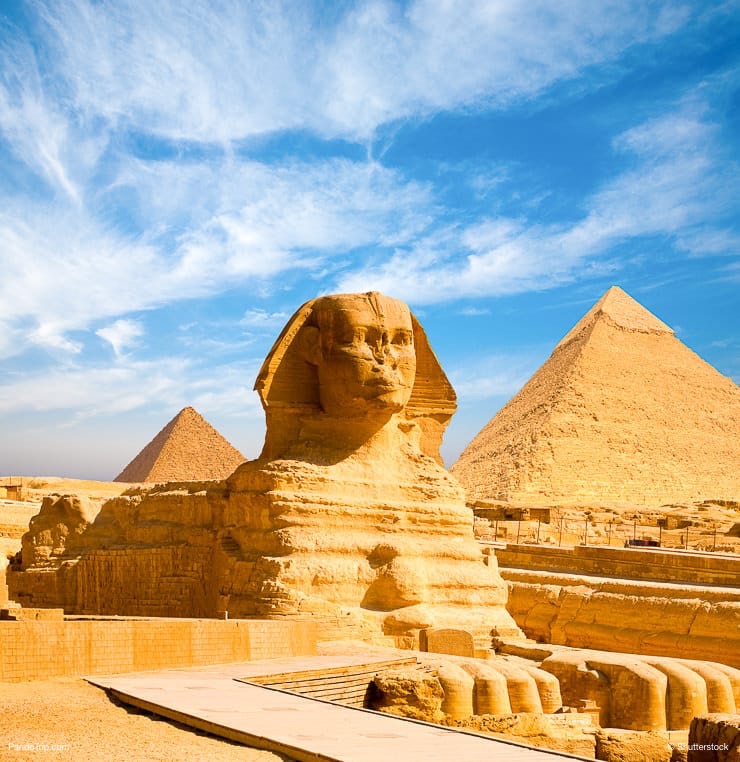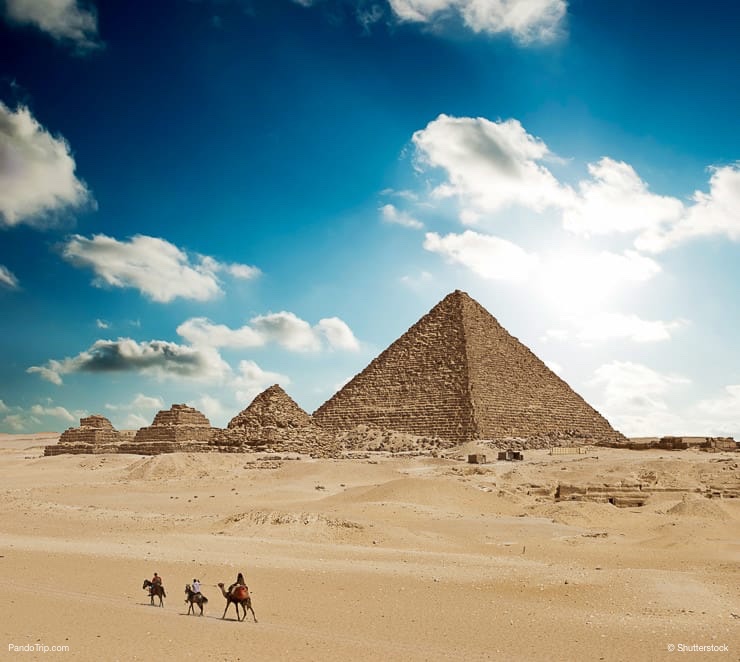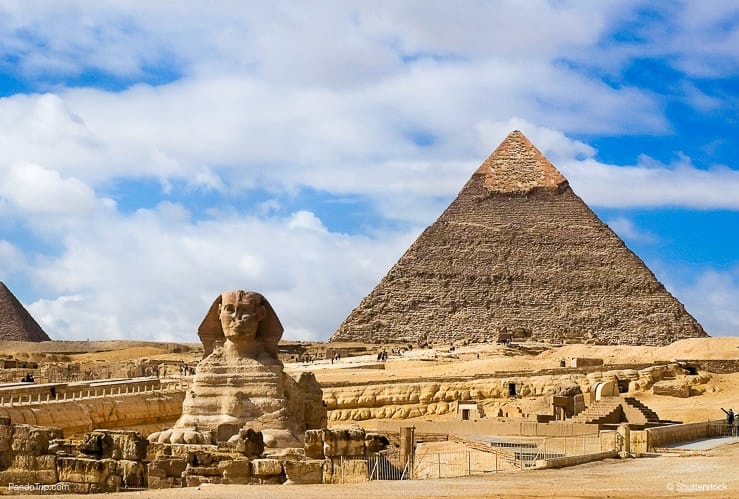 5. The Colosseum, Rome, Italy
Fancy yourself a bit of a gladiator? Well, you may have seen the epic films and think you can swing a sword, but once you're down in the arena of the Colosseum in Rome, you'll probably be so overwhelmed by the size of the amphitheatre, you'll want to reconsider. The Romans really did take their fun and games seriously. The amphitheatre is large enough to have held an audience of around eighty thousand which is well on par with most modern Olympic stadiums.
Mind Boggling Building. The fantastic construction is truly mind boggling when you consider the materials and equipment the Romans had available to build it. Even more incredible is that it's still standing today. Take an underground tour of the tunnels and feel the prickle of ghostly goosebumps crawl across your skin in sympathy for all the gladiators and animals who preceded you, but weren't fortunate enough to come out again and end their day snacking on pizza.
When to go: The Colosseum in Rome is one of Europe's most visited attractions so whenever you go during the daytime you're going to have to queue. Beat the crowds and do it at night when the Colosseum looks even more impressive illuminated. Sightseeing is also much more fun without having to put up with suffocating heat, so night tours are winners all round.
Location on Map: The Colosseum, Rome, Italy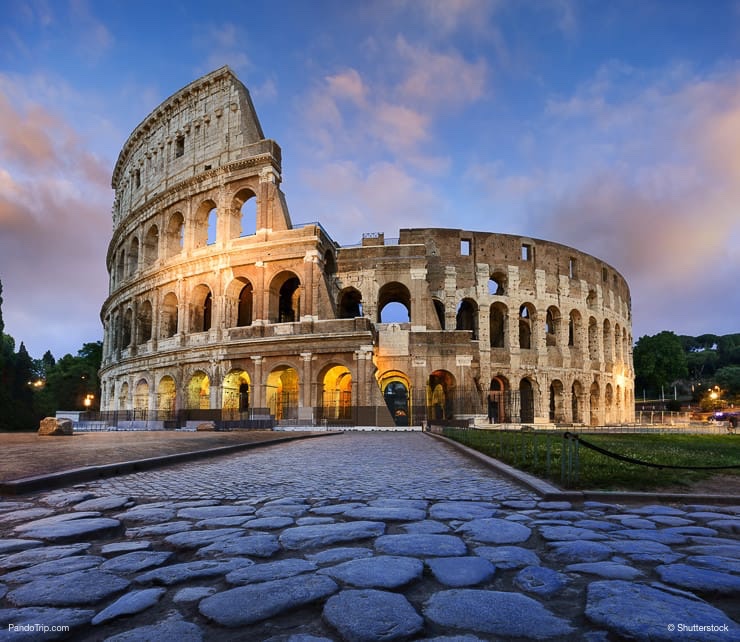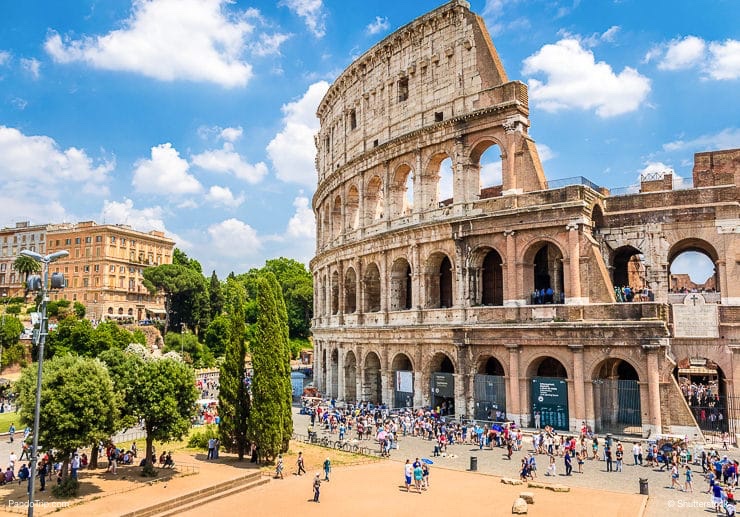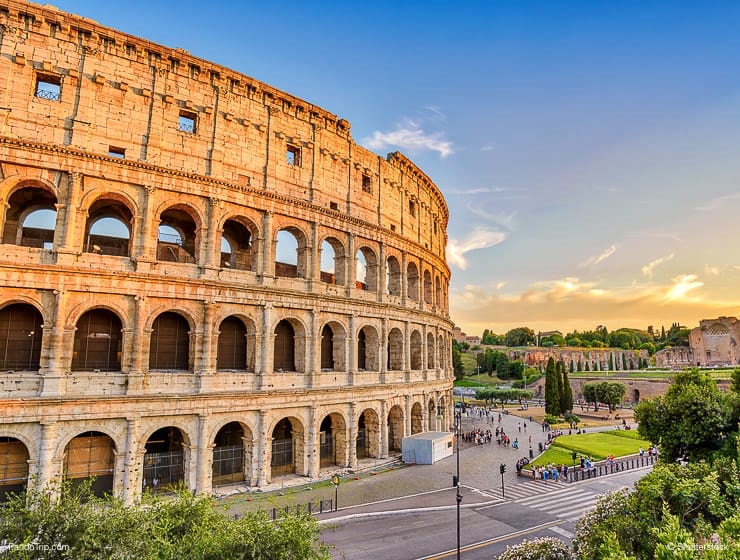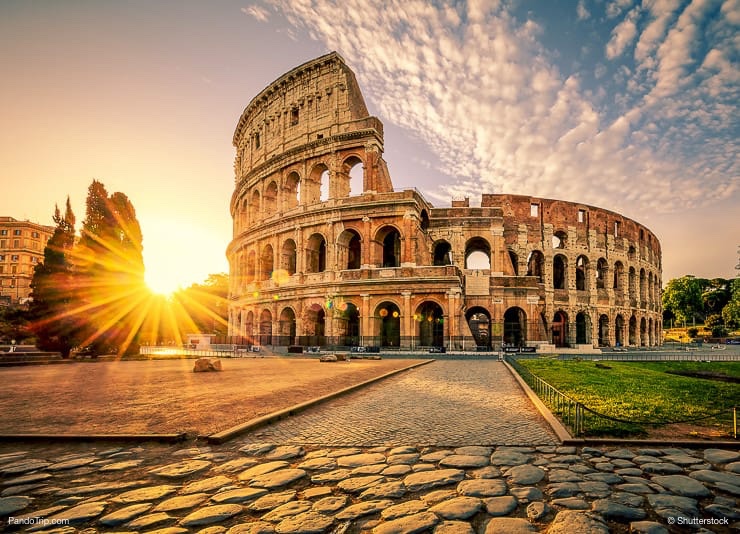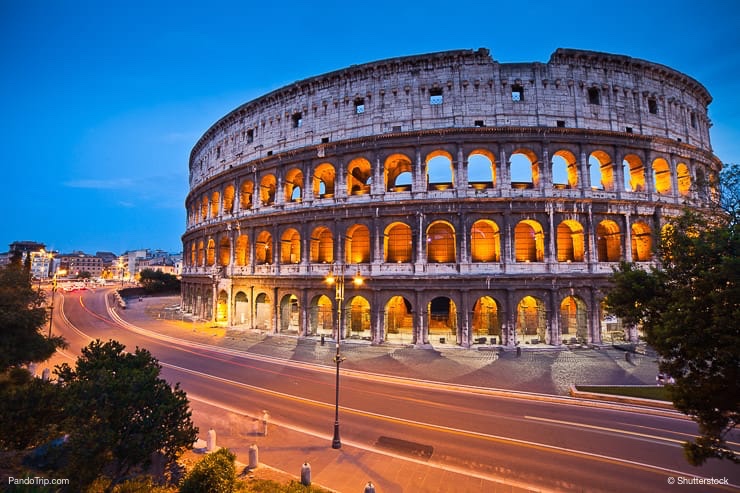 4. Taj Mahal, Agra, Uttar Pradesh, India
There's no way you can write a list of famous landmarks you want to visit without putting the Taj Mahal in India on it. There's just something amazingly special about monuments which have been built for love. Whether it's the extra details that are added or just the idea itself, but when Shah Jahan set himself the task of building the Taj Mahal in India, he really went for it.
Colorful Crowds. Don't be deceived into thinking the Taj Mahal is a palace and although it's often mistaken for one, it is a mausoleum which he constructed in memory of his wife. Now that's love. Its ornateness, inside and out, is something to truly marvel at. Though take note, the colourful crowds winding their way around the Taj Mahal are not an integral part of the decoration, they're the queues to get in.
When to go: Sunrise or sunset? Both times have lots in their favor, but depending on your sleep habits, if you're not an early riser, you might want to choose a later viewing. But both options have the advantage of being cooler than a midday visit when the temperatures can be sweltering. Don't plan on visiting the Taj Mahal on a Friday as it is closed for prayers and if you use the Western Gate to enter watch out for marauding monkeys.
Website: www.tajmahal.gov.in
Location on Map: Taj Mahal, Agra, Uttar Pradesh, India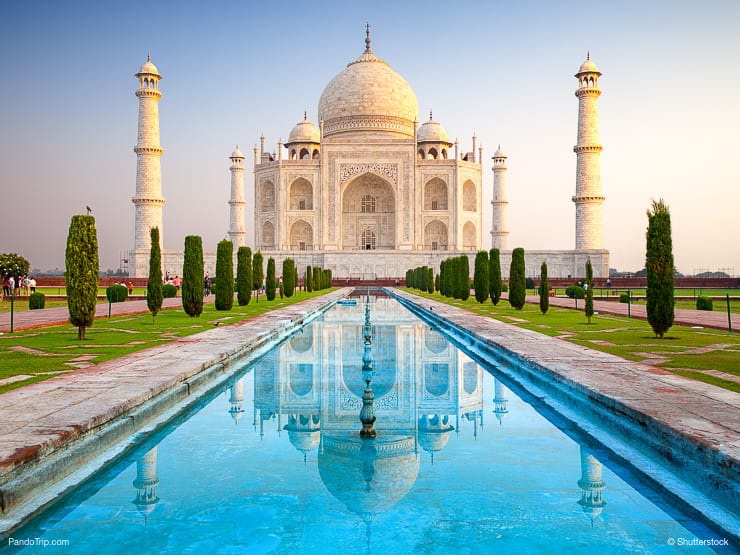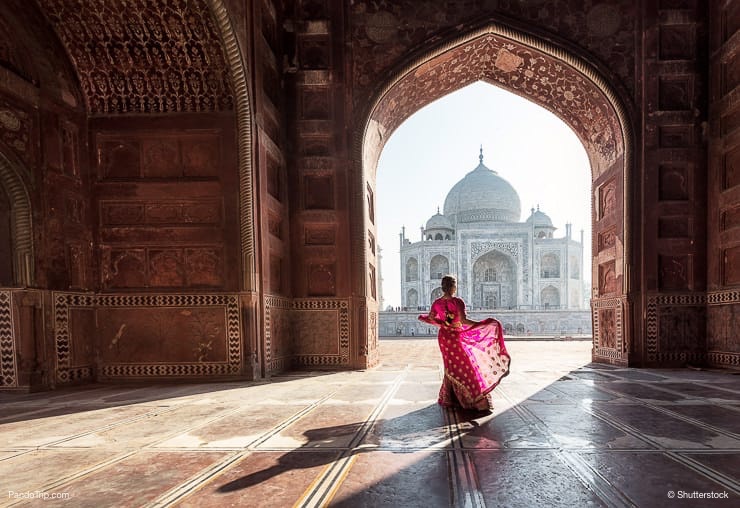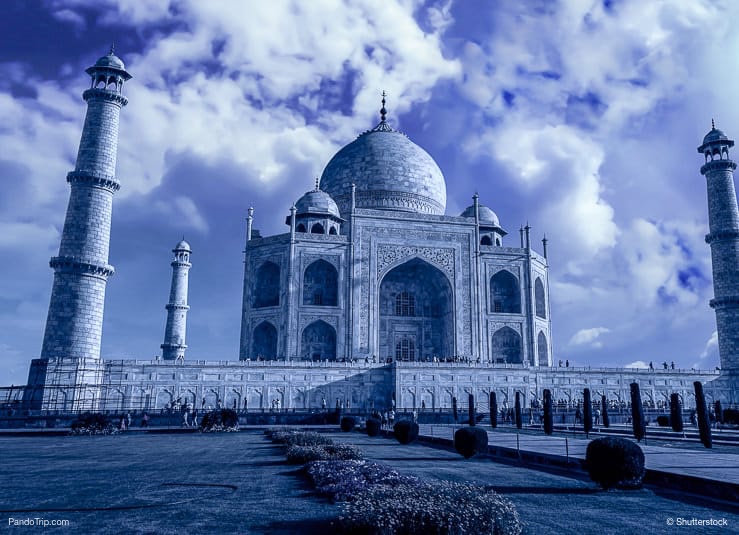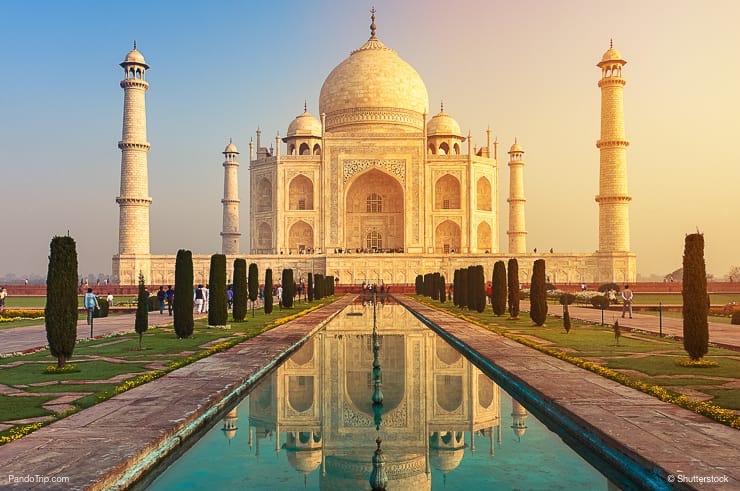 3. Great Wall of China, Beijing, China
When is a wall not a wall? When it's the Great Wall of China. This is one wall which is completely inconceivable in all aspects until you actually see it so it just has to be part of your list of famous landmarks to visit. When you stand on the Great Wall you won't be wondering about the whys and wherefores of why it was built in the first place because you'll just be too busy gaping at its greatness.
Be Awed By Greatness. Yes, you'd be quite right in surmising great wasn't added to the wall's name by mistake. When you see that line of stonework snaking through the lush Chinese countryside,over mountains, through valleys and into the infinite distance, you'll realise why it is one of the true wonders of the world and one you seriously just can't afford to miss.
When to go. Beijing just has to be seen in Spring when the city itself and the countryside around the Great Wall are in full bloom. Yes, it's cherry blossom time and unless you suffer from serious hay fever, it's one of the best times to go. Although July and August are summer months and can get pretty warm, they're also the rainy season so if you're planning on going then, take an umbrella. Unless you relish Arctic temperatures and have the blood of an Eskimo, skip going during the winter as it's just too cold.
Location on Map: Great Wall of China, Beijing, China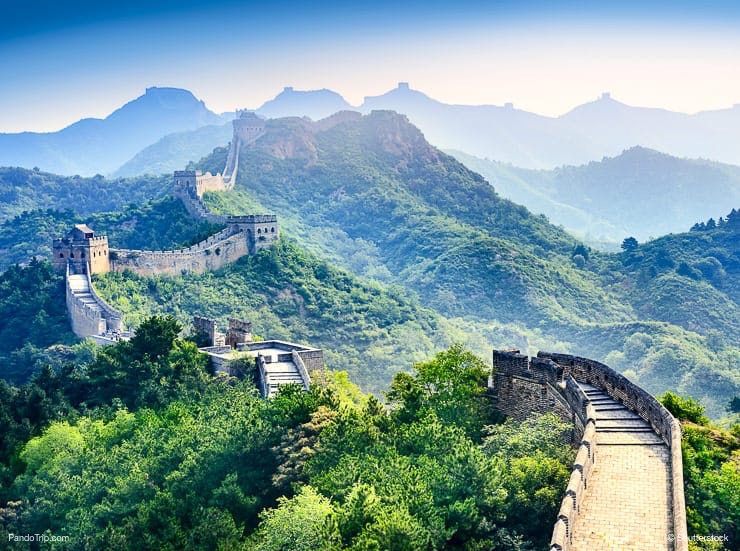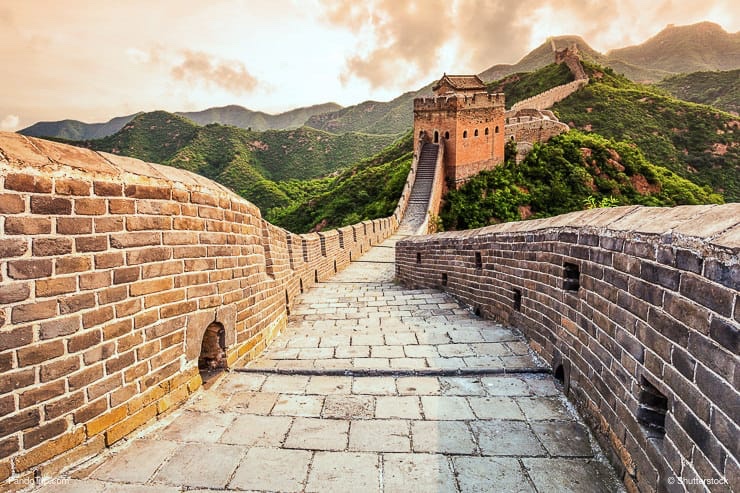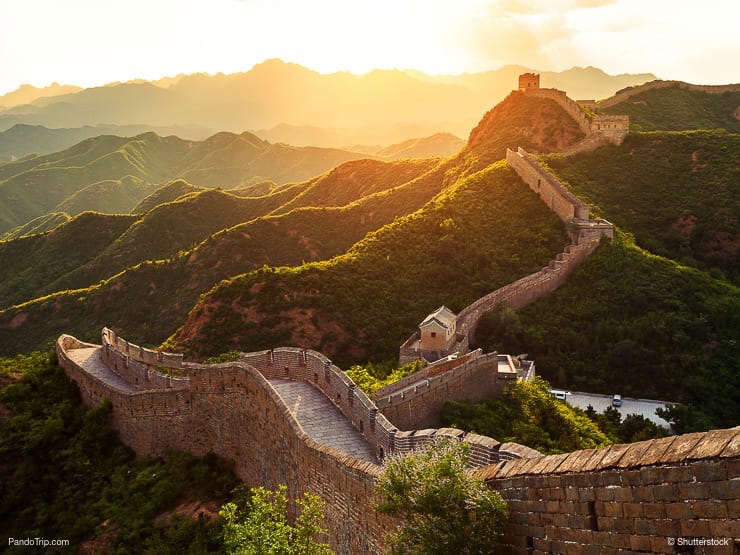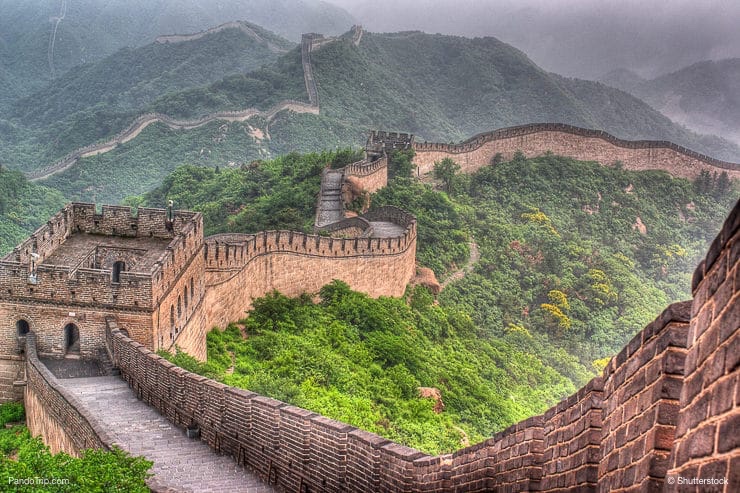 2. Eiffel Tower, Paris, France
If you're in search of the most romantic landmark in the world, then you'll have found it in the Eiffel Tower in Paris. This iconic structure of metal girders for some reason epitomises love and has inspired many a man to drop down on one knee on the observation deck to make a marriage proposal.
Lofty Proposals. What is it about the Eiffel Tower in Paris that causes that effect on people? It could be the pure, ooh la la Frenchness of the vibe in the Paris air at altitude or it could be the glass viewing floor sixty metres above ground level. It might be the sheer height of the tower which stands a disconcerting three hundred meters plus or it could just be an after effect from the bubbles in the champagne from the bar right at the top. There's only one way to find out for sure. Put the Eiffel Tower in Paris on your list and go and discover its magic for yourself.
When to go. If you're in search of some landmark romance, then you'll really want to be climbing up the Eiffel Tower early evening in the summertime. Make a reservation before you go, you'll jump the queues in time to see the sunset over Paris and the lights come on all over the city. It really doesn't get any better than that.
Website: www.toureiffel.paris
Location on Map: The Eiffel Tower, Paris, France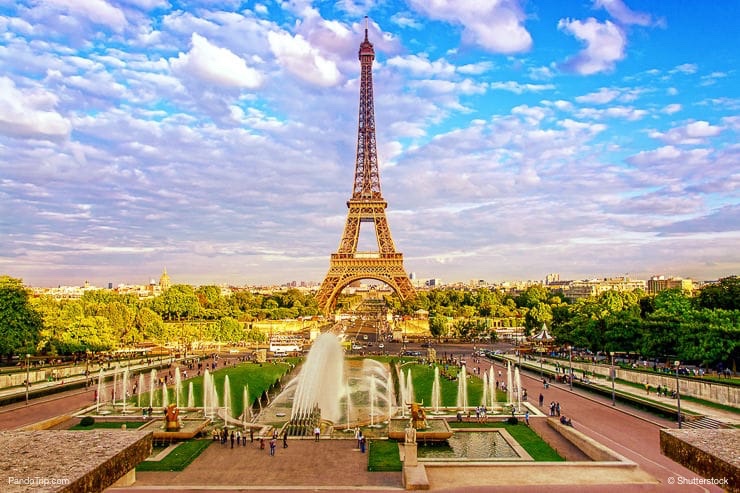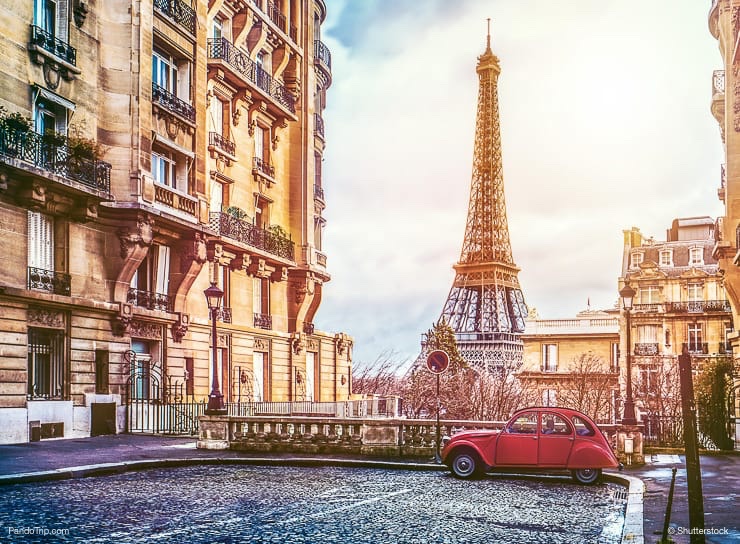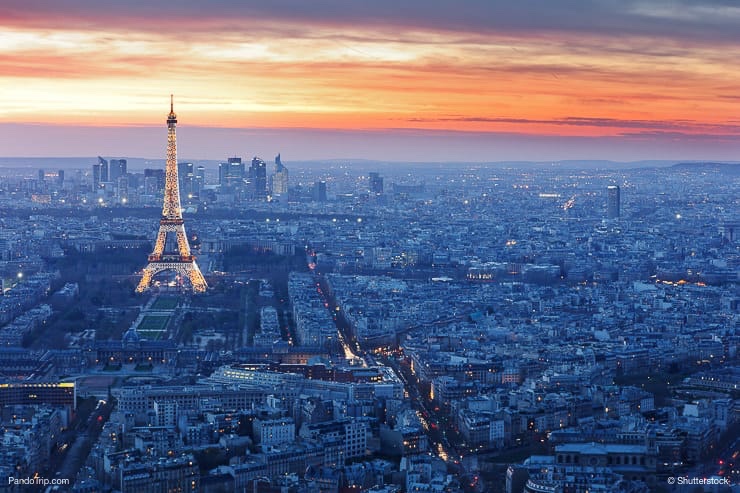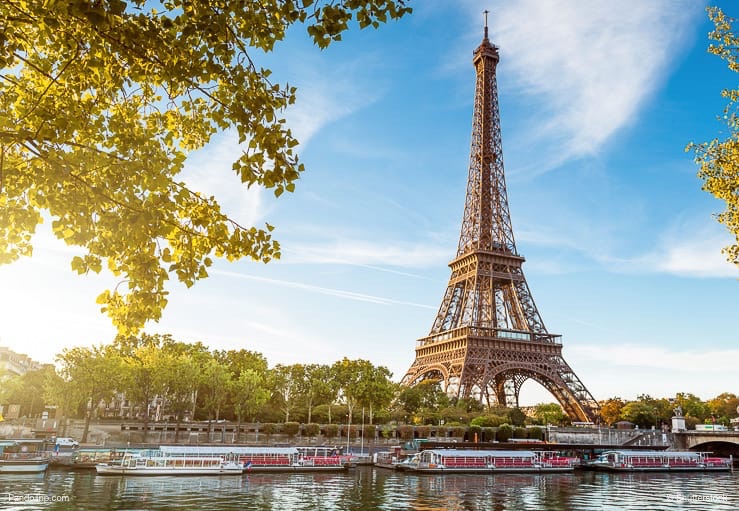 1. The Statue of Liberty, New York, USA
Is there any landmark more famous in the world than the Statue of Liberty in New York? There's only one answer to that. No, there's not. The Statue of Liberty is one lady who should be at the top of everyone's list of world famous landmarks to visit.
Though her copper robes have turned a tarnished green over the years, for a woman of her age and for someone who's been carrying a torch for America for over a hundred and thirty years, she's still pretty impressive. She is the symbol of freedom worldwide and one you just can't miss seeing at least once in your lifetime. Guaranteed that when you do go, the Statue of Liberty will welcome you to New York, without batting an eyelid, the same as she has done millions of other visitors over the decades.
When to go. Spring, summer or early autumn are the best time to visit the Statue of Liberty. Try it in winter and you'll probably be chipping icicles off your eyebrows. Day or night? Has to be night. Take a boat cruise around the bay of Manhattan at dusk and you'll see how, once illuminated, the great lady almost seems to come to life.
Website: www.nps.gov/stli/
Location on Map: The Statue of Liberty, New York, USA