Hamnøy is a small but unbelievably beautiful fishing village in the Lofoten archipelago. It's considered one of the most beautiful places of all in Lofoten. The pictures of Hamnøy's red fishermen's cabins on the seashore have been featured in many magazines and websites, including on the cover of National Geographic and Condé Nast Traveler. However, the village is a great place to visit not only for its photogenic qualities, but also for its outdoor activities. Going fishing and seeing the northern lights or the midnight sun are just a few of things you can do there.
Tip: You can get that iconic view we mentioned above from the Hamnoy Bridge Photospot Viewpoint. The bridge connects the Hamnøya and Toppøya islands, and it's the most popular spot for photography lovers in Lofoten.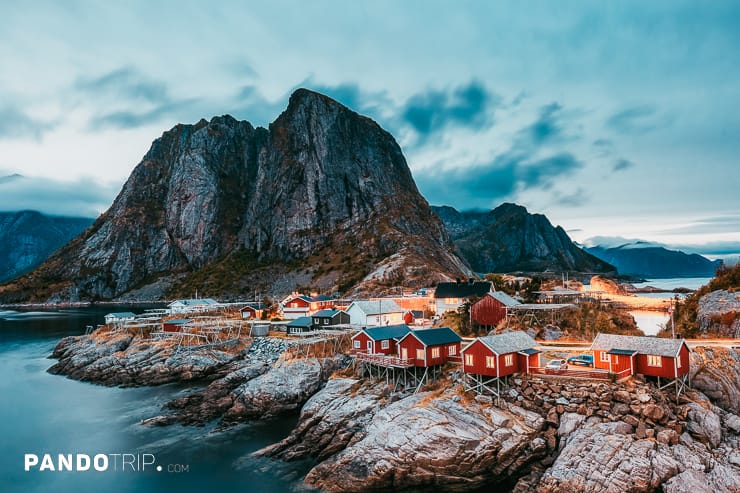 Things to do in Hamnøy
Surrounded by the sea, fjords and mountains, Hamnøy offers a variety of activities and sights to explore, despite being a small village.
Stay in a Rorbuer
Staying in a rorbuer (traditional fisherman's cabin) is one of the best accommodation experiences you can have when traveling. Those tiny red cabins, which you have probably seen in many pictures, are even cuter and cozier in real life. Rorbuers are a piece of Lofoten's past and the best way to connect to the village's history.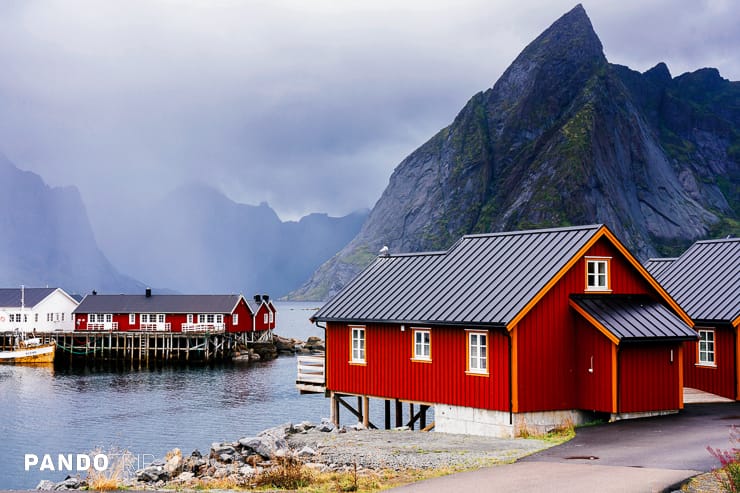 Capture the most amazing photos
If you're into photography – you must visit Hamnøy. It's a paradise for photographers. Take some iconic pictures from Hamnøy bridge, capture the northern lights during winter or the midnight sun from May to July. If you're not sure where to find the best photography locations, book a photography tour here.
Catch some fish
If you like fishing, Hamnøy is definitely one of the places to be. Lofoten has one of the largest fisheries in the world. What's more, the annual World Cod Fishing Championship also takes place here. You can find many fishing tours on the Internet or just ask at the place where you're staying.
Enjoy outdoor activities
Hamnøy is the perfect place for nature lovers and adventure seekers. Cycling enthusiasts can rent a bike and explore the island on their own. Hikers and climbers might be overwhelmed by the number of hiking trails available there. Bird lovers can also enjoy bird-watching tours.
There are many options for adrenaline junkies as well – deep-sea rafting, kayaking and scuba diving are just some of the activities you can find there. Most of these tours can be booked online or via the hotel you're staying at.
Visit Reine and hike Reinebringen
Located just 10 minutes drive from Hamnøy, Reine is another incredibly picturesque fishing village. It's a little bit bigger compared to Hamnøy, but still super lovely. The most famous hike in Lofoten Reinebringen is located in Reine. If you only have time for one trek during your time on Lofoten Islands, it should be Reinebringen.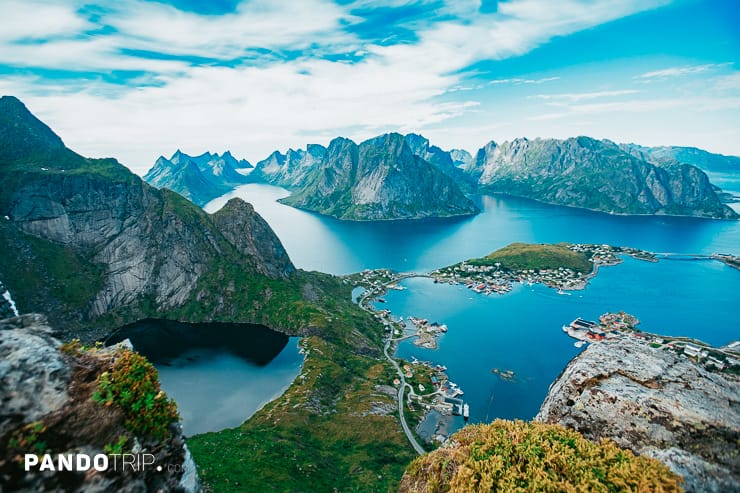 The best place to stay in Hamnøy
As we already mentioned, staying in a rorbuer is a must-do activity in Hamnøy, and Eliassen Rorbuer is the best option in the entire Lofoten archipelago. It's the oldest fisherman's cottage resort on the Lofoten Islands, and some of the cabins are more than 100 years old.
Eliassen Rorbuer offers 35 cottages to visitors. Historically, those cabins were used to accommodate fishermen who arrived in Hamnøy from all over Norway. Nowadays, all of the houses have been renovated and have everything you need for a comfortable stay (including high-speed Wifi). However, the decor takes visitors back in time and lets them experience the authentic atmosphere.
Tip: Eliassen Rorbuer is a trendy place to stay in Hamnøy, so it's better to book months in advance before your trip.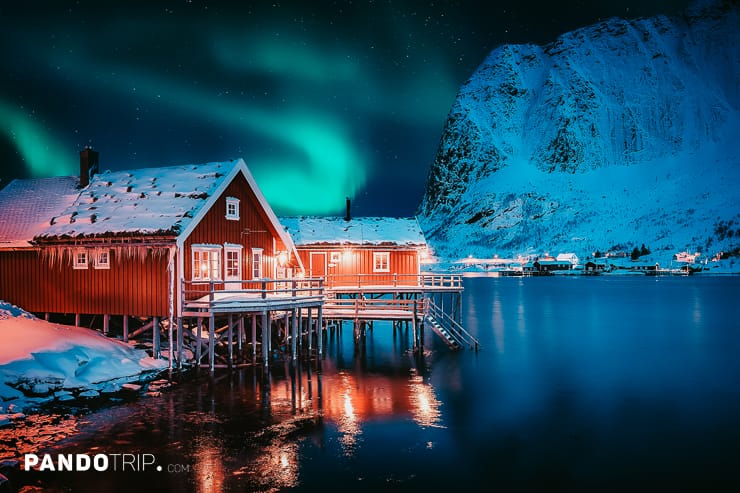 How to get to Hamnøy?
First things first – you need a car for your trip to Hamnøy. You really do. The public transport on Lofoten islands is minimal and mostly set up to serve the local population, not tourists. Of course, it's possible to travel without your own car, but you need to do lots of planning. Also, relying on buses in such a scenic location is not the best choice, as you'll miss lots of beautiful places that can't be reached by public transport.
By Ferry
The most popular way to get to Lofoten Islands is to fly to Bodø and then take a car ferry to Moskenes. Depending on the conditions, the ferry takes about four hours. It's a good idea to have some seasickness tablets with you, as the sea can sometimes become rough.
The frequency of boat departures depends on the season, but there is at least one ferry per day even during winter. You can check the schedule and book your ferry on Torghatten Nord website.
When you arrive in Moskenes, just take route E10 (it's very close to Moskenes Ferryport) and you'll reach Hamnøy in 10-15 minutes.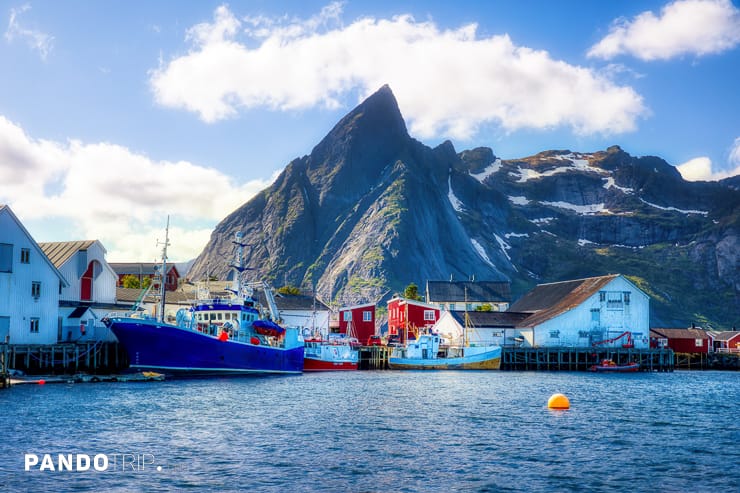 By Plane
If the ferry doesn't sound like a good option for you, it's possible to get to Lofoten by plane. International Harstad/Narvik Airport has direct flights from Oslo. However, the airport is a bit far away from the main Lofoten Archipelago. It'll take more than four hours by car to reach Hamnøy via route E10.
The domestic airports of Leknes and Svolvær are much closer to Hamnøy, but they don't offer direct flights from Oslo. Usually, you have to change planes in Bodø or Tromsø. The trip to Hamnøy by car takes about one hour from Leknes and about two hours from Svolvær.
Where to rent a car?
You can rent a car in any airport mentioned above – Bodo, Harstad/Narvik, Leknes and Svolvær. Sixt, Hertz, Avis, or Europcar – all of them operate in these airports. But book your car at least 1-2 months beforehand, as renting a car is a popular choice in Lofoten.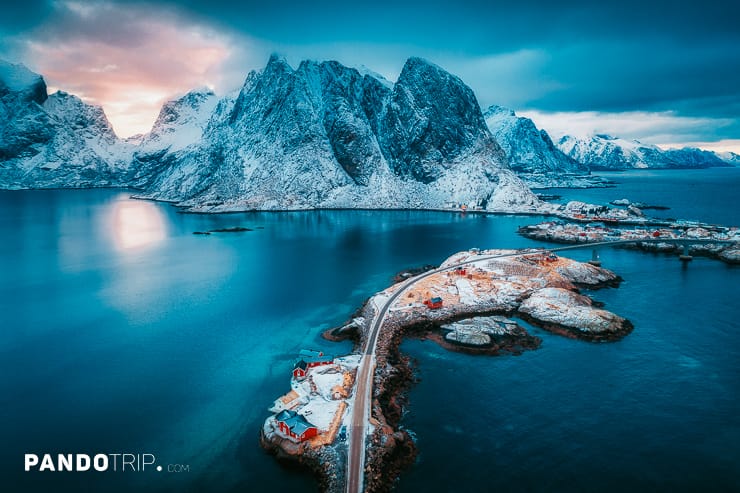 Best time to visit Hamnøy
The best time to visit Hamnøy depends on what you want to do.
Best time for fishing
This fishing season in Lofoten is from January to April and reaches its peak in February-March.
Best time for a winter experience
If you want to witness Hamnøy covered in snow, the time between mid-February and March is perfect. December to mid-January has lots of snow to offer, but there aren't many hours of daylight during that period.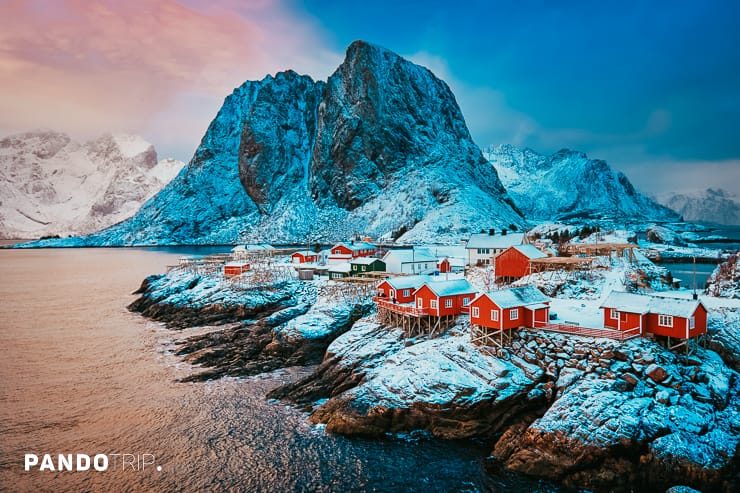 Best time for outdoor activities
Mid to late August is probably the best time for outdoor enthusiasts. It's still summer, the weather is warm enough for camping and all the summer crowds have already gone. If you don't mind other people's company, July is lovely too. Just book everything six months in advance, as July is the peak season and most accommodation is fully booked.
Best time for the Northern Lights
September to March is the main Northern Lights season in Lofoten. But keep in mind that from September to November it can be very rainy. December – February is the darkest period of the year on Lofoten, so visiting in early September or March is your best bet. However, I wouldn't plan my trip to Hamnøy solely based on the Aurora Borealis. Yes, it's possible to see the breathtaking Northern Lights there, but it's never 100% guaranteed. So look at this as a potential bonus, not the main goal of your trip.
Best time for the midnight sun
The Midnight Sun is a natural phenomenon which means that the sun does not disappear below the horizon and is visible 24 hours a day. The midnight sun in Hamnøy usually starts in late May and lasts until mid-July. It's a special and surreal experience, which can only be seen in eight countries. Though, be aware that sleeping under the midnight sun could be tricky, as it's likely to mess up your internal clock.