You've probably seen hundreds of photos of amazing Greek beaches, monuments, and sunsets while scrolling on Instagram and made yourself a long list of – must-see in Greece.
But, believe it. The photos often don't do justice to the reality which makes it almost impossible to choose just which are the best places to visit in Greece. The list would be endless. Add in the extra elements of incredible Mediterranean cuisine and friendly, hospitable people, and once you're there, you may even find you never want to leave.
Whether you're thinking of visiting the mainland or are planning on touring some of the islands, wherever you go, you'll find Greece is a magical country. Not sure where to start? Here's a list of the ten best towns in Greece, none of which you're going to want to miss out on.
10. Plaka, Athens
Think of Athens, the capital city of Greece, and the first thing which comes to mind will probably be some of its famous monuments like the Acropolis or the Parthenon. Those aside, the city has a distinct character which is unique from other European capitals.
Athens evolved from what was originally a mass of small villages which have merged together over the centuries. Most of those villages have lost their original characteristics and are indistinct from each other. The neighborhood known as Plaka hasn't.
In Plaka, there are cobbled streets lined with cafes and restaurants with colorfully furnished terraces. Narrow pedestrianized alleys where traditional Ouzerias and the local bakery are flanked by eclectic souvenir shops. You'll come across lively venues like Bretto's which has been operating since the early twentieth century. Once the site of a distillery, it's now a bar with walls decorated with bottles.
Explore further and you'll find Anafiotika, another part of Plaka. The locality, with its blue-doored white houses and stepped streets decorated with flower pots, will have you imagining you've been teleported from the city to one of the quieter, less-developed islands.
Why Go? Plaka is the most beautiful area of Athens and is alive with traditional Greek character. Not visiting Plaka while you're in Athens is missing out the best part – the heart and soul of the city.
TL;DR: Visit Plaka in Athens to explore Greek village life without ever leaving the city.
9. Assos, Kefalonia (Cephalonia), Ionian
Hop on a plane from Athens airport, and within an hour you'll be disembarking on the largest island in the Ionian chain – Kefalonia. This island has all the visual elements which make Greece so memorable. White sand beaches in secluded bays surrounded by pine-covered cliffs, picturesque harbor towns, and quaint, rustic villages. Kefalonia also has some incredible natural wonders like the Melissani Lake Cave which just have to be seen to be believed.
There's one particular village on Kefalonia which has to be on your list of best places to see in Greece, and that's Assos. Assos is a tiny hamlet of pastel-colored houses with a population of just one hundred. It nestles, at the base of a hill on a small peninsula, on the north-west coast of Kefalonia and is surrounded on three sides by the stunning blue of the Mediterranean Sea. The village, which is overlooked by the ruins of a Venetian castle, has a pebble beach and small marina lined with traditional restaurants. Idyllic doesn't even begin to describe it.
Why Go? Life has a different pace in uncommercialized Assos. It's the perfect place to chill out and really relax. Explore the village and the ruins, swim, then dine by the sea on some real Greek food. Vacations don't get any better than that.
TL;DR: Everyone talks about finding unspoiled towns in Greece. Go to Assos in Kefalonia and you'll be in one.
8. Naxos Town (Chora), Naxos, Cyclades
The largest island of the Cyclades, a group of two hundred Greek islands in the Aegean Sea, is Naxos. It's well known for its picture postcard appearance, historical monuments and surprisingly, its top quality potatoes.
If you love art and history, Naxos Town or Chora will be a must see in Greece for you. The town's square-shaped houses lined up on a hillside in tiered layers resemble a Cubist artwork. For the historians, the town has a thirteenth-century castle inside which there's a thriving community. Enter through its gate, and the explore the Kastro's streets of cobbles. You'll discover Venetian mansions, churches, the Kastro cathedral in the main square, museums and a monastery in this community nucleus.
For a historically artistic sunset photo opportunity, head out of town and up the hillside to Apollo's Temple. This impressive ruin of the temple entrance stands like a photo frame waiting to catch the sun between the columns of its lintel-ed arch. Now that's a seriously Instagramable snap.
Why Go? Visiting Naxos is to immerse yourself in living history. Walk around the Kastro, the community within the castle walls and you'll feel as if you taken a leap back in time. Fascinating.
TL;DR: In Naxos, discover what it might have been like to live in ancient Greece by visiting the ruins of a Greek temple and a community within the walls of a medieval castle.
7. Parga, Northern Greece
If being by a great beach is somewhere near the top of your list for the perfect vacation location, then Parga would be one of the best Greek towns you could go to. The coastal town, which sits below the ruins of a castle, has none of the hustle and bustle you'd expect in an urban spread of its size.
Think tranquil stretches of glorious sand between outcrops of stunning pine-clad limestone cliffs, because Parga is all about beautiful beaches and views as scenic as you'll find on any of the islands. Krioneri beach, Lichnos beach or Valtos beach, take your pick, they're all within a few minutes walking distance of the town.
Parga's isn't short on nightlife either. After dark, the bars and taverns on the harbor front spring into action and you can party through the night until the sun comes up.
Travel anywhere in Greece, and you'll see grove after grove of olive trees. The oil produced from the olive harvest is an essential ingredient in Greek life. Its importance is honored in the Paragaea Olive Oil Museum which exhibits antique machinery and information on the processes used for extracting the oil. Don't miss out on sampling some.
Why Go? Visiting Parga is like visiting several of the Ionian islands all at once. It may be on the mainland but its characteristics are the same as Corfu or Kefalonia plus you'll learn all about the most important ingredient in Greek cuisine – olive oil.
TL;DR: Parga is a Greek town with superb beaches, great nightlife and lots of olive oil.
6. Mykonos Town (Chora), Mykonos, Cyclades
If you like to party to dawn and be in with the in-crowd, then Mykonos Town is the best place in Greece for you to visit. While the island of Mykonos, which is in the Cyclades chain, might only cover an area of thirty-three square miles, it's an island which has dominated the Greek social scene for years. Yes, it has a reputation for being as wild, if not wilder, than Ibiza and it's a reputation it lives up to.
Be prepared to be blinded by the morning sunshine and the bright, whiteness of the houses when you leave the clubs. You may even need to elbow your way through the crowds if a cruise ship has docked in the harbor. That's all part of Mykonos's charm.
Is there more to Mykonos Town than bars and nightclubs? Yes, there is. Little Venice is a part of the town where the houses and restaurants go right up to the waterfront. It's quaint, and the narrow streets behind are an interesting labyrinth of boutiques and bars. The cluster of five windmills on the town's coastline makes for an iconic Instagram photo if you snap them at sunset. The Mama Mia-style, Panagia Paraportiani church with its white-washed walls and arched bell tower is one of the most photogenic buildings in Greece.
Why Go? Mykonos Town is the place in Greece to see, be seen and party like you've never partied before. Do you need any better reason to go than that?
TL;DR: Mykonos Town is a party animals paradise combined with the classic blue and white of scenic Greek towns.
5. Lindos, Rhodes, Dodecanese
One of the best Greek towns to visit for combining beach time with viewing ancient monuments is Lindos on the island of Rhodes. The town sits in a beautiful bay edged with golden sands. Above it on a prominent hillside is a fortress-like acropolis which dates from around 200 BC.
While Lindos is picture perfect with narrow cobbled streets full of flowers and trailing vines, it's the acropolis which is attention-grabbing. Enter through the medieval gateway and inside is another world, an ancient one, where there's a lot to explore. Discover the Doric temple with impressive columns, Hellenistic stairways, the remains of a Roman temple and a pentagonal tower which was part of the castle built by the Knights of St John. There are donkey rides from the town to the acropolis, but it's not a difficult walk, so avoid using the overworked animals and give them a break if you can.
For a day on the beach, head to St Paul's Bay. The tiny, sheltered cove has super clear turquoise waters which are perfect for snorkeling.
Why Go? Lindos is the ideal town to combine spending leisurely days on the beach with fascinating archaeological explorations.
TL;DR: Lindos is the perfect Greek town for enjoying both sunbathing and archeological sightseeing.
4. Monemvasia, Peloponnese
Monemvasia lies just off the coast of the Greek Peloponnese, and although it is an island, a narrow causeway connects it to the mainland. From a distance, Monemvasia appears to be a gigantic and lifeless mound of arid rock. It isn't until you're actually on it that it reveals its impressive secrets.
On this tiny islet, shrouded by the presence of the central rock formation and hidden from view, is a medieval walled citadel. Go through the tunnel entrance, and you'll be in a world that time has forgotten. Stroll the cobbled streets lined with empty houses. There are very few people living in the fortress, and no cars are permitted inside, so it's eerily quiet once you're away from the center. There are a few hotels, a couple of tavernas and some souvenir shops. The island also has two beautiful beaches. One right by the castle walls and the other around two miles away which you can walk to.
Why Go? Live the fairytale by staying in a castle surrounded on all sides by the sea. Monemvasia is one of the most romantic places in Greece and is ideal for an intimate couples vacation.
TL;DR: Stay in Greece's only inhabited medieval castle on the isolated island of Monemvasia.
3. Chania Town, Crete
Chania Town on the island of Crete is overflowing with authentic Greek character. From the colorful Venetian harbor which is lined with cafeterias and restaurants, to the labyrinth of back streets full of shops and boutiques in the Old Town, it teems with life both day and night. The Cretan cuisine is unbeatable, and the harbor is the best place to try some of the local fish.
Stroll along the mile-long sea wall to photograph the lighthouse or snap a sly shot of the fishermen sitting on their boats working at mending their nets. Trek up to the small church of Profitis Ilias, and you'll be rewarded with stunning panoramic vistas of the whole of Chania town.
While you're in Chania, you won't want to miss out on seeing two of the best beaches in the world. Elafonisi, famous for its pink sand and crystal-clear sea, and Balos, the tranquil lagoon with white sand and turquoise waters. They're both some distance from the town but are must-see places when you're in Greece. That goes for the Samaria Gorge too. It's an hour's drive from Chania, but hiking through the gorge's incredible landscape is something you'll never forget.
Why Go? If you can only visit one Greek town, make it Chania. It has everything you could dream of and more, so you won't miss out on a thing.
TL;DR: Whether you're a beach lover, a foodie, are fascinated by history or enjoy hiking, Chania Town in Crete has something for everyone.
2. Kastraki, Meteora
Kastraki is a small Greek town in the region of Meteora on mainland Greece and is the best Greek town to visit for seeing the Meteora monasteries. Wake up in the morning, open the patio doors and you will see the UNESCO World Heritage Site from your balcony.
The Meteora monasteries are one of Greece's most famous landmarks. The medieval monasteries sit atop incredible pillars of rock, most of which are over a thousand feet high. Now accessible by steps carved into the rocks, there was a time when provisions and people were hauled up the cliff sides in nets attached to ropes. Thankfully, that no longer happens.
Kastraki itself is an archaeological delight of stone houses with red-tiled roofs adorned with flowers. Its location right under the towering pinnacles is tranquil and otherworldly. The only noise to disturb your sleep will be the crowing of the roosters at dawn. The countryside which surrounds Meteora is great for hiking, and if you're a rock climber, you'll find a new challenge everywhere you turn.
Why Go? Without seeing them for yourself, you can't imagine the grandeur and magnitude of the Meteora monasteries. Their impressiveness leaves a lasting impression.
TL;DR: Monasteries built on mile-high pillars of rocks tower above Kastraki, an idyllic rural town of red-roofed stone houses.
1. Oia, Santorini, Cyclades
Oia on the Cyclades island of Santorini is in essence what most people imagine when they think of Greek towns. Whitewashed houses snug against a cliffside dominated by the blue domes of a church. Yes, Oia is that typical image made reality and is stunningly picture postcard perfect.
Because of its geographical position, Oia has the most amazing sunsets every day. It's something which hasn't gone unnoticed, and the town gets inundated with crowds of tourists as well as visitors from cruise ships which dock in the harbor. The influx doesn't spoil the town though, and it's a great place for trying Greek food, enjoying the views and just relaxing on the beach.
Oia is one of the best Greek towns for taking photographs. The town poses as well as any supermodel, and if you're a novice photographer, you'll be over the moon with the results you get from snapping Oia and the sunsets.
Why Go? Oia is one of the most photogenic spots in all of Greece. Blues skies, blue seas, and white buildings which reflect the light. Oia is a photographer's dream.
TL;DR: Postcard-perfect Oia with its awesome sunsets is the best Greek town for budding photographers.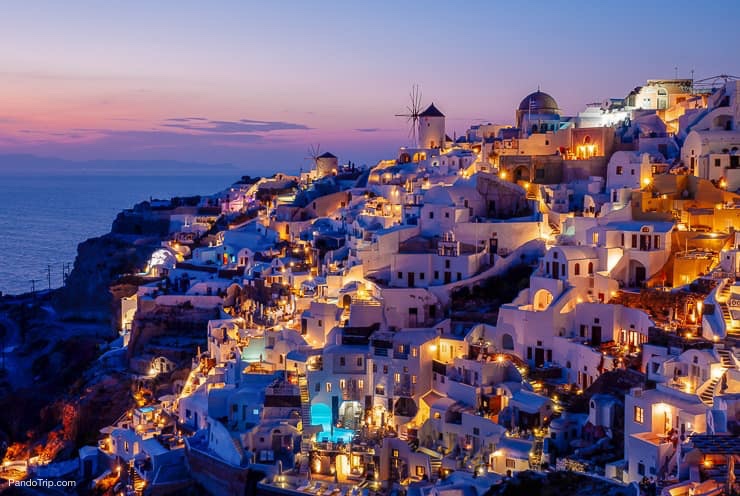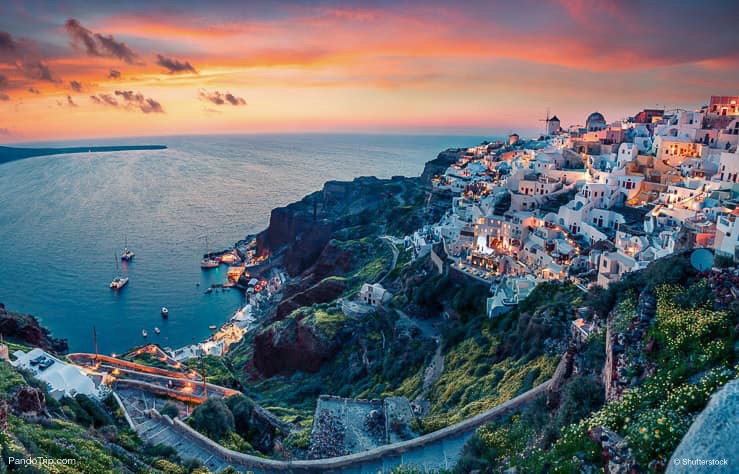 Map of the Best Towns in Greece
Now you've decided which is the best Greek town to visit for you, check out its location on the map to see where the closest airport is. Then, pack your suitcase and get on that plane. There are some exciting adventures waiting for you in Greece so don't delay starting them.