The beautiful island country of New Zealand is a must to add to your travel destinations. Comprising a north and south island, each offers you an outdoor adventure of a lifetime!
You can explore treasured nature parks and marine reserves, lush rainforests, stunning mountains, and waterfalls that take your breath away. On the southern island, you will find the majestic Milford Sound.
Undoubtedly, one of the most gorgeous fjords on our planet, it was non-officially called the eighth wonder of the world by Poet and Author of "The Jungle Book" Rudyard Kipling during his travels in 1891.
Moreover, Milford Sound is rated one of the best places to visit in New Zealand. The well-developed tourism ensures the best service and tours. Including Lady Bowen Falls and Stirling Falls.
Let's find out more about this pristine destination.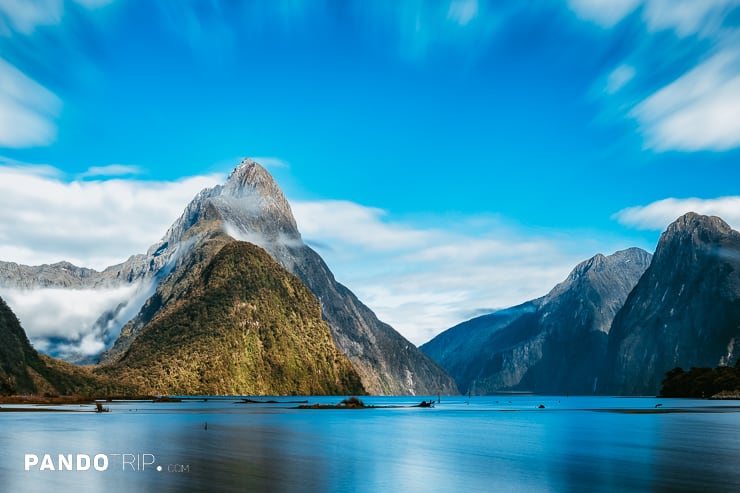 Is Milford Sound really the eighth wonder of the world?
A valid question on several lips. When Kipling visited Milford Sound (Piopiotahi), the sight he witnessed was awe-inspiring. It's no wonder he labeled it as such.
We all have some kind of familiarity with the seven wonders of the world. New lists are always coming up as we have more access to remote destinations. Surprisingly, Milford Sound was not included on the more authoritative lists.
A destination is considered a world wonder should it reach specific criteria. Milford Sound is situated within the Te Wahipounamu World Heritage Area and was named a UNESCO World Heritage Site in 1990. Oddly, this is not enough qualification.
In 2008, it was the world's top travel destination on TripAdvisors Travelers Choice Destination Awards. The foundation shortlisted the fjord for the New Seven Wonders of Nature list. Sadly, it did not succeed.
Today, it is rated number one on TripAdvisor's top things to do in Te Anau. Arguably, there are many reasons why Milford Sound should be the eighth wonder of the world. Indeed, only time will tell.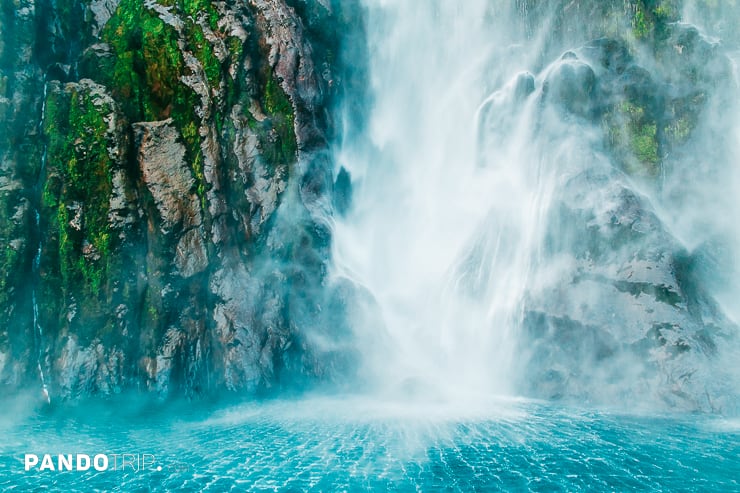 How was Milford Sound formed?
Milford Sound carries a fascinating history across the Maori and European cultures. The Maori tribes traveled along the MacKinnon pass on the Milford Track to fish and hunt.
Also, they had an opportunity to collect the precious pounamu, a type of jade gemstone. Today, the Maori people fondly share the legend of the fjord.
In 1823 the first European explorer named John Grono arrived. He decided to call the fjord Milford Sound after a narrow inlet on the Welsh coast called Milford Haven.
At the time, he had no knowledge of Milford's formation. A "sound" refers to a gorge or valley formed by river erosion. As it is a glacier-carved valley, the correct term is a fjord. However, the name stuck and was never corrected.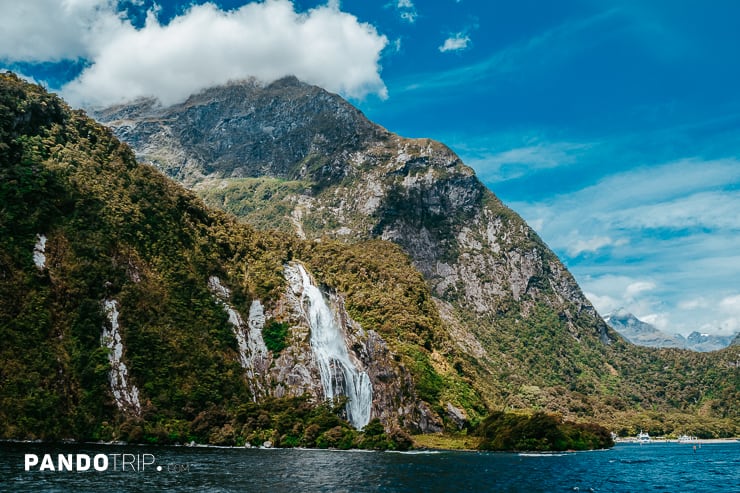 In 1877, a Scotsman named Donald Sutherland sailed down the Fiordland coastline with his beloved dog. When he set foot on Milford Sound, he decided to stay. He resided close to Lady Bowen Falls and discovered Sutherland Falls.
He lived a hermit life for many years. Yet, he envisioned a thriving Milford Sound City. In 1890, he married. His wife, Elizabeth, shared his vision, and they built a hotel together.
The word spread fast, and soon the hotel was frequented by several walkers coming along the Milford Track.
Elizabeth sold the hotel to the government in 1919 after Donald passed away. The far-spread tales of the untouched natural beauty attracted several visitors.
Jumping ahead to 1935, workers began the challenging task of drilling through the rock from Hollyford Valley into the Cleddau Valley to form the Homer Tunnel. In 1954, the tunnel opened, allowing road access to Milford Sound.
As a result, more and more visitors came to this magical place they had heard so much about.
Today, we can easily access Milford Sound and its undeniable rugged beauty.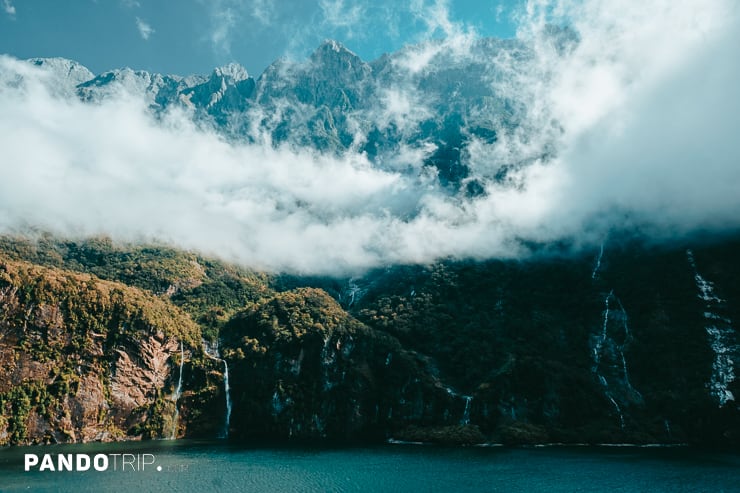 A little Milford Sound geology
In a nutshell, geologists share that Milford Sound was under the sea and as flat as a pancake some 400 million years ago. Over time, increasing amounts of sediment alongside remains of tiny plants and animals fell to the sea bed. These compressed more and more until they became solid rock.
As the continents shifted around the globe, the rock lifted and split until it peaked right out of the water. In addition, underwater volcanoes erupted out onto the surface, where they hardened into dense granite and basalt.
En route to Milford Sounds is Eglinton Valley. Here you can find an abundance of volcanic rock. Volcanic rock is extremely rich in nutrients, making it an ideal environment for nature to thrive.
Indeed, when you visit Milford Sound, you have the privilege of witnessing mother nature's work stretching approximately 16km (9.94 miles) from the head of the fjord to the open ocean.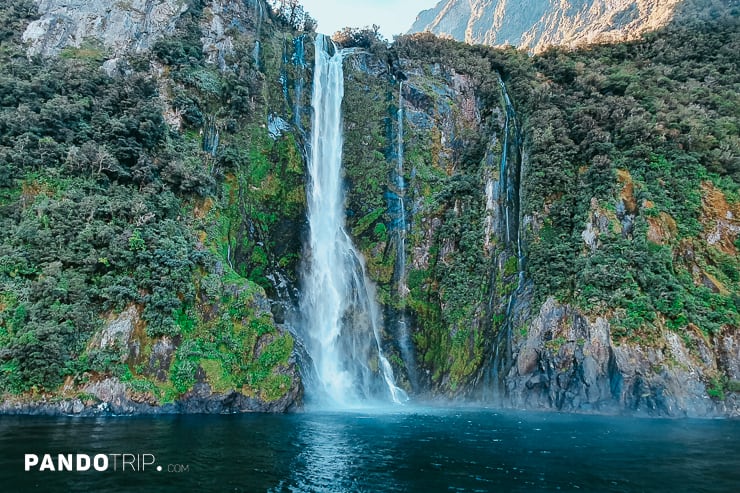 Things to do in Milford Sound
The most popular thing to do in Milford is a day or overnight boat cruise.
Additionally, there are many other amazing activities available. For instance:
Milford Foreshore Walk
Go Stargazing
Fishing
Sailing
Hike the Milford Sound Lookout Track
Visit the Milford Underwater Observatory
And there is more!
Whatever your outdoor adventure preference. You are sure to find just what you are looking for.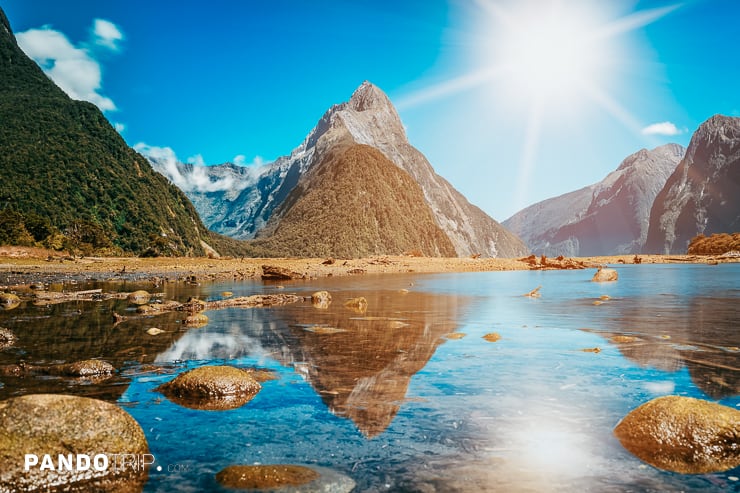 Where to stay?
As Milford Sound is located within a national park and is a UNESCO World Heritage Site, freedom camping is strictly forbidden.
If you plan to spend a few days, the Milford Sound Lodge will gladly accommodate you.
The Lodge offers:
Award-winning riverside chalets
2 bedroom garden chalet suites
Mountain view chalets; and
The Rainforest Campervan Park
On the premises is the very impressive Poi Poi Restaurant. Spoil yourself with delicious culinary delights for Breakfast, Lunch, and Dinner.
For easy accommodation booking: click here!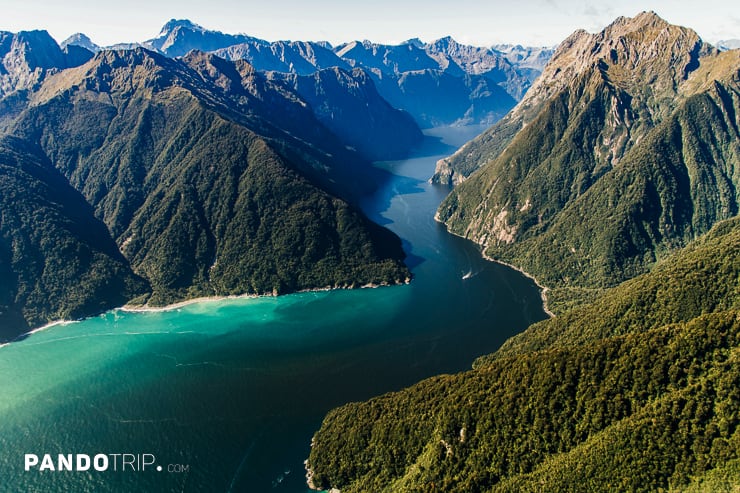 How to get to Milford Sound
Depending on your requirements and budget, there are several ways to get to Milford. The drive is incredibly scenic, and there are some fantastic places to stop along the way.
There are daily bus tours available from Queenstown and Te Anau. Alternatively, you can book tours separately. For a spoil, book a scenic flight and experience Milford from a bird's eye view.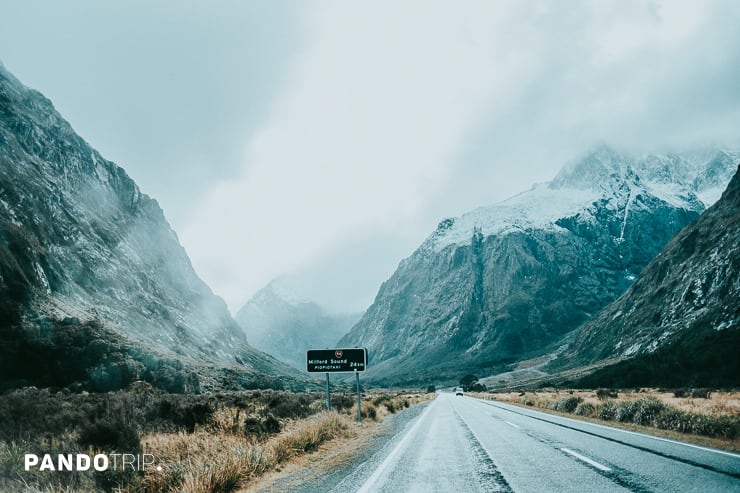 Best time to visit Milford Sound
Milford Sound is a destination that offers beauty all year round. But New Zealand's spring (September to November) is, probably, the best time to experience Milford Sound.
Spring is a shoulder season, so you will meet fewer people compared to summer or autumn. Also if you want to see more waterfalls – it's the perfect time for that. Melting snow coupled with increased rainfall during spring makes all waterfalls of Milford Sound even more spectacular. What's more, during the spring you'll have more daylight compared to other times of the year.