There is one district in Tokyo you just can't miss if you're visiting the city. Odaiba, a man-made island in Tokyo Bay, is one of Japan's leading recreational and commercial centers. Odaiba is so jam-packed with shopping malls, interactive museums, and entertainment centers; you'll probably need to extend your vacation time to fit it all in. It really has got everything, including the Statue of Liberty. Here is a list of the best things to do in Odaiba
1. Get To Odaiba On The Yurikamome Train
The best way of getting to Odaiba? Catch the Yurikamome Train. It's a surreal journey through some of the most stunning suburbs of Tokyo city. The train leaves from Shimbashi Station, one of Tokyo's main rail terminals, and travels a skyscraper-lined, fifteen-kilometer route without a driver in control. Don't expect speed. The fully-automated, computer-operated train is a sedate ride which gives you plenty of opportunities to snap Instagram-worthy photos of the exciting views.
Yurikamome Line Stations
After the Yurikamome Train departs from Shimbashi Station, it traverses an elevated track which curves above the waters of Tokyo Bay, crosses over the Rainbow Bridge and goes around Odaiba. The line has sixteen stations, but jump off at Daiba, and you'll be right in the heart of the entertainment district. Just for the fun of it, ride the train to its final destination, Toyosu and then go back to Odaiba. The fares are so cheap, around $3 on average, it's worth the extra trip.
Pro Tip: The best seat on the Yurikamome Train is in the front carriage. From there you'll get an uninterrupted, driver's eye view. Be on the platform early if you plan on sitting there, it's a popular seat.
Admission: 320 yen – One-way ticket from Shimbashi Station to Daiba Station
Website: www.yurikamome.tokyo
Map Location: Shimbashi station; Odaiba-Kaihinkoen Station
2. Mori Building Digital Art Museum: teamLab Borderless
Enter the Mori Building Digital Art Museum, and you'll find yourself in another world. This museum breaks the boundaries of traditional exhibitions and transports visitors to new levels of sensory perception with interactive digital art. Over five hundred computers relay images via four hundred and seventy projectors to create effects beyond imagination. It's a universe of color and light which has five separate worlds to explore.
– The Borderless World is a stunning optical illusion where art moves freely. Creations, as colorful as Pandora in the film Avatar, merge influenced by visitor interaction. Stand under a waterfall or be waist deep in a lily pond without getting wet. Wander through a forest of flowers, explore a crystal world or fall into the void of a black hole.
– The Athletic Forest is where the digital art encourages visitors to physically interact. There you can try bouldering through a 3D forest, take an aerial climb as flocks of birds swoop past or leap from planet to planet through a galaxy of stars.
– Future Park entices younger generations to be creative and inspires them to interact with the images around them.
– The Forest of Lamps is an incredible digital replication of the Ye Peng Lantern Festival in Thailand. Thousands of glowing lanterns cover walls and ceiling, flickering on and off in an ever-changing dance of light and color.
– En Tea House is the Mori Building Digital Art Museum's refreshment center. Pour tea into your cup and watch as the digital flower blooms. Amazing.
Pro Tip: Buy your admission tickets online and in advance. The museum has limited entrance, and if places are sold out in advance, there are no on the door ticket sales.
Opening Hours: Mon–Thu 11:00 am – 7:00 pm; Fri 11:00 am – 9:00 pm; Sat 10:00 am – 9:00 pm, Sun 10:00 am – 7:00 pm (Hours may vary depending on the season)
Admission: 3200 yen (adults). 1000 yen (children)
Website: borderless.teamlab.art
Map Location: MORI Building DIGITAL ART MUSEUM: teamLab Borderless, Odaiba Palette Town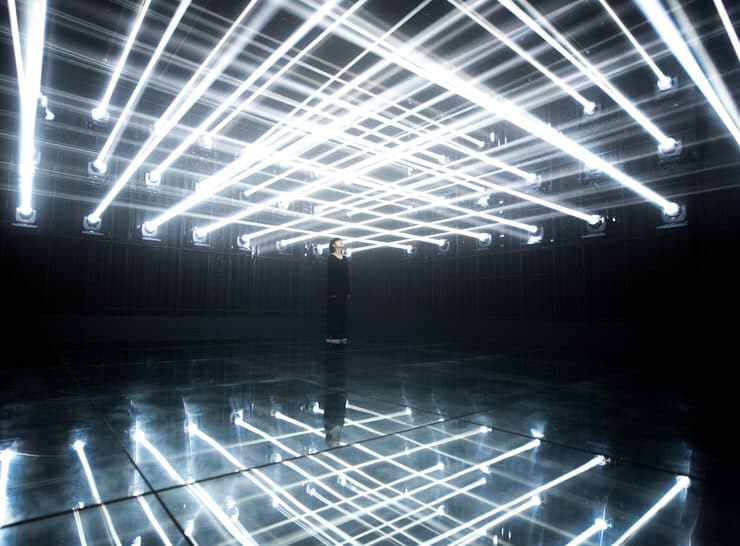 3. Walk Across Rainbow Bridge
The Rainbow Bridge is as iconic to Tokyo as the Golden Gate Bridge is to San Francisco. This stunning suspension bridge stretches for half a mile across the waters of Tokyo Bay connecting Tokyo with Odaiba. The pristine white spans of the bridge are a sight to behold during the daytime, but come into their own after dark when it's illuminated with a kaleidoscope of colors.
Rainbow Promenade
While Rainbow Bridge does carry all the transport links from Tokyo to Odaiba, the best way to see and experience its immensity is by walking across it. It's something you really need to do twice as the views from both sides are different. The Northern Walkway impresses with incredible vistas of the tallest tower in the world, the Toyko Skytree, and the shorter Tokyo Tower. From the Southern Walkway, there are amazing panoramas of Tokyo Bay, the road which loops across the bay from Shibaura and Odaiba docks.
How To Walk Across The Rainbow Bridge
If you do decide to walk across the Rainbow Bridge, go to the Rainbow Bridge Entrance and catch the elevator to the seventh floor. The walk takes around half an hour to an hour depending on how many times you stop to take photos. Be prepared for some traffic noise.
Opening Hours: April to October 9:00 am – 9:00 pm, November to March 10:00 am – 6:00 pm. Closed on the 3rd Monday of the month
Admission: Free
Map Location: Rainbow Bridge Promenade Entrance
4. Unicorn Gundam Statue & The Gundam Base
Gundam is one of Japan's favorite animated series and has a huge fan base. The characters of the series are gigantic human-controlled robots whose sole purpose is to defeat the enemies of the imaginary world they inhabit. Unless you're in Disneyland, there are not many places you can come face to face with something larger than life which has been created by pure imagination. But this is Japan, one of the world leaders in technology and electronics, so anything is possible.
Unicorn Gundam Statue
Even if you're not a fan of either anime or manga, you'll still appreciate the Unicorn Gundam Statue. This sixty-five-foot tall working robot literally comes to life and transforms before your eyes. The statue, which is a major attraction at the Diver City Shopping Centre, changes from unicorn to destroyer mode in a series of mechanical moves four times a day and has to be seen to be believed.
The Gundam Base Tokyo
The Gundam Base on the seventh floor of the Diver City Shopping Centre is dedicated to everything Gundam. More than just a shop where you can purchase Gundam memorabilia, there are exhibitions of how the models used in the series are made, what they're made of and how they work. It's a fascinating insight into this massive Japanese franchise which is a must visit and a definite, don't forget to buy the t-shirt.
Unicorn Gundam Statue Transformations: 9:00 am, 11:00 am, 1:00 pm, 3:00 pm, 5:00 pm
The Gundam Base Tokyo Opening Hours: 10:00 am – 9:00 pm Daily
Admission: Free
Websites: www.gundam-base.net; www.unicorn-gundam-statue.jp
Map Location: Unicorn Gundam Statue, Diver City, Tokyo Plaza
5. Toyota Mega Web
There are some fantastic and unusual theme parks all over the world. The Toyota Mega Web in Odaiba's Mega City district is a theme park for car aficionados. Here, car manufacturers Toyota have created a unique and interactive experience with automobiles not just for adults but children too.
Toyota City Showcase
The Toyota City Showcase is a futuristic exhibition floor with multiple displays about the process of car manufacturing and the next generation engineering used. Go up one more level to discover driving the virtual reality way and how Toyota develop safety technology. Then try something completely different. Toyota has a motto of mobility for all and sponsors the Paralympics. There's a section in the Toyota City Showcase where you can test your skills at some of the sports they support. If that's not enough, there's a full floor dedicated to all the latest Toyota models which are available on the market today.
History Garage
The History Garage is more than just Toyota's museum; it's a visual journey back to bygone times. The street setting is a replication of 1960's Tokyo which is the perfect backdrop for the classic cars exhibited. There's also separate exhibitions on motorsports and an old-fashioned mechanics workshop where the vintage cars are restored.
Ride Studio
The Ride Studio fulfills every dream of a child who is eager to get behind the wheel of a real car. In the Ride Studio, they have their own child-sized, hydrogen-powered vehicles to drive around an indoor course. For the bigger kids, there's also an outdoor circuit with electric go-karts.
Ride One
Spotted a Toyota model which has piqued your interest? You can take it for a test drive around the special, outdoor test drive circuit. It's a two lap circuit just under a mile long which goes around the outside of the building. It's not free. Test drives cost about three hundred yen or less than three dollars. It's a popular activity so make sure you reserve your slot in advance.
Opening hours: Toyota City Showcase: 11:00 am – 9:00 pm; History Garage: 11:00 am – 9:00 pm; Ride Studio: 11:00 am – 7:00 pm; Ride One: 11:00 am – 8:00 pm
Admission: Free (Test-Drive: 300 yen)
Website: www.megaweb.gr.jp
Map Location: Toyota Mega Web
6. Ride The Palette Town Ferris Wheel
The Palette Town Ferris Wheel, or to give it its Japanese name – Daikanransha, is a colossal Ferris wheel. Located in the commercial zone of Odaiba known as Palette Town, it towers a mega three-hundred and seventy-seven feet tall.
A breathtaking, full revolution ride on this sixty-four gondola monster takes around fifteen minutes. By day, the incomparable views from the top include Mount Fuji – if it's not cloudy – Tokyo Tower and Rainbow Bridge. By night, not only is the wheel itself illuminated in colors which match the season, you'll see the whole of Tokyo city in an incredible spectrum of light.
Pro Tip: Four of the Palette Town Ferris Wheel gondolas are transparent, yes, including the floor. Wait for one of those to come around before boarding, and you'll add an extra-dimensional thrill to your ride.
Opening Hours: Daily. 10:00 am – 10:00 pm. Fridays and Saturdays 10:00 am – 11:00 pm
Admission: Adults – 1000 yen. Children – 500 yen
Website: www.daikanransha.com
Map Location: Palette Town Ferris Wheel
7. Snap A Selfie With The Statue Of Liberty
Want to confuse your friends when you upload your Japan holiday photos to Instagram? All you need to do is snap a selfie with Odaiba's Statue of Liberty. Rather than thinking you're in Japan, they'll be convinced you're in the United States.
Odaiba's mini version of America's first lady is a mere forty foot tall, but that doesn't detract from her beauty. She's just as photogenic as the original in New York. With the Rainbow Bridge as background scenery, it's a great photo and a fun souvenir of your stay in Odaiba.
Opening Hours: Open 24/7
Admission: Free
Map Location: Odaiba Statue of Liberty
8. Relax At Oedo Onsen Monogatari
The buzz of a busy city like Tokyo is exciting, but it can also be stressful. Odaiba has it all under control and has the perfect place where you can escape to. The Oedo Onsen Monogatari is a natural spa right in the heart of Odaiba. This oasis of calm is not only Tokyo's largest Japanese Garden, covering more than five thousand square feet, but has communal thermal baths, therapeutic foot spas, and rock salt saunas. The relaxation starts when you slip out of your street clothes and into a yukata, the cotton kimono is included in the admission price and obligatory wear for visitors to Oedo Onsen Monogatari. If you're someone who loves body art and have a tattoo or two, sad to say, you won't be allowed in.
The Oedo Onsen Monogatari, nucleus of tranquillity that it is, is more than a spa; it also incorporates a recreational mall called Edo Town. Colorfully decorated, it has a Japanese old town atmosphere created by bamboo and hanging lanterns. Here you can get your fortune told Japanese-style, play traditional carnival games and try your hand at the art of throwing Ninja stars. If you've worked up an appetite, there're food stalls selling authentic Japanese street foot and private tatami rooms where you can sample Kaiseki cuisine.
Pro Tip: Discounted admission tickets can be purchased online.
Opening Hours: Daily – 11:00 am – 9:00 am the next day. Last entry is at 7am
Admission: 2720 yen. Weekend Surcharge – 216 yen
Website: www.ooedoonsen.jp
Map Location: Odaiba Ōedo-onsen-monogatari
9. Miraikan – National Museum of Emerging Science & Innovation
Technology is everywhere you turn. Most of the time we take it all for granted and don't even consider how the latest advancements have been achieved or even what future effect they'll have on the world we live in. At the Miraikan, the National Museum of Emerging Science & Innovation, you get the opportunity to have an interactive, hands-on experience with science. With the Explore The Frontiers exhibitions, you can immerse yourself in how sub-atomic particles can be studied when they're invisible or how exploring the universe on space missions affects life on earth.
Not To Be Missed At Miraikan
The Create Your Future Zone is where science fiction comes to life. Yes, you've read about androids and humanoids in books or maybe seen them represented in films, but here at the Miraikan, you can see them in real life. There are daily live demonstrations from the most advanced humanoid robot technology has produced so far. Asimo, who is being developed for the purpose of helping sufferers of disabilities with routine household task, steals the limelight with his drinks delivery, dance prowess, and soccer skills. Don't miss the show which happens four times a day at 11.00/13.00/14.00/16.00.
Another not to be missed at Miraikan is Alter the android. You can interact with the Android or communicate with other people through her while you manipulate her reactions. It is freakishly futuristic.
Pro Tip: For an even more surreal experience download the Miraikan app before visiting the museum. The app includes an audio guide, allows you to take AR (augmented reality) photos and take a quiz.
Opening Hours: Daily – 10:00 am to 5:00 pm. Closed -Tuesdays & December 28 to January 1
Admission: Adults – 620 yen. Children – 210 yen
Website: www.miraikan.jst.go.jp
Map Location: Miraikan – National Museum of Emerging Science & Innovation
10. Have Fun At Tokyo Joypolis
If you're looking for an adrenaline rush while you're in Odaiba, you'll find it at the Tokyo Joypolis. This indoor, Sega-orientated theme park is one of the biggest indoor amusement parks in Japan. Walk through the entrance and into an electronic game-like fantasy world. Take a spine-chilling ride on virtual roller coasters or on a real one which spins through three-hundred and sixty degrees. Battle enemies in a virtual reality game setting or get seriously spooked in the terrifying Mystic Mansion or Room of the Living Doll. It's great entertainment – Sega-style.
Pro Tip 1: Buy a day pass only if you're going to spend plenty of time inside. For just a couple of hours it's better value for money to pay the entrance admission then pay for each individual ride.
Pro Tip 2: The Night Passport is exceptionally good value. It gives you access to the amusement park for five hours, from 5pm to 10pm and costs 1000 yen less than the standard admission price.
Opening Hours: Daily – 10:00 am to 10:00 pm. Last Entry at 9:15 pm
Admission: Entrance Only – 800 yen + additional charge per ride. Pass with unlimited rides – 4,300 yen.
Website: www.tokyo-joypolis.com
Map Location: Tokyo Joypolis
11. Go Back in Time at Venus Fort
The Japanese have a flair for creating unique recreational places with incredible atmospheres. One of the most original is Venus Fort in Odaiba. This unusual shopping mall is a replica medieval village with an authentic Mediterranean feel. There are spacious plazas lined with designer named shops which have to compete for attention with the centrally positioned, Roman-style, statue-adorned fountains. The Fountain Plaza is the largest and so ornate it could have been created by the artist Michelangelo himself.
While the Fountain Plaza commands everyone's attention, the Olive Plaza has a more natural appeal and shouldn't be overlooked. The Olive Plaza pays homage to the tree of life and one of the Mediterranean's most important cooking ingredients, olive oil. The plaza is decorated with six real olive trees which are an apt welcome to Venus Fort's food halls.
The Church Plaza hosts all the main entertainment events which take place in Venus Fort. Although all of the plazas are amazing, they still can't outshine the incredible digital sky feature. Venus Fort is an indoor shopping complex, but stare up at the ceiling, and you'll struggle to believe you're not outside. Digitally produced clouds flit across summery blues skies alternating to colorful sunsets or starry night skies.
Opening Hours: Daily. Shops – 11:00 am to 9:00 pm. Restaurants -11:00 am to 11:00 pm.
Admission: Free
Website: www.venusfort.co.jp
Map Location: Venus Fort
12. Experience Virtual Reality At The Konica Minolta Virtualink
For a surreal and unforgettable experience which you can share with the friends you're traveling with, go to the Konica Minolta Virtualink. As far as entertainment goes, it is seriously futuristic. Located on the second floor of the Diver City Shopping Center, the virtual reality center allows up to fifty people to participate in the same game.
Even the décor of the Konica Minolta Virtualink is otherworldly. Sit in one of the egg-shaped pods and slip on the personal virtual reality unit to enter into a virtual world. It's not a one-dimensional experience but a complete three-hundred and sixty-degree virtual space where each player can join in the game. Yes, you can even go on a mission into outer space and take your friends along with you. Weird, but they'll enjoy the ride.
Opening Hours: Daily – 10:00 am to 9:00 pm. Last Entry – 8:20 pm
Admission: 1,500 yen
Website: planetarium.konicaminolta.jp
Map Location: Konica Minolta VirtuaLink, 2F, DiverCity Tokyo Plaza
13. See The View From The Fuji TV Building
The Fuji TV Building is a building with balls. Well, one at least. It's not the quality of the TV programs the broadcasting company emits which attracts visitors to the building. It's the silver, sphere-shaped observation deck.
Fuji TV Building Observation Deck
The globe, which perches on top of the sky corridors or pedestrian walkways between the two blocks of the building, has the best views in all Tokyo of the Rainbow Bridge and Mount Fuji. It's a twenty-five-floor elevator ride up to reach the spherical observation point, which is a mere thirty-two meters in diameter and sits one hundred and twenty-three meters above ground level.
Pro Tip: Make sure you're on ground level for nightfall and at the right distance from the building to appreciate the fantastic Fuji TV Building Light Show. Not only does the building light up, but the whole show is synchronized to music from popular Fuji TV shows.
Opening Hours: Daily – 10:00 am to  6:00 pm. Closed Mondays
Admission: Free; Observation deck: 550 yen
Website: www.fujitv.com
Map Location: Fuji Television
14. Visit The Panasonic Center, Tokyo
There's one place to go in Odaiba which won't blow your vacation budget and that's the Panasonic Center. A cross between an exhibition center and interactive museum, there's enough to keep you occupied for hours and it's nearly all free. The first floor is an Active Learning Camp about everything related to the Olympic and Paralympic Games. There's also a showroom of Panasonic products both from the past and ones which are still in development but coming in the future.
The second floor of the Panasonic Center concentrates on Nintendo and Nintendo games. Game times on the consoles are limited to twenty minutes max and less if there's a queue waiting to play. This floor also houses the RiSuPia museum where you can learn some fascinating facts about space.
The third floor is the RiSuPia Discovery Field and demonstrates what museums of the future will be like. Every visitor has their own handset to allow interaction with the exhibitions, and there's a Magical Performance Theater which shows 3D information-based programs.
Opening Hours: Daily – 10:00 am – 6:00 pm. Closed Mondays
Admission: Free. Except the RiSuPia exhibition on the third floor. Adults – 500 yen
Website: www.panasonic.com/global/corporate/center/tokyo.html
Map Location: Panasonic Center Tokyo
15. Shop For 100 Yen At Daiso Or Seria
Everyone loves a bargain and if you can buy holiday souvenirs at budget prices, even better when you're planning on giving them away as gifts. 100 Yen shops are the equivalent of Dollar stores in the US or Pound shops in the UK. The one big difference is the quality of the goods they sell.
100 Yen Shop in Odaiba
Most 100 Yen stores will stock a multitude of products so shopping in one can be not only eye-opening but time-consuming as you browse what's on offer. That's all part of the fun. There are two main chains of 100 yen stores. Daiso has the most branches and can be found all over Tokyo. They stock everything from household goods to well, you name; they've got it. The Seria branded stores are a little more stylish and definitely stock goods which are just that bit more upmarket than other yen stores. Check out Seria at Venus Fort on the first floor or Daiso at the Decks Tokyo Beach.
Whatever else you do while vacationing in Odaiba, make sure you save a few hours for 100 yen shopping. No-one will ever know that unusual trinket you brought home as a souvenir from Odaiba in Japan cost less than a dollar. Sayōnara!
Opening Hours: Daiso – DECKS Tokyo Beach shop – 11:00 am to 9:00 pm; Seria  –  Venus Fort shop: 11:00 am – 9:00 pm
Websites: DECKS Tokyo Beach: www.odaiba-decks.com; Venus Fort: www.venusfort.co.jp
Admission: Free
Map Location: Daiso, 4F, DECKS Tokyo Beach; Seria, 1F, Venus Fort
Map of the best things to do in Odaiba, Tokyo