Many think that the whimsical world of Hobbits exists only in the pages of books or on the silver screen. Yet, situated amid the verdant hills of Matamata, New Zealand lies a magical place that brings the fantastical world of Middle-earth to life – Hobbiton. This charming Hobbit village allows visitors to step into the pages of J.R.R. Tolkien's beloved novels and experience the home of the Hobbits firsthand.
From its origins as a temporary movie set to becoming a permanent village that brings Tolkien's fantasy world to life, this article will take you on an in-depth exploration of Hobbiton.
We'll start with an overview of main concepts of J.R.R. Tolkien universe. Next, we'll provide a detailed map of Hobbiton and highlight major attractions like the quaint hobbit holes, Party Tree, and famous Green Dragon Inn.
After that, we'll cover everything you need to know to visit Hobbiton yourself. This includes transportation options for getting there and the best tours available from cities across New Zealand. We'll also recommend great accommodations for an overnight stay near Hobbiton to extend your Middle-earth experience. Dedicated Tolkien fans will learn how they can even have their own fairy tale wedding right in Hobbiton!
Finally, we'll suggest additional activities around Matamata town if you have extra time during your visit. Follow along on this complete guide to start planning your own adventure in Tolkien's fantastical world made real at Hobbiton.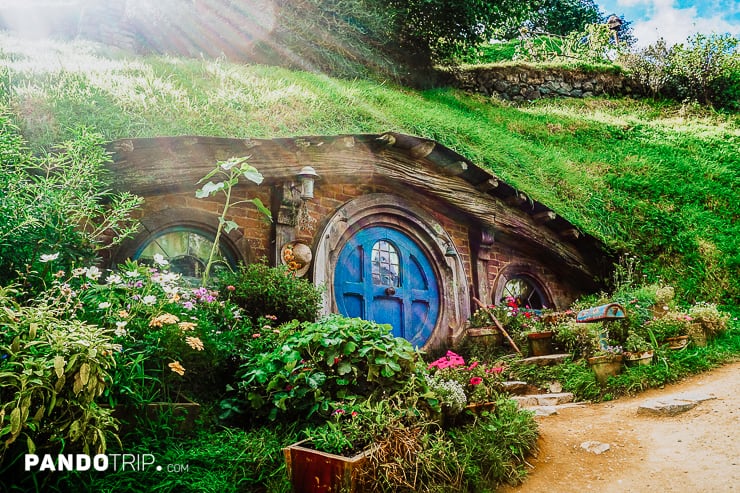 Hobbiton, The Shire and Middle-earth
Before stepping into the wondrous world of Hobbiton, it's crucial to grasp the significance of three main settings in J.R.R. Tolkien's universe: The Shire, Hobbiton itself, and Middle-earth as a whole.
The Shire, a pastoral dreamland, is the cornerstone of Hobbit existence. Imagine endless meadows that stretch out like a lush green carpet. Here, Hobbits, the pint-sized denizens with oversized feet, live in harmony.
Hobbiton is a village within The Shire and more specifically the neighborhood where the famous Hobbit Bilbo Baggins lives. Other villages dotting The Shire include Michel Delving, Tuckborough, and Bywater.
Middle-earth is the fictional continent where The Shire, Hobbiton, and other lands exist. This fantasy world was brilliantly brought to life in Tolkien's acclaimed novels The Hobbit and The Lord of the Rings trilogy, as well as The Silmarillion.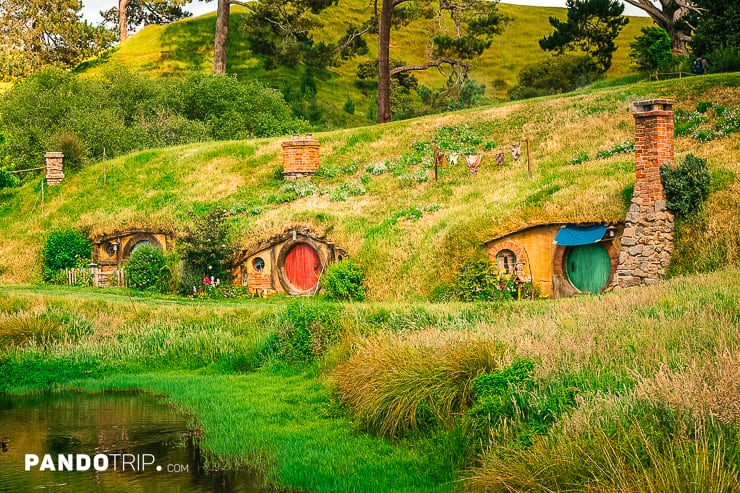 When the first Lord of the Rings movie was released in 2001 New Zealand became known as the 'Home of Middle‑earth'. Its scenic vistas, from towering mountains to winding rivers, played a starring role as the backdrop for both the "Lord of the Rings" and "The Hobbit" film trilogies. Like a skilled painter using a broad brush, filmmakers utilized the natural beauty of New Zealand to bring the rich tapestry of Middle Earth to life.
The movies brought Tolkien's works new popularity and intrigued tourists started venturing to New Zealand to see the stunning backdrops for themselves. Hobbiton Movie Set, as it was known then, was originally built in 1999 as a temporary set for The Lord of The Rings trilogy. But after the productions ended, the popularity of the location continued to grow. So a permanent Hobbit village was built in the same spot, allowing visitors to experience the magic of Middle-earth.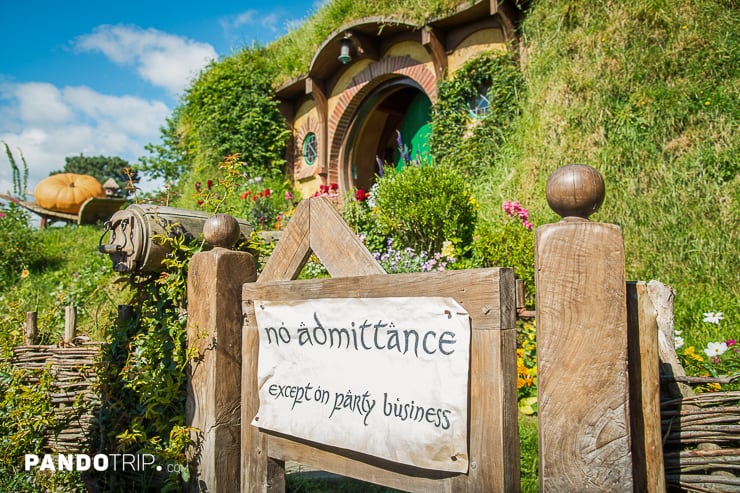 Meet the Hobbits: The Soul of the Shire
So who exactly are these charming Hobbits who live in Hobbiton? Hobbits are known for loving the comforts of home – food, ale, smoking pipe-weed, and socializing with friends and family. They live simply, in underground Hobbit holes with round doors and gardens. Life expectancy for a Hobbit is around 100 years, but they don't even consider themselves adults until 33.
Hobbits first appeared in Tolkien's novel The Hobbit, followed by The Lord of The Rings trilogy. Bilbo Baggins, protagonist of The Hobbit, is arguably the most famous Hobbit of all. Some other well-known Hobbits include Bilbo's nephew Frodo Baggins, Samwise "Sam" Gamgee, Meriadoc "Merry" Brandybuck, and Peregrin "Pippin" Took. Hobbits are remarkably resilient, able to endure burden and hardship when needed. Their courage and loyalty play a major role in the epic quest to destroy the One Ring.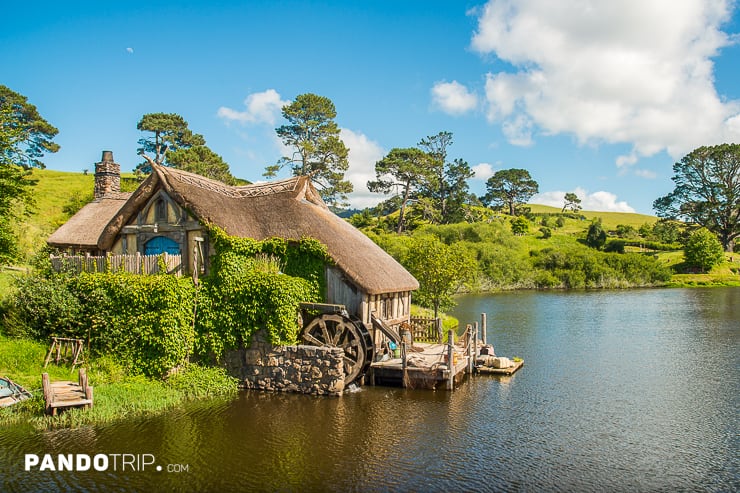 Why visit Hobbiton?
When thinking about of the best places to visit in New Zealand, your mind may first wander to Milford Sound or Lake Tekapo. However, the Hobbiton stands on equal footing, if not higher. This isn't just a movie set left behind; this Hobbit village brings fantasy to life in a way no other location can. Whether you're a Tolkien fan or not, this magical place is a can't-miss destination for your New Zealand trip. It's an immersive experience, a place where the line between fiction and reality blurs, making you believe, if just for a day, in the magic of Middle-Earth.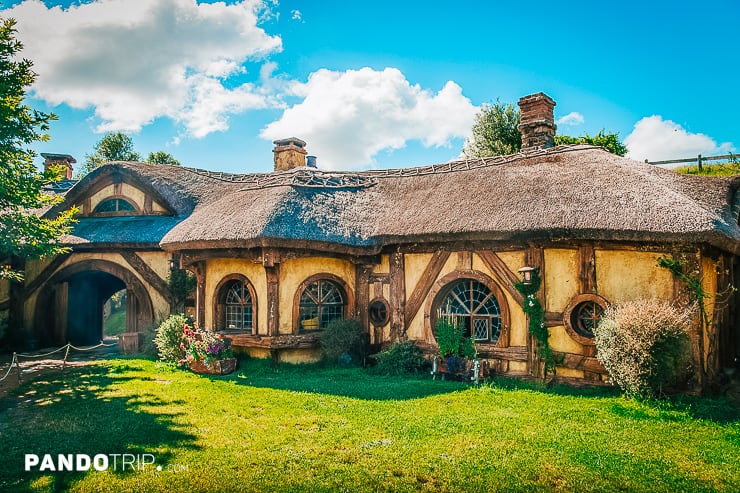 Hobbiton Layout and Map
Navigating Hobbiton is akin to exploring a carefully crafted masterpiece. Covering 12 acres of verdant land, the area has been meticulously planned to replicate the magical Shire from J.R.R. Tolkien's imagination. Picture a jigsaw puzzle, where each piece fits seamlessly with its neighbors to form a landscape of homes, inns, and landmarks that seem like they've been plucked straight from Middle-earth.
Your Hobbiton journey begins at the visitor center, where you can enjoy a cup of free tea or coffee. Then it's a quick bus ride to the Hobbiton Cutting, where the path into Hobbiton begins.
From here, the meandering path leads you into the heart of Hobbiton and the verdant pastures of the Shire. Lush gardens burst with blooms, and vines crawl up the charming Hobbit holes. In total there are 44 Hobbit holes to explore, each with unique details drawn straight from the movies. Make sure to see Bag End, home of Bilbo and Frodo Baggins. You can peer through its round window and see where the famous Long Expected Party took place.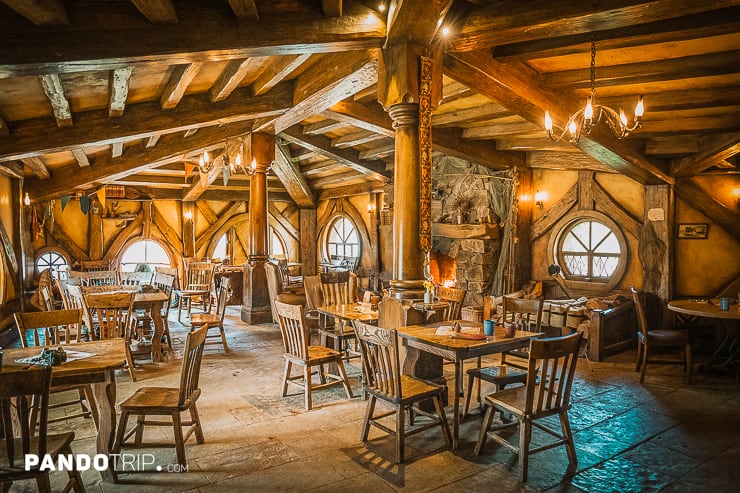 No Hobbit village would be complete without an inn! The Green Dragon Inn is a perfect recreation from the films, right down to the intricate details and decor. If offers visitors various Hobbit-inspired refreshments, including the exclusive Southfarthing ale. In the movies, the inn serves as a meeting point and safe haven for the Hobbits, making you feel like you're sharing a pint with Bilbo and the gang.
As you meander further, you'll encounter the mill by the water, its large wheel rhythmically turning like a metronome of the Shire. This iconic structure can be seen in the background of various scenes throughout both trilogies. Likewise, the Party Tree, a massive, venerable oak, stands tall near a small pond. Known for its role in Bilbo's 111th birthday, this tree is a symbol of community and festivity in the Shire.
Be sure to walk behind the mill to see the Party Tree from across the lake, which makes for a great photo spot.
The map below shows the layout of Hobbiton and highlights the main attractions, so you can visually see how everything is arranged. Use it to find key sites mentioned before, as well as Bywater Lake or bountiful gardens.
Visiting Hobbit Village
To walk the paths of Hobbiton, you must join a guided tour, as independent exploring is not allowed. It's highly recommended to book your tour in advance online, as spots fill up quickly. You can reserve your place by clicking here.
Tours commence from The Shire's Rest, located about 15 minutes drive from Matamata town center. This quaint facility has a cafe, souvenir shop and free parking. From here, you'll board a shuttle bus for the quick 10 minute ride to the Hobbiton Movie Set entrance.
At the site, your guide will lead you on a 2 hour walking tour through the mesmerizing world of the Shire. You'll follow the winding path to see the Hobbit holes, Green Dragon Inn, Party Tree, mill and more, with plenty of stops for photos. The only restriction is no drones allowed.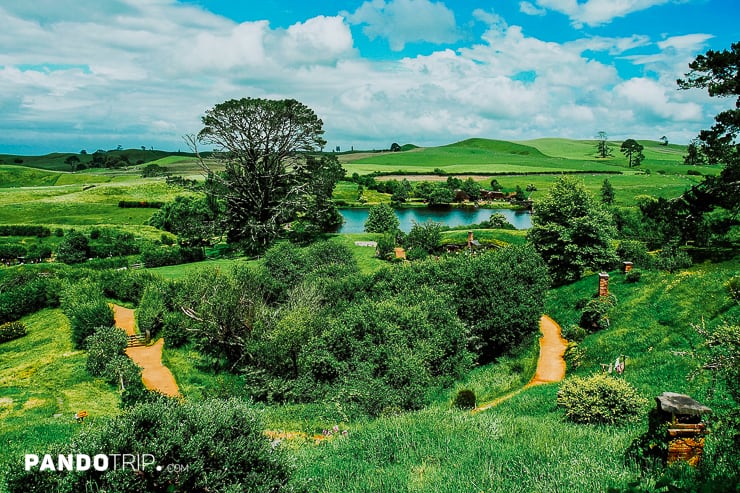 A highlight of the tour is an extended 20 minute visit to the Green Dragon Inn, where you can step inside for a complimentary drink. This gives you time to fully absorb the magical atmosphere.
If you're looking to get to Hobbiton from other cities in New Zealand, there are many tour options available. These tours depart from various locations across the country and take care of transportation to Hobbiton as well as the guided walking tour. We'll cover the details of these tour options in the next chapter, including how to get to Hobbiton on your own if you prefer to drive.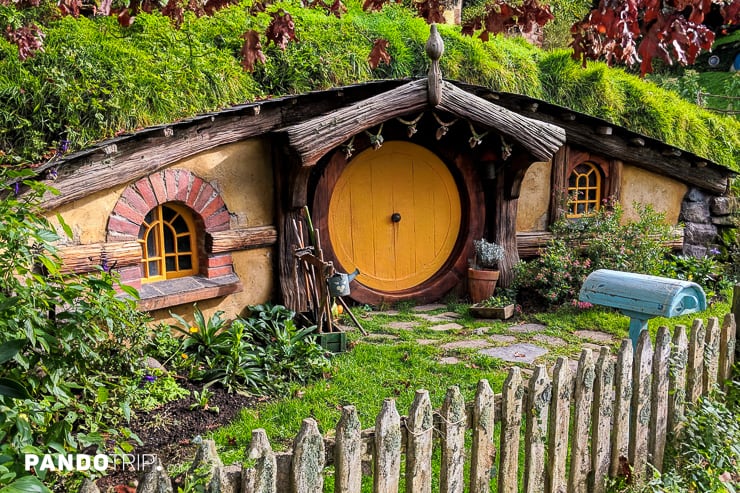 How to Get to Hobbit Village and Best Hobbiton Tours
Hobbiton is situated in the verdant Waikato region of New Zealand's North Island, not far from the rural town of Matamata. The closest airport is Hamilton Airport, located about 40km from Hobbiton.
Driving to Hobbiton is an option, but New Zealand's winding roads and left-hand might be challenging for some. It's wise to to allocate sufficient time since driving durations are often underestimated by newcomers. But don't worry, there are several easy transportation options and tours available, which we'll cover in detail below.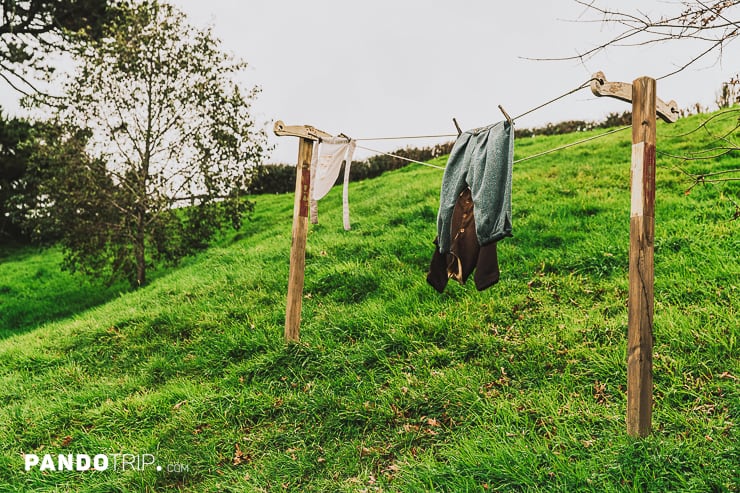 From Auckland:
The drive from Auckland traverses about 170km over 2 hours via State Highway 1. Revel in views of rolling green hills dotted with sheep as you head south.
When it comes to tours, one of the best has to be offered by Auckland Scenic Tours. They've been guiding visitors to Hobbiton for years, picking you up right from your hotel. It's a popular tour so book in advance to secure your spot.
Another great option is the small group tour by Bush and Beach. Running for over 30 years, their Hobbiton tour includes a buffet lunch at the Party Marquee and a $10 voucher for the Hobbiton gift shop. You'll be in the good hands of New Zealand's longest-running eco-tour company.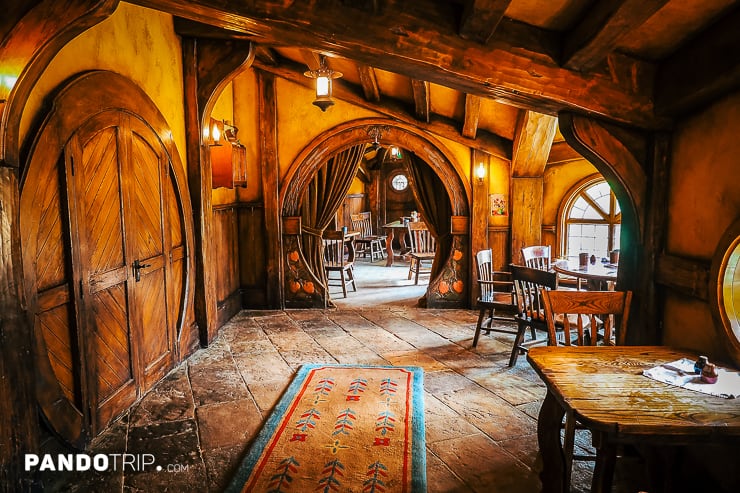 From Rotorua
Rotorua is another convenient starting point, about 70km away. Take State Highway 5, and you'll arrive in about an hour. A recommended tour provider is GreatSights New Zealand. Their tours receive great reviews for knowledgeable guides and comfortable coaches with free WiFi.
From Hamilton
Although Hamilton is very close, being only 50km and about 45 minutes away via SH1, there aren't standard tours departing from here. However, for those looking for an elevated experience – and we mean that literally – Helicorp offers scenic helicopter flights to Hobbiton. Check their website for more details.
From Tauranga
Starting from Tauranga? An hour-long ride through 60km of picturesque terrain on State Highway 29 gets you there. Enjoy ocean views before transitioning to green rolling hills sprinkled with sheep.
Talking about tours, this trip includes attractions like Mount Maunganui and McLaren Falls Park in addition to Hobbiton.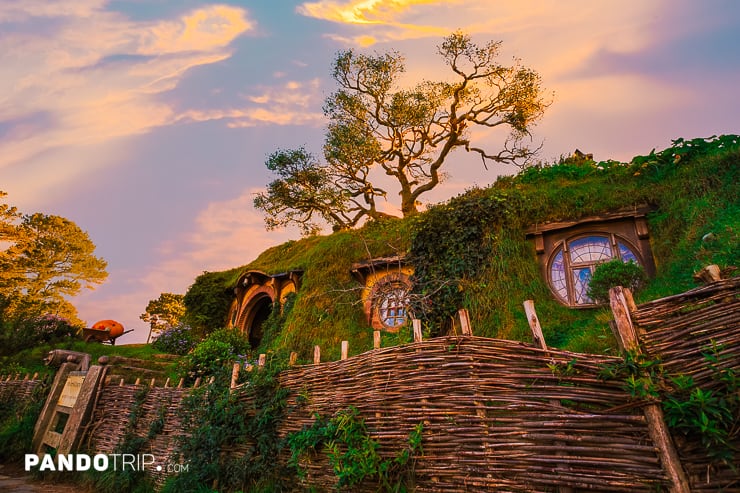 Hotels near Hobbiton
Many visitors wonder if they can stay overnight in one of the cozy Hobbit holes at Hobbiton Movie Set. Unfortunately, there is currently no accommodation available within the Hobbit village itself.
In late 2022, a few exclusive overnight Hobbit hole stays were offered on Airbnb to celebrate the 10th anniversary of The Hobbit: An Unexpected Journey. However, those were limited events and there are no plans to offer future overnight stays.
While you can't sleep in a Hobbit hole, the next best option is a farmstay in the bucolic countryside surrounding Hobbiton. Here are two highly recommended options: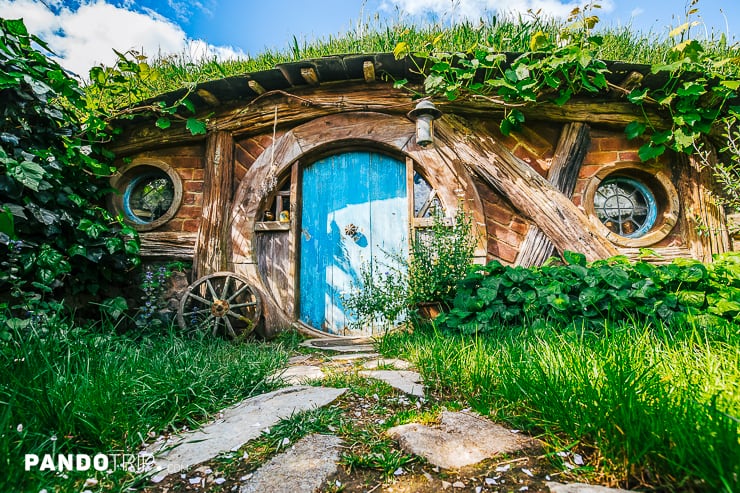 Cosy Country Stay B&B is a fantastic farmstay located very close to Hobbiton. This peaceful place has a homey feel with touches like homemade bread and jam. Drink in spectacular views of picturesque farms along the drive there.
Another wonderful choice is House with No Nails, a unique historic barn stay. The hosts create a cozy family atmosphere with evenings around the fire and glasses of wine. They're happy to share the fascinating history of the barn, which was built without nails.
Though you can't spend the night in Hobbiton itself, farmstays capture the rustic essence and tranquil landscapes of the Shire. Wake up feeling like you're still immersed in Middle Earth before heading back to Hobbiton for more enchantment.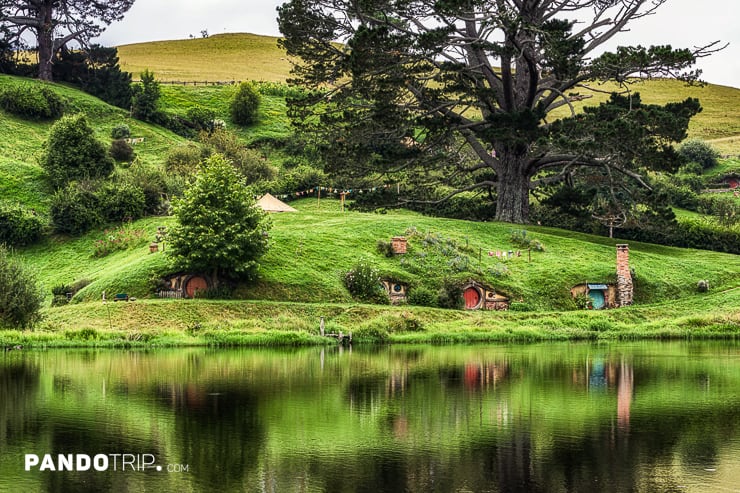 A Wedding in Hobbiton
Imagine exchanging your wedding vows in the fantastical land of the Hobbits! Incredibly, you can have a true Middle-earth wedding and get married at Hobbiton Movie Set.
There are three ceremony locations to choose from. Hobbiton Gardens provides a whimsical outdoor setting amid flowers and greenery. Yeard Flat overlooks the Hobbit holes, lake, and Party Tree for panoramic views. The Millhouse is an intimate venue by the water across from the Green Dragon Inn.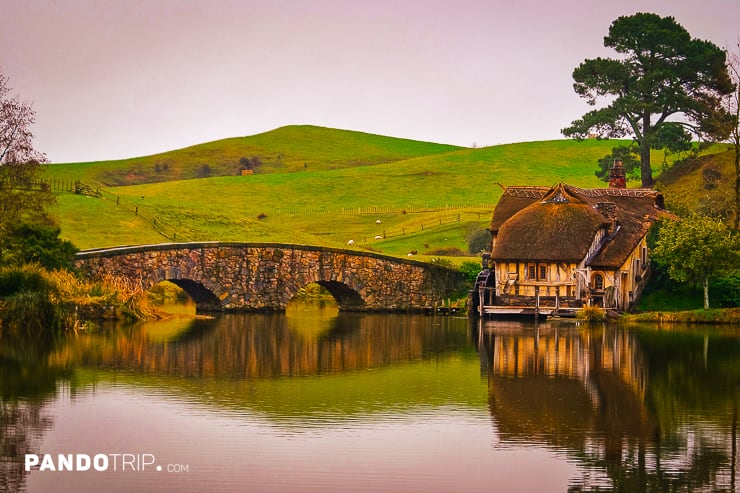 After the ceremony, retreat to the reception at the Green Dragon Inn, Party Marquee, or The Millhouse. Dance, feast, and celebrate just as the Hobbits would into the night!
While not cheap, the cost is understandable for such a uniquely magical experience. Venue fees start at around $5,000, plus the Hobbiton tour at around $100 per person depending on season. Reception venue minimum spends are about $5,000.
Yet for diehard Tolkien fans, what price can you really put on getting married in the actual Shire? This once-in-a-lifetime opportunity makes dreams reality for couples who wish to start their lives together in Middle-earth.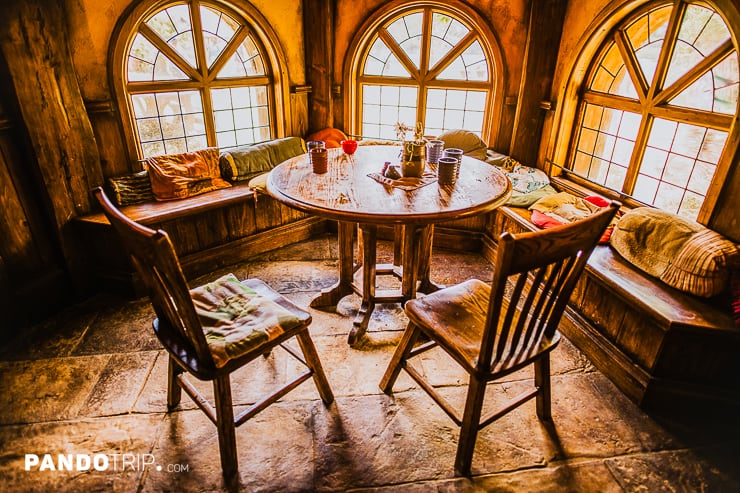 Other Things to Do in Matamata
Matamata, a small rural town of just over 8,000 inhabitants, was a pleasant but largely overlooked part of New Zealand before The Hobbiton came along. Today, however, this ordinary farming community has become world-famous for its starring role in The Lord of the Rings and The Hobbit.
While Hobbiton remains the star attraction, visitors spending more time in Matamata have other places to explore.
The top choice is Wairere Falls, the highest waterfall in the North Island at 153 meters tall. From Matamata, it's a quick 15-minute drive to the parking area and trailhead. The 1.5 hour roundtrip hike leads to a viewing platform at the base of the falls. From there, hardy hikers can continue uphill another 30-45 minutes to reach an upper lookout with breathtaking valley views.
Another point of interest is the Firth Tower. Constructed in 1881 offers a glimpse into Matamata's past. This historic wooden water tower once supplied water to the fledgling pioneer town. Climb to the top for panoramic views over the countryside.