Seychelles is one of the best holiday destinations on Earth, famous for its breathtaking beaches. However, Anse Source d'Argent stands out from the rest. Located on La Digue Island, Anse Source d'Argent is often described as the most photographed beach in the world. Pictures of the beach are often used to represent the divine holiday destination. Not surprisingly, it is consistently praised as one of the most beautiful beaches in the world.
The real highlight of Anse Source d'Argent is the breathtaking scenery. The white sand beach stretches along the warm Indian Ocean coast, where crystal clear water splashes into the giant granite boulders scattered on the beach. This unique combination of clear water, white sand and impressive granite boulders make Anse Source d'Argent one of the most remarkable beaches in the world.
The beach is also famous for having been used as the backdrop for many ad campaigns (Bacardi, Bounty Chocolate, Campari) and movies (Tom Hanks' "Cast Away," "Crusoe")
Besides its breathtaking beauty, Anse Source d'Argent offers a variety of activities. The visitors can swim and snorkel here, exploring the rich coral reef. Transparent kayaks are also available for rent.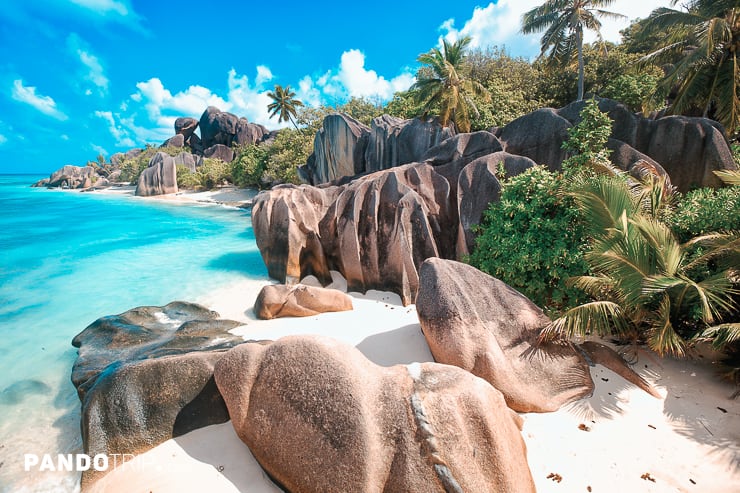 How to get there?
Anse Source d'Argent is located on the island's west coast, and you can easily reach it by bike or on foot. The beach can only be accessed through the L'Union Estate park, and you need to pay about $8 entrance fee.
When to go?
The beach is very popular among tourists so to avoid crowds you should come to Anse Source d'Argent early in the morning or in the late afternoon.
Where to stay near Anse Source d'Argent?
Most hotels on La Digue are located on the same side of the island as Anse Source d'Argent beach. There are a variety of hotels, from more high-end to budget-friendly. Below are our recommendations.
Budget: Chloe's Cottage Self-Catering. Located just an 8-minute walk from Anse Source d'Argent, the place provides accommodations with a garden, terrace, and bike rental.
Mid-range: Hotel Chateau St Cloud. A little bit far away from Anse Source d'Argent (about a 40-minute walk), but one of the best options to stay on La Digue. The place offers a tropical garden with an outdoor swimming pool. Also, you can rent a bicycle here and ride to Anse Source d'Argent.
High-end: Le Nautique Waterfront Hotel La Digue. It's one of the best waterfront accommodations on La Digue. The place is surrounded by a beautiful garden and has an outdoor swimming pool and restaurant.