Bosnia and Herzegovina, a country in the heart of the Balkans filled with natural beauty and rich history, has much to offer to curious travelers. Among its captivating sites is Vrelo Bune, a remarkable historic location situated near the town of Blagaj, just 12 kilometers (7.45 miles) south of Mostar. This site, blending natural wonder and architectural marvel, is an ideal destination for those seeking to explore the breathtaking attractions of Bosnia and Herzegovina.
The Vrelo Bune site comprises the Buna River spring and a stunning 16th-century Ottoman-era monastery known as the Blagaj Tekija. Surrounded by rugged cliffs and lush vegetation, the area invites visitors to immerse themselves in a serene atmosphere and learn about the region's past. With its picturesque scenery, Vrelo Bune has become a favorite spot for photographers and Instagrammers, offering ample opportunities to capture memorable images. In this article, we will take you through the wonders of Vrelo Bune and provide you with valuable information for planning your visit.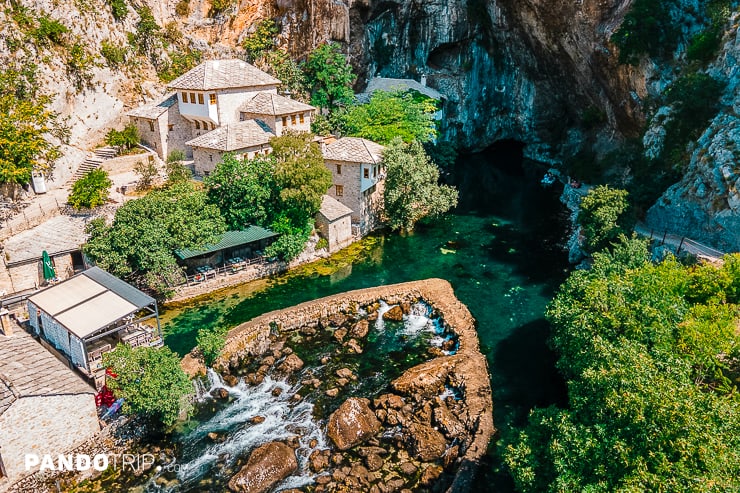 Vrelo Bune and Buna River
Vrelo Bune, meaning "Spring of Buna" in the local language, is both the name of the powerful karst spring and the area where it is located. The spring gives birth to the Buna River, emerging from a cave beneath the towering cliffs. Its crystal-clear waters originate from the nearby Velež Mountain and gush out of the cave at an impressive rate of approximately 43,000 liters (11,360 gallons) per second. This makes Vrelo Bune one of the largest and most powerful springs in Europe.
The Buna River, created by the Vrelo Bune spring, flows for about nine kilometers before merging with the Neretva River. The river's waters are pure and cold, maintaining a consistent temperature of 8-10 degrees Celsius (46-50 Farenheit) throughout the year. The Buna River is also home to a variety of fish species, including trout and grayling, making it an excellent location for fishing enthusiasts.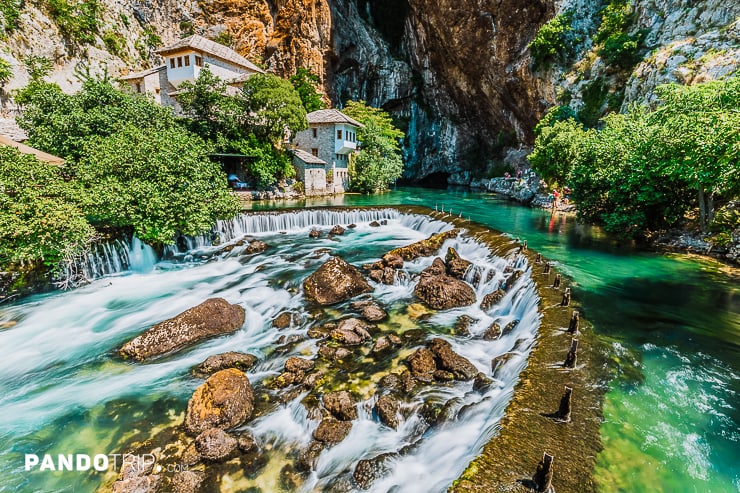 Blagaj Tekija
One of the primary attractions at Vrelo Bune is the Blagaj Tekija (or Dervish House), a historic 16th-century Ottoman-era monastery. The Blagaj Tekija, originally built as a Sufi monastery, was a center for the Dervish order and played a significant role in the spiritual life of the region. The complex consists of several buildings, including a prayer room, living quarters, and a Turkish bath. The architecture of Blagaj Tekija is a fascinating mix of Ottoman and Mediterranean styles, with its white walls, wooden accents, and intricately decorated interiors.
Visitors to the Blagaj Tekija are welcome to explore the monastery and delve into its rich history. Guided tours provide insight into the lives of the dervishes, their spiritual practices, and the importance of the complex in the region's religious landscape.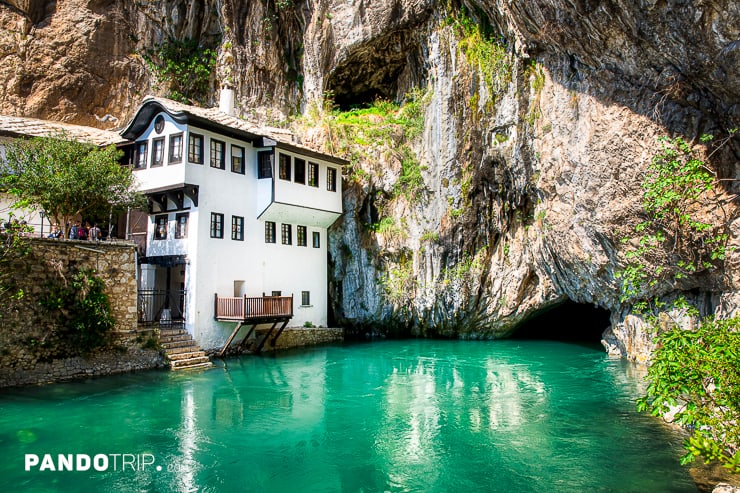 Where Nature Meets Architecture
At Vrelo Bune, nature and architecture beautifully come together, creating a harmonious environment that attracts visitors. The area is known for its lovely natural elements and striking architectural features, which together form a distinctive and memorable landscape.
The Buna River spring flows out from a cave, its clear waters reflecting sunlight and the surrounding greenery. The imposing cliffs above the river enhance the natural beauty, serving as a dramatic backdrop for the Blagaj Tekija monastery. The monastery showcases human ingenuity, as it is skillfully designed to blend seamlessly with its natural surroundings.
As visitors walk along the riverbanks, they will discover numerous places where they can appreciate the balance between nature and architecture at Vrelo Bune. Attractive stone bridges cross the river, connecting walking paths and offering great viewpoints to admire the river, the cave, and the monastery. The site is like an open-air exhibit of natural beauty, with trees, flowers, and shrubs complementing the architectural elements.
The harmonious relationship between nature and architecture at Vrelo Bune reflects the respect and appreciation for the environment by those who built and lived in the area throughout history.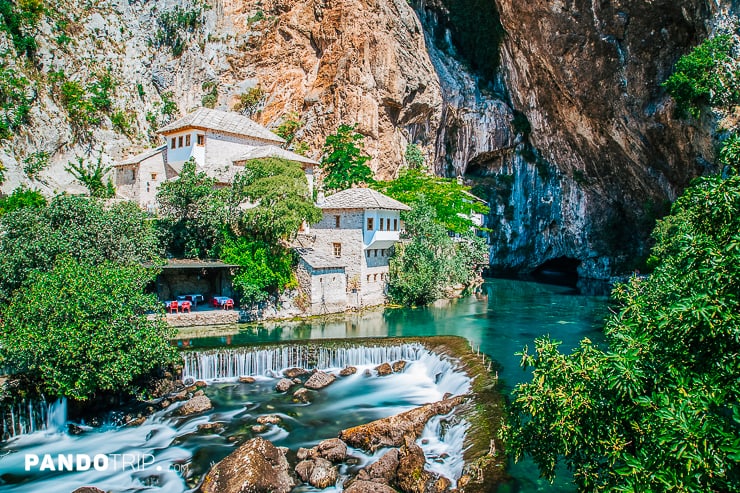 Visiting Vrelo Bune
If you're considering a visit to Vrelo Bune, it's essential to find the right transportation method that suits your preferences and budget. Here are a few popular ways to travel to this destination.
By Bus: One budget-friendly option to visit Vrelo Bune is by taking a bus from Mostar. Buses run regularly between Mostar and Blagaj, and the journey takes about 30 minutes. The bus fare is around 1.5 EUR. Head to Spanish Square (Španski trg) in Mostar and wait at the bus station in front of the yellow United World College building. Take Bus 10 to Blagaj, and once you arrive, it's a short walk to the Vrelo Bune site.
By Taxi: For a more convenient option, consider taking a taxi to Vrelo Bune. There are several taxi services in Mostar that you can find online or by hailing a car on the street. The trip to Vrelo Bune takes around 20 minutes and costs about 10-12 EUR.
By Car: If you want complete control over your travel plans, renting a car is an good choice. We used Discovercars during our trip. They have multiple pickup points in Mostar and other cities in Bosnia and Herzegovina.
By Guided Tour: If you're short on time or prefer a stress-free experience, a guided tour might be the perfect option. You can book day tours from Mostar online, and there are also tours available from other cities like Sarajevo, Split, or Dubrovnik. These tours often include visits to Vrelo Bune, Mostar, and other nearby attractions.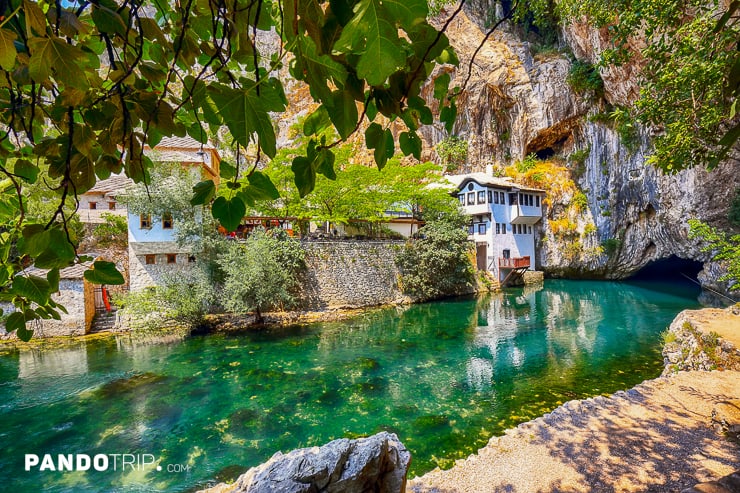 Places to Stay and Eat at Vrelo Bune
Although many visitors choose to explore Blagaj as a day trip from Mostar, it's also a great spot to spend a night or two. There are several accommodation options to choose from, ensuring a comfortable and enjoyable stay.
One option is Villa Bunski Biser, situated so close to Vrelo Bune that you can see it from the balcony. This charming villa also features a garden, shared lounge, and terrace, providing a relaxing atmosphere for guests. Another popular choice is Hotel Blagaj Mostar, just a 5-minute walk from Vrelo Bune. This cozy hotel boasts a warm ambiance and friendly staff to make your stay memorable.
When it comes to dining, the area offers a variety of restaurants where you can savor traditional Bosnian dishes like cevapi or pita. However, the local specialty is fresh trout caught from the Buna River. Restoran Vrelo is a popular spot to try this delicacy, offering a range of mouthwatering trout dishes. We recommend trying the "River Trout" from their menu for a truly delectable experience.