Trakai Island Castle is located in Trakai, Lithuania, on Galve lake. The historical Gothic Palace was built by Lithuanian dukes in the XIV century and served as their residence since the city was the capital at the time.
It is the only island castle in Eastern Europe. The whole landscape of Trakai dictates its architecture: many lakes are found in the historical center.
Today the palace is open to tourists. Trakai history museum has a vast display of Medieval exhibits. Also, many concerts and various events are organized in this gorgeous place. You can check what events are happening at the moment and buy tickets here.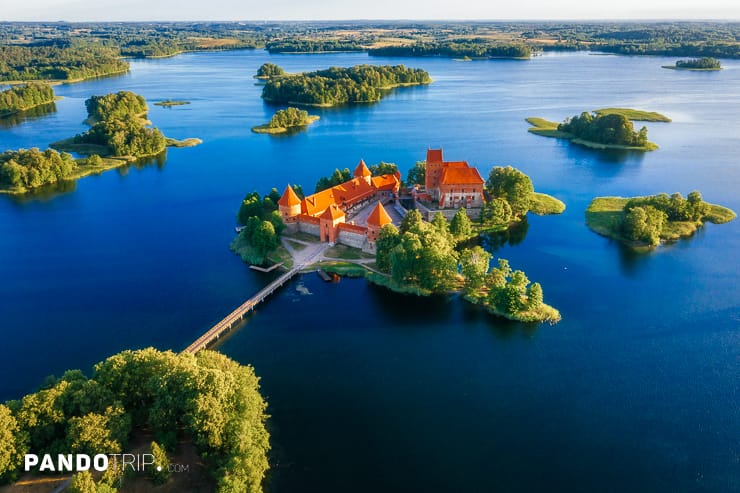 You can reach the castle by crossing 300 meters long wooden bridge. When the lake freezes in winter, you can walk on the ice to the castle or even skate.
During summer, many water activities are possible in the lake, from water cycling and boating to yachting. You can easily rent a boat or water bike near the castle, there are plenty of options. In addition, a lot of cozy restaurants are found in the town that serves national Tatar dishes since it is the historical habitat for this ethnic group. The most popular options are Senoji Kibininė and Kiubetė
How to get to Trakai
By car: Trakai is only 27 km from Vilnius, the capital of Lithuania, and it will take about 30 minutes to get there.
By bus: Busses from Vilnius Bus Station go about 40 times daily at 20 minutes intervals. You can buy bus tickets here.
By train: There are about ten trains every day going from Vilnius to Trakai. You can buy train tickets here.