Canada is a country that covers almost four million square miles of the earth's northern hemisphere. To cross Canada at its widest point, from east to west, you'd need to travel over four and a half thousand miles. That's a journey that would see you pass through six different time zones.
They're statistics that make Canada the second largest country in the world and so not one you can see in its entirety if you're just heading there for a two week winter vacation. Knowing which part of Canada is best for specific winter activities is vital or you could end up sleeping in an ice hotel when you'd rather be soaking away the chills in a thermal spa.
When you have a particular something in mind you want to do, a natural wonder you want to see or a winter festival you want to attend, you need to make sure you're in the right part of Canada at the right time. Winters are long in Canada, but there are optimum times, and places, for skiing, snowboarding, seeing the beautiful frozen lakes or the Northern Lights that you really need to be aware of to be able to plan properly.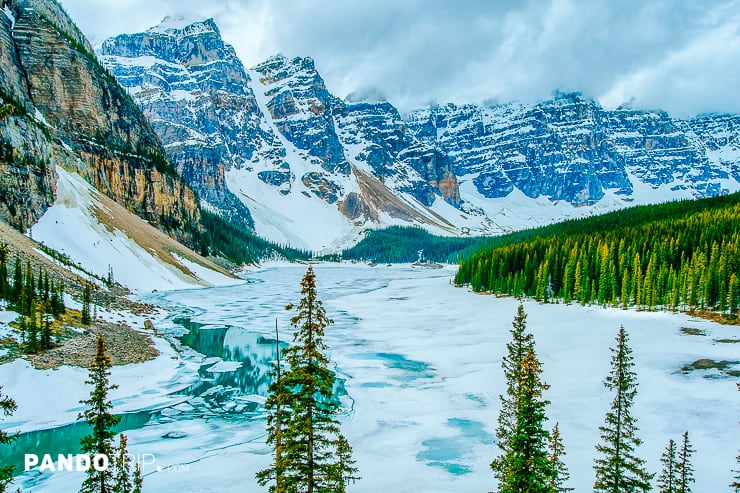 Winter In Canada
If the Americans had their way the rest of the world would be made to believe that Canada has only one season and that's winter. Yes, Canadian winters are lengthy and can be excruciatingly cold, but they do come to an end – eventually.
Canada's climate is frequently joked about too and there are numerous Canadian winter memes on the internet poking fun at the country's frigid wintertime weather. Is it really that bad? Have a look at the following information and you'll be able to come to your own conclusion.
When Is Winter In Canada?
Winter in Canada is said to be from December to the end of February. That's only three months so what's the fuss all about?
In general, most winters in Canada begin with early temperature drops which can start at the beginning of November and carry on through to late March. Sometimes those temperatures can stay low until around mid-April which means the winter season can last anywhere up to five or six months.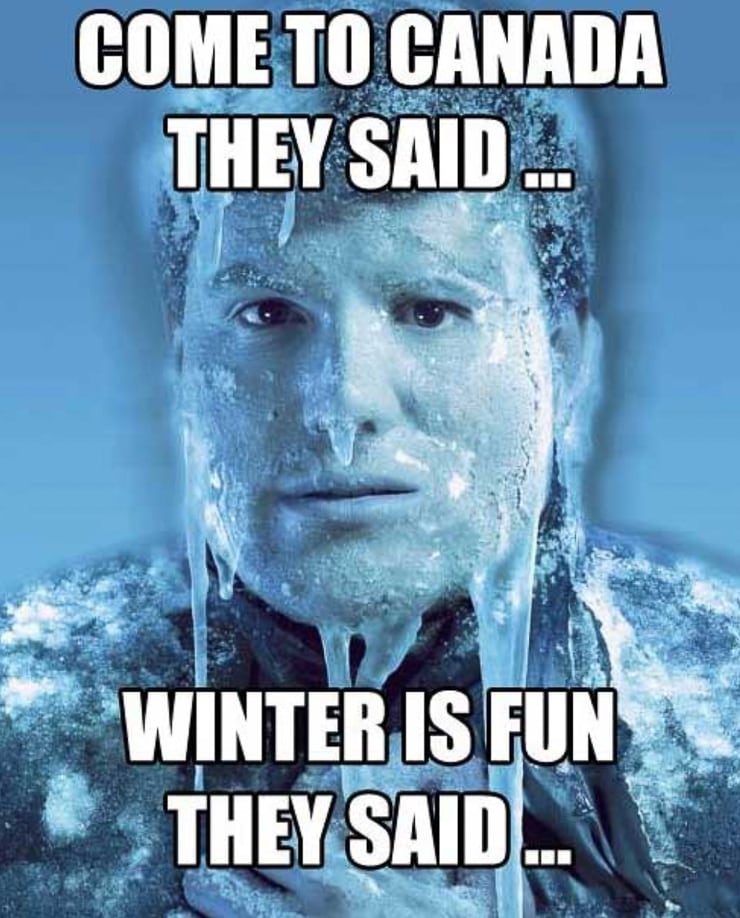 How Cold Does It Get In Winter In Canada
Winter isn't the same in some parts of Canada as it is in others. Forget checking out the average winter temperatures for Toronto and thinking they'll be the same as those for cities like Yellowknife in the Northwest Territories. They won't be. The further north you go the winters get colder and last longer.
In Toronto, for example, the average winter temperatures can vary between 48°F (9°C) to 19°F (-7°C) while in Yellowknife they can range from 19°F (-7°C) to -15°F (-26°C). That's a big difference. The province of Manitoba has a winter similar to that of the Northwest Territories while Quebec, because of its location on the Gulf of Lawrence in southern Canada, tends to escape the ultra-extreme low temperatures.
What Are The Best Things To Do In Winter In Canada?
1. Go Skiing and Snowboarding
Canada is a paradise for skiers and snowboarders as in parts of the country like British Columbia there can be snow on the ground for five or six months. While in other popular ski areas around the world the snow has long since thawed, turned into water and replenished lakes and rivers, the slopes of Canada's ski resort are still at premium level.
Where Are The Best Places For Skiing and Snowboarding in Canada?
Whistler Blackcomb – Whistler Blackcomb is a ski resort near the town of Whistler in the Canadian province of British Columbia. It's around an hour and a half's drive north of Vancouver at the foot of the Blackcomb Mountains.
The Whistler Blackcomb has one of the longest ski seasons of any resort in the world and it's not unknown for the season to extend into May. This enormous resort covers over eight thousand acres, has numerous alpine bowls and terrain parks plus two-hundred or more ski trails.
Banff – Lake Louise Ski Resort – The Banff Lake Louise Ski Resort is the resort to go skiing at if you want to enjoy the best of Canadian scenery while whizzing down the slopes. This ski resort in the province of Alberta is around two hours drive north of the famous rodeo city, Calgary, on the outskirts of the Banff National Park.
The Banff – Lake Louise Ski Resort is renowned for its picture-perfect scenery and its four-thousand plus acres of skiable terrains suitable for all levels of skiers from total novices to Olympic champions. If you're hoping to do some wintertime sporting activities with kids while you're in Canada this could be the place for you. They'll love the resort's tube park and the family-oriented snowshoe tours.
Revelstoke Mountain Resort – The Revelstoke Mountain Resort is the ski resort to go to in British Columbia if you want to push yourself to the limit. This ski resort receives over thirty feet of snow every year and that snow falls on the most vertical drop in North America. There are plenty of other slopes apart from this resort's five-thousand, six-hundred and twenty foot challenge including unmarked trails that you need to be dropped from a helicopter to reach.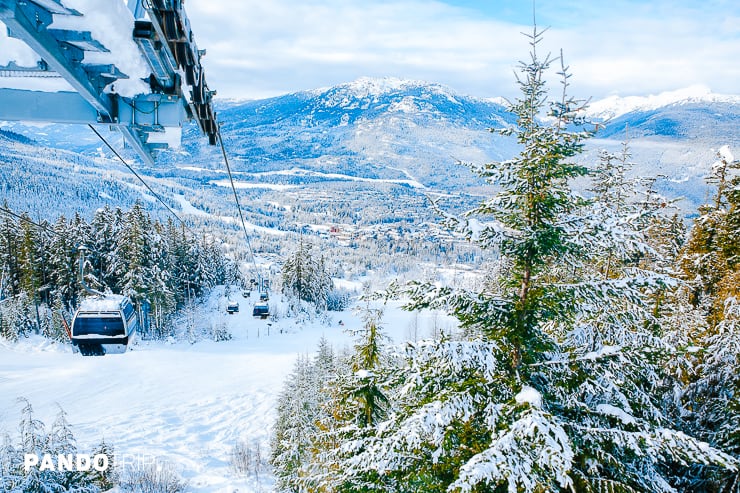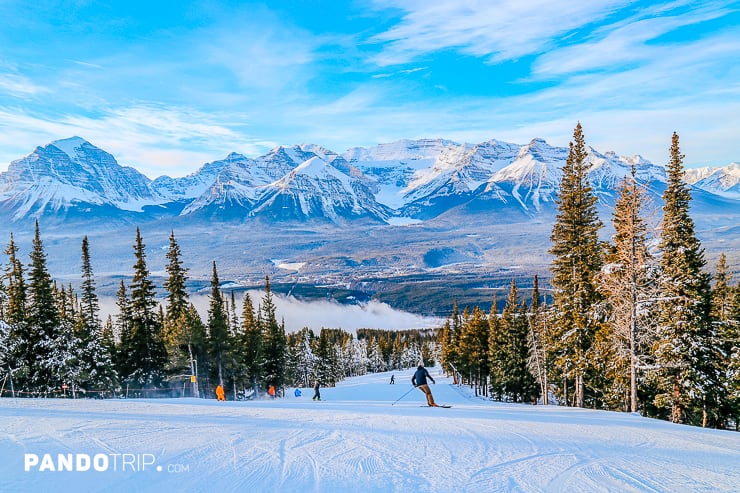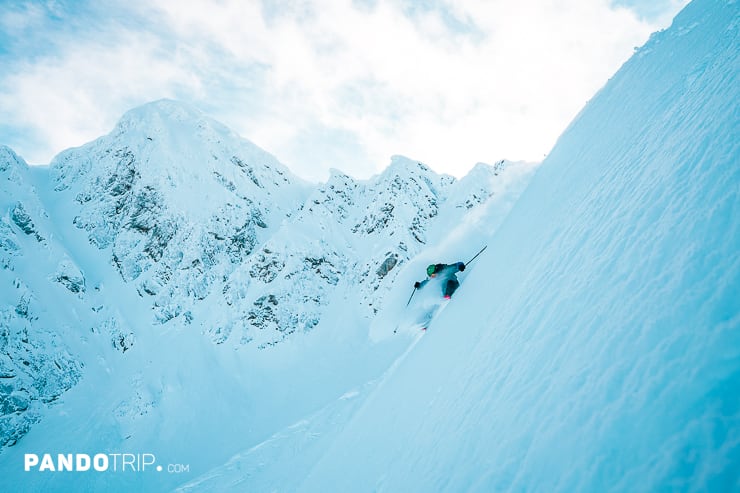 2. Experience The Northern Lights
You don't need to travel to a European country to be able to see the aurora borealis. The natural phenomena makes an appearance in Canada too. The places the Northern Lights put on their most spectacular show are quite widespread and all offer distinct possibilities of combining a trip there with other exciting winter activities.
Where To See The Northern Lights In Canada
Yellowknife – Yellowknife is the capital city of the Northwest Territories and one of the best places in Canada to go to see the Northern Lights. Yellowknife's geographical location means daylight hours in winter are relatively short compared to the rest of the country. Stay somewhere like the Aurora Village anytime from the end of November through to the end of March and you'll be able to go dog sledding, ice fishing and snowshoeing as well as see the lights.
Churchill – Go to Churchill, a small town on the shore of Hudson Bay in the province of Manitoba, and you'll have the chance to spot polar bears in the wild as well as see the Northern Lights. That's a unique opportunity that shouldn't be missed as the ice-loving creatures, while not endangered, are now a species that have been classed as vulnerable.
The aurora is visible in Churchill for around three hundred days of the year, but the best time to go to see it, and the bears, is February and March when there's little or no cloud coverage. Spend the night in an Aurora Dome then take a polar bear safari across the snow in a tundra buggy and you'll have seen the best Churchill has to offer.
Whitehorse – The city of Whitehorse in the northwest province of Yukon is located at a high latitude that favors viewing the Northern Lights in all their glory. Here the lights are present pretty much all year round, but the skies are not dark enough to see them properly until midwinter.
The best place to view the phenomena is away from the illuminated urban areas so snowmobiling out to the countryside, with a local guide, and spending the night in a wilderness cabin with sauna attached to help warm you up when you get back, is not a bad idea.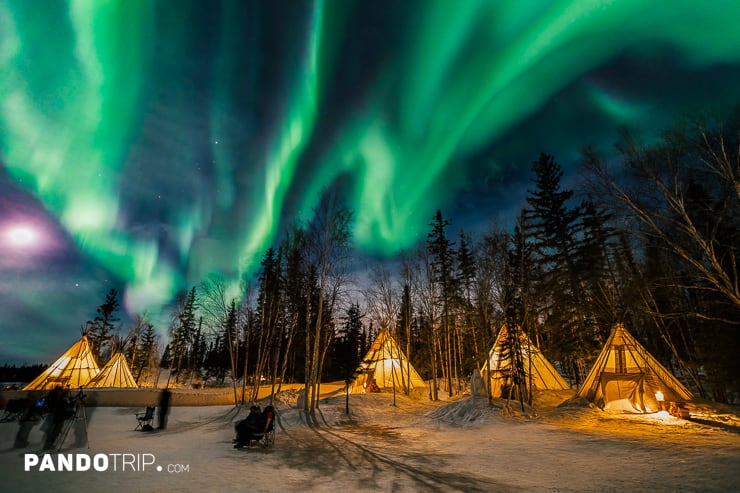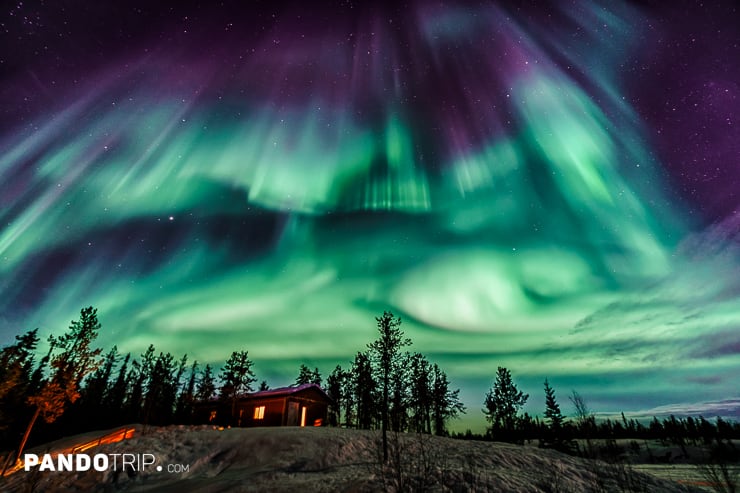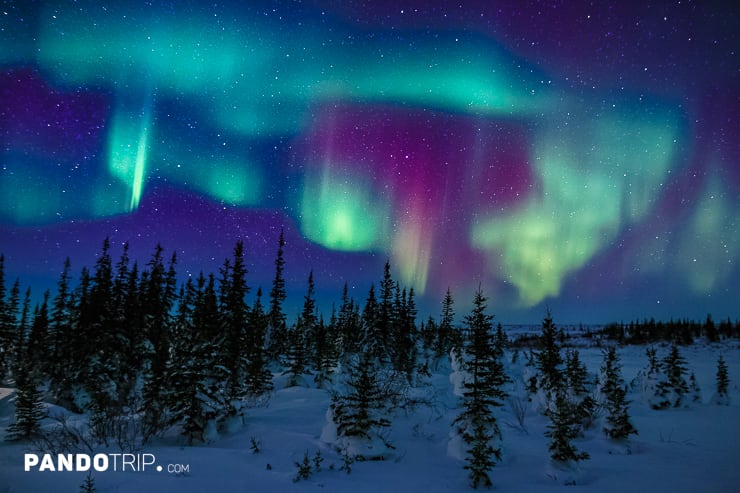 3. See The 'Frozen' Niagara Falls
Niagara Falls are impressive at any time of the year, but when winter comes around they can turn into an other-worldly icy wonder that is beyond breathtaking. The freezing of Niagara Falls isn't a regular annual event though and in reality they don't actually completely freeze at all.
The volume of water crashing down into the Niagara River is far too great to be stilled by below zero temperatures. What does happen, and is a photographer's dream, is the spray the cascading water creates freezes on just about anything and everything it touches which gives the fall's surroundings a fantasy winter wonderland appearance.
For the falls to actually look as if they have frozen, the temperature needs to drop to -4°F (-20°C). When that type of low temperature occurs the mist the falling water produces freezes before it can drop as far as the river creating the illusion of the falls being frozen even though they're not.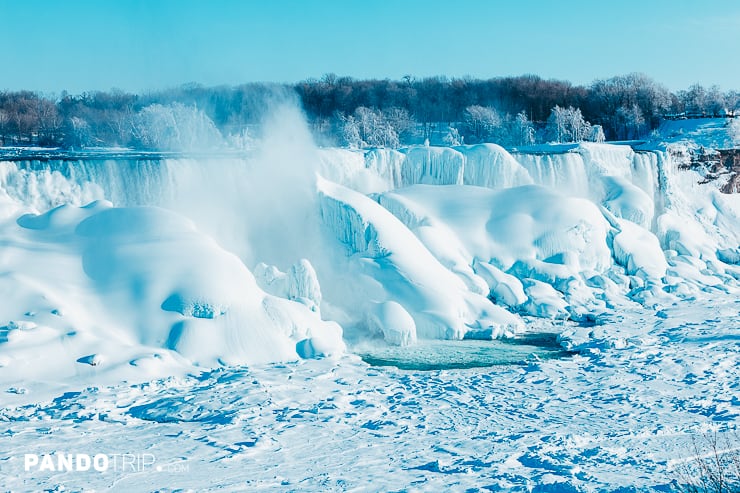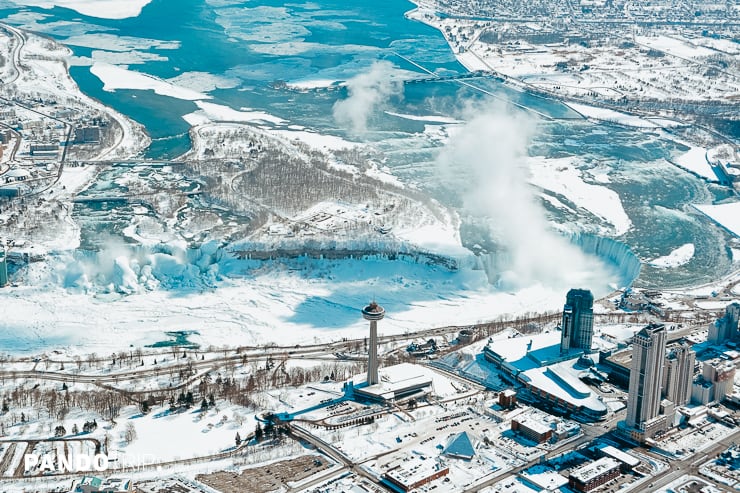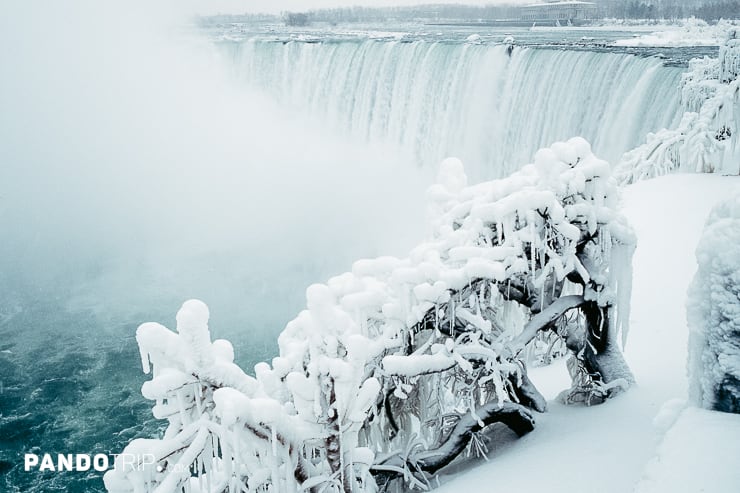 4. Stay At The Ice Hotel
The Ice Hotel is a special ice structure that's created every year in Quebec that's open to guests and visitors from January to March. This is no Eskimo-style igloo, but a huge building constructed of more than two-thousand blocks of ice and fifteen thousand tons of snow.
The interior décor theme of the Ice Hotel, which consists of ice sculptures, ice furniture and fun things like ice slides, changes annually so even if you've been once, it won't be the same second time around. The rooms are themed too and as well as ice beds some come complete with additional luxuries like a fireplace and hot tub.
You don't need to stay overnight at the Ice Hotel to be able to take a look at this man-made wonder. You can visit for the day and have a warming cocktail at the ice bar or, if you're not visiting Canada this year, take a virtual 3D tour online to check out this amazing place in detail.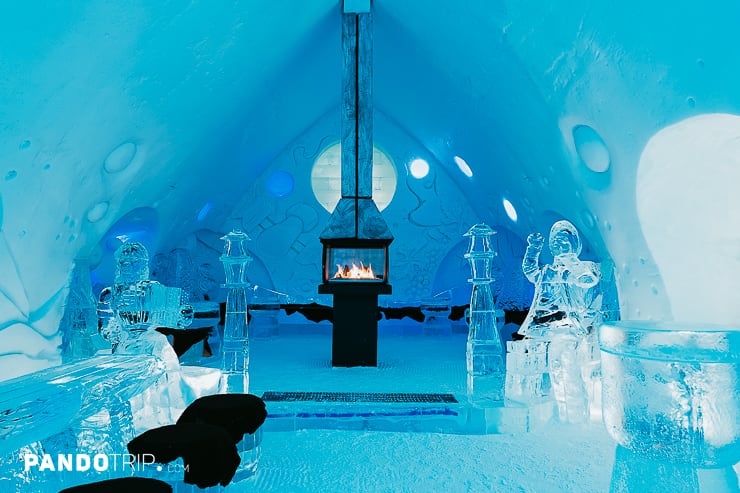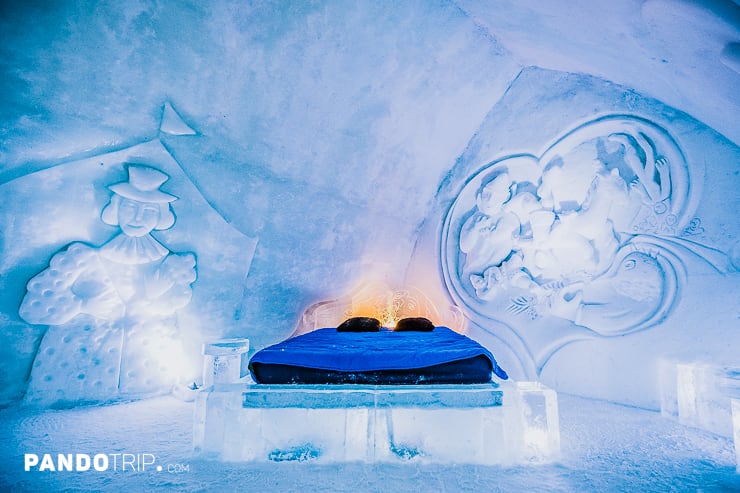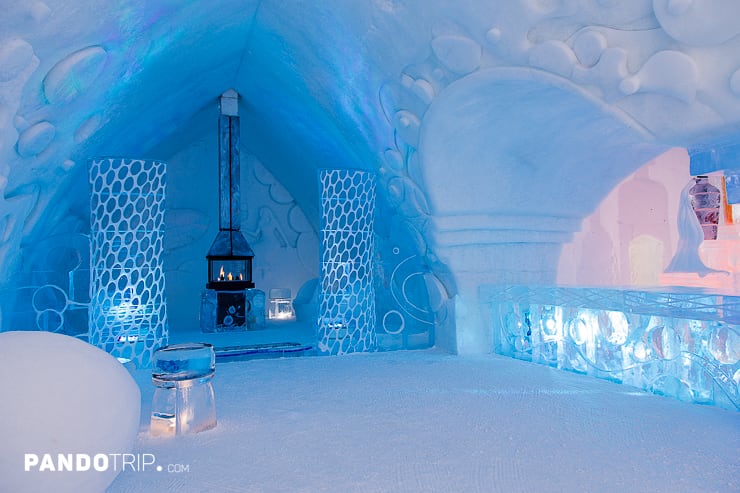 5. Watch & Play Ice Hockey – Canada's National Sport
Start your Canadian ice hockey experience by going to see a game played by any one of the teams who participate in the National Hockey League (NHL). If you don't go to at least one ice hockey game while you're in the country, you really haven't visited Canada at all. This sport is what football is to the Americans and soccer is to the British, a part of everyday life that most folks wouldn't be the same without.
Although the actual start and end dates vary, the NHL season runs from October through to April and even though the games are extremely popular, it's usually not difficult to get tickets. The best place to purchase your game tickets is online from one of the team's official websites which is also where you'll find their game dates and locations.
While you might not reach a high enough standard to participate in the World Pond Hockey Championship, you will be able to play a game or two of pond hockey, a simpler and less aggressive version of ice hockey, at one of the community ice rinks in the town or city you stay in as long. As long as you can manage to stay upright on your skate blades while chasing a puck across the ice, you'll have a great time.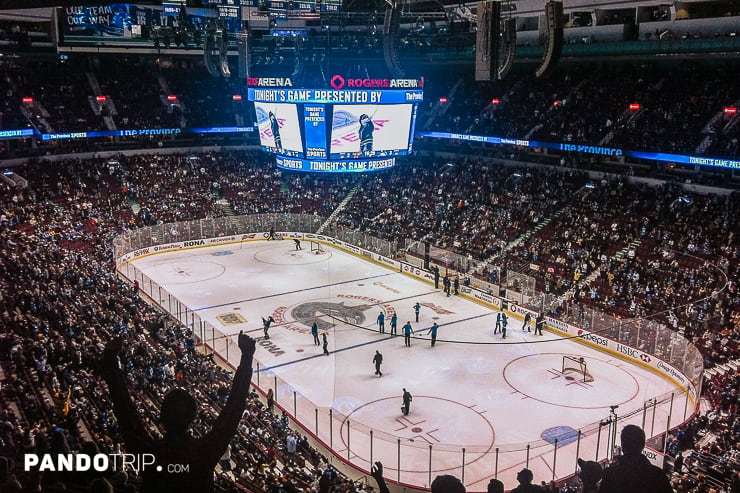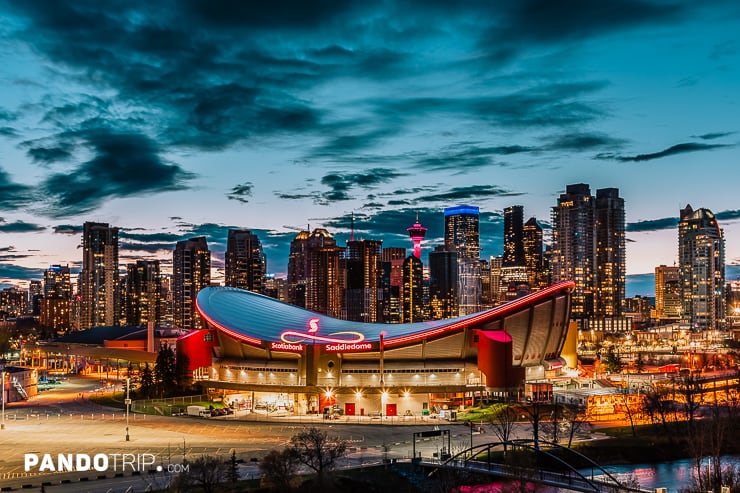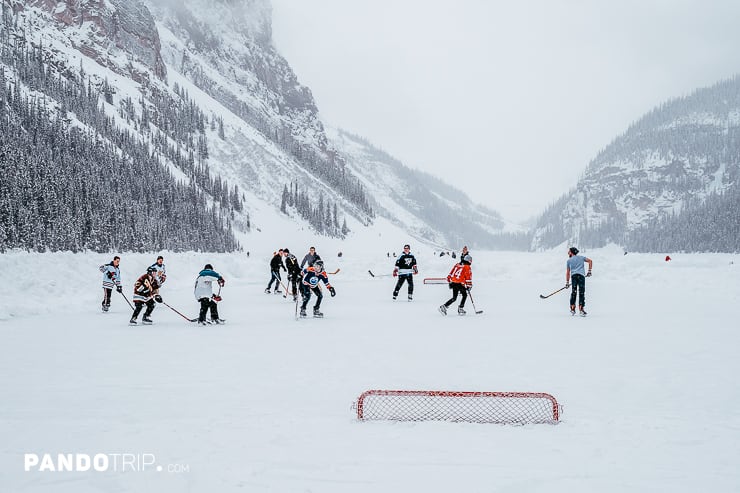 6. Experience The Beauty Of Frozen Lakes
One of Canada's most famous natural features are its incredible lakes. During the winter months some of those immense stretches of water become solid as they partially or completely freeze over. Even the Great Slave Lake which is the tenth largest lake in the world has been known to freeze in parts for several months at a time.
As the Great Slave Lake is over three-hundred miles long, it's hard to know just which part is going to be frozen so plan on seeing one like Lake Louise in the Banff National Park. It's nowhere near as vast and becomes a popular skating rink in winter.
Lake Abraham is a Canadian lake that took the internet by storm when photos of its unusual wintertime bubble phenomena were published. To be able to go there and photograph the bubbles in the isolated frozen lake yourself requires some careful planning, but it's doable.
The best time to go to Lake Abraham is from mid-January to the end of February when there's more chance the lake will be completely frozen over, but there's no guarantee you'll get to see the bubbles as it all depends on the year's weather conditions.
NB: If you've seen photos of Moraine Lake, another lake in Banff National Park, on Instagram and want to see it when it's frozen over, sadly you'll be out of luck. The access road to Moraine Lake closes to the public in mid-October because of the avalanche risk from the surrounding mountains. Wintertime visits to the lake are not permitted so you'll have to be content with admiring it on the internet in all its summertime splendor.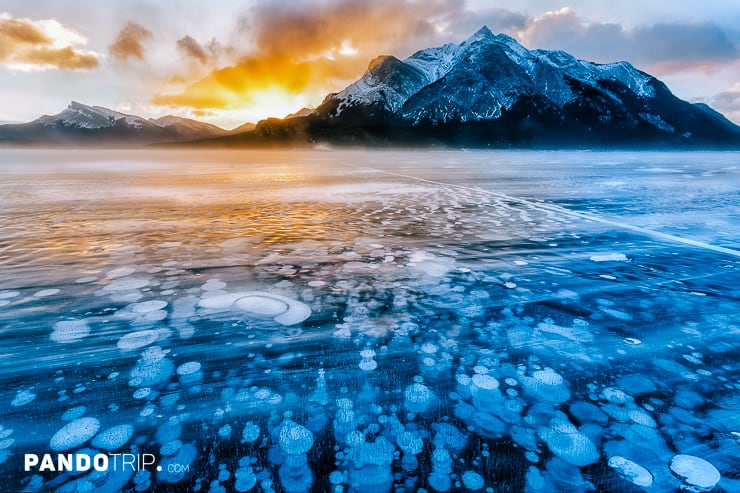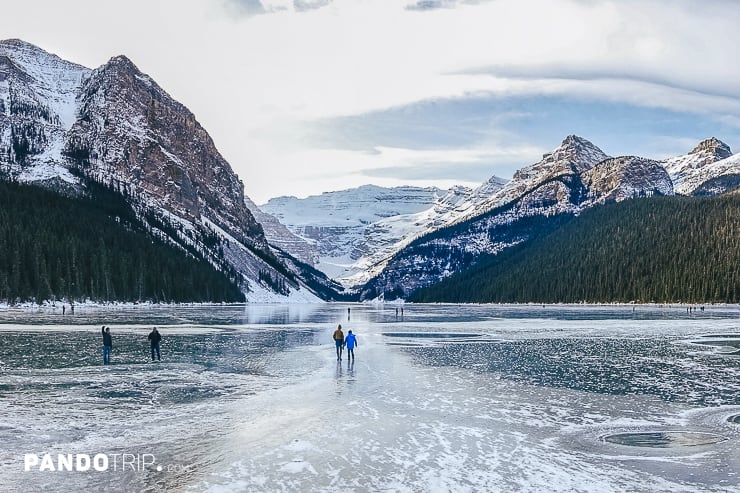 7. Attend Winter Festivals
The winters may be long and extremely cold in Canada, but that doesn't stop Canadians from having a good time. While winter isn't one long stop party, there are some great winter festivals held all over the country. Here are a few of the best you might want to consider attending.
The Winterlude, Ottawa, Ontario – The folks in Ottawa don't get sad when the Christmas and New Year celebrations are over because they have Winterlude to look forward to. Winterlude is a Canadian winter festival that takes place every year on the first three weekends in February.
During Winterlude international ice artists turn the city into a veritable gallery of ice sculptures, there are dragon boat races on the ice, a snow maze to find your way through, tube snow slides, ice skating on rinks and a frozen canal plus lots of live music.
Quebec City Winter Carnival – The Quebec City Winter Carnival might only last ten days, but it's the party to end all parties and the biggest winter carnival in the world. Held at the beginning of February this Canadian winter festival is one that definitely helps shake off the country's winter blues.
There's no slacking on the fun at the Quebec Winter Carnival. There are street parades day and night, ice and snow sculpture competitions, a never ending choice of winter activities like dog sledding, ice skating and snow baths as well as musical, theatrical and dance performances and Bonhomme's Palace to visit.
Winter Festival Of Lights, Niagara Falls, Ontario – The Winter Festival Of Lights in Niagara Falls is when the city makes its annual attempt to outshine the natural beauty of its famous waterfall and it does – almost.The Winter Festival of Lights begins in mid-November when the city streets, building and practically anything else that doesn't move, as well as some things that do, is decorated with around three million lights.
The Winter Festival Of Lights illuminates the city for a hundred and one consecutive nights which means the festival continues right through until almost the end of February. One of the most spectacular moments of the festival is the Horseshoe Falls light show which takes place three times a night every day of the event. Watch the show then follow the Hot Chocolate Trail and treat yourself to one of the chocolate-inspired drinks along the way and you'll totally forget the freezing temperatures as you'll feel like you've fallen through a rabbit hole and ended up in winter wonderland.
Winter Wine Festivals In Canada
Wine lovers aren't forgotten in Canada during the winter months. The Niagara Ice Wine Festival takes place over three weekends in January when, even though the vineyards are covered in snow, there are wine tastings, food pairings and a gala evening at a local casino.
Okanagan in British Columbia has been renowned for its spring and fall wine festivals. They're so good that two just aren't enough and there's now a third, the Okanagan Winter Wine Festival, that's joined the annual agenda. It's also held in January so if you're a wine lover this could be the month you should plan to visit Canada.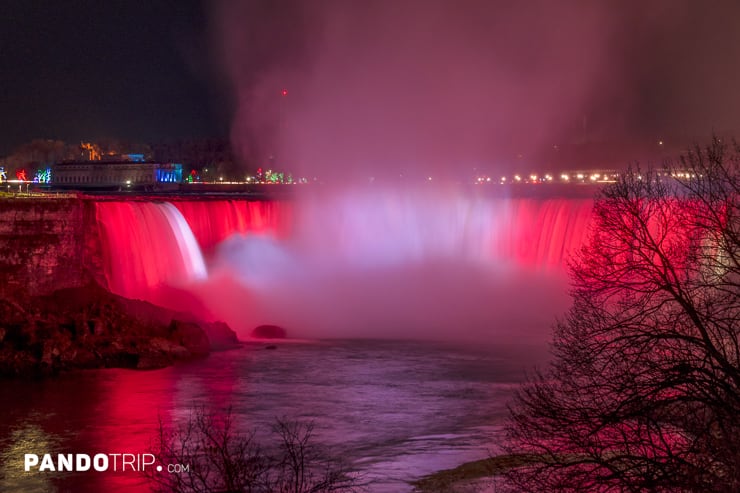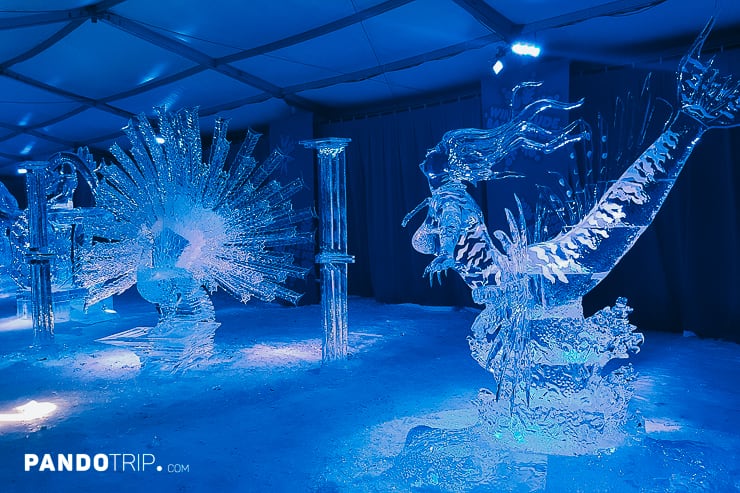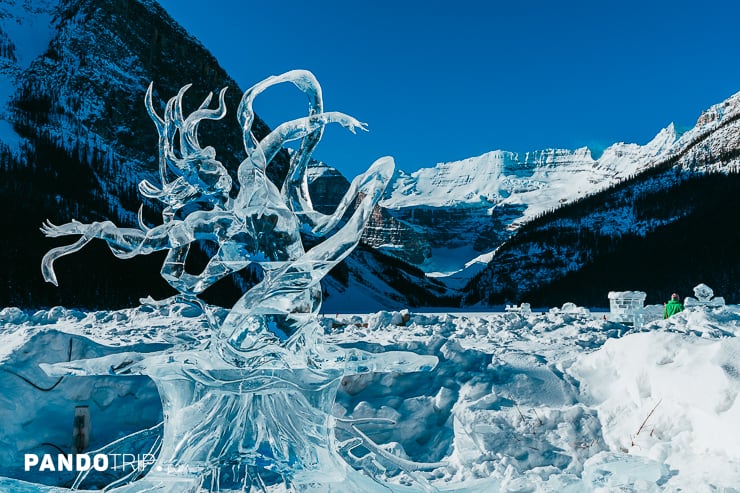 8. Go Ice Skating
What do Canadians do when the country's ponds, rivers and canals freeze over in winter? The answer to that is they get their skates on. Almost every town and city will have an outdoor ice rink, as well as an indoor one, open to the public in winter. It's a popular pastime that's practiced by all age groups and skill levels. If you've never tried skating before it may take a few minutes for you to get your balance, but once you have, you'll find it exhilarating.
As with most things, not all of Canada's ice rinks are equal. There are some that stand out from the others for various reasons. Whether you're a great skater or not, you may want to give the following rinks a try.
Rideau Canal Skateway – The Rideau Canal Skateway is an eight kilometer long stretch of the Rideau Canal that's transformed into one long ice rink every year. The canal, which is a UNESCO World Heritage Site in its own right, runs through the center of Ottawa past many of the area's historic buildings. Skating on the canal is usually permitted from January to the end of March, but only if and when the ice has reached the required thickness of thirty centimeters.
Nathan Phillips Square – Nathan Phillips Square in Downtown Toronto turns into the frozen heart of the city every year from the end of November to March when it's converted into an ice rink. The rink is opened with a huge light festival that is undeniably impressive, but doesn't detract from the beautiful architecture of the buildings surrounding the square. Even if your skating isn't up to much you'll want to go here if you're in Toronto in winter just to see some of the professional skating performances. They're Olympic standard so don't miss them.
The Forks, Winnipeg – The Forks may once have been a derelict railyard, but now it's a major recreational area in Winnipeg. The center opens several ice rinks in the winter as well as creating various skating trails along the Nestaweya and Assiniboine Rivers as part of the seasonal Arctic Glacier Winter Park. As well as skating you can go tobogganing and cross-country skiing or just take a wintertime stroll along the snowy paths.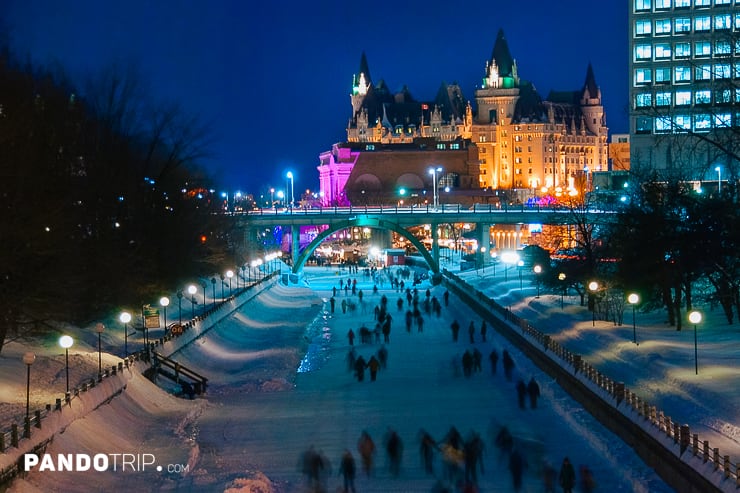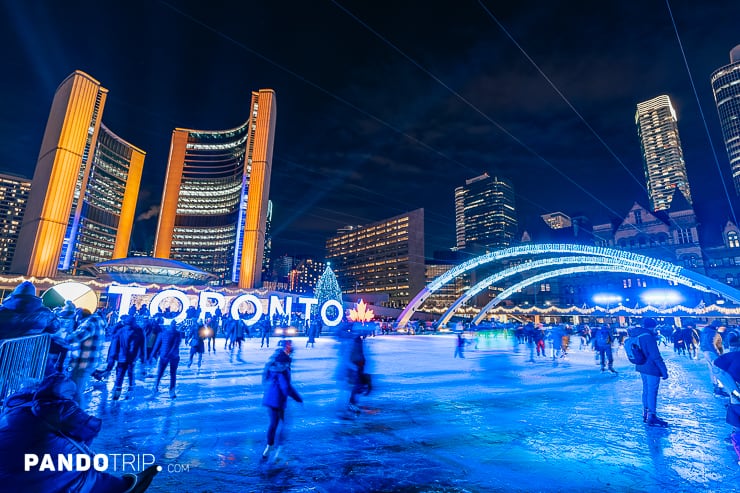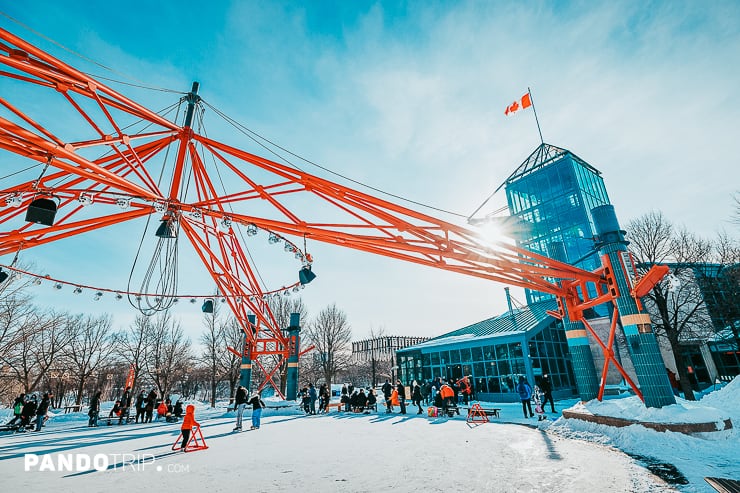 9. Go Ice Fishing
A lot of the wilder frozen Canadian landscapes initially appear to be uninhabitable during the winter months. They're not though. There's no debating they can be an extremely harsh environment to survive in, but if you want to discover how the Indigenous people like the Canadian Inuit do it, and have some fun at the same time, you need to try ice fishing.
Ice fishing season in Canada usually starts around the beginning of January and continues through to mid-March, but it does depend on regional winter temperatures and when the lakes are frozen over enough to be safe to support a person's weight.
Some of the best lakes in Canada for ice fishing are:
Lake Nipissing in northeastern Ontario which is renowned for its huge, record-breaking Walleye and its smaller, and easier to catch, Whitefish.
Tobin Lake is the ideal lake to head for if you want a winter camping in the wild getaway experience. Located east of the city of Saskatchewan, in the quite remote Nipawin Regional Park, here you can ice fish for lake trout then take them back to your cabin and grill them for dinner.
Cold Lake, the lake not the city on its shores named after it, really lives up to its name in winter. The ice fishing in this Alberta lake is so good that serious trout ice anglers from Saskatchewan forget Tobin Lake and make the four and a half hour journey across the state on icy roads to fish here for lake trout. If that's not recommendation enough about where to go ice fishing in Canada then nothing is.
Tip: If you've never been ice fishing before, don't go alone. Always go with a local guide who will show you how to cut a hole in the ice, how to bait your hook and one who will know, for sure, exactly where the dangerous ice you shouldn't tread on is.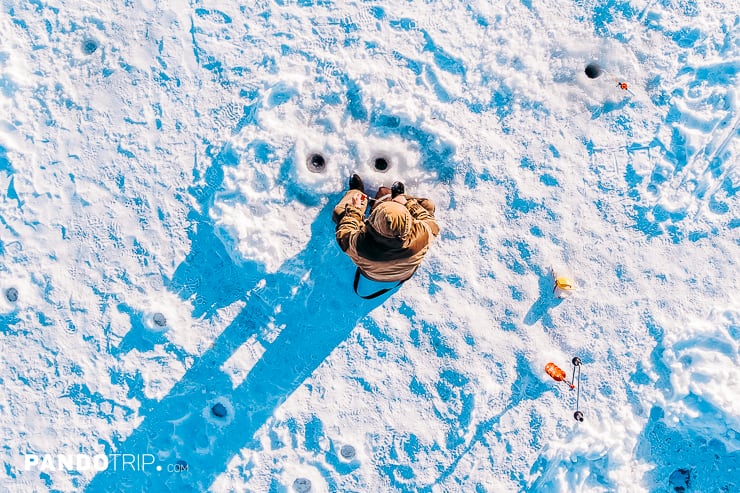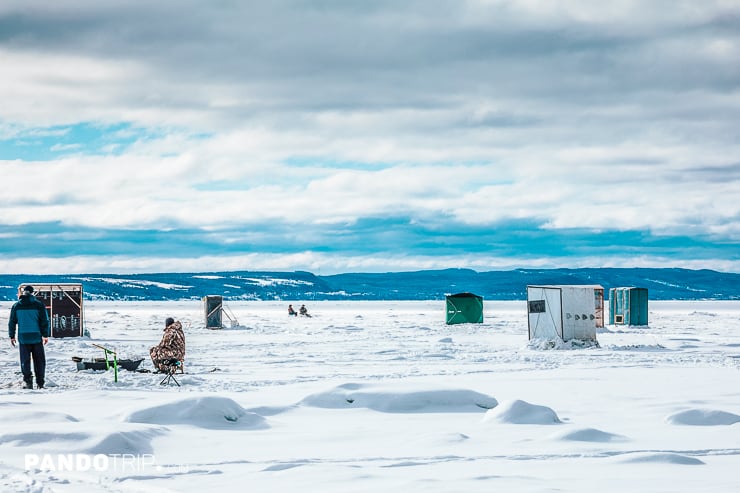 10. Soak In The Warmth Of Hot Springs
Immersing yourself in a thermal spring is a completely different experience in winter than it is at any other time of the year. Soaking in steaming mineral-rich waters surrounded by snow-covered landscapes is something every winter visitor to Canada really should do.
Some of the best hot springs to visit in Canada in winter are:-
Banff Upper Hot Springs, Alberta – Located in the Banff National Park on Sulphur Mountain, the Banff Upper Hot Springs are surrounded by pine forests and beautiful Canadian Rockies mountainscapes. They're open daily from ten in the morning until ten in the evening so you can even bathe under a star-studded sky if you feel inclined.
Radium Hot Springs, British Columbia – If you want to combine your hot springs soaking with some outdoor winter activities then the Radium Hot Springs are the thermal waters to head for. The mountain village of Radium falls within the boundaries of the Kootenay National Park which is renowned for its scenery and winter sport activities. Here you can ski, snowshoe, go ice fishing or fat biking on a frozen lake then end the day with a therapeutic dip in the hot water of the springs.