Do you think of yourself as an intrepid traveler? If the answer is yes, you may well want to consider starting to visit volcanoes as a vacation option. Volcanoes can seriously push holiday adventures to the edge, literally. Standing on the rim of an active volcanic cauldron takes some nerve, and you also need a head for heights because, believe it, visiting volcanoes is something which you can't do when at ground level.
Think you can handle going up a mountain peak which is spewing smoke, ash and glowing hot rivers of lava? If so, check out these top ten stunning volcanoes in the world and decide which one you want to see first.
10. Mount Teide, Tenerife, Canary Islands, Spain
Break yourself into volcanic tourism slowly by visiting Mount Teide on the Canarian island of Tenerife. Even though it's classed as an active volcano, it's minus the flowing lava which means it's quite a safe place to start. That said, Mount Teide is Spain's highest peak, and even though there is a cable car which will carry you most of the way up, if you want to view the cauldron it requires a further, quite strenuous, three-hour hike from the cable car station to reach the summit.
Why Go? This volcano was declared a UNESCO World Heritage Site in 2007 for being so geologically diverse it's unique. Tenerife also has some fantastic beaches. If you go, take plenty of sunscreen because the sun in Tenerife can burn almost as hot as volcanic lava.
When To Go? Summer temperatures in Tenerife can reach as high as 40°C or more which doesn't lend itself well to arduous activities like hiking up mountains. In winter, Teide can be covered with snow with the temperatures at altitude falling below freezing. The best times to go are from the end of February through to the end of May or October and November. Mount Teide National Park ranks as the number one place to visit, not just in Spain, but in Europe, so go in the early morning to avoid the crowds.
Last eruption: 1909
Height: 3,178 meters; 12,198ft
Map Location: Mount Teide, Tenerife
9. Mount Etna, Catania, Sicily, Italy
As far as volcanoes go, Mount Etna has got a lot going for it. Not only is it still active, but it's also the most active in the world, the biggest in Europe and easily outdoes Italy's other two active volcanoes in size. Yes, it's a pretty volatile mountain which erupts on a regular basis and occasionally blows smoke rings for extra dramatic effect. Whether you ride the cable car up and then walk to the summit,  hike all the way or drive up on a guided jeep tour, you'll need some thick-soled hiking boots and warm clothing. It might be one smoking hot mountain, but the temperatures at altitude are pretty chilling.
Why Go? While Mount Etna may currently be the highest in Europe, every time it blows its top it loses formation and becomes shorter. So if you're thinking of going to see it, then do it now while it's still Europe's number one.
When To Go? Even if Mount Etna is not in the midst of a full eruption, there'll still be smoke billowing out and there's no guarantee going up will be one hundred percent safe. Some volcanoes are by nature, unpredictable and Mount Etna is one of those. During the winter the slopes of Mount Etna convert to a ski resort so if skiing is your thing you can really make the most of your trip. The mid-summer months, July and August are peak tourist season. To avoid the queueing crowds, try visiting in Spring or Autumn.
Last Eruption: 2017 – with on-going rumblings
Height: 3,329 meters; 10,922ft
Map Location: Mount Etna, Sicily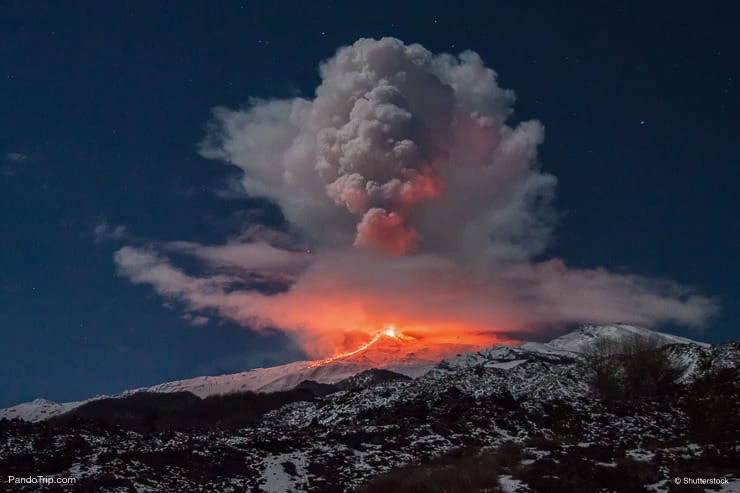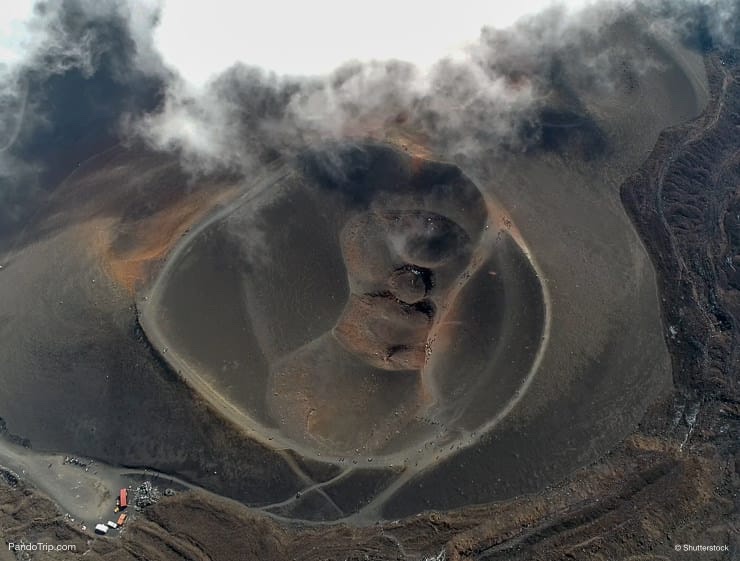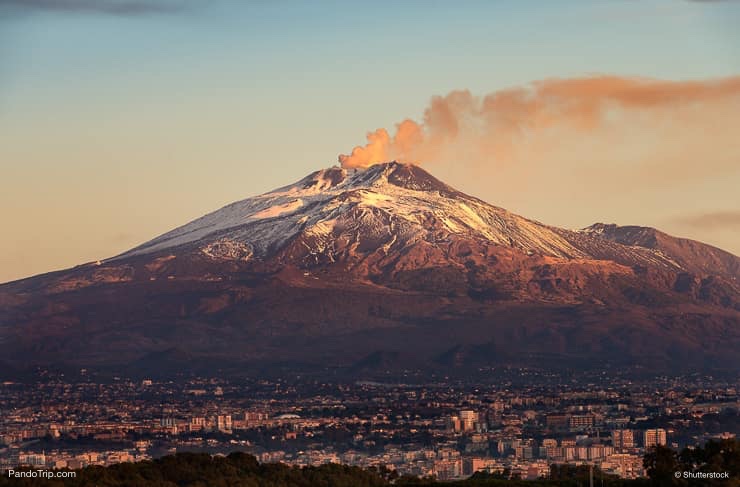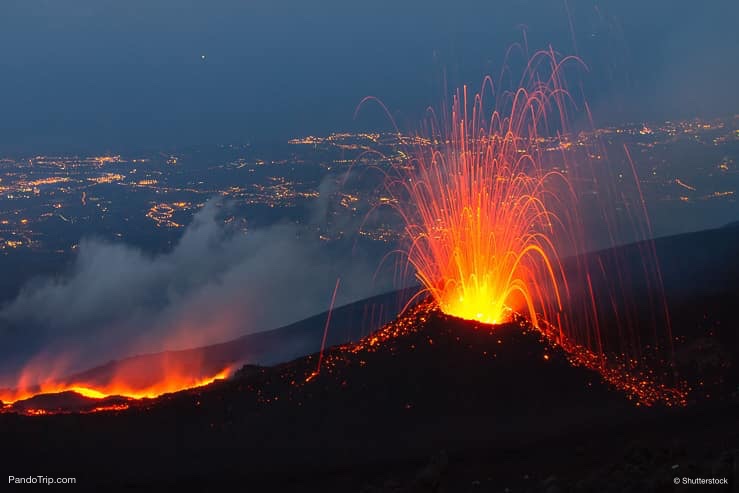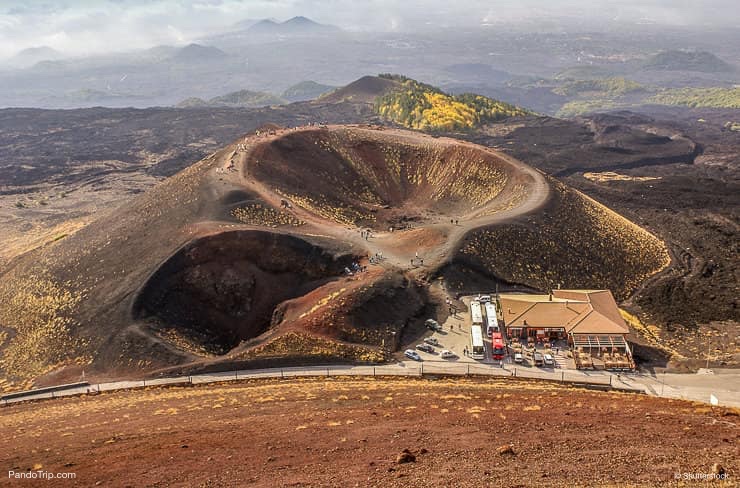 8. Sakurajima, Kyushu, Japan
Sakurajima may look like an inoffensive mound of rock seen from a distance as you sail into Kagoshima Bay. It's not. It's a volcanic exhibitionist which shoots plumes of ash and smoke sixteen thousand feet up into the air, and that's on one of its quieter days. Sakurajima's constant activity showers the surrounding countryside with a layer of ash as thick as a blanket. It's a volcano that likes to rumble and has been doing it since nineteen fifty-five to the present day.
Why Go? If you're worried about being in the right place at the right time to see a volcano erupt, Sakurajima is the perfect volcano for you. It erupts on average three times a day. Don't expect to be able to get right up close or climb to the summit of any of its three peaks either. It's far too dangerous, so two kilometers away is the closest you can get. Which, considering how active it is, is probably quite close enough.
When To Go? Avoid public holidays as Sakurajima attracts a lot of local visitors. The Sakurajima National Park is popular not just for the eruptions, but also for the free, thermal foot spa, lava trails and children's dinosaur park. The rainiest months are mid-summer from June to August, so aim for the autumnal months of October onwards and you'll probably be able to leave your umbrella at the hotel unless it's raining ash instead.
Last Eruption: 2018
Height: 1,117 meters; 3,665ft
Map Location: Sakurajima, Japan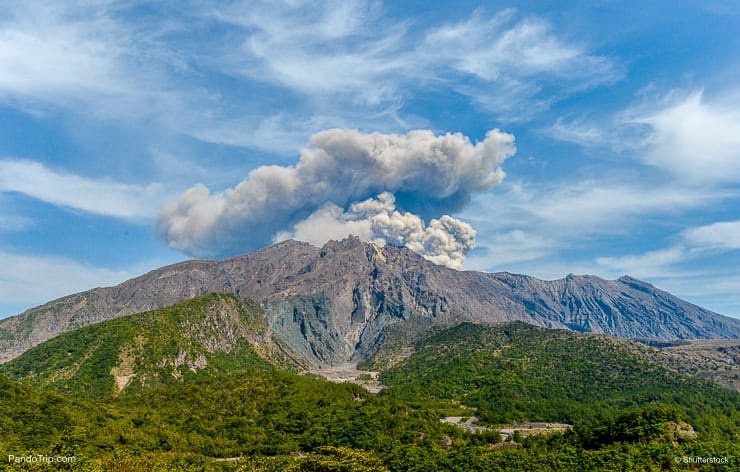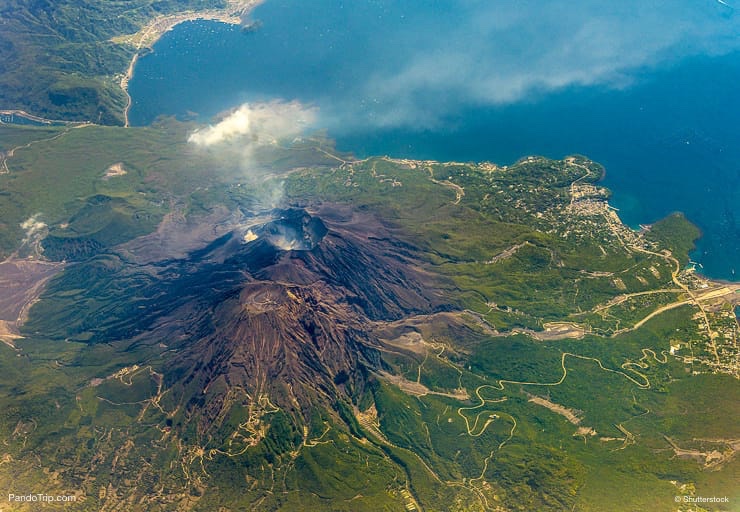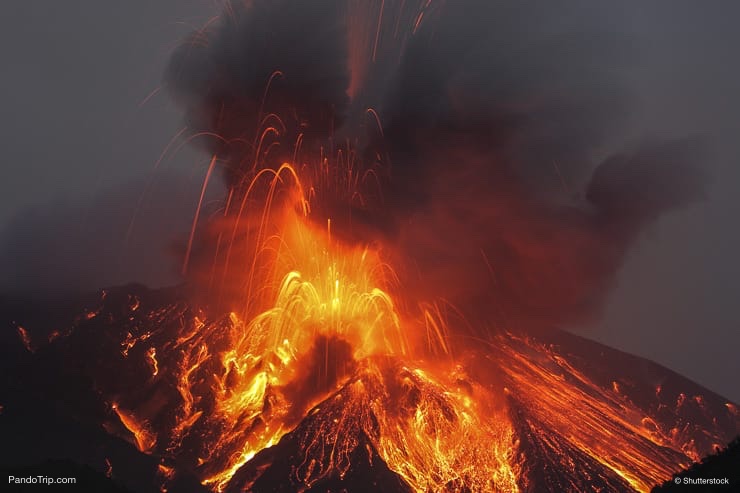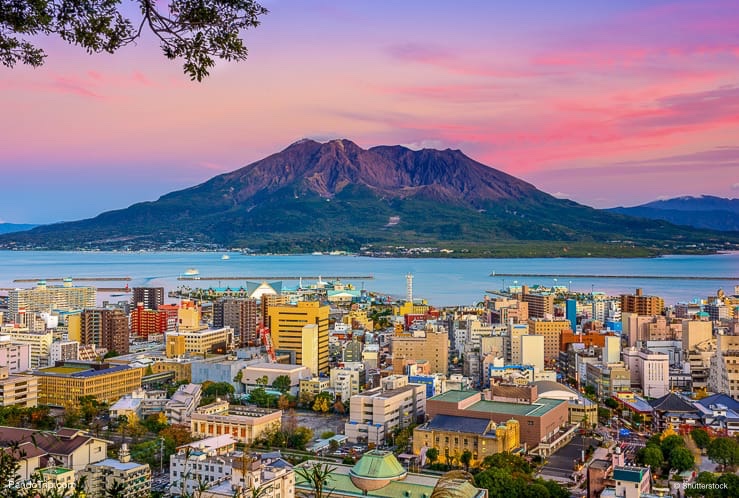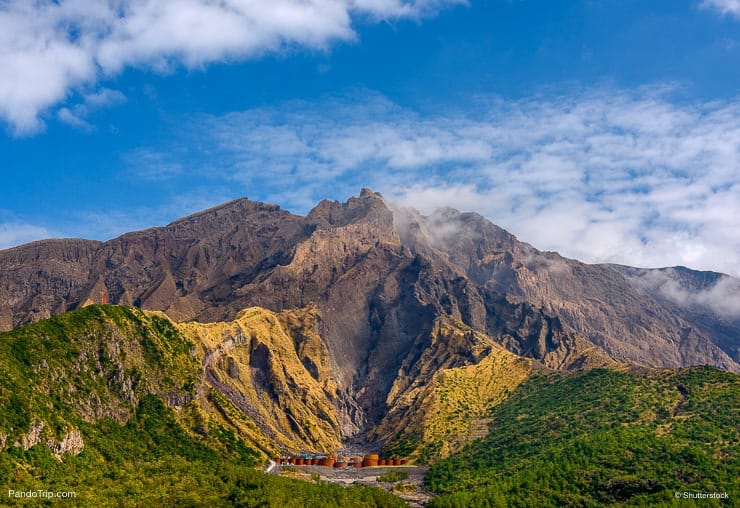 7. Whakaari/White Island, Bay of Plenty, New Zealand
Landscapes don't get much more primitive than they are in New Zealand and if you visit Whakaari/ White Island, you'll feel as if you've arrived in the land that time forgot. White Island, which is just the tip of the volcano – the rest is out of sight submerged beneath the sea – is comparable to a witches cauldron. Yes, it does a lot of hissing, bubbling and spitting venom. There's a lake of acid, boiling mud, thermal streams and an abundance of stinking sulfur which turns the ground orange and yellow.
Why Go? If you've got no head for altitudes, then this volcano should be number one on your list because you can be a real volcano tourist here without climbing anything. Step foot straight from a boat tour onto the island's craggy shores, then go exploring and you'll soon discover that not all South Pacific islands are paradise. If that all sounds just a bit too adventurous, fly over Whakaari/ White Island in a helicopter to get a bird's eye view of New Zealand's most famous volcano.
When To Go? The climate in the Bay of Plenty is fairly consistent all year round temperature-wise. The wettest months are during the autumn which in New Zealand is from March to May. While the Bay of Plenty does attract tourist crowds, visiting Whakaari/ White Island is restricted to permit holding organized tour companies only, so there's never going to be much of a queue.
Last Eruption: 2017
Height: 321 meters; 1,053ft
Map Location: Whakaari/ White Island, New Zealand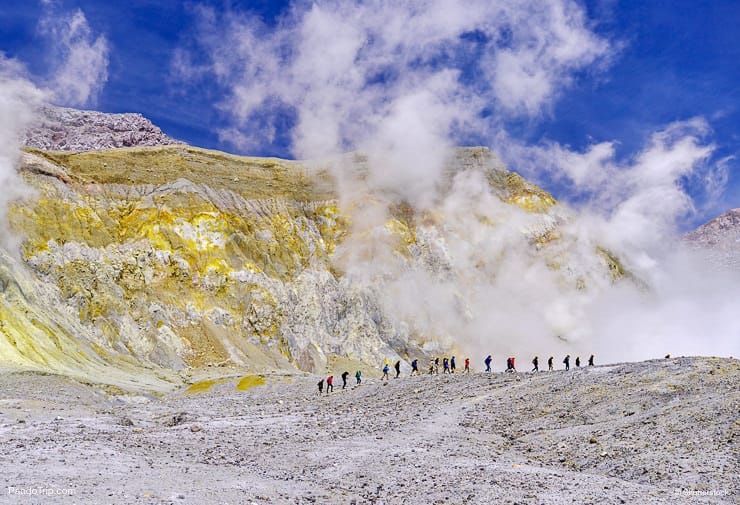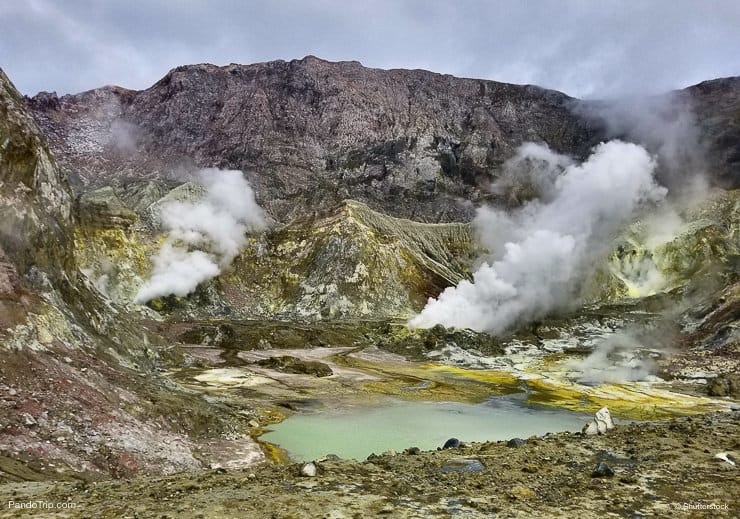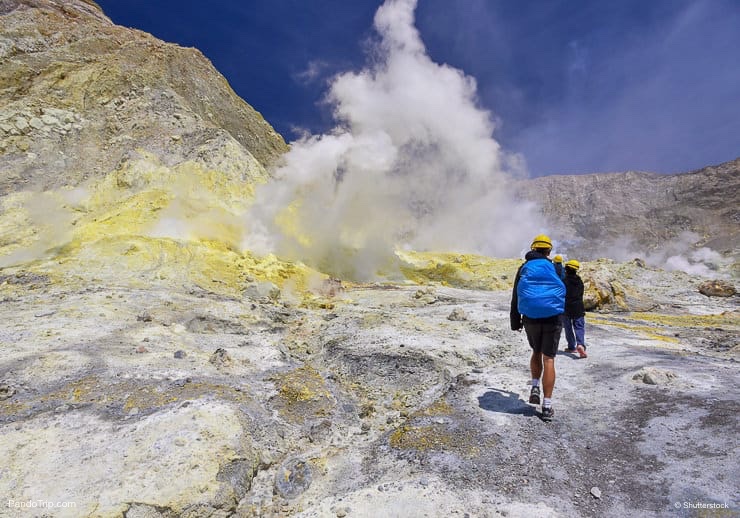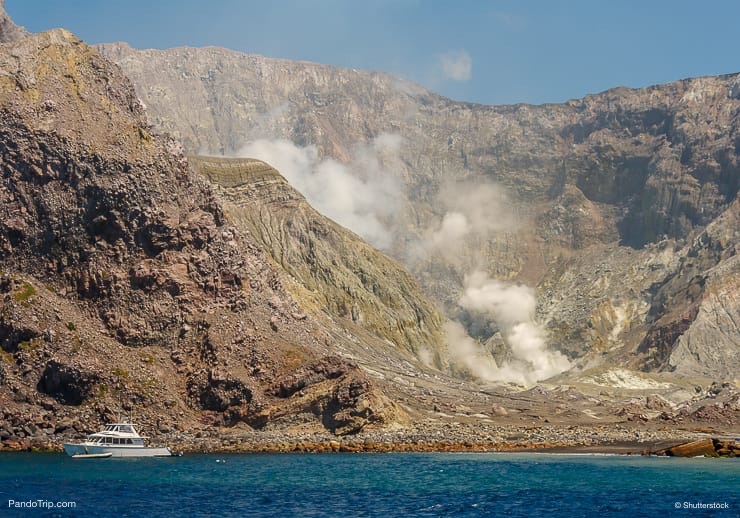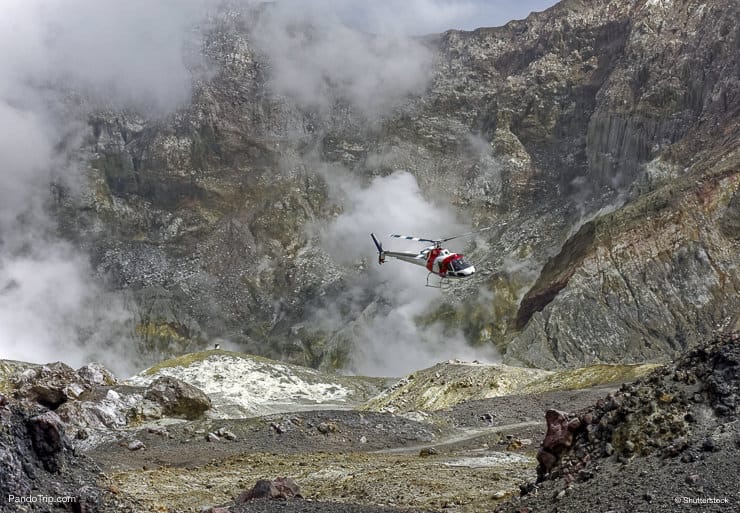 6. Mount Kilimanjaro, Kilimanjaro National Park, Tanzania
Mount Kilimanjaro is the sleeping giant of all volcanoes. It's not just the tallest volcano in Africa, it's Africa's highest mountain too, and that's a fact that attracts as many mountain climbers as volcano tourists. Don't expect to see any volcanic activity at Mount Kilimanjaro, of its three cones two are extinct and the other is dormant and hasn't woken up or coughed out smoke for over one hundred and fifty thousand years.
Why Go? Mount Kilimanjaro is one of the most picturesque volcanoes on the planet. Its snow-capped peaks set against the African savannah are a photographers dream, especially when captured with a wildlife subject like elephants or giraffes in-between. If scaling mountains is your thing, this is one climbing challenge you'll definitely want to undertake. It takes several days to reach the summit and yes, you need a guide, the adequate equipment and to be prepared for altitude sickness.
When To Go? If you're heading to the Kilimanjaro National Park for a safari-style photography adventure the best time to go is in the dry season which is from July to October. Skip the rainy months of March, April and May when cloud coverage can hide the peak from view. If you want to conquer Mount Kilimanjaro and trek up to the summit then June through to October are the months with the mildest climates. Avoid the months of April and November when it rains too much for hiking up the slopes to be comfortable.
Last Eruption: Between 150,000 to 200,000 years ago
Height: 4,900 meters; 16,000ft
Map Location: Mount Kilimanjaro, Tanzania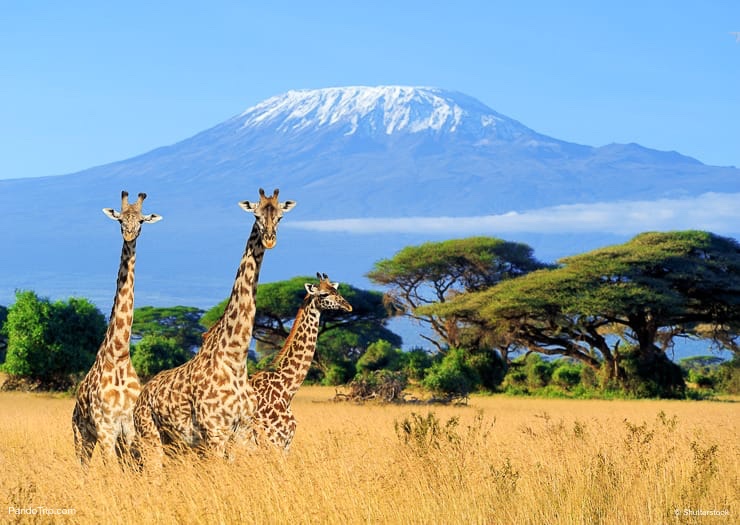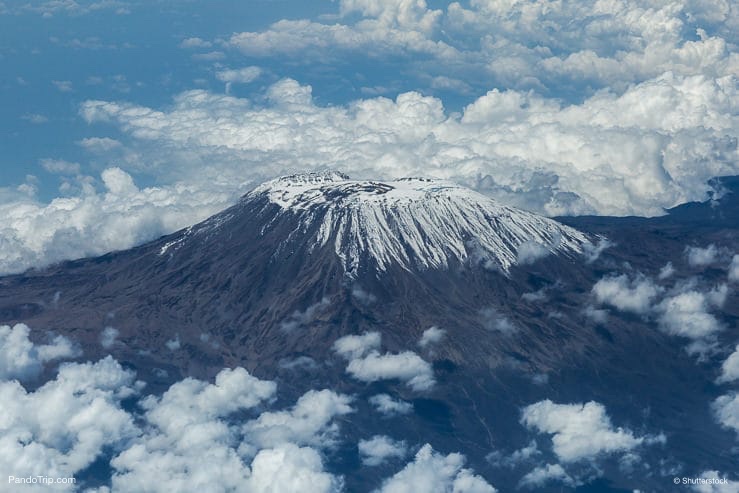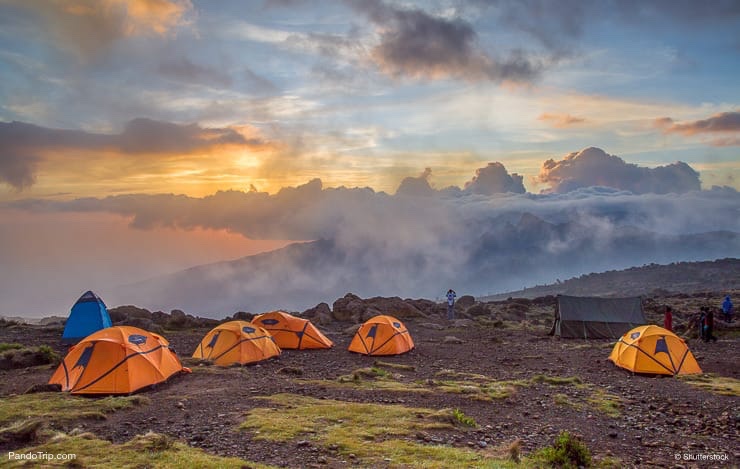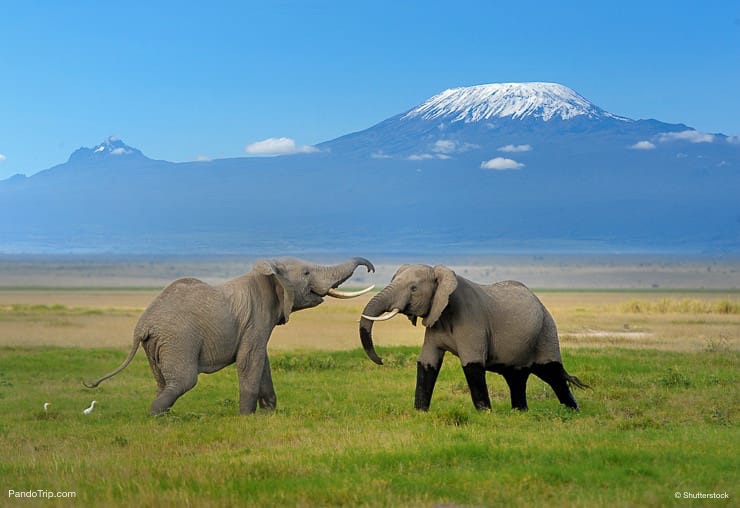 5. Kelimutu Volcano, Flores Island, Indonesia
The Kelimutu Volcano on the Flores Island in Indonesia is a volcano with a very distinct difference. While it does have three cones in common with many of the world's other volcanoes, Kelimutu's are not spitting fire and brimstone. Instead, they're filled with beautifully colored lakes which change from stunning glacial blue to green to muddy red to black depending on the volcanic action going on beneath them.
Why Go? Although Kelimutu hasn't erupted in the last fifty years, that's not to say it won't at some time in the future. If and when it does blow its top once again, then the unique natural wonder of its summit lakes will be lost forever. So go and see it before it becomes just another photographic memory on the internet.
When To Go? Unless you like to see your volcanoes in the rain, avoid the Indonesian wet season which is from October to April. Anytime between May through to the end of September is ideal, but expect to encounter more visitors during the high tourist season of July and August. Go early morning, and you'll be able to see the sunrise before trekking around the lakes. Simply stunning.
Last Eruption: 1968
Height: 1,639 meters; 5,377ft
Map Location: Kelimutu Volcano, Indonesia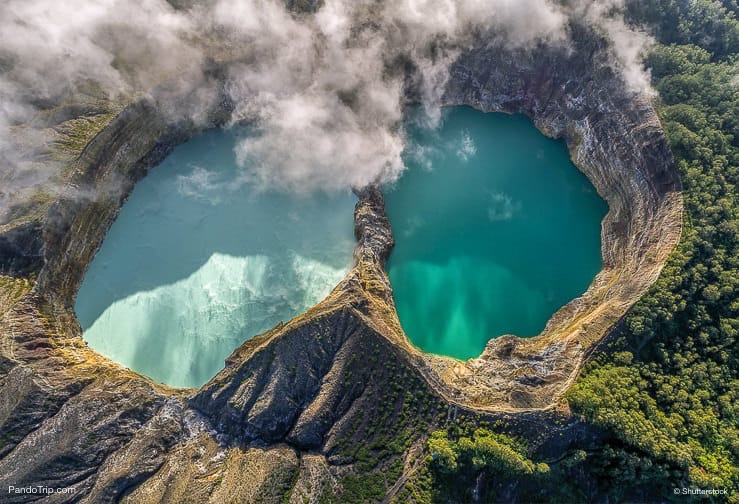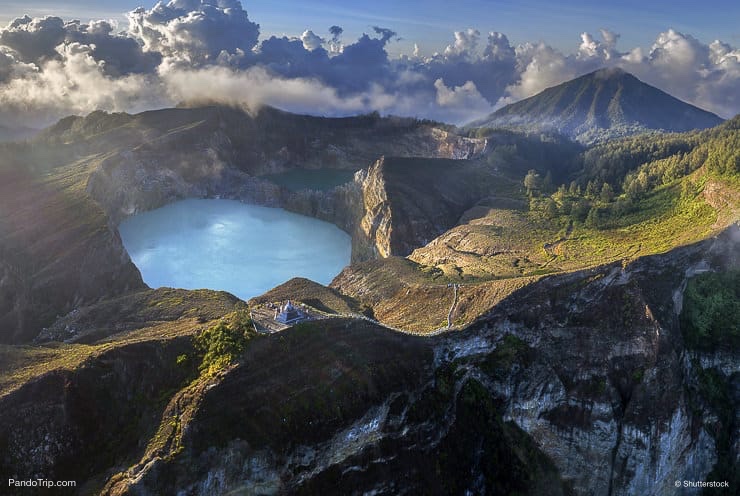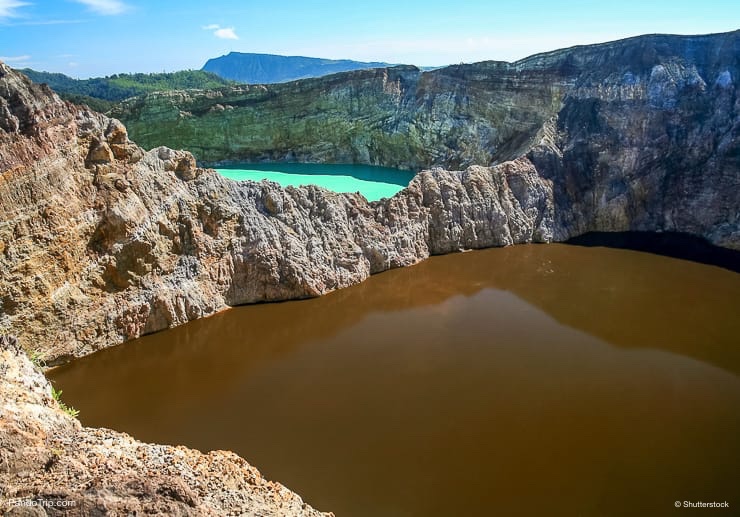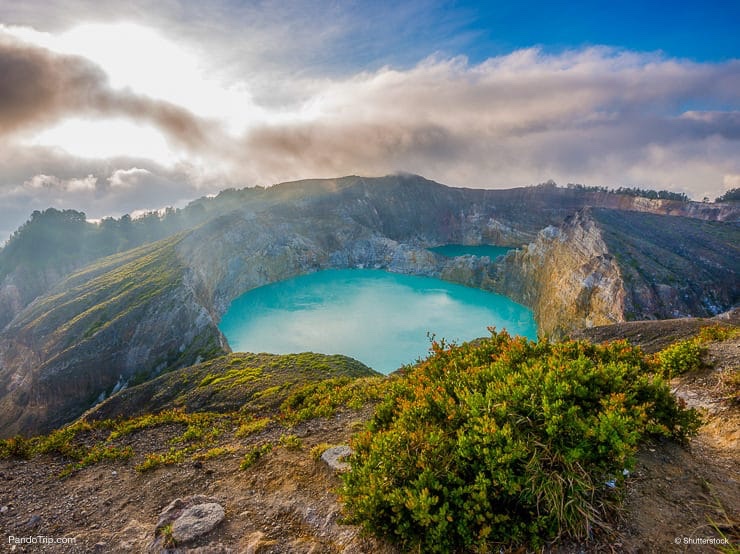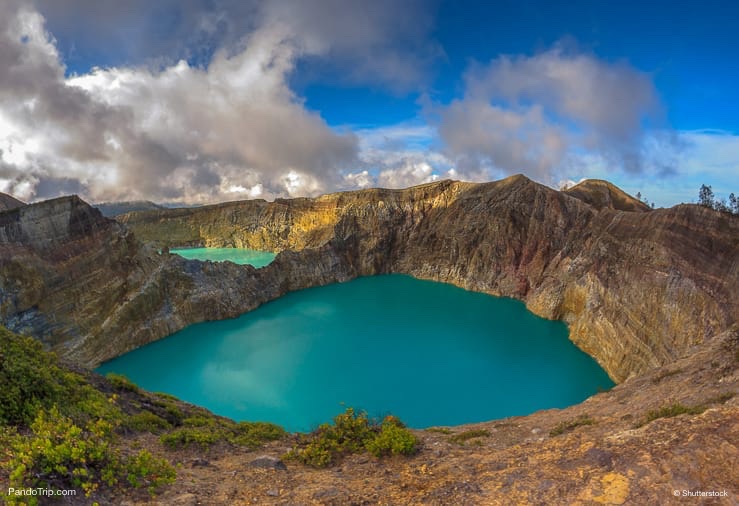 4. Eyjafjallajökull, Suðurland, Iceland
The Eyjafjallajökull in Suðurland is a pretty chilled out volcano. It's so chilled in fact, its frozen over. While it is still classed as active, with the last major eruption being in 2010, it's not hot enough to melt the glacial ice cap which covers it. Eyjafjallajökull is not a stand-alone volcano, but one of a chain which stretches across the Icelandic landscape. At first glance, it may seem unpretentious as far as volcano goes, but don't be deceived. The last time it erupted, it caused absolute chaos when the plumes of smoke and ash congested international flight paths and left thousands of travelers stranded in airports all over the Europe.
Why Go? If hiking or climbing up steep mountains is not on your agenda, Eyjafjallajökull is the volcano for you. Why? You can actually drive up to the summit in a jeep. Okay, more specifically, a professional driver will drive you up on a guided tour. It's not a self-drive route because of the icy conditions and dangerous nature of the roads.
When To Go? Unless you've got the blood of an Eskimo, avoid the winter months as sub-zero temperatures are typical. If you want extra daylight hours to take more photographs, then visit Iceland from June to August when the days literally never end. To see the aurora borealis dancing over the summit of Eyjafjallajökull then plan on going in September and October.
Last Eruption: 2010
Height: 1,651 meters; 5,417ft
Map Location: Eyjafjallajökull, Iceland
3. Mayon Volcano, Albay, Philippines
Ask anyone to draw a volcano, and they'll quite likely sketch something which closely resembles the Mayon Volcano in the Philippines. For a volcano, as far as its shape goes, it is probably one of the best formed and most symmetrical of volcanoes anywhere in the world. Its classic conical configuration is so perfect it's a geometer's dream. It's also well-practiced at erupting and has been doing it on a regular basis over the past decade. It's the Philippines most active volcano and has recently splurged lava fountains from its peak to heights of five hundred meters.
Why Go? The Mayon Volcano's perfect shape is unique, but considering the amount of volcanic activity it undergoes, that could change any time. Nothing stays the same forever and one big blast too many could damage its stunning profile leaving it less than geometrically perfect.
When To Go? The best time to go and see the Mayon Volcano is when it's not erupting because when it does, it means business. Homes get evacuated, and lava and mudflows can cause widespread devastation. That said, you can still admire it from a reasonable distance. Though it's advisable to check the current state of the volcano before planning a trip. You can do that on the website of the Philippine Institute of Volcanology and Seismology.
If all is calm, visit the Philippines from May to November and you'll miss the rainy season though if you're there in September or October be prepared for the occasional typhoon. To see Mayon at its best, you'll need to make an early start. Go at dawn or just after as by mid-morning the peak is frequently hidden from view by cloud coverage
Last Eruption: 2018
Height: 2,463meters; 8,081ft
Map Location: Mayon Volcano, Philippines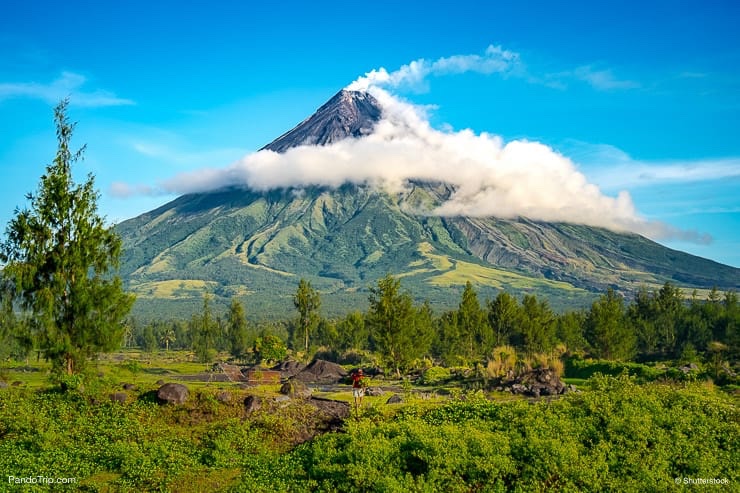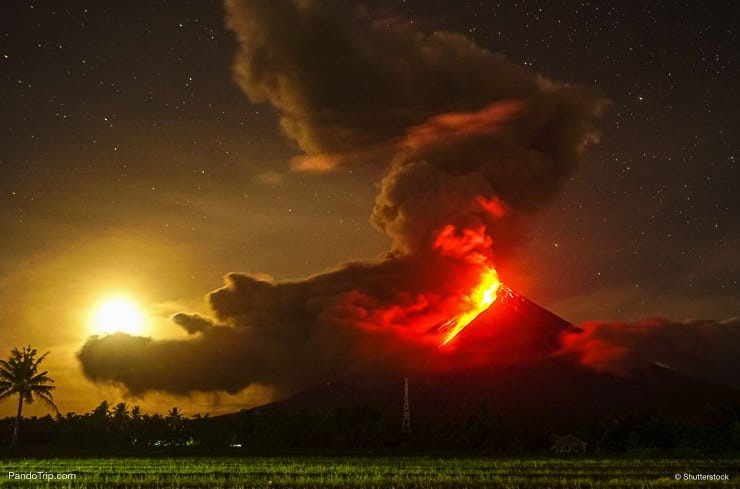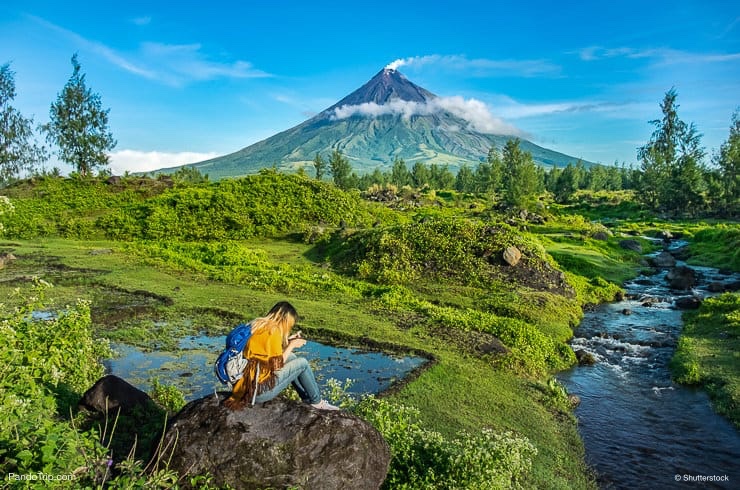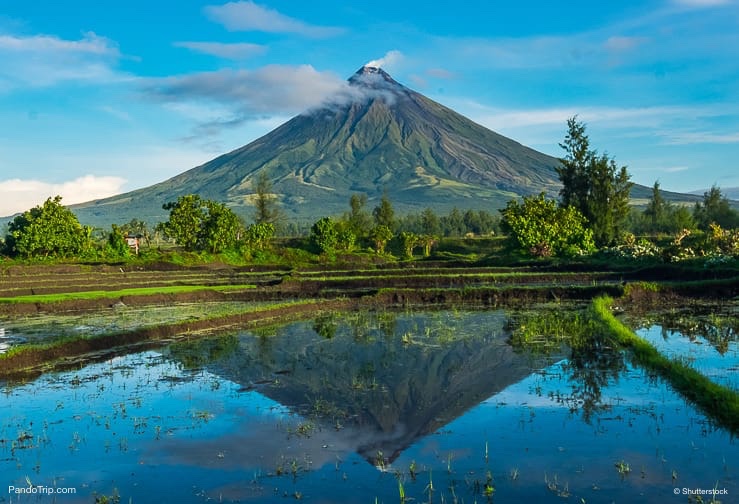 2. Mount Fuji, Tokyo, Japan
It may be over three hundred years since Mount Fuji in Japan erupted, but it is still classified as an active volcano. It looms over the city of Tokyo and is Japan's highest peak. If any volcano could be labeled as multi-purpose, then it would be Mount Fuji. Its stark formation has creatively inspired writers and artists, it's been worshipped as a shrine, is a paragliding take-off point and is also used as a ski resort in winter.
Why Go? Apart from being a sensational and very iconic landmark, it's relatively easy to reach the peak of Mount Fuji. If three hundred thousand people a year do it as a pilgrimage, why can't you, as a fledgling volcano tourist, do it too?
When To Go? If you want to go up Mount Fuji, then plan your visit for July and August when the climate is at its best and the walking routes are open. Go early morning as it's a full day trek and a popular one. If you want to admire it from a distance or photograph it with its characteristic, white-capped peak, you'll need to go during the winter months of November to the end of February after the snow has fallen.
Last Eruption: 1708
Height: 3,776 meters; 12,389ft
Map Location: Mount Fuji, Tokyo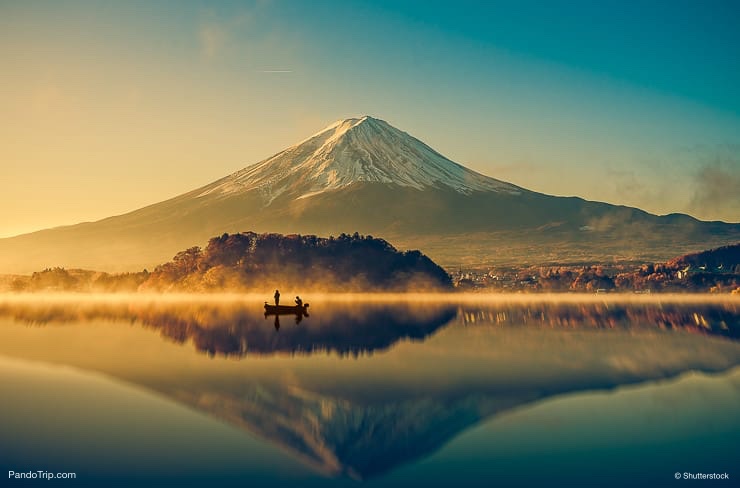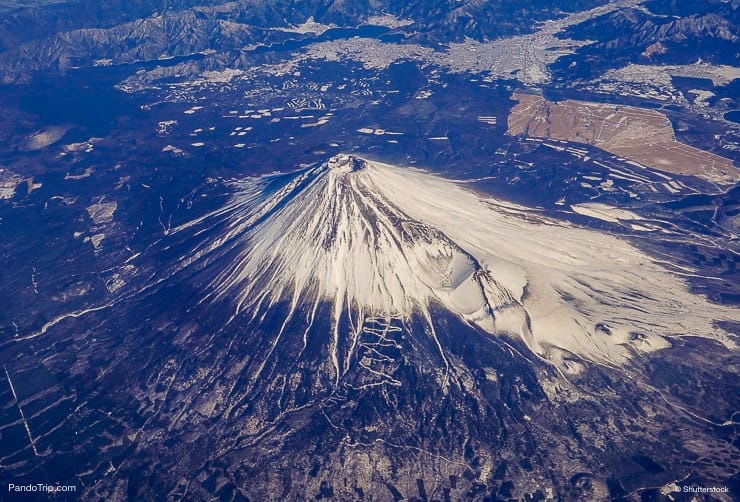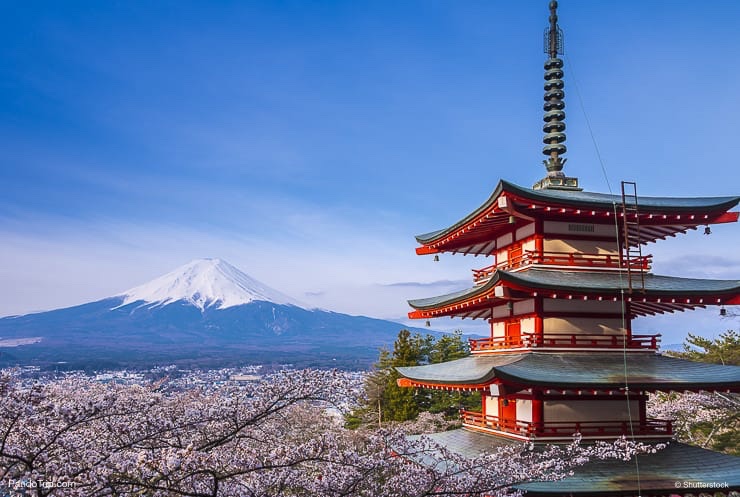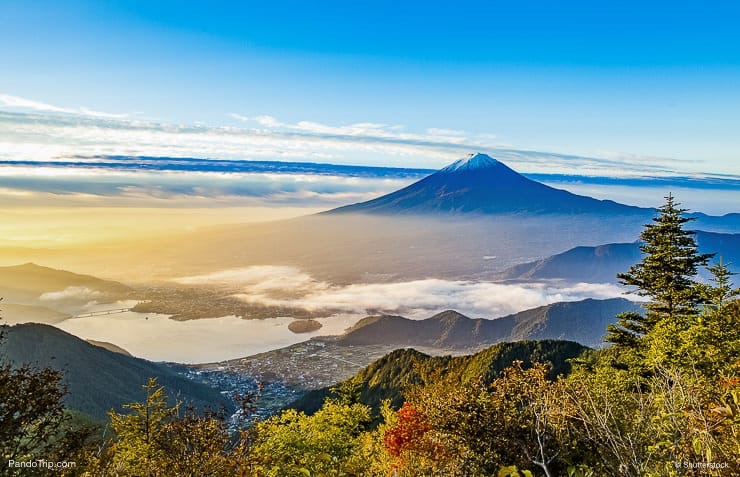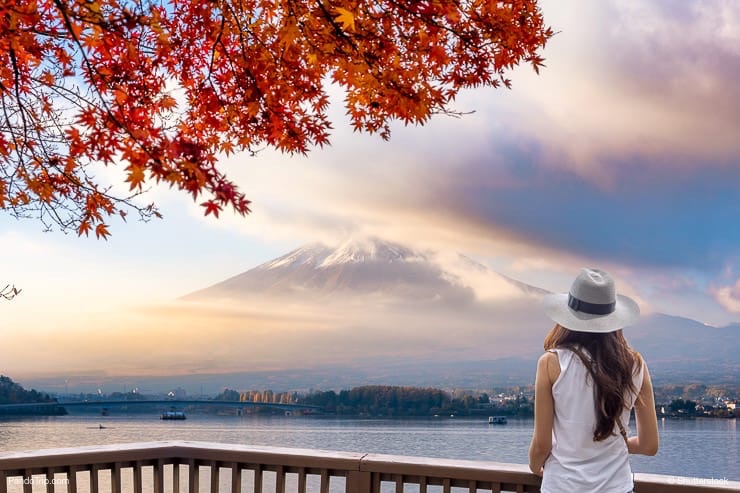 1. Mauna Loa and Kilauea, Hawaii Volcanoes National Park, Hawaii
When Hawaii does volcanoes, it doesn't do them by halves. The Hawaii Volcanoes National Park is not only where Kilauea, one of the world's most active volcanoes is, but also where Mauna Loa is found. Mauna Loa is the daddy of all volcanoes and holds prime position on the list of biggest volcanoes in the world. Kilauea, not to be too overshadowed, is a mean beast of a volcano which has been continually erupting since the early nineteen eighties.
Why Go? Visit the Hawaii Volcanoes National Park, and you'll be in one of the most volcanically volatile locations in the world. For that reason alone, you'll be able to proudly call yourself a real volcano tourist. Watch as lava flows hit the sea and form brand new land or go an exciting drive around the crater rim – eruptions permitting.
When To Go? If you're in Hawaii and it's going to rain, then it'll more than likely happen between November and March, while the rest of the year, the climate is reasonably stable. To see the magnificent lava flows at their glowing best either pre-dawn or after-dark tours are best. In 2018, Kilauea was showering its bad temper on the world and up close viewing access was restricted. Check what the volcano is up to before you go on the National Parks website.
Last Eruption: Mauna Loa: 1984, Kilauea: 2018
Height: Mauna Loa: 4,169 meters; 13,679ft; Kilauea: 1,247 meters; 4,091ft
Map Location: Mauna Loa, Hawaii; Kilauea, Hawaii