Japan attracts almost thirty million visitors a year. Tokyo is a major draw and often tops a lot of people's list of must-dos, but the capital city is not the only reason Japan is such a popular country to visit. Believe it; there's a lot more to Japan than just Tokyo.
Japan has an abundance of natural wonders. They are just as outstanding and can easily compete with anything man ever created and put on display in one of Tokyo's technological museums or exhibitions. Japanese art is often inspired by Japan's landscapes, and when you see it, you'll begin to understand why.
What are the best natural sights in Japan? Here's ten of the best which you can't miss seeing when visiting the country.
10. Takachiho Gorge (Takachiho-cho)
Takachiho Gorge truly is a live version of Japanese art. The gorge has one-hundred-meter-high walls of basalt rock which rise above the blue-green waters of the Gokase River. The slate-grey vertical cliffs are adorned with moss and overgrown with trees which creates an atmosphere magical enough to have inspired the birth of legends. Part way along the narrow channel, the Minainotaki waterfall cascades down from above giving Takachiho Gorge an even more bewitching and mythical appeal.
Practical Information: You can enjoy the sight of this incredible piece of nature in Japan by foot or by boat. To see the splendor on foot, walk over the one-kilometer long pathway along the cliff tops then step out onto the wooden observation platform by the waterfall. To navigate the gorge by boat involves a bit of rowing and takes about half an hour. Small, three-person, rowboats are available for hire for around 2000 yen from the southern end of the gorge. It's a popular way to see the stunning gorge scenery, so get there early, or you'll miss the boat. If you arrive at Takachiho Gorge by car, expect to pay 500 yen for an all-day parking space.
Map Location: Takachiho Gorge, Takachiho, Miyazaki Prefecture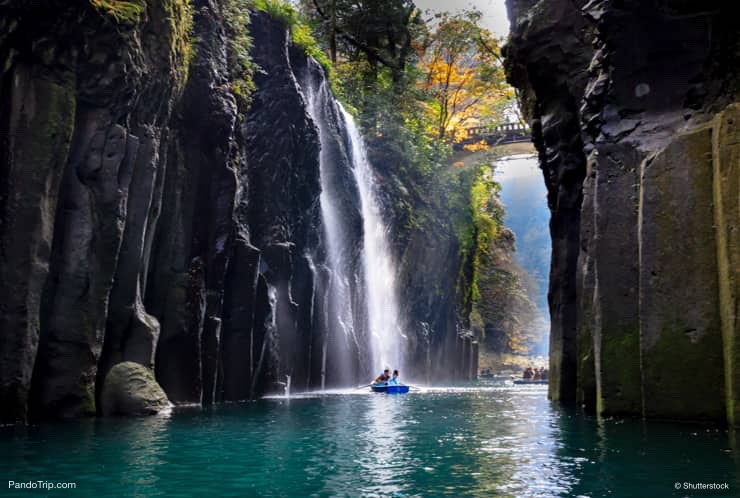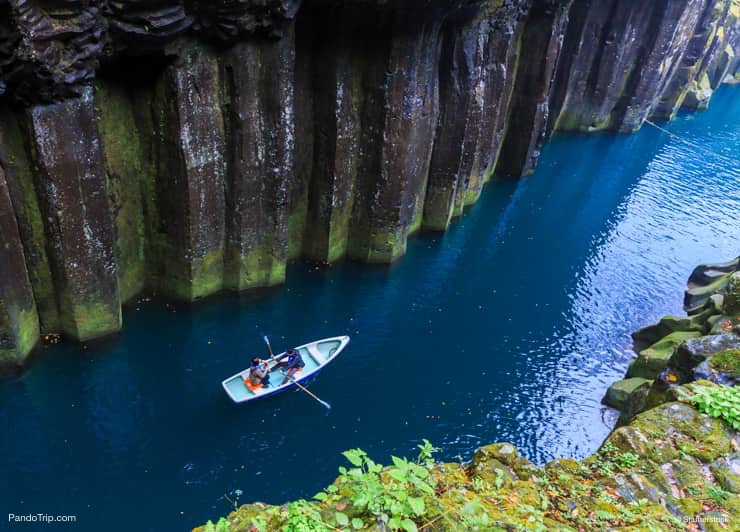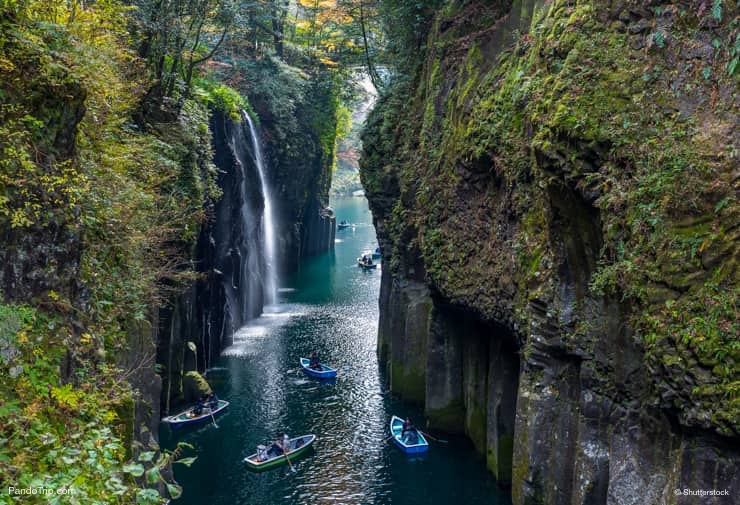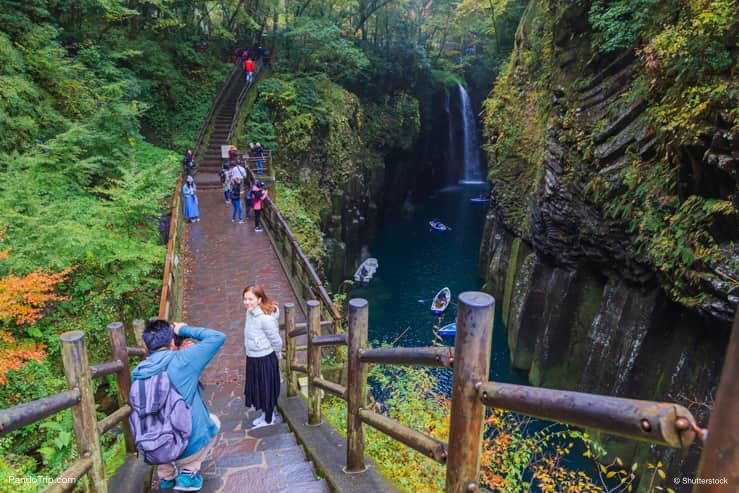 9. Tottori Sand Dunes (Tottori Sakyu)
The last thing most people would relate with Japan is a desert-style landscape. But Japan does have one region which is covered by shifting sands and is such a popular tourist attraction it's visited by over two million people a year. The Tottori Sand Dunes are an eighteen square mile coastal dune formation in Japan's Tottori Prefecture which is continually changing shape depending on which way the wind blows. This mini-Sahara, which stretches along the Tottori shoreline for almost six miles, is over a mile wide in places and even has its place in Japanese cinematic history.
Practical Information: There are several great ways to see the Tottori dunes and which one you choose depends on your energy levels and sense of adventure. If wading across sand sounds too strenuous, try the ski-lift-style cable ride. It lasts for five minutes, and you get some incredible views of the dunes from above for just 200 yen.
To explore the dunes on foot, and to save your regular footwear, rent a pair of boots from any of the souvenir shops nearby. Lockers can be rented to stow your personal belongings and keep them safe from being lost in the desert sands.
Don't skip checking out the sand museum or the souvenir shops. There are interesting sand-related exhibitions, and you can get sand inspired chocolate souvenir bars to take home.
Location on Map: Tottori Sand Dunes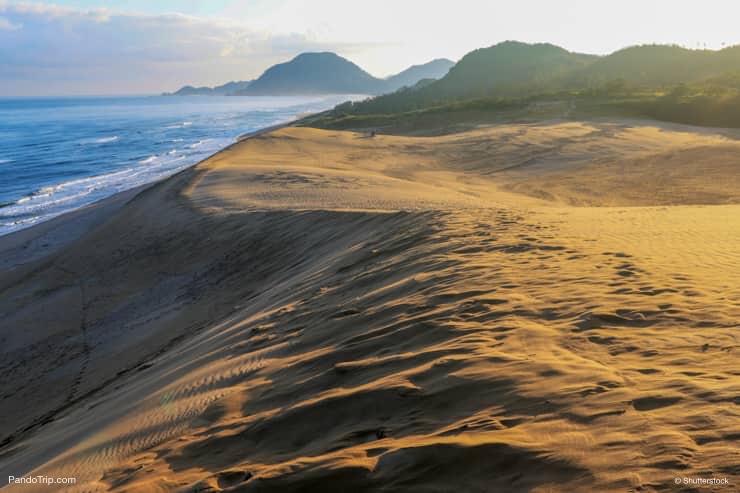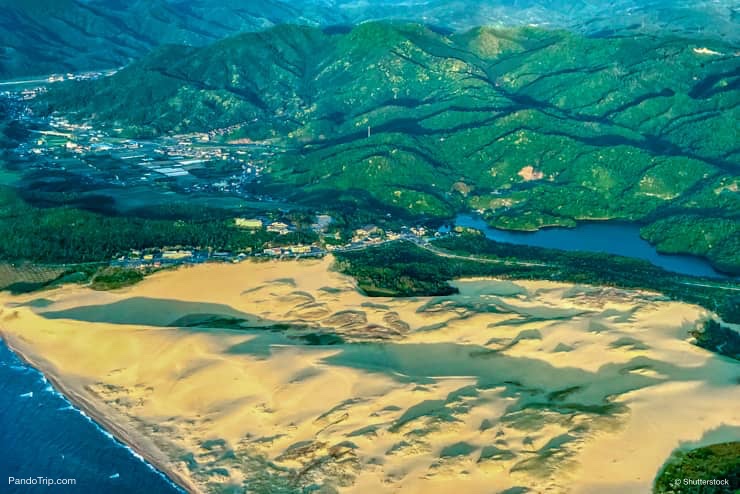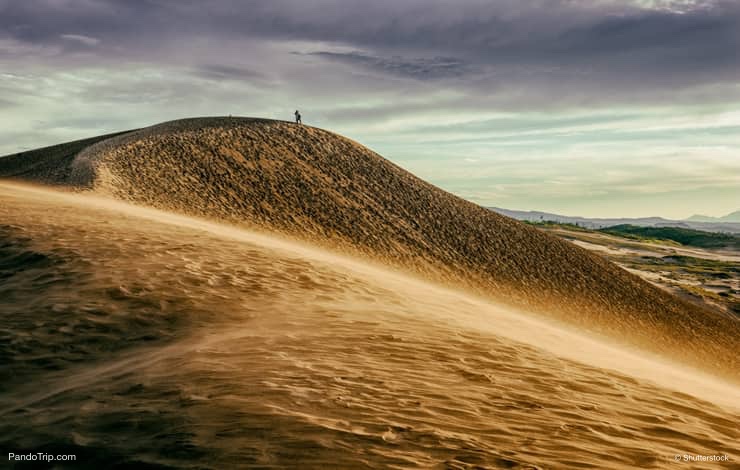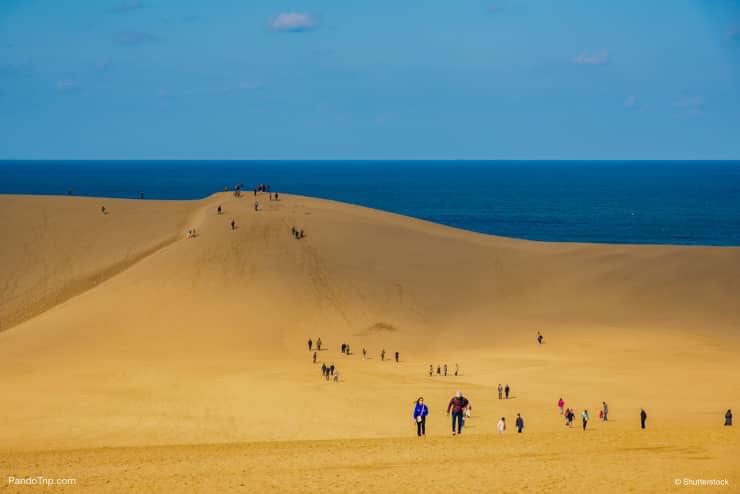 8. Naruto Whirlpools (Naruto-no-Uzushio)
If you've ever wanted to experience what it might be like to be sucked into a vortex, you need to visit the Naruto Whirlpools in Japan. Okay, so you won't literally be sucked into the powerful whirlpools in the Naruto Strait, but you can get close enough to imagine just how it might feel. The whirlpools, which can be anywhere up to sixty-five feet wide, are the result of tidal surges gushing through the narrow channel and a truly spectacular natural wonder which occurs twice daily. Times vary depending on the tidal patterns and time of the year.
Practical Information: The best way to experience the real force of the Naruto Whirlpools is by getting up close on a boat. There are two different companies which operate sightseeing tours to the whirlpools, and they are Uzushio Kankosen and Uzushio Kizen. If the boat ride sounds a bit too nerve-wracking and you want to observe the Naruto Whirlpool phenomena from solid ground, the place to do it is from the observation deck on the Naruto Bridge. The suspension bridge stretches across the strait, and you can peer down at the vortices from the five-hundred-meter long, glass-walled catwalk underneath it.
As a last resort and one which is nowhere near as exciting as the first two, you can view the whirlpools from the shore. The Naruto Whirlpools are so impressive, you may want to see them in action more than once. If you decide to do just that, staying in a hotel close by means you'll be able to catch it both times in one day. One of the best in the area is the Naruto Kaigetsu.
Location on Map: Naruto Whirlpools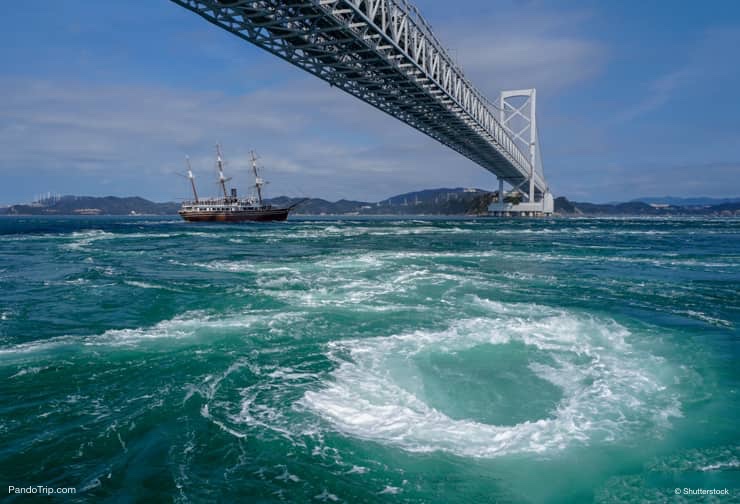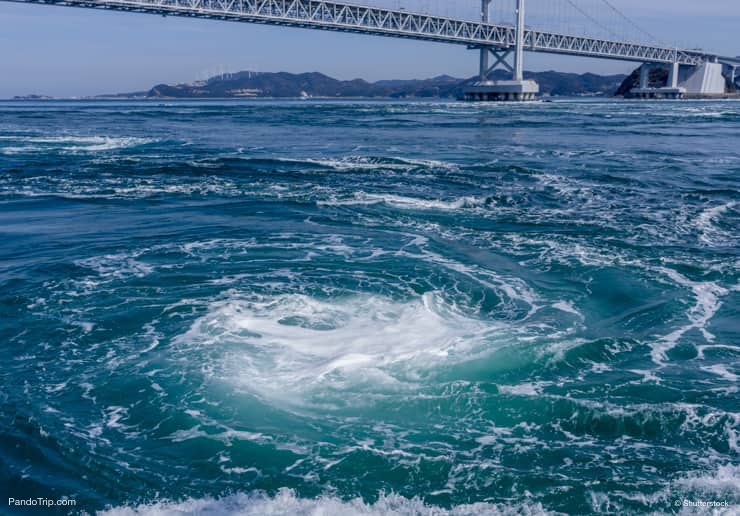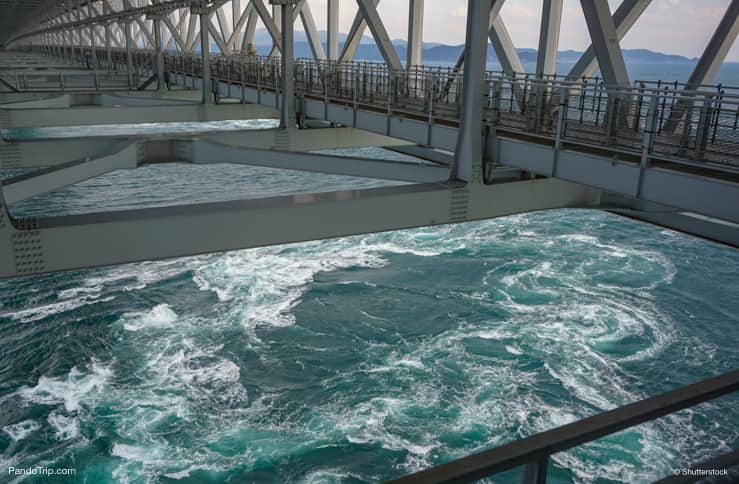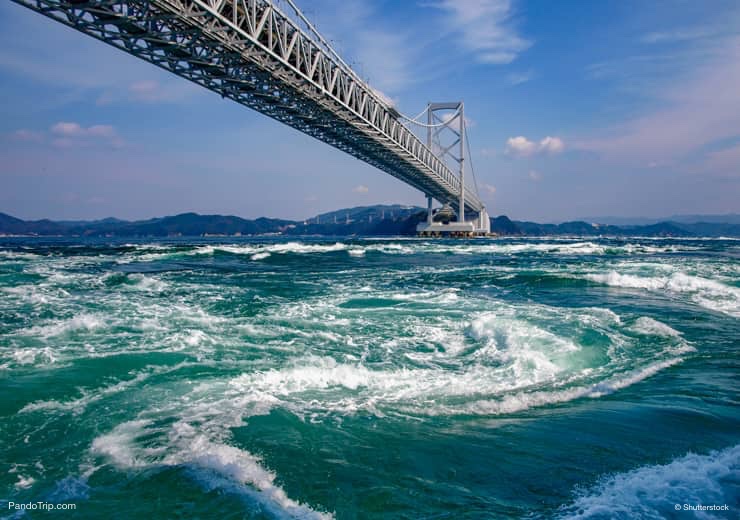 7. Jigokudani (Hell Valley)
If you thought Jigokudani was a steaming pool full of bathing monkeys, then think again. This Jigokudani, although it has the same name as Japan's famous monkey park, is something entirely different. This Jigokudani is a smoldering volcanic crater which is just like a little piece of hell on earth. It's a place where the Japanese landscape vents the darker side of its nature in sulfurous geysers and ponds of bubbling mud.
Experience Hot Spring Baths: The heat from Jigokudani does more than make the landscape steam, it also heats the spring waters of Japan's most famous thermal spa resort, Noboribetsu. The luxurious resort has developed at the side of the crater, and people flock there to enjoy the therapeutic benefits of the mineral-loaded waters. Who would have believed going to hell would ever be so popular?
To soak in a real Japanese tradition try visiting the Dai-ichi Takimotokan. This Japanese ryokan or inn is a retreat-style experience where you can indulge in hot spring bathing before gorging on local Japanese delicacies. You can stay overnight or have an Onsen-only day visit for around 2000 yen. Or, as a more economical alternative, put on some comfortable shoes and take the thirty-minute walk from Jigokudani to the Oyunumagawa Natural Foot Bath. There you can dip your toes in steaming spring water for free. Don't forget to take a towel to dry your feet with after.
Practical Information: Visiting Jigokudani is not as daunting as it sounds. The crater has a series of well-signposted pathways which you can follow so getting lost in a Japanese hell is not an option. As you pass through the steaming landscape, not only will it feel like you've journeyed to another planet, you'll be waiting for the devil to appear every time you turn a corner in the path. Jigokudani is open twenty-four hours of the day and to get the best hellish effect, a visit during the hours of darkness is highly recommended. Another good thing about going to hell in Japan is – it's free.
Location on Map: Jigokudani (Hell Valley)
6. Kabira Bay
Kabira Bay is Japan's little piece of coastal heaven where crystal-clear azure waters lap against pure white sand. The paradisical bay is located on Ishigaki Island, and while it is one of Japan's most stunningly beautiful landscapes, it's not quite the Eden it appears to be. There are strong currents and hoards of jellyfish in the water. Those, combined with the constant back and forth of tourist boats, means swimming is too dangerous an activity to undertake. What the waters in Kabira Bay are perfect for is cultivating black pearls and while that's something which takes a good few years, the outcome is well worth the wait.
Practical Information: While you might not be able to go in the water of Kabira Bay, you can take a boat ride over it. A sailing on one of the glass-bottomed boats which operate from the shoreline all day long from 9am to 5pm costs about 1000 yen. The boats navigate over coral reefs, and you get an amazing look into what marine life is doing beneath the waves. Once you're actually at Kabira Bay, it's hard to drag yourself away. If you want to stay longer and immerse yourself, if not in the water, but in the beauty of the area, check in at somewhere like the Lulaliya and you won't be disappointed.
Location on Map: Kabira Bay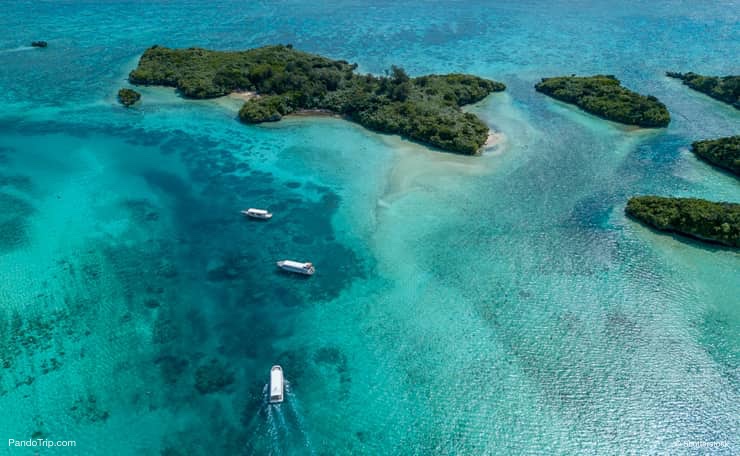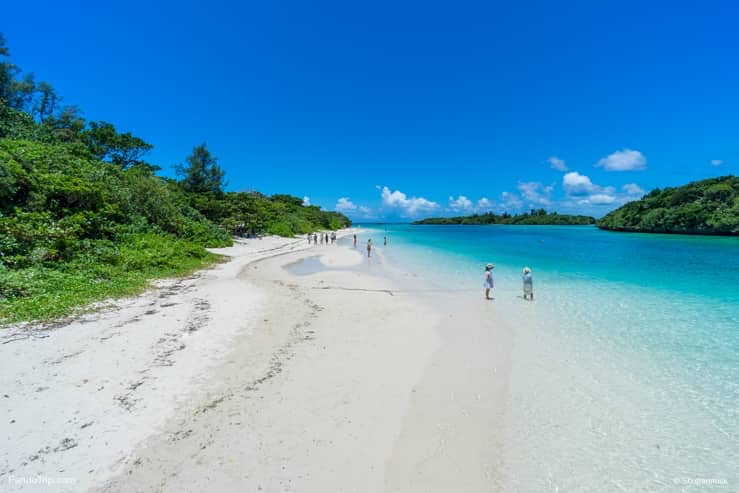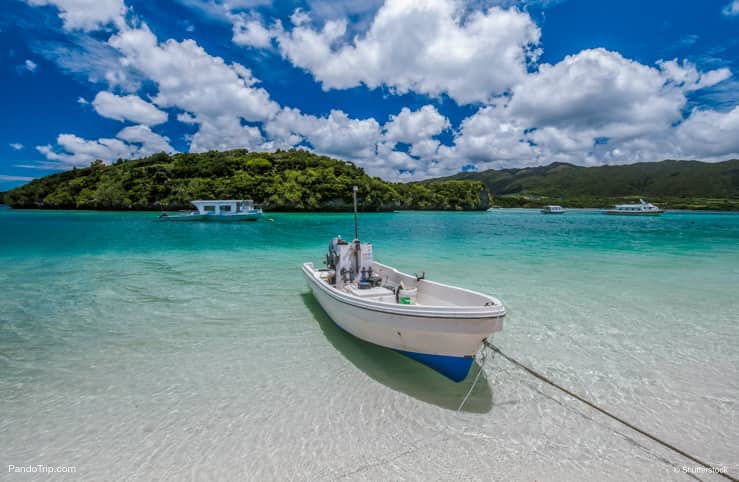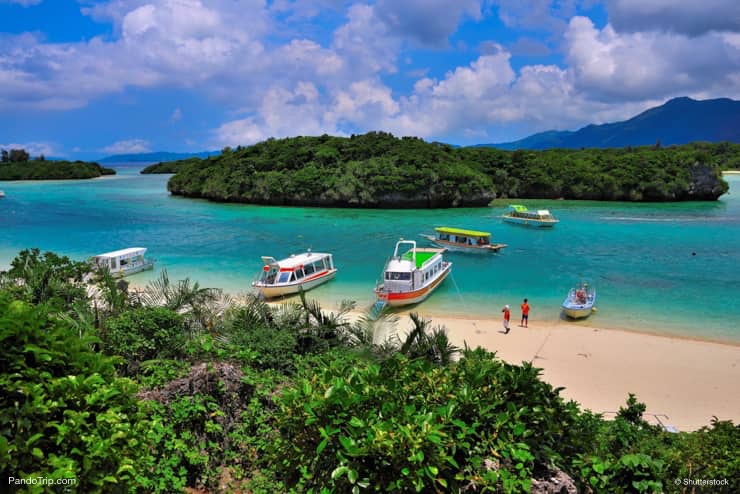 5. Akiyoshido Cave (Akiyoshi-dō)
Occasionally, to view something which is easily classed as celestial as far as Japan's landscapes go, it's necessary to go down rather than up. The Akiyoshido Cave is a vast underground cavern which stretches down into the bowels of the earth for over six miles. Carved from the limestone rock by the river which flows through it, this Karst cave is over three hundred feet wide in places. The dark waters of the river act like a mirror reflecting the jagged stalactites which jut from the cave ceiling.
Practical Information: The Akiyoshido Cave maintains a steady 17°C (62°F) throughout the year, so even in winter, you won't be shivering when you go inside. To really get the best of your visit to the Akiyoshido Cave enter at the  Akiyoshido Entrance, walk the full length of the cave before returning and taking the elevator up to the Akiyoshido Plateau. After you've enjoyed the stunning scenic views from the observation platform there, you can re-enter the cave via the elevator using the same admission ticket.
Pro Tip: Take your passport with you and show it when purchasing your entrance tickets. With a passport, foreign visitors get a discount of 500 yen on the 1200 yen admission price and so pay just 700 yen.
Location on Map: Akiyoshido Cave
4. Mount Aso (Aso-San)
If you're taking a vacation in Japan and want to try your hand at volcano tourism, then Mount Aso should be at the top of your list of places to visit. Mount Aso is on the island of Kyushu and has an unusual quintuple cone formation the highest of which is Mt Taka. While the others in the group, which are named Mt Neko, Mt Eboshi, Mt Kishima and Mt Naka, all have distinct features, it's Mt Naka's active caldera called Kana-dake which draws the crowds. Kana-dake as well as erupting on a regular basis billows out cloud after cloud of sulfurous smoke.
Practical Information: When a volcano is on the point of erupting, or already in the process of doing it, visiting it can be a dangerous occupation. For that reason, access to Kana-dake can sometimes be restricted, and it's best to check its current status before planning a trip to see it. If the carter is behaving and deemed safe for visitors, you can take a four-minute cable car ride up which costs 1200 yen or go up on foot which takes about half an hour.
While you're there, stop in at the Mount Aso Museum where they show a live video feed from inside the volcano and hand out some interesting snippets of information. For some fresh air, try hiking out over the Kusasenri prairie. The green tranquility of the grassland and its lakes makes a pleasant change from the stark volcanic scenery of Mount Aso.
Location on Map: Mount Aso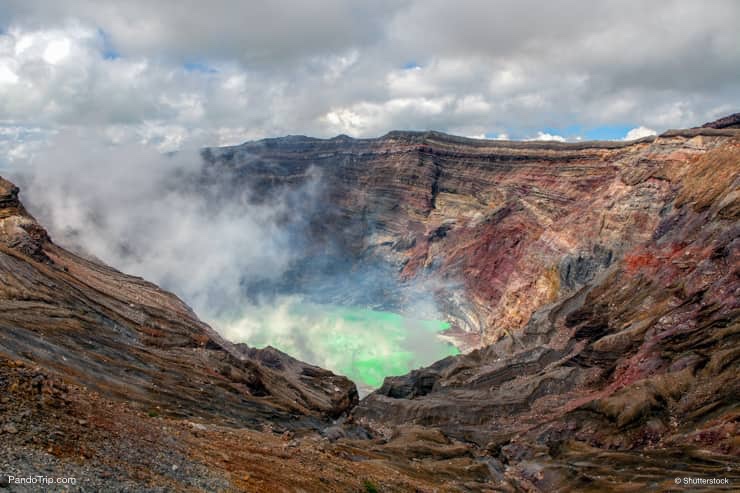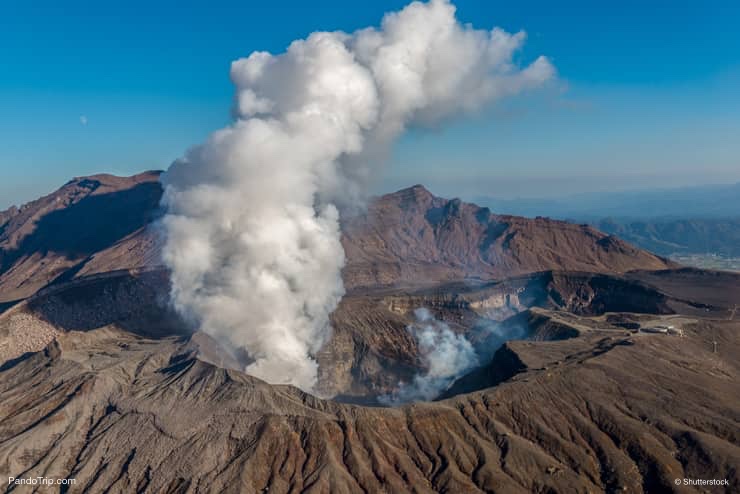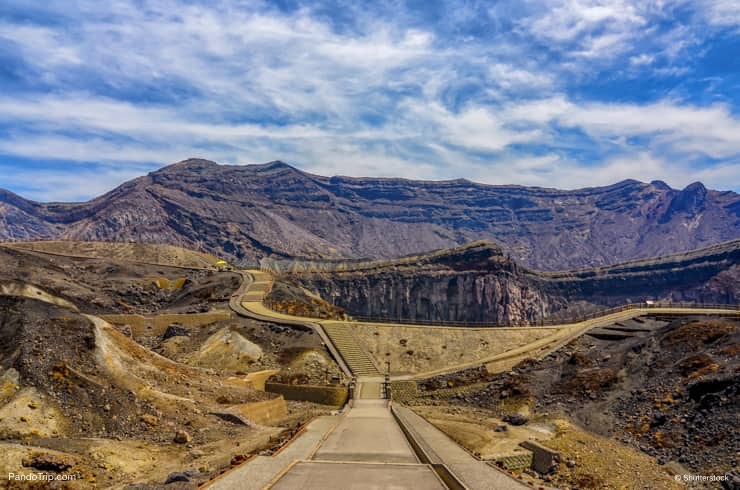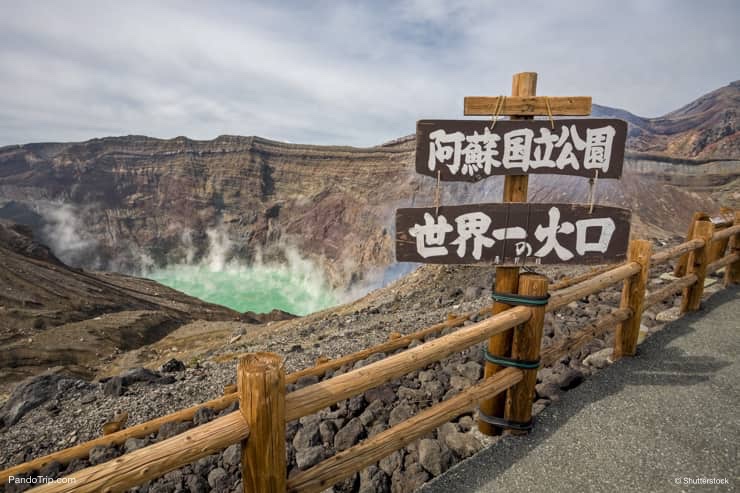 3. Nachi Waterfall (Nachi-no-tak)
One of the most replicated natural features in Japanese art are waterfalls. At just over four hundred feet, the Nachi Waterfall is Japan's tallest single drop fall and has been artistically represented for centuries. The waterfall has also been a centuries-long place of worship, and there have been religious shrines at the site since Japan was first inhabited. Many people still treat it as a place of pilgrimage today and visit the stunning Nachi Taisha shrine which stands before the waterfall.
Practical Information: To get a good view of the Nachi Waterfall, you can utilize either of two observation points. The lower point has an access fee of 300 yen. The upper view is from the Buddhist temple of Seiganto-ji which is free of charge. To get that mega Instagram photo of them both together, check out this incredible photo spot – best shot ever.
The Nachi Waterfall is a minimum four-hour drive from the nearest town of Osaka or Nara so staying there is the better option. If you're on a low budget try the Guesthouse Fukuroku or if expenditure isn't a problem, there's more luxury to be had at the Onsenminshuku Kosakaya.
Location on Map: Nachi Waterfall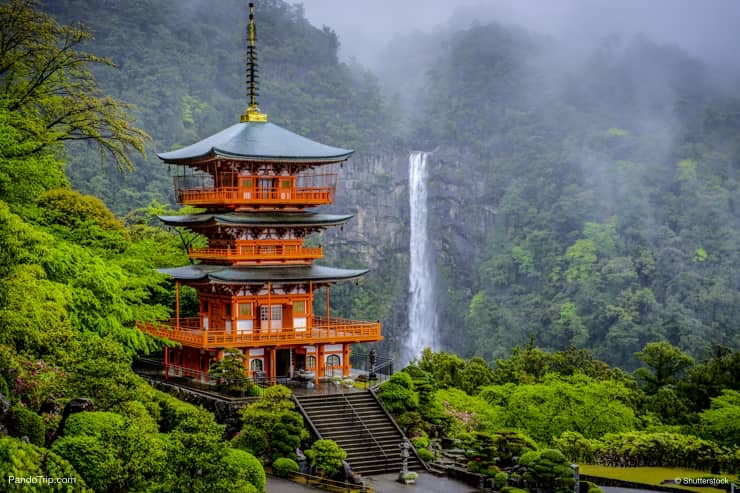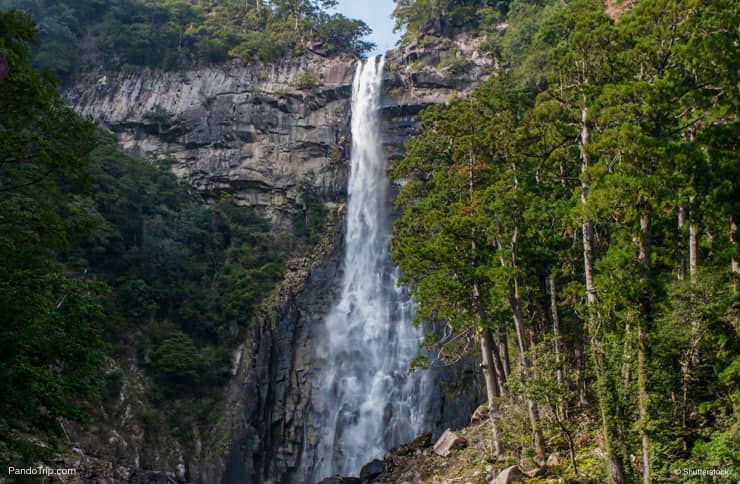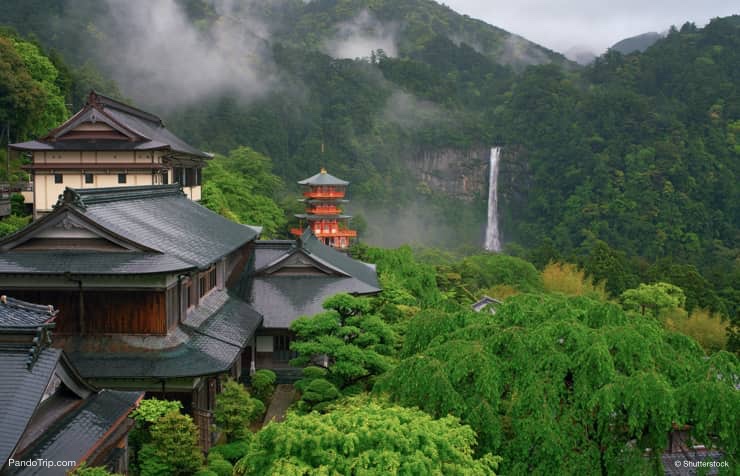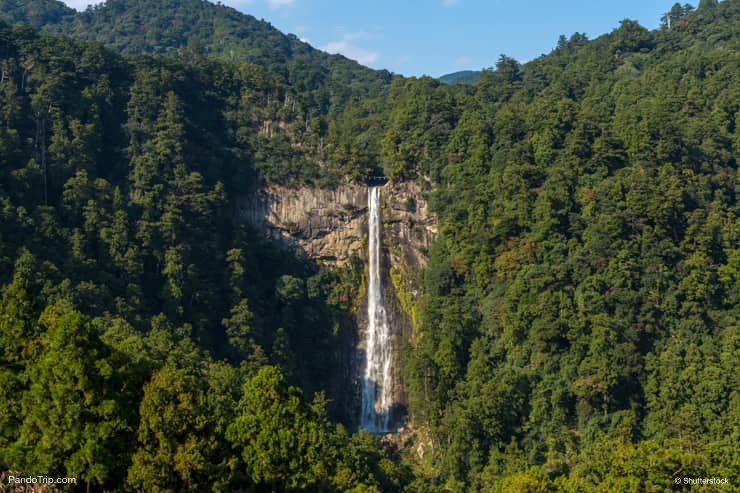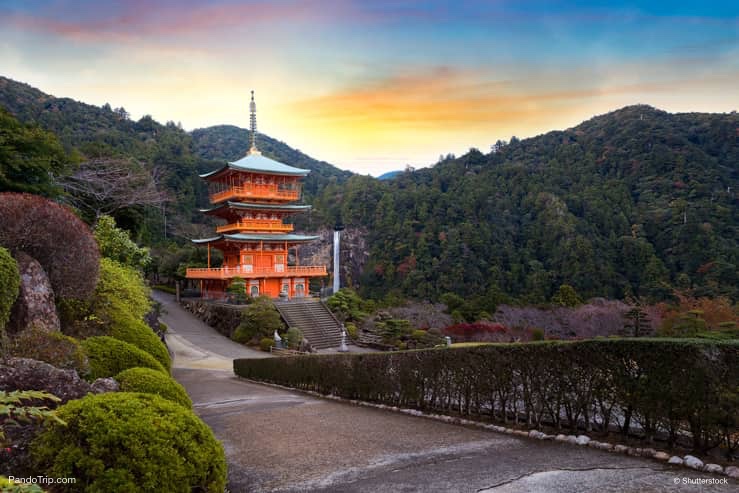 2. Yakushima Island
To really get in touch with Japan's nature at its very best, you need to spend some time on Yakushima Island. This island is not only a haven for animals and one of the best natural sights in Japan, it's also a UNESCO World Heritage Site. That's a combination of factors which just have to be explored.
Wildlife: The animals on Yakushima Island might be similar species to those on the mainland, but they're often more diminutive in size. Yaku monkeys, a type of macaques, are a frequent sighting and while smaller than their mainland brethren and fun to look at, can be quite aggressive if approached. Yaku shika, the small deer which inhabit Yakushima Island, are often seen wandering through the forest trails and are nocturnal visitors to the villages. The island has a whole range of strange and unusual fauna which are best seen from a safe distance. They include blood sucking leeches, venomous snakes and some seriously large hornets who are more than happy to put a sting in anyone's day.
Plants and Trees: One thing Yakushima Island excels in is trees. In fact, one of the things Yakushima Island is best known for are the forests which cover most of the island. The Yakushima forests are home to the Japanese cedar trees known as Yakusugi some of which are over a thousand years old. The oldest of the trees even has a name and is called Jomon Sugi. Estimated to be anywhere up to seven thousand years old, the tree stands twenty-five meters tall, has a trunk diameter of more than five meters, and it and the forest glade it stands in were the inspiration for the Japanese film Princess Mononoke. Now if that isn't worth taking a photo of, nothing is.
Practical Information: There is only one way to experience the uniqueness of Yakushima Island and that's on foot. Yes, hiking here is the best exploration option so pack a good pair of boots. Take the Arakawa trail, it's a long one but worth the effort for what you'll see along the way. If that's too strenuous or you're short on time, do the shorter Shiratani-unsuikyō-tozanguchi trail instead.
Location on Map: Yakushima Island
1. Mount Fuji (Fuji-san)
There is one outstanding feature in Japan's landscape which is not only one of the most instantly recognizable volcanoes, it's also one of the most iconic. Mount Fuji – Japan's snow-capped and unmistakable landmark. Even though the peak, which is Japan's highest at over twelve thousand feet, is more than sixty miles from the capital Tokyo, it's often clearly visible from the city.
Places To See Mount Fuji: While Tokyo might be a convenient place to see Mount Fuji from, it's not necessarily the best. For a really great view, you need to go to the Chureito Pagoda in Fujiyoshida. The five-tiered pagoda is on the side of a mountain opposite Mount Fuji and has become a favorite spot for taking unforgettable photos of Japan's famous mountain. If you prefer your mountain viewing to be done at ground level, then go to the Fuji Five Lakes District and spy on Mount Fuji across the waters of Lake Kawaguchi or Lake Yamanaka. They both offer incredible vistas. If you want to see it from every possible angle, check out how to do it thirty-six different ways.
Climbing Mount Fuji: It might not be the easiest of things to do, but climbing Mount Fuji will definitely give you a different perspective of Japan. It'll send shivers down your spine, literally. Even when Mount Fuji doesn't have its iconic covering of snow, it can still be cold at the top. Doing it is a serious achievement and one which will really give you that unforgettable holiday experience in Japan so why not go for it. Not sure? Then check out this website for some great tips on climbing Mount Fuji before you go.
Location on Map: Mount Fuji