Monasteries have long held an aura of mysticism and fascination. Even in popular culture today, movies and books often depict characters finding renewal and purpose within secluded monastery walls. For centuries across diverse faiths and cultures, monasteries have served as vital centers of worship, learning, and artistry. While hundreds exist worldwide, this article will spotlight 10 of the most remarkable and famous monastic sites for visitors to explore.
Monasticism has roots dating back to ancient traditions of asceticism and isolation for spiritual reflection. Eventually more communal forms of monastic living developed in many religions, including Christianity, Buddhism, Hinduism, and Taoism. Though their customs and faiths differed, monasteries arose as places where devotees could focus on prayer, scholarship, and illuminated manuscripts away from worldly influences.
To assemble this list, we researched numerous travel guides, articles, and resources to identify monasteries renowned for their history, architecture, artworks, scenic beauty and spiritual significance that continue drawing pilgrims and tourists today. The final selection represents monasteries from all over the world. From cliffside Buddhist temples to ancient Christian enclaves, these monasteries offer more than just beauty—they provide windows into faiths and customs centuries old.
We invite readers to journey with us through this list of 10 incredible monasteries that both transcend time and endure as living sanctuaries today.
1. Meteora Monasteries, Greece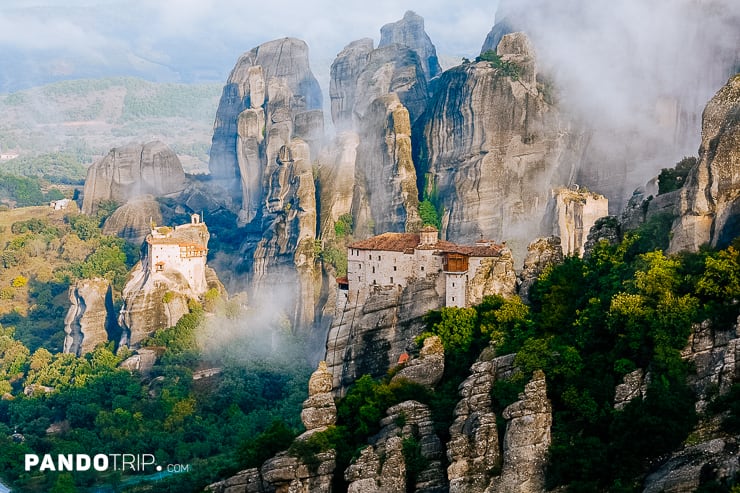 Perched atop immense natural sandstone pillars just outside the quaint fairytale town of Kastraki lie the ancient Meteora Monasteries. The monastic tradition began here in the 9th century, though the first monastery was not constructed until the 14th century. Six remain active today, open to visitors willing to climb the steps cut into the rocks.
Each monastery contains exquisite examples of Byzantine art and architecture. Frescoes depicting Christian saints peer down at awestruck guests. Guided tours recount not just the faith, but the perseverance it took for monks to establish these cliffside sanctuaries hundreds of years ago. The panoramic views of the Pindus Mountains from Meteora's heights are spiritually moving.
Why It's Famous?
Meteora's reputation reaches beyond its rocky towers; it's a UNESCO World Heritage site admired globally. Beyond its spiritual significance, which dates back to the 11th century, Meteora has infiltrated popular culture, most notably in the James Bond film "For Your Eyes Only." This confluence of spirituality and popular recognition makes Meteora a phenomenon of both past and present.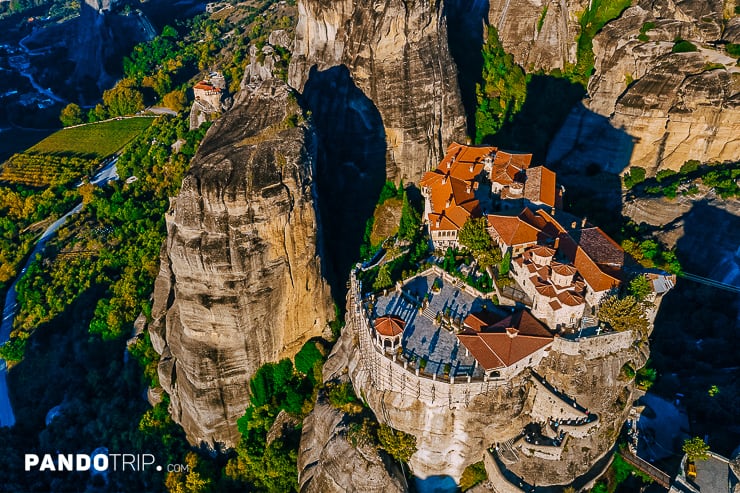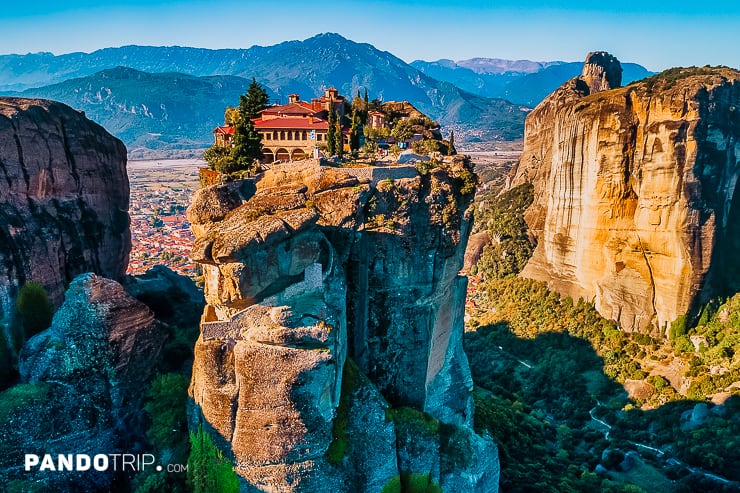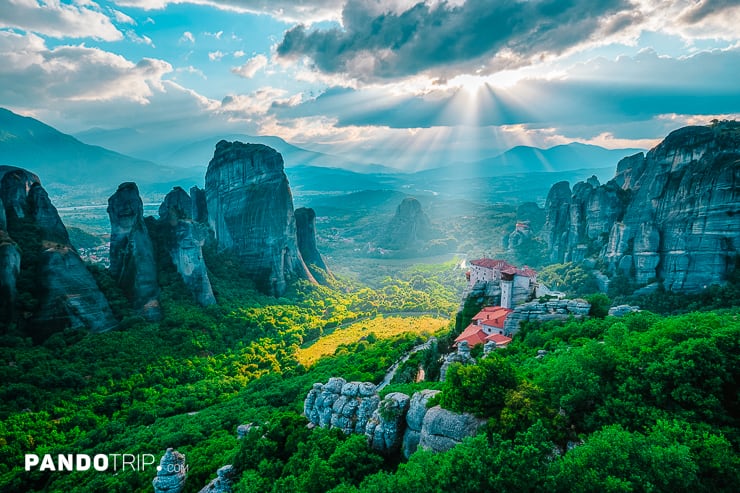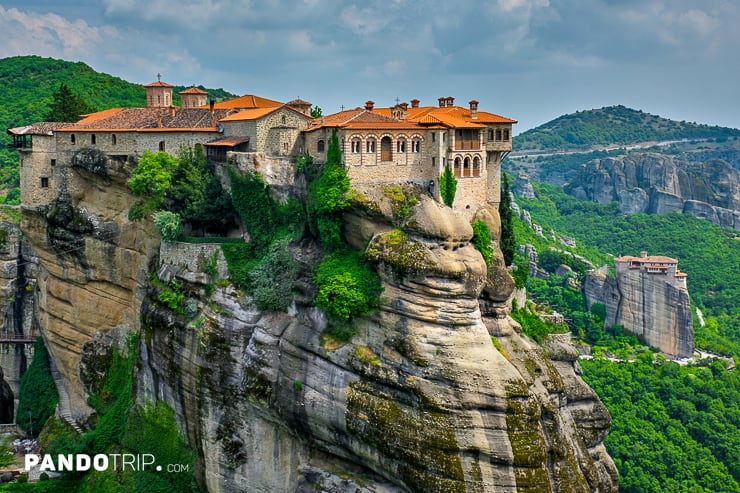 Visiting Meteora
Located in the heart of central Greece, Meteora presents a challenge for travelers due to its remote setting. Winding mountain roads serve as the only pathway to this secluded spiritual haven. Despite the difficulty in reaching it, several hospitable Meteora monasteries stand ready to welcome visitors. For those with tight schedules, day tours from Athens and Thessaloniki offer a practical solution.
Once inside—dressed modestly, as required—you'll find a treasure trove of Byzantine art, architecture, and artifacts. Think of the monasteries as time capsules, each one preserving relics of a bygone era. The terrain itself acts as a natural museum. Its towering rock formations serve as stoic sentinels guarding these sacred spaces.
While Grand Meteoron and Varlaam monasteries tend to attract the most visitors, don't overlook the others. Each monastery offers its own unique allure, making the trip worthwhile. The monasteries are like different chapters in a riveting book, each contributing to the overall narrative. Here, your soul can roam freely, high above the earthly realm, just like the saints and monks who found solace in these remote sanctuaries centuries ago.
2. Montserrat Monastery, Spain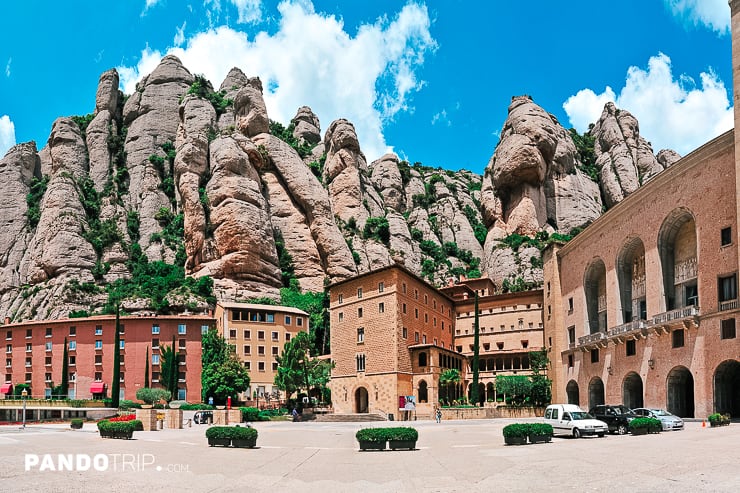 Rising majestically amongst the saw-toothed peaks of the Montserrat mountain range lies the Benedictine monastery of Montserrat. Nestled just outside Barcelona in Catalonia, Montserrat has welcomed pilgrims since its founding in 1025, though hermitage sites predate the monastery by centuries. After being destroyed in 1811, it was faithfully rebuilt. Here in the clouds, Montserrat provides a haven of spiritual retreat and breathtaking views.
At the sanctuary's heart sits the basilica housing the Virgin of Montserrat, a Black Madonna statue and Catalonia's beloved patron saint. Her smiling black face greets the faithful and curious alike. The basilica stands surrounded by chapels, museums, restaurants, hotels, and the "Stairway to Understanding" sculpture representing eight levels of creation in a winding, stack-like form as it descends the mountainside. The Montserrat boys' choir performs timeless hymns that echo through the stone halls.
Why It's Famous?
From its perch high above Barcelona, Montserrat has gained renown for its natural setting, religious significance, and architectural beauty. Pilgrims have flocked here for centuries to see the miraculous Black Madonna statue, one of Spain's most famous Catholic icons. Montserrat also provides respite from modern life, just an hour train ride from Barcelona.
The monastery's buildings cling intrepidly to the jagged mountainside. Its vast caverns and stunning rock formations create a landscape that nears fantasy. Even its name, "serrated mountain" in Catalan, conveys the otherworldliness inherent in the place. Equally transporting is the boys' choir, unchanged since the 13th century, their voices soaring to the heavens.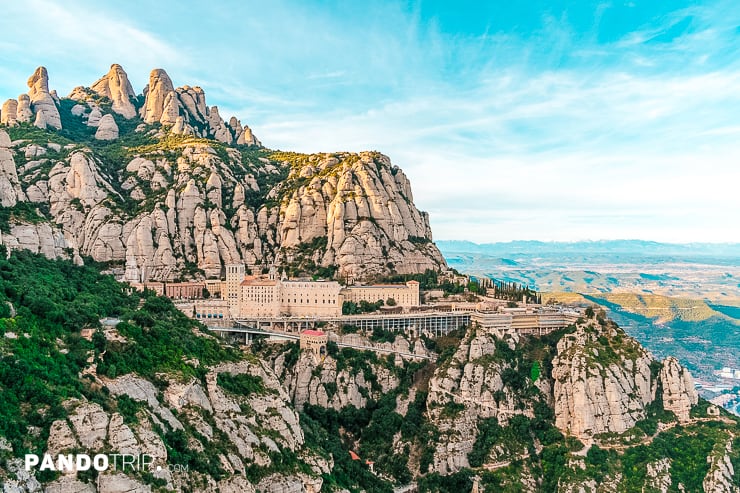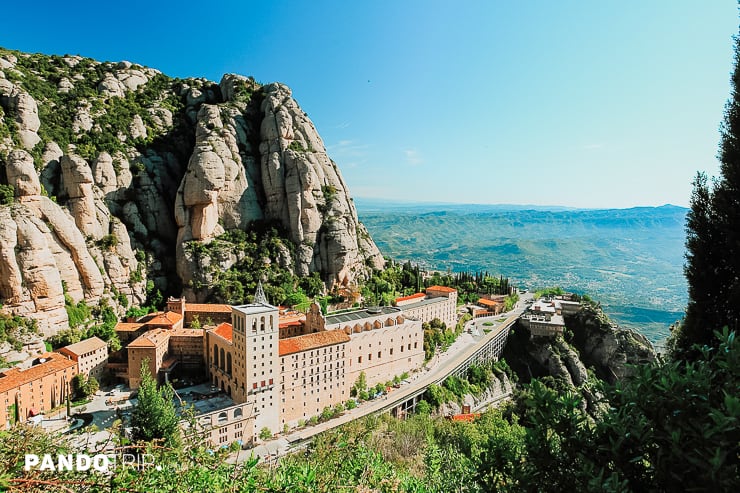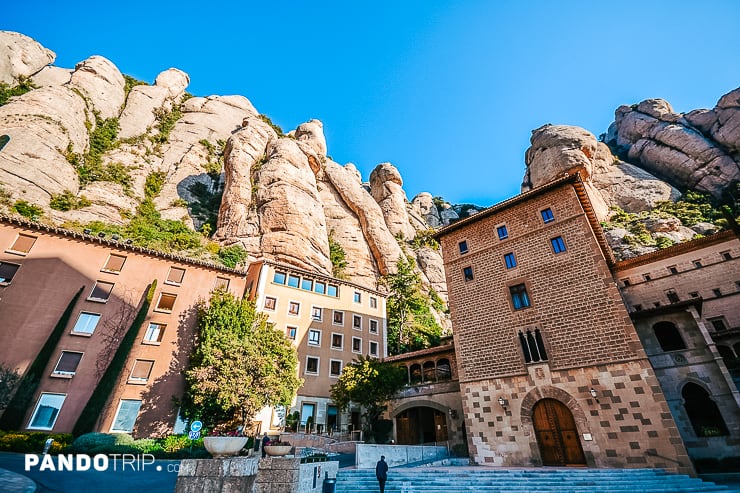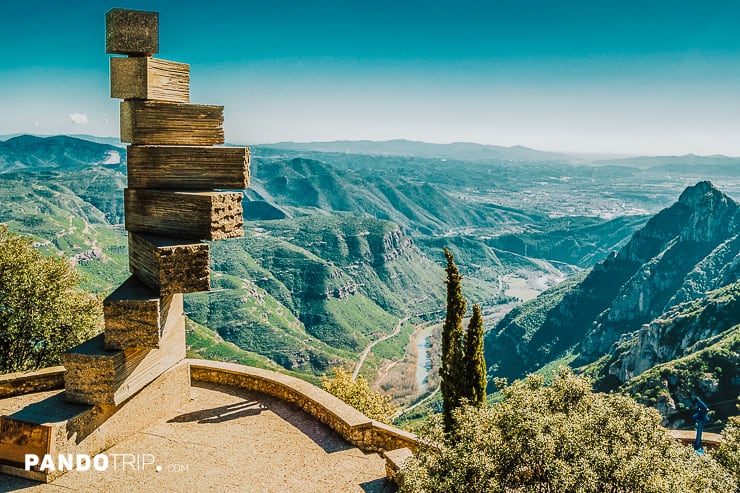 Visiting Montserrat
After taking the train from Barcelona to Aeri de Montserrat, board the cable car for a panoramic ride to the monastery perched high in the rocky spires. Explore the basilica and venerate the Black Madonna statue before meandering through chapels and museums at your own pace. Guided tours provide further insights, describing the statues, paintings, and architecture in detail. Outside, trails weave amongst the pinnacles for close encounters with the nature surrounding Montserrat. Touching sky and stone at once, the monastery becomes part of you, as pilgrims here since medieval times have also discovered.
3. Mont Saint-Michel, France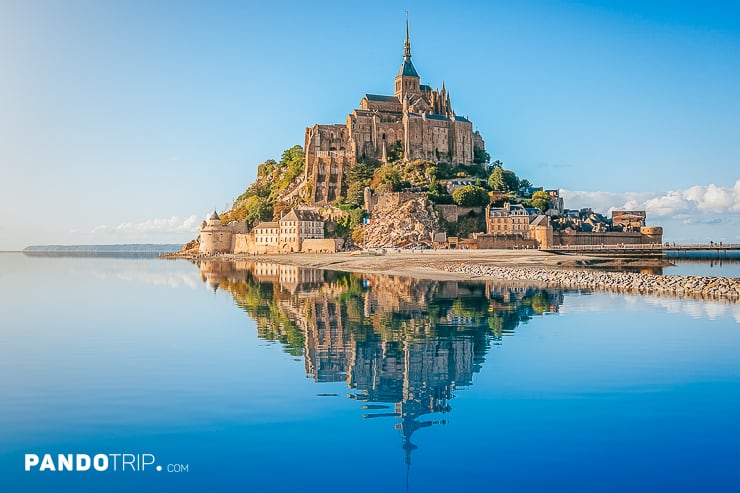 Rising majestically from the sea along the Normandy coast sits the remarkable Mont Saint-Michel. This UNESCO World Heritage Site is a medieval complex set on a rocky tidal island just off the French coastline. Mont Saint-Michel is home to an ancient abbey, monastery, church, parlors, cloisters, houses, and fortified ramparts—a unique hybrid of both a village and monastery.
Founded in the 8th century, the Benedictine abbey grew over centuries into a major pilgrimage destination during medieval times. Walls and spires seem to sprout from the craggy island's peaks, creating an imposing sight whether viewed from the distant shoreline or winding cobblestone streets within the complex. The Abbey Church is the jewel atop Mont Saint-Michel, decorated with finery and saintly treasures.
Why It's Famous?
Mont Saint-Michel is not just famous; it's legendary. Rising from the sea along the French coastline, this medieval abbey complex has achieved iconic status in Europe and beyond. The sight of its castle-like towers and spires sprouting from a rocky island is instantly recognizable. During high tide when Mont Saint-Michel appears to float on the water, it lives up to its oft-used nickname "The Wonder of the Western World".
Inside, the cloisters, parapets, chapels, and courtyards display an elegant hybrid of Romanesque and Gothic styles. As a key medieval pilgrimage site, Mont Saint-Michel has long captured the imaginations of the faithful and travelers alike. To walk its ancient streets and spiral staircases is to step centuries back in time into a world of legends and miracles where land and sea meet.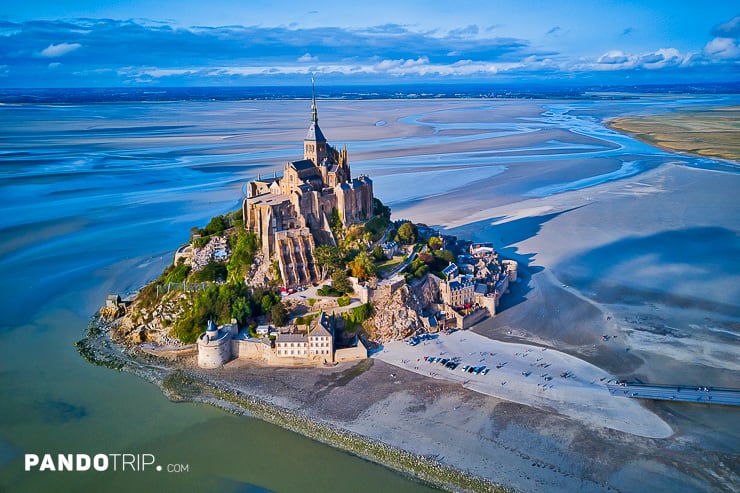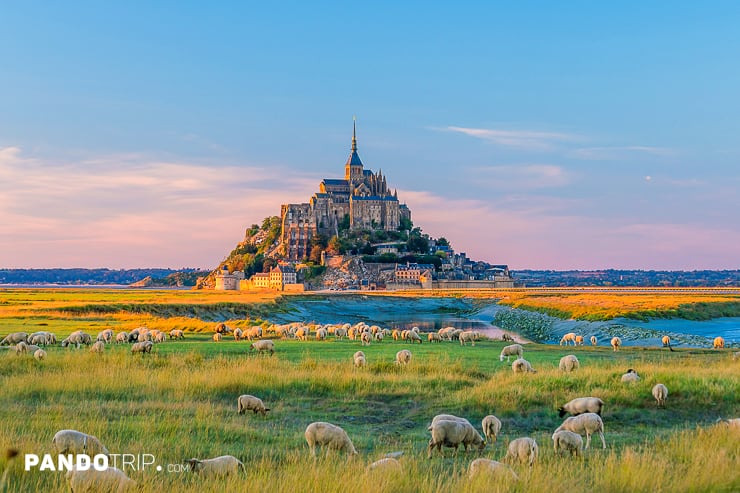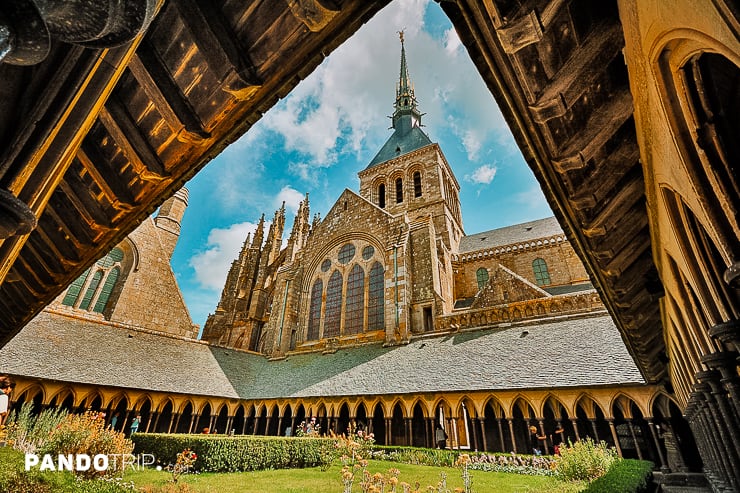 Visiting Mont Saint-Michel
Mont Saint-Michel welcomes over 3 million visitors annually to explore its maze of medieval streets and monumental abbey. Guided tours provide insights into the history and architecture stretching back over a thousand years. The Abbey Church, cloisters, refectory, and ramparts offer stunning views looking out over the bay.
The quaint shops and hotels that line the cobbled lanes beneath the Gothic spires create a fairy-tale atmosphere unique to Mont Saint-Michel. While crowded in peak summer months, off-season visits provide a more tranquil experience. Wandering the island town at night after the departing hordes of tourists have vanished is particularly magical. Time may pass, but Mont Saint-Michel will always retain its timeless wonder.
4. Paro Taktsang, Bhutan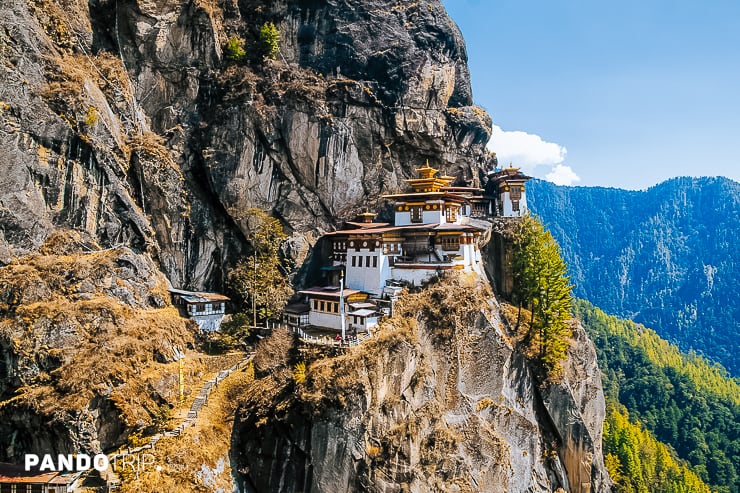 Among billowing clouds and sheer cliffs in Bhutan resides one of the most breathtaking monasteries on Earth – Paro Taktsang, also known as Tiger's Nest. Perched precariously on a Himalayan cliff face over 10,000 feet above Paro Valley, this sacred Buddhist site has awed visitors for centuries. Taktsang Palphug Monastery was built around the Taktsang Senge Samdup cave where Guru Rinpoche, also known as Padmasambhava, is said to have meditated and initiated the spread of Buddhism in Bhutan during the 8th century.
The journey to gaze upon the monastery is a monumental effort. One must hike upwards for nearly 4 hours on a steep, winding path through pine forests and past prayer flags fluttering in the wind. But the sweeping vistas of cliffs and cloud-engulfed valleys make every divine step worthwhile.
Why It's Famous?
Paro Taktsang's clifftop location is utterly jaw-dropping, defying the very laws of gravity as it clings to granite walls 3,000 feet above the valley floor. This sublime and precarious placement represents the essence of Paro Taktsang's mysticism and fame. It also contains temples, residences, meditation caves, and breathtaking views of the valley below.
This is where Guru Rinpoche left his mark upon Bhutan, making Paro Taktsang a sacred site for prayer and pilgrimage. Its isolation created an ideal spot for spiritual contemplation, while offering a panorama that transports all who visit into the heavens themselves. For Bhutan and followers of Buddhism, Paro Taktsang is a divine haven revered around the world.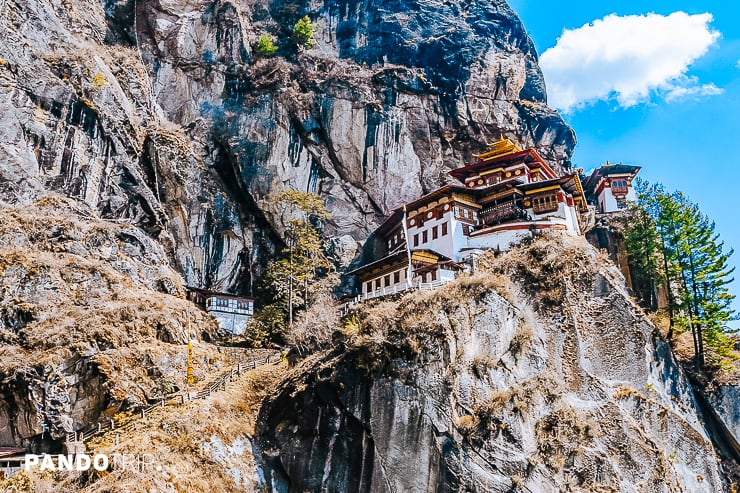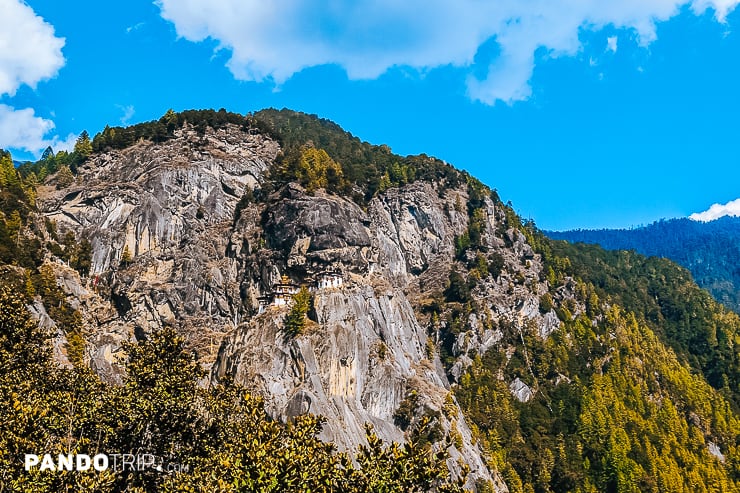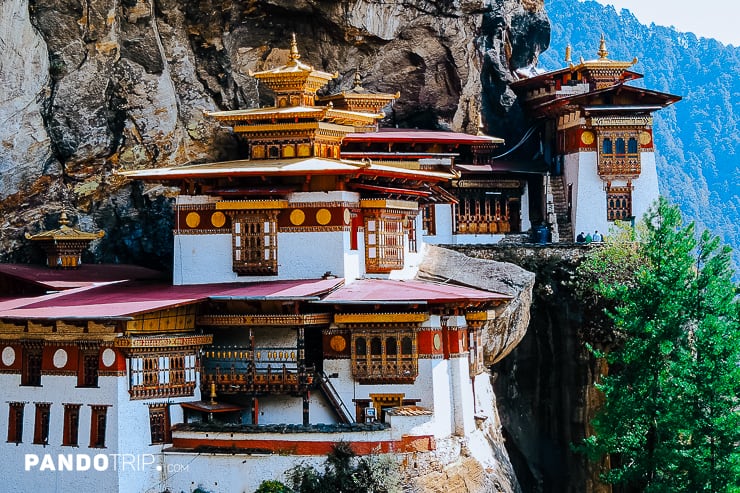 Visiting Paro Taktsang
To experience this "Tiger's Nest" is to endure a journey as daunting as it is rewarding. One must trek uphill for nearly 4 strenuous hours to reach the monastery from Paro Valley below. The thin air at such heights can leave you breathless. But sharing the cliffs with Paro Taktsang and gazing out in all directions makes the physical exertion pale in comparison to the emotional exhilaration.
While open year-round, accessing Paro Taktsang's interior temples may be limited at times. This matters not, for the views along the hike and from outside the monastery are what draw pilgrims and tourists alike. Come with an open heart, sturdy legs and lungs, and readiness to embrace the magic of this place. For those who persevere will be gifted with Himalayan vistas and Buddhist blessings unmatched on Earth.
5. Monastery of Saint Catherine, Egypt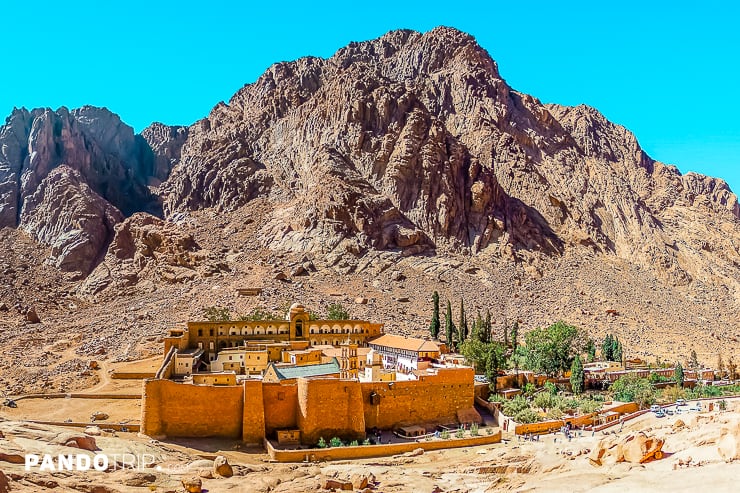 Nestled at the foot of Mount Sinai in the Sinai Peninsula lies the ancient Monastery of Saint Catherine, built on the site where Moses is said to have encountered the burning bush. Established in the 6th century CE, this remote desert monastery is the oldest continually operating Christian monastery in the world. Within its imposing stone walls built for defense, it safeguards a matchless collection of early religious manuscripts and art.
Several chapels and a mosque grace the monastery grounds, where monks continue to worship and study as they have for over 1400 years. The immense Basilica of the Transfiguration stands as the spiritual heart of the complex. Imagery throughout the monastery depicts the life of Saint Catherine, its legendary patron saint.
Why It's Famous?
The monastery enjoys its fame not just for its age—it's the oldest continuously operating Christian monasteries—but also for housing what is traditionally believed to be the 'burning bush' from the story of Moses. This living shrub is considered sacred, a tangible link to a moment that shaped monotheistic beliefs.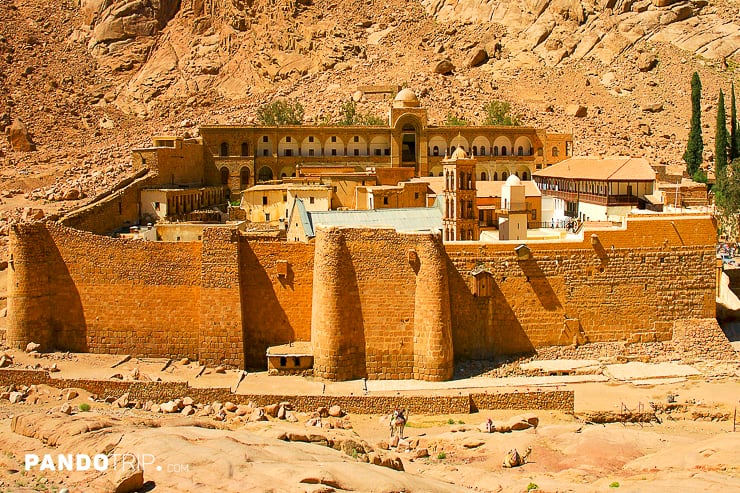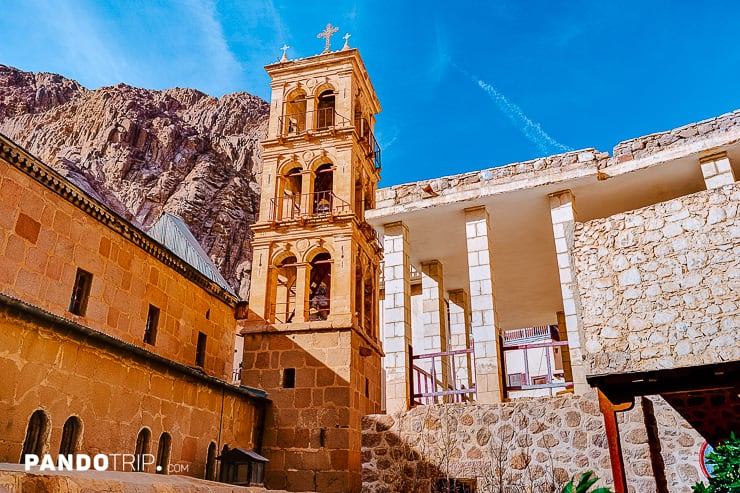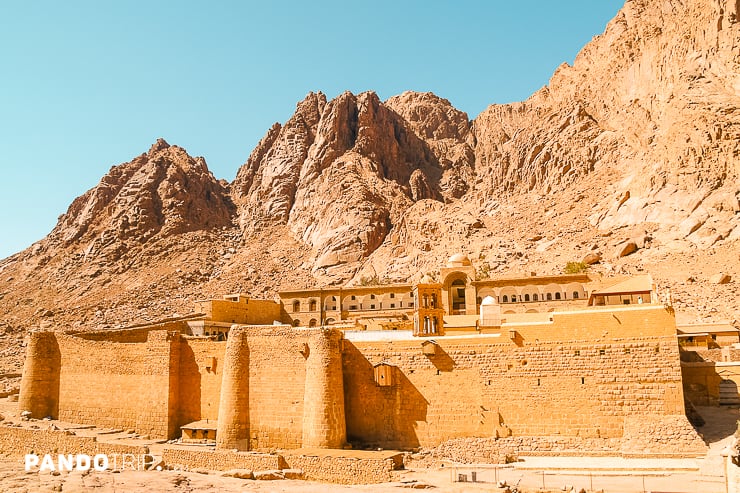 Visiting Monastery of Saint Catherine
Daily visits are allowed, except Sunday mornings and Orthodox holy days when only worshippers may enter. A strict dress code applies—shoulders and knees must be covered. Interior photos are prohibited to prevent damage, but the external monastery walls can be photographed. Guided tours provide a closer look at the ancient icons and collections that make this place so exceptional.
Give yourself several days in the area to appreciate the spirituality of the monastery's desert home. Climbing Mount Sinai, seeing the burning bush, and experiencing this holy site at its fullest requires time. Let the desert terrain carry you back centuries to when early Christian hermits sought solitude here between these mountains and God.
6. Potala Palace, Tibet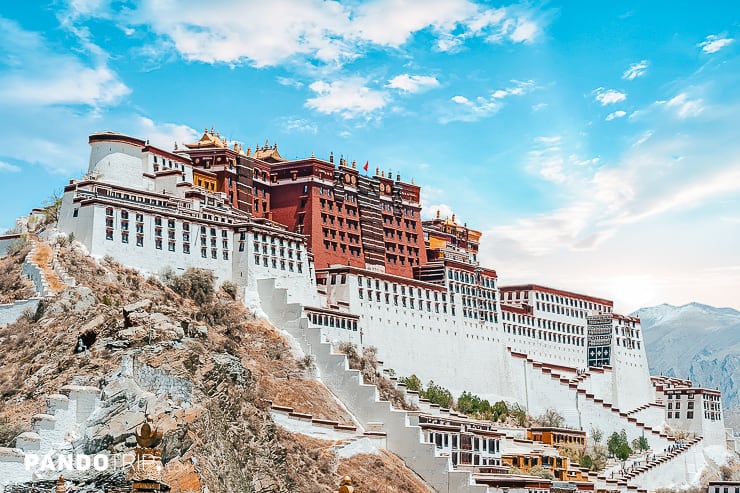 Perched at over 12,000 feet above sea level, Potala Palace in Lhasa, Tibet is the highest ancient palace complex and most iconic monument in the world. Originally built in the 7th century CE, the current massive structure was constructed starting in 1645 by the Fifth Dalai Lama as the chief residence of the Dalai Lamas and seat of Tibetan government. This architectural wonder contains over 1,000 rooms across its White Palace and Red Palace sections.
Winding stairways and tunnels connect Potala's many halls, temples, chapels, and shrines. Over 200,000 Buddha statues are enshrined within its walls, along with sacred texts, tombs of past Dalai Lamas, and countless precious artifacts. Striking features include the gold tomb holding the remains of the 13th Dalai Lama and the vibrant Red Palace Assembly Hall adorned in floor-to-ceiling thangkas.
Why It's Famous?
Potala Palace has endured as the primary symbol of Tibetan Buddhism and a site of pilgrimage for centuries. Its imposing hilltop presence watching over Lhasa reinforces its political and religious power. Between its spiritual significance as the home of the Dalai Lamas, its stunning architecture, its immense trove of treasures, and its sheer imposing grandeur as it climbs over 350 feet up Marpo Ri hill, Potala has become an iconic destination.
Its white and maroon stone walls almost seem to grow out of the craggy mountain landscape. To visit Potala is to witness a structure and institution central to Tibet's cultural identity and history, even as challenges continue in the region. While parts have weathered and rebuilt over the years, it remains a breathtaking marvel dominating the city.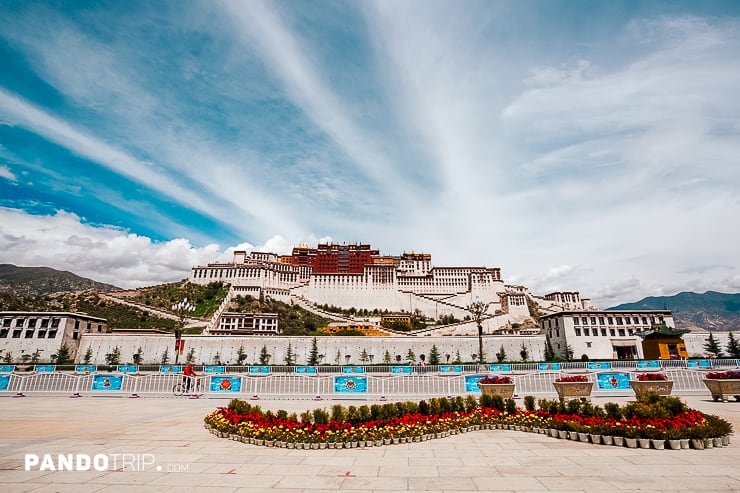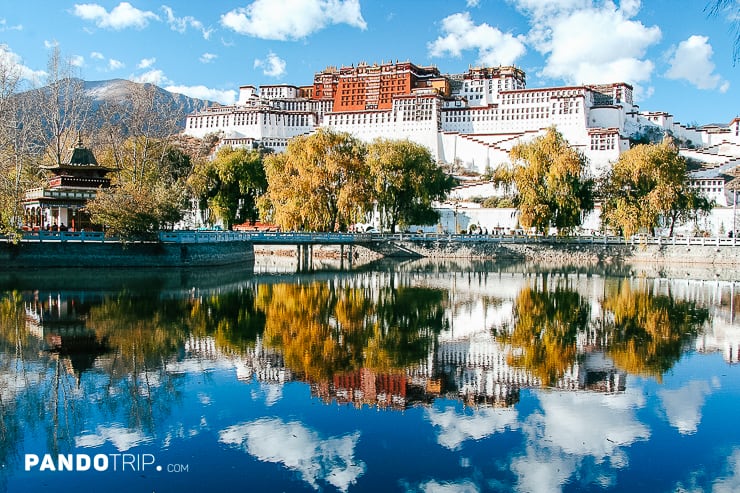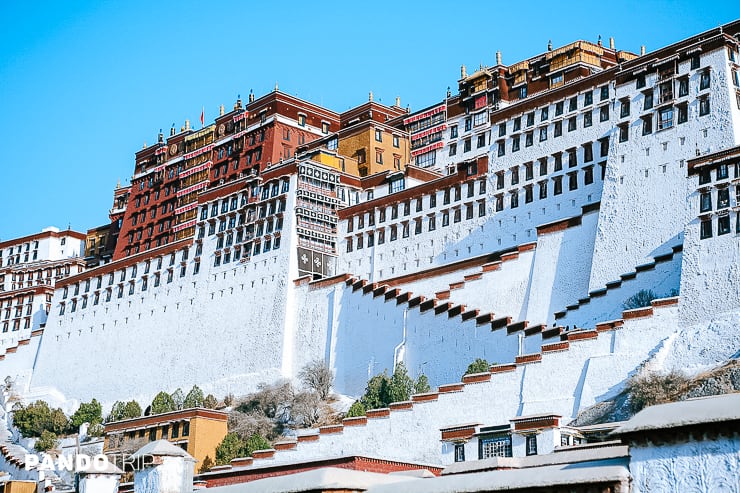 Visiting Potala Palace
Due to its immense popularity and need for preservation, only a limited number of visitors are allowed inside Potala Palace each day. Special permits must be obtained in advance, particularly for entrance into the sacred White Palace. Visitors should expect tight security and restrictions on photography throughout their tour.
The altitude at over 12,000 feet means climbing the massive structure requires stamina and can be challenging for some. But the sweeping views across Lhasa from its heights are unparalleled. Visitors walk in the footsteps of past Dalai Lamas, high lamas, and heroes of Tibetan history. This alone makes the effort worthwhile. To behold the Potala is to glimpse the heart of Tibet.
7. Rila Monastery, Bulgaria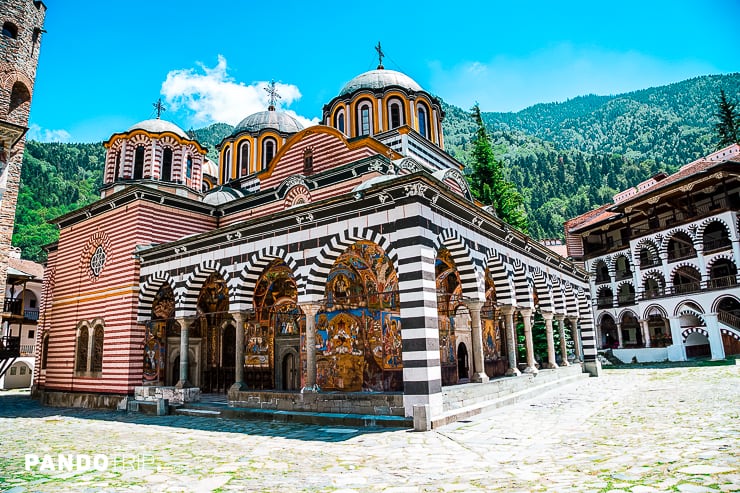 High in the Rila Mountains of southwestern Bulgaria sits Rila Monastery, one of the most revered spiritual sites in the Orthodox Christian world. Founded in the 10th century by St John of Rila, a hermit canonized for his miracles and pious living, the monastery complex has been reconstructed multiple times over its long history. Major 19th century renovations give the fortress-like monastery its current appearance, with resplendent domed churches and living quarters surrounded by towering stone walls.
The main church displays extraordinary woodcarvings and colorful frescoes depicting biblical scenes and saints. The relics of St John of Rila, along with other precious icons and artifacts are housed in the monastery museum. Around 300 monks live onsite to continue the daily cycle of worship established centuries ago. Their chanting echoes through the rocky Rila mountains from the monastery.
Why It's Famous?
Rila Monastery is intrinsically tied to Bulgarian Orthodox identity, honoring their first saint, St John of Rila. Pilgrimages to the monastery have occurred for over 1000 years, continuing today with peak attendance on important feast days. Beyond its spiritual significance, Rila Monastery is renowned for its imposing architecture that almost resembles a fortress blending with the surrounding mountains. Its frescoes and woodwork represent masterpieces of Orthodox art. In 1983 it was designated a UNESCO World Heritage Site for its immense cultural value. For Bulgarians, Rila Monastery is more than a historical attraction—it's the living, beating heart of their faith.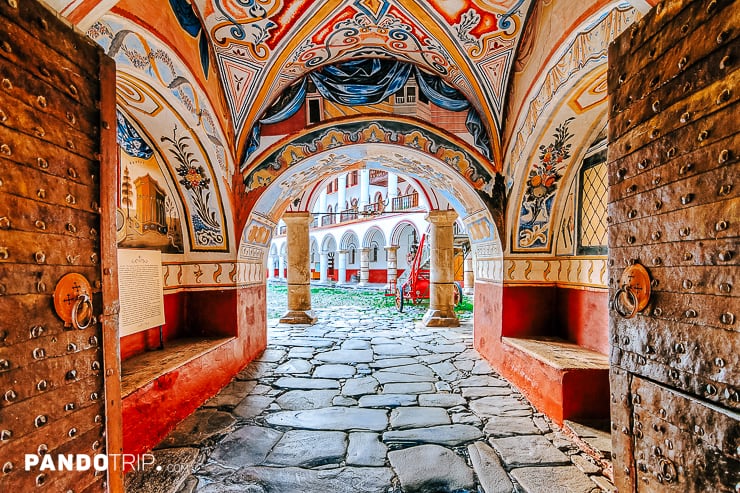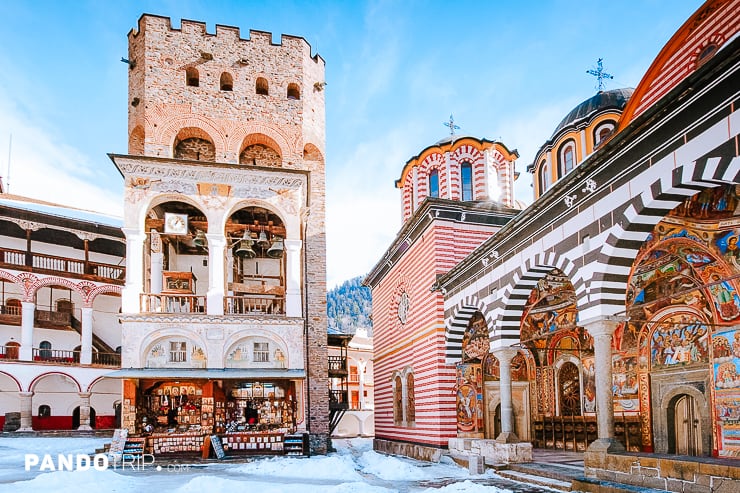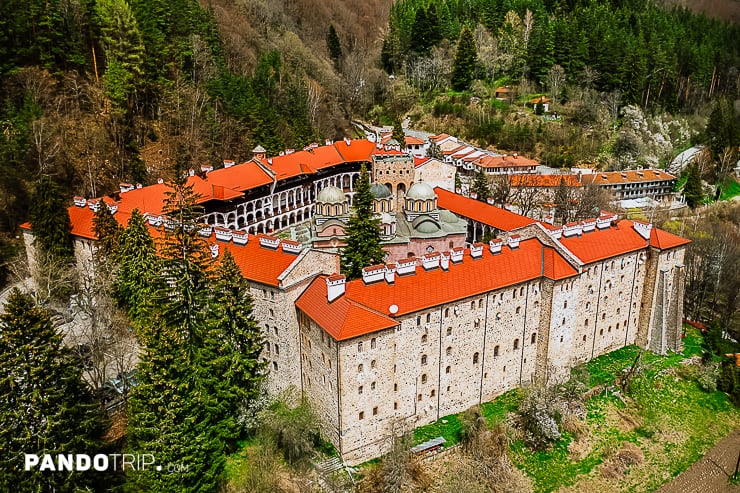 Visiting Rila Monastery
Rila Monastery welcomes visitors year-round, though dress codes are strictly enforced—no shorts or skirts above the knee permitted. Photography is prohibited inside the churches, but the mountain vistas surrounding the complex can be freely photographed. Tourists mingle among pilgrims and monks, sharing in the tranquil atmosphere. The museum provides further insights into the faith and history that Rila Monastery represents. Don't miss the grave of St John of Rila, covered in flowers and prayers left by the faithful seeking blessings on their journey. The journey to Rila Monastery is a highlight in itself, traversing forest roads and winding mountain passes.
8. Shaolin Monastery, China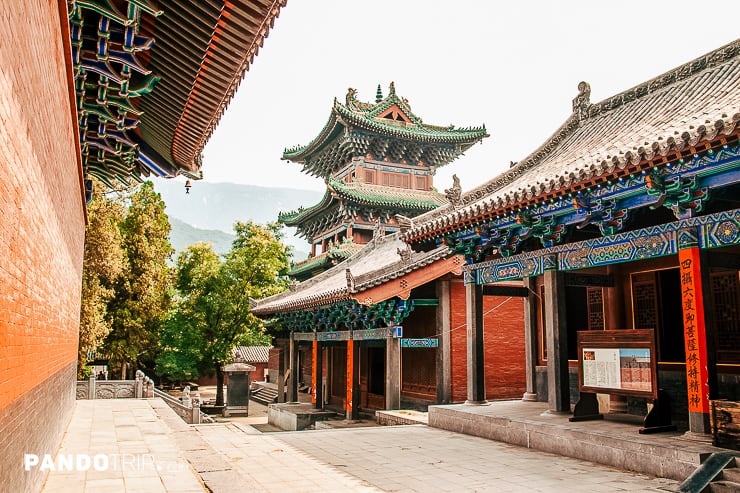 Tucked away in the forested Song Mountains of central China's Henan Province, Shaolin Monastery is an ancient Buddhist temple complex considered the birthplace of Shaolin Kung Fu. Founded in the 5th century CE by an Indian monk named Bodhidharma, Shaolin Temple has evolved into a focal point of Chan Buddhism and Chinese martial arts.
Shaolin Monastery contains several pagodas and temples housing precious artifacts and documents, along with forested areas used for meditation. Martial arts are deeply integrated into monastic life, with daily training and periodic public demonstrations of extraordinary physical and mental skill. Visitors can take in the architecture and history of the temples while also getting a uniquely Shaolin glimpse of what the disciplined monk's life entails.
Why It's Famous?
Shaolin Monastery enjoys global fame as the birthplace of Shaolin Kung Fu, one of the oldest and most influential martial arts styles in the world. Its legacy extends beyond the walls of the monastery, deeply ingrained in popular culture. This martial art has become iconic, featured in countless films, TV shows, books, and video games. Figures like the Shaolin monk with his bald head, robes, and iron physique resonate widely. While some mythologize and exaggerate Shaolin's history, its real legacy is undeniable.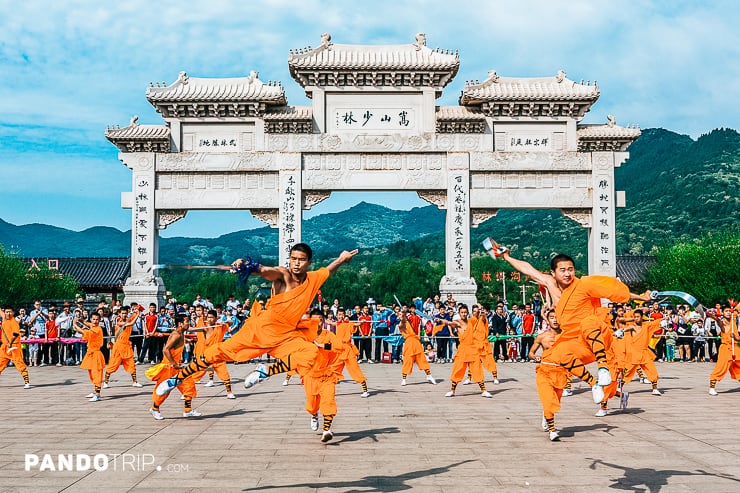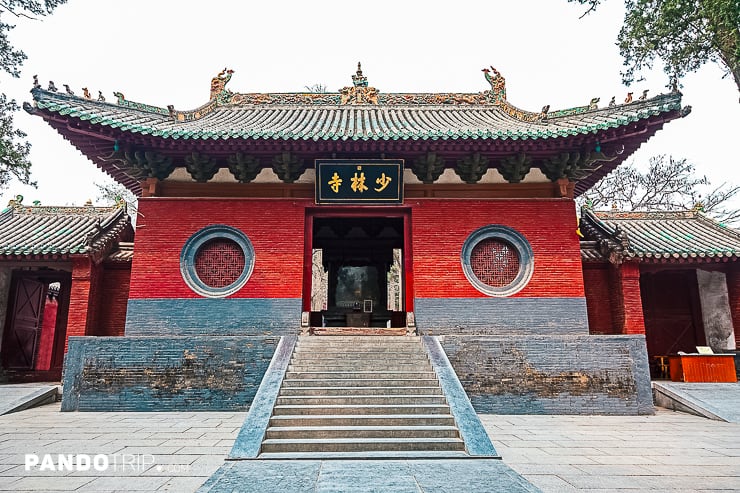 Visiting Shaolin Monastery
Shaolin Monastery is accessible by road or rail from Zhengzhou or Dengfeng in Henan Province. Visitors can tour various temple halls and seven main pagodas containing relics or tombs. Highlights include the Great Hall with massive Buddha statues and the Pagoda Forest with centuries-old brick pagodas. Demonstrations of Kung Fu occur regularly, though seats cost extra. Proper dress and polite behavior is mandatory. Restricted areas exist, and photography is prohibited in certain temples, so check regulations posted. Guests can also hike forested temple trails, though the most isolated meditation spots are limited to monks only. With an overnight stay, you can experience a bit more of Shaolin's daily rhythm unchanged for centuries.
9. Kyiv Pechersk Lavra, Ukraine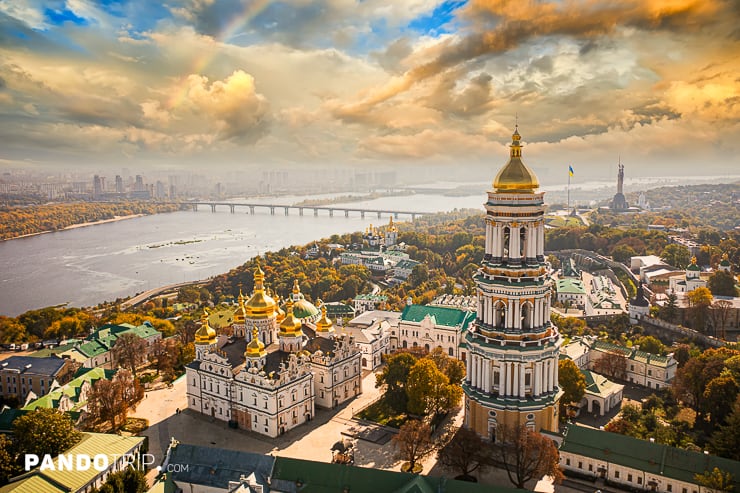 On the right bank of the Dnieper River in Kiev lies Kyiv Pechersk Lavra, one of the most historic and holy sites in Eastern Orthodoxy. Founded in 1051 as a cave monastery, this sprawling complex expanded over the centuries to become the cradle of Eastern Slavic Christianity. Today it continues to function as an active monastery while also attracting pilgrims and tourists.
The Upper Lavra is home to the iconic gold-domed churches that have become symbols of Kiev. The Great Lavra Bell Tower offers stunning panoramic views over the monastery and the Dnieper below. But it's the mysteries below ground that make this place so intriguing. A labyrinth of tunnels and caves wind beneath the surface, hiding centuries of secrets.
Why It's Famous?
Kyiv Pechersk Lavra is a wonder in more ways than one — it's officially one of the Seven Wonders of Ukraine and a UNESCO World Heritage site. What catapults this site into global fame, however, is its unique network of underground caves. Here, in dimly lit tunnels, lie mummified monks, a sacred collection drawing both pilgrims and tourists. The site is a nexus of history, spirituality, and mystery, binding everyone who visits in shared awe.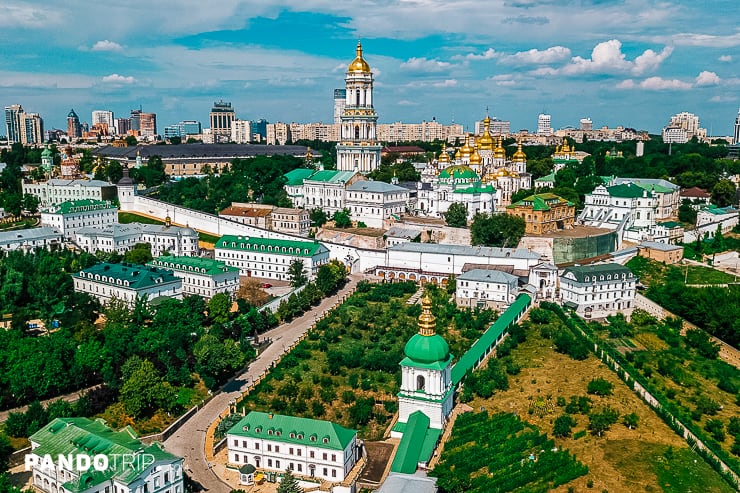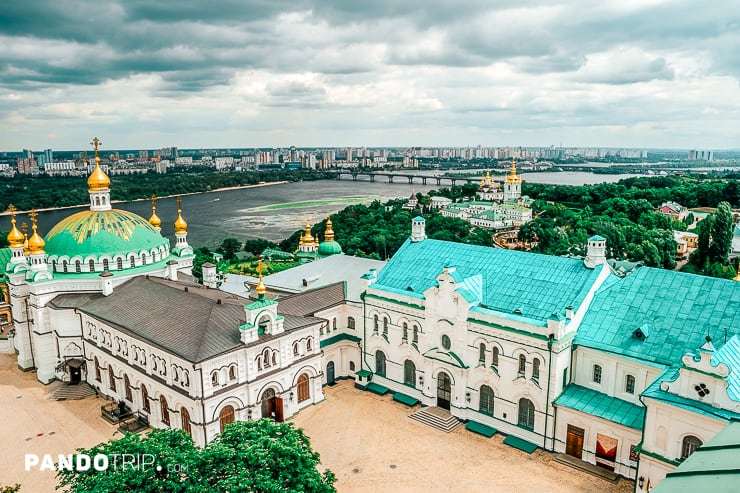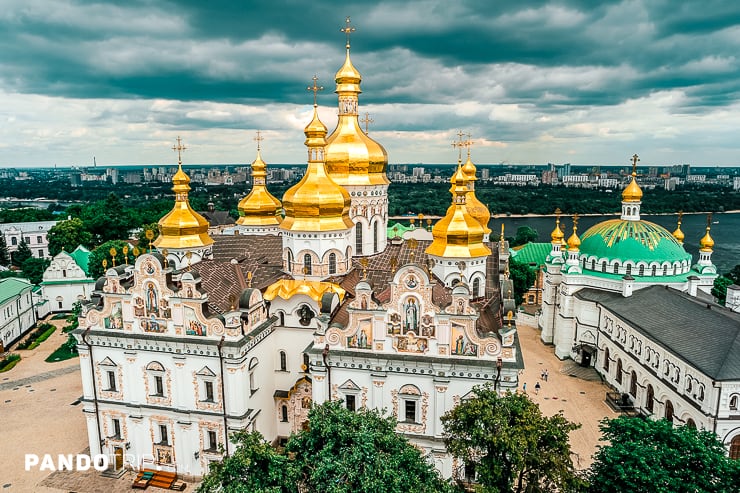 Visiting Kyiv Pechersk Lavra
Parts of Kyiv Pechersk Lavra like the Upper Lavra and churches are open to the public, while access to the caves requires joining a guided tour. Visitors should dress appropriately and avoid short skirts or shorts.
10. Melk Abbey, Austria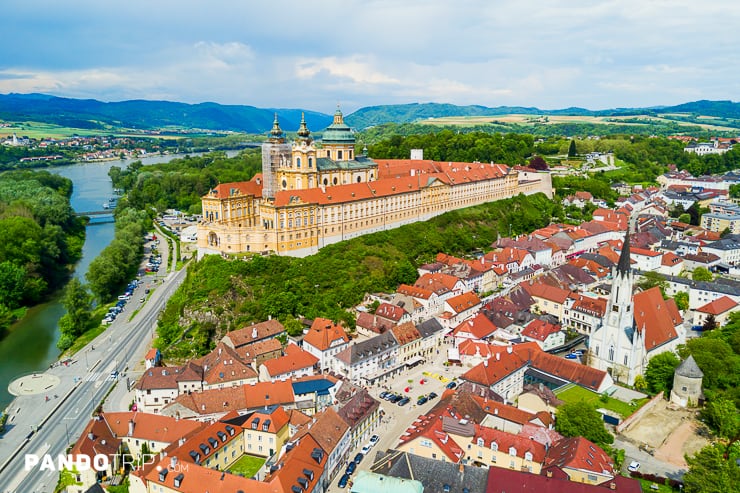 Perched majestically on a rocky outcrop overlooking the Danube River, Melk Abbey has overlooked the town of Melk in Lower Austria for over 900 years. Founded in 1089 as a Benedictine monastery, the current Baroque abbey was constructed starting in 1702 and displays stunning architecture and decor.
The abbey church features elaborate frescoes and a 200 foot high dome that seems to reach to the heavens. The abbey library contains one of the world's largest collections of medieval manuscripts, with over 1,200 dating back as far as the 9th century. The overall splendor and commanding riverside location make Melk Abbey an iconic monastery known around the world.
Why It's Famous?
Melk Abbey rose to international prominence in part due to its association with Umberto Eco's novel "The Name of the Rose." Though the story itself isn't set in Melk, many believe that the abbey's labyrinthine library inspired Eco's fictional setting. This association has drawn many literature enthusiasts to Melk, eager to walk the same halls they've imagined. Beyond the world of fiction, Melk Abbey is a monumental feat of Baroque architecture. Its library is not just a room but a world of wisdom, housing some of the world's most important monastic texts.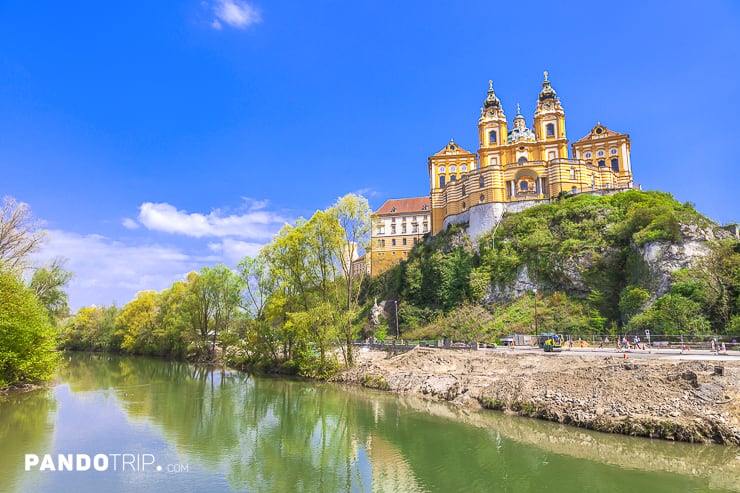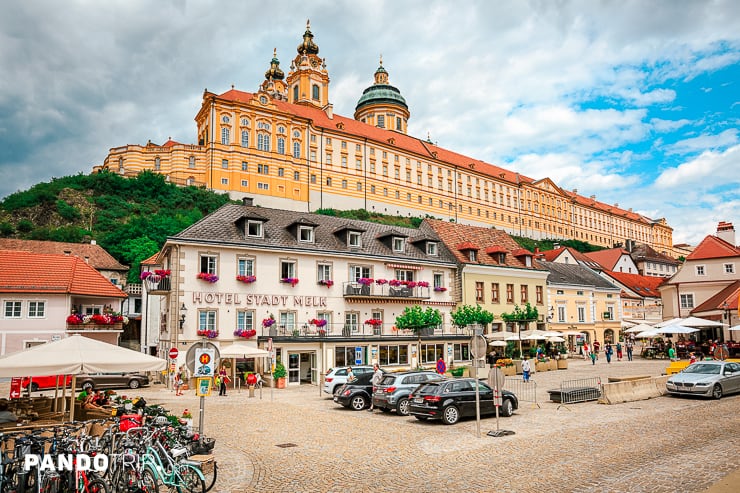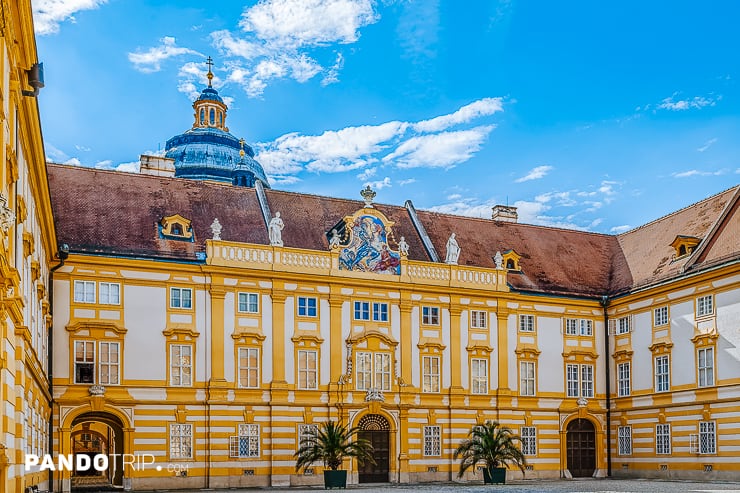 Visiting Melk Abbey
Melk Abbey is open to visitors most days, with tours available in several languages. Visitors can explore the ornate interior, including the Imperial Staircase, Marble Hall, library, and abbey church. Guided tours provide details about the architecture, artworks, and relics on display throughout the abbey.
The best views are from the Abbey Gardens and the Terrace, which offer panoramic vistas of the Danube River winding through the Wachau Valley below. While you can't miss the exterior from the roadway, it's well worth going inside to fully appreciate the grandeur and legacy of this Benedictine stronghold. Just steer clear on Sunday mornings during church services and other closures for special events.