Say the word Mediterranean, and straight away you'll probably think of sparkling azure seas and long stretches of golden sands bathed in brilliant sunshine. Not a bad image to conjure up and definitely one which will have you longing to pack your bags and be jetting off for a Mediterranean vacation. But it's much more than blue seas, beaches, and the sun.
The Mediterranean, or the Med as it's often abbreviated to, defines a group of twenty-one countries. Each country is unique and has its own distinct culture. With so many different destinations to choose from, it's not easy deciding which is the perfect one for your getaway break.
Here you can check out the top ten places in the Med and details about what makes each one special. Read the list from top to bottom, and you'll soon have some great ideas for your next holiday.
10. Malta
If you're looking for a Mediterranean destination which you can explore in full during your vacation, this country could be the one to choose. Malta, an island in the Mediterranean Sea, has a surface area of just over one hundred and twenty square miles, so everything you'll want to see and do there will be within a relatively close proximity. It is the largest island out of the three inhabited and numerous uninhabited ones which form the Maltese archipelago, but it ranks as the tenth smallest country in the entire world.
Another big plus is, although Malta does have its own language – Maltese, English is the official second language and spoken almost everywhere. It has to be said, for such a small island, it really does have it all. If you want beach resorts with entertainment options then Mellieha Bay, Golden Bay or the town of Bugibba are ideal. Valletta, the 16th-century walled capital city, is full of museums, enormous churches, and public gardens. Take a water taxi from Valletta harbor across the bay and you'll feel as if you've stepped back in time as you explore the incredible fortress towns called the Three Cities.
There are regular ferry services from Valletta to Gozo and Comino. Gozo is a Maltese island famous for its traditional lacemakers and wine. Visit Comino to see the natural wonder, the Blue Lagoon. A fun day out can be had at the Popeye Village; an old film set village now converted to a theme park. For Ibiza-style nightlife check out Paceville in St Julian's Bay on Malta's north-east coast.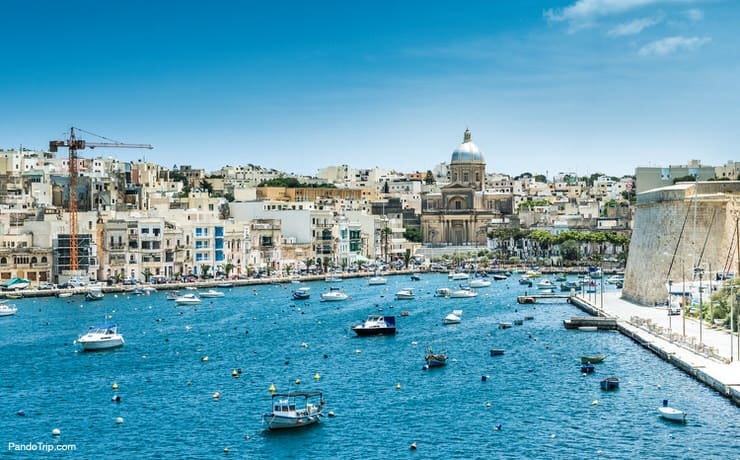 When To Visit Malta
Malta is blessed with a balmy Mediterranean climate. In Summer temperatures are high and so is the humidity. In mid-summer, July and August, you can expect an average of around 30°C. Spring and Autumn see milder temperatures, but along with those there will be some rain showers. Wintertime, November through to the end of February, can be a comfortable 15°C to 18°C which is perfect for sightseeing and exploring.
Why Go?
Malta is a fantastic country which, as well as having some amazing beaches, is rich in cultural activities and has some magnificent natural wonders. It is also a reasonably economical place to visit. You'll find your Euros go a long way when eating in restaurants, paying for transport or having a night out.
TL;DR: On Malta, you'll find every activity, both cultural and social, you could ever want to do on a Mediterranean vacation.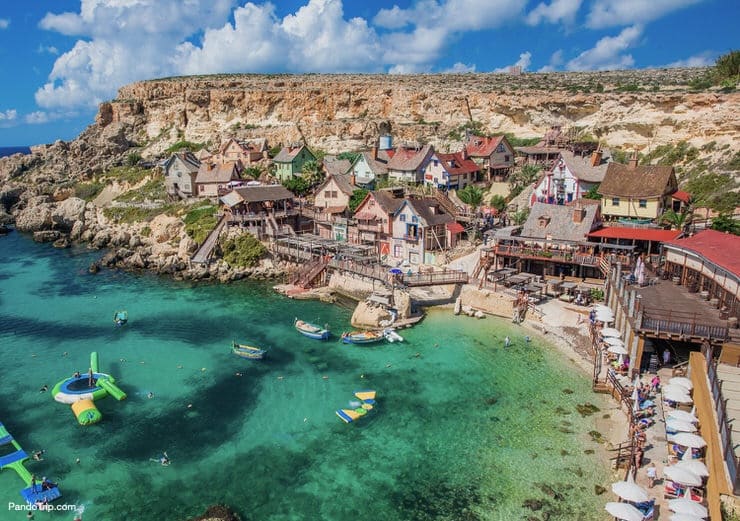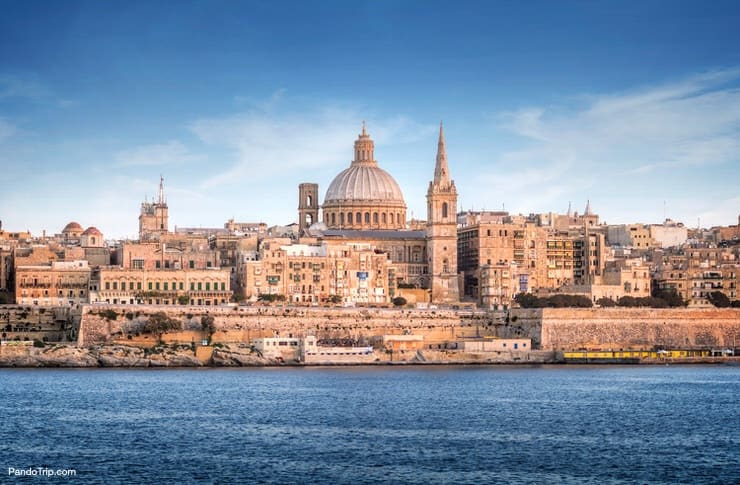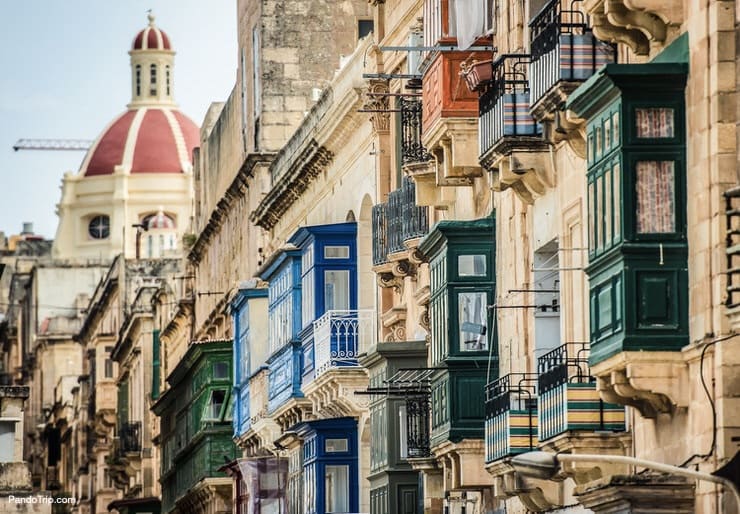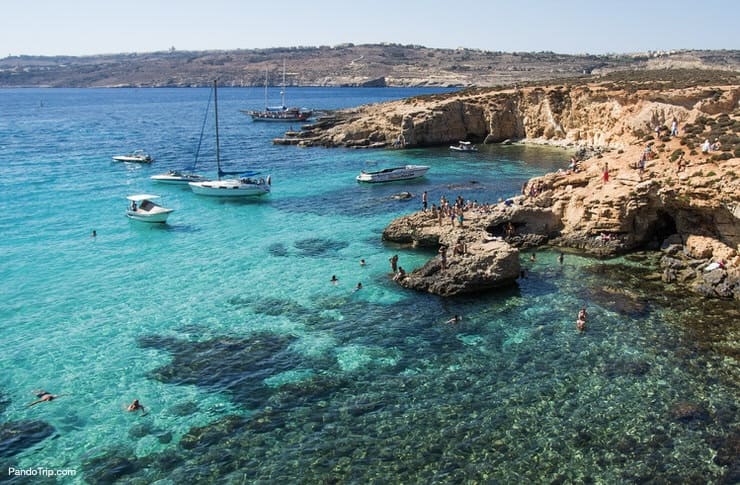 9. Crete, Greece
When you fly to Crete, your plane will be landing on the biggest island in Greece. It's a place so scenically beautiful; you'll probably never want to take to the air again. Whatever your favorite vacation occupation you'll be able to do it there. Soak up the sun on one of the many beaches. Go for a swim, hike, cruise or enjoy some adventure watersports. Explore the towns and villages or visit the monuments, ruins, and museums to discover more about the fascinating Greek culture.
While you won't be able to cram all of the amazing things to do on Crete into one short vacation, there are some you won't want to miss. Elafonisi Beach with its pink sand is a must see, and so is the Balos Lagoon. Chania with its Venetian Harbor, historic old quarter and incredible viewpoint is a photographer's dream. For hikers there is the challenge of Samaria Gorge, Europe's longest gorge route for hiking, plus the shorter, but just as impressive, Imbros Gorge. Cretan food also has to be mentioned. No vacation in Crete would be complete without trying the cheese, olive oil and if you're brave enough, the local delicacy of snails.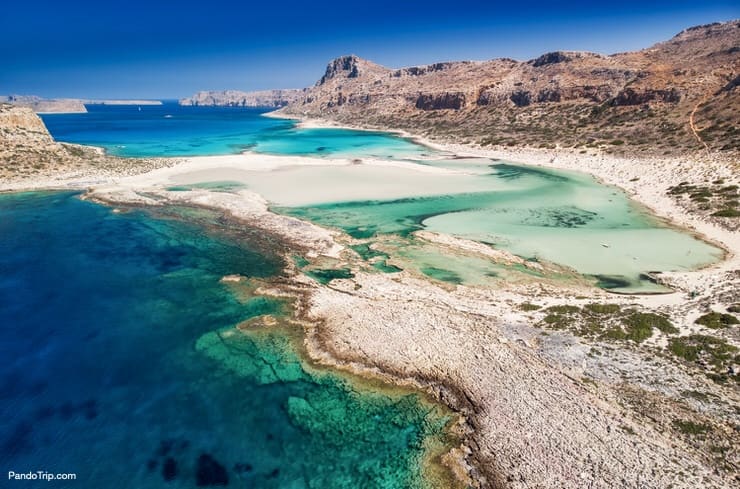 When To Visit Crete
Crete, the same as in most Greek Islands, has a vacation season which runs from mid-April through to mid-October. This is the time when the island is at its busiest and the weather at its warmest. You will find temperatures are milder, and there are fewer tourists early in the season – up until around mid-June, and then again later on, from the middle of September onwards. If hiking through the gorges on Crete is something you want to cross off your bucket list, then go there in April, May, June, September or October.
Why Go?
Crete is a Greek paradise. It's an island with great culture and excellent cuisine, superb hiking routes and one of the best beaches in Europe.
TL;DR: If you're planning on holidaying on only one Greek Island in your life, then make it Crete. You'll love it so much; you'll soon change your mind about only going once because you'll want to go back again and again.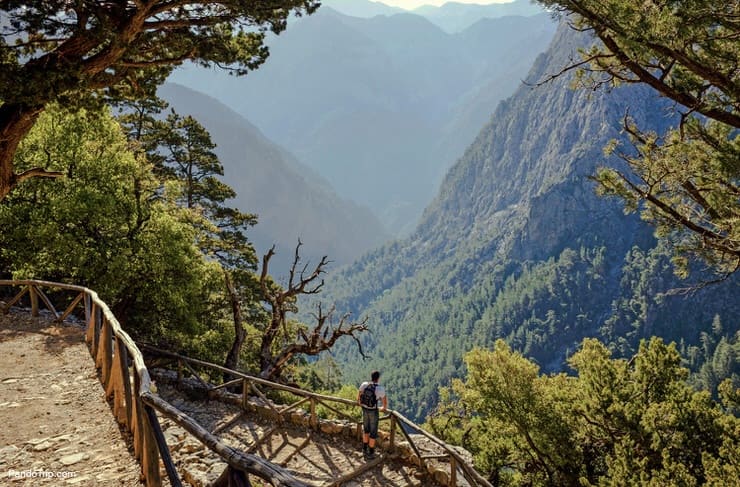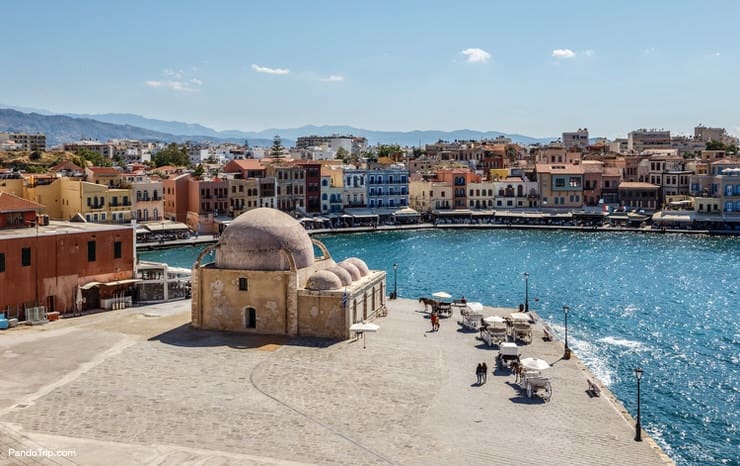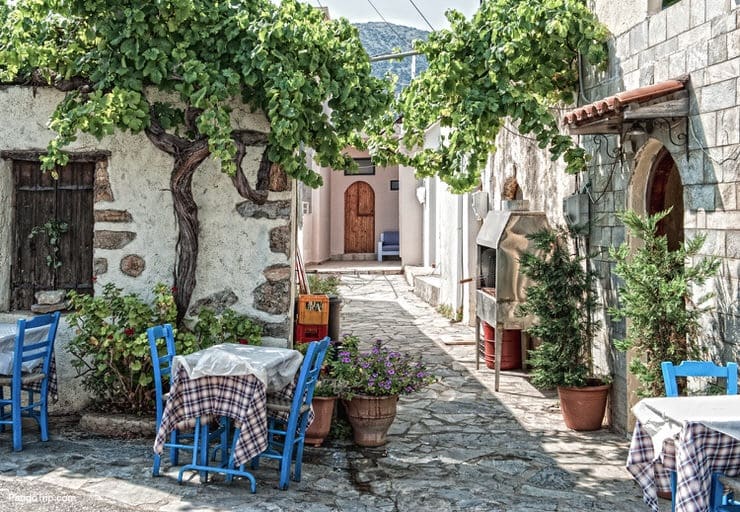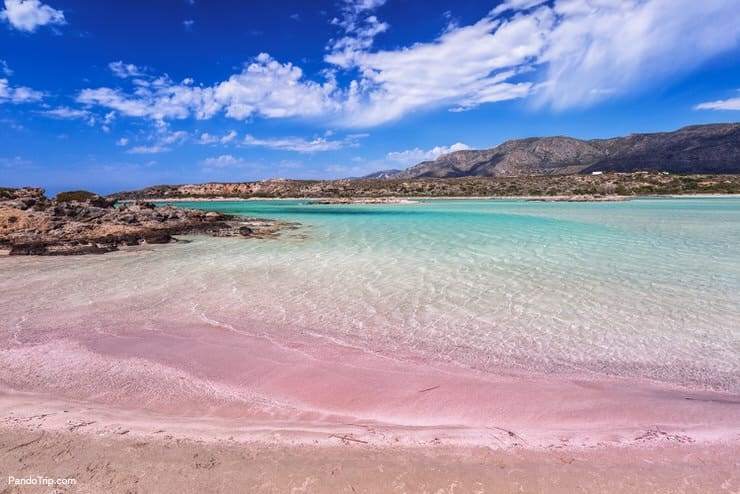 8. Bay of Kotor, Montenegro
Do you love mountain scenery but want to enjoy plenty of beach time too? If so, the Bay of Kotor in Montenegro might be the perfect Mediterranean destination for you. A UNESCO World Heritage Site since the late 70s, both sides of the narrow bay are lined with beaches and backed by stunning mountain ranges. The fjord-like inlet is surrounded by quaint medieval towns such as Kotor and Perast. Kotor is the largest town in the bay and receives many visitors from the cruise ships which anchor in the harbor there.
Climb the fortified walls around Kotor, and you'll see stunning views of both the town and the bay. Stroll the streets, and you'll discover churches, a cathedral and a multitude of cats. The felines are symbolic to the town and roam around freely. If you have a cat phobia or are allergic, you may prefer to visit Perast instead. Perast is a small fishing village and just off-shore are two islets, St George and Our Lady of the Rocks, whose chapels are popular pilgrimage sites. Drive the scenic route around the Bay of Kotor, and you'll find lots of hamlets well worth parking up to take a look.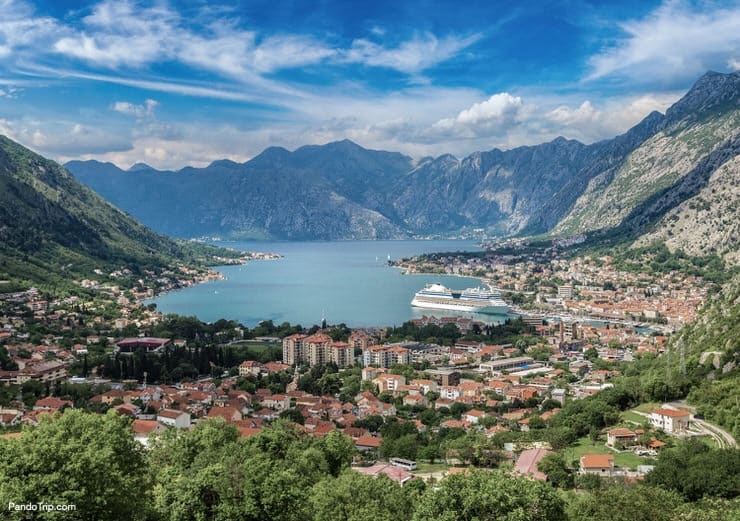 When To Visit The Bay of Kotor
Spring or Autumn are by far the best times to go to the Bay of Kotor. Those two seasons are quieter and cooler. In the summertime, temperatures can reach 30°C or more and the places, as they are so small, soon begin to get overcrowded when there's an influx of tourists.
Why Go?
Montenegro and the Bay of Kotor are one of the Mediterranean's best-kept secrets. It's a unique area which combines coast with mountains, medieval towns and long, sandy stretches of beach.
TL;DR: Tell your friends you're taking a vacation in the Bay of Kotor. Not everyone knows about Montenegro, they'll be impressed you're going somewhere they've never heard of.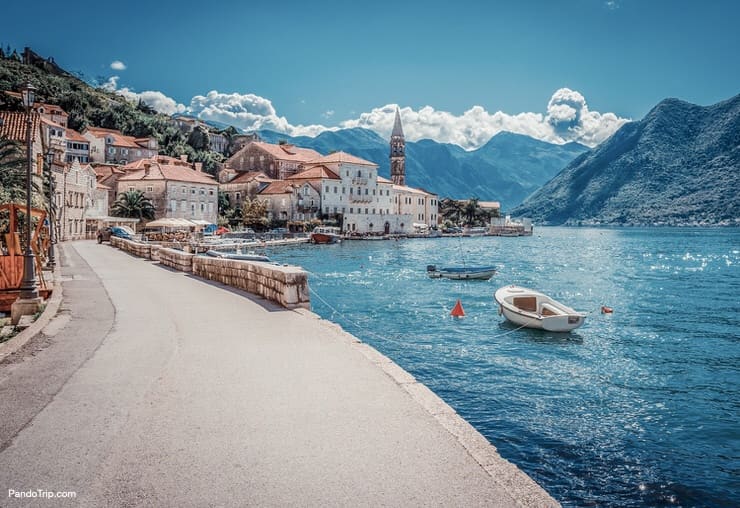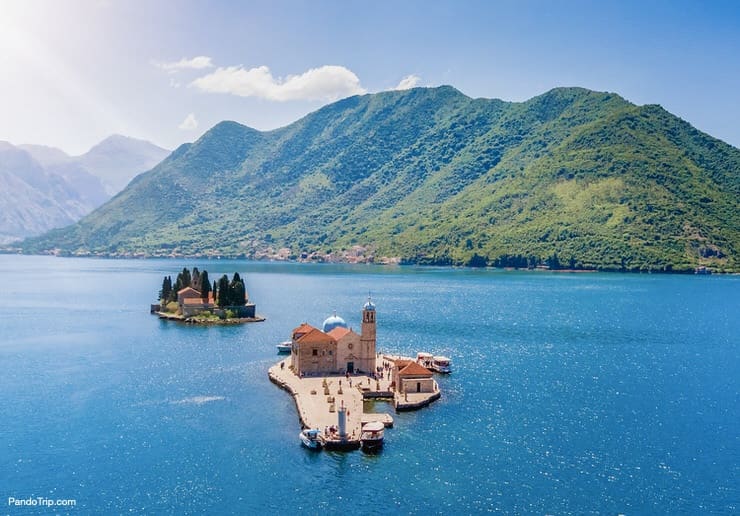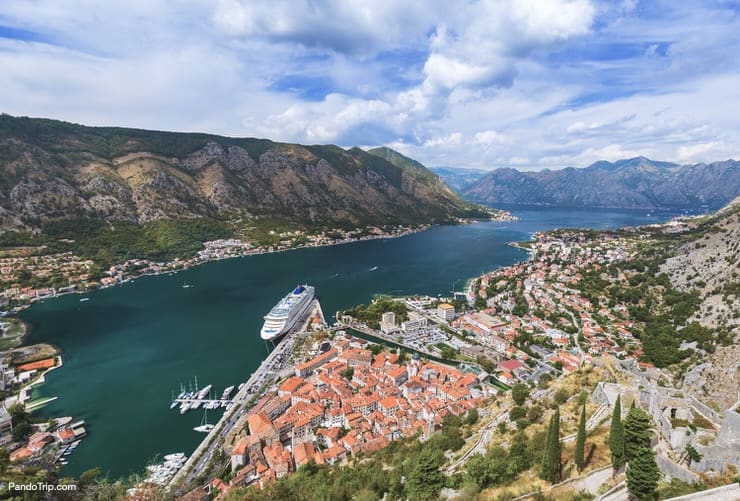 7. Cyprus
It's not very often you need your passport to go sightseeing once you're actually in a country. In Cyprus, if you want to cross the border from south to north, you will do. The island is divided into two parts which are classed as different countries. The southern section belongs to the Greek Cypriots and the north to the Turkish Cypriots. Most visitors take their vacations in the resorts on the south coast of the island which is where the best beaches are as well as many of the main sights.
Combine history with sunbathing by staying in the UNESCO listed coastal town of Paphos. It has several beaches to choose from, lots of ancient ruins and a mosaic dating from the Roman era. There's some great nightlife in Paphos too. One of the world's top ten dive sites, the Wreck of Zenobia, lies just off the coast of Larnaca. A must-see is Nissi Beach, a half a kilometer of white sand edged with aquamarine waters which curves around the bay of Ayia Napa. Head to the Turkish side of the island and you'll be able to explore the Roman ruins of Salamis and the Venetian fortresses of Kyrenia and Hilarion. All visitors to Cyprus should dine on out meze. A typical Cypriot meal served in the tavernas of up to thirty small, appetizer-size plates of traditional food.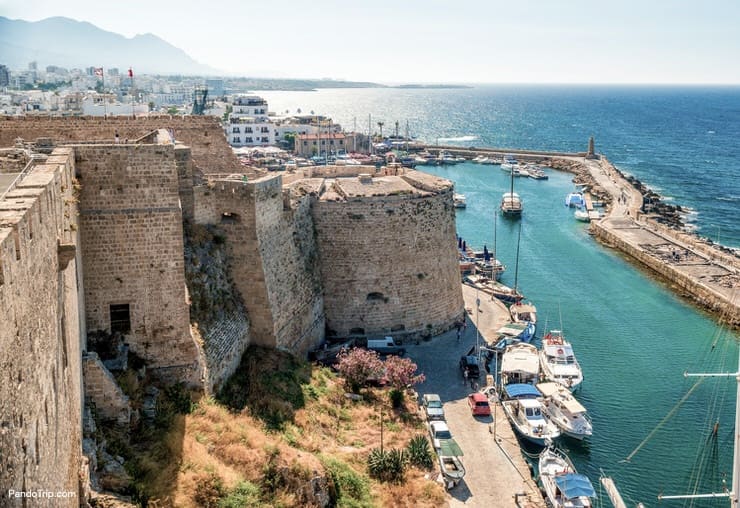 When To Visit Cyprus
Summer in Cyprus is hot, hot hot. The best time to go, unless you like heat and humidity, is late Spring through to around the end of June. Autumn is cooler too though there can be occasional heat waves.
Why Go?
There is so much to see and do in Cyprus. Think fantastic beaches and interesting historical sites plus there's meze and believe it, meze alone is reason enough to go.
TL;DR:If you take a Mediterranean vacation in Cyprus, you can truthfully say you've visited two countries and eaten some of the best food ever.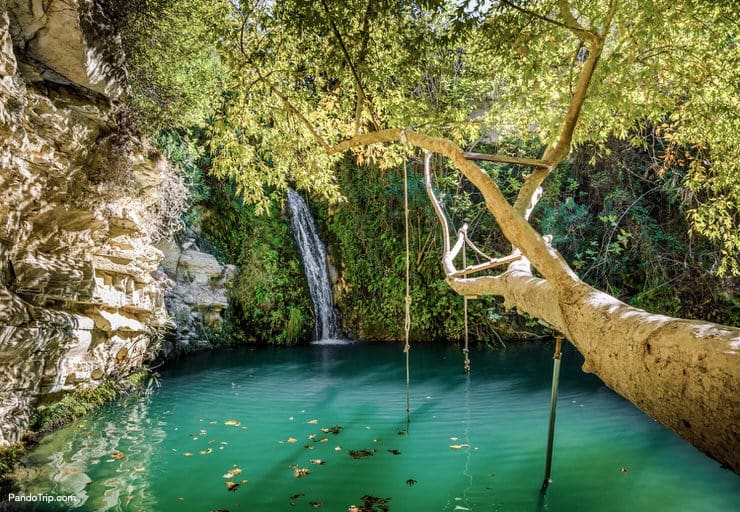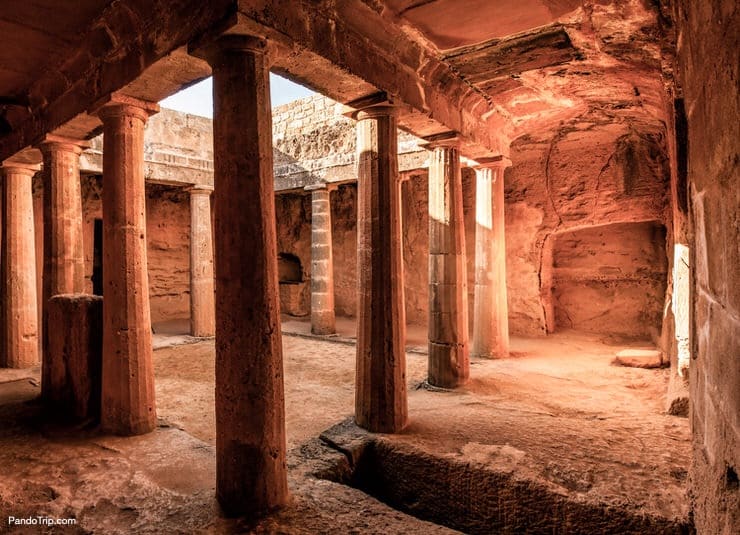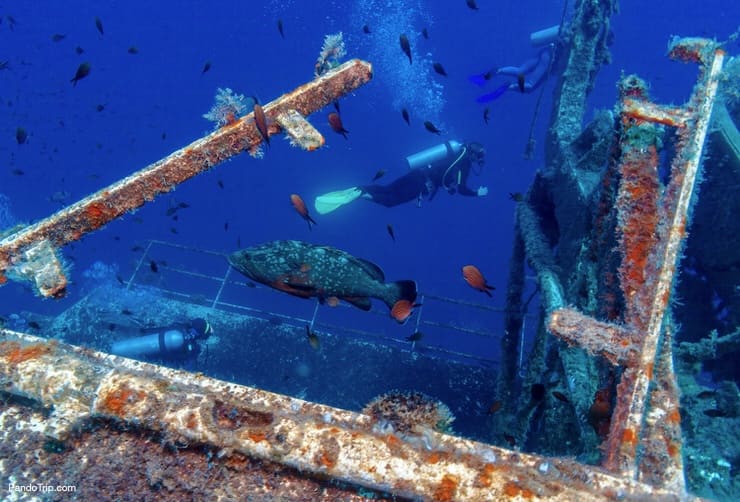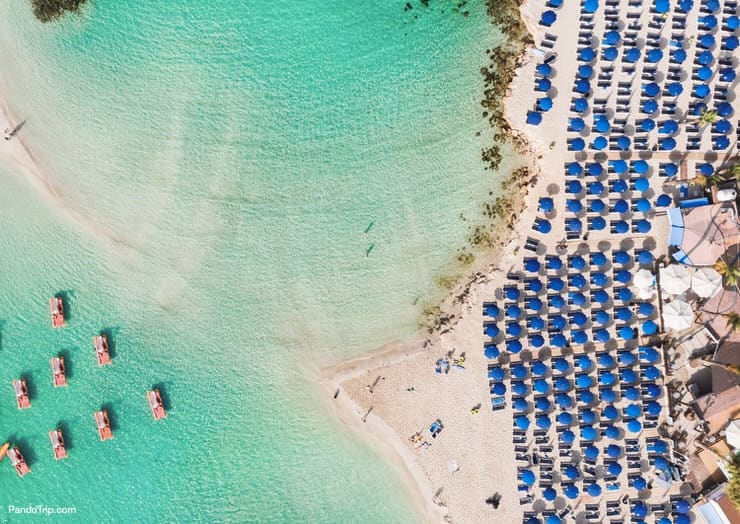 6. Barcelona, Spain
Barcelona is a city on the Costa Brava in Spain. It is world-renowned for its incomparable buildings designed by architect Antoni Gaudi. The massive urbanization is home to over one and a half million people and receives more than five times that amount of visitors every year. Apart from unique architecture and a famous football team, it's a city with some excellent beaches, top quality restaurants, and first-class nightlife.
All the Gaudi structures are works of art in their own right. From the spectacular pinnacled church of the Sagrada Familia to Parc Guell, the Casa Mila and the Casa Batllo, they're all impressive. The old quarter or Barri Gotic dates back to medieval times in parts. It is where the Picasso Museum, which displays over four thousand of his paintings, is located. A walk down La Rambla will take you through the heart of the city. There you'll find street cafes, tapas bars, and the infamous La Boqueria market. Football fanatics can take a tour of the Camp Nou Stadium and catch the Barca in action if they're there during the football season. To cool off after a day of sightseeing or to work on your tan, head to the city beach. It's one of the top city beaches in the world. Though don't expect to have it all to yourself, it's a major attraction in Barcelona and draws the crowds.
If you don't want to feel like a tourist when you visit Barcelona, you don't have too. Read how to experience it like a local here.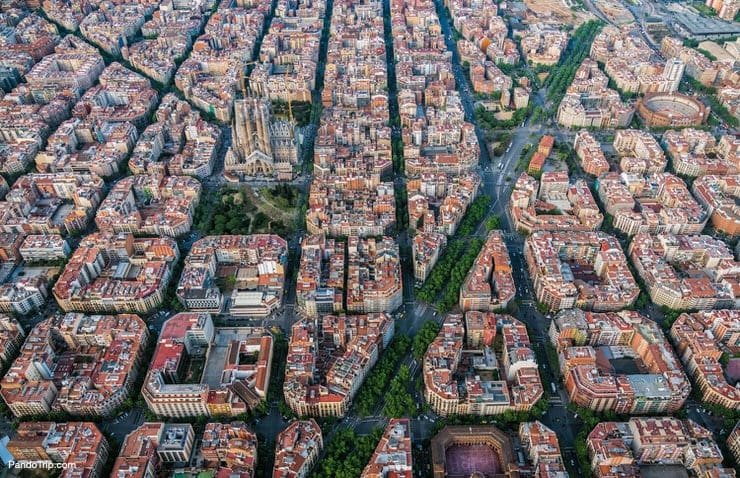 When To Visit Barcelona
Barcelona is amazing at any time of the year. In July and August, the temperatures blaze into the high thirties, and the streets are crowded with tourists as it's the high season. March to June are good months to go and so are September and October.
Tip: Around the end of September, Barcelona celebrates the end of summer with a huge street party called La Merce. The festival lasts for five entire days. If you're planning to go at that time, book your hotel well in advance as it's an extremely popular event.
Why Go?
There is no European city which can compete with the modernist architecture in Barcelona. The eye-boggling structures should be seen by everyone once in their life. It's a fantastic Mediterranean destination if you want to take a combined city/beach vacation and have some seriously sophisticated nights out.
TL;DR: Barcelona is the best Mediterranean city for breathtaking architecture, superb beaches, and interesting cultural activities.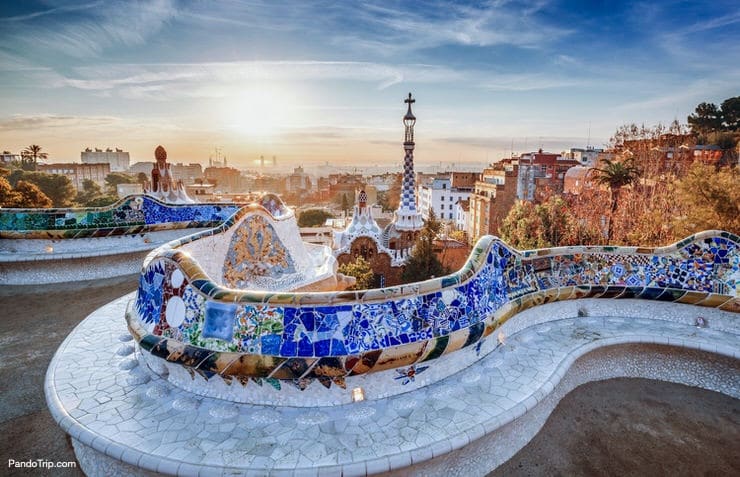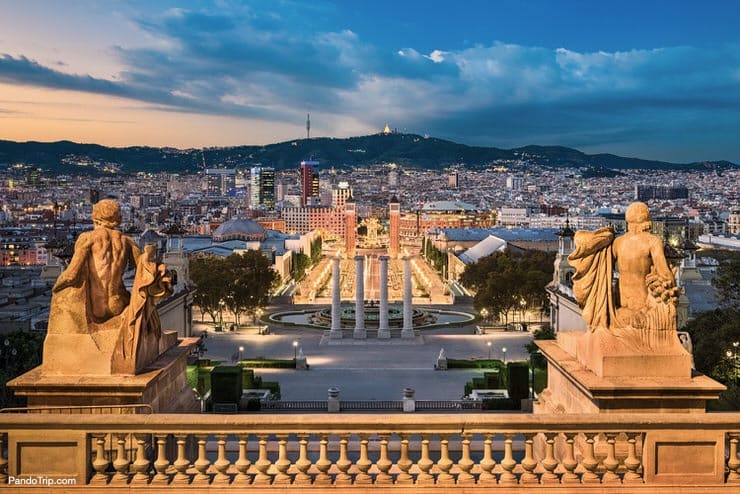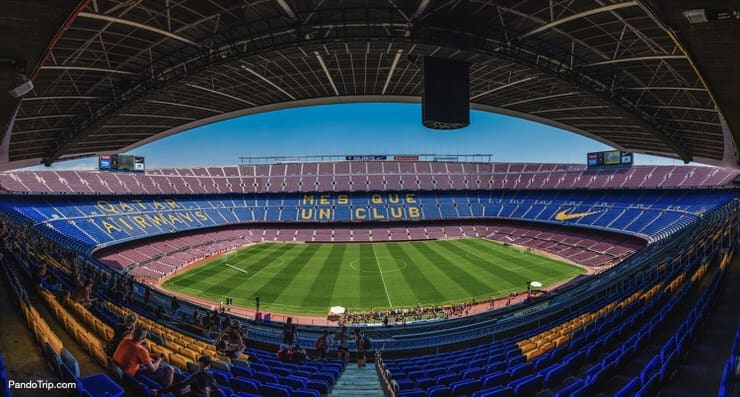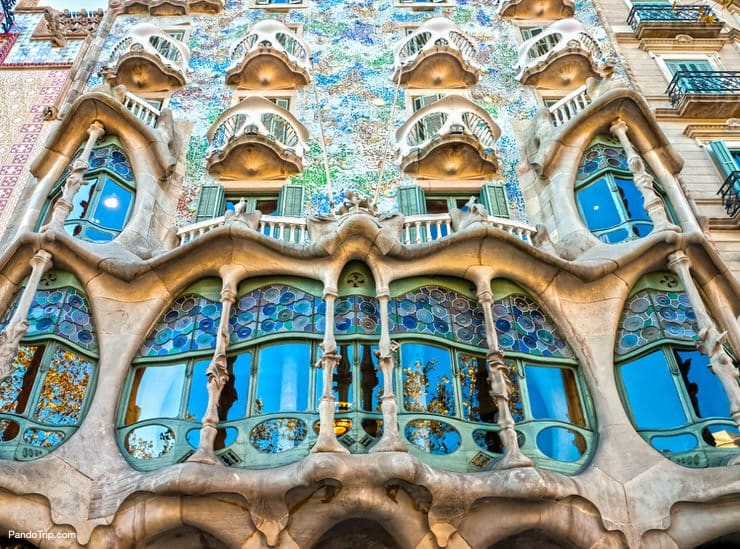 5. Dubrovnik, Croatia
Dubrovnik is a distinctive, old fishing and maritime harbor which clings to the coastline of Croatia. Surrounded by extensive fortified walls, the old city, also known as the Pearl of the Mediterranean, is a UNESCO World Heritage site. There are prime examples of Renaissance monuments including palaces, plazas, towers, and fountains throughout the pedestrianized historic area. Dubrovnik has three beaches, two are sand, and the other is a pebble beach. It's a truly stunning Mediterranean destination made even more popular by being the location where scenes from the series Game of Thrones were filmed.
There's no arguing that Dubrovnik is a mass tourism destination, but if you're prepared for the crowds, it is a place you should visit. Ride the cable car up Mount Srd along with everyone else, and you'll see some of the most impressive views in the Med and get some fantastic photos to post to your Instagram account. Wandering around the old city with its terracotta-tiled roofs is like entering a time capsule and best done at a time of day when it's relatively cool. There are organized tours for the fans of Game of Thrones which take you to the places where the dramatic scenes were filmed. You can also explore and find the spots on your own if you don't want to go with others.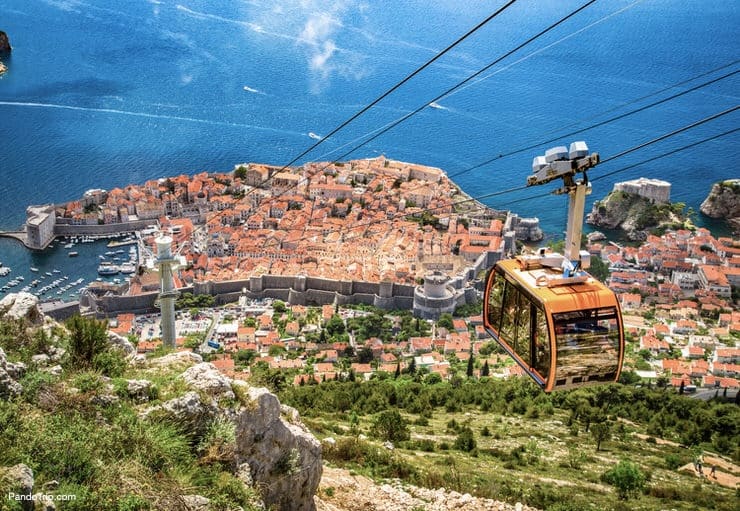 When To Visit Dubrovnik
Dubrovnik has a reasonably stable climate all year round with only moderate temperature increases in the summer months and occasional lows in winter. If sightseeing rather than sunbathing is on your agenda, then October through to April are the best months to go. The city draws plenty of visitors no matter what time of the year it is so don't expect to find the streets deserted whenever you go.
Why Go?
There's really nowhere else in the world quite like Dubrovnik with its archaic timeless appeal. Plus, how often do you get to wander at liberty around the film set of one of this century's most-watched TV series? You never know who you might meet.
TL;DR: Dubrovnik is the World Heritage UNESCO site used for filming Game of The Thrones, it has pretty beaches and an attractive, traffic-free historic center.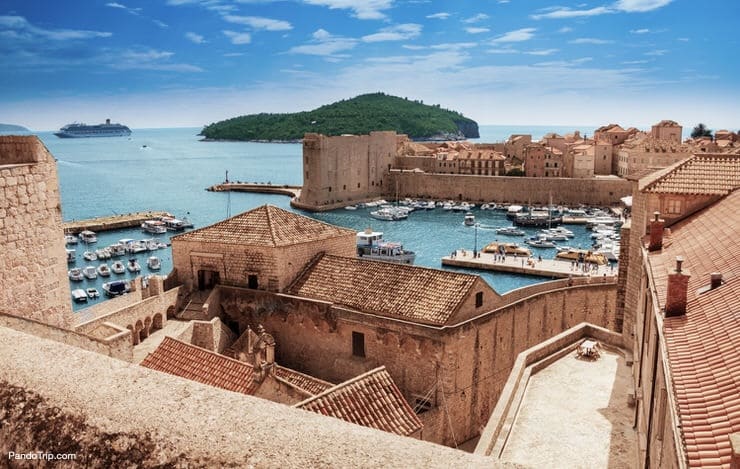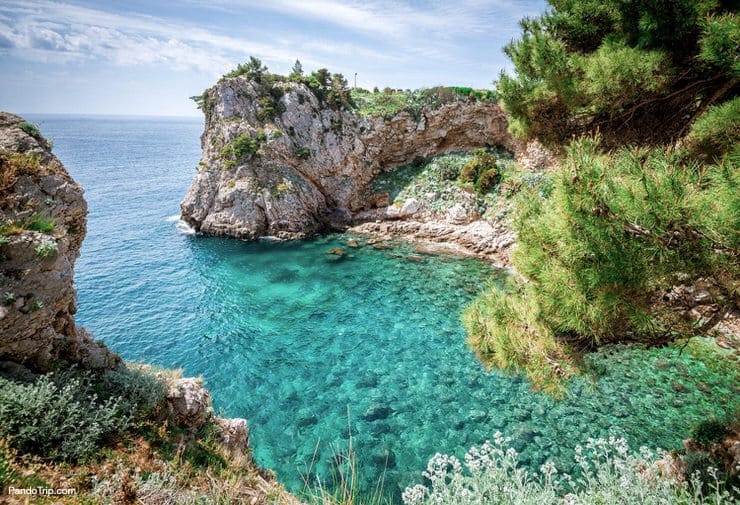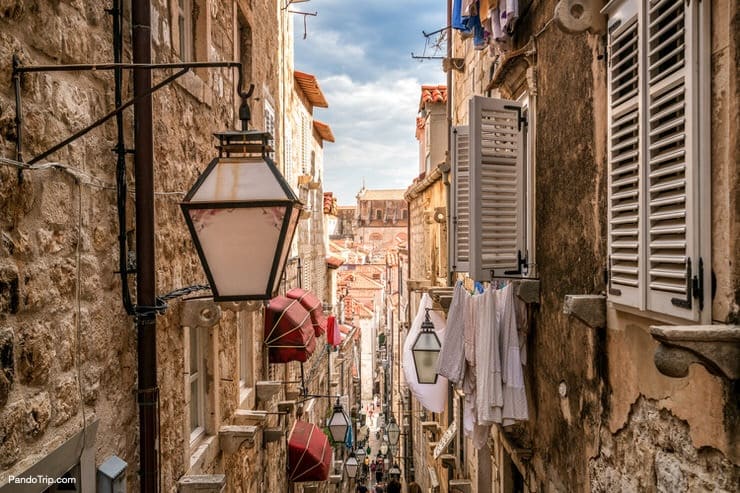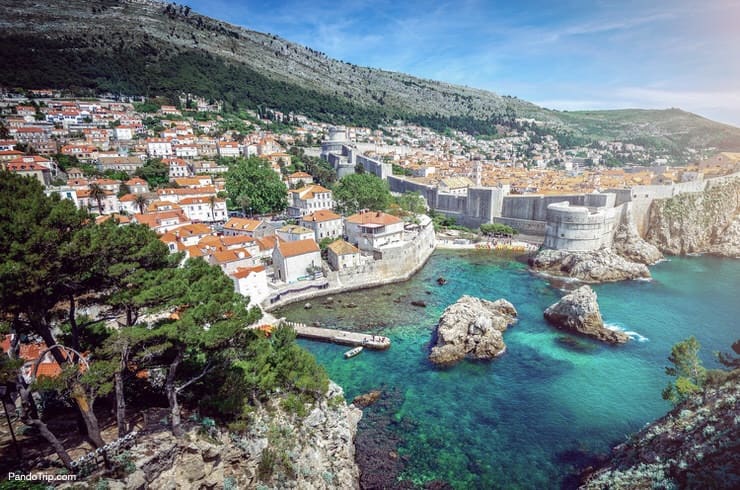 4. Mallorca, Spain
Mallorca, the largest of the Spanish Balearic Islands, has been a Mediterranean vacation hot spot for decades. While much of its coastline has been dedicated to mass tourism and adorned with high-rise hotels, the island's interior is relatively unspoiled. The capital, Palma de Mallorca, is a characterful, cosmopolitan city with historical buildings and a good stretch of beach. While Spanish is spoken, as well as the local language of Majorcian, the culture and gastronomy are very different from what you'll find on the mainland.
One outstanding natural feature of Mallorca which begs to be explored is the Serra Tramuntana – a UNESCO protected mountain range. There are excellent hiking and cycling routes, or you can drive through while enjoying the fantastic scenery from the car window. The city of Palma is a must visit to see the cathedral, the labyrinth of streets that are the old quarter and the luxury yacht marina. Palma has a very sophisticated nightlife scene too with an excess of bars, dancing clubs, and a casino.
Touristy, but still fun, are the Caves of Drach underground caverns in Porto Cristo and the monastery in Valldemossa where the composer Chopin was reputed to have stayed. The island is a beach lover's dream turned reality. There are vast stretches of sand in all the major resorts plus many small, protected bays or calas with their own beaches where you can spread your towel and chill out.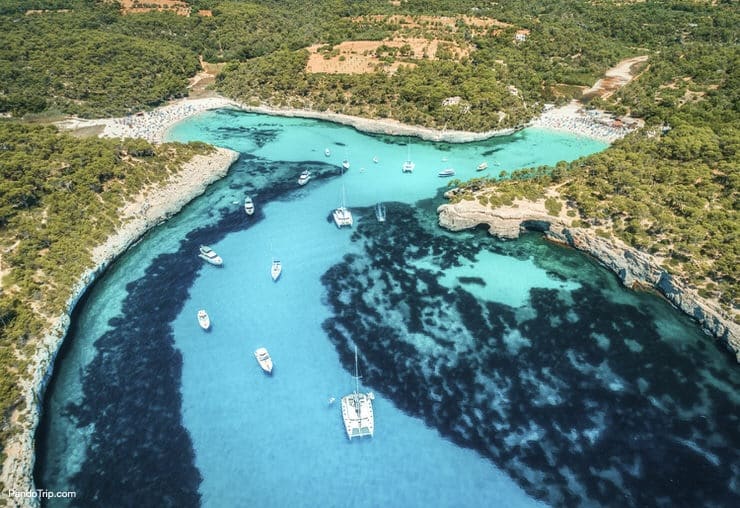 When To Visit Mallorca
Mallorca receives visitors twelve months of the year. Wintertime from November to the end of February is the low season and temperatures are mild. There can be occasional spells of inclement weather including snowfall in the resorts though that is a rare occurrence. Winter, Spring, and Autumn are the best times to go if you can't tolerate a hot climate because in the summer months temperatures rise dramatically. Summer is also the peak season when the island is invaded by sunseekers and those wanting to revel in the nightlife of the major resorts.
Why Go?
It's an island with an incredible landscape, even more amazing beaches, and a social scene to rival anywhere in the world. It's not been the top Med holiday spot for so long for nothing so go and experience why for yourself. You won't regret it.
TL;DR: Mallorca is a Balearic Island with mountains, beaches, a cosmopolitan capital city, superb resort areas, and totally unbelievable nightlife.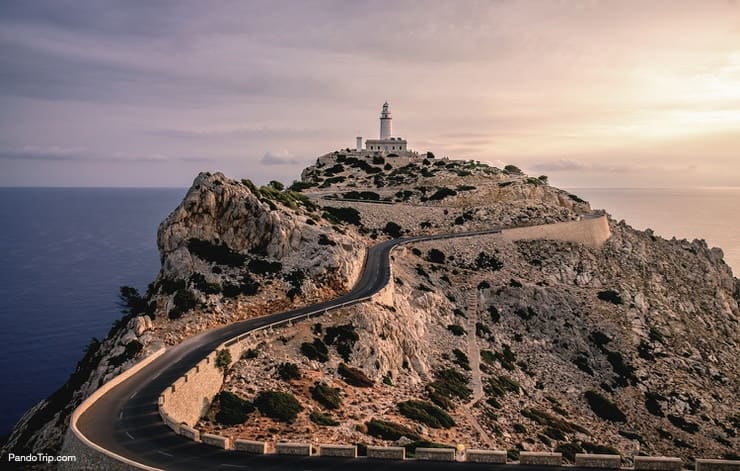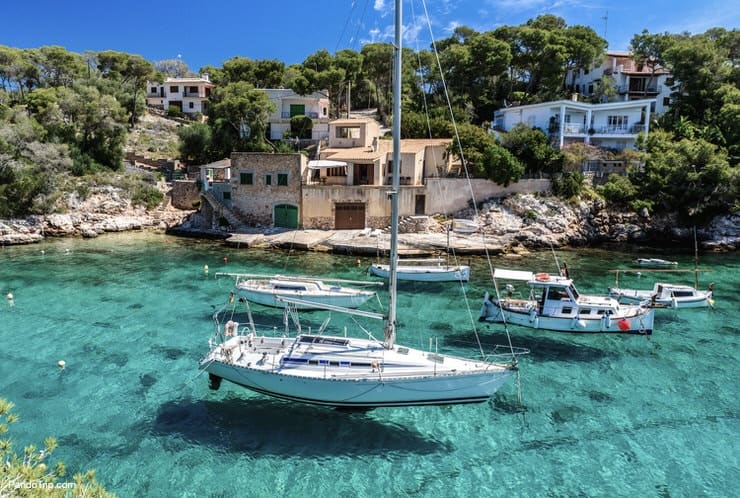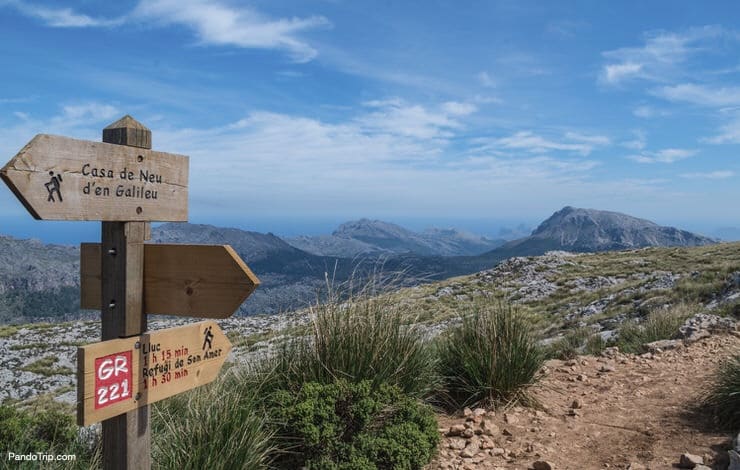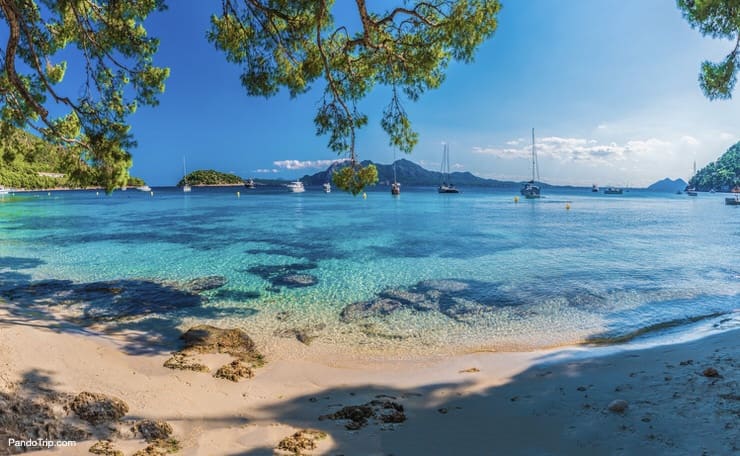 3. Santorini, Greece
If you choose Santorini for your Mediterranean vacation be prepared to be totally enchanted. The horseshoe-shaped island is formed from the remains of a volcanic crater. The whitewashed houses of the towns and villages cling to the cliff sides and are a vivid contrast to the dark rock they're built on. It is definitely a very picturesque place, but that's not the only thing which makes it really special.
From the towns on the west rim of the caldera, there are uninterrupted views of the sunset. It's a daily spectacular which is best seen from Oia, one of the most amazing towns in Greece. If you're into hiking, there's a nine-kilometer route running from Oia to Fira which is one of the top treks in the Med. Other towns worth exploring for their quaint charm and stupendous views are Firostefani, Imerovigli, and Akrotiri. Santorini produces quality wine and visiting the vineyards to see, and sample is a must-do and so is hitting the beach. Perissa, also known as the Black Beach, Vlychada or the Red Beach shouldn't be overlooked.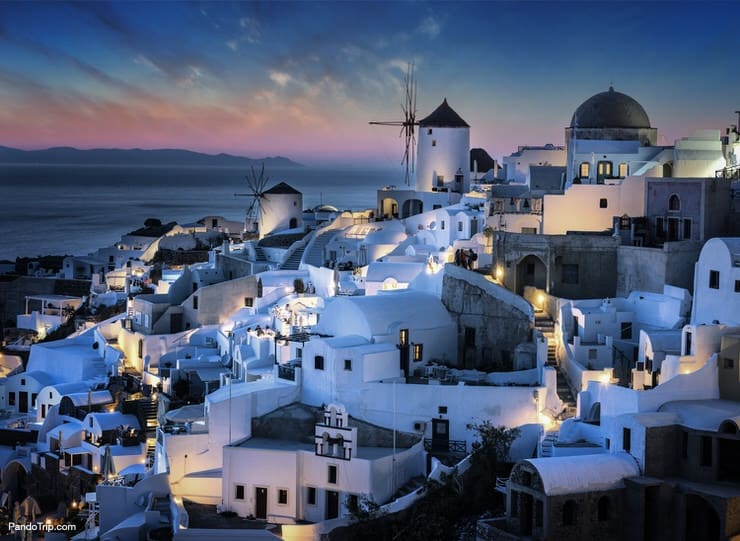 When To Visit Santorini
The tourist season in Santorini is from the beginning of April to the end of November peaking mid-summer in July and August. An optimum time to go is in September and October. The weather is still good but not as intense as in summer, the sea is perfect for swimming, and there are fewer people around.
Why Go?
Santorini is one of the most romantic Mediterranean destinations. Think breathtaking scenery, incredible photo opportunities, superb gastronomy and of course those more than fantastic sunsets.
TL;DR: For a romantic vacation, Santorini is practically unbeatable. Good food, great views, and astounding sunsets every day coupled with the genuine Greek hospitality makes it close to perfect.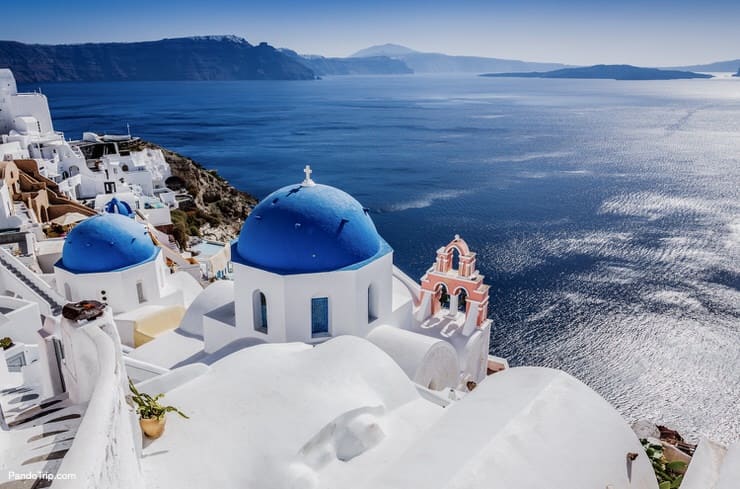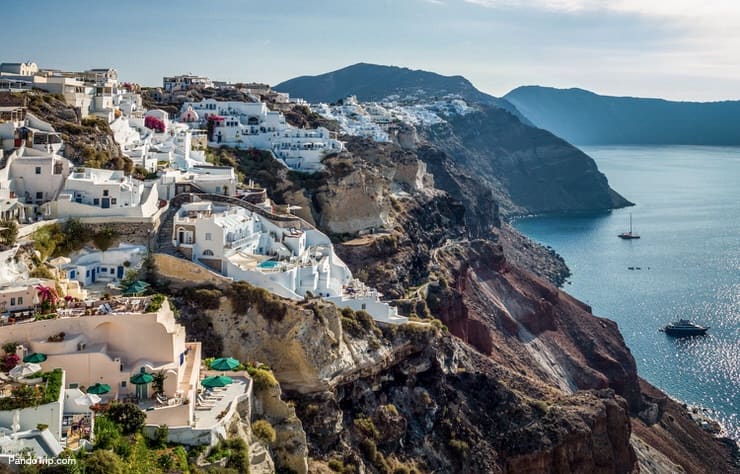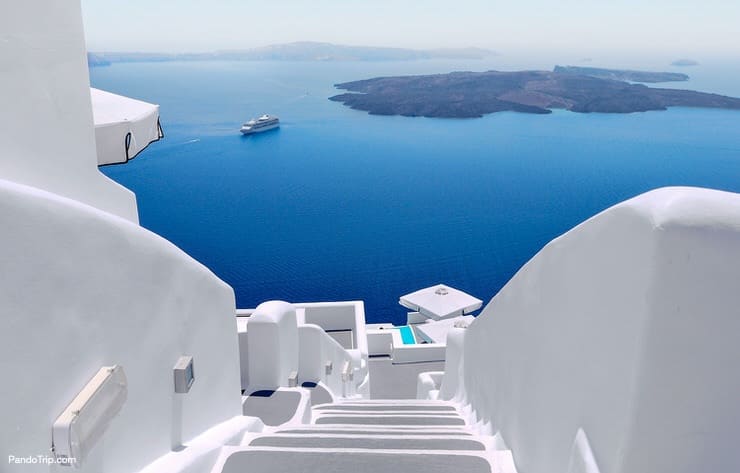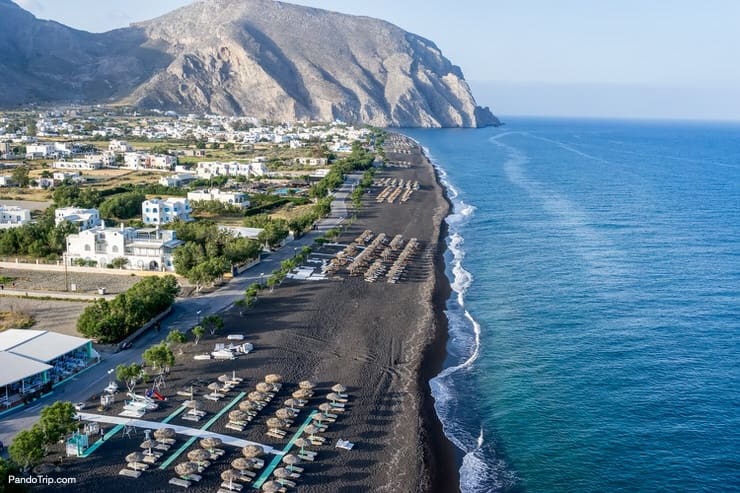 2. Corsica, France
Corsica is an island which snuggles midway between the French and Italian coasts. It ranks as the fourth largest in the Med and geologically speaking, its eight and a half thousand square kilometers are one gigantic mountain. Almost a third of the country's terrain is national parkland and the rest not as developed touristically as the majority of other Mediterranean islands. Known as the Isle of Beauty, the island is covered in pine forests and has dramatic mountainscapes with jagged peaks and deep ravines. There are beaches dotted all around the coast alongside the sleepy fishing hamlets where life goes on at a slower pace. For a relaxing vacation, it's is ideal.
Plage de Palombaggia is the top beach on Corsica and one of the most beautiful in Europe. It's an excellent spot for diving, swimming, and watersports as well as sunbathing. One of the activity highlights on the island is the one hundred and seventy-kilometer long hiking route GR20. Renowned for its grueling difficulty, the full route takes two weeks to trek by experienced hikers. Even shorter stages shouldn't be attempted unless you have a good level of fitness and some previous mountain walking experience.
Bonifacio, the capital, sits in an elevated position high up on a limestone cliff. It's a city with a lot of character, an interesting old quarter and citadel. The fortress town of Ajaccio in the south was the birthplace of Napoleon Bonaparte and is where you'll find a sixteenth-century cathedral with iconic works by the famous artists Delacroix and Tintoretto.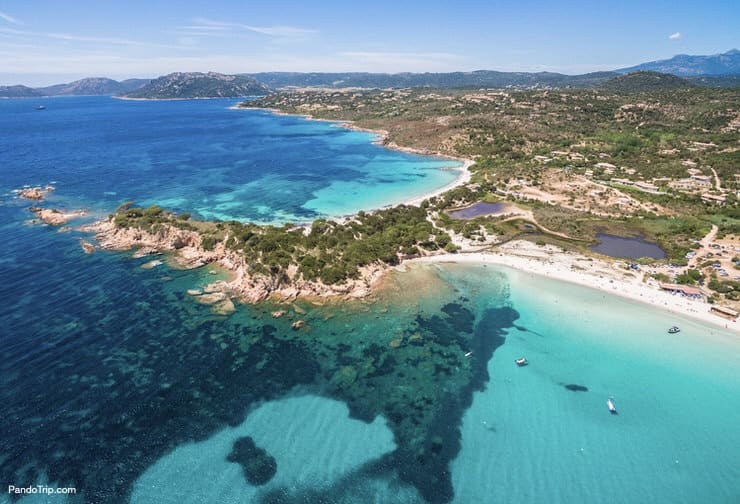 When To Visit Corsica
If you want to go hiking or walking then go to Corsica in September. Temperatures are moderate so ideal for outdoor activities, and it's sunny enough to get a decent tan. To be on the island when it's at its aromatic best, go in May and June when the Maquis shrubs are in bloom. Go at Easter if you enjoy pageantry as that is when the festivals and parades take place. If the reason you've chosen Corsica as your Mediterranean vacation destination is the GR20, then the time to pack your suitcase and head to the airport is June or early September.
Why Go?
Corsica has an unspoilt authenticity which is hard to find in many heavily visited places. It's natural beauty hasn't been marred by tourism and life there goes on as it always has. The local cuisine is rustic but tasty and then, for the adventurous, there's the GR20.
TL;DR: Corsica is a country of unspoilt natural beauty and culture. The birthplace of Bonaparte; it has fishing villages, beaches, mountain scenery, fortress towns and the GR20 hiking route.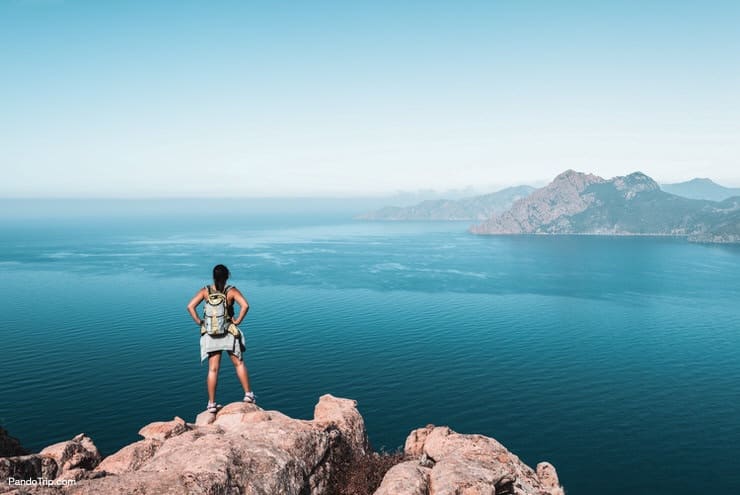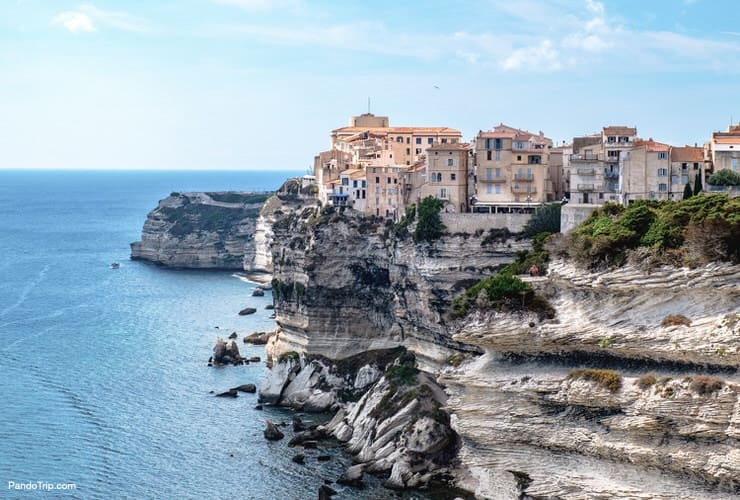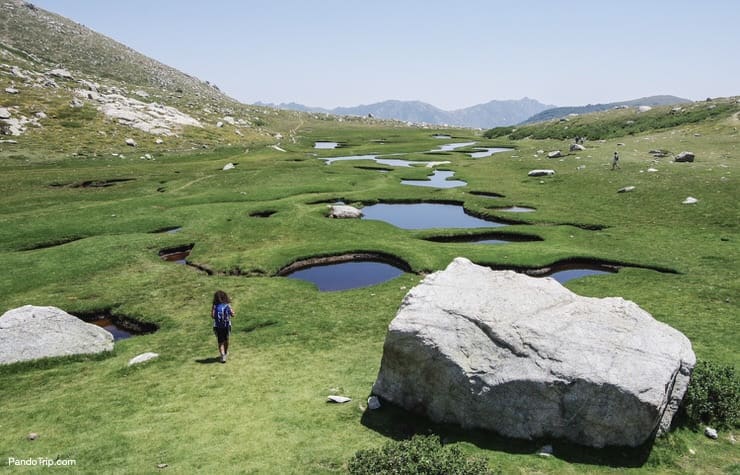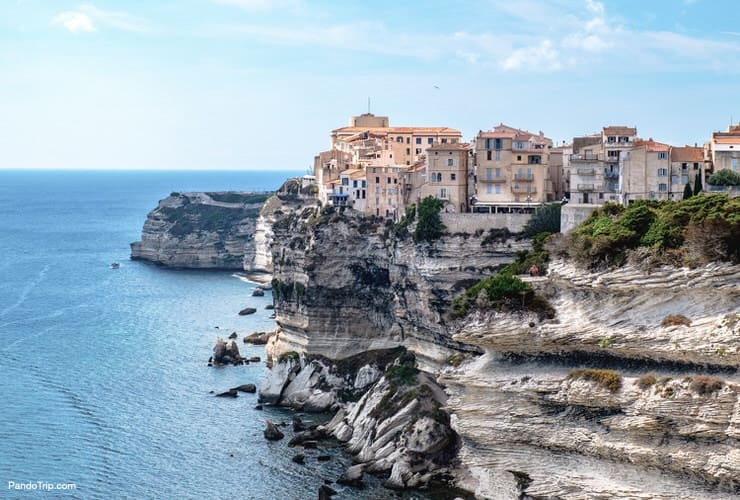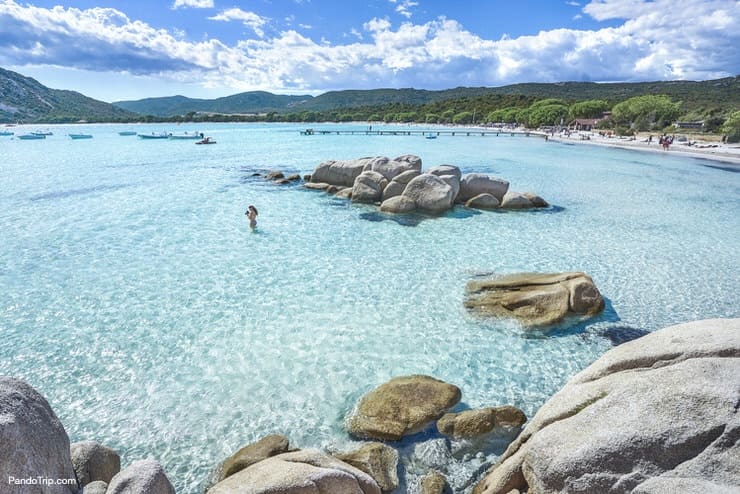 1. The Amalfi Coast, Italy
The Amalfi Coast is a forty-kilometer long section of Italian coastline stretching between the towns of Positano and Vietri Sul Mare. It is backed by an undulating limestone escarpment with sheer white cliffs and intercut by deep valleys terminating in bays lined with fishing villages. It is, according to UNESCO, an outstanding example of a Mediterranean landscape.
There are several towns along the Amalfi Coast you really should see while you are there. Positano is a maze of small streets and has a domed church. Ravello is a cliffside town with impressive sea views, a cathedral, and extensive gardens. Amalfi is the iconic town which gives its name to the entire coastline. Its most prominent feature is the blue-domed cathedral which towers over the town and beach. To escape the hordes visit the lesser known, but equally picturesque village of Atrani. The hiking route running from Agerola to Nocelle is a gentle downhill trek which rewards walkers with indescribable views of the Amalfi Coast and the Isle of Capri in the Bay of Naples.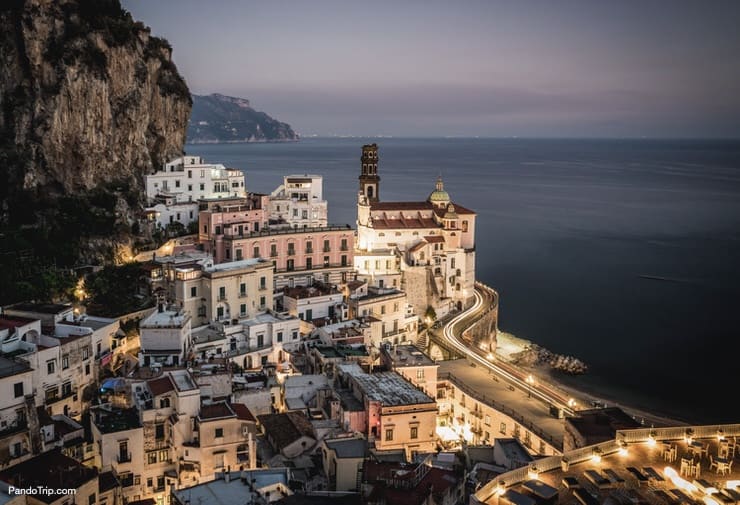 When To Visit The Amalfi Coast
Spring is the prime time to take a vacation on the Amalfi Coast. The summertime is hot and so overcrowded it's hard to find a parking space. The weather in autumn and winter can be rainy.
Why Go?
To see for yourself this UNESCO merited landscape, to explore its urbanizations, to enjoy the Italian culture and cuisine.
TL;DR: The Amalfi Coast's striking scenery is said, by UNESCO, to be an outstanding example of Mediterranean landscape. Full of quaint and colorful coastal towns and villages, it's the best place to discover what Italy has to offer.