Nestled in a tidy corner of the Pacific Ocean lies the famed Polynesian Triangle: one of the three major island groupings of Oceania (along with Melanesia and Micronesia). Comprised of the American Hawaiian Islands to the North, New Zealand to the Southwest and Easter Island to the Southeast, the Polynesian grouping of islands has long been held up as a collection of preeminent touristic destinations known the world over. Though technically comprised of over 1,000 separate islands, this article will focus on the top ten destinations, based on a robust criteria of scenic vistas, amenities, and overall one in a million atmospheres.
Thinking of planning a sojourn the the middle of the Pacific for some out of this world island hopping? Look no further than this handy guide to help you make the most of your island getaway. Before, that is, you book your boarding pass.
10. Niue
Niue, self-governing island off the main island of New Zealand (and in fact, the smallest self-governing body in the world!), is a stunning little island whose name literally means "behold the coconut." It is also famously home to one of the most extensive raised coral atolls on the planet. Though Alofi is it's capitalistic center and home to diplomatic affairs, the entire island is worthwhile for it's beautiful abundance of shady coves and rocky beaches, along with its famed coral reef.
Why Go? As a independent governing body, Niue is home to a subcategory of Polynesian culture, whose language and nuanced cultural practices are rapidly being dissolved by Western influence. Visit soon to catch Niueans in the last blossom of their native ways, including national holiday Peniamina Day (also called Gospel Day) in October, and a chance to practice your Niuean language skills. Also, if you're a fan of marine mammals, Niue should be at the top of your list for a trip between July and September, as a lucky snorkelers will often find themselves face to face (or else, snorkel to face) with the humpback whales on the regular.
9. Tutuila, American Samoa
Tutuila is commonly known as the largest island of American Samoa. Though sometimes lumped in with the Hawaiian islands due to proximity and mutual connection the United States, Tutuila proves that American Samoa is a destination in its own right. It's capital city, Pago Pago, which also acts as a main harbor and is considered one of the deepest and most impressive natural deepwater harbors not only in the South Pacific, but in the world. But, incredibly, the majesty of Pago Pago may just pale in comparison to Tutuila's many mountainous peaks and stunningly lush rainforests.
Why Go? The island also boasts copious hikes to waterfalls, including the famously pristine Nu'uuli Falls, viewpoints for turtles and sharks, and the famed local Fagatogo Market. All of these things are framed by the must-see contrast between Tutuila's black lava terrain and the surrounding bright blue sea as seen from various points all over the island.
8. Bora Bora, French Polynesia
A longstanding international tourist destination particularly popular with Europeans, mostly due to its association with what's known as French Polynesia, Bora Bora boasts a lovely mixture of Polynesian beauty and modern amenities. Though most visitors go to enjoy some well needed R&R from the vantage point of its famous lagoon, or at most, atop a dormant volcano, the island also boasts both interesting outposts of Polynesian history, and certain relics of World War II, including cannons dating back from Bora Bora's use as an American military base.
Why go? It is, of course, worth noting that James Michener called Bora Bora "the most beautiful island in the world" and James Cooke used its lovely shores to coin the term "the pearl of the Pacific." Sound impressive? Or like something you'd like to experience? Well, then, go see it for yourself.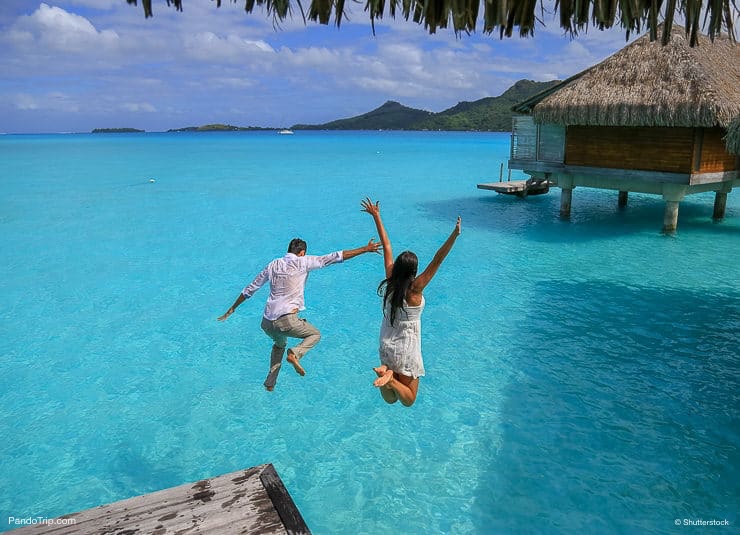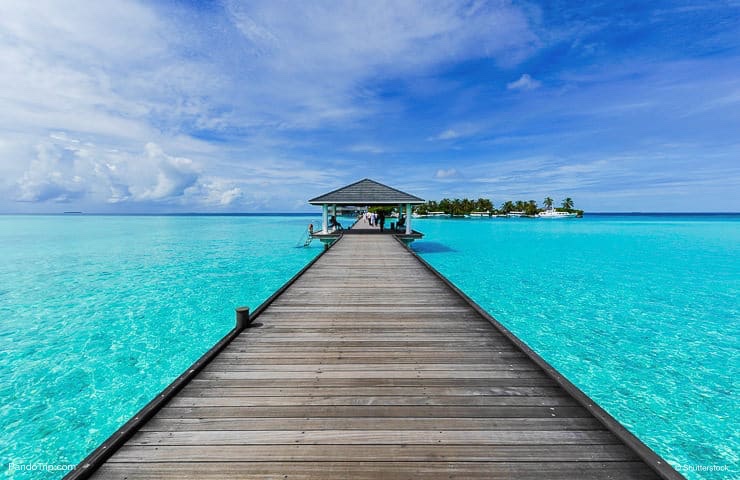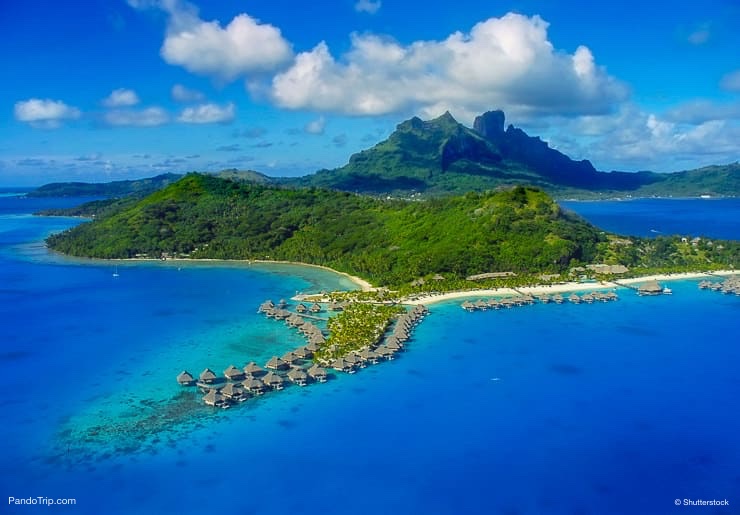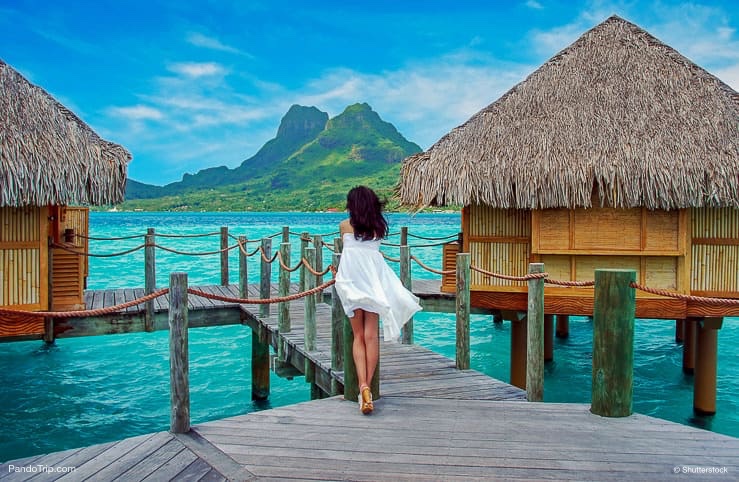 7. Vava'u Islands, Tonga
First thing's first: who doesn't want to visit an island shaped like a giant jellyfish? Indeed, some of the greatest aspects of the Vava'u Island group have to do with sea dwelling animals: whether it be its synonymous shape, its beautiful coral reefs practically overflowing with colorful marine life, or the fact that it might possibly be the greatest place in the world to spot (and maybe even swim with) humpback whales! If you do fancy yourself a would-be friend to our friends under the sea, do your research: pick a tour focused on sustainability and eco-friendly tourism, and expect to spend about $150-200 US dollars.
Why go? If coral reefs and whales aren't enough to tickle your fancy, Vava'u features a ton of island activities, from beautiful beach relaxing to water sports and lush island hiking, as well as a pleasant capital city in Neiafu.
6. Easter Island, Chile
What can we say about Easter Island that hasn't already been said? The place is definitely one of the most amazing historic monuments in the world. Though technically a Chilean territory, Easter Island has a name that is practically as well-known as Polynesia itself. A bastion of the ancient culture of the Polynesian triangle, and its Southeastern-most point, Easter Island may be famous for its Rapa Nui National Park and statues, but it is also a natural wonder in its own right. Visitors to the island often remark upon a mysterious, ancient feeling that permeates the land.
Why go? The nearly 1000 separate moai statues have been considered a preeminent UNESCO World Heritage Site since 1995. But statues aside, Rapa Nui National Park is a uniquely eye-catching sight worth exploring in its own right: it boasts beautiful vistas of natural splendor, and an abundance of other stone monuments; from houses and walls to petroglyphs. Camping enthusiasts will find their bandwidth for splendor widened by a night or two spent under the stars in Rapa Nui or the surrounding areas.
5. Rarotonga, Cook Islands
The biggest and brightest of the Cook Islands, Rarotonga joined the Western world by way of its 1823 discovery by Captain John Dibbs. Ties to the West aside, the Cook Islands are hardly the most populated vacation spot in the Polynesian isles. It is, in fact, a relatively secluded spot (if such things can be said to exist) and a thus famous place for honeymoons. Beaches like Muri Beach are renown for good reason, and all the usual beachfront amenities (including truly majestic seafood) are all present for interested parties.
Why go? Rarotonga is an island just begging to be explored. Not only does the island have decent public buses (well, for an island at least), there are also many scooter and car rental spots for the more do-it-yourself type of guy or gal. The intrepid wanderer will find themselves up to their eyebrows in secluded and once in a lifetime swimming spots and waterfalls.
4. Upolu, Samoa
Another Samoan destination makes the list! Though this one comes from the independent, not the American side of town. Among world class sights and hospitality, Upolu boasts truly special things such as being native to the world's smallest species of spider (roughly the size of a printed period on the page of a book), the burial site of famed writer and explorer Robert Louis Stevenson, and of course, To-Sua Ocean Trench, also known as the most amazing swimming spot in the entire world.
Why go? To-Sua is the thing that attracts most guests to this island: a perfectly symmetrical swimming hole (literally known as "big hole with water coming out") in the middle of a lava field jutting out from the spectacular coastline and filled with bright emerald water. Other must-sees in Upolu include diving, surfing and fishing spots known the world over.
3. Nuku Hiva, French Polynesia
Second to Tahiti in size, but in no other way, the French Polynesian Island known as a Nuku Hiva lacks the over-the-top personality and population of so many of its neighbors. Local town Taiohae in particular conjures up images of times fishing villages long gone by, though the entire island seems to have an old-world feel, though it does boast certain modern amenities (including comfy accommodation and even a single ATM machine!).
Why go? while many travelers find themselves perfectly happy on the bigger more touristic islands that pepper this list, people go to Nuku Hiva in order to escape the hustle and bustle of foreigners on beaches far from home. Nuku Hiva travelers will much more likely find themselves on secluded beaches all to themselves, or spending time in the great outdoors, seeing the island by foot.
2. Kauai, Hawaii
A list of famed Polynesian Islands wouldn't be a list without a shout out to one of the incredible Hawaiian Islands. Not as imposing or volcanic as the big island, or as populated as Oahu, Kauai makes the list for exactly the lack of Western influence that has taken over in places like Honolulu or even neighboring islands like Maui. Kauai registers as more rural than rollocking, and yet, for the rough-it type of Polynesian adventurer, we believe it strikes just the right chord. Just don't forget to pack an umbrella! Torrential downpours can happen year-round.
Why go? Favorites of both locals and visitors include the beaches and Cliffside vistas along the stately Na Pali National Park, especially its gorgeously lush vegetation. A close second is the Wailua Falls, which is worth much more than its shout out on the Fantasy Island TV show. Both make for easy hikes and have not yet found their way into the realm of an overcrowded tourist trap.
1. New Zealand
We've saved the best for last! Or, at very least, the biggest. Few people on planet Earth haven't heard of New Zealand: little brother to Australia, a land equal parts old world-Polynesia and new age Western. Though English is a native language and the island has long been part of the British Commonwealth, much of the exceedingly rich cultural heritage of the Polynesian Maori people persists and is, in fact, a huge draw for many. Wellington is the capital and Auckland is the biggest city, though many will tell you that few come to NZ for its urban centers.
Why go? Other draws to this enormous island include the fact that it provided the backdrop for the Lord of the Rings trilogy. Stopping by modern day Hobbiton is a great way to take in NZ natural wonder and cultural importance. Not a film buff? Well then, you'd be equally happy dipping in Lake Tekapo (or staying at a B&B in town), staring into local fjord Milford Sound, or wading through the Waitomo Caves to take a gander at the millions of glow worms who call them home.