Along the southern coast of Florida, you will find a chain of islands called The Florida Keys. The iconic Seven Mile Bridge and Old Seven Mile bridge are treasured landmarks here.
It is rare to see two expertly engineered structures alongside one another built a century apart! Stretching over the Atlantic ocean, no less. The old bridge has an inspiring history of one man's vision, taking engineering to new heights. Or, in this case, lengths.
Today, the modern bridge is frequented by daily motorists. The newly restored old bridge is ideal for walking, cycling, and fishing on sunny days.
Let's find out more about these bridges and why they are well worth visiting.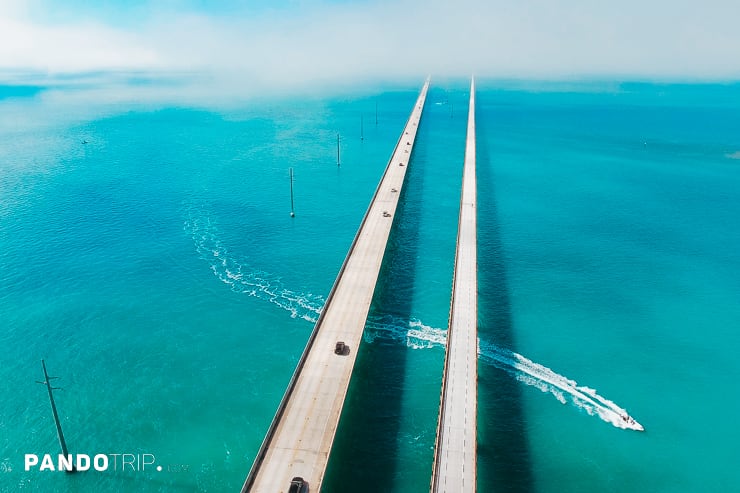 History of the Seven Mile Bridge
In the 19th Century, a business visionary named Henry Morrison Flagler found himself in Florida. Having made millions in the oil industry, he built a hotel in St.Augustine and founded the Florida East Coast Railway.
By 1896, his train was successfully traveling all the way to Miami. This was a huge accomplishment. Yet, Flagner was determined to extend the railway to Key West. Another good 100 miles or so.
At the time, several people laughed at the idea of this being a success. However, Flagner's ambition and determination would prove them wrong.
In 1905, he took $30 million from his own investments. Alongside his team of engineers and workers, they faced navigating through swamps with crocodiles and constantly scratched mosquito bites. In addition, his team was often hungry, and freshwater was not always available.
He lost workers due to heatstroke or snakebites. Finally, in 1908, his team reached Marathon Key. To their horror, there were about 7 miles of open water ahead.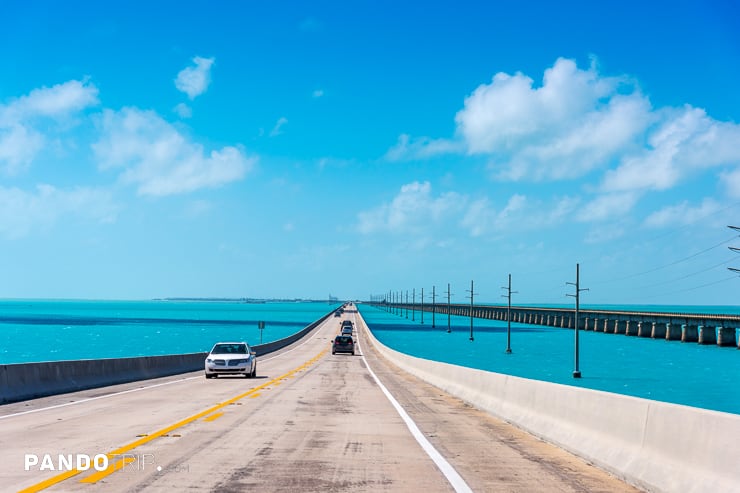 Remarkably, Flagner kept going. He rounded up what little resources he had available and managed to get cement that dries underwater from England.
He sent divers to secure underwater structures. Not an easy task! Two miles in, he established a camp on Pigeon Key. The sleeping accommodation of tents and bunkhouses are still there to this day.
In 1912, the Old Seven Mile Bridge was completed. In 1916, Flagler, now 82 years old, arrived by train in Key West. Despite all the hardships along the way, dreams really do come true. Even if it does take a lifetime!
Unfortunately, in 1935, a hurricane with winds reaching 125km per hour caused massive devastation. Many lives were lost, and Flagners railway was destroyed and not fit for rail travel.
In 1938, the railway was renovated to accommodate motor vehicles. Also, fishermen took advantage of this ideal fishing location. Several residents and visitors took a drive to Pigeon Key.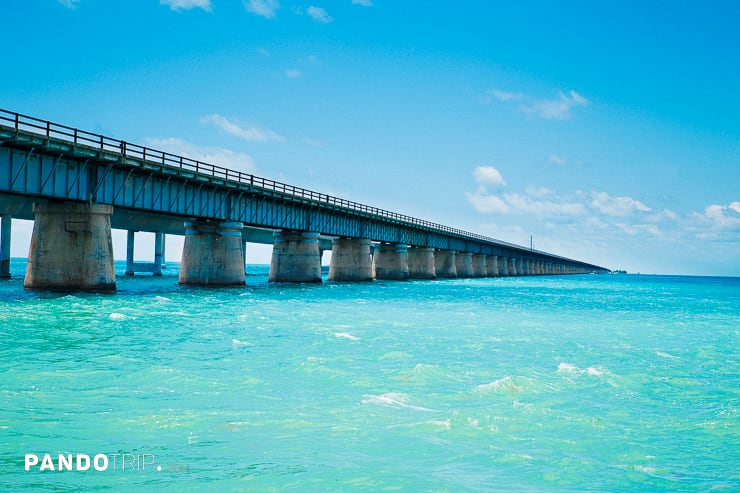 Here, the original camp set up by Henry Flagner is still erected, ensuring his life dedication and determination can be witnessed well into the future.
In 1982, the State of Florida proudly opened the modern Seven Mile Bridge. This magnificent bridge connects Knights Key (in the Middle Keys) to Little Duck Key (in the Lower Keys). As spectacular as this bridge is, it is only open to vehicle traffic.
The old bridge remained open for fishermen, cyclists, and walkers until 2017. Due to structural concerns and safety, access was permanently closed except for pelicans and great blue herons eyeing their next meal.
It is not all gloom and doom. For the next 5 years, reconstruction works were well underway. A whopping $44 million was invested in restoring a treasured part of history.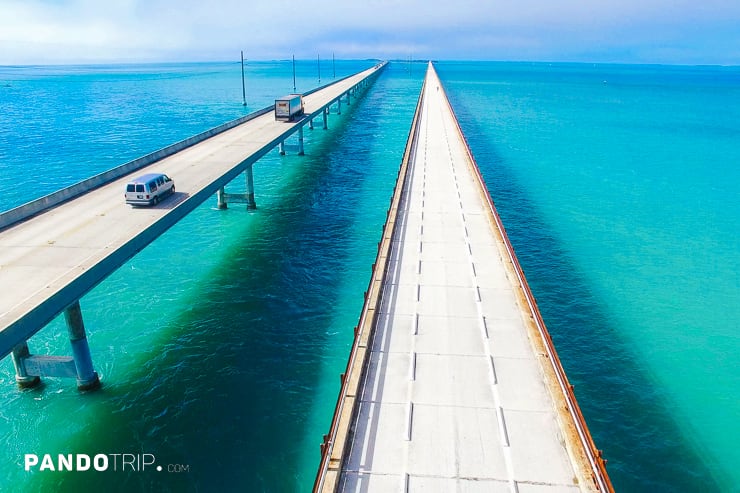 Re-opening of the Old Seven Mile Bridge
In January of 2022, the new and improved old bridge was re-opened! Closed to motor vehicle traffic, the bridge accommodates walkers, cyclists, and fishermen once more. Also, a brand new 60-passenger tram begins operations this spring.
The tram runs a return trip from Marathon to Pigeon Key. Today, Pigeon Key is a historical and education center and a railway museum. You can explore the original structures in place dating back to the Henry Flagner days.
There are a variety of activities to take part in on Pigeon Key. These include guided tours and snorkeling. You are welcome to bring a picnic and fishing equipment along. Remember a set of binoculars to view the spectacular birdlife.
Once back on Marathon, you can enjoy a meal at one of the restaurants. The Sunset Grille and Raw Bar, 7 Mile Grill, and Lighthouse Grill are excellent options. Then, check into the Isla Bella Beach Resort or perhaps the Faro Blanco Resort and Yacht Club for a luxury Florida Keys vacation.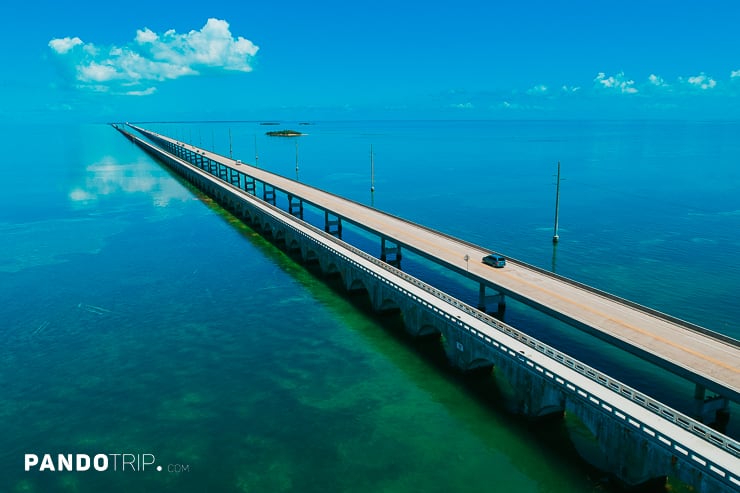 Why is the Seven Mile Bridge famous?
The old Seven Mile Bridge forms a big part of American history. Equally, the new Seven Mile Bridge shows us how far we have come with civil engineering.
The old bridge, known as Old Seven, is listed on the National Register of Historic places. Once, it was called the Eighth Wonder of the World due to its natural beauty.
The view from the Old Seven is breathtaking. Beneath you, the Atlantic ocean displays many shades of blue, teeming with tropical sea life. You may spot sea turtles, spotted rays, hammerhead sharks, and endangered sawfish.
Above you, the sky is scattered with striking Florida clouds. Speed boats zip on the waters. Not forgetting, the modern bridge is in clear sight.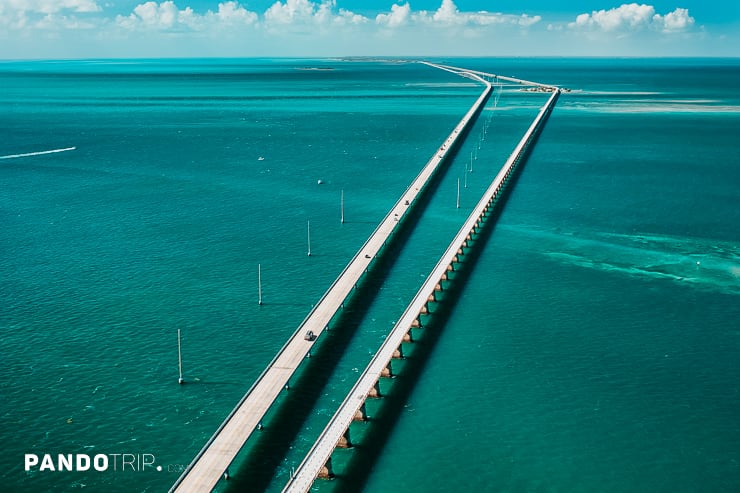 How to get to the Seven Mile Bridge?
From Central Florida, you can hop onto the US-1-S highway or Florida's turnpike. Either route takes approximately 5 h 40mins. Alternatively, you can catch a bus from Fort Lauderdale, which takes about 4 h 20 mins. The cost varies from $40 – $95.
Useful Information
Open 7 days a week
Parking is available on the northside of Old Seven and to the side of the US-1.
An additional 35 parking bays were added during the restoration.
Pigeon Key operation hours are daily, 9am – 5pm.
Ferry tours operate every 2 hours, starting at 10am
To avoid disappointment, book any tours to Pigeon Key in advance.
Pets are NOT allowed on Pigeon Key.
Dogs are allowed to be walked along Old Seven on a leash.
NO fishing is allowed on Old Seven (Pigeon Key allows fishing with your own equipment and valid fishing license)
No motorized vehicles are allowed on Old Seven.