If you've never seen photos of Havasupai Waterfalls, scroll down this page and be ready to add this place to your travel bucket list. This secret (but not so secret) paradise of waterfalls is located in the Grand Canyon, Arizona. The Grand Canyon itself is an amazing place, but the waterfalls of Havasu Creek are the cherry on the cake.
Swimming in the turquoise blue waters of Havasu Creek with the roar of the falls echoing off the walls of the Grand Canyon ringing in your ears, you'll feel like you're in the movie Avatar. So, let's take a closer look at this breathtaking desert oasis and see what we can unearth.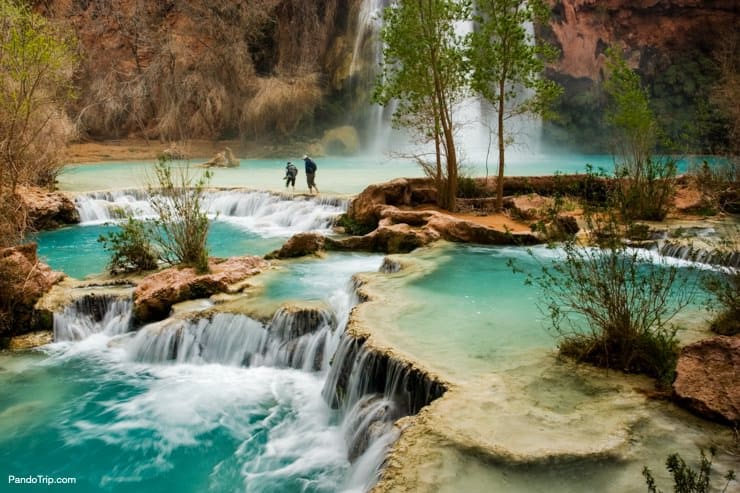 Permits
First things first, there's only one way to visit Havasu Creek legally: you have to have a permit. There's no other option – no permit, no entry. And don't try sneaking in. You'll never get past one of the many rangers on duty.
There are two ways of getting a permit, and both are incredibly hard. You can either reserve a place in the campground or in the Lodge. Unfortunately, about a million other people try making reservations every year and the campsite capacity is only about 350 people plus 24 rooms at the Havasupai Lodge. Do the math. Basically, your chances of getting a permit to Havasupai is about the same as winning the lottery.
How to make the Havasupai Campground reservation. Camping reservations for the entire calendar year opens on February 1st, at 8am Arizona Time on the www.havasupaireservations.com website. Bear in mind that the permits usually sell out in the first few hours, so create your account a few days before and be online before 8am.
How to reserve the Havasupai Lodge permit? Lodge reservations go on sale on June 1st and can only be made by telephone (928-448-2111 and 928-448-2201). Be prepared to make hundreds of calls. As I said before, you're basically playing the lottery, so the more "tickets" you'll have, the better your chances of winning will be.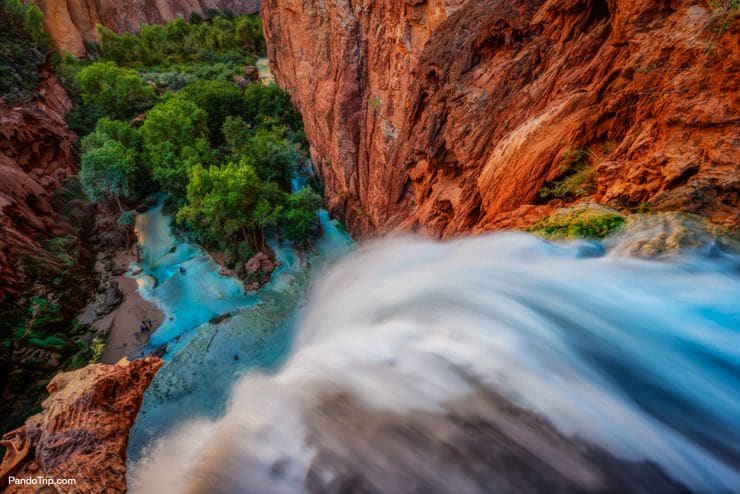 How to get to Havasu Creek Falls?
Let's assume that you 'won the lottery' and have now got your permit to visit the Shangri-la of waterfalls. Congratulations, you're a lucky bastard and now it's time for you to prepare for your adventure.
First of all, you'll need to drive there, and the good news is, you'll have to take Route 66. Yes, that Route 66. The famous, iconic and totally stunning Main Street of America! After some time driving along this road, you turn off onto Indian Road 18 and follow that until you reach Hualapai Hilltop parking lot. This parking lot is the place where the trailhead is. A quick tip: the last possible place to fill up your gas tank or buy some food or water is Peach Springs Airport on Route 66, so don't miss it.
There are two ways to get to Havasupai Waterfalls from the Hilltop parking lot – one route for the lazy ones, and one for the more adventurous.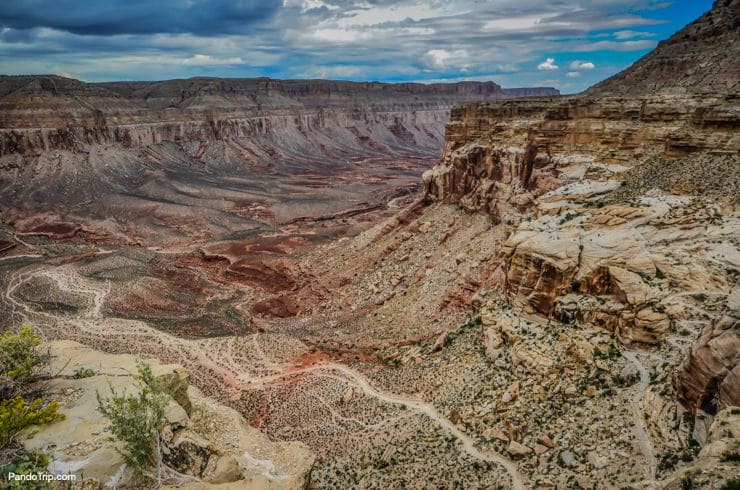 If you're lazy (or have health issues or are traveling with young children), you can take a helicopter ride, which costs $85 per person each way. Board the helicopter in the area below the trailhead parking lot. It's worth noting that it's not possible to make a reservation, it's first come, first served. So you basically have to check in at the pickup point and wait for your turn. Flights start at 10am but be there at least two or three hours beforehand to be sure of getting a place. Also, bear in mind: the helicopter only operates on Thursday, Friday, Sunday and Monday.
Another more popular option is hiking. As I mentioned before, the trail starts at Hualapai Hilltop parking lot. I would recommend arriving there the night before and sleeping in your car or a tent, so that you can start your hike early in the morning. The earlier you start, the happier you'll be. The temperature can reach 115°F (46°C) during summer months so, unless you were born in the Sahara Desert, you don't want to hike in the middle of the day.
If you're not in great physical shape, you could consider the option of renting a mule to carry your bags. Mules must be reserved in advance and you can do it online. It's quite cost-effective, especially if you share the expense with the other people in your group. But before making your final decision, take a look at this site.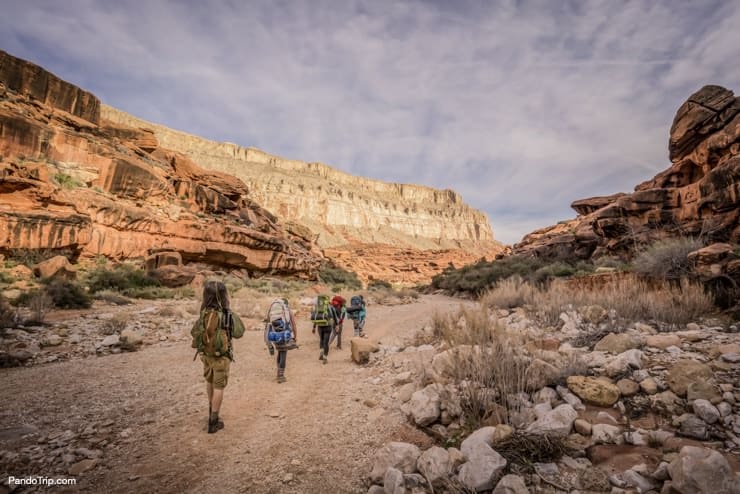 The trail itself is tough to hike and, depending on your level of fitness, it can take anywhere from 4 to 7 hours to finish. The first section goes from Hualapai Hilltop to the Supai Village and is 8 miles (13km) long. When you reach the village, you should check in at the office, where you'll be issued with a wristband that you need to wear at all times. In the village you'll find a store and a restaurant that serves really good food. Mind you, maybe the food isn't actually so good, maybe it's just because everything tastes like heaven after 8 miles of hiking. After visiting the village, there's another 2-mile (3km) walk to the campground.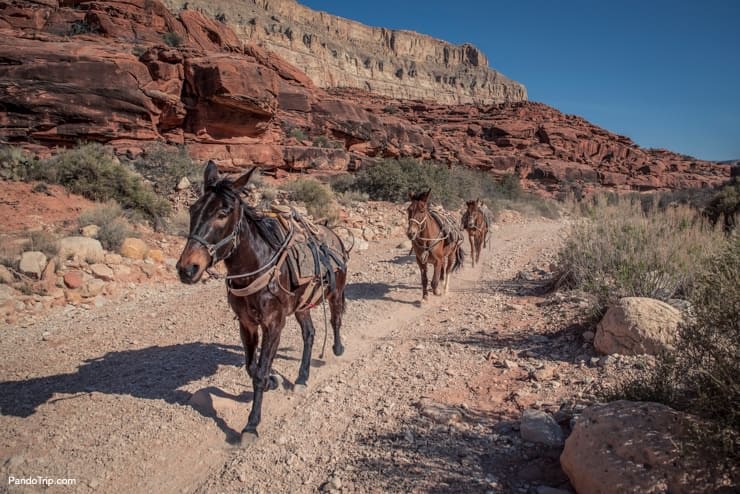 Hiking To Havasu Falls Map
Waterfalls of the Havasu Creek
Havasu Falls is probably the best known of the Havasupai Waterfalls, but it's not the first one you'll meet on your hike. There are five main waterfalls of Havasu Creek, each more stunning than the last. You'll move through the falls in the following order: Upper and Lower Navajo Falls, Havasu Falls, Mooney Falls and Beaver Falls.
Upper Navajo Falls (or New Navajo Falls) are the first you'll reach after leaving the Supai village on your way to the campground. The falls are located off the main trailhead and it requires a little climbing, but it's definitely worth a visit. Lower Navajo Falls (or Little Navajo Falls) is located 0.15 miles (0.24km) below Upper Navajo Falls and is about 30ft (9m) high, with a great swimming hole. Until 2008, there was only one Navajo Falls, but that year a mudslide rerouted Havasu Creek, thereby creating two new falls, but that's no bad thing – two is always better than one.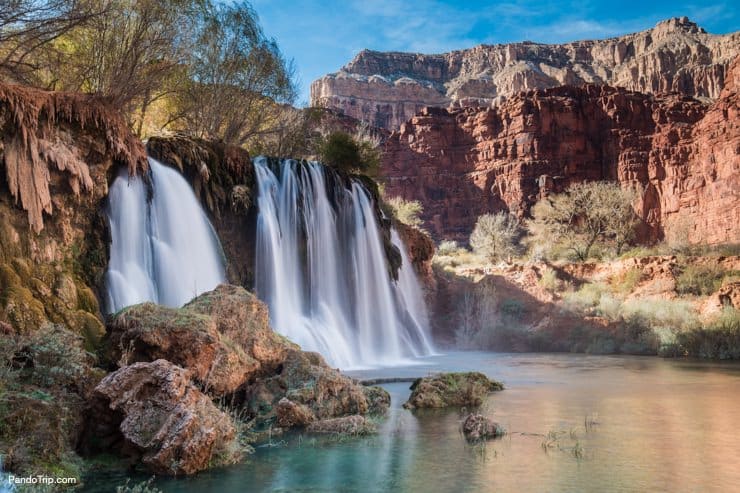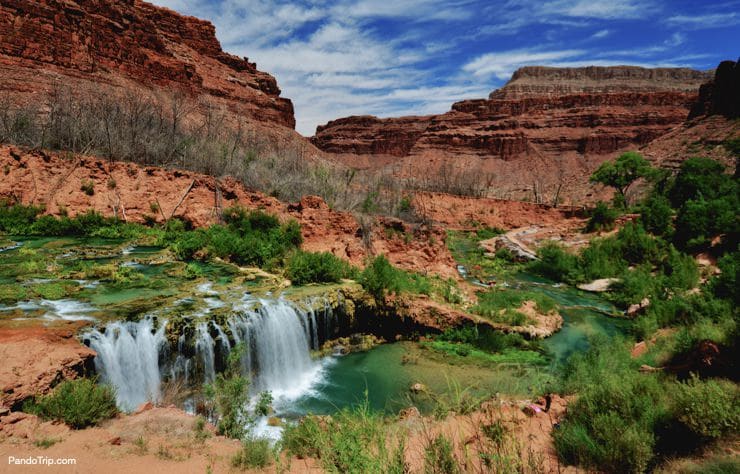 The next on your journey is the highlight of the trip – Havasu Falls. Located just a quarter mile before the campground, it's the most photographed waterfall in Havasupai, and with good reason. But even the best images can't compare with the feeling you'll experience the first time you see this natural wonder with your own eyes. It's very very tempting to just drop everything and stay there forever. I would definitely recommend going to the campsite, dropping off your bags and coming back for a proper visit.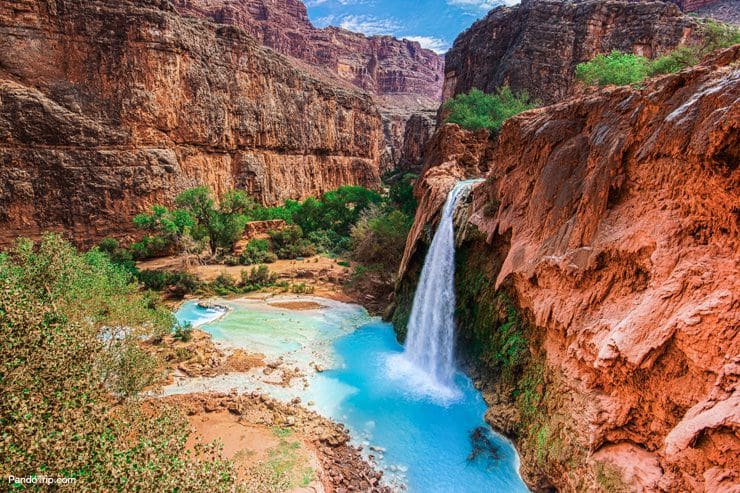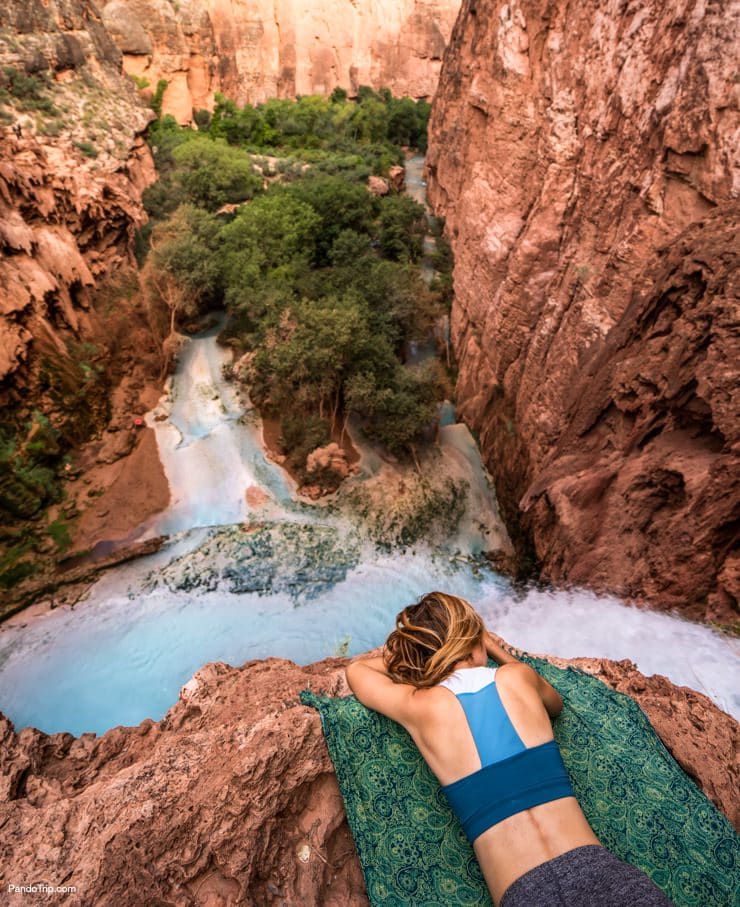 Almost as picturesque as Havasu Falls is the nearby Mooney Falls. It's the highest, most powerful and perhaps the most spectacular falls of Havasupai. To fully experience the power of these falls, you need to climb down to the bottom of Mooney using chains and ladders. If you're afraid of heights, it won't be very pleasant for you, but it's not as bad as many internet accounts make it seem.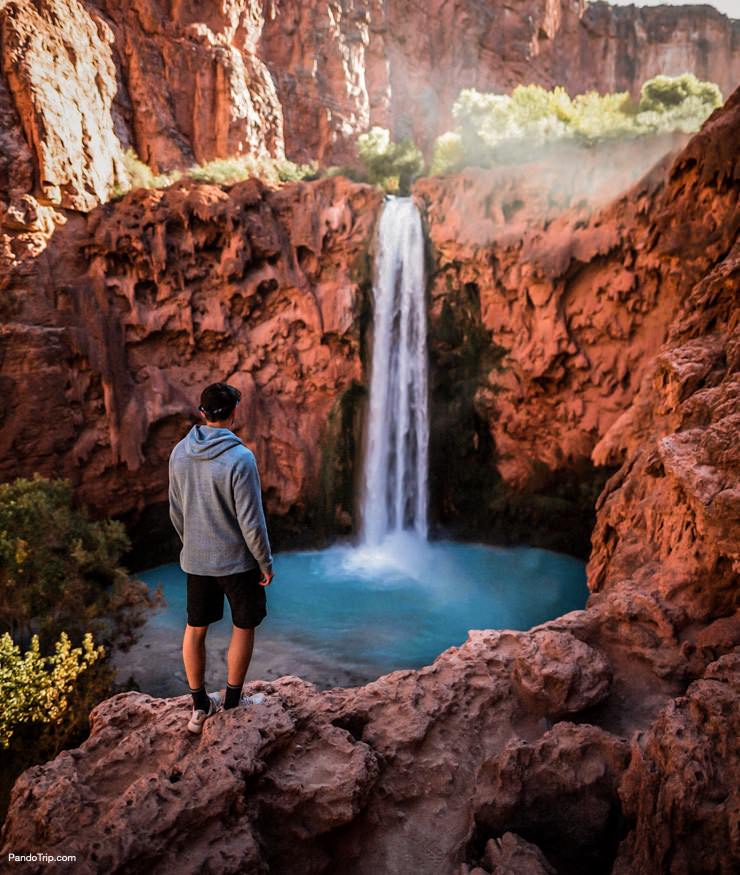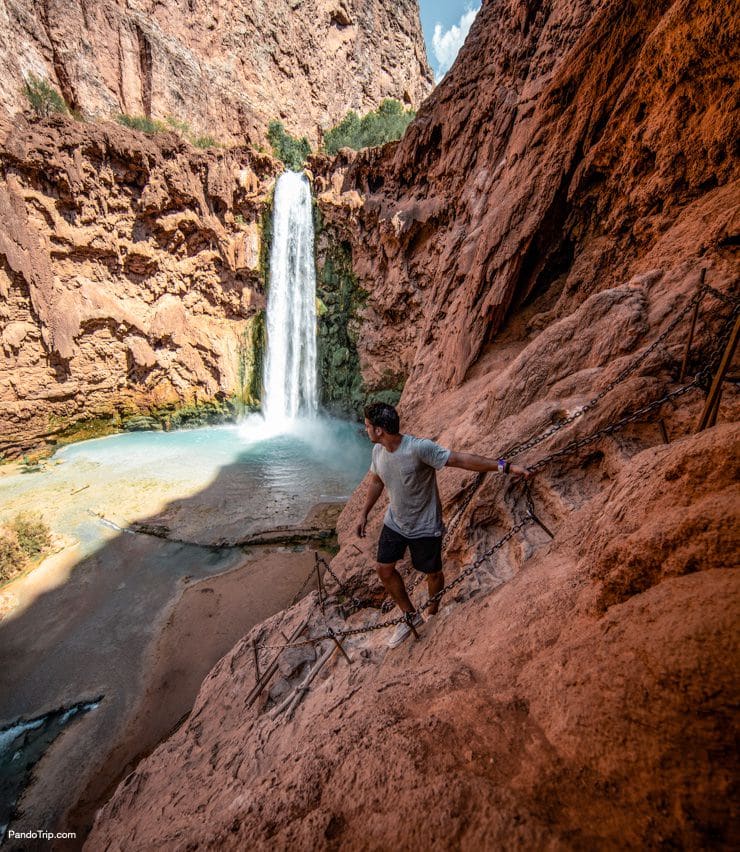 Last but not least is Beaver Falls, a range of falls that's even harder to reach than Mooney Falls, but the hike is an excellent adventure with ladders, ledges and magnificent views. You'll also have to wade through waist-deep water several times, so water shoes are a must.
Besides the waterfalls, you can also visit the confluence of Havasu Creek and the Colorado River,  an impressive and captivating spot where the blue waters of Havasu Creek meet the brown Colorado River.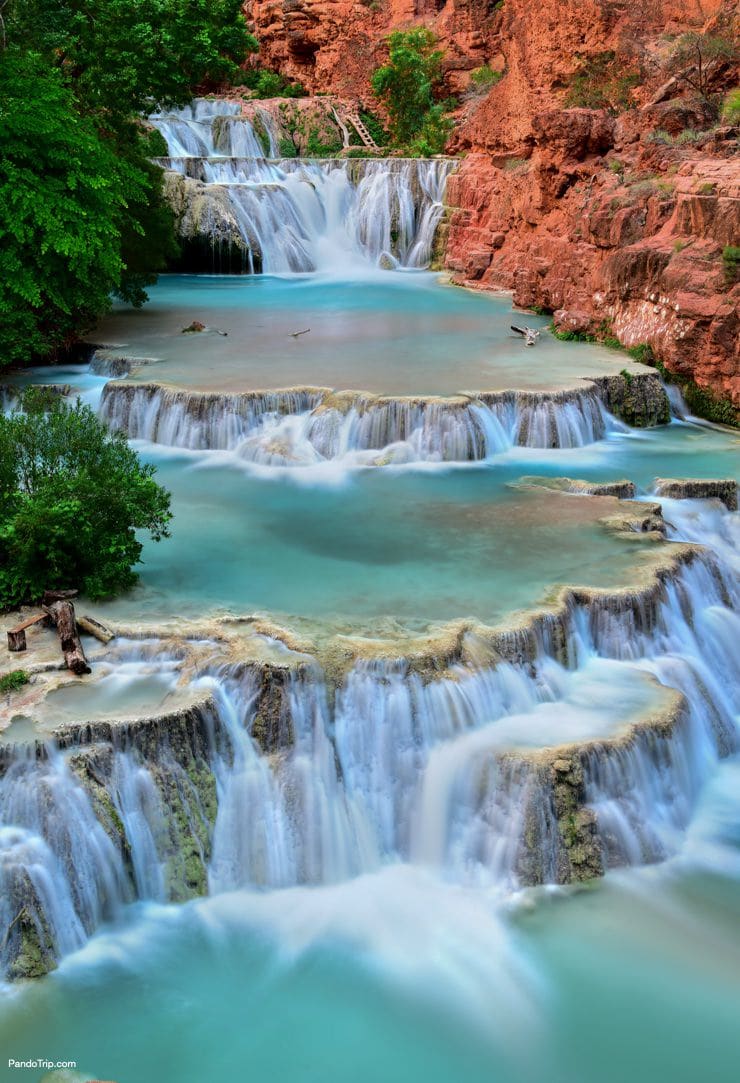 Swimming in the Havasu Falls
Can you swim in Havasu Falls? Yes, yes and yes. These amazing waterfalls aren't only a treat for your eyes, you can swim, float and dive into each of them. My advice? Bring a float with you. There's no better feeling than floating down the creek or relaxing in one of the swimming holes near these beautiful waterfalls.
Upper and Lower Navajo Falls are a good place to start your swimming experience. Neither are as crowded as the other falls in the area and both have nice pools to relax in. The upper falls are larger (50ft or 15m) and have a great spot where you can swim through the cave behind the waterfall. The lower falls have a 30ft (9m) tall cascade that ends in a perfect swimming pool. Both Navajo falls are relatively short and many people jump into the water from the surrounding rocks, despite the fact that cliff jumping is not allowed and can be dangerous. If you're going to do it anyway, just make sure the water is deep enough beforehand (and don't come crying to me if you crack open your skull or break a leg).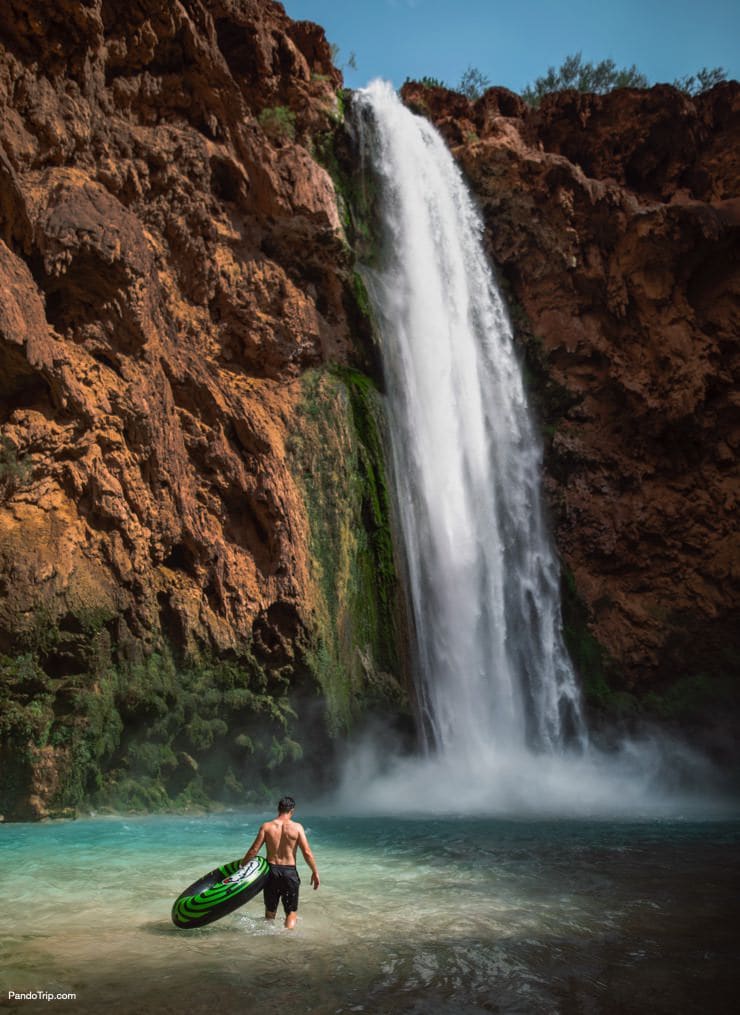 Havasu Falls is probably the best waterfall for swimming. It's much more powerful than Navajo Falls, but still totally swimmable and even non-swimmers can enjoy the refreshing water there. There's a large pool that's about 5ft (1.8m) deep. The best part is that you can swim behind the falls and explore the secret corners of the cliffs.
The water of Mooney Falls feels a little bit cooler because it's shadier there. But still, the swimming is amazing, with multiple pools and holes to float in and jump into. What's more, they have a really fun little rope to swing from.
The quadruple cascading Beaver Falls has superb swimming holes between each of its four drops. You can even jump from one fall to another or climb behind them.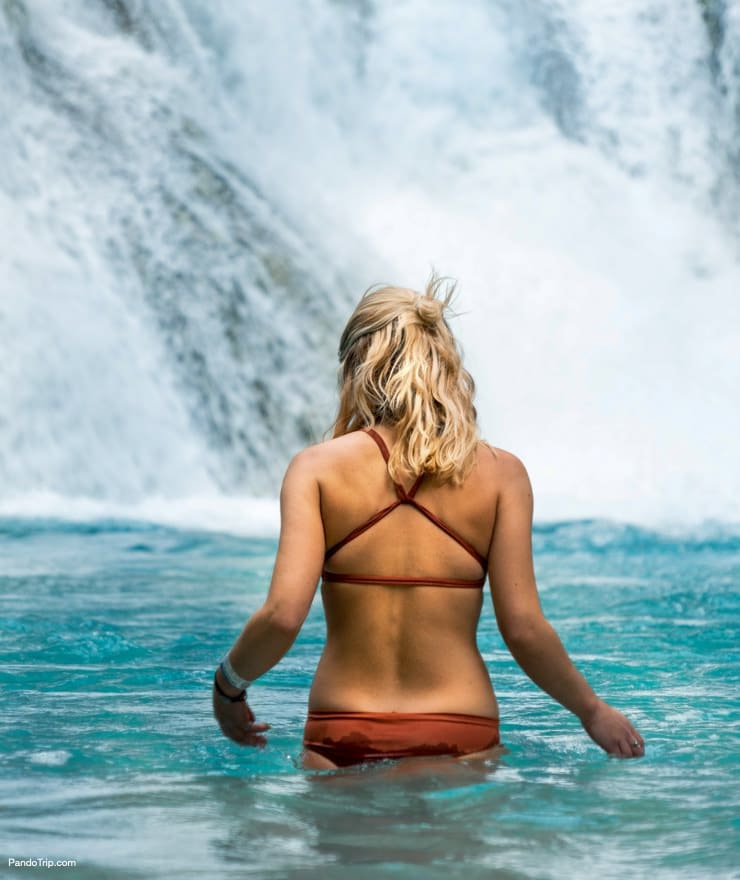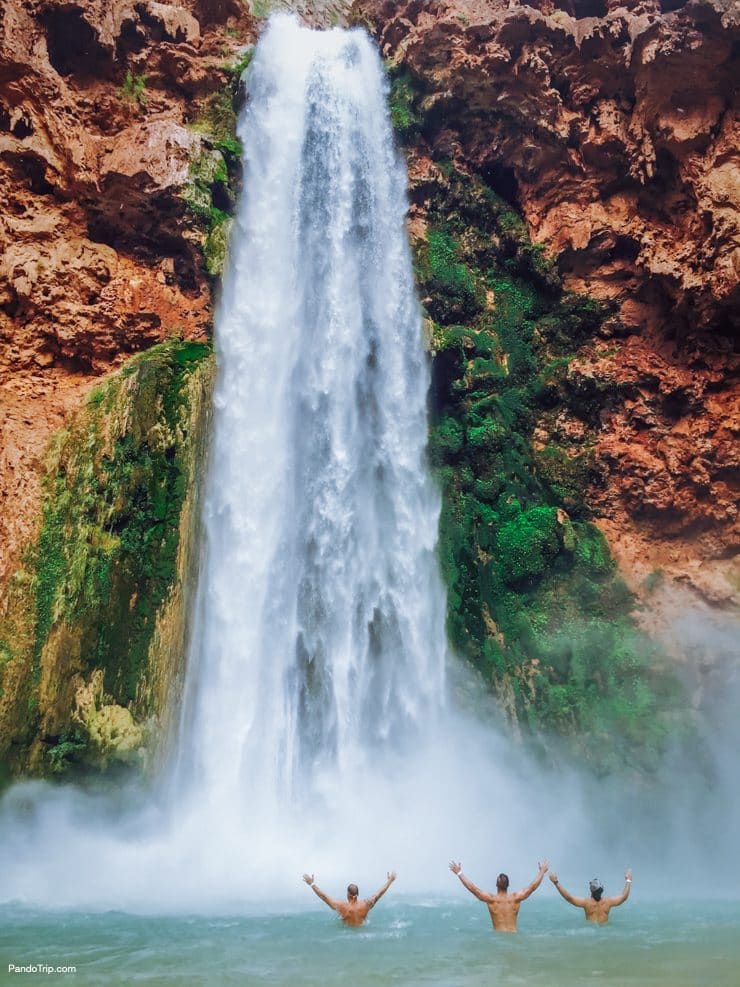 Best time to visit Havasu Creek for swimming
The water temperature of Havasu Creek is about 70°F (21°C) throughout the year, so perfect for swimming. However, in March or late October, the experience might not be so pleasant. During these months the weather outside is relatively cold – about 40-70°F (5-21°C). So if your priority is swimming, you should probably visit between April and October. Just bear in mind that July and August is peak season, so prepare to meet some crowds. Also, that's when it gets really hot. The temperature can reach 115°F (46°C), which is awesome if you're just floating in the water, but not so cool for hiking.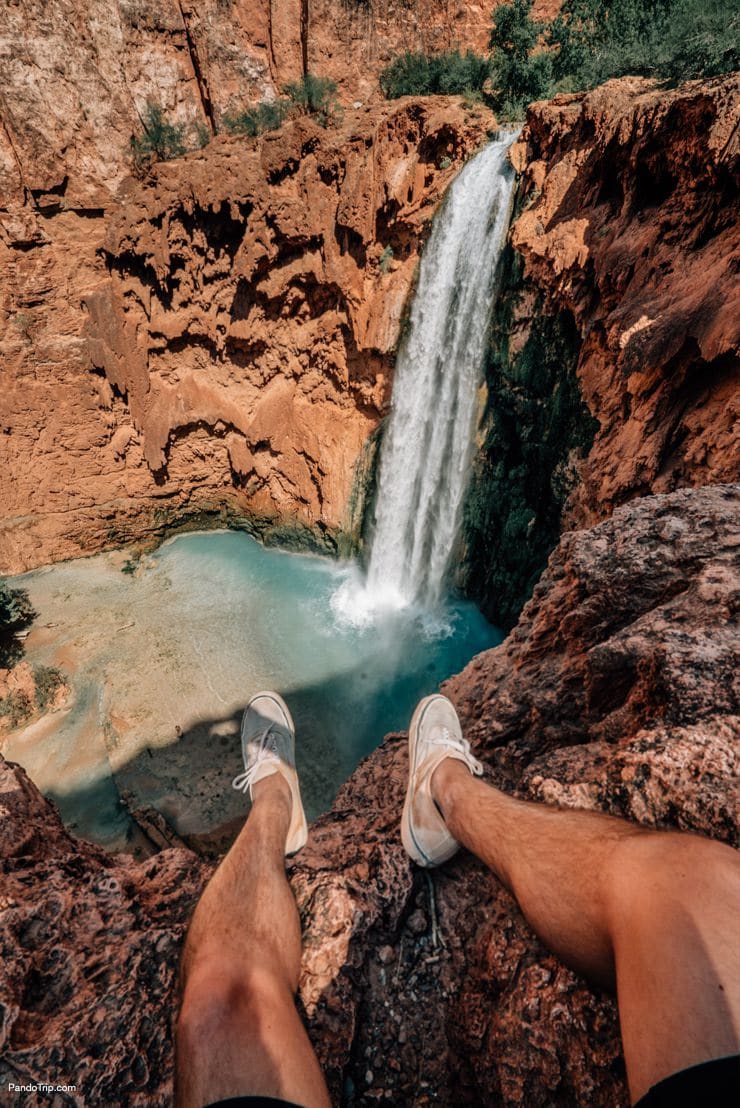 Things to know
When you're going to Havasupai there are some rules you have to know. As I already mentioned, cliff jumping is not allowed there. Also, no dogs, no littering, and no alcohol or drugs. Drones are also prohibited. Also, there's no hiking at night and no hiking during a flood.
If you are lucky enough to make it to Havasu Falls, this information should help you get the most out of what will almost certainly be the trip of a lifetime.