Cotton Castle, also known as Pamukkale, is a natural wonder that was included in the UNESCO World Heritage List in 1988. It is one of the most visited places in Turkey, renowned for its healing thermal springs, white calcium terraces, and historical significance. These mineral springs are located in Denizli Province, in southwestern Turkey. The stunning natural structure stretches 2,700 meters (8,860 ft) in length and 600 m (1,970 ft) in width.
Formation of Cotton Castle
Pamukkale was formed when a spring with a high content of dissolved calcium bicarbonate cascaded over the edge of a cliff. This water cooled and hardened, leaving calcium deposits behind. Over time, these deposits formed into natural pools, shelves, and ridges, where people can now enjoy the warm water.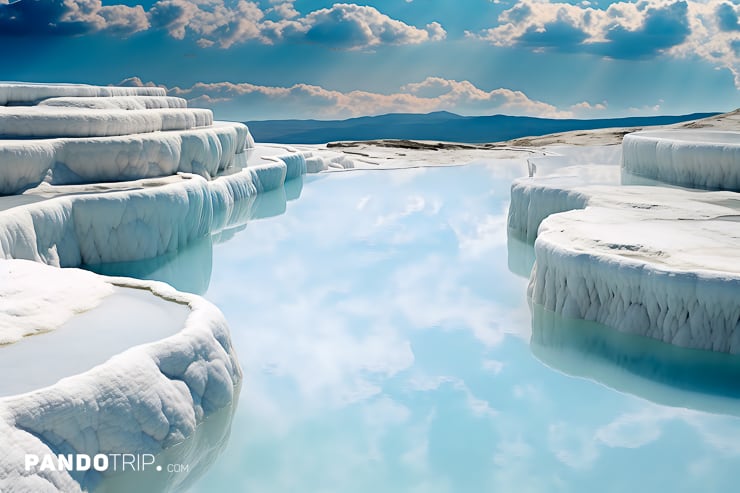 Dazzling White Landscape of Pamukkale
From a distance, Pamukkale resembles blooming cotton fields, hence the name Cotton Castle. As you approach the terraces, your eyes meet a sea of stark white sparkling under the sun. It's a good idea to wear sunglasses as the reflection of the white limestone can be extremely bright. The dazzling white landscape, contrasted against the deep blue sky, creates a visually stunning panorama.
Cloud-like Pools
Walking barefoot on the travertine, you can feel the warm, smooth limestone beneath your feet. Its unusual texture is a delight. Upon entering the beautiful pools, you will see the white cotton floors through the clear water. The surface feels firm but smooth underfoot, and you are enveloped by the warm water. These natural, cloud-like pools are perfect for relaxing and rejuvenating.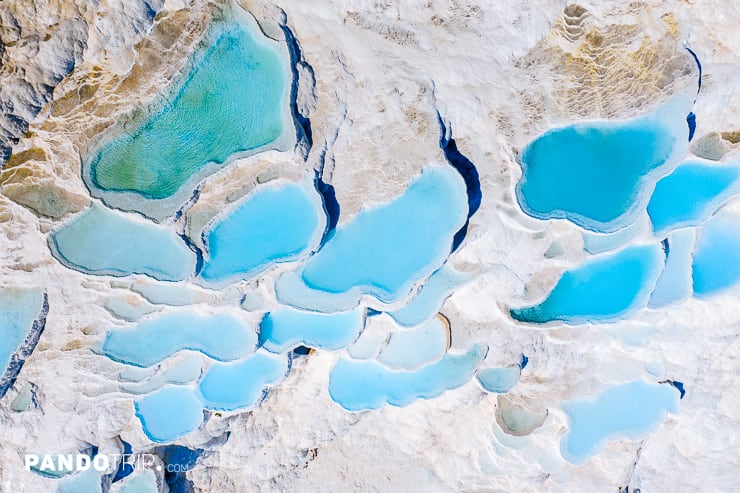 Healing Properties of Pamukkale's Pools
Apart from their stunning beauty, Pamukkale's pools possess excellent therapeutic properties. The water's unique composition is enriched with calcium sulfate, carbon dioxide, calcium bicarbonate, magnesium, and a high level of natural ionization. This "magic" composition helps to soothe the nervous system, relieve tension, and assist in managing diseases of the cardiovascular system, the gastrointestinal tract, and the musculoskeletal system. The skin also benefits from these baths. While they cannot cure all ailments, bathing in these pools is certainly beneficial.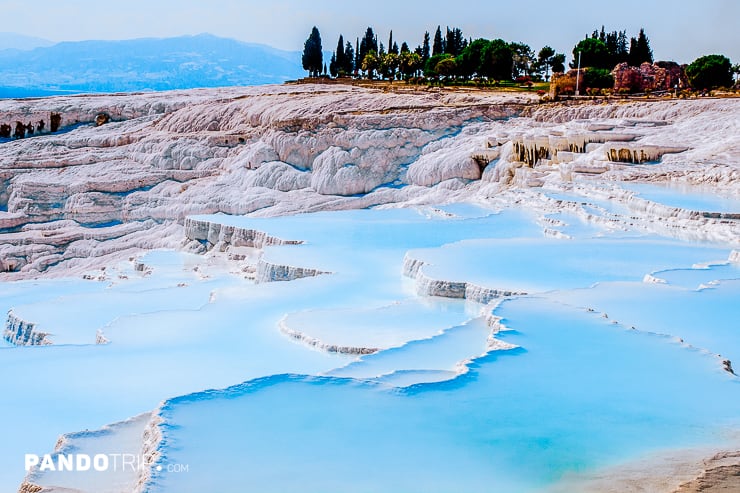 Tourism and Conservation Efforts at Pamukkale
Tourism has thrived in the region since ancient times. People have been bathing in these hot springs for thousands of years, attracting even Greek and Roman emperors and noblemen. However, the construction of hotels during the tourism boom of the 1960s and 1970s caused significant damage to the travertine terraces. Since the area was declared a protected site, all buildings were demolished and artificial pools were created to distribute the thermal waters evenly. Today, strict regulations protect the site. Visitors are only allowed to walk on certain parts of the terraces and have to do it barefoot to prevent damage to the travertine.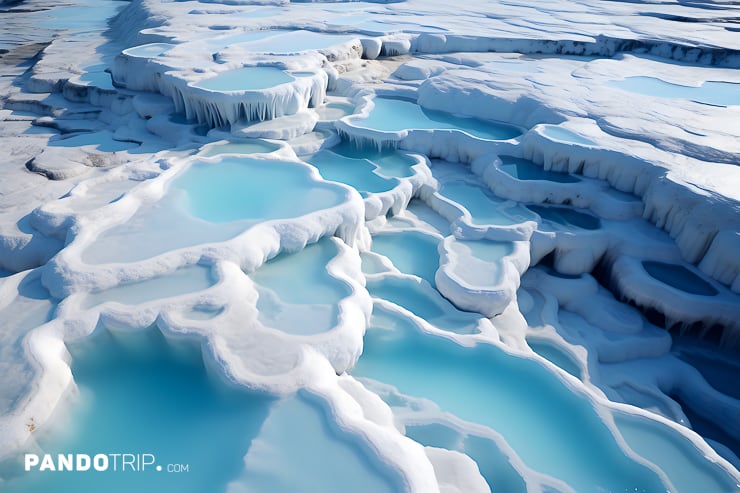 Exploring the Ancient City of Hieropolis
Unknown to many, the ancient city of Hieropolis lies near the thermal pools. Known as the Holy City because of its many temples and other religious sites, it covers approximately 2.7 kilometers or 1.7 miles. To explore this ancient city, you should set aside at least a few hours. Your exploration will lead you to a museum, an ancient theater, main streets, and many other Roman ruins. While in Hierapolis, consider visiting the Cleopatra pools. These man-made green pools sit atop ancient columns that fell from the city during an earthquake. Hence, when you dive into these pools, you are literally swimming amidst history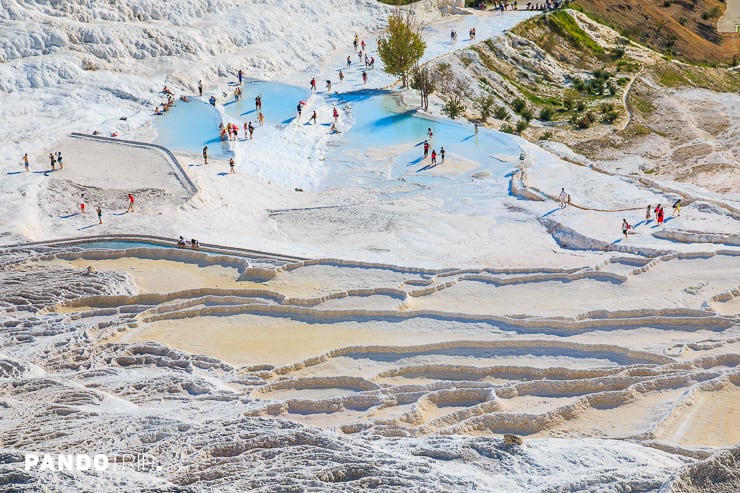 Visiting Cotton Castle in Turkey
When to Visit: The site is open year-round, but the best time to visit Pamukkale is in the spring (April to mid-June) or autumn (mid-September to October) when the weather is mild. April is often considered the ideal month for visiting. Speaking of the time of day, visiting in the early morning will help you avoid crowds as the place can become quite busy. If you plan to do so, enter the site via the South entrance. During my visit in 2022, it was the only entrance open from 6:30 am. The other two entrances, the North entrance and the Town entrance, open later at 8 am. Also consider visiting the thermal pools around two hours before sunset. Firstly, you will encounter fewer crowds at this time. Secondly, you'll have the chance to experience the stunning sunsets from these natural pools.
Entrance Fee: There is an entrance fee for visiting Pamukkale and Hierapolis. The fee includes access to both the travertine terraces and the ruins of Hierapolis. The fee is 200 Turkish Lira (approximately 11 USD or 10 Euro).
Don't Be Afraid of Rain: During dry months, many pools in Pamukkale dry up. So, if you visit Pamukkale during a rainy period, don't be disappointed. Consider yourself lucky, as after heavy rainfall, many more pools will be filled.
Cleopatra Antique Pool: As I already mentioned, visiting the Cleopatra Antique Pool in Hierapolis is a very nice experience. The entrance fee is 130 Turkish Lira (about 7 USD or 6 Euro). Don't forget to bring your own towel because there's nowhere to rent them, and buying one can be quite expensive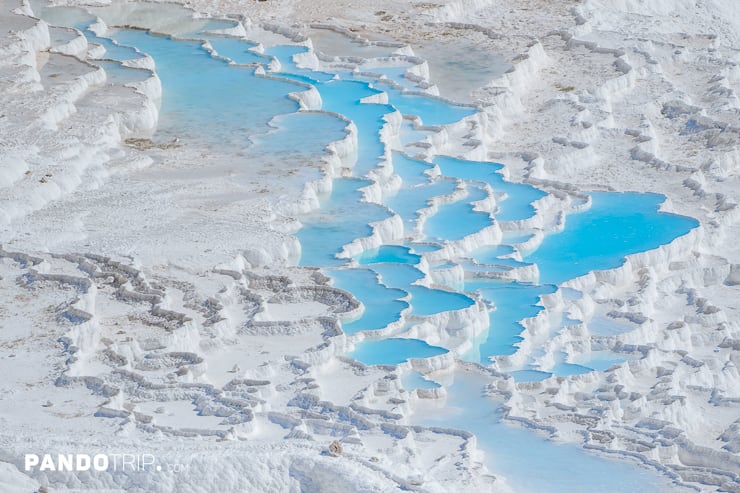 What to Bring: As previously stated, sunglasses are a must – the brilliant whiteness of the area is blinding. Due to the strong sun, also make sure to bring sunscreen, a hat, flip-flops, and loose, comfortable clothing. A swimsuit is also advised if you want to take a dip in the water.
How to Get There: Pamukkale is about a 15-minute drive from Denizli city. There are also regular minibusses (dolmuş) from Denizli to Pamukkale. But it's very easy to get there from any city in Turkey. As I've previously mentioned – it's the most visited place in the country, so there are plenty of tours you can book online. I usually use two sites, Viator and GetYourGuide – they both offer similar tours but sometimes prices vary due to promotions, so check both before booking.
Where to Stay: For those who wish to stay overnight, there are several hotels in the nearby town of Pamukkale. I can recommend a few places. The first is Hotel Sahin, which is close to the hot pools and has a terrace with a stunning view of the travertines. Another option is the Pamukkale White Heaven Suite Hotel. This hotel also has a great location and I really liked the outdoor pool there.