Furka Pass is the most scenic and breathtaking winding road in the Swiss Alps, stretching at an elevation of 2 429 m ( 7 969 ft), connecting Gletsch village in Valais with Andermatt in Uri. It is also one of the highest roads in Europe. That being said, it is a bucket list adventure for everyone. 
Thousands of thrill-seekers and nature lovers each year cross the majestic spiraling roads of Furka Pass by bike, car, bicycle, and even camper vans. And we don't blame them. From breathtaking views of deep valleys, small Swiss villages, and twisting hairpin turns to iconic hotels and the oldest glacier in the Alps, Furka Pass offers an unforgettable drive.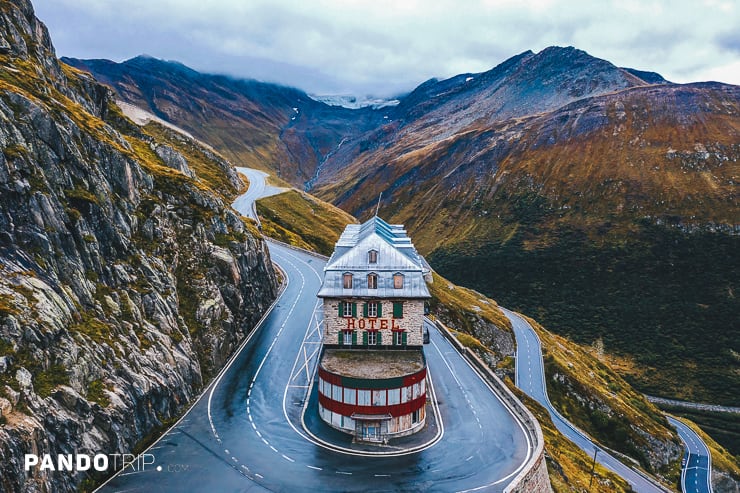 When Does Furka Pass Open
Though exhilarating, the legendary Swiss mountain road is also considered one of the most dangerous. The slopes are difficult to navigate in the dark, rain, and snow. Therefore, it is only open during summer, starting late May till early November.
For more details and opening times, it's best to check availability online. If you don't want to look at clouds the entire drive, better check the weather forecast before planning your trip.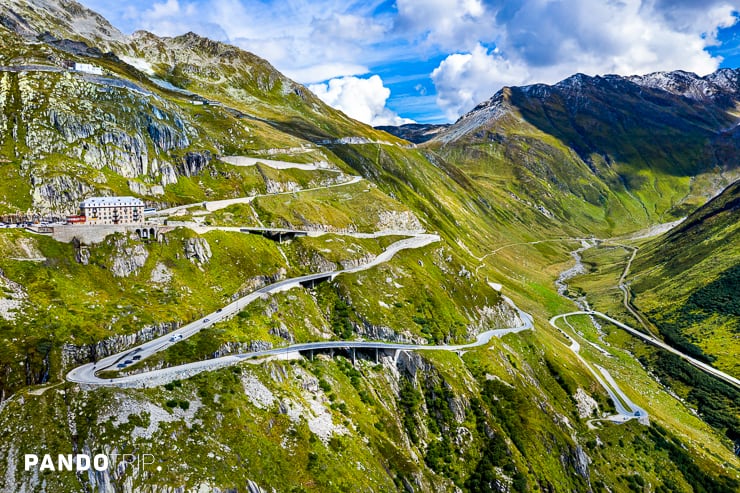 How to get to Furka Pass
You can get to Furka Pass from Andermatt, Uri or Gletsch, Valais.The easiest way to get to the Alpine serpentine Furka Pass is by car. Buses are also available from the Andermatt train or bus station, but they take about 40 minutes to get there. And often, they don't drive to the top, which is what you want.
You can find all timetables here: Swiss public transport connections.
You will also see a lot of motorcycles and bikes, but renting a car and enjoying the scenic ride at your own pace is the best. Take as many stops as you need to, as each moment will take your breath away.
James Bond Goldfinger
The Swiss Alps, especially Furka Pass, gained even more popularity with the iconic car chase in the 1964 James Bond movie "Goldfinger". Since then, the road trippers multiplied, and the hotel Sean Connery stayed at during the filming was selling out fast.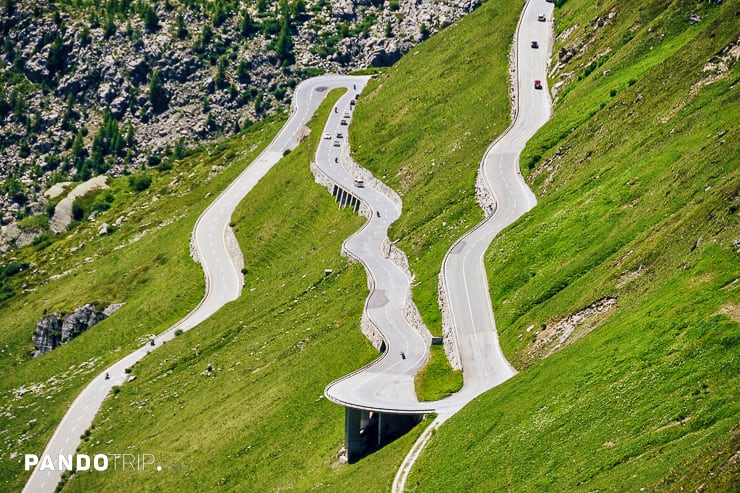 Hotel Belvedere
Hotel Belvedere is an iconic Alpine hotel set on one of the many hairpin turns along Furka Pass. Built in 1882, the Hotel was a popular spot for exploring the Rhone Glacier. Even Sean Connery was a guest during the filming of Goldfinger.
However, due to a landslide between Göschenen and Andermatt in 2015, the once flourishing hotel closed in 2016 and hasn't opened since. So if you are looking for places to stay nearby, try Hotel Rhonequelle or Hotel Furka. But you will see that the Upper Valais, especially the area near Furka Pass, is no short of resorts.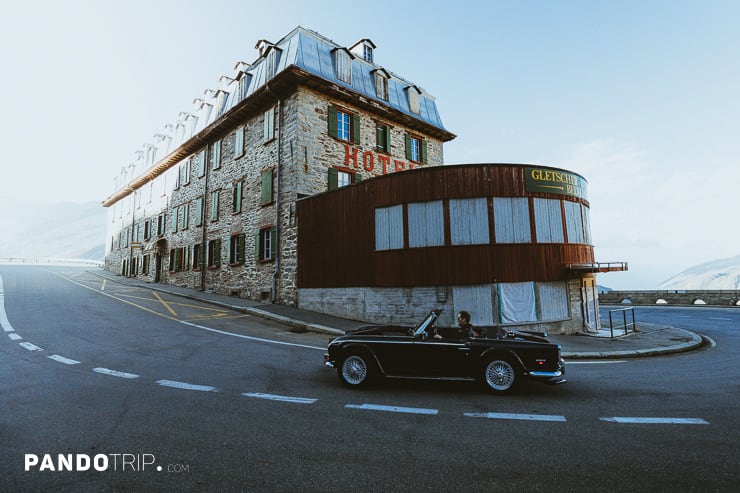 Rhone Glacier Ice Grotto
It's possible to park your car near Hotel Belvedere and visit Rhone Glacier ice cave, just 656 ft (200 m) away. The cave was carved using an electric chainsaw and ice pick inside Rhone Glacier, the oldest glacier in the Alps.
If you are not afraid of tight spaces, you can walk through the cave, which is 328 ft (100 m) long.