Looking for an Instagram-worthy destination? Look no further than the Umbrella Street in Agueda, Portugal. This stunning installation has put the remote town of Agueda on the map and now attracts thousands of visitors from all corners of the globe.
The Birth of the Umbrella Street
It all started back in 2011 when the Portuguese design firm Impactplan (then known as Sextafeira) collaborated with the local government to create a small installation on a narrow street in Agueda. Inspired by the iconic children's character Mary Poppins and her magical floating umbrella, the installation featured hundreds of colorful umbrellas suspended above the street. The Umbrella Street was an instant hit and with the rise of social media and blogs, it quickly went viral. Pictures of this vibrant street spread like wildfire all over the internet. Over time, the Umbrella Street became an even bigger draw, attracting tourists from all over the world. The installation became a symbol of Agueda and a local point of pride, with residents proudly displaying umbrellas on their balconies or donning umbrella hats.
The Umbrella Street's success has inspired similar installations in other cities, from San Juan to Paris, Madrid, and London. But let's be real: nothing compares to the original in Agueda. If you find yourself in Portugal, be sure to add this gem to your itinerary. Your Instagram followers will thank you.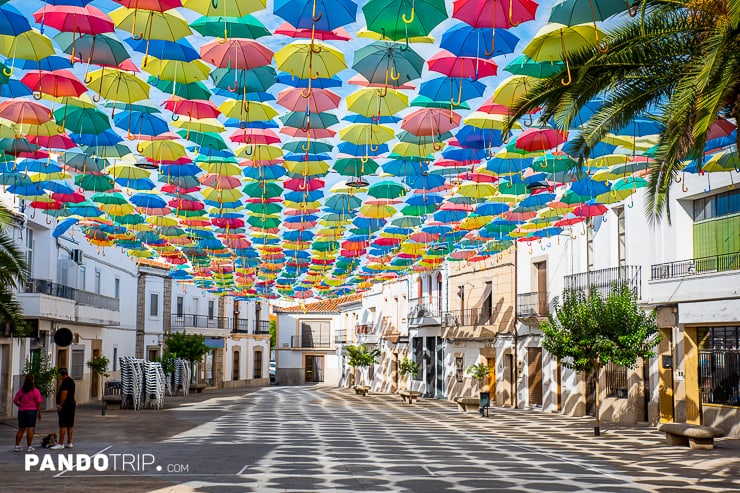 The Umbrella Sky Project: Summer Edition
You know what's worse than missing out on the Umbrella Street in Agueda? Arriving there during the umbrella-free times! So plan your visit between July 1 and September 30. During these months, the Umbrella Sky Project is in full swing, and colorful umbrellas are on display on Luís de Camões, Vasco da Gama, Jornal Soberania do Povo, and José M. Veloso streets. Trust us, you'll feel like you're walking through a rainbow wonderland!
If you visit during the first three weeks of July, you'll also get to participate in Agueda's art festival agitÁgueda. This festival is jam-packed with all sorts of events, from epic concerts and DJ performances to lively parades and creative workshops. And every year, the organizers of AgitÁgueda display new installations of street art that will leave you in awe. You can find the festival's installation map here.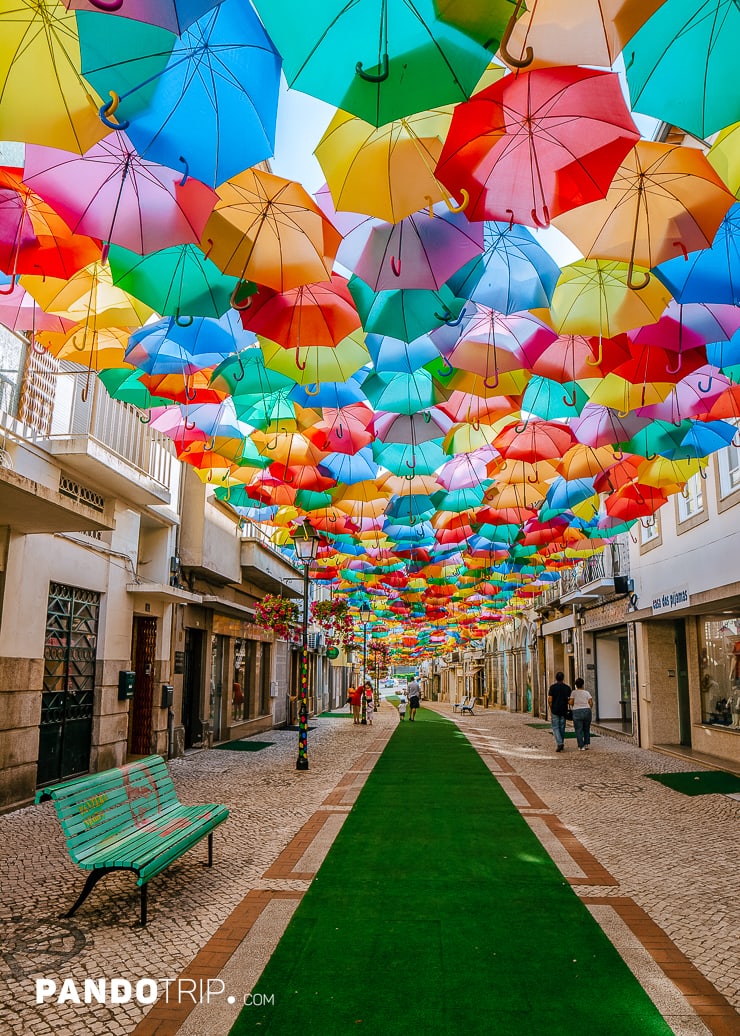 The Umbrella Sky Project: Christmas Edition
If you can't make it to Agueda in the summer, don't worry – the Umbrella Sky Project has a Christmas edition too! In recent years, the installation has become a part of Agueda's Christmas magic, with illuminated umbrellas and a red carpet creating the perfect Instagrammable spot for visitors. But that's not all – the city also features other festive installations created by the Impactplan agency, such as a giant Santa, sparkling Christmas balls, and even Instagrammable small houses.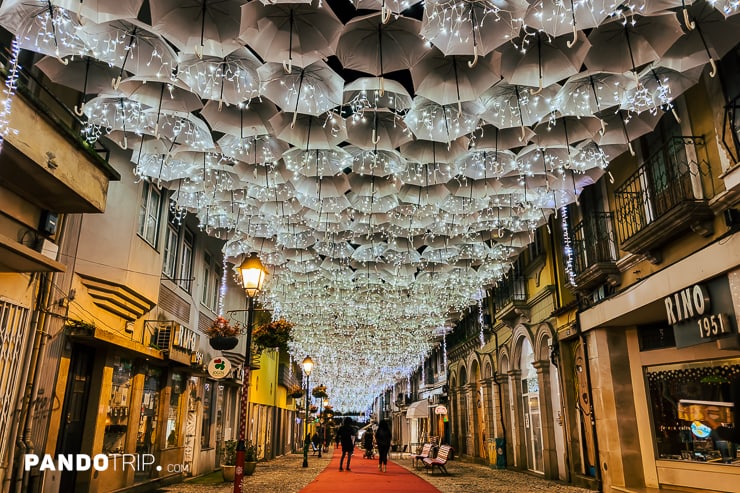 Getting to the Umbrella Street in Agueda
Agueda is located in the western part of Portugal and is easily accessible by car or public transport from all major cities in Portugal.
By car: If you're driving, the closest city is Aveiro, located just 20km (12 miles) away. Another popular tourist destination in Portugal, Coimbra, is 50 km (31 miles) away. You can also drive from two major cities in Portugal: Agueda is located 75 km (46 miles) from Porto and 250 km (155 miles) from Lisbon. If you're planning to rent a car, we would recommend Discover Cars. We tried them during our trip to Portugal, and they didn't disappoint. They have several rental locations in Portugal, so it's easy to take a car in one spot and return it in another part of the country.
By public transport: You can get to Agueda by train and bus, but the train is the better option. There are more trains than buses from major cities, and in our opinion, it is a more comfortable way of traveling. To check the train schedule or book tickets, visit this website: Comboios de Portugal. For buses, check this link: Rede Expressos
Where to Stay in Agueda
While there aren't many hotels to choose from in Agueda, the best option is Hotel Conde de Agueda. Situated in the perfect location in the historical center, just a stone's throw away from Umbrella Street, it is the ideal choice. They offer free parking space, which is very convenient as it is quite hard to find parking in the old town. The rooms at the hotel are nice, and the staff is friendly and speaks good English. The best part for us was the panoramic view of the town and surrounding mountains, which you can enjoy from the breakfast room and terrace.
Restaurants in Agueda
If you're looking for a place to eat in Agueda, we recommend O Típico restaurant. When doing our research, we first read about this place in the Michelin guide, and after a visit, we can agree with Michelin that the octopus "à lagareiro" is a great choice. Another nice option is Manjar da Helena. It's a cozy place with very friendly staff and great typical Portuguese dishes.