Have you ever dreamed of visiting the moon? Well, you don't need a spaceship for this otherworldly journey. Just pack your bags and head to Argentina, where the intriguing Valley of the Moon awaits. Officially known as Ischigualasto Provincial Park, this awe-inspiring destination is located in the northeastern part of San Juan province. Its name, derived from the indigenous Quechua language, fittingly translates to "place where the moon alights," perfectly capturing the essence of its lunar landscape.
Valle de la Luna is a geological wonderland that seems to bend the rules of reality. Featuring unique rock formations, an extraordinary fossil record, and intriguing cultural significance, this fascinating locale will captivate your senses and make you feel like you've stepped onto a Star Wars movie set. We invite you to join us as we delve deeper into the mysteries of Ischigualasto, uncovering its ancient origins, remarkable geology, and the best ways to explore this alluring lunar landscape tucked away in the heart of Argentina.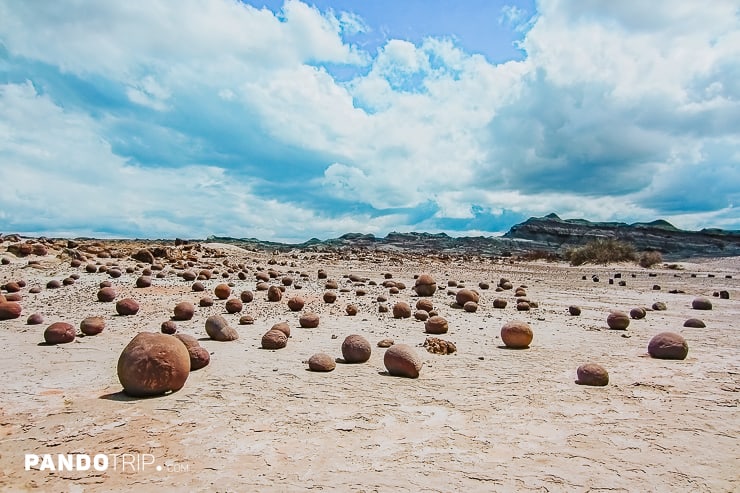 Why Valley of the Moon is famous?
Valley of the Moon in Argentina is renowned for its moon-like appearance, rich fossil beds dating back to the Triassic Period, and status as a UNESCO World Heritage Site. The park's unique landscape showcases strange and colorful rock formations, such as "The Worm," "The Sphinx," "The Mushroom," and "The Submarine," all sculpted by wind and water erosion over millions of years. Beyond its otherworldly beauty, the Valley of the Moon holds immense paleontological significance, as it is home to numerous plant and animal fossils, including some of the earliest dinosaurs. As a provincial protected area, this exceptional destination offers travelers a captivating and educational journey into our planet's history and the forces that have shaped its breathtaking landscapes.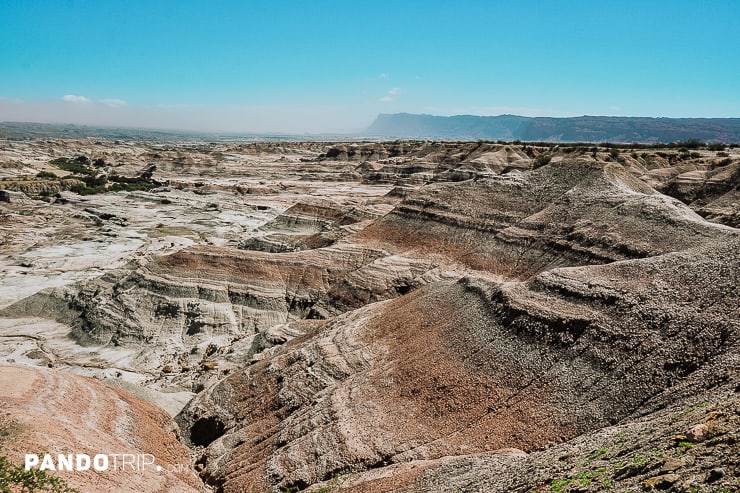 How was Valley of the Moon in Argentina formed?
As we've discovered, Moon Valley has a fascinating past. Let's break it down into simpler terms to better understand how this incredible landscape came to be.
Dating back over 250 million years, Moon Valley was part of the Ischigualasto-Villa Union Triassic Basin during the Triassic Period. Its formation was influenced by the breakup of the supercontinent Pangaea. This rift basin was filled with sediments from many sources, including volcanic eruptions, river deposits, lake beds, and wind-blown sand. These sediments built up in various environments such as alluvial fans, braided rivers, meandering rivers, and temporary lakes.
Tectonic movements played a crucial role in shaping the area. They uplifted, folded, and faulted the rocks, ultimately creating the mountain ranges that surround the park today. Over millions of years, wind and water erosion exposed different sediment layers, revealing a variety of colors and textures. This process sculpted the rocks into captivating shapes like spheres, mushrooms, submarines, and sphinxes. The park's arid climate and limited vegetation emphasize the contrast between the rocks and the sky, resulting in a lunar-like appearance.
This geological masterpiece also provides an exceptional environment for preserving fossils. As erosion wore down the rocks, it unveiled fossils hidden within the layers. Moon Valley is now considered one of the world's most important paleontological sites. The well-preserved fossils found here offer valuable insights into the history of life on Earth, shedding light on the evolution of early dinosaurs and other prehistoric creatures.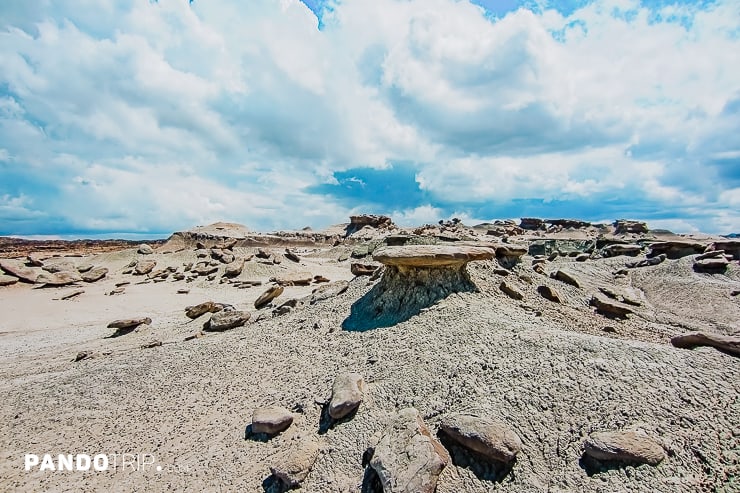 Marvels of Nature: Rock Formations in the Valley of the Moon
As you explore the park, you'll find yourself captivated by the incredible rock formations that pepper the landscape. These natural wonders have been shaped by millions of years of erosion and weathering from wind and water, giving them a variety of forms and colors. Many of these formations resemble familiar objects or animals, earning them imaginative names that only add to their mystique.
For example, the iconic "El Hongo" or "The Mushroom" stands out as the main symbol of the park. Resembling a giant mushroom with its slender stem and broad cap, this unique rock formation is just the beginning of the geological wonders you'll encounter. You can also see "El Gusano" or "The Worm," a long and curved rock that looks like a giant caterpillar; "La Esfinge" or "The Sphinx," a majestic rock that resembles the famous Egyptian monument; "El Submarino" or "The Submarine," a dark and elongated rock that emerges from the ground like a naval vessel; and "Cancha de Bochas" or "The Bowling Field," a group of spherical rocks that look like bowling balls ready to be thrown.
These remarkable formations not only offer a glimpse into the geological history of the Valley of the Moon but also serve as fascinating landmarks that fuel the imagination and inspire a sense of wonder in all who visit this unforgettable lunar landscape.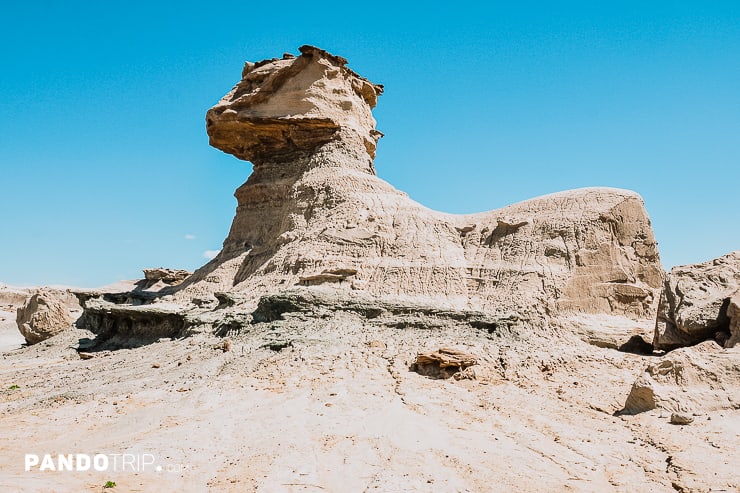 Unearthing the Past: Fossils in the Valley of the Moon
The Valley of the Moon is a treasure trove for paleontologists due to its rich and diverse collection of fossils. The park contains remnants of dinosaurs and other ancient creatures that lived more than 200 million years ago during the Triassic period, a time when life on Earth diversified and flourished following a mass extinction event.
This remarkable park preserves one of the most complete and continuous fossil records of the Triassic period, allowing us to learn more about how life evolved and adapted to different environments. Among the fossils found in the park are some of the oldest dinosaur fossils ever discovered, such as Eoraptor and Herrerasaurus. However, these early dinosaurs were not the most dominant or diverse animals of their time; rhyncosaurs and cynodonts were more common and larger.
In addition to dinosaur fossils, the Ischigualasto Formation also contains remains of Exaeretodon, a mammal-like reptile that was an ancestor of mammals; Rhynchosauria, a herbivorous reptile with a beak-like mouth; Aetosaurus, an armored reptile resembling a crocodile; and numerous others. Fossils of plants and trees found in the park reveal how vegetation changed over time, providing further insight into the ancient ecosystem.
So, as you wander through the Valley of the Moon, you'll not only be taking in its breathtaking landscapes but also stepping back in time to discover the fascinating world of prehistoric life.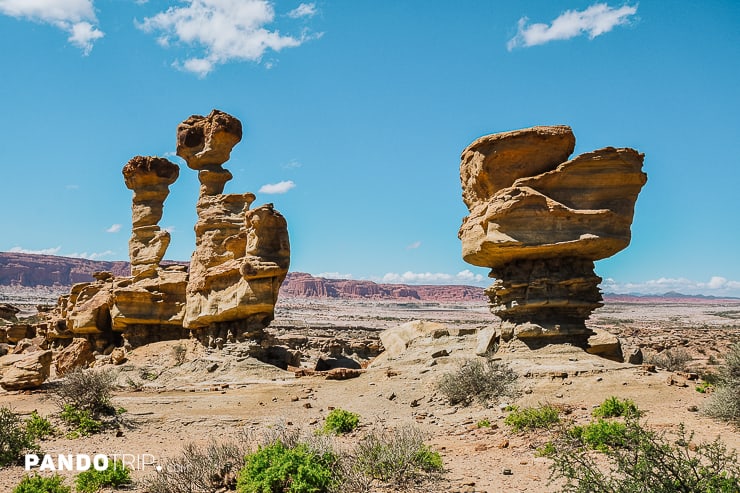 How to get to Valley of the Moon
Tucked away in the northeastern part of San Juan province in Argentina, the Moon Valley shares a border with La Rioja province to the north. You'll find the park at the coordinates 30°09'46.96″S and 67°50'34.05″W. When planning your trip, remember to stock up on fuel, water, and food, as there are no gas stations or shops en route.
From San Juan, two main routes lead to the park: National Route 150 and Provincial Route 510. Both routes take around 4 hours to travel. National Route 150, also known as Scenic Route RN 150, is a paved highway inaugurated in October 2014. It stretches through the southern part of La Rioja province and the northern-central area of San Juan province. Provincial Route 510, another highway, passes through the towns of Huaco, San Agustín del Valle Fértil, and Baldecitos, showcasing striking mountain landscapes and lush vegetation.
If you're coming from Córdoba, take Route 38 north to the town of Patquía in La Rioja province. From there, head west on National Route 150 to reach Ischigualasto Provincial Park directly.
For those who'd rather not drive, several guided tour options are available online. Many tours offer hotel pickup from San Juan, Valle Fértil or La Rioja, ensuring a hassle-free way to reach the park. Some even provide pickup directly from San Juan Airport, allowing you to embark on your adventure right away. However, keep in mind that most tours are conducted in Spanish, so confirm the availability of an English-speaking guide before booking if necessary.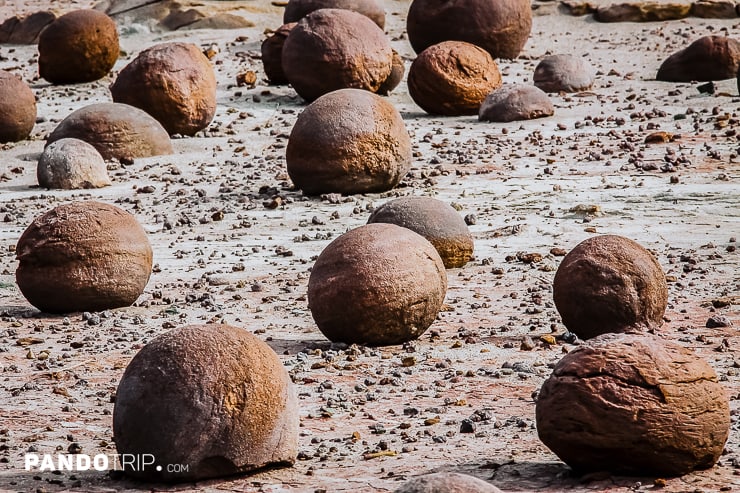 Where to say near Valley of the Moon
When visiting the Valley of the Moon, keep in mind that due to its isolated location, there are no accommodations or services within the park itself. To explore the area, it's best to make a base in one of the nearby towns.
The closest option is Villa San Agustín, or San Agustín del Valle Fértil, located about 70 km from the park. Although small, this town offers a range of accommodation and services for visitors. Our top recommendation is the 3-star Hotel Rustico Cerro Del Valle. With its traditional Argentinean décor the hotel offers free Wi-Fi, a daily breakfast buffet featuring tropical fruits, cakes, and bread rolls. The hotel is conveniently situated just a block from San Agustin Central Park and free parking is available.
Alternatively, consider staying in Villa Unión, in La Rioja province, about 140 km from the Valley of the Moon but only 50 km from Talampaya National Park, another must-see geological site that pairs perfectly with a trip to the Valley of the Moon. Two excellent options in Villa Unión are Tres Cruces and Hotel Valle Colorado. Both hotels are situated close to each other in a beautiful location near the mountains, and both offer lovely outdoor pools. No matter which option you choose, you'll find comfortable lodging that allows you to make the most of your visit to this extraordinary region.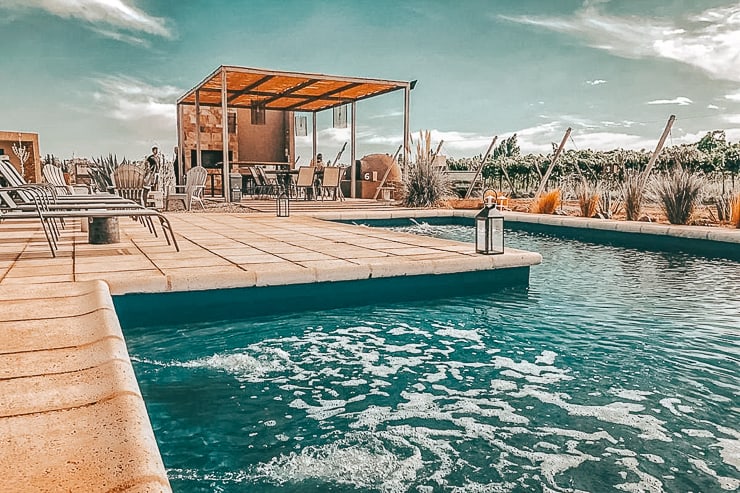 Exploring the Valley of the Moon
A trip to the Valley of the Moon offers a unique opportunity to experience the striking beauty of this captivating landscape. Keep in mind that access to the park is only allowed with a park ranger and in a vehicle. To help preserve this exceptional environment, please follow the park rules, which include not touching or collecting any fossils or rocks.
Several circuits are available, each offering a different perspective on this remarkable destination. The Traditional Circuit covers 40 kilometers and includes five stations, each highlighting different geological features. These tours run daily between 9 a.m. and 4 p.m., lasting about three hours. Though conducted in Spanish, you can request an English-speaking guide if needed. The Traditional Circuit costs 2,500 Argentine pesos (about 12 USD), with visits organized on a first-come, first-served basis, and no advance booking required.
For a truly memorable experience, consider the Circuit With Full Moon. This exclusive nighttime tour takes you on a moonlit walk across the park's grayish sandstones, evoking a surreal lunar landscape. Exclusive to Ischigualasto, the 2.5-hour guided tour is dependent on weather conditions and may be canceled due to cloud cover or rain. To reserve a spot, call or send a WhatsApp message to +54 264 457 0879 or +54 264 418 6119, or email the park administration at [email protected]. The tour operates only four nights per month based on the lunar phase. Tours start at varying times, depending on the season and moonrise, and cost 2,000 pesos (about 9 USD). Note that you must have your own vehicle for this tour.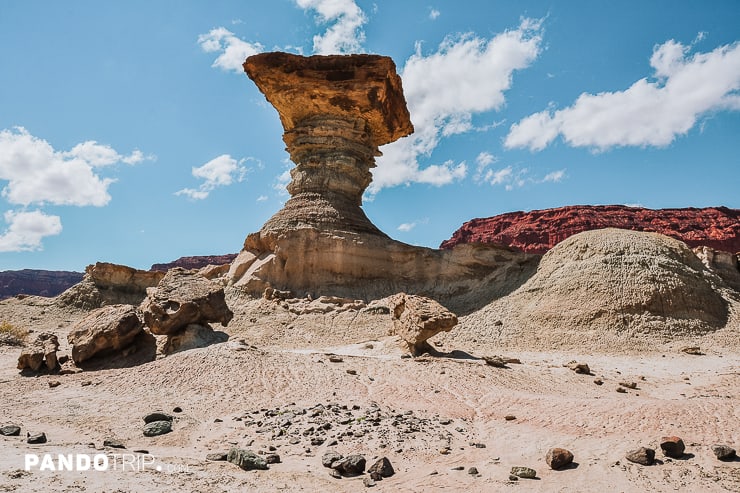 For visitors seeking a more active experience, the Mountain Bike Circuit allows you to explore a lesser-known section of the park, filled with striking shapes, colors, flora, and fauna. This 12-kilometer tour is led by a local guide and includes the use of specially-designed bicycles provided by the park. The tour takes around 1.5 hours to complete. To reserve a spot, use the same contact methods mentioned for the Circuit With Full Moon, as they apply to the Mountain Bike Circuit as well.
No matter which circuit you choose, your visit to the Valley of the Moon is sure to be a captivating and unforgettable experience that highlights the remarkable power and beauty of nature.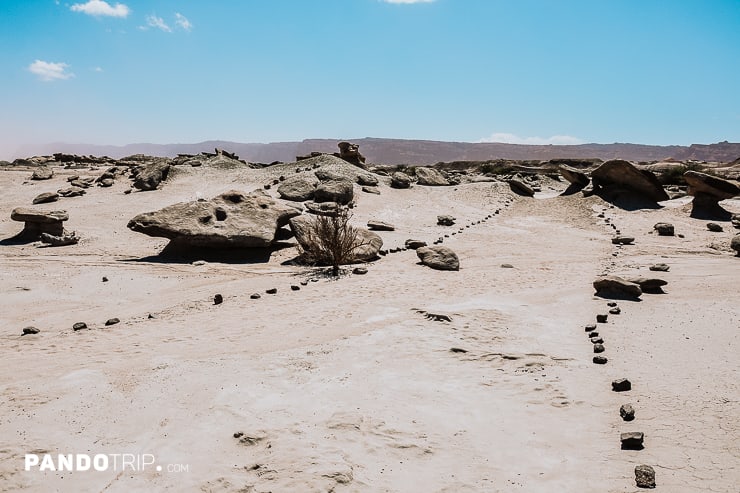 The best time to visit Valley of the Moon
The best time to visit Ischigualasto Provincial Park depends on your personal preferences and what you hope to experience. The park has a mainly hot and dry climate, with temperatures varying from -10°C to 45°C throughout the year.
Many visitors find autumn (mid-March to early June) and spring (September to early December) the most enjoyable times to visit the park, as temperatures are generally moderate and pleasant. Summer (December to early March) can be extremely hot and occasionally rainy, while winter (June to September) brings cold weather and significant temperature differences between day and night.
For a truly special experience, consider visiting the park during full moon nights to join the Circuit With Full Moon tour. This exclusive adventure lets you fully appreciate the park's incredible lunar-like landscape bathed in moonlight. The full moon tours are available only four nights per month, based on the lunar phase. To plan your visit accordingly, consult a moon calendar to view the schedule for upcoming tours.