The world famous tropical destination of Thailand is packed with things to see and do. From breathtaking natural scenery and monuments to unique activities and excursions, it's impossible to cover everything in one trip! Here are a few of the best of both to help you make the most out of your visit here.
See: The Grand Palace and Wat Prakeaw
If you're only in Bangkok for a short time, the Grand Palace and Wat Prakeaw are definitely a must-see. The city's most famous landmark was built in 1782 and was home to the Thai Royal Family as well as the Royal Court and the administrative seat of government for over 150 years. Nowadays the palace serves mainly as a tourist attraction but is still used for official royal ceremonies and within its walls one may find Wat Prakeaw, the spiritual heart of the Thai Kingdom. Wat Prakeaw is home to the Emerald Buddha, considered the most holy icon to Thai Buddhists.
See: Ayutthaya
Only an hour's drive from Bangkok, the old capital of Ayutthaya was once a thriving and prosperous city where the majority of the country's trading took place. Ayutthaya attracted traders and emissaries from all over the world and maintained close diplomatic ties with countries such as Portugal, China, Japan, and France. Art and culture flourished in Ayutthaya, evident today in the many ornate and beautifully designed buildings that make up this popular tourist attraction. In just over 400 years, Ayutthaya went from becoming Thailand's thriving capital to a plundered and ransacked city in ruins, its inhabitants forced to flee by the invading Burmse army in 1767.
See: Khao Yai National Park
Declared a UNESCO world heritage site in July 2005, Khao Yai is Thailand's third largest national park covering 300 square kilometres. Its rainforests and grasslands are host to over 3000 plant species, 320 species of birds and around 66 different types of mammals. The park's altitude ranges from 400 to 1000m above sea level and the highest point is Khao Rom at 1,351m high. Khao Yai is also host to several well known waterfalls including Namtok Sarika, Heo Narok and Heo Suwat (made famous by the movie "The Beach"). A visit to Khao Yai National Park is a must for any nature lover!
See: Similan Islands National Marine Park
Only a 90-minute speedboat ride away from Phang Nga, the Similan Islands National Marine Park was declared a national marine park in 1982. The islands attract thousands of visitors every year, including many scuba divers due to its reputation as a world famous dive location. The Similans offer some of the best diving in the world with the surrounding waters absolutely teeming with tropical fish and marine life. The marine park in general is largely undeveloped and only open from November to May (high season) and closed during the rest of the year (monsoon season) so be sure to get your timing right when planning a visit!
See: Floating Markets
Bangkok's famous floating markets are mentioned in probably every travel guide and site about Thailand. Nowadays, their focus has shifted from catering mostly to locals to acting as a tourist attraction after merchants began noticing that the markets increasing popularity amongst travellers. Even so, you can still see the rickety traditional wooden boats bursting with fresh tropical fruits, vegetables and fresh cooked local food! If you're not too concerned about haggling with the vendors and just want to see the market for yourself, hop onto a guided boat tour. Boat tours for the more popular markets can be booked at any travel agency in Bangkok.
Do: Visit a Temple
Apart from Thailand's general breathtaking natural scenery and diverse climates, each region is unique and beautiful in its own way. A country steeped in rich history and deep religious beliefs, beautifully designed Buddhist temples can be found all over the country as well as innumerable historical buildings and ancient ruins. Naturally no visit to Thailand would be complete without visiting at least some of the local temples and taking in the aesthetical as well as spiritual beauty each one has to offer.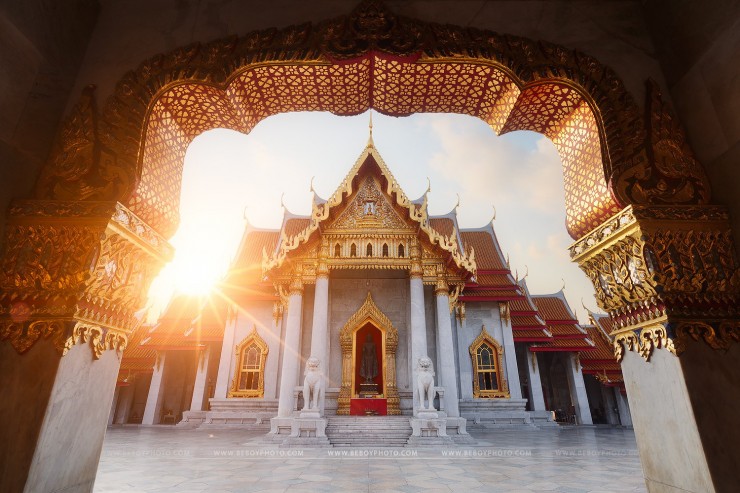 Do: Go Island Hopping
Thailand contains over 5,000 miles of coastline and thousands of tropical islands just waiting to be discovered. The best way to explore these islands is by hiring local longtail and captain. These normally come from a fishing background and will have no problem showing you the best beaches and bays, all you have to do is ask! Perhaps one of the best areas to island hop and experience tropical island life would be in the Gulf of Thailand doing the classic hop between Koh Samui, Koh Phangan and Koh Tao. Even though they're so close together, each island has its own unique vibe and way of life!
Do: Experience a Thai Festival
When planning your trip to Thailand you should definitely find out if any festivals are going on. The most notable festivals in Thailand are Loy Krathong in November and Songkran in April. Songkran is known as the Thai New Year and apart from its deep spiritual meanings, Songkran is a countrywide water fight spanning for a few days or up to a week in some places! Loy Krathong is a more sedate festival, the "festival of light". It's a beautiful experience where the skies are filled with the lights from hundreds of floating lanterns and the waterways dotted with illuminated "Krathongs".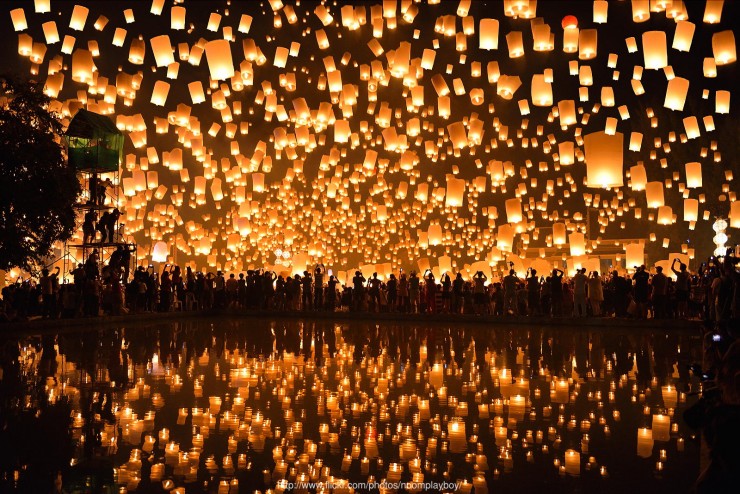 Do: Go SCUBA Diving
Thailand is known as a world famous diving destination. Surrounded by two bodies of water; the Andaman Sea to the West and the Gulf of Thailand to the East, it's a haven for divers of all levels. Never been diving before? No problem! The island of Koh Tao in the Gulf is one of the most popular places in the world for new diver certifications and a perfect place to try diving in its warm, crystal clear calm tropical waters teeming with an abundance of marine life. More advanced divers may want to check out the Andaman for deeper dives and a greater choice of dive sites.
Do: Ride an Elephant
Although perhaps not the most popular activity amongst the eco-conscious, elephant trekking is undoubtedly one of Thailand's most famous activities. Normally part of traditional jungle and island safaris, elephant trekking is available almost anywhere in Thailand and is a favourite activity amongst kids and adults alike, allowing them to interact with these majestic creatures.