Laguna Colorada, also known as the red lagoon, is a shallow salt lake that lies in southwest Bolivia, on the border of Chile. The lagoon can be found in the Eduardo Avaroa Andean Fauna Reserve, which fascinates with amazing landscapes, flora and fauna.
The laguna spans 60 km². The lake's water is only 35cm (1ft 2in) deep with a maximum depth of 1.5m (4ft 11in), and it changes from deep blue to dark red.
The stunning place attracts photographers from all over the globe as various lake colors combined with a clear blue sky and distant Andes mountains create a perfect setting for great photos.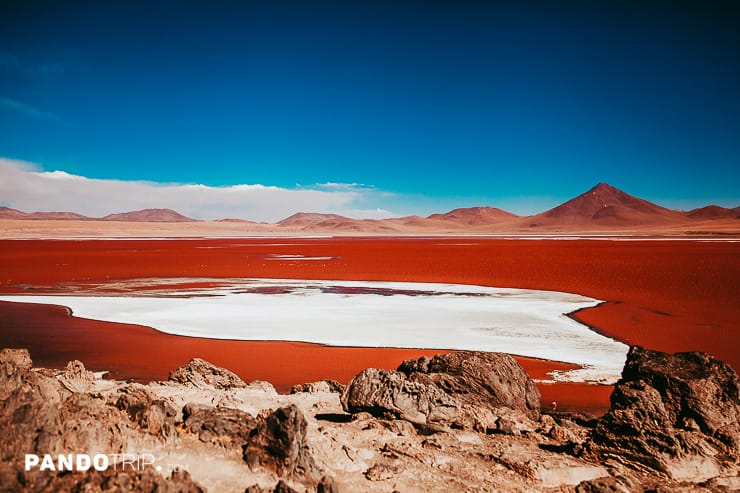 Why is the Laguna Colorada red?
The local legend says that the water is the blood of Gods, but the bloody red coloration is caused by red sediments and algae in the water.
Why go to Laguna Colorada?
It's one of the most amazing natural spots located close to another natural wonder Salar de Uyuni. Also, the laguna is the perfect place for spotting flamingos. The lake attracts the James', Chilean and Andean flamingos, the latter being the rarest flamingo species in the world.
Llamas and alpacas can also be seen there. You can even get very close to them without restriction.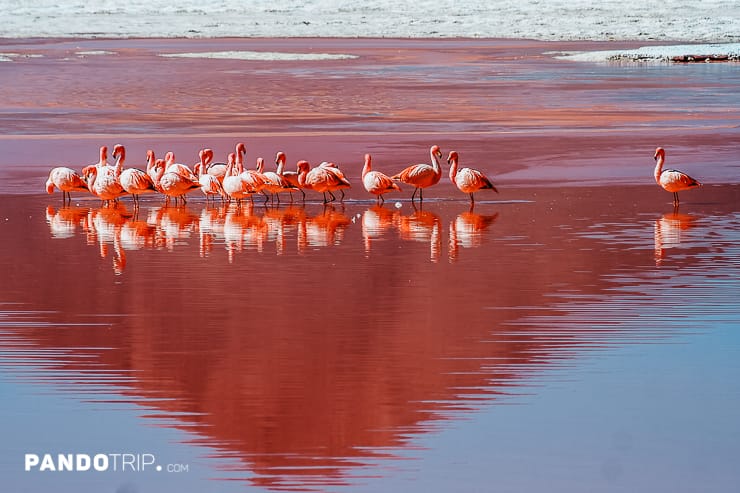 Best Time To Go To Laguna Colorada
The best time to visit Bolivia is considered the period between May and October. It's the Bolivian winter, and the weather is dry during that time. However, those who want to see flamingos should come during the Bolivian summer (December to February) as the lake is full of flamingos at this time. But have in mind that this is the rainy season in the country.
How to get to Laguna Colorada?
Since Laguna Colorada lies in a remote area, most people take a 3-day loop tour from Uyuni. Most tours usually include the famous Salar de Uyuni as well.