We often look at nature and wonder, how some of the most remarkable sites were made. Natural terraces are definitely among them. Maybe terraced rice fields got a little help from people, nevertheless it seems like nature is doing a great job by maintaining them. See these fields, pools, springs and waterfalls, that have a stunning shape in common.
10. Wairakei Terraces, Taupo, New Zealand
Natural silica terraces are filled with healthy mineral water and mud, that have been used by Maori for the curative purposes for centuries. The newcomers couldn't even believe that these striking terraces were not made by humans, but rather were natural. Today a spa center has been established here. Nevertheless the healing properties and natural beauty of the site remain the same.
Why to go there?
There are some facilities, but the surroundings are still natural and have a calming effect. Soaking in this thermal healthy water rejuvenates and provides an ultimate relaxation.
9. Tegallalang Rice Terrace, Bali, Indonesia
Found in Ubud, which is also a worldwide famous holiday destination known for its impeccable resorts, Tegallalang rice terrace is an ancient wonder. The elegantly descending terraces and high palm trees attract tourists to the valley. A viewpoint provides a spot to admire the site and take pictures. Even some painters come here to capture the beauty of Tegallalang.
Why to go there?
The land owner offers tourists a coconut drink, to pose for a photo and to buy a hat made of fronds. There are other terraces in the neighboring villages of Pejeng and Campuhan as well.
8. Emerald Pools, Zion National Park, Utah, USA
Found in Zion Canyon, which provides numerous great hiking trails in unspoiled nature, these natural terraced pools add an extra beauty to this pristine reserve. Moreover, trekking in the area allows to explore a versatile landscape: the Zion Narrows, caves, tunnels, cliffs and rivers. Incidentally, Emerald Pools route is one of the most popular here.
Why to go there?
Great tourist facilities are found in the park. The best time to go there is spring and autumn – colorful foliage is stunning here in fall.
7. Yuanyang County Rice Field Terraces, Yunnan, China
A relatively remote area however is known worldwide for these stunning rice terraces. They have been carved by hand by the Hani people about 1000 years ago, in the mountains 1800 meters above sea level. The area is included in the list of World Heritage Site in China. The site has preserved its authenticity because no tourist facilities have been developed here.
Why to go there?
Visiting the site can be a bit challenging – one would have to hire a vehicle to get there from the bigger cities around. However it promises a real adventure and unforgettable experience of this unique place.
6. Badab-e Surt, Mazandaran Province, Iran
A rare natural wonder, terraced travertine formations embedded high in the mountains, is a popular local tourist attraction. Hot mineral springs fill the pools with healthy, very salty water, which provides a refreshing dip. Due to the large concentration of iron oxide sediments, the terraces have acquired an orange tinge.
Why to go there?
Visitors can hike around, enjoy the views and wade these pools, but waterproof footwear is advised. Tourists also can set a camping site nearby and enjoy the tranquility of unspoiled nature, since there are no wild dangerous animals around.
5. Havasu Falls, Arizona, USA
Embedded in the iconic Grand Canyon area, Havasu Falls are definitely one of the most spectacular sites in Havasupai Indian Reservation. The terraced pools are filled with amazing light blue water, which is filled with magnesium and calcium. Moreover the tourists are allowed to bathe in it, therefore it provides a refreshing dip in hot summer.
Why to go there?
Havasu Falls are reached by hiking from Hualapai Hilltop. Guided tours are available, that will introduce to unspoiled nature of the reserve. The best time to go is spring, since it can become extremely hot in summer.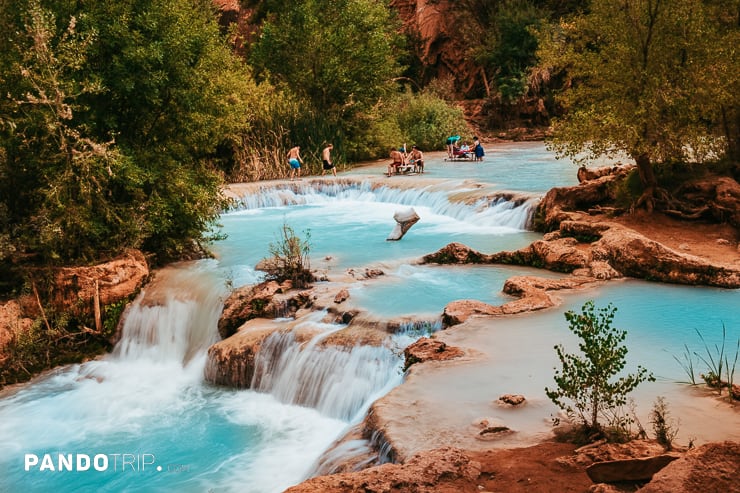 4. Muong Hoa Valley, Sa Pa, Lào Cai Province, Vietnam
The fields are located in the mountainous area and stretch towards the Hoàng Liên National Park. The trekking tours in Sa Pa organize trips to the rice fields. The guides can even arrange an overnight stay at the locals. More experienced travelers go on their own. Either way the spectacular views leave one breathless.
Why to go there?
Easy access from from Hanoi by bus or train. Local guides are available to hire – they lead tourists to the destination and tell about the local customs. The fields are bright green in hot and rainy summer, meanwhile they are being harvested in autumn.
3. Pamukkale, Denizli Province, Turkey
These are probably the most famous and popular hot springs in the world. Not only this natural wonder provides a nice bathing experience, but it is very picturesque to look at as well. The travertine terraces get inundated with hot water from the springs, which is rich with minerals and beneficial for health. It has been used as a bathing site for centuries.
Why to go there?
Also called the Cotton Fortress, Pamukkale is a popular destination therefore there is an easy access. Get there by bus, train or taxi from the bigger cities. Various tours also visit the site while on the way around Turkey.
2. Pongour Waterfall, Dalat, Vietnam
Located in the incredible area, which attracts visitors with its valleys, numerous waterfalls, lush forests and lakes. Meanwhile Pongour really stands out: its unusual steps, chiseled by constant water flow create a unique amphitheater.
Why to go there?
The region has great tourist facilities, shops and paths, that make a hike to the waterfall and around easy. Guided tours from Dalat are available to hire.
1. Huanglong, Sichuan, China
Declared a World Heritage Site by UNESCO, Huanglong is found in the Minshan mountain range. There are plenty of natural wonders, but these colorful terraced pools are the most picturesque and appealing. These pools are the travertine formations, that also include lakes, beaches and caves.
Why to go there?
A wonderful natural reserve, with various picturesque sites and hiking opportunities; great tourist facilities. Guided tours are available. Besides there is an easy access by bus from various cities, since it is a popular tourist destination.